TORONTO (Mar. 4) — There is no attempt here to jump on a bandwagon with the Maple Leafs in their first minor funk since mid–January (0–2–1 on a four–game road trip that concludes Monday night in Buffalo). This is still a club, that when playing effectively, can defeat any other in the National Hockey League.
But, I will return to a comment written here last Tuesday about goalie Frederik Andersen: If I were [Mike] Babcock, I'd abandon my quest to finish ahead of Boston in the Atlantic Division and provide Andersen lots of rest in the final month of the schedule. If the big Dane plays 14 of the last 17 games, he'll burn out at some point in the spring. And, given his work in a support role, there's plenty of evidence that Curtis McElhinney can keep his club in the race for second spot in the Atlantic. To me, it's common sense.
Not so, apparently, to my ol' pal Kevin McGran, who covers the Leafs for the Toronto Star. This is not to demean Kevin in any way; nor is there evidence, at this moment, that he's incorrect. In his Friday "mailbag" (a question–and–answer blog), however, McGran entertained the issue with a Star reader:
QUESTION: Do you think the Leafs will rest Freddy more leading into the post season? Sincerely, Marty S.
ANSWER: I think Andersen will play his regular schedule. I don't think they want to mess with his routine. I think it would be a mistake to mess with the routine. Teams, by the way, tend to take more time off [and] practice less the closer they get to the playoffs. So the entire team will get a break, not just one player.
This is where Kevin and I disagree. In my opinion, if Andersen plays his "regular schedule" of games throughout the final month of the season, the Leafs will be life–and–death to survive the opening round of the playoffs. They could be, regardless, given that Boston or Tampa Bay will provide the opposition. But, they'll have less of an opportunity to prevail if their No. 1 goalie is tired heading into the Stanley Cup tournament — a virtual inevitability if Babcock deploys Andersen as frequently through the month of March.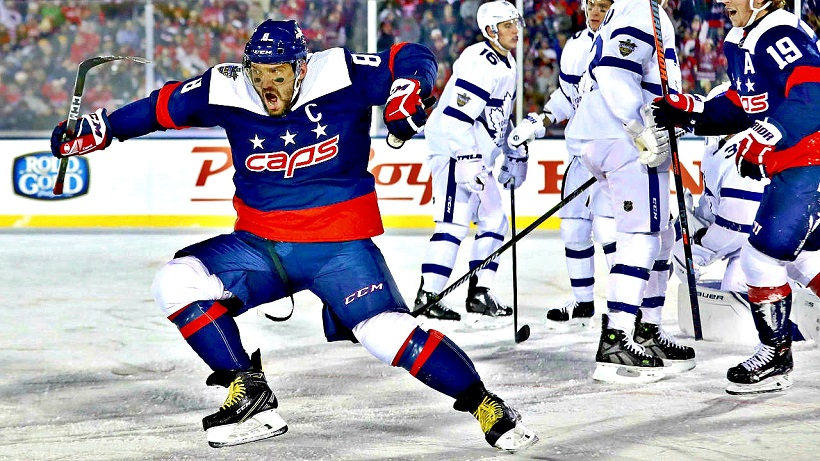 ALEX OVECHKIN EXULTS AFTER SCORING HIS 40th GOAL OF THE SEASON ON SATURDAY NIGHT. THE MAPLE LEAFS, CLAD HELMET–TO–ANKLE IN WHITE, WERE BEATEN 5–2 BY WASHINGTON AT NAVY/MARINE CORPS MEMORIAL STADIUM IN ANNAPOLIS, MARYLAND. NICK WASS THE ASSOCIATED PRESS
As I also wrote in this corner last Tuesday: Though the Leafs are as skilled up front as any playoff–bound club, they are often mediocre behind center–ice. Andersen is among the NHL's premier stoppers, yet routinely over–worked and unlikely to bear sufficient fuel to last four grueling Stanley Cup rounds. The same malady — playoff fatigue — struck [Curtis] Joseph and Ed Belfour during the Pat Quinn era.
The Joseph/Belfour reference dates to the last era in which the Leafs were Stanley Cup contenders — 1999 to 2004. While attempting to finagle every point in the standings, Quinn rode his No. 1 goalies hard down the stretch. It often provided the club home–ice advantage in the early playoff rounds, which endeared the big Irishman to the bean–counters at Maple Leaf Sports and Entertainment. But, it wasn't effective strategy.
Cujo and Belfour were terrific — often winning early rounds single–handedly (check with fans of the Ottawa Senators). Problem was, they had to be terrific while playing behind teams that were erratic without the puck. Very much like the current Leafs team. Ultimately, the season–long toll became insurmountable. Both men hit playoff walls. Joseph had nothing left against Buffalo in the 1999 Eastern Conference final; a five–game Sabres romp. New Jersey outscored Toronto 7–3 in winning Games 5 and 6 of the 2000 East semifinal. Cujo then got pounded, 5–1, by the Devils at the Meadowlands in Game 7 of the 2001 East semifinal.
Belfour fell apart in Game 7 of the opening round in 2003, a 6–1 romp by the Flyers at Philadelphia. After knocking off Ottawa by himself in the opening playoff round of 2004, he again wilted against Philadelphia. The East semi was tied, 2–2, heading into the pivotal Game 5 at the Wells Fargo Center. On May 2, the 37th anniversary of Toronto's last Stanley Cup win, Philly destroyed Belfour and the Leafs, 7–2, and eliminated Toronto in Game 6 at the Air Canada Centre. Cujo and the Eagle were simply fried after more than seven months of needing to be brilliant, night after night. Martin Brodeur, by comparison, could appear in 75 games during the regular schedule and remain fresh throughout the playoffs. Why? As a result of playing behind the most structured and disciplined teams, defensively, of the post–expansion years (after 1967).
Like his descendants of the Quinn era, Andersen has no–such luxury. The 2017–18 Maple Leafs, while arguably the most–skilled Toronto club since the 1967 Stanley Cup triumph, are rather messy behind center ice. Freddy encounters the most rubber of all the contending teams. If Babcock persists throughout March and calls Andersen's number 68 times this season, the Leafs are likely doomed. I say "likely" because I'm sharing my opinion. There is no hard evidence, as of yet, that Andersen cannot survive four playoff rounds.
But, I wouldn't bet a plug–nickel on it.
I'll also debate Kevin McGran's insinuation that fewer practices late in the season provide No. 1 goalies a "break". Yes, it may keep them off the ice a bit more, but practices are not, in any way, the equivalent of preparing for, and playing in, games. Only the latter are mentally and physically exhaustive.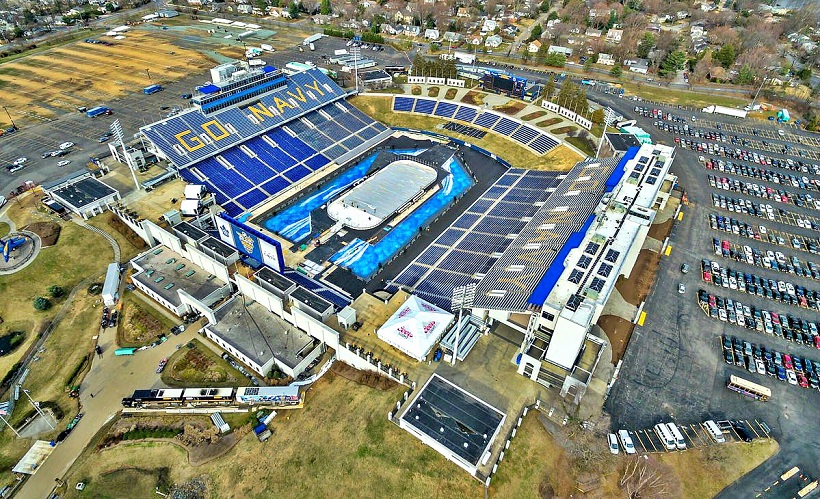 OVERHEAD VIEW OF THE HOCKEY SET–UP FOR SATURDAY NIGHT'S MAPLE LEAFS–CAPITALS OUTDOOR GAME AT THE U.S. NAVAL ACADEMY IN ANNAPOLIS, MARYLAND.
The entire Leafs team was out of sorts during a 5–2 outdoor loss to Washington on Saturday night. But, Andersen looked tired. He was replaced by McElhinney after allowing all of the Capitals' goals on just 25 shots. His apparent fatigue came after a four–day break in the schedule. What happens in April if he's whipped and needing to perform every other night? This can still be alleviated, potentially, if Babcock breaks from routine and sends out McElhinney for eight or nine of the Leafs' final 15 games. Combined with the club playing just four times in two weeks between Feb. 28 and Mar. 14 (which includes a five–day respite after Monday night's match in Buffalo), Andersen could be rather fresh for the opening Stanley Cup round.
McGran, however, is probably accurate in suggesting that Babcock will not "mess with routine". Andersen will therefore be tabbed by the coach for 13 of the final 15 games and finish the schedule with 68 starts. McElhinney, as per "routine", will play only twice — at Buffalo (Mar. 15) and at home to Winnipeg (Mar. 31) in the back end of the club's two remaining consecutive–night encounters.
A scheme that will almost–surely contribute to a 51st year without the Stanley Cup.
50 YEARS AGO:
THE MOST UNPOPULAR TRADE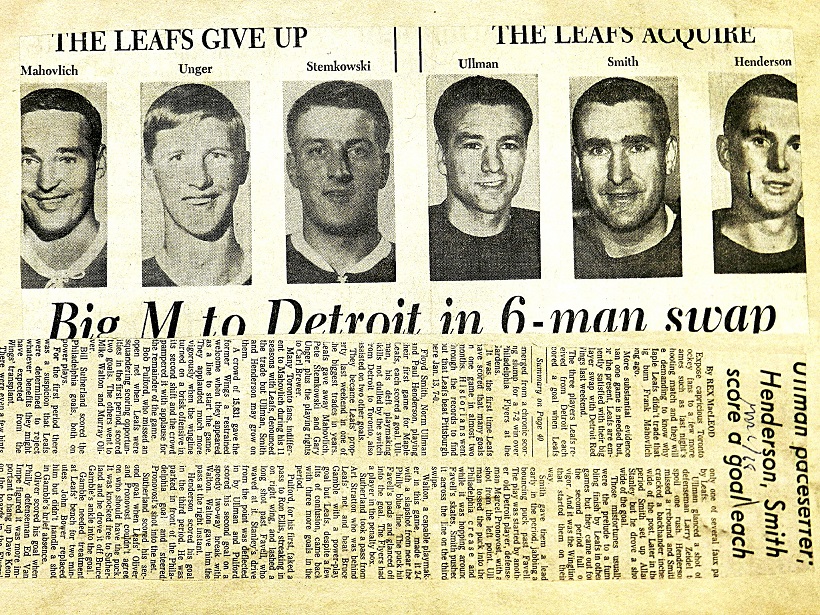 Any Leafs fan nearing 60 (or older) will likely remember how despondent he or she was 50 years ago this weekend, upon news that Frank Mahovlich had been shipped off to Detroit in a multi–player trade that stunned the hockey world. Mahovlich, the iconic, stylish winger often brow–beaten by his Toronto coach, Punch Imlach, went to the Red Wings with Peter Stemkowski, Garry Unger and the playing rights to defenseman Carl Brewer for veteran forwards Norm Ullman, Paul Henderson and Floyd Smith. Though Ullman, in particular, performed with distinction for the Leafs, the trade is often regarded among the worst in franchise history. Mahovlich lined up alongside Alex Delvecchio and Gordie Howe in Detroit and scored a career–best 49 goals in 1968–69. Unger struck for 42 goals in 1969–70 and went on — mostly with St. Louis — to break the record for most consecutive games played in the NHL. Stemkowski, a star for Imlach in the 1967 Stanley Cup run, was a large, physical presence at center–ice with Detroit and the Rangers for much of the following decade. Brewer came out of a four–year retirement with the Red Wings in 1969–70; was teamed with his ex–Toronto blue–line mate, Bob Baun (acquired by Detroit from Oakland), and made the NHL's Second All–Star team. He had quit the Leafs, because of Imlach, prior to the 1965–66 season.
On the evening of Sunday, Mar. 3, 1968 — hours after the Mahovlich deal — angry hockey fans gathered outside Maple Leaf Gardens to protest the trade, carrying signs and placards. The scene would be repeated nearly 12 years later when Imlach, in his disastrous second term with the Leafs, sent Lanny McDonald to the old Colorado Rockies. Mahovlich scored 48 goals for Toronto in 1960–61, playing on a line with Red Kelly and Bob Nevin. It stood as a Leafs franchise record for 21 years, until broken by Rick Vaive (54 goals) in 1981–82.
The Big M, as he was known, played on all four Leaf Stanley Cup teams of the 1960's.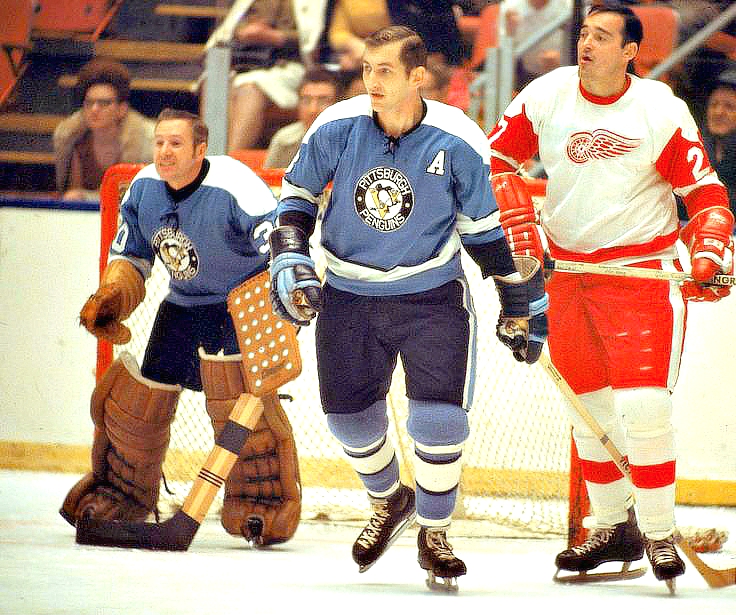 FRANK MAHOVLICH WEARING DETROIT RED AND WHITE DURING A GAME AT PITTSBURGH
IN 1968–69, THE SEASON AFTER HIS TRADE FROM THE LEAFS. PENGUINS PLAYERS ARE
GOALIE LES BINKLEY AND DEFENSEMAN BOB WOYTOWICH.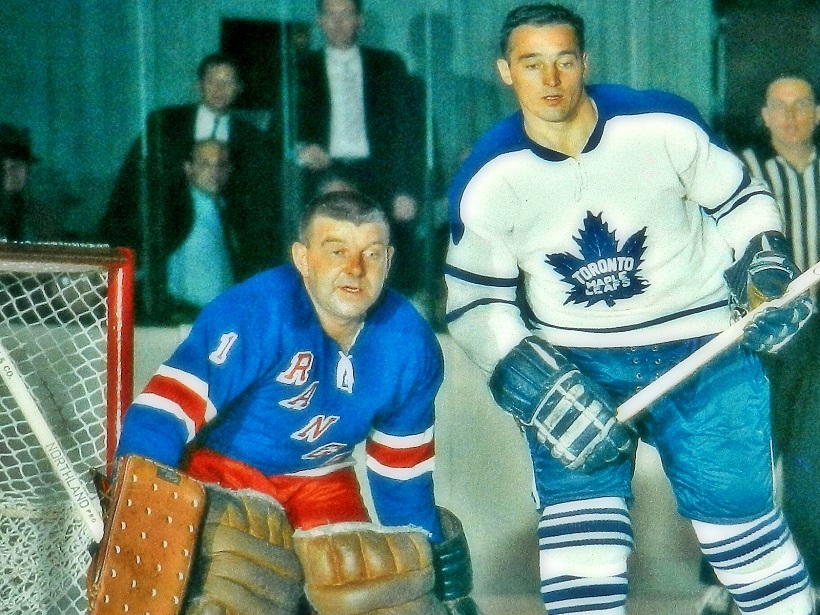 MAHOVLICH AND NEW YORK RANGERS GOALIE LORNE (GUMP) WORSLEY IN 1961-62 GAME AT MADISON SQUARE GARDEN. THE BIG M SCORED 33 GOALS THAT SEASON, A YEAR AFTER BAGGING 48.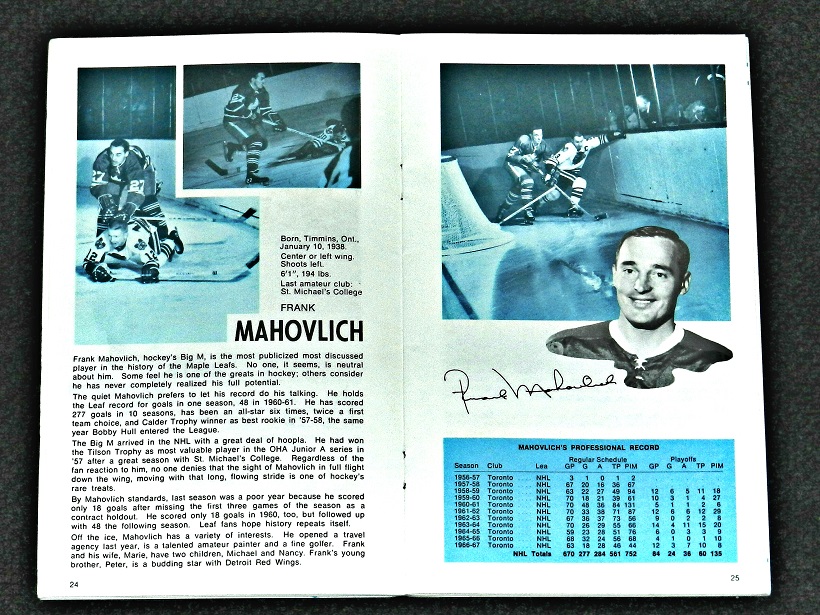 FRANK MAHOVLICH'S LAST MAPLE LEAFS BIO — IN THE CLUB'S 1967–68 MEDIA GUIDE.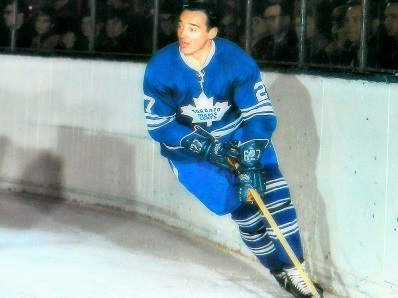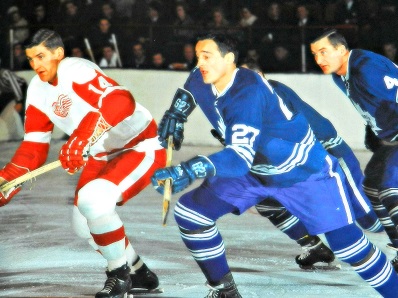 JAN. 18, 1968: THE BIG M IN THE LAST MEETING AT MAPLE LEAF GARDENS AGAINST THE TEAM TO WHICH HE'D BE DEALT 6½ WEEKS LATER. DETROIT DEFENSEMAN (14) IS DOUG ROBERTS.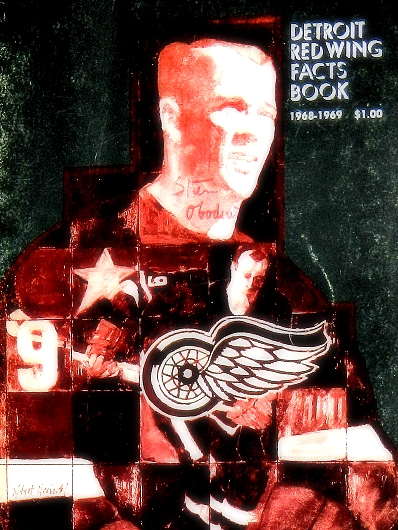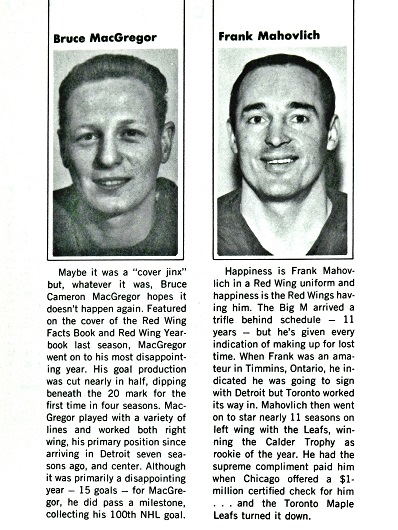 MAHOVLICH'S FIRST BIO AS A RED WING — IN DETROIT'S 1968–69 MEDIA GUIDE.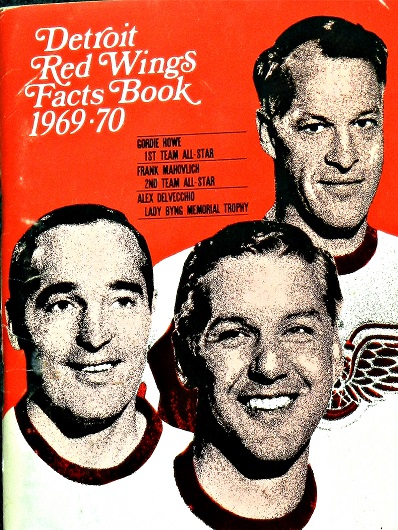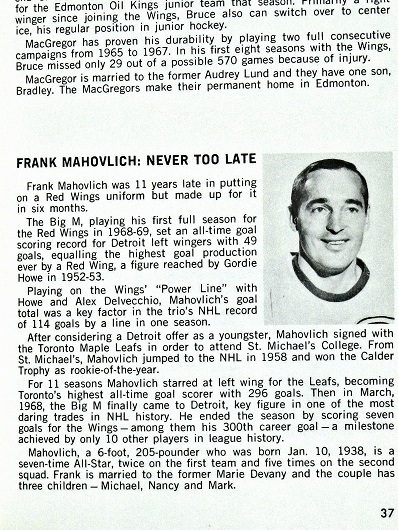 IN 1968–69, WHILE PLAYING ON A LINE WITH ALEX DELVECCHIO AND GORDIE HOWE, MAHOVLICH SCORED A CAREER–BEST 49 GOALS. THE LATTER DAY "PRODUCTION LINE" COMBINED FOR A THEN–RECORD 264 POINTS: HOWE 103; DELVECCHIO 83; MAHOVLICH 78. THE LINE WAS FEATURED ON THE COVER (TOP–LEFT) OF THE RED WINGS 1969–70 MEDIA GUIDE. MAHOVLICH'S STATS ARE BELOW.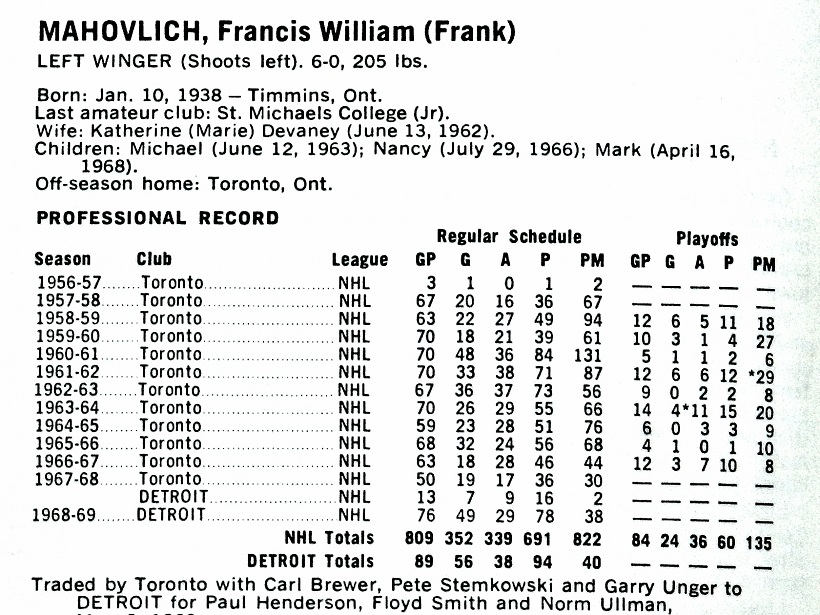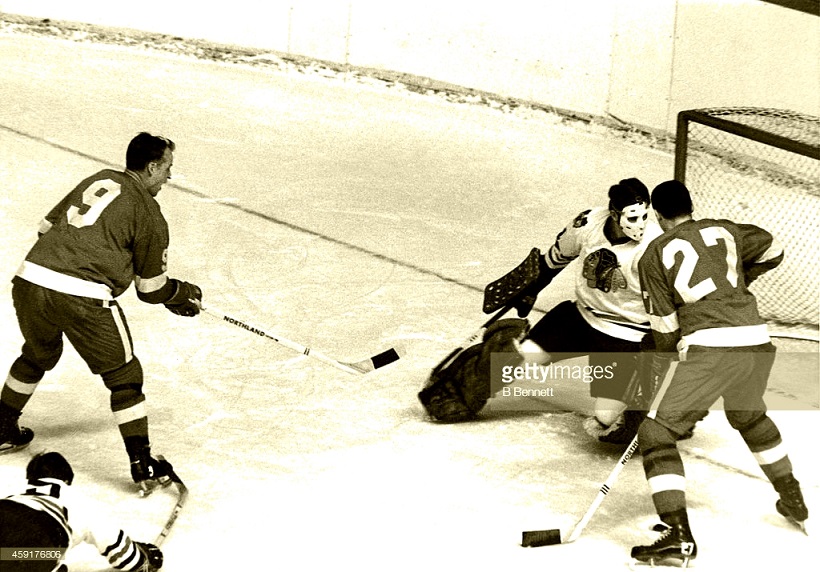 MAHOVLICH (27) AND HOWE (9) ARE ALONE IN FRONT OF CHICAGO GOALIE DENIS DEJORDY AT THE DETROIT OLYMPIA DURING THE BREAKOUT SEASON OF 1968–69. GETTY IMAGES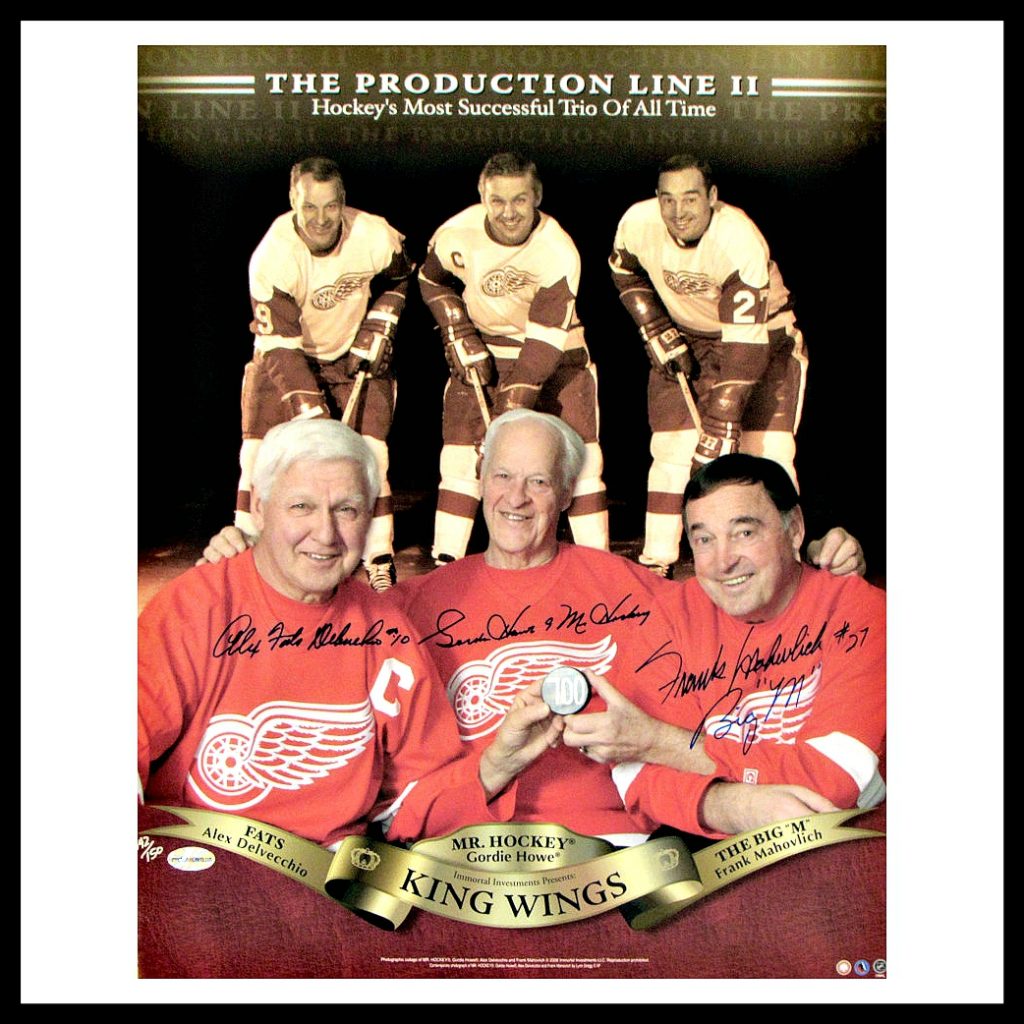 FROM THE LATE–90's: A SOUVENIR POSTER OF THE 1968–69 DETROIT RED WINGS "PRODUCTION LINE".
ALSO ON MAR. 3 — IN 1970
Two years to the day of the Frank Mahovlich trade, the Leafs were in Oakland for a game with the Seals. During the afternoon, defenseman Tim Horton — a 20–year veteran of the Blue and White — was dealt to the New York Rangers for minor league forwards Guy Trottier and Denis Dupere. It wasn't nearly as shocking a move as the multi–player Mahovlich trade. The '69–70 Leafs were a mess late in the season; Horton being unloaded two days after a humiliating 8–0 loss to the North Stars in Bloomington, Minnesota — a game televised nationally in the United States by CBS. Adding further insult was the fact that Minnesota ended an 18–game winless streak (0–15–3 from Jan. 15 to Feb. 28, 1970) with the rout of Toronto. So, the loss of Horton, while nostalgically sad, sparked little emotion among disgruntled Leaf fans. Trottier and Dupere made the Leafs in 1970–71. They combined for 57 goals and 118 points over parts of four seasons.
Horton is still second (by two games to George Armstrong: 1,187 to 1,185) on the all–time list of games played by a Leaf. His first full season in Toronto was 1952–53. While teamed with defense–mate Allan Stanley, he was an integral component of all four Leaf championship teams under Punch Imlach in the 1960's. Today, of course, Horton is more–widely recognized for the enormous chain of donut/coffee shops that bears his name — with more than 4,600 locations in nine countries.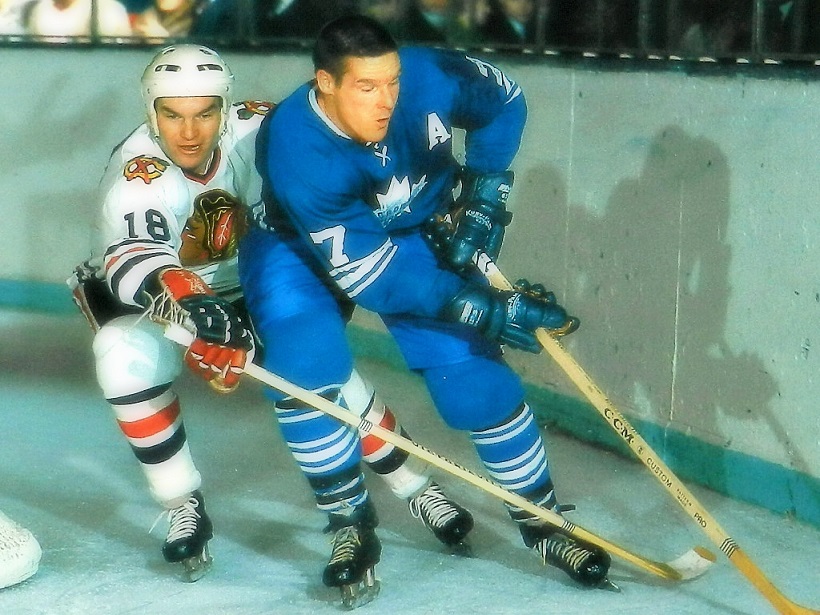 HORTON IS CHECKED BY ANDRE BOUDRIAS OF CHICAGO DURING A MATINEE AT MAPLE LEAF GARDENS ON MAR. 2, 1969. ONE YEAR AND ONE DAY LATER, HE'D BE TRADED TO NEW YORK.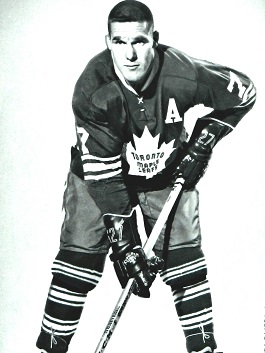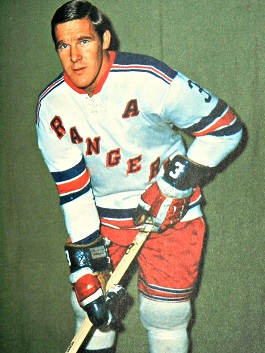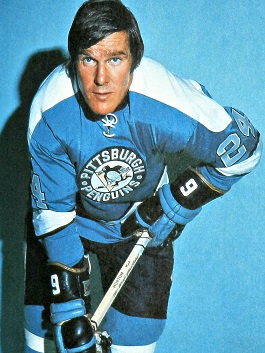 HORTON'S HAIR GREW PROGRESSIVELY LONGER FROM HIS FINAL YEAR (LEFT) IN TORONTO (1969–70)… TO HIS 93 GAMES WITH THE RANGERS IN 1969–70 AND 1970–71… AND HIS LONE SEASON (RIGHT) WITH THE PITTSBURGH PENGUINS (1971–72). HORTON DIED IN A SINGLE–VEHICLE CAR CRASH ON THE QUEEN ELIZABETH WAY (QEW) NEAR ST. CATHARINES, ONT. ON FEB. 21, 1974 WHILE PLAYING FOR THE BUFFALO SABRES. HE WAS INDUCTED, POSTHUMOUSLY, INTO THE HOCKEY HALL OF FAME IN 1977.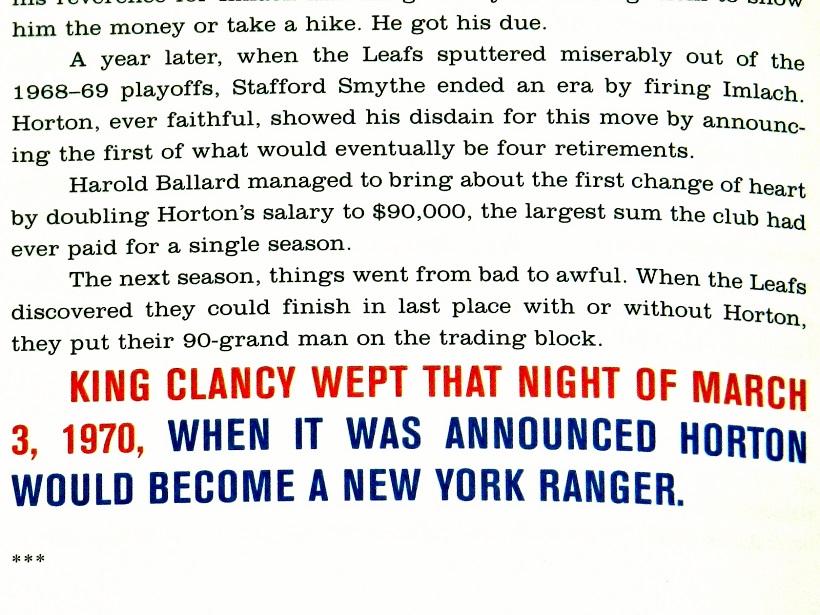 WHERE'S DAMIEN?
Nearly seven years after being let go by The FAN–590 (now Sportsnet–590), I continue to watch with intrigue, bemusement and no insight whatsoever as to the shuffling of chairs on Prime Time Sports. Or, more precisely, the shuffling of the co–host's chair. The big seat has been filled by Bob McCown for all but two years since the show began in October 1989. As you've probably noticed, the new/old co–host, Stephen Brunt, has replaced old/new co–host Damien Cox. This was after Cox got re–shuffled from a second–intermission role on Hockey Night In Canada to McCown's left–side on radio — a post Damien had held, on several occasions, in the past. Then, without warning or explanation, he was gone once again. Brunt, the gifted writer and author, left the Globe and Mail in 2014 to work full–time at Rogers, ostensibly as McCown's prime radio partner. That union, however, dissolved in September 2015 when McCown grew indignant over Brunt's guest appearance on the Tim & Sid Show; he sat in with Tim Micallef one afternoon in the absence of Sid Seixeiro. Tim & Sid is televised nationally on Sportsnet in the same time–slot that McCown's radio show is simulcasted on Sportsnet–360. Thus, McCown's ire and apparent scorn.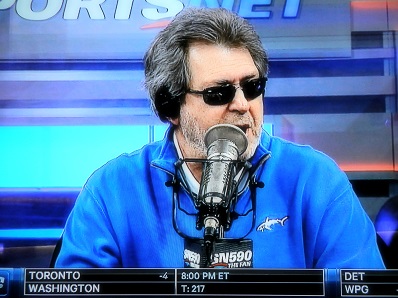 BOB McCOWN (LEFT) AND STEPHEN BRUNT HAVE BEEN RE–UNITED ON PRIME TIME SPORTS.
Now, McCown and Brunt have been put back together, apparently for 20 weeks of the calendar year. Rogers has hired American sports pundit Richard Deitsch to also work with McCown (Deitsch, from New York, has been a frequent guest on the radio program). Before Cox returned to Prime Time (following his stint on Hockey Night) — and then disappeared again — McCown deployed a variety of co–hosts; among them Sportsnet night–anchor Ken Reid; hockey insider John Shannon and former Toronto Star columnist Dave Perkins. Cox, however, remains the true mystery at Rogers. He is a polarizing figure: opinionated, arrogant, haughty and knowledgeable. In other words, everything you'd want in a sports–radio personality. I thought the intermission "notes" segment he shared with Elliotte Friedman on Hockey Night was rather effective. Rogers, evidently, did not. Returning to McCown's show may have been a come–down for Damien, though he was always strong as a co–host. Now, you can only find Damien writing on Sportsnet.ca and, twice–a–week, as a guest columnist at his old stomping ground, the Star. Why is he no longer part of the Rogers broadcasting arm and what happened to him as McCown's new/old co–host? A question without an answer.
EMAIL: HOWARDLBERGER@GMAIL.COM