TORONTO (Mar. 8) — With the National Hockey League trade deadline out of the way and the Toronto Maple Leafs comfortably in a playoff spot, Kyle Dubas is the flavor–of–the–week.
If you're not sure who Kyle is, don't fret. He's been very much in the background during Lou Lamoriello's term as general manager of the Leafs. And, if speculation unfolds, he could be thrust into Lamoriello's chair at arguably the most critical and complicated juncture in franchise history. So, you'll get to know him rather well… triumphantly or tragically. The world hardly paused when Lamoriello — asked about his future earlier this week — said nothing. Lou hasn't yet confirmed that gravity bonds us to the earth. Under what circumstance would he discuss being moved into an "advisory role" with the Maple Leafs? Particularly when the club is most–ever in need of experience in the GM's lair. "It's not an issue," claimed Lamoriello. Oh yeah?
For the record, Lou's three–year contract expires after the current season, just as the Leafs are approaching roster Armageddon. Between this summer and next, management must determine:
• Whether William Nylander, Mitch Marner and Auston Matthews — all coming off entry–level payroll restriction — can remain with the club, or if one may need to be moved under salary cap constraints.
• If the Leafs, this summer, will pursue free agent center John Tavares of the New York Islanders (should he still be available on July 1), and make him, undoubtedly, the highest–paid player in franchise history.
• How to possibly cram Tavares, Nylander, Marner and Matthews into a salary cap environment on the same team. Or which of Marner and Nylander will need to be sacrificed to accommodate Tavares.
• How to juggle the roster in 2019–20 while absorbing the final year of Patrick Marleau's $6.25 million guaranteed contract and cap hit. Marleau will turn 40 prior to that season.
• Whether to pursue a Norris Trophy–caliber defenseman via trade or free agency.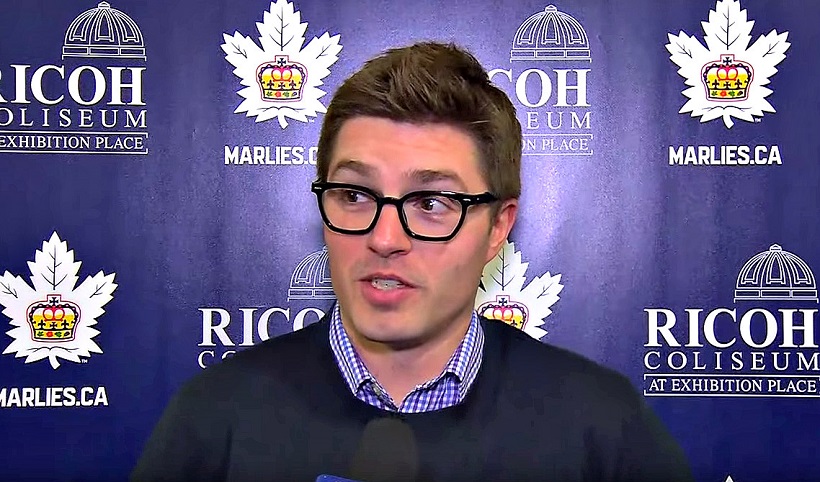 IS YOUNG KYLE DUBAS READY TO STEP UP TO THE NHL FROM HIS TERM MANAGING THE TORONTO MARLIES OF THE AMERICAN HOCKEY LEAGUE? THERE IS MUCH SPECULATION THAT DUBAS WILL REPLACE LOU LAMORIELLO IN THE MAPLE LEAFS' BIG CHAIR AFTER THE CURRENT SEASON.
These matters would be a challenge for a GM with Lamoriello's resume. Why would Brendan Shanahan choose to thrust Dubas into such a difficult and potentially–troublesome climate? Maybe the answer is more obvious than we think — that Shanahan would rather not have the conservative, hard–nosed Lamoriello negotiating the first NHL contracts for Nylander, Marner and Matthews. Or, hammering away in July over Tavares with savvy, Los Angeles–based agent Pat Brisson (who also represents such NHL stars as Sidney Crosby, Patrick Kane, Jonathan Toews, Anze Kopitar and Nathan MacKinnon). Perhaps Shanahan favors a more youthful, modern approach to contract chatter and believes that Dubas, whom he hired from the Sault Ste. Marie Greyhouds of the Ontario Hockey League in July 2014, is now prepared for the role.
Should that be the case — and given his track record with the Leafs — I'm inclined to trust Shanahan's judgement. Dubas will not turn 33 years of age until Nov. 29 of next season. That would make him the second–youngest GM in Leaf annals, after Gord Stellick, who was still 30 when promoted to the job by Harold Ballard in April 1988. The circumstance surrounding the Maple Leafs (a laughingstock upon Stellick's ill–fated appointment three decades ago) and the business of professional hockey in a salary–capped environment are altogether different. Rather than an old, curmudgeonly man in the onset of dementia, the Leafs are today governed by a stable, progressive bureau… of which Dubas has been a front–line component. In less than two years, the club has soared from the NHL basement into reasonable Stanley Cup contention. If Shanahan believes that Dubas is up to the challenge of roster and salary–cap manipulation on the immediate horizon, then Dubas deserves a chance. As always, only time will determine the result.
BABS IS BABBLING: Given the absurdity of starting Frederik Andersen against the worst team in the Eastern Conference on Monday night, it would appear that Mike Babcock has no intention of providing his No. 1 goalie a break down the stretch. Why Babcock insisted on playing an already–pooped Andersen in Buffalo is anyone's guess. Yes, the Leafs are nearing the end of a five–day break since the 5–2 loss to the Sabres, but a goalie cannot conceivably freshen up by playing in meaningless games.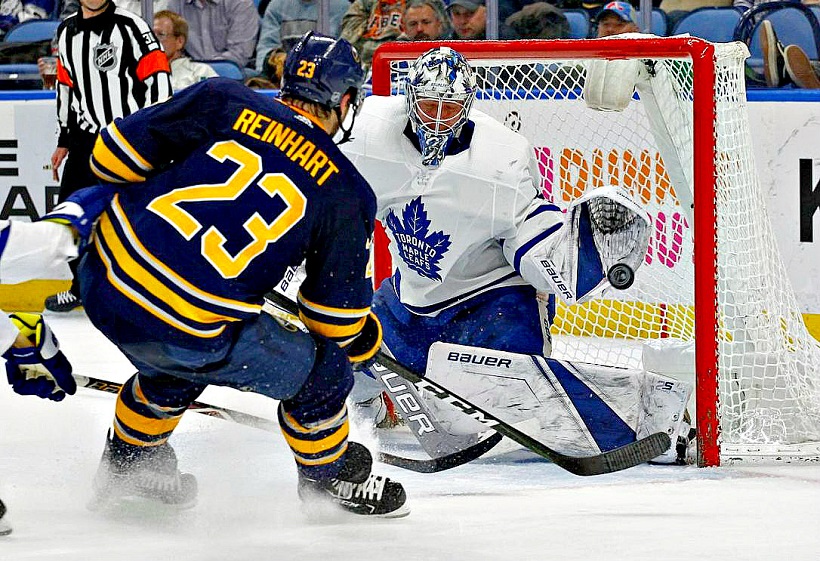 IT WAS JUST SILLY TO HAVE AN OVERWORKED FREDERIK ANDERSEN IN GOAL ON MONDAY NIGHT AGAINST THE INEPT BUFFALO SABRES. MIKE BABCOCK IS PLAYING WITH FIRE. TORONTO STAR PHOTO
The Leafs, since 1967, have rarely been in their current situation… one that begs for Andersen to take a temporary back–seat to Curtis McElhinney. With a playoff spot locked down at mid–season and a first–round date against Boston a virtual guarantee. Yes, home–ice advantage would be a bonus, but let's get real: the Leafs trail the second–place Bruins by five points in the Atlantic Division. Boston has played four fewer games and leads Toronto, 38–33, in ROW's (regulation or overtime wins), first tie–breaker in the standings. Translation: Toronto will finish third in the division and open the Stanley Cup tournament at TD Garden. Whether or not Andersen plays his usual allotment of games in the final month.
The Leafs, however, have no chance of prospering in the spring if Andersen is as fatigued as he now appears. Offered Babcock on Wednesday: "To me, it's very simple, do you want to play all the games (offered) or not? I've never seen a guy who said 'can I sit out one more, coach?'"
Which, in every respect, is coach babble.
50 YEARS AGO THIS WEEK
Stick Fight at Maple Leaf Gardens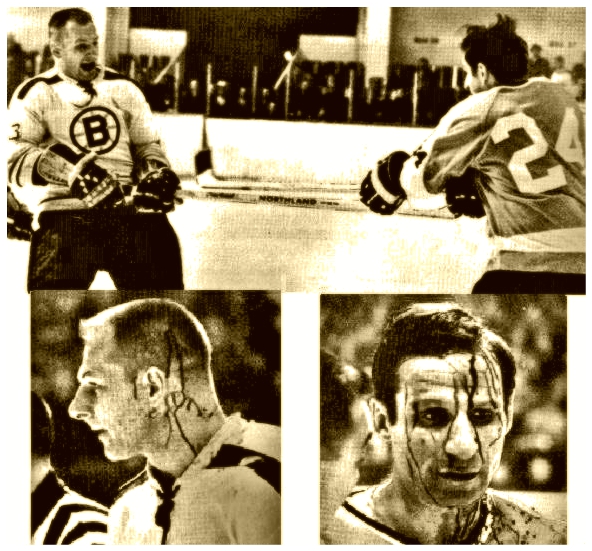 A half–century later, it remains among the most infamous and gruesome episodes in the NHL's modern era: Eddie Shack of the Boston Bruins and Larry Zeidel of the expansion Philadelphia Flyers carving one another with their sticks at Maple Leaf Gardens. Mar. 7, 1968. With the Philadelphia Spectrum closed as a result of wind damage to its roof, the Flyers had to play their home games elsewhere. They lost, 7–2, to the Leafs at the Gardens on Mar. 6; then stayed in town to "host" Boston the following night. I was at the neutral–site match as a nine–year–old with my uncle, Ralph Blatt. I remember we were sitting midway up on the east side of MLG, near the south blue line. It was cool seeing Philadelphia in its home orange jerseys, as road teams wore predominantly white back then (between 1970–71 and 2002–03, road clubs wore their predominantly colored uniforms). What I recall most — through the decades — is a sudden incident that brought fans to their feet… and ladies seated near me screaming in horror. Then, loud booing. The Shack–Zeidel episode began near center–ice and proceeded in front of me toward the southeast corner of the rink. I remember the blood dripping from each man's face onto his jersey. And, how incredibly frightening it was.
Years later, I had an opportunity to learn more from my late friend, Bruce Hood, who refereed the game. He, too, was horrified and called it "the most brutal incident of my career in the NHL."
What potentially ignited the stick–fight appeared in the blog Hockey Then & Now:

Alleged comments made by the Boston Bruins were identified by Zeidel as the reason he blew a gasket. "Nearly the whole Boston team tried to intimidate me about being the only Jewish player in the league," Zeidel told reporter Ed Conrad. "They said they wouldn't be satisfied until they put me in a gas chamber."
An investigation by NHL president Clarence Campbell revealed "it was not denied that Zeidel had been called 'Jew' or 'Jewish', combined with a variety of abusive terms." However, Campbell stated there was no evidence to support Zeidel's claim of references to the Nazis in World War II. Though Zeidel made some early comments, a code of silence was quickly adapted. The National Hockey League would do the talking and have the final word on the matter. When Campbell handed down his verdict, Zeidel was suspended for four games and Shack had to sit out three. Each was fined $300.
Zeidel would put in one more season with the Flyers before hanging up his skates. In 158 NHL games he scored three goals and 16 assists. In 12 playoff dates, he recorded one assist. Larry "The Rock" Zeidel was born on June 1, 1928, in Montreal Quebec. He passed away on June 17, 2014 at a Pennsylvania Hospital.
Another friend, Larry Millson, covered the game for the old Toronto Telegram: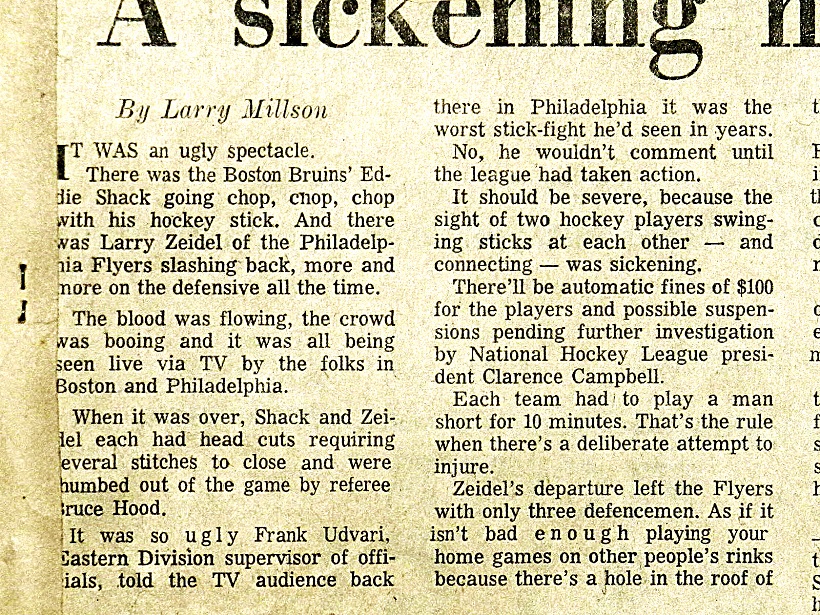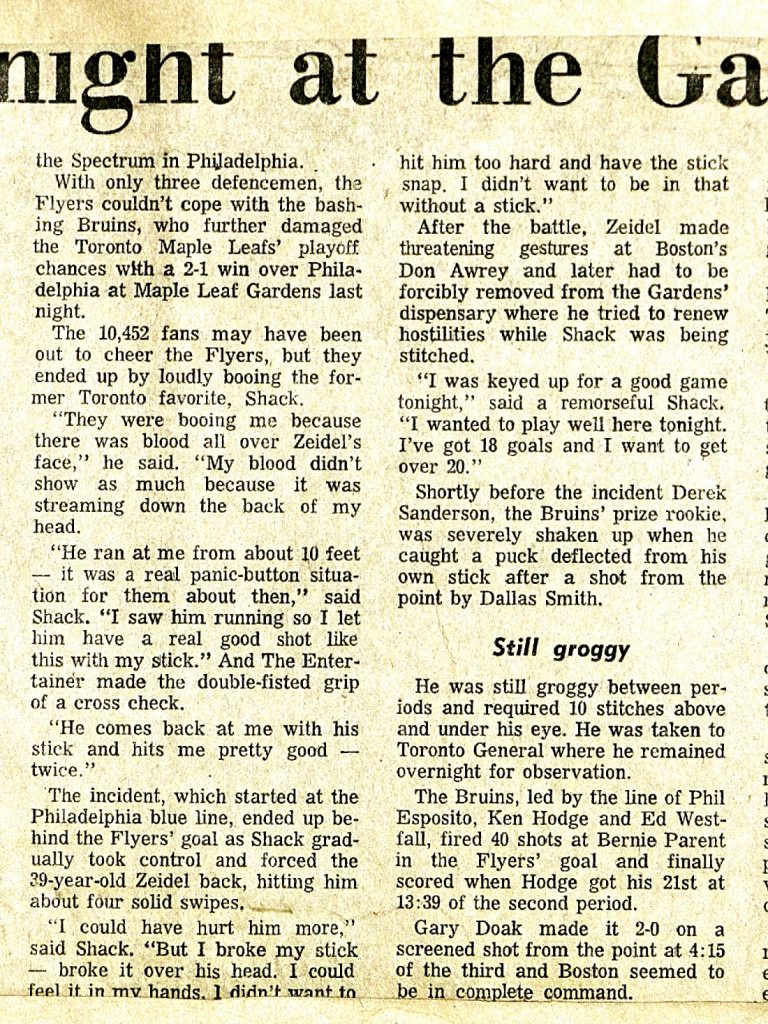 EDDIE WAS STILL IN BLUE…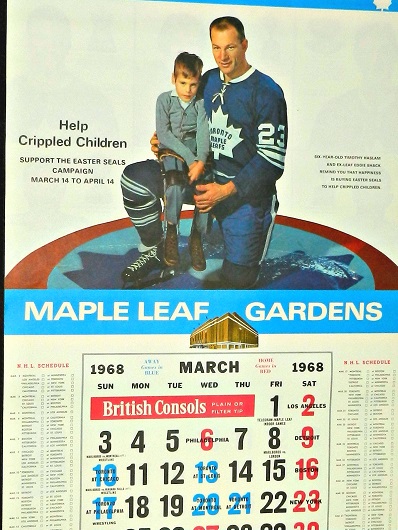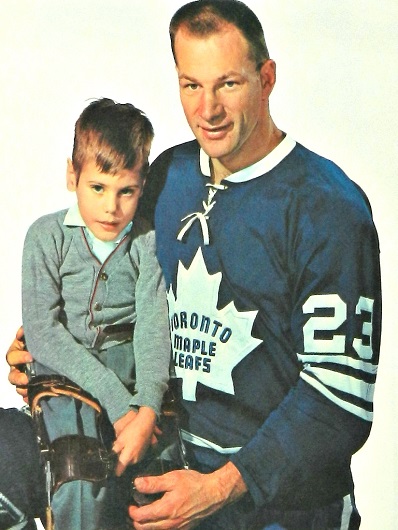 Eddie Shack was a popular (somewhat zany) forward with the Leafs and a member of all four Stanley Cup teams under Punch Imlach in the 1960's. He scored the winning goal at Maple Leaf Gardens on Apr. 18, 1963 as Toronto defeated Detroit, 3–1, in Game 5 of the Cup final to capture its second of three consecutive NHL titles. On May 15, 1967, the Boston Bruins made a pair of deals. The first was a blockbuster and — to this day — the most one–sided trade in NHL annals, as general manager Milt Schmidt acquired Phil Esposito in a multi–player move with Chicago. The second, a one–for–one, sent forward Murray Oliver to the Leafs for Shack. It was therefore quite coincidental that Shack — still in a Toronto jersey — adorned the March 1968 page of the EXPORT Maple Leaf Gardens calendar (above) with six–year–old Timothy Haslam. As per the March schedule, below, the Philadelphia Flyers played the Maple Leafs at the Gardens on the 6th; then hung around and "hosted" Shack and the Bruins a night later; an open date on the Gardens' slate of events.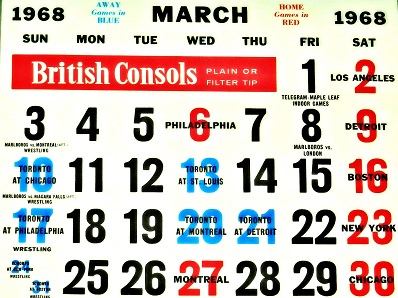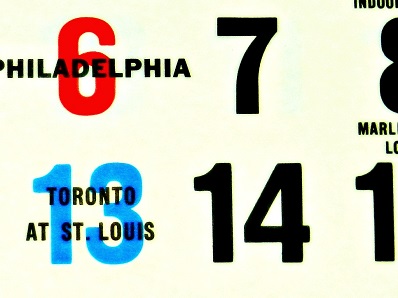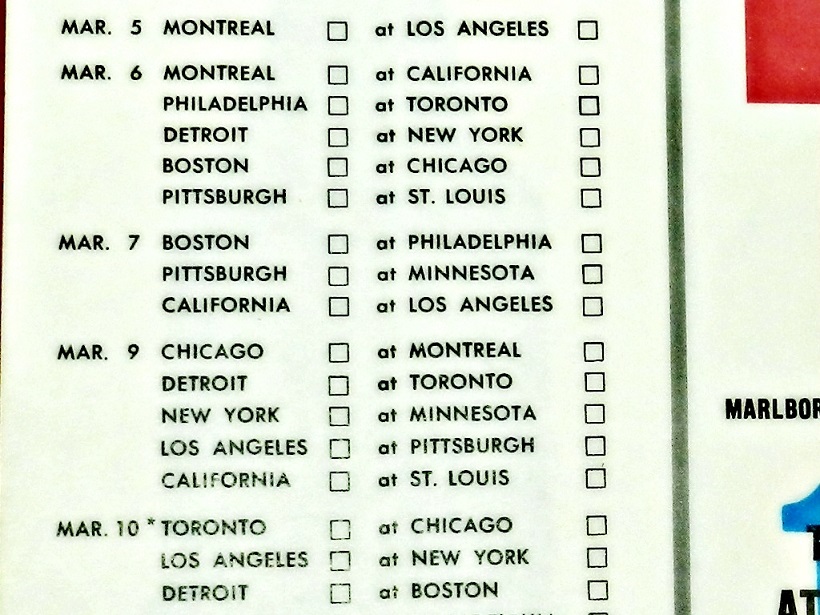 THE NHL SCHEDULE IN MARCH 1968 SHOWS THE PHILADELPHIA AT TORONTO GAME OF MAR. 6 AND THE BOSTON "AT PHILADELPHIA" GAME OF MAR. 7, IN WHICH THE SHACK–ZEIDEL EPISODE OCCURRED.
MAPLE LEAF GARDENS PROGRAM: MAR. 7, 1968
I've kept the program from the Philadelphia/Boston game through the years. Dave Keon graced the cover, even if the Leafs weren't playing. Inside, were stories on ex–Leaf Brit Selby of the Flyers (Selby had won the Calder Trophy as NHL rookie–of–the–year in 1965–66; Auston Matthews was the next Toronto skater to capture the award, in 2016–17) and new Leaf Paul Henderson, sent here in the infamous Frank Mahovlich trade with Detroit four days earlier. Also, of course, the center–spread line–ups: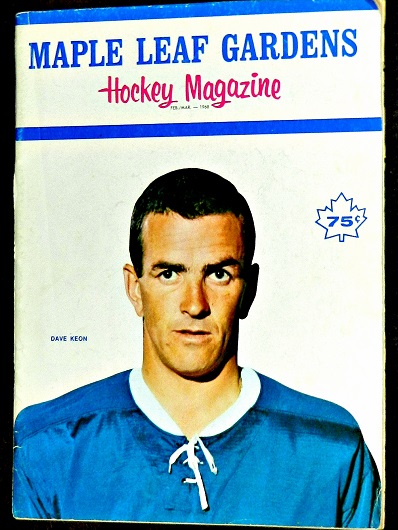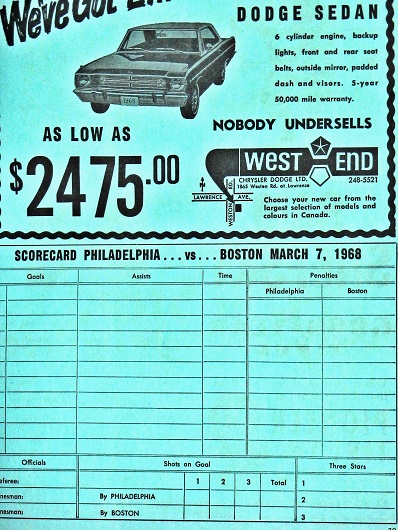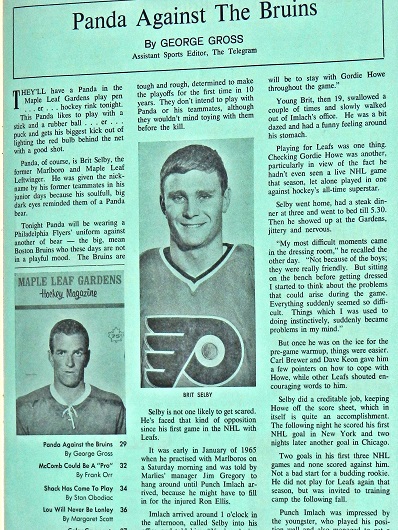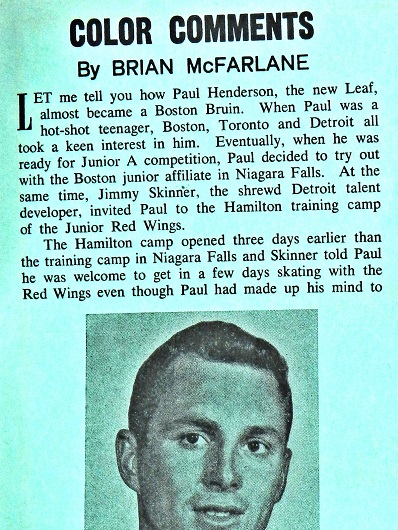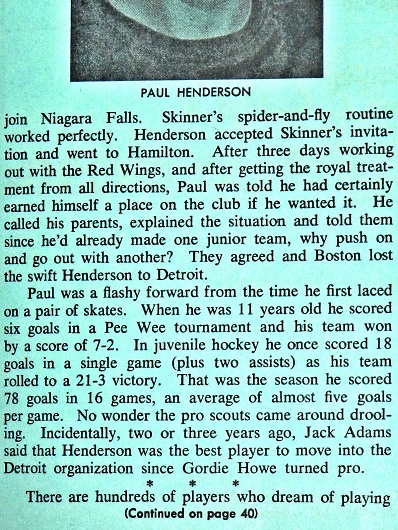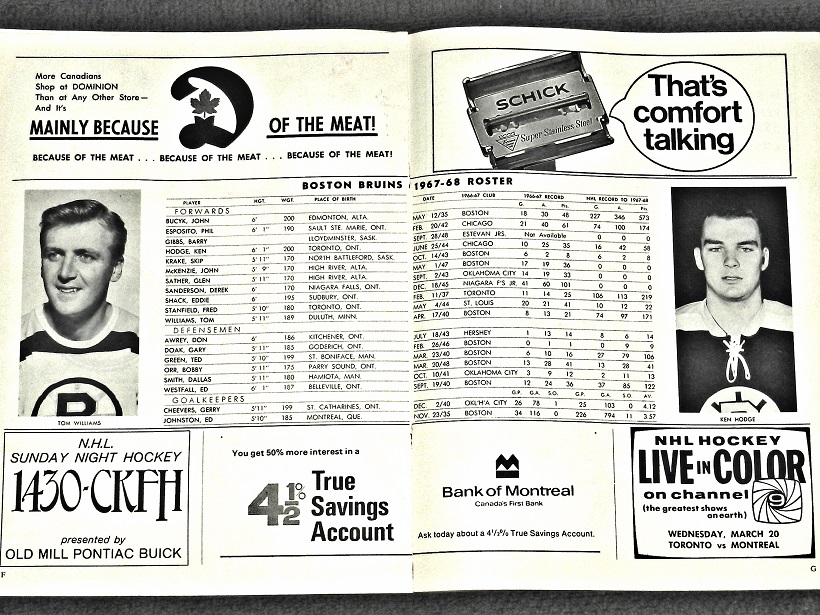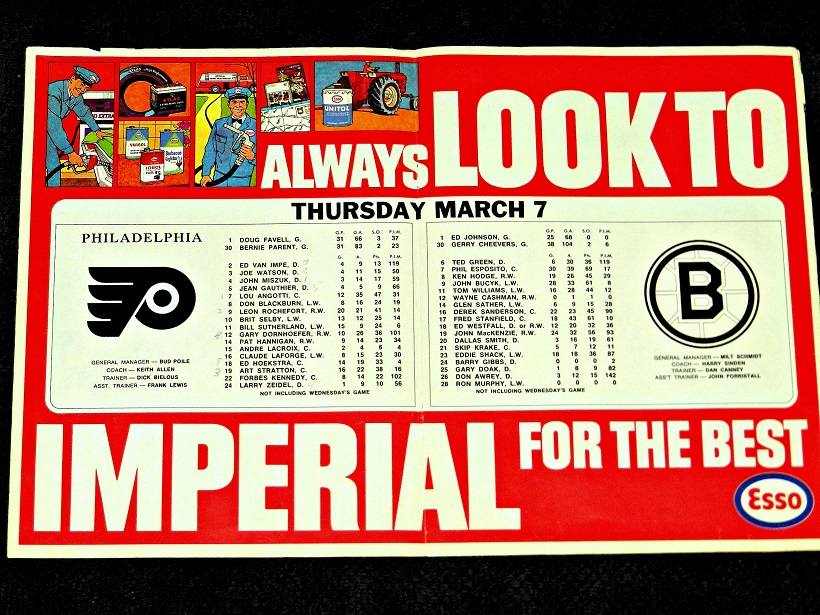 HAVING SUSTAINED ANOTHER INJURY TO HIS KNEE, BOBBY ORR WAS NOT IN THE LINE–UP FOR BOSTON THAT NIGHT. OF THE SHACK–ZEIDEL INCIDENT, FLYERS CAPTAIN LOU ANGOTTI, NOW 80, MENTIONED ON MY FACEBOOK PAGE: "YOU HAD TO BE THERE TO SEE AND BELIEVE IT."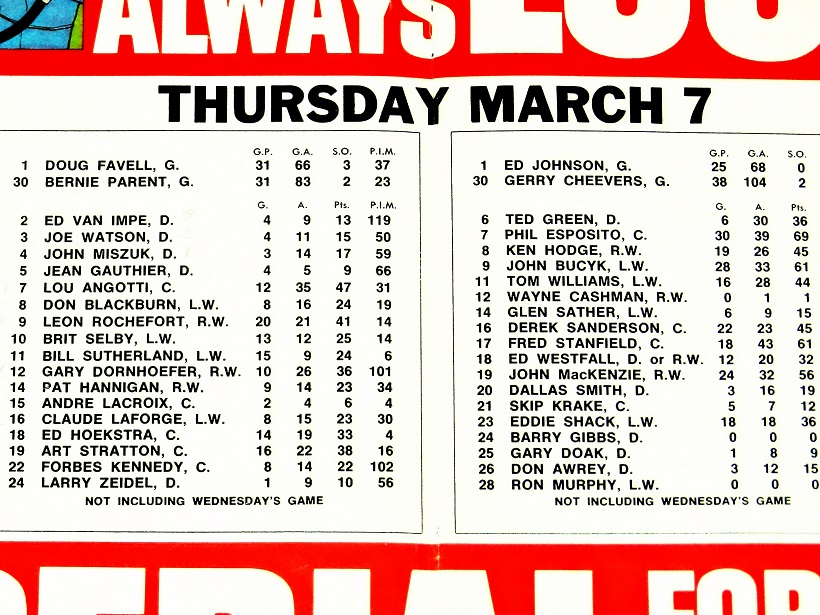 TAKE THE HIGH ROAD, LANNY AND PIERRE
The Hockey Hall of Fame announced this week that NBC Sports analyst Pierre McGuire will replace legendary coach Scotty Bowman on the Selection Committee. An excellent choice of a gentleman that knows the game as well as anyone. Another fine gentleman, former Leafs winger Lanny McDonald, is Chairman of the Hall. Here's hoping that McGuire and McDonald will use their influence to help correct a terrible injustice — the exclusion, from the Referees/Linesmen wing, of former refs Ron Wicks and Bruce Hood. Though nothing has ever been stated by the Hall of Fame, Wicks and Hood unquestionably remain on the outside for their roles in staring the NHL Officials' Association in 1969. And, that's a travesty.
If such a "crime" governed induction, the Hall would be practically barren. Consider the innumerable figures since 1967, when the NHL Players' Association came into being, that are honored members of the Hall… including the two greatest stars of all time: Bobby Orr and Wayne Gretzky. Orr was instrumental in starting the NHLPA simply by being Alan Eagleson's first mega–client. It was Eagleson who organized the players prior to expansion; and with Orr entering his second NHL season, the Association had instant credibility. Even Eagleson, himself, was a member of the Hall until being removed when his criminal activity was established (in 1998) by courts of law in Canada and the United States.
Among other NHLPA personnel that are currently honored members include such playing legends as (alphabetically): Glenn Anderson, Ed Belfour, Jean Beliveau, Mike Bossy, Ray Bourque, Paul Coffey, Marcel Dionne, Ken Dryden, Phil Esposito, Ron Francis, Doug Gilmour, Dominik Hasek, Gordie Howe, Bobby Hull, Brett Hull, Dave Keon, Jarri Kurri, Guy Lafleur, Mario Lemieux, Brian Leetch, Nicklas Lidstrom, Eric Lindros, Frank Mahovlich, Mark Messier, Stan Mikita, Scott Niedermayer, Bernie Parent, Brad Park, Gilbert Perreault, Denis Potvin, Chris Pronger, Larry Robinson, Joe Sakic, Borje Salming, Brendan Shanahan, Darryl Sittler, Peter Stastny, Bryan Trottier, Steve Yzerman. And, yes, Hall chairman McDonald.
Imagine, if you can, the Hall of Fame were these headliners excluded for participating in the Players' Association. There would be no Hall — certainly not one with any substance.
Consider, also, the inclusion of the most destructive figure in Toronto Maple Leafs history: Harold Ballard — a "Builder" in 1977. Nobody tore down a club so prolifically. His spot doesn't pass the laugh test. 
Why, then, should two of the longest–serving and most prominent referees be left on the outside for their roles in the Officials' Association? Wicks remains the youngest–ever official to work in the NHL. He was 20 when called upon to be a linesman in early–1960 (at Madison Square Garden in New York). When the league doubled in size for 1967–68, Wicks became a referee and continued until the end of the 1985–86 schedule. In that role, he worked 1,067 regular–season and 175 playoff games, including five Stanley Cup finals.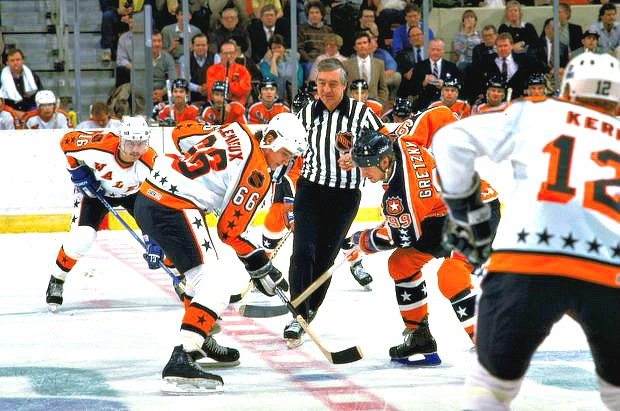 RON WICKS DROPS THE PUCK BETWEEN MARIO LEMIEUX AND WAYNE GRETZKY
TO BEGIN THE 1986 NHL ALL–STAR GAME AT THE HARTFORD CIVIC CENTER.

Bruce Hood was no–less the first NHL referee to work in 1,000 regular–season games (1,033 in total). He started in February 1966 (New York Rangers at Toronto) and retired after the 1983–84 season. Among his most notable assignments was the Mother's Day matinee at Boston Garden on May 10, 1970, when Orr beat Glenn Hall of St. Louis in overtime to win the Stanley Cup for Boston — a moment immortalized by one of the most famous hockey images (Orr flying horizontally through the air) of all time. In total, Bruce worked 157 playoff games; three NHL All–Star Games and three Canada Cup tournaments. By any measure, a Hall–of–Fame career. In 1994, he was nominated for the Hall by 12 honored members, including Bobby Hull and Maurice Richard. Yet he remains on the outside… for the reason previously stated.
Beyond their undeniable Hall credentials, I pull for Ron and Bruce after having the pleasure of knowing each man. Both died of cancer: Ron on Apr. 1, 2016; Bruce just a couple of months ago, Jan. 5, 2018. They were Hall–of–Fame people away from the arena, and, without question, for their work in the NHL.

POSING, IN JANUARY 2016, BETWEEN MY TWO LATE FRIENDS: RON WICKS (LEFT) AND BRUCE HOOD.
So, c'mon Lanny; c'mon Pierre. Help to uncoil an injustice. Please inspire the Selection Committee to let go of aging hostility; to take the high road, and to work toward making this happen.
Inducting Ron and Bruce, posthumously, can only enrich the Hockey Hall of Fame.
EMAIL: HOWARDLBERGER@GMAIL.COM