TORONTO (Mar. 13) — If I were a betting man, I'd say that John Tavares will re–up with the New York Islanders and spend his prime National Hockey League years playing out of a new arena at Belmont Park Racetrack. Given, however, that I'm not a betting man, I can offer, without risk, that Tavares may defect to one of three alternate clubs — the Vegas Golden Knights, Toronto Maple Leafs or New York Rangers.
Of the three, and according to a long–time source, Sin City could emerge as the favorite. On the heels of an unprecedented expansion season, and with the novelty factor likely to subside, general manager George McPhee will be looking to add star power to the Knights' line–up. McPhee went hard after Ottawa defenseman Erik Karlsson at the NHL trade deadline last month and he may resume that quest in the summer. With a first–year roster overachieving like none other in professional sports history, Vegas is swimming in cap space — currently, more than $45 million in the black. McPhee, therefore, has ample leeway to take another run at Karlsson or to strongly pursue Tavares. Perhaps even both players… remember, we're talking Las Vegas. Given the merriment that surrounds T–Mobile Arena — and that hockey's newest fans have been spoiled rotten — the Golden Knights will need to engage marketable talent.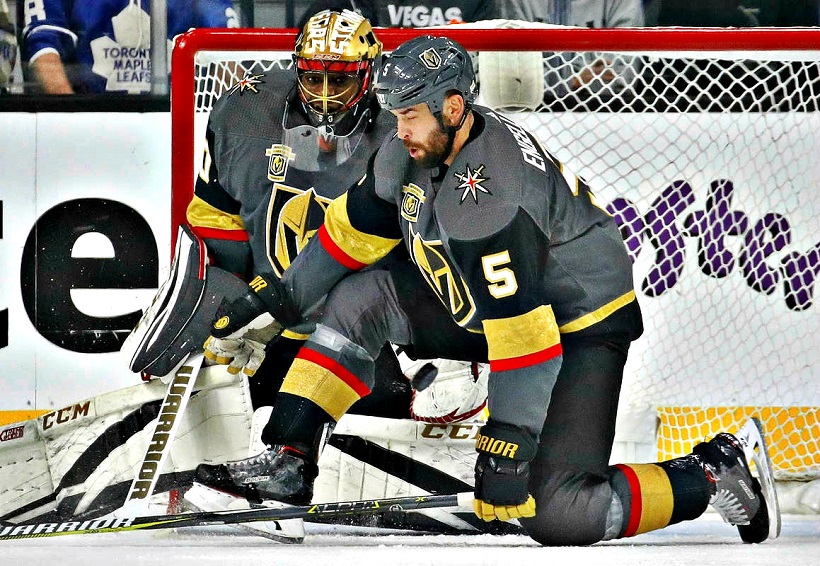 IT'S BEEN A DREAM SEASON FOR THE EXPANSION VEGAS GOLDEN KNIGHTS AND STAR CENTER JOHN TAVARES WOULD LOOK RATHER NICE IN GREY, BLACK, GOLD AND RED NEXT SEASON.
Should Tavares be available as an unrestricted free agent toward the end of June — and why wouldn't he test the market? — the Maple Leafs will undoubtedly book an appointment. As they did with home–grown Steven Stamkos two summers ago. Unlike Vegas, the Leafs are up against the cap ceiling, yet with options (expiring contracts among Long Term Injured Reserved and current roster players) that can alleviate the issue. Adding Tavares to Auston Matthews and Nazem Kadri would solidify Toronto for many years at the key center–ice position. Do not underestimate Pat Brisson representing Matthews and Tavares. As with Sidney Crosby and Evgeni Malkin in Pittsburgh (also clients of Creative Artists Agency; J.P. Barry represents Malkin), Brisson could well encourage Tavares to join Matthews on a burgeoning Toronto club.
Tavares, however, would not be an option if the Leafs are planning, instead, to hunt down one of the elite defensemen as potential UFA's after next season: Karlsson, Drew Doughty or Oliver Ekman–Larsson. I suspect, however, that Doughty will stay in Los Angeles and that Arizona will move heaven and earth to re–sign Ekman–Larsson, its most–indispensable commodity. That would leave Toronto a "choice" between Karlsson and Tavares… with the home–town boy a delectable alternative. Expect the Leafs to go hard after Johnny T., should the Mississauga native elect to change teams in free agency.
A fourth option — though a lesser one, in my view — would be for Tavares to remain in New York with the Rangers. In any other recent year, such proximity may have been enticing. The Rangers, however, are betwixt and between, with an aging goalie and a roster weakened by the loss of defensemen Dan Girardi and Ryan McDonagh. If there's such thing as a re–build in Manhattan, it is currently underway and Tavares would likely consider the Rangers a sideways move at best. Vegas or Toronto are far–better alternatives.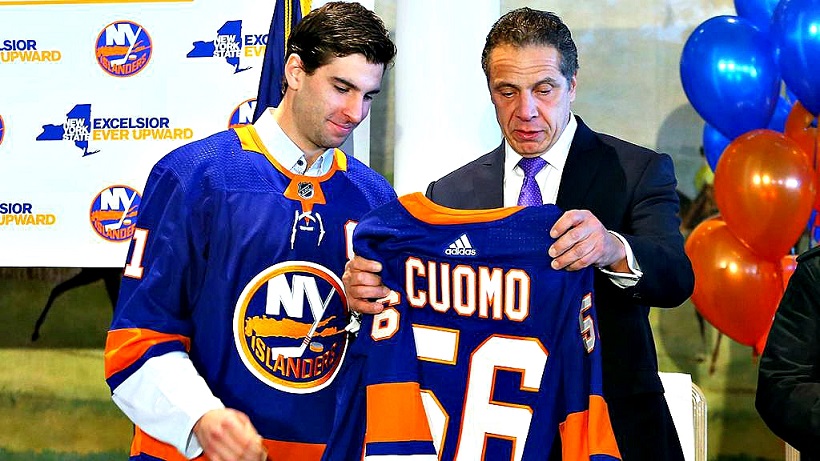 ISLANDERS CAPTAIN JOHN TAVARES STANDS BESIDE NEW YORK GOVERNOR ANDREW CUOMO AT THE NEWS CONFERENCE, LAST DEC. 20, THAT UNVEILED PLANS FOR A NEW ARENA AT BELMONT PARK RACETRACK. THE ISLANDERS CURRENTLY PLAY IN BROOKLYN. MIKE STOBE GETTY IMAGES/NHL.COM
To re–cap, I suspect that Tavares will sign a long–term extension with the Islanders. He has spoken excitedly about the Belmont Park arena (slated to open in 2020) and he strikes me as loyal to the team that drafted him No. 1 overall in 2009. Money and term will not be an issue should Tavares lean in that direction. If, however, he anticipates a drab future on the ice with the Islanders, Tavares will be vulnerable to overtures this summer. He's probably rather torn right now. Which could bode well for Vegas or Toronto.
EMAIL: HOWARDLBERGER@GMAIL.COM