TORONTO (Apr. 26) — Quite the coincidence that fewer than 24 hours after another failed Stanley Cup bid by the Toronto Maple Leafs, Dave Keon was announced as an inductee into the Canadian Sports Hall of Fame. Considered the greatest player in Leafs franchise history, Keon won the Conn Smythe Trophy as top performer in the post–season 51 years ago, moments after his team captured its fourth National Hockey League championship in six years. No person of sound mind, in 1967, would have predicted Toronto's Stanley Cup triumph to be its last for more than half–a–century. Yet, here we are again, folks.
As hockey fans and observers in this city chew on another crushing playoff defeat against Boston, It's fair to wonder if the Leafs regressed this season. The club did hang around for one extra playoff match, but wasn't the mood more buoyant after the six–game ouster by Washington a year ago? In that series, the Leafs — having made the playoffs in a full, 82–game schedule for the first time since 2004 — took the Capitals to five overtime games; equaling a Stanley Cup record. Washington had finished atop the NHL standings and could easily have been eliminated by the local upstarts. Auston Matthews, after a spectacular rookie season, continued to perform with poise and command… his first playoff adventure no burden at all. There was a brief moment of chagrin when Marcus Johansson scored in extra time to end the series, but eyes then turned to the future. After all, wasn't it merely a start for a club that rocketed 26 points in the standings?
One year later, there is no definitive answer to that question. Hockey fans around here want to believe that their young, skilled team is on a learning curve and will ultimately venture deep into the Stanley Cup tournament. Just as hockey fans in Edmonton have spent all but one year of the past decade believing the same. There are no guarantees whatsoever in the parity–stricken NHL, as the Oilers and Connor McDavid proved again this season, plummeting 15 spots and 25 points in the 31–team league while missing the playoffs for the 11th time in 12 years. The Leafs aren't necessarily headed in that direction, but neither should anything be assumed. As it turned out, and despite a record–breaking regular season (48 wins, 105 points), significant enhancement appears to be needed for the club to surge upward in the playoffs.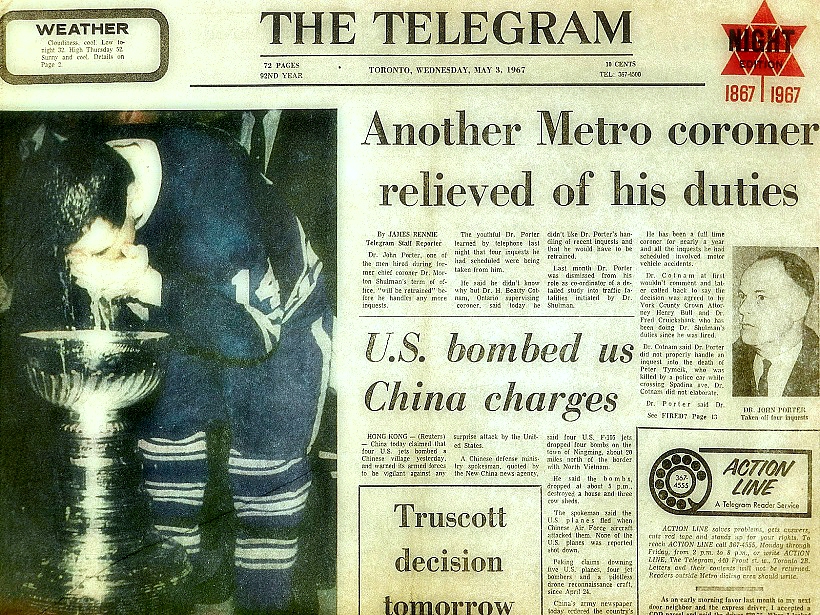 DAVE KEON SPLASHES HIMSELF WITH CHAMPAGNE FROM THE STANLEY CUP ON THE MAY 3, 1967 EDITION OF THE OLD TORONTO TELEGRAM, A DAY AFTER HIS TEAM WON THE NHL CHAMPIONSHIP.
Though much–improved between October and April, the Leafs remain in a franchise gorge that has featured just three playoff appearances — and no series victories — in 13 seasons. Prior to 2005–06, the club had never gone more than seven years without a playoff conquest. The opening–round clash, just concluded, against Boston should not have lingered beyond five games; so thoroughly dominant were the Bruins in all but four of the 21 periods. Especially in Boston, where the Leafs were embarrassed on three occasions and yielded 22 goals. Anyone looking upon that as progress is delusional. Questions remain — big questions — as to whether Frederik Andersen is a Stanley Cup–caliber goalie; whether the club's nucleus (Matthews, William Nylander, Mitch Marner, Nazem Kadri, Morgan Rielly) can escalate performance in the post–season, and, yes, whether Mike Babcock can guide the team beyond playoff mediocrity. The latter suggestion, in particular, is sacrilege around here, given how the coach has been coddled and lionized by local media since agreeing to his $50–million, eight–year term in May 2015. Only absent, to this point, are results.
With each playoff miss, or disappointment, it becomes evident how painfully shallow the Leafs are on defense. If the club continues to deploy a patchwork unit, while keeping fingers crossed that Rielly becomes a front–line performer, the Stanley Cup drought will lengthen. This group needs a significant overhaul and — more than anything — a legitimate anchor. Where to find such a rare commodity is the biggest challenge facing the organization. There are few options and no immediate answers (please spare me, for the time being, any Timothy Liljegren Norris Trophy babble). What we do know, and unequivocally, is the Leafs will continue to spin their wheels in the absence of an elite worker on the blue line. For all the accolades showered upon Lou Lamoriello the past three years, he hasn't come close to solving the club's No. 1 deficit.
More haunting is the end, this summer, of the so–called "honeymoon" phase. Nylander comes off entry–level salary restriction and he'll be followed, next year, by Marner and Matthews. To afford such cap luxuries (and the forever–missing blue–liner), the Leafs will have to replace James van Riemsdyk, Tyler Bozak and, ultimately, Patrick Marleau with cheaper, less–established parts. Andersen, Rielly and Nikita Zaitsev are locked in at a combined $14.5–million until at least the 2022–23 season. Which may also be counterproductive. So, again, there is nothing that guarantees the Maple Leafs will remain in their forward trajectory. Much more work, and roster creativity, lies ahead. Additionally, should Lamoriello be replaced as general manager by one of Kyle Dubas or Mark Hunter — neither of whom has fronted a team in the NHL — more questions will need to be answered. If the club promotes either man to merely prevent him from going elsewhere, it will be a colossal blunder. Brendan Shanahan, who has earned the trust of skeptical Maple Leaf supporters, must be virtually certain before he makes any move to supplant Lamoriello.
GAME 7 IN LOCAL PRINT
How Toronto newspapers featured the Leafs' playoff elimination in Boston: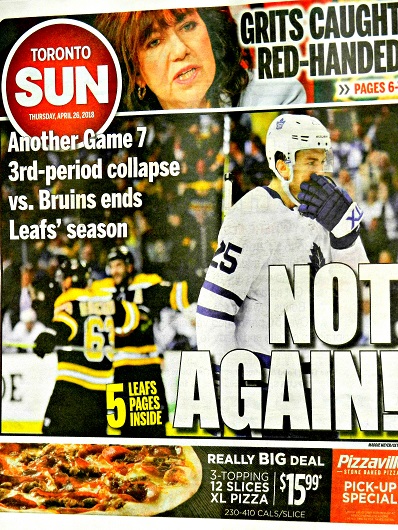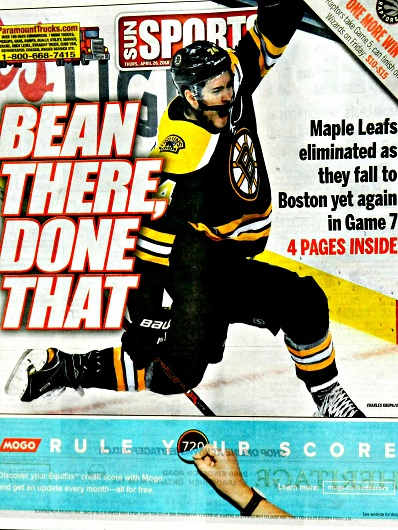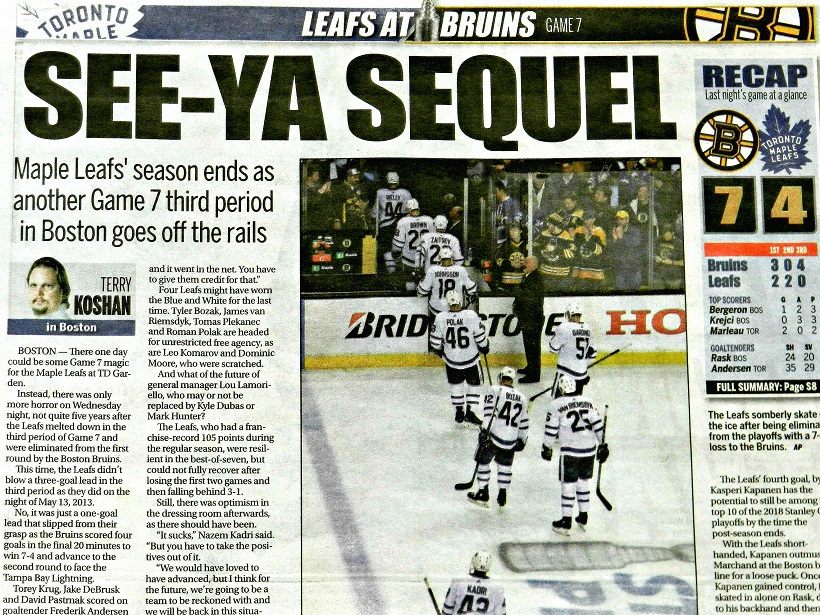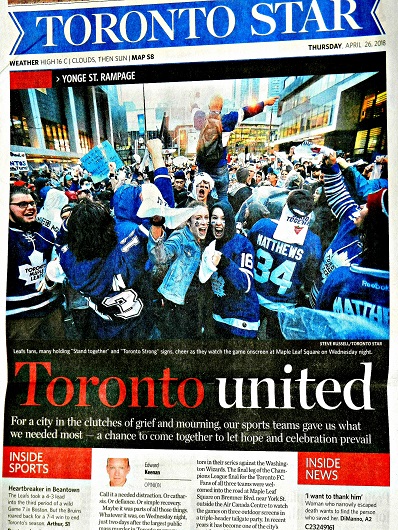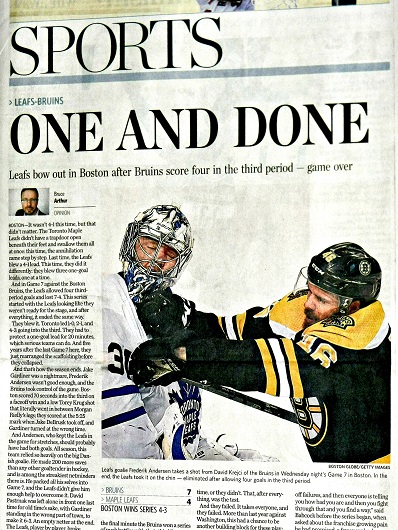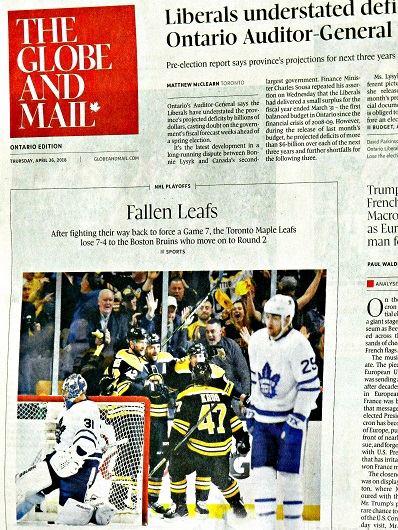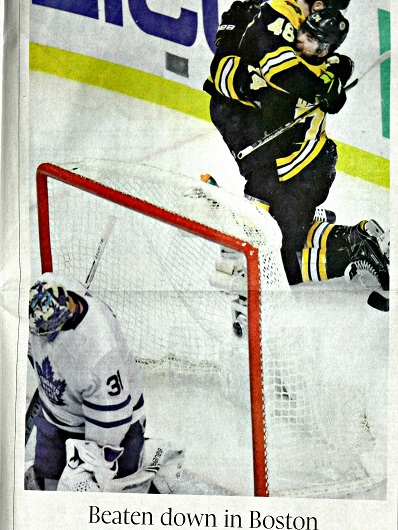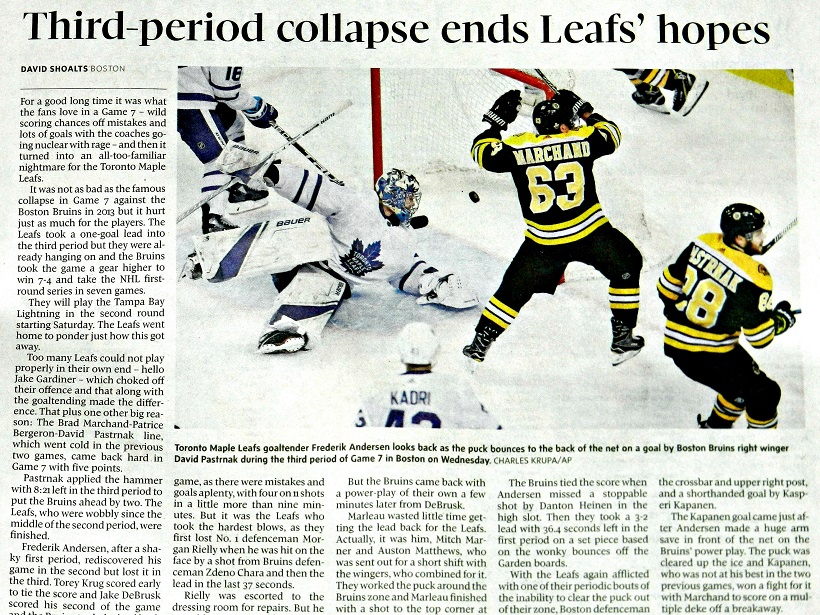 EMAIL: HOWARDLBERGER@GMAIL.COM