TORONTO (Apr. 26) — This is not to invoke the blame game. And, yes, hindsight is an incomparable ally. But, in the end — when the fat lady approached the microphone in this record–breaking season — the Toronto Maple Leafs' No. 1 goalie was out of gas. Tank close to empty. Running on fumes. To no one's surprise, the best team in the National Hockey League since mid–December fully availed itself of the situation.
The result? Boston 4, Toronto 0. In the third period of Game 7. The home side overcoming a 4–3 deficit to win the match, and the series, rather convincingly. The visitors left to ponder what we've known (and written about here) for ages: Until the Leafs acquire a defenseman capable of dictating tempo, they will not end the longest–ever Stanley Cup drought. Now 52 years. And counting. In the interminable absence of a Norris Trophy contender, way too much onus falls on the man between the pipes. Frederik Andersen kept this series alive with a spectacular third–period performance in Game 5 on Saturday. But, he had nothing left when it mattered in the finale. The Leafs, therefore, collapsed. And, the Bruins prevailed in a landslide.
During the final two months of the regular season, I saw this as a major concern. On Mar. 4, I wrote a blog here entitled FREDDY NEEDS REST, NOT RHYTHM (http://bit.ly/2FSyY8m) in response to Mike Babcock clearly riding his No. 1 stopper too hard. Given the Leafs' continuing lack of defensive posture, Andersen saw the most rubber of any goalie in the league. He looked pooped on more than a few occasions. Still, Babcock refused to lighten his workload — even with back–up Curtis McElhinney proving capable of stepping in more often. Did the coach's bullheadedness ultimately ruin the Leafs' playoff chances? Minimally, I believe it's a fair question. Andersen played even when it was all–but mathematically certain the club would finish no higher than third in the Atlantic Division. To me, that was a monstrous error. Even if the Leafs had somehow ambushed the Bruins in Game 7, their goalie would have been no match for Steven Stamkos and Co.
Too much work. Too little support.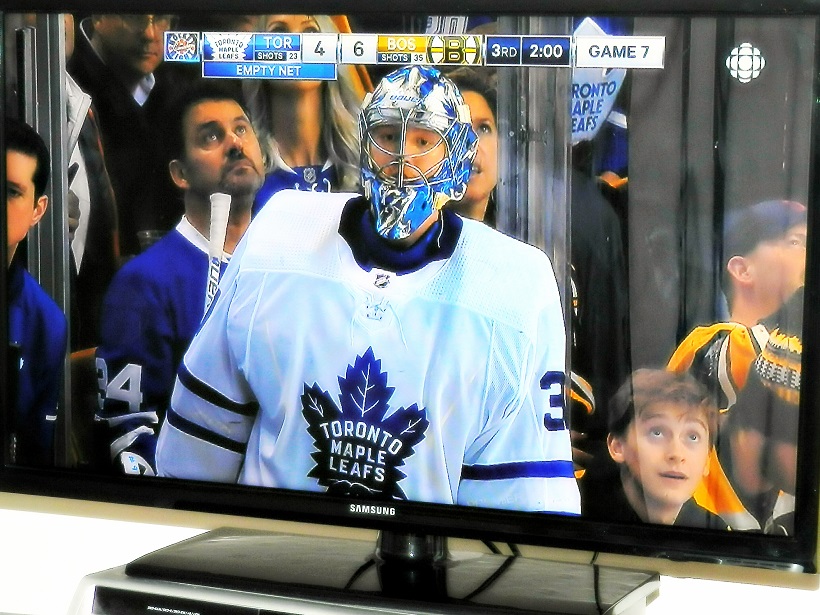 FREDERIK ANDERSEN — PULLED FOR AN EXTRA ATTACKER — JOINED LEAF FANS BEHIND THE BENCH IN WATCHING HELPLESSLY DURING THE FINAL MOMENTS OF GAME 7 AT THE TD GARDEN. HIS TANK WAS ALL–BUT EMPTY IN THE THIRD PERIOD WHEN BOSTON OUT–SCORED TORONTO, 4–0. CBC/ROGERS
This is not to even imply that Lou Lamoriello (or whoever is running the hockey operation next season) needs to replace Andersen. Cripes, the Leafs have rolled through nearly 70 goaltenders since they last won the NHL championship in 1967. Never, though, in the past 40 years, has the club possessed a Norris Trophy type. Borje Salming was the last of that breed in Toronto. And, he just turned 67. It therefore behooves whichever person occupies the general manager's chair this summer to carefully consider his options. The path of least resistance is to save copious cap dollars and ensure that Auston Matthews, William Nylander and Mitch Marner stick around for the next decade–or–so. Toronto's easily–placated fan base would welcome that approach. Far–more of a challenge is to find a way — strategically and financially — to rescue Drew Doughty from the sinking ship in Los Angeles. Doughty has one year remaining on his current pact and will be able to test the open market next summer. He is just entering the absolute prime of his career.
Without him, or a reasonable facsimile, the Leafs will continue to falter as the stakes broaden.
With a tired, overextended goalie, this became the first season in modern Leafs history in which the team — after establishing records during the regular schedule — failed to win a playoff round. Twenty–five years ago right now, the enchanting group led by Pat Burns, Doug Gilmour and Wendel Clark was on its way to 21 playoff matches in 42 nights. The 1992–93 Maple Leafs had broken franchise marks for wins (44) and points (99) in one season. Most fans of the club either remember, or have been told, that Gilmour and Co. knocked off Detroit and St. Louis before losing Game 7 of the Stanley Cup semifinals to Wayne Gretzky and the Los Angeles Kings. In 1998–99, with Pat Quinn behind the bench, Toronto won a record 45 games during the season; then defeated Philadelphia and Pittsburgh in the playoffs before losing to Buffalo. The first 100–point season in franchise history occurred the following year (1999–2000). Toronto beat Ottawa in the opening round and lost to New Jersey in Round 2. Quinn's team of 2003–04 amassed 103 points (broken by this year's club). Another first–round conquest of Ottawa led to a six–game ouster by Philadelphia. That win over Ottawa in Game 7 (Apr. 20, 2004) remains the last playoff–series triumph for the Blue and White.
I fared rather well with my first–round playoff picks this year, going 7–and–1.
From my blog of Apr. 11:
EASTERN CONFERENCE
TAMPA BAY over NEW JERSEY in 6.
WASHINGTON over COLUMBUS in 7.
BOSTON over TORONTO in 7.
PITTSBURGH over PHILADELPHIA in 5.
WESTERN CONFERENCE
NASHVILLE over COLORADO in 6.
LOS ANGELES over VEGAS in 6.
WINNIPEG over MINNESOTA in 5.
SAN JOSE over ANAHEIM in 7.
My only mistake was underestimating the surreal Golden Knights of Las Vegas. Which I will not do in the second round. Here are my predictions for the Conference semifinals:
EAST
TAMPA BAY over BOSTON in 7.
WASHINGTON over PITTSBURGH in 7.
WEST
NASHVILLE over WINNIPEG in 6.
VEGAS over SAN JOSE in 6.
Call me kooky, but I think this is finally the year Washington overcomes the Pittsburgh playoff gorilla. And, I'm staying with my pre–season pick of Tampa Bay and Nashville in the Stanley Cup final.
Hang in there, Leafs Nation. Still lots to like about your club.
EMAIL: HOWARDLBERGER@GMAIL.COM