TORONTO (Apr. 15) — So, this is what you get for 50 million dollars?
Okay, I'm being a trifle facetious… but c'mon. The Maple Leafs did not lure Mike Babcock from Detroit with the National Hockey League's most–lucrative coaching pact to fall apart when the playoffs begin. Eight years. Fifty big ones. And a cumulative 12–4 mashing at Boston in Games 1 and 2 of the Atlantic Division semifinal. Heck, couldn't the Leafs have done so little with Peter Horachek or Randy Carlyle (each of whom was fired to make room for Babcock) standing behind the bench? Smilin' Randy just guided Anaheim to an 0–2 canyon on home ice against San Jose in the Western playoffs. He and Babcock might be able to compare notes by the middle of next week… on a golf course somewhere. Even John Brophy — God rest his soul — got more out of the Leafs at Stanley Cup time. With demented owner Harold Ballard breathing down his neck.
Where, then, do we go from here?
Well, first understand that 89 percent of teams that win the opening two games in a best–of–seven series advance to the following round (or win the Stanley Cup). So, the Leafs have an 11 percent chance of recovery. The late Roger Neilson pulled it off. Forty years ago this month, when his Maple Leafs lost the first two games to the New York Islanders at Nassau Coliseum; then clawed back to win four of the remaining five and the 1978 quarterfinal on Lanny McDonald's Game 7 overtime goal. The late Pat Burns did it, too. Twenty–five years ago this month after the Leafs were similarly bushwhacked at Joe Louis Arena in the first two playoff encounters. Four of five wins followed against Detroit, culminating, again, with a Game 7 road marker in overtime (by Nikolai Borschevsky) to finish the comeback (let's not forget that Tim Cheveldae tended goal for the Red Wings; he was hardly the double of Tuukka Rask). That's twice for the Blue and White since their last Stanley Cup in 1967. Anyone willing to put money on a hattrick this time around?
Really, it's simple: Babcock needs to find a way… if not to win, then at least for his club to lose with honor. Otherwise, he takes a major credibility hit. If the Leafs meekly capitulate in four or five games, legitimate questions will be raised. Not about the Bruins — the NHL's most prolific team since mid–December, propelled by the best forward line in hockey. Fully legitimate as a Stanley Cup contender. But, rather, why the league's highest–paid coach pushed the wrong buttons at the most inopportune time.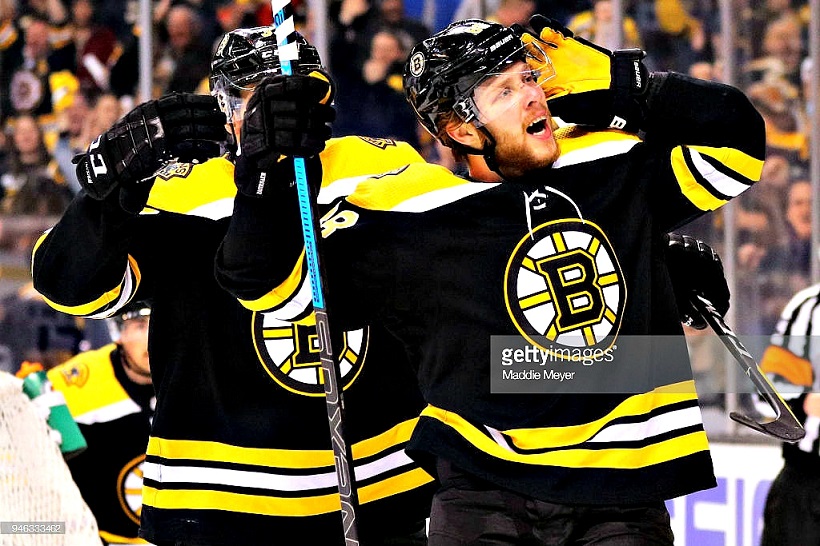 DAVID PASTRNAK HEARD PLENTY OF NOISE FROM THE TD GARDEN FAITHFUL SATURDAY NIGHT, ERUPTING FOR THREE GOALS AND THREE ASSISTS. NOT SINCE PHIL ESPOSITO IN 1969 HAS A BOSTON FORWARD SO–DECIMATED THE LEAFS IN A PLAYOFF GAME. MADDIE MEYER GETTY IMAGES
Prior to the series, in a surprisingly one–sided appraisal ("Leafs in six"), Toronto Star writer Kevin McGran had the Blue and White in cruise–control. "Toronto holds the edge in everything except goaltending and should be able to exorcise its 2013 demons against Boston" read the sub–title to Kevin's series preview.
About the coaching match–up, McGran wrote:
Bruins: Bruce Cassidy lets his players play to their strengths, but within his structure. His eight years as an assistant and head coach with the Bruins' top farm team made him the leading candidate for the job when Claude Julien was fired mid–season last year. He has two full seasons and two partial seasons of NHL head–coaching experience after getting his coaching feet wet with the Washington Capitals. His teams have been to the playoffs twice and lost in the first round both times.
Maple Leafs: To call Mike Babcock details–oriented might be an understatement. He could have the best team in the world — as he has — and would still run through drills so as not to miss any element of the game. A Stanley Cup champion and two–time Olympic champion, Babcock believes in roles for his players, balancing their time on ice, and rewards effort over skill. Babcock's teams have been to the playoffs 12 times, but his teams haven't made it past the first round since 2013.
Edge: Maple Leafs
Few readers would have argued with Kevin prior to Game 1, though his "as he has" remark about the "best team in the world" must surely have been a reference to the incomparable Canadian men's outfit at the 2014 Winter Olympics in Sochi. Let's hope so, anyway. I came off, in my preview, no better than McGran. Though I picked the Bruins in seven, I suggested the teams were "on razor's edge" — in other words, nearly too close to call. Yeah, right. After two stunningly lop–sided defeats; a pair of bench–minors for too many men on the ice, and the near–complete absence of penalty killing, Babcock appears more like a 50–thousand dollar coach right now. Should the Maple Leafs win the next four matches, McGran will look like a genius; Babcock, the miracle–worker of all time. But, how does it happen? Can it possibly happen?
Babcock was prickly with the media in Boston on the day between Games 1 and 2. Making such excuses as "I believe we were shorthanded for 11 of the last 24 minutes" and "it was a 1–1 game with 4:17 left [in the second period]." Conveniently ignoring how unconditionally his club was outplayed. And, yes, how he was out–coached by Cassidy. The opener had to be a fluke. Any pointed challenge from reporters was either scoffed at or answered with disdain. As you might imagine, the Leafs coach appeared far–more trite after Saturday night's second rout, in which his team was entirely unprepared to "start on time" (among Babcock's favorite messages), dropping into a 4–0 first–period ravine. "Let's get out of here… get some home cooking. It hasn't gone the way we wanted," was all the coach could offer this time.
Not good enough, Mike. Not nearly good enough.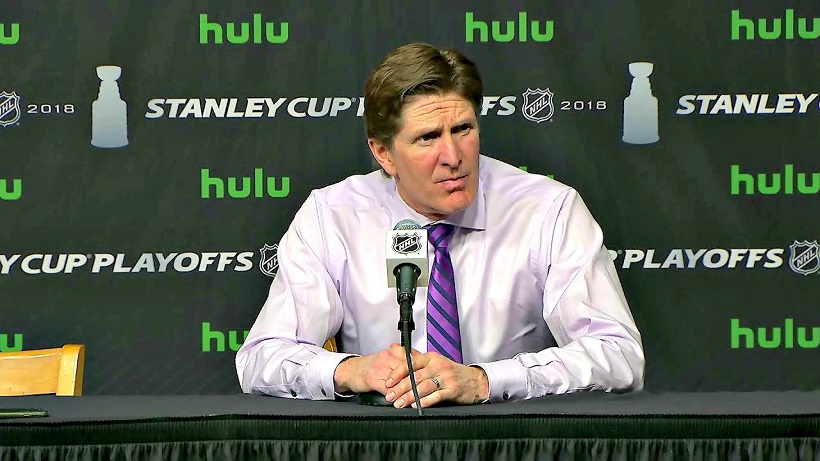 MIKE BABCOCK: NO ANSWERS AFTER THE FIRST TWO GAMES. YOUTUBE IMAGE
The Maple Leafs are thoroughly a reflection of their coach; credit squarely in his corner for a 49–win, 105–point regular season (both franchise records). Brendan Shanahan and Lou Lamoriello — president and general manager — have constructed the team in Babcock's image; first by unloading Phil Kessel; then by bottoming out to secure the best chance of landing the No. 1 draft pick in 2016. Also, by signing veteran Patrick Marleau to a three–year, guaranteed contract that will hamstring the club in 2019. Babcock has done his part rather spectacularly (a 36–point rise in the standings over two seasons). Until now.
Suddenly, his club is no match for an opponent that finished only seven points higher in the standings. The franchise player — Auston Matthews — has been no factor at all in the first two games. It's fair to wonder if William Nylander was in uniform for either match? Suggested by more than a few, long ago, that his compete–level would plummet against an aggressive opponent in a key situation. So far, so right. Marleau, Mitch Marner and James van Riemsdyk were noticeable in garbage time on Saturday. Not before. Babcock had no control over the suspended Nazem Kadri in Game 1. Zach Hyman has been the club's best forward; half–a–dozen others possess way more skill. And, the blue line? Well, how many times have I written here that the Leafs are going nowhere without a Norris Trophy type? Need I say so again?
But, you know what? Downtrodden as they appear, the Leafs are one home–ice victory away from changing the complexion of this series. One win from temporarily rehabilitating their coach. Which is the beauty of the playoffs. And, the Air Canada Centre was a mighty difficult place for visiting teams after late–January (Leafs were 15–2–0 in their last 17 home dates). Even the Bruins fell at The Hangar: 4–3, on Feb. 24. So, all is not lost… even amid the 89 percent odds–against a series rebound.
At the moment, however, the NHL's most–lavishly–compensated coach has no answer for why his best players are foundering; to where his penalty–kill has disappeared, or how to marginally contain the Boston forward unit of Patrice Bergeron, Brad Marchand and David Pastrnak — the latter breaking a Wayne Gretzky mark, no less, on Saturday by becoming the youngest player (21 years, 10 months, 20 days) to record six points in a Stanley Cup game. Not what anyone could have expected of the Leafs' 50–million–dollar coach.
As such, it is Babcock time. Now… or not at all this spring.
NHL MAGAZINES: 1967—1973
Yes, moving from mid–town to north of Toronto was a pain–in–the–arse. As wholly anticipated. But, it did have some pleasant moments. Such as opening another long–forgotten box in my sports–memorabilia collection and finding these hockey magazines from the late–60's and early–70's. Heavens, was I a pack–rat in my pre–teen years. And, with no excuses. Here, you'll see six editions of the INSIDE HOCKEY preview–annual, from 1967–68 to 1973–74. As well as other mid–season publications. It is hardly a challenge to notice that Bobby Orr was hockey's brightest star at the time. So, please enjoy these images: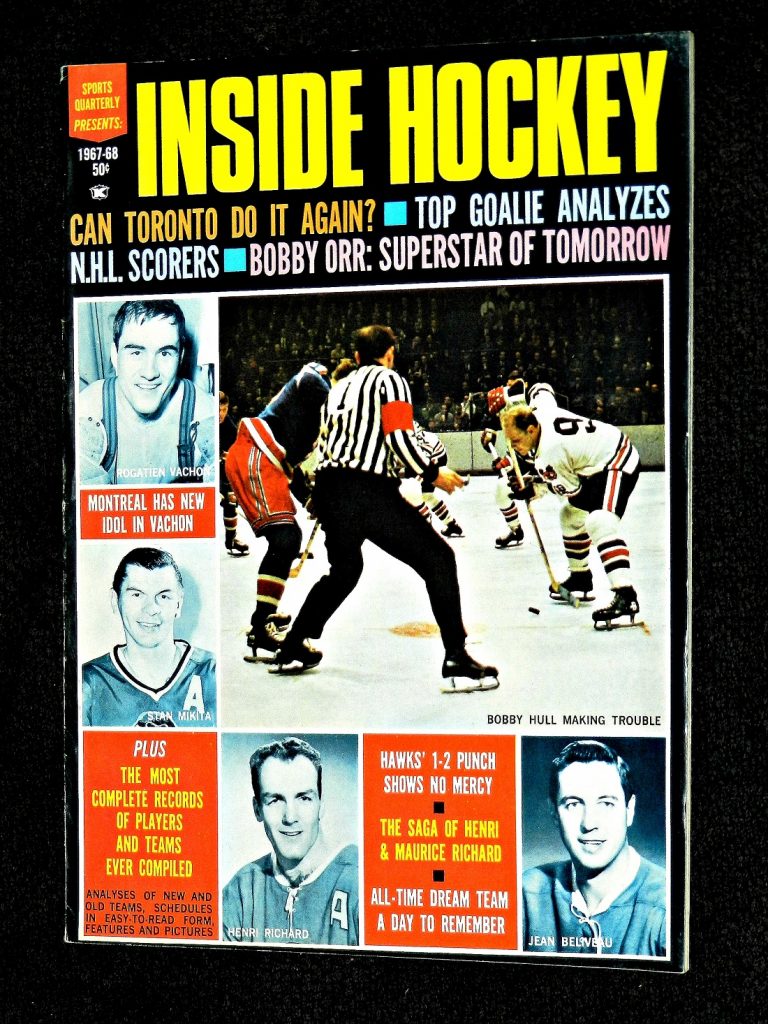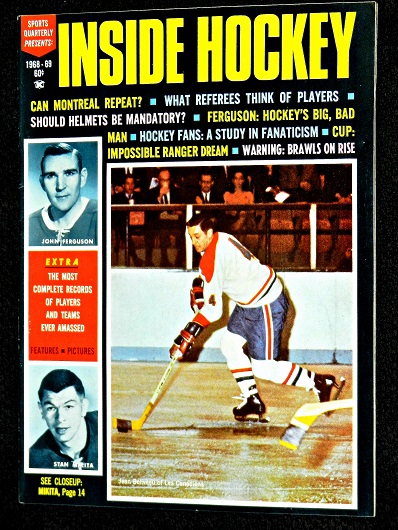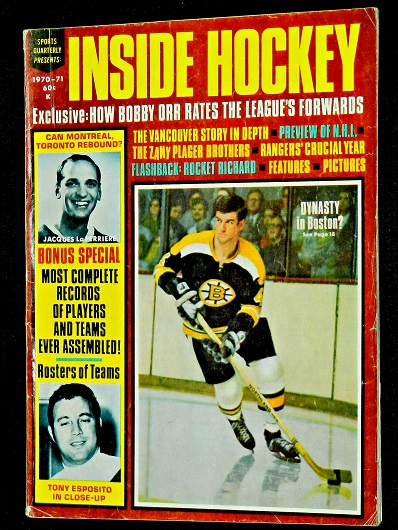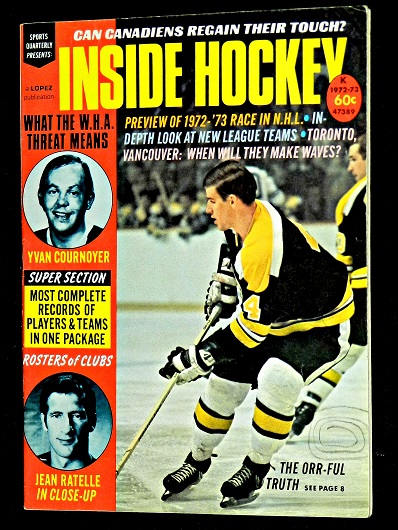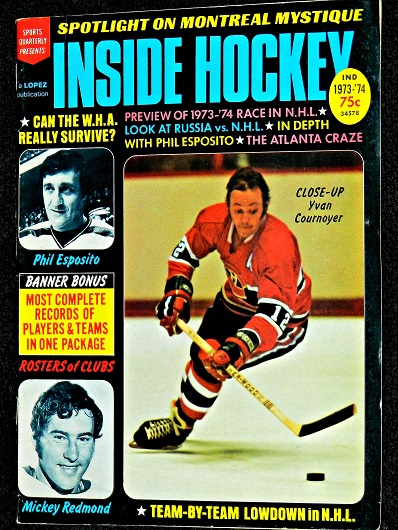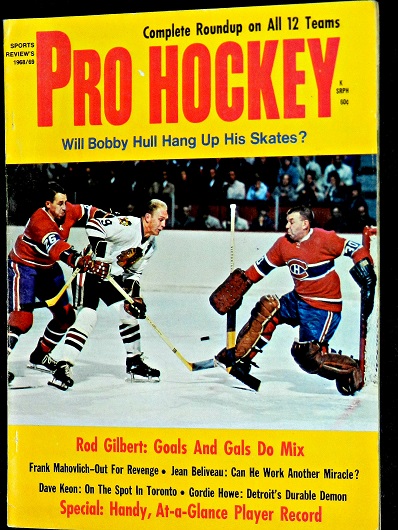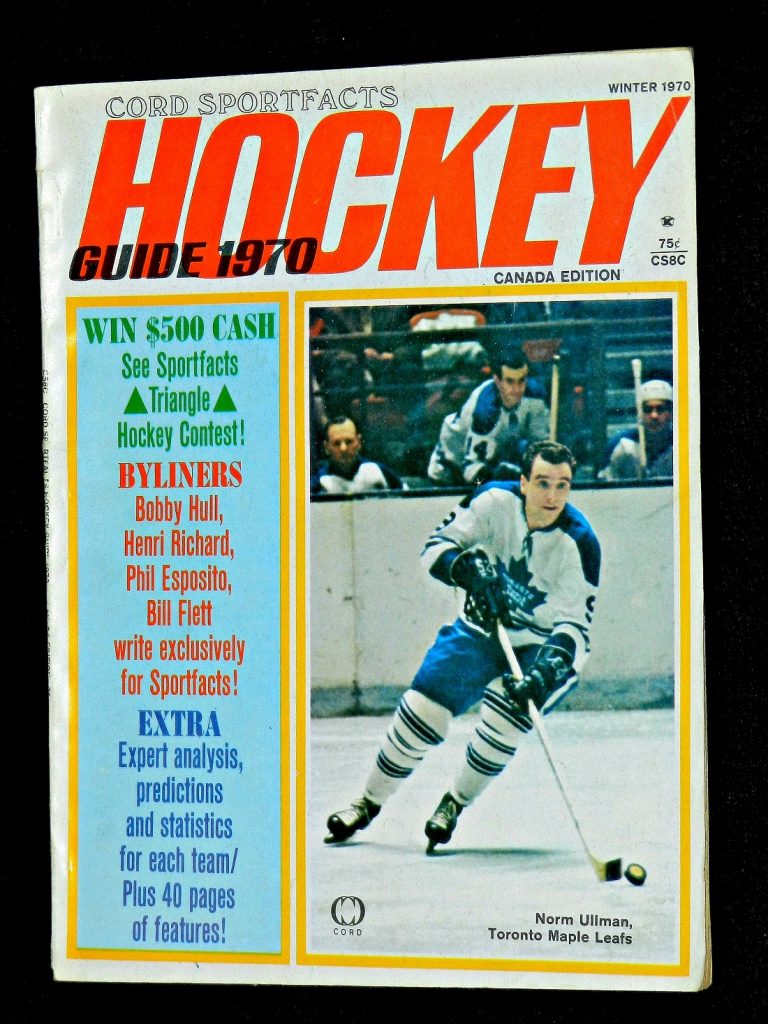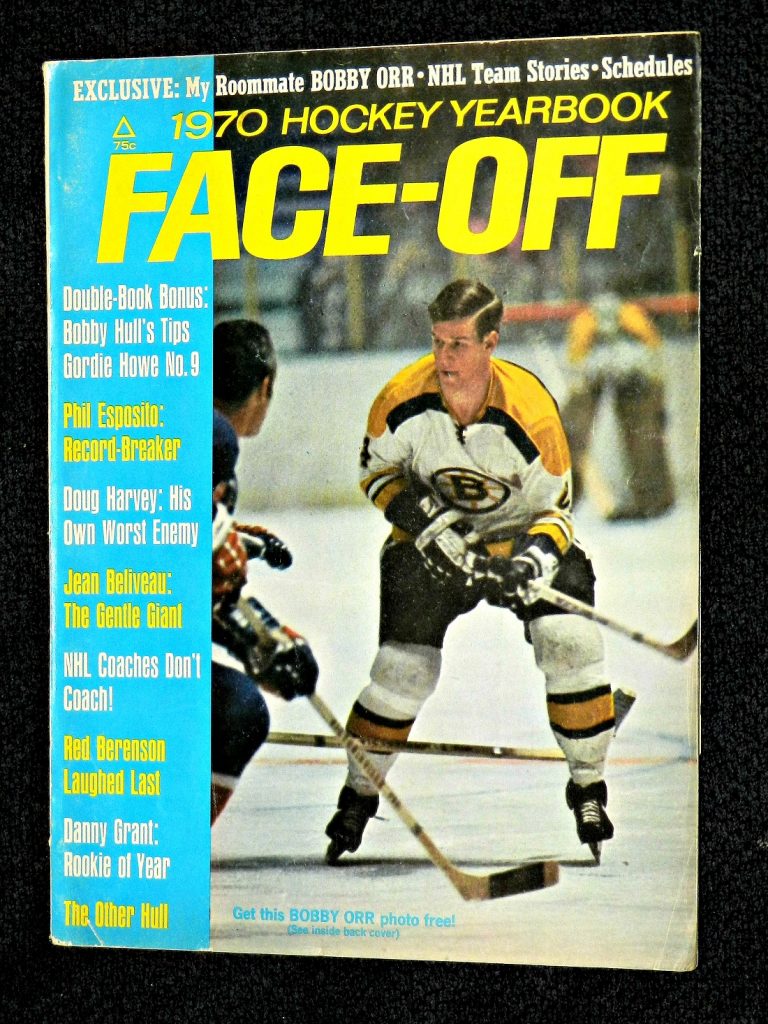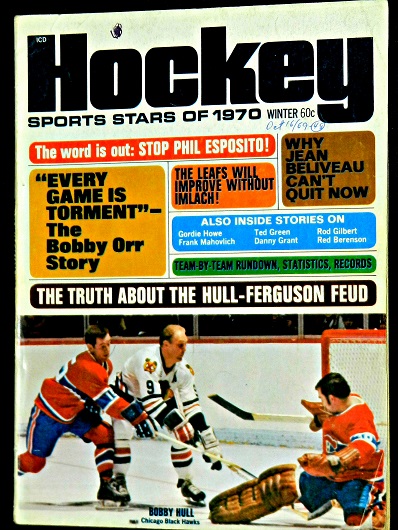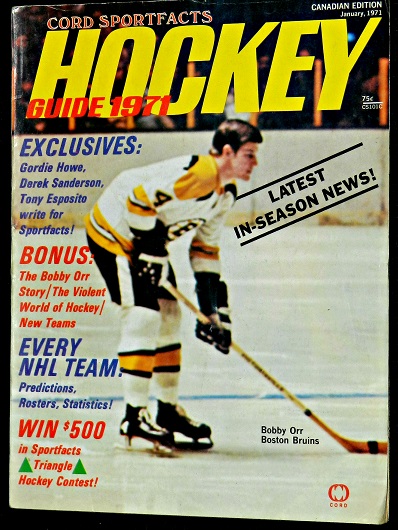 EMAIL: HOWARDLBERGER@GMAIL.COM