TORONTO (Apr. 17) — The consensus around town is that the "real" Maple Leafs showed up for Monday night's third game of the playoffs against Boston. We shall see. Game 4 will provide a clearer indication.
What I saw at the Air Canada Centre was not at all unusual. It happened elsewhere in Games 3 of the opening Stanley Cup round: at St. Paul, Minnesota (Sunday); Newark and Denver (Monday). The home team — somewhat or decisively shamed on the road in the first two matches — showed some jam and prevailed. Only in San Jose did the script continue, as the Sharks humiliated Anaheim, 8–1, to grab a 3–0 stranglehold on their series (imagine spending today in NoCal with Randy Carlyle). Having accumulated a club–record 29 wins on home ice during the regular season, the Leafs were minimally expected to compete with the Bruins in Game 3. They did that, and more, recharging their fan–base and guaranteeing a return to Boston for Game 5 on Saturday. Will it be an elimination match at TD Garden? Or start a best–of–three for all the chips?
As it stands, the Maple Leafs have an extra day to chew on Monday's win. Game 4 is Thursday night at the ACC. What a wretched 72 hours it would have been with an 0–3 series deficit. Instead, the Bruins get the additional day to ponder defeat. How that may influence the plot is yet unknown; perhaps momentum would be more sustainable for the Leafs with the normal one–day hiatus. Time will tell. What we do know is that Game 3 salvaged any reasonable opportunity for the Blue and White to recover. Only four teams in Stanley Cup history — the 1942 Maple Leafs (vs. Detroit); 1975 New York Islanders (vs. Pittsburgh); 2010 Boston Bruins (vs. Philadelphia) and 2014 Los Angeles Kings (vs. San Jose) — have overcome an 0–3 gorge in a best–of–seven playoff. Toronto, in this setting; against this opponent, would not have become the fifth.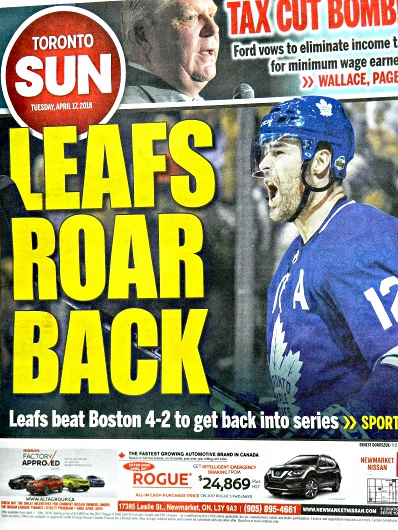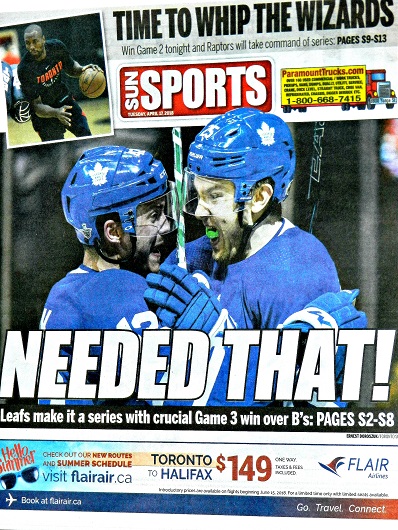 So, now it's simple. The Leafs have to rinse… and repeat. Otherwise, Monday's result is the paltry equivalent of Philadelphia's Game 2 victory at Pittsburgh. Merely a delay of the inevitable. Should, however, the Bruins drop consecutive road games for only the third time this season — it happened Feb. 24–25 at Toronto and Buffalo; Apr. 3–5 at Tampa Bay and Florida — all bets are off. The Leafs, with momentum and a cumulative 9–3–0 record against Boston since the start of 2016–17, would go back to the TD Garden with boulders between their legs. A Bruins triumph here Thursday and the series will be favored to end on the weekend.
As per my blog on Sunday (http://bit.ly/2H2ohQt), no one, in my view, needed the Game 3 triumph more than Mike Babcock… though it's an opinion the Leafs mentor would likely scoff at. Privately, however, Babcock had to be feeling confused and susceptible after the pair of debacles in Beantown. Human nature would suggest he was more–than fearful about dropping into an 0–3 series deficit. Not for his job, but a large chunk of reputation and credibility. To his credit, he made a ballsy move by promoting the somnolent Tomas Plekanec in the line–up and the ex–Montreal forward responded with his best game as a Leaf. Reverse psychology can occasionally work. Rather than dispatching Plekanec to press row — where he seemed to belong — Babcock infused the veteran with more responsibility. Now, let's see if the former Canadien is satisfied… or can bring it a second time (Nazem Kadri returns from suspension on Saturday).
Frederik Andersen is still causing hearts to skip in Leafs Nation. Though left mostly unguarded by his teammates in Boston, he allowed eight goals in less than four periods; then looked shaky on the pair that eluded him in Game 3. In only his second Stanley Cup round with Toronto (he was typically up–and–down against Washington a year ago), we still don't know whether Andersen is a playoff warrior or a playoff wart. His 4.55 goals–against average and .885 save–percentage after two–plus starts against Boston doesn't inspire confidence, but the opportunity remains for him to grab this series by the throat. He'll need to be better than Tuukka Rask for the Leafs to square the Conference quarterfinal… and to ultimately prevail.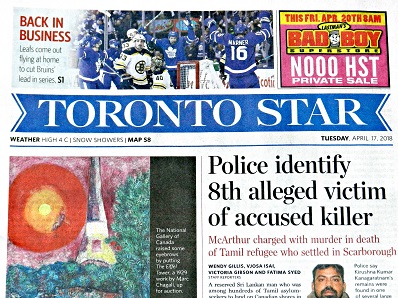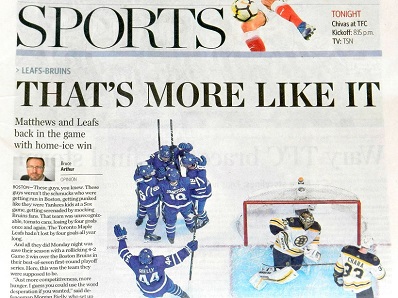 The Bruins, meantime, have to be quivering a bit themselves after the forward unit of Patrice Bergeron, Brad Marchand and David Pastrnak — explosive (20 points) in the first two games — went missing at the ACC. Was it the Leafs' puck–possession; a spell of overconfidence, or a bit of both, that silenced the scorching trio for 60 road minutes? The sudden downturn was barely noticed by veteran sports columnist Dan Shaughnessy of the Boston Globe, who offered these words earlier today:
TORONTO — We know the Toronto Maple Leafs. We know their fans. We know what it's like to care about a team that never wins. Because we WERE them. Not too long ago.
The Leafs beat the Bruins, 4-2, at the Air Canada Centre on Monday night to close the gap to 2–1 in their first–round playoff series with the Bruins. By any measure, it was a must–win game for a team that has been in must–lose mode for more than a half century. The Leafs of today are the pre–2004 Red Sox. They have fans that care about the team as much as they care about their own families. They have a 51–year championship drought. They suffered one of the most hideous losses in hockey history in Boston five years ago when they blew a three–goal lead in the third period of a seventh game against the Bruins. They were the Toronto Leaf Blowers. It remains their Bill Buckner/Bucky Dent moment.
These guys even play "Sweet Caroline" every game during the final period, a crime against humanity that should earn any franchise another three dacades of losing… late in the first period, [the Leafs] rewarded their fans with a power–play goal (bogus delay of game penalty) by James van Riemsdyk to give them their first lead of the Series. After the Bruins tied it on a Adam McQuaid slapper, the Leafs responded 43 seconds later on a sweet breakaway goal by Patrick Marleau. The Bruins tied it again on a goal line wrister by Zdeno Chara — another Mr. Softie. Leafs fans had to be wondering about goalie Frederik Andersen. But Toronto's Baby Bull Auston Matthews put the Leafs on top, 3-2, with 5:13 left in the second and Marleau sealed it with a breakaway goal with 3:35 left. So disgrace has been avoided. But we still like the Bruins' chances.
An objective bystander would have to agree. Boston, as noted on several occasions here, was the best team in the National Hockey League from mid–December on. And, looked as if it would roll to 16 consecutive playoff wins after the opening two matches against Toronto. But, today, there has to be some apprehension among the Bruins. It will convert to misgiving should the Maple Leafs draw even Thursday night.
At the very least, we have a dollop of mystery right now.
EMAIL: HOWARDLBERGER@GMAIL.COM