TORONTO (Apr. 25) — Believe, only at your peril, anything you hear about this or that person comprehending what may happen in Game 7 of the Maple Leafs–Boston Bruins Stanley Cup series.
The fact remains that nobody has a clue about the direction of tonight's winner–take–all showdown. It is virtually impossible to forecast such a result, given that inconsistency and contradiction runs rampant anytime a best–of–seven playoff goes the distance. Inevitably, each team can claim a segment of the series in which victory seemed likely. As can the Leafs and Bruins in this lengthy quarrel. Who, for example, would have counted on a Game 7 after the Maple Leafs had their doors blown off in the first two matches at TD Garden? And, why should the Bruins be favored tonight given their obvious lack of killer instinct? Toronto, you might recall, has won three of the past four encounters. This mini–Super Bowl is therefore a complete roll of the dice. The No. 1 sports cliche of all time clearly prevails: Anything can happen in a Game 7.
As evidence, let us solemnly reflect on the finale of the Maple Leafs–Bruins playoff in 2013. Not that anyone around here cares to. But, a blown, three–goal lead in final 10–plus minutes of the third period had never–before happened in Stanley Cup toil. Nor has it in the ensuing half–decade. If you wish to invoke karma, the Maple Leafs have twice — in the past 40 years — prevailed in overtime of a Game 7 on the road, ending a series in which they dropped the first two clashes on foreign ice (Toronto and Boston split the opening games of the 2013 series at the TD Garden). In 1978, the mustachioed one, Lanny McDonald, scored in extra time of Game 7 against the New York Islanders at Nassau Coliseum. Fifteen years later, in 1993, Nikolai Borschevsky did the same against the much–favored Detroit Red Wings at ol' Joe Louis Arena.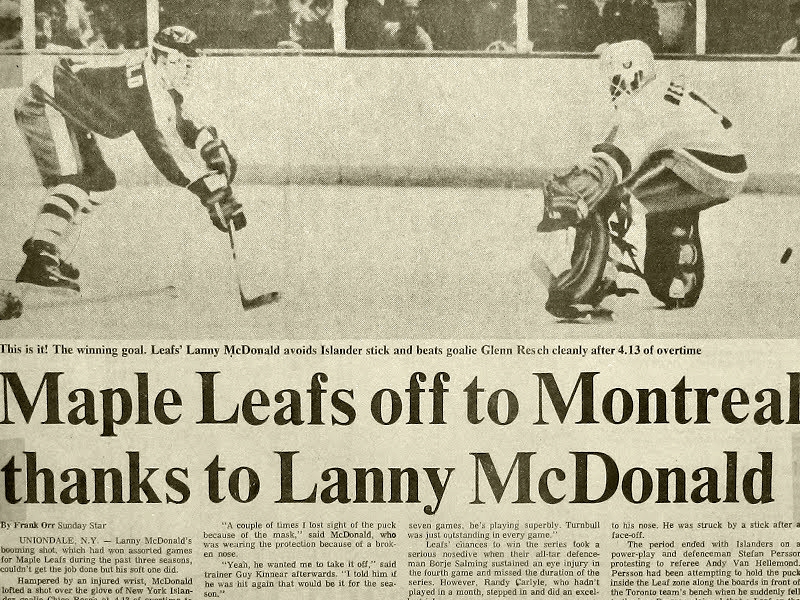 TORONTO STAR SPORTS THE MORNING AFTER MACHINE GUN LANNY KAYOED THE ISLANDERS.
Several Leaf fans, aware of a story I've written and spoken about on occasion, have implored me to spin a Neil Young tune at some point today. On the afternoon of Apr. 29, 1978 (Sunday will be the 40th anniversary), I was shopping at the Yorkdale mall here in town and purchased one of Young's vinyl albums. For whatever reason, I repeatedly listened to his 1976 hit "Long May You Run" in the hours before Game 7 against the Islanders. When McDonald beat Glenn Resch at 4:13 of overtime, I nearly destroyed my bedroom going berserk with a half–dozen delirious friends. On the afternoon of May 1, 1993, I was driving to Detroit along the westbound 401 to cover Game 7 of the Leafs–Red Wings series for The FAN–590. Roughly halfway through the four–hour trek, "Long May You Run" came on the radio. Several hours later, Nik the Stick scored in OT for the visitors. So, yeah, Leaf rooters want me listening to Young before tonight's match in Boston — a difficult task, for sure, while working from 8:30 a.m. to 4:30 p.m. at a funeral chapel. But, I'll do my best.
When listening to the radio Tuesday, I heard several pundits go way out on a limb by suggesting Boston has the edge on home ice in Game 7. Imagine the nerve and chutzpah required to make that prediction. Even if there is some merit. Undeniably, the Leafs can look to only one period of nine thus far at TD Garden — the opening frame of Saturday's fifth match — in which they held a territorial edge (crafting a 2–0 lead). The Bruins were dominant (at times stunningly) in the other eight periods. If not for the acrobatics of Maple Leafs goalie Frederik Andersen, the series would have ended on the weekend. What it appears to indicate is that Toronto absolutely must reverse that lop–sided trend in order to prevail and move on against Tampa Bay in Round 2. But, who knows? The Bruins could conceivably throw the kitchen sink at Andersen once more tonight and come up short. Freddy has been ready since the Game 1 and 2 debacles. Who's to say, conversely, that Andersen won't turn sieve again? Or that Tuukka Rask is a lock to enjoy a splendid night at home for the Bruins? It's a one–off for both teams. Strange crap almost always occurs in these situations.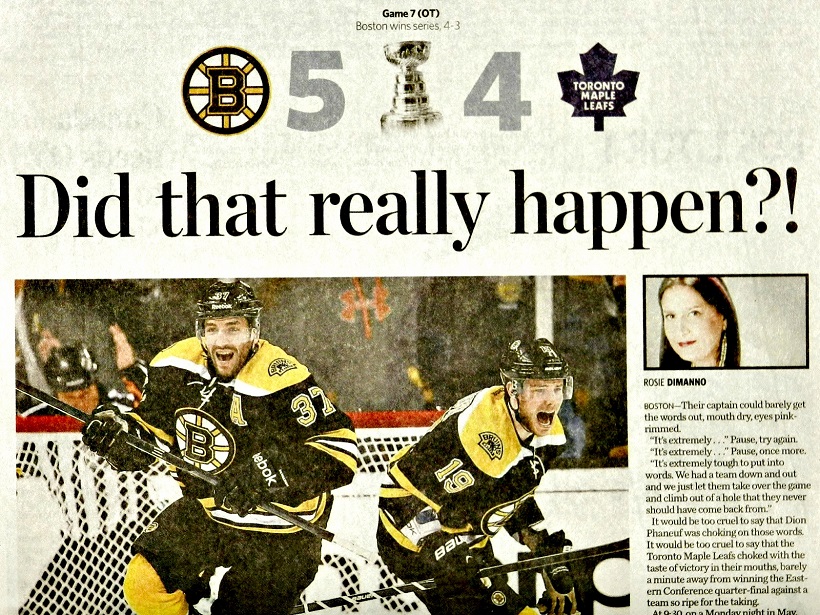 YEAH, IT DID. ON MAY 13, 2013 AT THE TD GARDEN. SORRY, LEAF ZEALOTS.
Prior to the series, I picked the Bruins in 7. After Game 2, I wasn't sure it would continue beyond four. Which, as mentioned, typifies the ebb–and–flow of a playoff round that goes the distance. So, pay no attention to what I sense will happen tonight. I'm sticking with Boston. And, maybe in a performance reminiscent of the first two games. In other words, not particularly close. Then again, perhaps the visitors will build a 4–1 lead in the third period (oy vey). Or, the lights will go out at TD Garden (as they did at neighboring Boston Garden during the 1988 and 1990 Stanley Cup finals). Why, prey tell, should we discount any scenario in a Game 7?
CONTRASTING IMAGES
After a normal day in our city, the Maple Leafs victory over Boston in Game 6 would have supplanted all other items on the cover of local newspapers. But, there was nothing "normal" about Monday, when Alec Minassian, the heartless bastard, drove his rental van onto a sidewalk full of pedestrians near Yonge Street and Finch Avenue, killing 10 innocent souls and maiming 14 others. As such, the hockey triumph played second–fiddle — and distantly — in Tuesday's papers.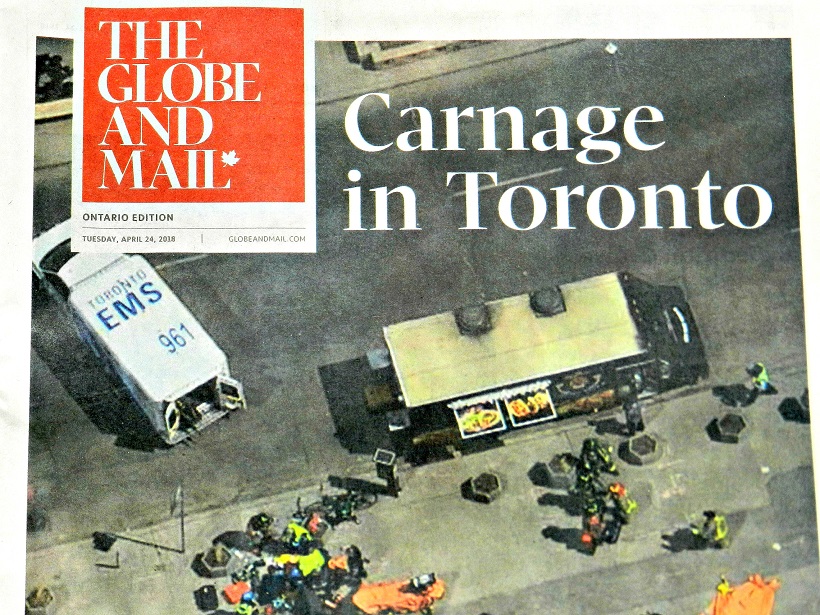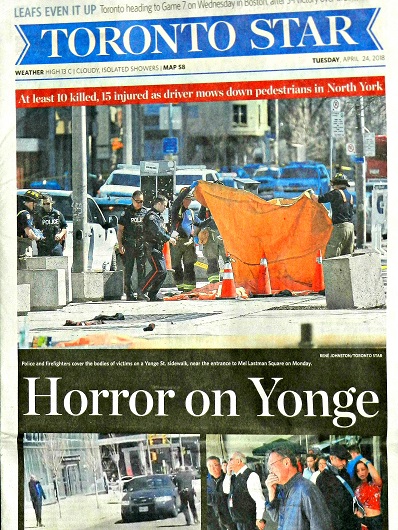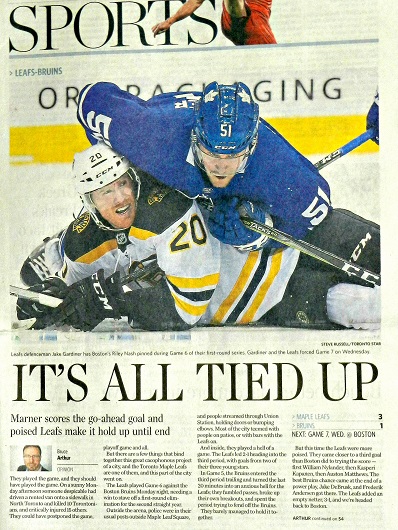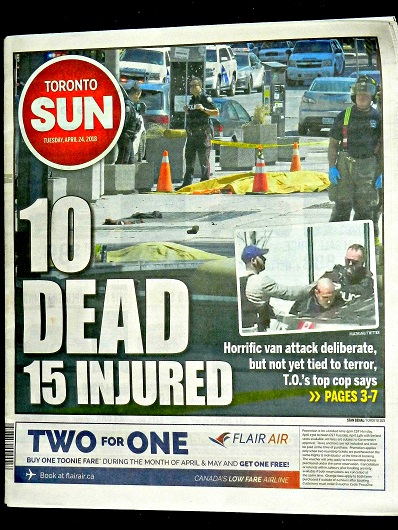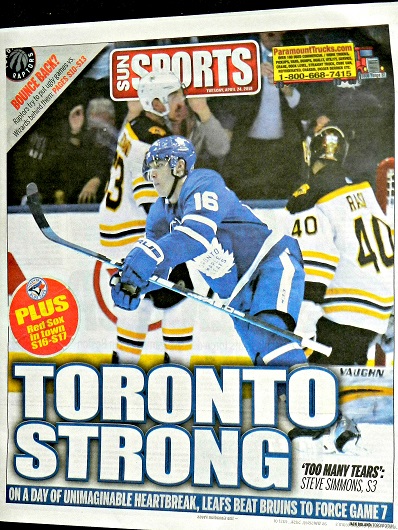 EMAIL: HOWARDLBERGER@GMAIL.COM