TORONTO (Apr. 28) — Let's assume, for a moment, that Don Cherry is unlikely to be a mainstay on Hockey Night In Canada for another 38 years. Though Donald S. seems indestructible — in our livingrooms each Saturday since 1980 — he might slow just a tad by his 122nd birthday. Let's also assume that whichever company owns the rights to Hockey Night (Rogers has the key through the 2025–26 season) continues with a version of Coach's Corner once Cherry is no longer "available". It says here that only one man currently alive can fill the enormous void. And, by coincidence, Brian Burke returns to national TV this very weekend.
The truculent one, it was revealed on Friday, is stepping down as president of the Calgary Flames as of May 1. At the same time, Sportsnet announced that Burke will immediately join its broadcast team for the remainder of the 2018 Stanley Cup playoffs. The betting, in this corner, is that double–B spends the remainder of his working days behind the camera. Other than Cherry, no hockey figure is more polarizing; more outspoken; more irascible… and more inclined to speak unabashedly about the game. As happens each time Cherry appears on screen, Burke will compel ratings to soar. Neither will he stick around for 38 more years, but Burke, at 62, is young enough (presuming health) to establish his own juggernaut on Saturday nights. Let us offer a solemn, heartfelt entreaty to poor Ron MacLean in his attempt to now bridle a pair of runaway trains on the big screen; though it's a burden for which only he is inexorably qualified.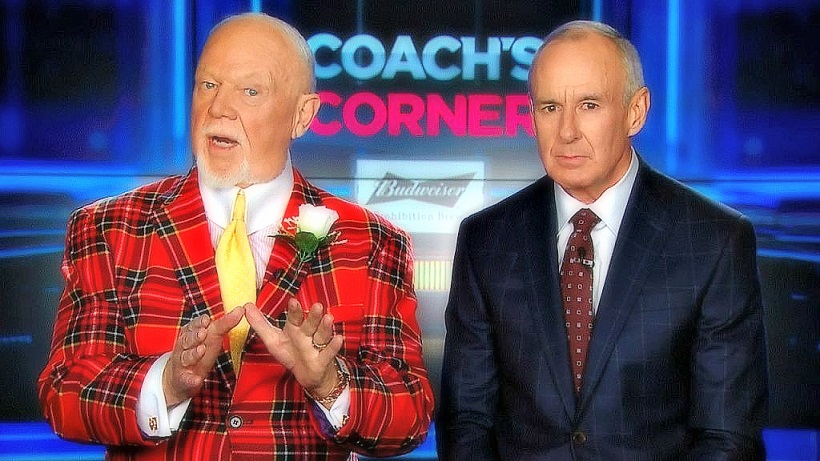 IT IS NOW RON MacLEAN'S UNENVIABLE TASK TO MANAGE — ON AIR — UNQUESTIONABLY THE TWO MOST CANDID, VOLATILE FIGURES IN HOCKEY: DON CHERRY (ABOVE) AND BRIAN BURKE (BELOW).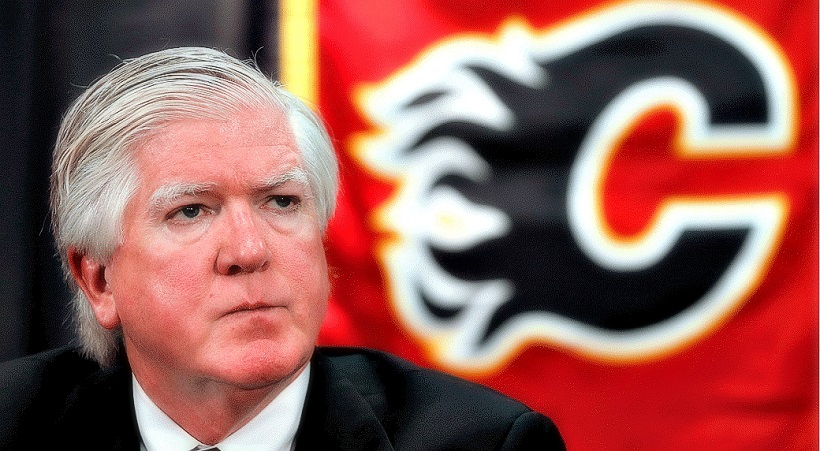 Within the hard, outer–shell of Cherry and Burke lies abundant empathy and courage. A couple of stories I've told in the past: While at The FAN–590, I phoned Cherry one day to ask a favor. A father of one of my close friends was dying of cancer. The man was a huge follower of Cherry. My friend asked me if there was any way I could get Cherry to call his dad on the phone; said it would provide an enormous emotional lift in his waning time on Earth. Cherry quickly agreed to the request and I thought nothing more of it until my friend telephoned about a week later. Turned out that Donald S. arranged for a limo to pick up he and his father and drive them to Cherry's Grapevine restaurant in Mississauga. He met them for lunch — a 90–minute session the dying man took to his grave. My friend and I had merely hoped for a simple phone call.
No person in my 23–year term at the radio station showed remarkable courage and commitment as did Burke at the 2010 Winter Olympics in Vancouver. You may recall that days before the Games began, Burke's 21–year–old son, Brendan, was killed in an automobile mishap on a snow–covered Interstate in Ohio. Brendan Burke had recently come out as gay — an orientation that phased neither his hockey cohorts at Miami University (he was student manager) nor his abrasive father. Just two weeks before his untimely death, Brendan had been in the press box at Air Canada Centre. I had the opportunity to introduce myself and shake hands with the gallant youngster. Brian was general manager of the United States men's hockey team at the Olympics and he somehow gathered the emotional strength to carry out his assignment. As long as I live, I'll remember sitting around Burke with fellow reporters at the large media–broadcast center in Vancouver. The big, tenacious man openly cried while assuring that Brendan would want nothing less from his father. It remains the most extraordinary and selfless act I witnessed during my radio career.
No–such tenderness will prevail when Burke appears before Rogers/CBC cameras. During his long career as a player–agent; as chief of discipline at the National Hockey League, and as general manager of the Hartford Whalers, Vancouver Canucks, Anaheim Ducks and Toronto Maple Leafs, Burke offered unfiltered opinion. He'll do so again on the big screen. Which makes him a natural on television… and quite the person to ride shot–gun with Donald S. Cherry. Hold onto your hats. Hockey Night is about to get louder. Much louder.
OF MIKE AND AUSTON: It must be remembered that every coach in professional sport, regardless of résumé, has a shelf–life; a period of time during which his message will resonate. Once that time inevitably expires, so does the coach. Not suggesting here that Mike Babcock's time is nearing an end with the Maple Leafs. But, there's clearly something going on between Babcock and the franchise cornerstone, Auston Matthews. Few TV pundits are as connected as Sportsnet's Nick Kypreos, a former player in the NHL. When he spoke this week of a "rift" between Babcock and Matthews, you can be sure it came from another person within the Leafs' dressing room. Naturally, both men denied any–such issue when the Leafs packed up at the Air Canada Centre on Friday. But, neither will they be nominated for an Academy Award. Acting ability was minimal when Babcock told reporters he had directly confronted Matthews about any problem and was told "nay". Matthews could hardly summon a poker–face when attempting to laugh off the suggestion. Whether or not he brings the Stanley Cup back to our city after more than half–a–century, Babcock is unlikely to fulfill his eight–year contract as Leafs coach. Though undeniably competent behind the bench, he is relentless in his pursuit of victory. Almost never does he show a second gear. As such, his shelf–life will expire, as it did in Detroit. Whether that time accelerates as a result of hostility with Matthews remains to be seen. It never is, however, particularly sound strategy for a coach to clash with his best player.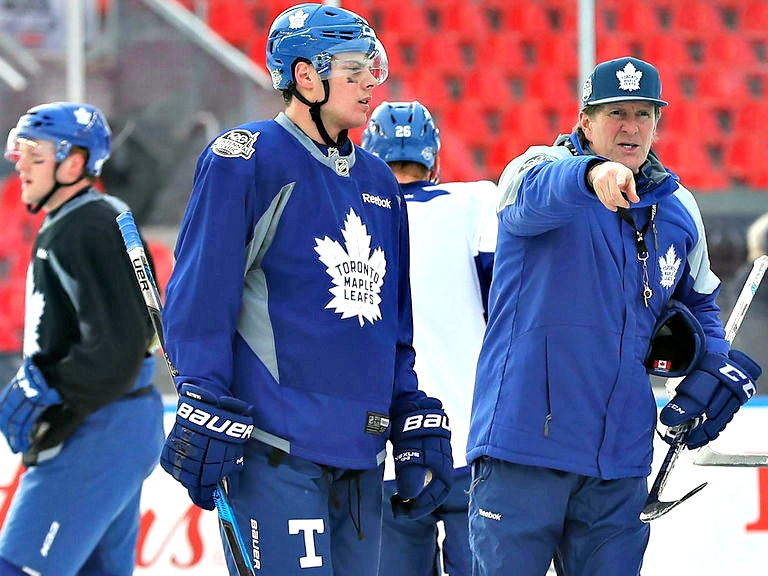 TROUBLE IN PARADISE: IS THERE A DIVIDE BETWEEN THE LEAFS BEST PLAYER AND COACH?
SCAPEGOAT JAKE: Of course, fans and media distraught over the third–period demise of the Leafs in Boston had to identify a scapegoat. And, Jake Gardiner was an easy choice. The now–veteran defenseman had an abysmal Game 7 and was chosen to personify the latest collapse of his team. If it were only that simple. First of all, Gardiner has been a skilled, durable performer for the Blue and White since becoming a regular at the start of the 2013–14 season. His acquisition from Anaheim (with Joffrey Lupul and a fourth–round draft pick for Francois Beauchemin) ranks among Burke's finest as GM of the Leafs (a bit behind JVR for Luke Schenn). True, Gardiner is mistake–prone, but that hardly puts him in an exclusive category among Toronto blue–liners. Were he part of a defense unit that featured a Norris Trophy candidate at the top, life would be much easier and fans would almost certainly view Gardiner more affirmatively. As they would Morgan Rielly. In the absence of a legitimate, front–line performer, too much responsibility is cast upon others. It filters down through the entire defense corps. And, when one member struggles in such–a–spotlight as Game 7 of a playoff series, he must therefore be the problem. We'll call it "Aki Berg Syndrome". Even if the Leafs had escaped Boston with a series win, it wouldn't alter the undeniable fact that Lou Lamoriello (or whoever is GM of the club moving forward) must largely overhaul the blue line. If such replenishment involves Gardiner, so be it. But, casting him as a cover for the Game 7 defeat in Boston is truly unfair. It was, as they say, a "team effort" through the final 20 minutes. Let's also recognize that Gardiner had the valor and character to stand before TV cameras afterward and assume responsibility for the loss. Many others would have skirted the issue… or escaped the media glare altogether. Jake is far from the Maple Leafs' biggest problem.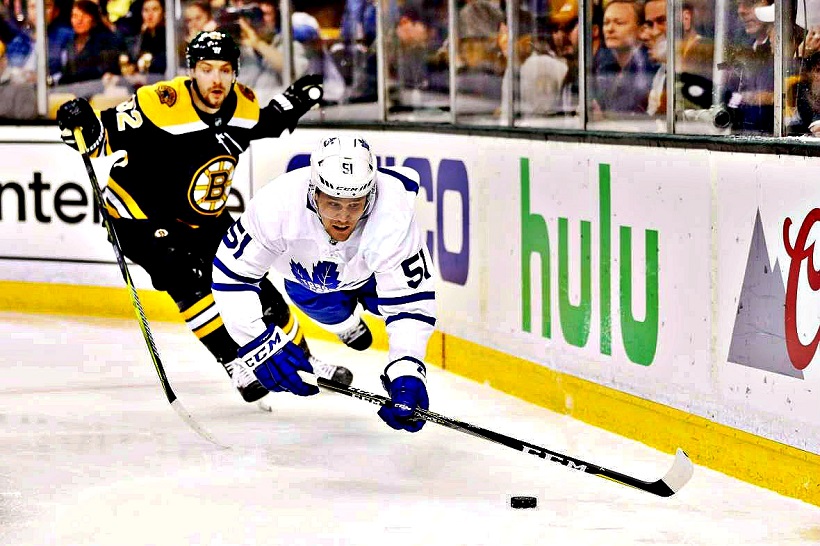 YES, JAKE GARDINER STUMBLED AGAINST THE BRUINS IN GAME 7. BUT, HE HAD LOTS OF COMPANY.
THE VEGAS ROLL: Okay, let me say it: Not only will the Vegas Golden Knights win the Stanley Cup — thereby becoming the first expansion team in pro sports history to accomplish such an absurd feat — they will also be the first team since the 1952 Detroit Red Wings to go undefeated in the playoffs. Of course, 66 years ago, there were only six teams in the NHL and two best–of–seven rounds. Detroit, with such Hall–of–Fame players as Terry Sawchuk, Gordie Howe, Sid Abel and Red Kelly, romped past Toronto and Montreal in the minimum eight matches. Vegas has to double that feat, but who's to say such comparative no–names as Jon Marchessault, Reilly Smith, Erik Haula and Alex Tuch will not go 16–and–0 this year? Nothing in the history of professional sport comes close to equaling what the Golden Knights have accomplished, to this point, in their inaugural season. Why expect the club to lose even a single game? Until it happens, I certainly won't.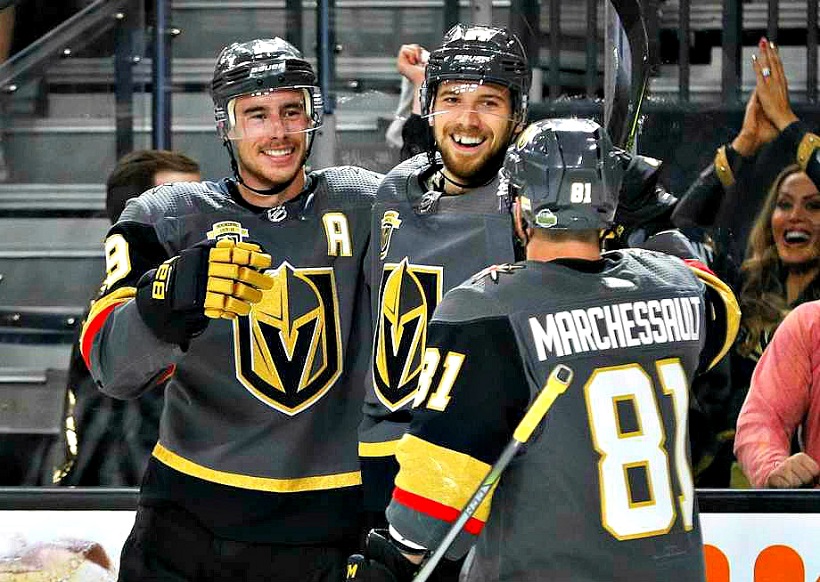 THE VEGAS GOLDEN KNIGHTS HUMILIATED SAN JOSE, 7–0, IN GAME 1 OF THEIR WESTERN CONFERENCE SEMIFINAL THURSDAY NIGHT. THE INCOMPARABLE EXPANSION TEAM IS 5–0 IN THE PLAYOFFS THUS FAR, HAVING OUTSCORED THE OPPOSITION 14–3. JOHN LOCHER THE ASSOCIATED PRESS
EMAIL: HOWARDLBERGER@GMAIL.COM