TORONTO (Apr. 24) — Ten people are dead after the driver of a van mounted a sidewalk–curb in North York and indiscriminately bowled over pedestrians, making international news. And, yes, the Toronto Maple Leafs are once more en route to a decisive Stanley Cup encounter against the Boston Bruins. Apples and oranges, to be sure, but a shred of light on one of the darkest days in our city's history.
Were the sporting event able to stand on its own, exhilaration would wash over this town. But, how can even the most fervid follower of the Blue and White separate Monday afternoon from Monday evening? Death and sports… like two ships passing in the night. One profoundly independent from the other. Yet, life does go on amid even the most unspeakable circumstances. And, the Leafs, therefore, will lug Toronto's battered soul to the ice in Boston on Wednesday night. Game 7. At the TD Garden. Again. Sixty minutes (or longer) for all the playoff chips. A haunting parallel, indeed, to 2013 that hockey zealots around here anxiously embrace. A few more hours to divert the pain and misery that so many, at this moment, can barely fathom.
Toronto and Boston in the only Game 7 of the opening playoff round. Yup, we've been here before. Five years (less one month) ago, the Leafs avoided elimination against the Bruins by winning Game 5 at the TD Garden. Then did so again in Game 6 at the Air Canada Centre. The blown 4–1 lead by the visitors in the third period of Game 7 generated emotional and physical destruction. My then–16–year–old son plopped his Leafs jersey in the nearest trash can, then heaved something hard at his bedroom window, cracking a row of shutters. At the time, the Maple Leafs were attempting to overcome 71 years of playoff history. Wednesday night, it will be 76 years (or 912 months; 3,952 weeks; 27,664 days) since the club's lone bounce–back from a 1–3 playoff deficit — in the 1942 Stanley Cup final against Detroit. Will it happen again? Can it happen?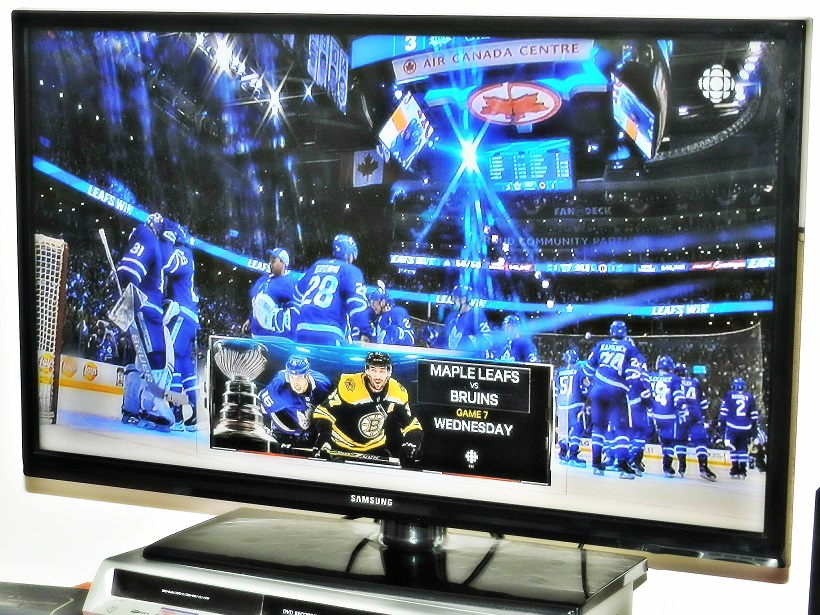 YES, IT'S TRUE: TORONTO vs. BOSTON. GAME 7. WEDNESDAY NIGHT. AT THE TD GARDEN. CBC/ROGERS
Some will say it really doesn't matter. And, with excruciating merit. All Monday afternoon and evening, TV stations on both sides of the Canada/U.S. border led with the senseless tragedy in north–Toronto. CNN. FOX News Network. The Big 3 (ABC, CBS, NBC). And, of course, all local outlets here in town. The last time a Toronto mayor appeared on international television, Rob Ford spent 15 uncomfortable minutes trading barbs in Hollywood with Jimmy Kimmel. Later on, he again made news for the rare, soft–tissue cancer that would claim his life after only 47 years. On Monday, current mayor John Tory stood tall and empathetic for the grieving families of those lost in the van–sidewalk incident. "He's an impressive man," commented a pundit on CNN moments after Tory conducted a late–afternoon briefing with reporters.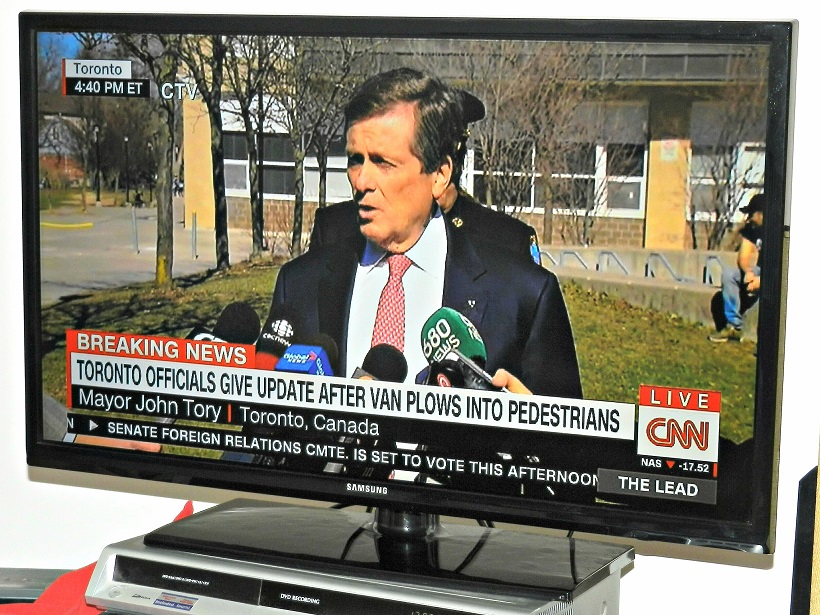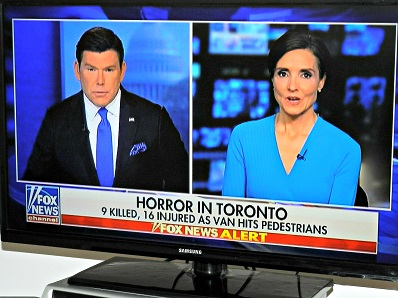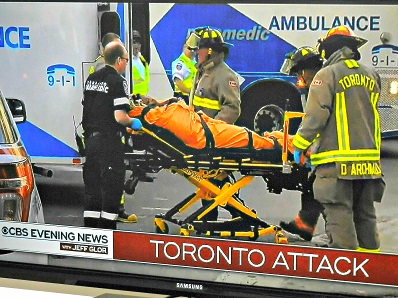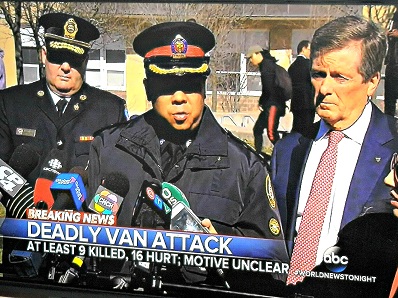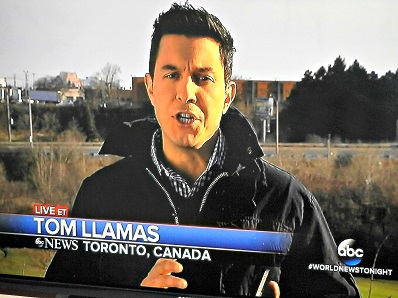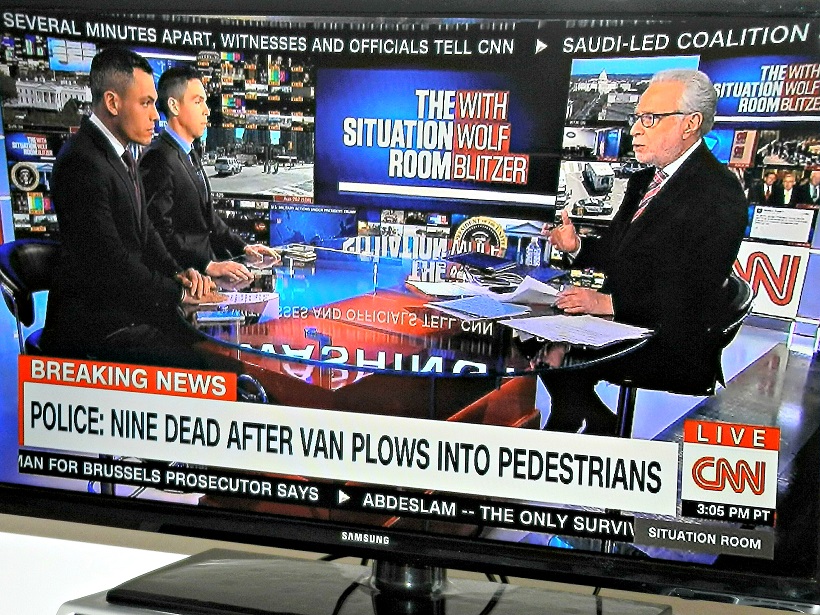 The Game 6 telecast on CBC and Sportsnet began solemnly at 7 p.m. EDT with an aerial shot of downtown Toronto (below) and a grim–looking Ron MacLean (still sporting his green–and–gold Humboldt Broncos ribbon) adding perspective, as only he can, to the evening's entertainment. Oddly, there was no mention of the van incident during the body of Coach's Corner — MacLean and Don Cherry sticking to hockey until the final seconds, when MacLean abandoned his usual exit–pun in favor of more compassionate words for the families of those killed in the tragedy. Cherry responded with his patented thumbs–up gesture.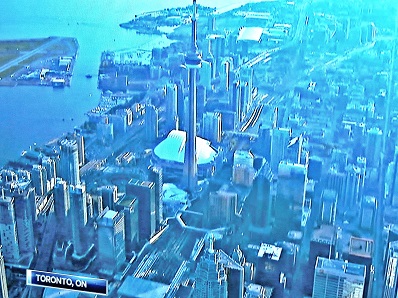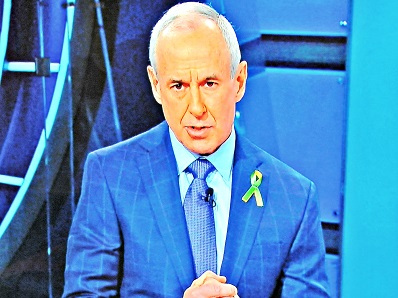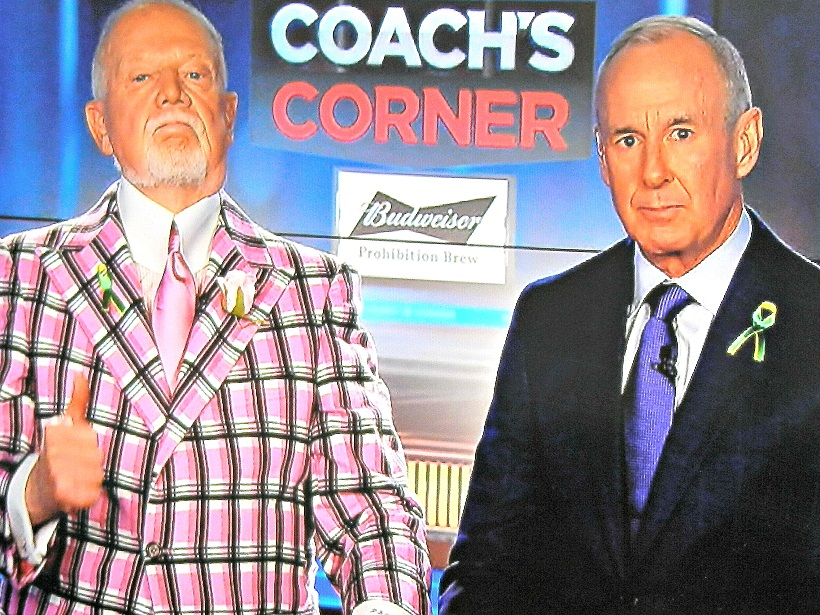 Boston scored first during the game; Toronto added the next three goals. At no time in this playoff round has the underdog performed as meticulously as in the third period — the Leafs nursing a 2–1 lead with a textbook display of defensive hockey. It bodes well for Wednesday night. After a terribly slow start, Mike Babcock has exerted influence on his team… and the series. Randy Carlyle endured the misery of the Game 7 Toronto collapse at TD Garden in 2013. His current team — Anaheim — exited with barely a whimper against San Jose this spring, losing four straight. Does it matter who stands behind the Leafs bench? Probably. More important, however, will be the men standing between the pipes on Wednesday. If Frederik Andersen out–duels Tuukka Rask, the Leafs will complete the comeback and head to Tampa for Round 2.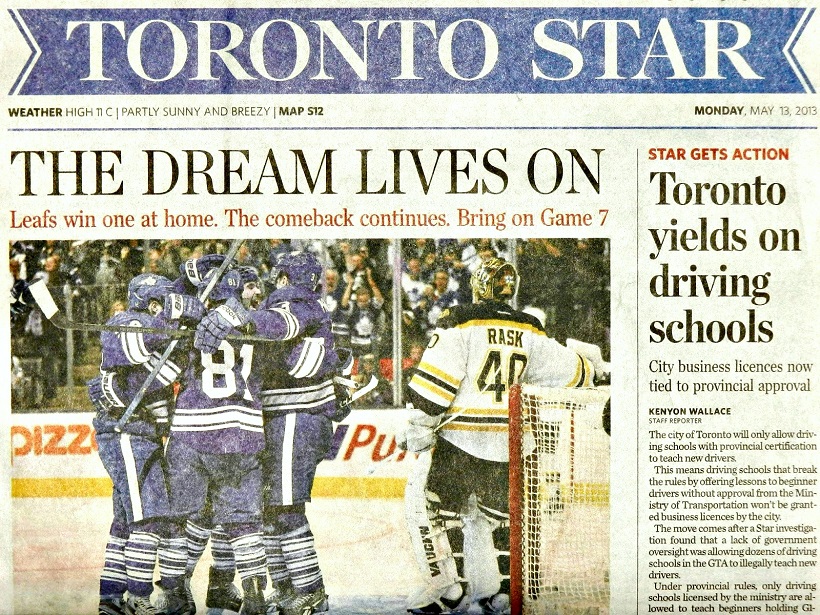 IMAGES (ABOVE AND BELOW) FROM THE TORONTO STAR OF MAY 13, 2013, AFTER THE LEAFS DEFEATED THE BRUINS AT AIR CANADA CENTRE IN GAME 6 OF THEIR FIRST–ROUND PLAYOFF SERIES TO SET UP A DECIDING MATCH LATER THAT NIGHT AT THE TD GARDEN. NEED YOU BE REMINDED, TORONTO COUGHED UP A 4–1 THIRD–PERIOD LEAD AND LOST GAME 7 IN OVERTIME ON A GOAL BY PATRICE BERGERON. THE LEAFS HAVE FORCED ANOTHER WINNER–TAKE–ALL ENCOUNTER AT BOSTON.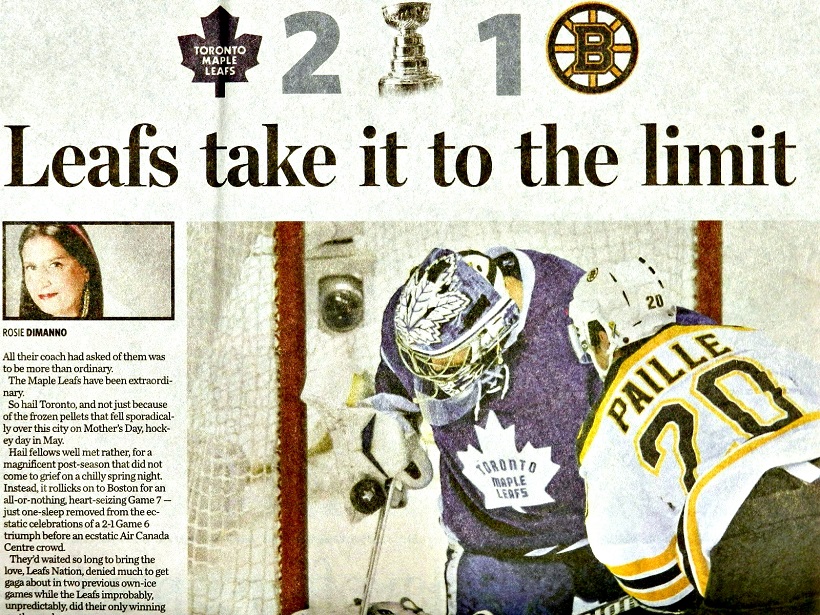 EMAIL: HOWARDLBERGER@GMAIL.COM