TORONTO (May 2) — It's that date again. For the 51st time. The end of the six–team era in the National Hockey League. The beginning of the longest–ever Stanley Cup famine. Yes, there was pandemonium, Toronto style, 51 years ago tonight at Maple Leaf Gardens. In other words, a collective countdown from 10… 9… 8… a brief, loud roar at zero… and polite applause. The Leafs had won the Cup. Again. For the fourth time in six years. With expansion on the immediate horizon, how could the dynasty not continue?
Then… nothing. Zilch. Bupkes. For half–a–century. And counting. Will the drought ever end? Can it end?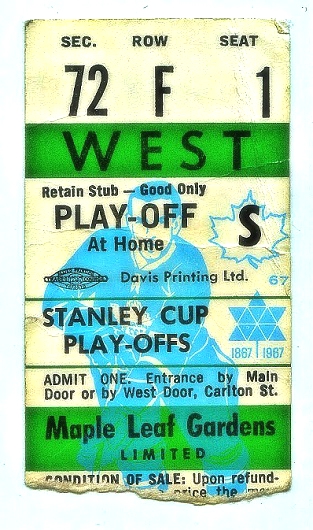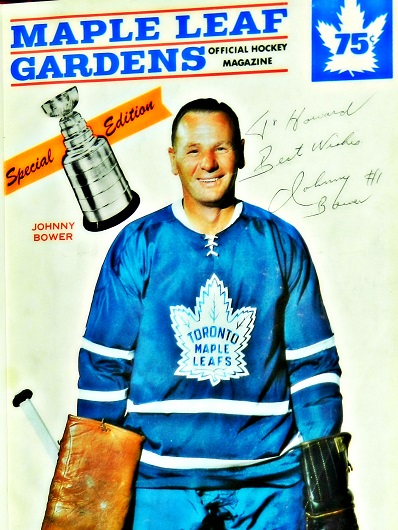 MAPLE LEAF GARDENS TICKET–STUB AND PROGRAM (AUTOGRAPHED TO ME BY THE LATE JOHNNY BOWER) FROM THE 1967 STANLEY CUP FINAL AGAINST MONTREAL. LEAFS PREVAILED IN SIX GAMES.
Questions to ponder, once more, during the hot–weather months. As for right now: Who do you take if given a second chance at drafting first overall in 2016? Auston Matthews or Patrik Laine? Fair to inquire, I'd say, after two NHL seasons. An answer split by the imaginary provincial line between Ontario and Manitoba (though perhaps muddled in Kenora and Dryden). Statistics, alone, provide hardly an edge, either way:
MATTHEWS: GP–144. G–74. A–58. PTS–132. PPG–0.917. GOALS SCORED IN–51.4% of games.
LAINE:           GP–155. G–80. A–54. PTS–134. PPG–0.865. GOALS SCORED IN–51.6% of games.
Laine and the Winnipeg Jets failed to qualify for the Stanley Cup playoffs last year. Matthews and the Maple Leafs did qualify… and the eventual Calder Trophy recipient looked awfully poised during a six–game loss to the Washington Capitals. Both players qualified this year. Laine is still going strong in Round 2 for the most–improved team — by far — in the NHL (27 points). Matthews appeared out of sorts and inconsequential during Toronto's defeat against Boston; a series that was considerably more lop–sided than seven games would suggest. So, miniature sample–sizes for a pair of extraordinary draft picks — one American, the other Finnish — that should dominate NHL arenas for more than a decade. Not much to choose between them.
But, still… who would you select if given a do–over. And, why?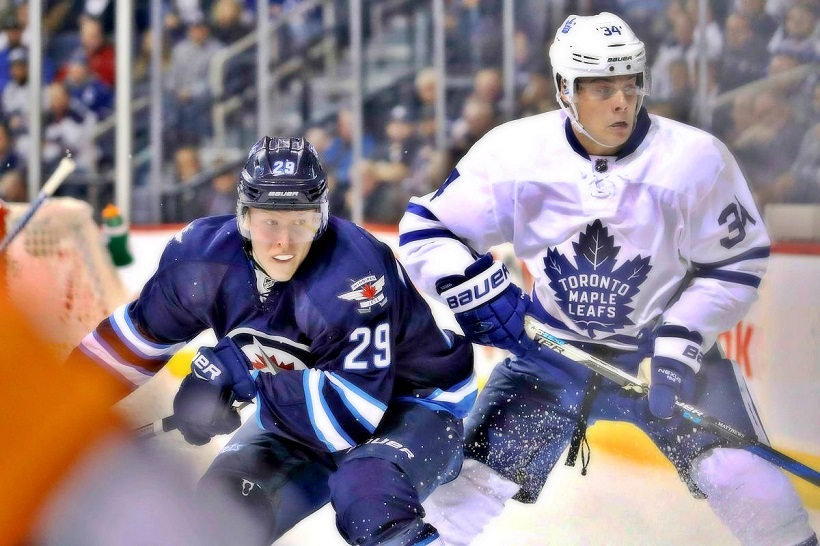 PATRK LAINE (SANS BEARD) AND AUSTON MATTHEWS BATTLE IN WINNIPEG. BRUCE FEDUCK USA TODAY
DON'T BE BLUE OVER LOU
Yes, he's one of the most prolific hockey builders in modern NHL history. A Hall–of–Fame person and executive. But, no, Lou Lamoriello is not the fundamental reason the Toronto Maple Leafs are so–dramatically improved since 2016. He made a splendid deal with Anaheim to acquire No. 1 goalie Frederik Andersen (though we're not sure yet about the big Dane in April, May and June). But, a blind monkey could have drafted William Nylander, Mitch Marner and Matthews in consecutive years (Lamoriello was around for the latter two picks). General managers, as it is, receive way too much credit (or blame) for prospects chosen under their watch; scouts do all the messy work. Of course, it was the financial might of Maple Leaf Sports and Entertainment that lured Mike Babcock east from Detroit. And, in the end, Lamoriello failed to address the Maple Leafs' largest and longest–standing deficit: a difference–maker on the blue line.
This from a man that won Stanley Cups in New Jersey with Scott Niedermayer and Scott Stevens.
So, don't feel blue over Lou getting kicked upstairs. He's still healthy, thank goodness, at 75 years of age. He'll continue to be paid; consulted for his opinions… and will never confirm or deny.
"Is today May 2, Lou?"
"I'm not here to discuss dates. It's an internal matter between me and the hockey club."
Brendan Shanahan claims he has "no timetable" in which to appoint a replacement for Lamoriello, but it's difficult to comprehend the Leafs' president making this move without a succession plan. The big money is on 31–year–old Kyle Dubas; after all, bringing Dubas to Toronto (from Sault Ste. Marie of the Ontario Hockey League) in July 2014 was Shanahan's first major appointment, just three months after being named president and alternate governor. If handed the role, Dubas would become the second–youngest GM in Leaf annals, behind Gord Stellick, who was 30 when promoted by Harold Ballard in 1988. Mark Hunter may also be in consideration, but he is far–more valuable to the hockey club as a bird–dog — scouting and evaluating talent. If he feels slighted by Shanahan appointing Dubas, Hunter may seek opportunity elsewhere.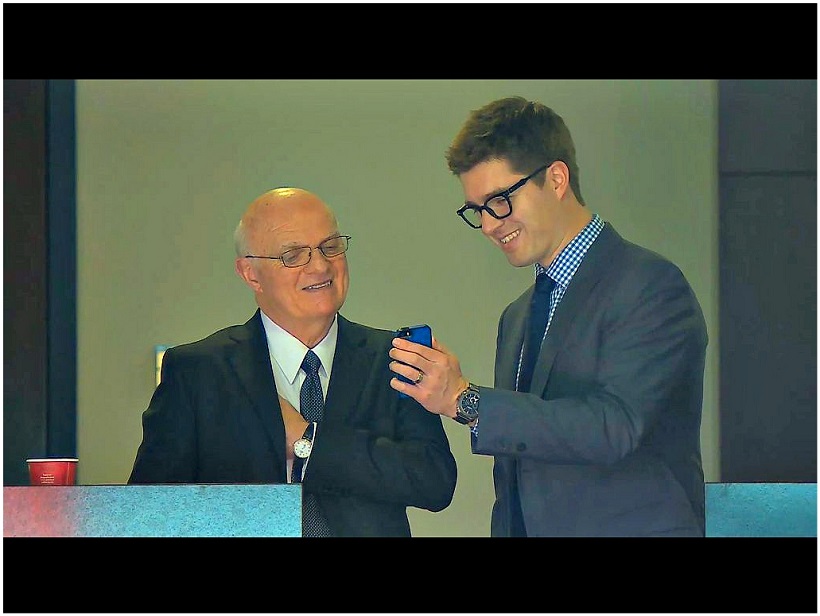 LOU LAMORIELLO (LEFT) AND KYLE DUBAS SHARE A LAUGH DURING A LEAFS GAME.
Possibly underplayed in this scenario is a factor I wrote about here on Mar. 8: Maybe the answer is more obvious than we think — that Shanahan would rather not have the conservative, hard–nosed Lamoriello negotiating the first NHL contracts for Nylander, Marner and Matthews. Perhaps Shanahan favors a more youthful, modern approach to contract chatter and believes that Dubas is now prepared for the role. That being the case, I also wrote that Leaf fans should depend on Shanahan's appraisal… and timing.
Though the Leafs haven't yet made any real noise in the playoffs, most of what Shanahan sold to the Board of MLSE in 2014 has materialized. The club got younger, deeper and more skilled. Draft picks were generally maintained (other than the low first–rounder to acquire Andersen from the Ducks). The team bottomed out (from 2014 to 2016) and was re–constructed at ground–level. As such, I contend that Shanahan has richly earned the trust of Leafs Nation. Let's see how this plays out in the coming weeks.
IMAGINE, IT'S BEEN A QUARTER–CENTURY
Without question, it was the most exhilarating 48–hour span for the Maple Leafs since their 1967 Stanley Cup win. And, incomprehensibly, it occurred 25 years ago this week. Where does time go?
May 1, 1993 at Joe Louis Arena in Detroit.
May 3, 1993 at Maple Leaf Gardens in Toronto.
If you're old enough to remember the Doug Gilmour Maple Leafs, you'll remember where you were for these two hockey moments. If not, you've probably seen them once or twice on television replays. I had the good fortune to cover both games for The FAN–1430 (as it was still known), Canada's first all–sports radio station (it would slide down the AM dial and become The FAN–590 in February 1995). In Detroit, I actually stood at ice–level, next to the Red Wings bench, as Nikolai Borschevsky of the Leafs re–directed a shot from defenseman Bob Rouse into the net at 2:35 of overtime, giving Toronto a dramatic Game 7 victory. Hardened sailors have rarely offered the salty language I heard at that moment from the Detroit guys.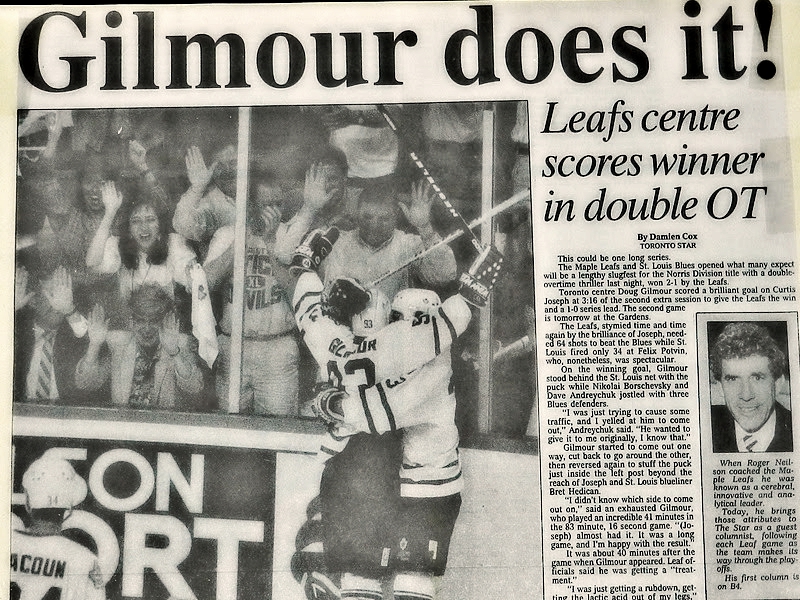 Two nights later, I was in my usual press box seat at Maple Leaf Gardens when Gilmour performed his side–to–side "don't–know–where–I'm–going" pirouettes behind the St. Louis net and stuffed a backhand wrap–around past Curtis Joseph at 3:16 of double–overtime to put the Leafs up 1–0 on the Blues in Round 2 (as per the Toronto Star, above). The play occurred beneath me and to my right. Cujo had kept us in the sweltering arena by blocking 62 shots prior to Gilmour's magic. As an unrestricted free agent just more than five years later (July 1998), he would become, for four seasons, the best Leafs goalie of the post–1967 era.
In my '93 playoff scrapbook are words and images from Game 7 at old Joe Louis Arena: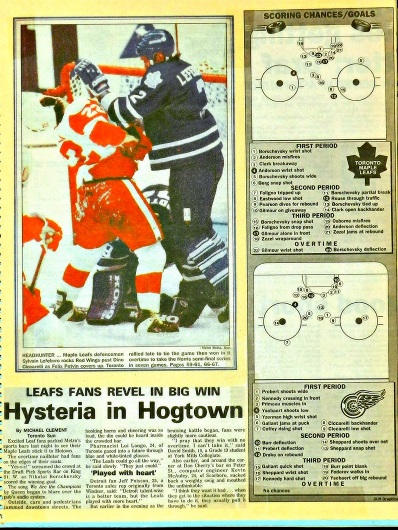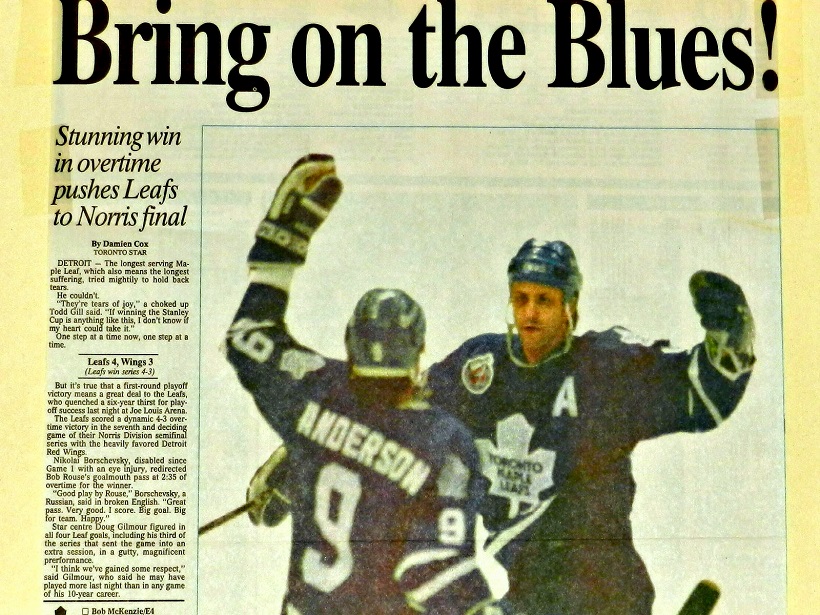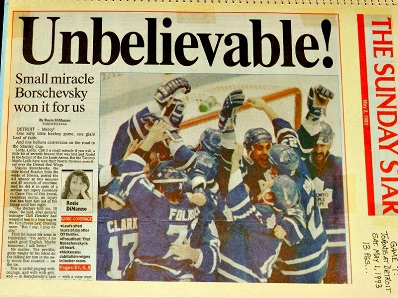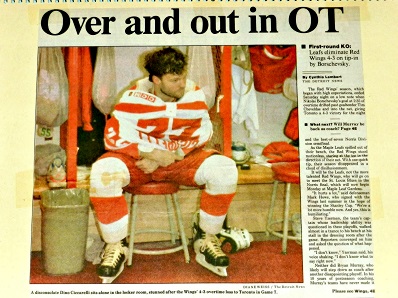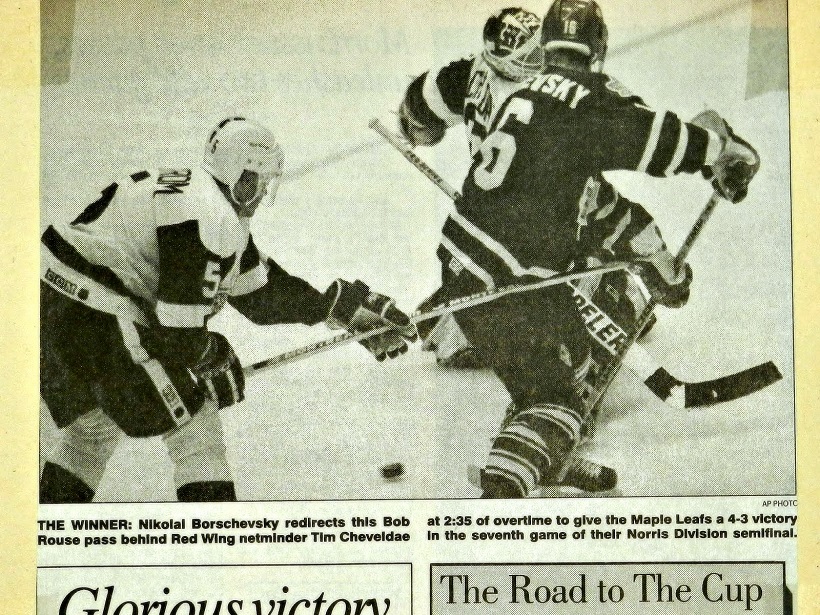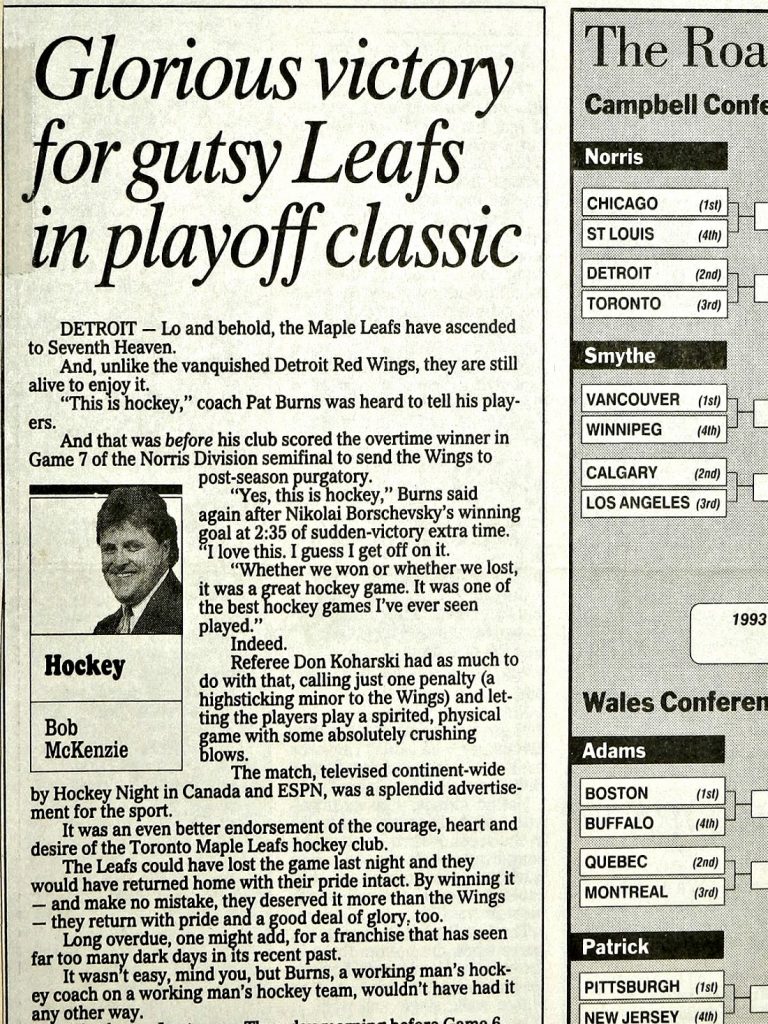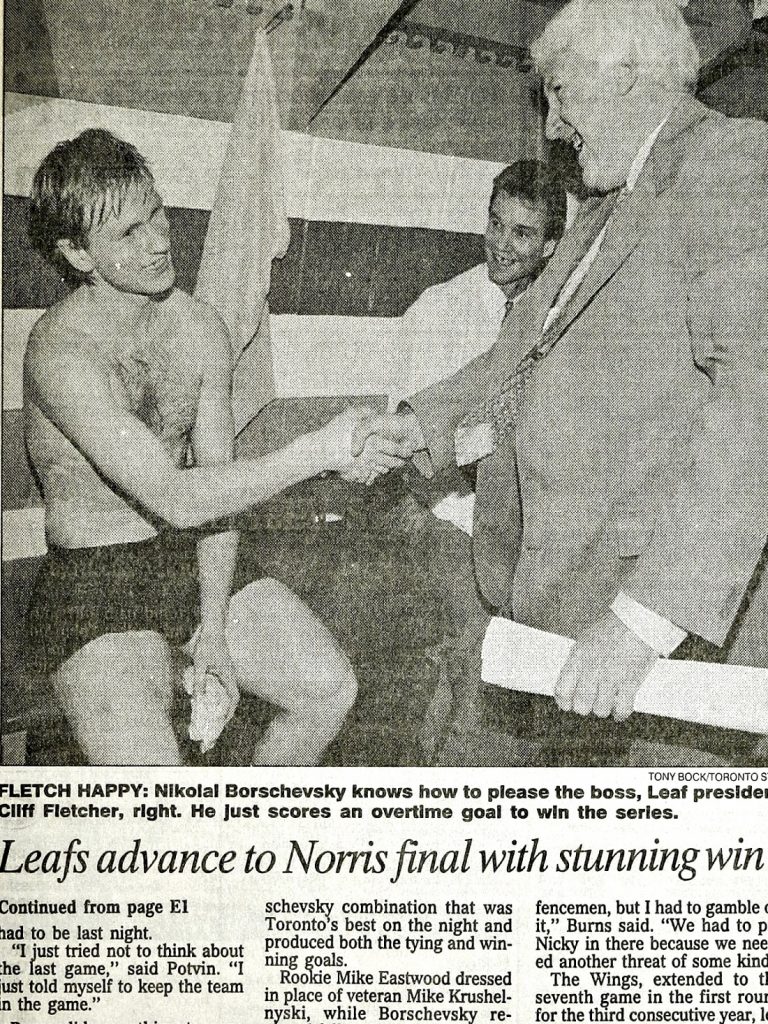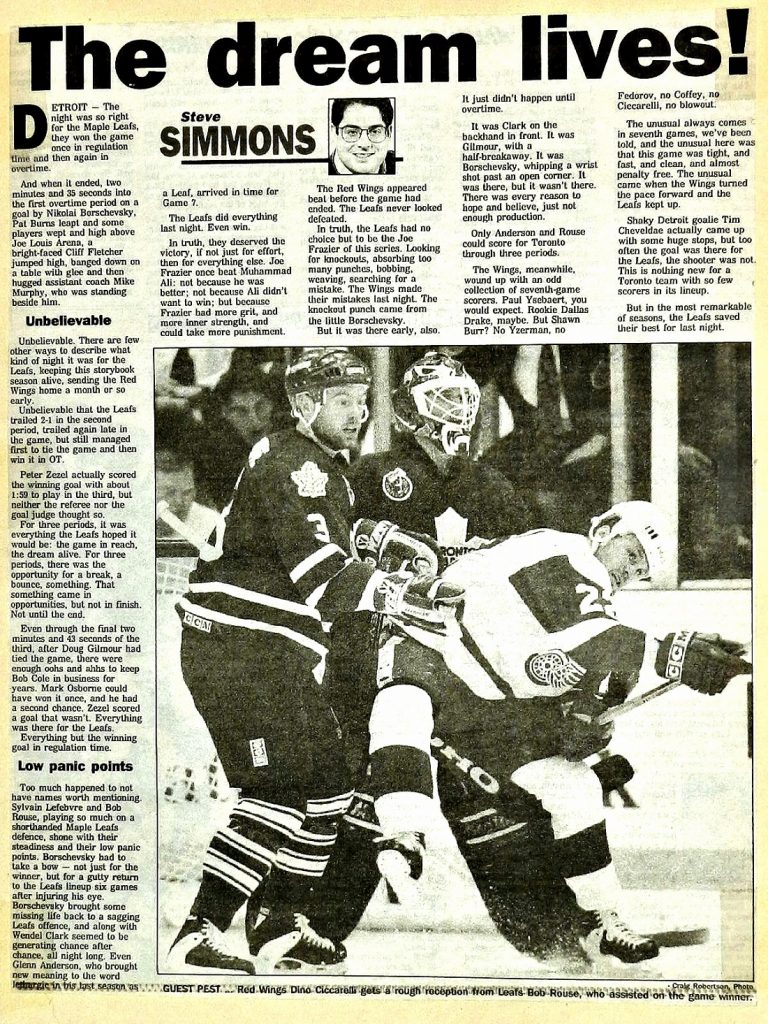 EMAIL: HOWARDLBERGER@GMAIL.COM