TORONTO (May 12) — After the extraordinary maneuver of preventing a young executive from advancement in the National Hockey League, the Toronto Maple Leafs came through for Kyle Dubas.
Though Dubas was given permission, last summer, to be interviewed by the Colorado Avalanche for their general manager's vacancy, the Leafs had no intention of letting him go. Dubas was offered the job in Denver… and his employer pulled rank. Almost never will a pro sports franchise stand in the way of an assistant (manager or coach) bettering his lot elsewhere. According to ex–Leafs GM Brian Burke, an outraged Dubas was told to hang around for one more season, after which he would be named to replace Lou Lamoriello as Toronto's top man. The four–year associate got the nod on Friday, becoming the 17th GM in franchise history — at 32, the second–youngest to Gord Stellick (30 when hired by Harold Ballard in 1988).
So, yes, the Leafs kept their word. Of course, it begs the question as to why Dubas was even permitted to talk with Colorado if his current employer knew it would kibosh any move. Perhaps there is more to the story than has emerged publicly. At this time, however, the Denver saga is irrelevant. Having apprenticed under David Nonis and Lamoriello here in town, Dubas is now entrusted with charting the Maple Leafs' immediate future. Whether that primarily involves signing William Nylander, Mitch Marner and Auston Matthews to their first NHL contracts — or encompasses more aggressive strategy, such as targeting John Tavares in free agency this summer and trading for an elite defenseman — is a deep and abiding mystery.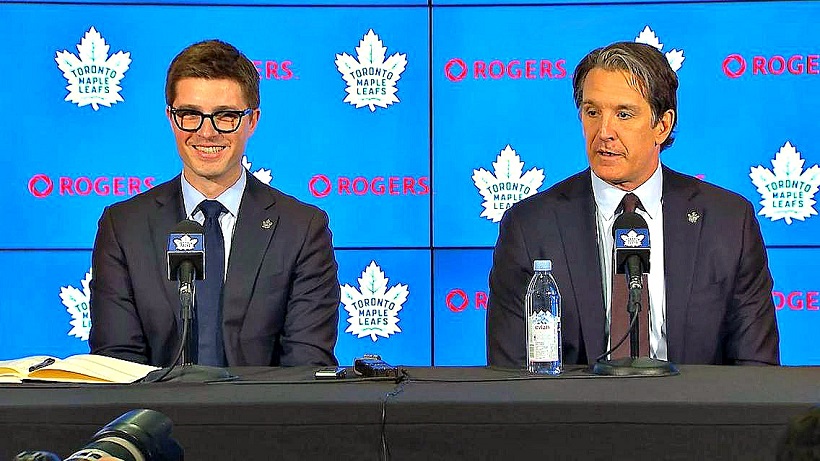 DURING A PACKED NEWS CONFERENCE AT THE AIR CANADA CENTRE ON FRIDAY, KYLE DUBAS (LEFT) WAS INTRODUCED BY BRENDAN SHANAHAN AS THE 17th GENERAL MANAGER IN LEAFS HISTORY. NHL.COM
The conservative, tight–fisted Lamoriello took few chances with the roster during his three–year term as manager, making only one significant deal (goalie Frederik Andersen from Anaheim for a low first–round pick) while picking up spare parts (Brian Boyle, Tomas Plekanec) at the trade deadline. The Leafs have not advanced beyond the opening round of the Stanley Cup playoffs in the salary cap era, last doing so in 2004. As such, there was no reason for president Brendan Shanahan to stay the course beneath him. Appointing Dubas to the GM's role may or may not bear fruit, but it's a liberal move that at least offers potential.
It also offers a level of sheltering that comes, here, only in management with the Leafs. With all other teams (in fact, the overwhelming majority of pro sports franchises), there is a direct correlation between success on the playing field and financial abundance. That parallel does not exist with hockey in Toronto. For decades, and regardless of product, the Maple Leafs have been an automatic sell — on and off the ice. The principle of supply–and–demand guarantees many fewer seats at the Air Canada Centre (soon to be Scotiabank Arena) than people (or companies) willing to buy tickets. And, was anyone particularly surprised, last month, when the NHL revealed that Matthews' No. 34 jersey was the hottest mover of apparel on its website?
So, the encumbrance upon Dubas will be strictly internal… which isn't to minimize expectation from Shanahan, who brought the up–and–comer to the Leafs from Sault Ste. Marie of the Ontario Hockey League; paired him for three NHL seasons with a decorated, Hall–of–Fame builder (Lamoriello), and now anticipates that each move will construe an upward trajectory with the Blue and White. In other words, much–improved playoff performance. Make no mistake, this is personal for Shanahan. Dubas is strictly his project; Shanahan's first major appointment after being named president of the hockey club in April 2014. Given Shanahan's history with the Leafs, I contend he would not have made this move until virtually certain that Dubas can handle the big chair. And, the spotlight with which it is accompanied in our town.
Now, we'll see the direction the Leafs take. As mentioned, the path of least resistance for Dubas would be to merely assure that Nylander, Marner and Matthews are locked up for the foreseeable future. The compliant fan–base will be happy and the new GM can fill other holes (Tyler Bozak, James van Riemsdyk, Leo Komarov, Roman Polak) with affordable, interchangeable parts. Of course, signing the Big 3 (and carrying the final, guaranteed year, in 2019–20, of Patrick Marleau's $6.5-million contract) will all–but preclude the acquisition of a front–rank blue–liner — without which the Leafs will never seriously challenge for the Stanley Cup.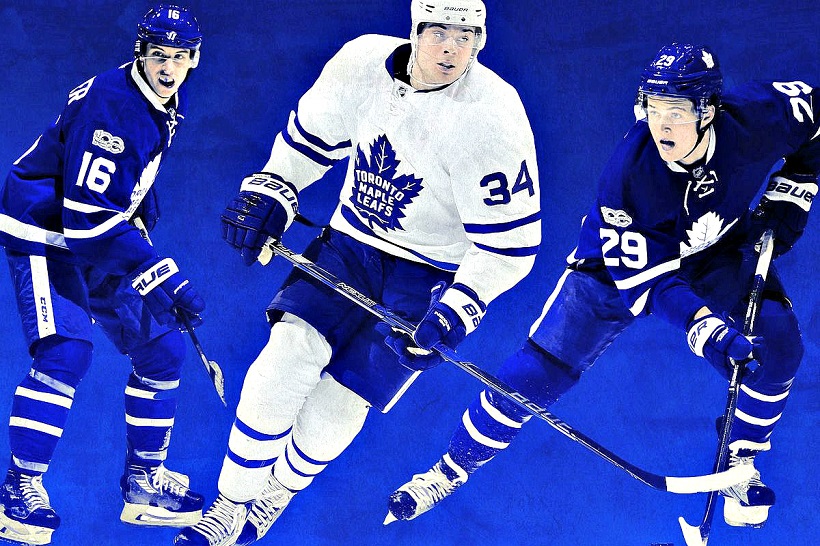 WHAT WILL BE KYLE DUBAS'S STRATEGY, MOVING FORWARD, WITH THE MAPLE LEAFS' BIG 3 FORWARDS… LEFT–TO–RIGHT: MITCH MARNER, AUSTON MATTHEWS AND WILLIAM NYLANDER? BETWEEN THIS SUMMER AND NEXT, EACH COMES OFF ENTRY–LEVEL SALARY RESTRICTION. ILLUSTRATION: THERINGER.COM
Alternately, Dubas can choose to make tougher decisions accompanied by risk, yet with the potential for improvement between April and June (48–win, 105–point regular seasons look nice, but are otherwise meaningless). Perhaps by trading one of the Big 3 to preserve cap space; by enacting a culture change in the dressing room (and superbly solidifying the club's center–ice position) with a determined bid for Tavares, should he hit the open market July 1. By assuring there is cap space for the pursuit of Drew Doughty, Erik Karlsson and Oliver Ekman–Larsson, should any or all of the elite defensemen become unrestricted free agents next summer (2019). Such measures will require courage and precise cap–management. And, the allowance for the Maple Leafs to perhaps slide a bit during the regular season. Ultimately, however (and rather quickly, I'd suggest), they could prove beneficial when it matters most. In the spring.
By next year at this time, we'll know what young Kyle is made of.
I suspect Leaf fans will appreciate the result.
STANLEY CUP CONFERENCE FINAL PICKS
I am 10–2 with predictions on this site through the first two rounds of the Stanley Cup playoffs; missing only with Los Angeles–Vegas in the first round (I took the Kings, dumb kopf) and Winnipeg–Nashville in Round 2 (prior to the season, I picked the Predators and Tampa Bay to meet for the 2018 NHL title).
Here, then, are my predictions for the Conference finals:
TAMPA BAY over WASHINGTON in 6.
WINNIPEG over VEGAS in 7.
STANLEY CUP MOMENTS
             This Week in 1970
Who, of vintage, can ever forget Bobby Orr scoring arguably the most famous goal in Stanley Cup playoff history nearly half–a–century ago this week? Orr's overtime marker against Glenn Hall of the St. Louis Blues on May 10, 1970 ended an interminable championship drought for the Boston Bruins and generated the most iconic image in Cup annals — the 22–year–old defenseman soaring horizontally through the air, having been "flipped" by the stick–blade of St. Louis defenseman Noel Picard. In my collection, I have the June 1970 issue of THE HOCKEY NEWS, which immortalized Orr's Cup–winning tally: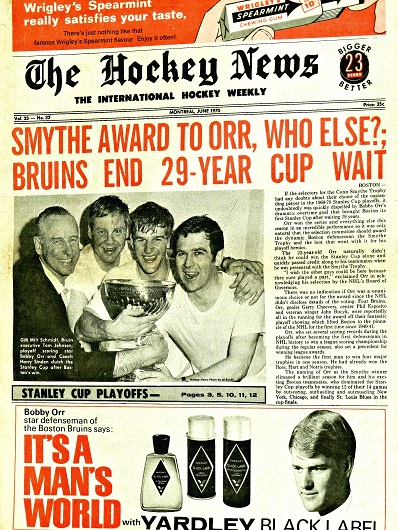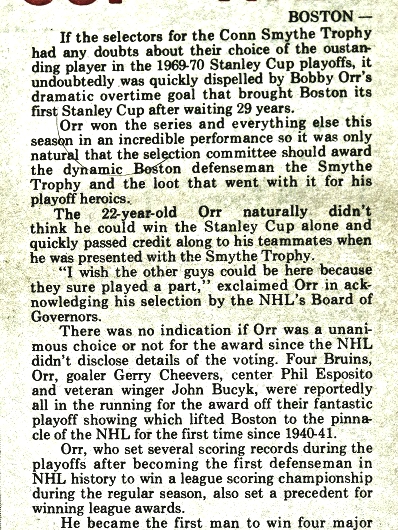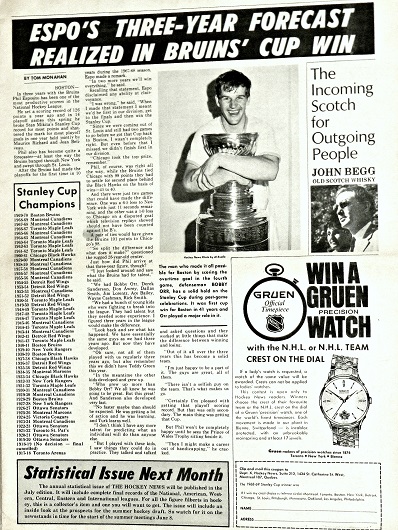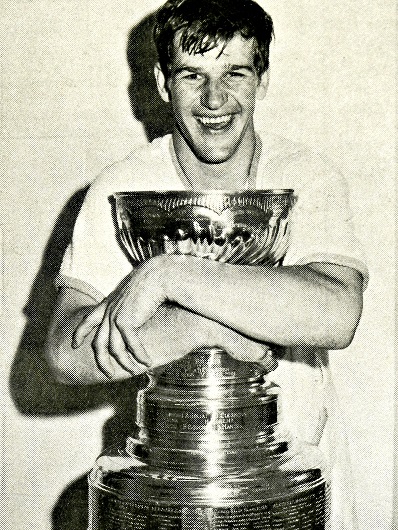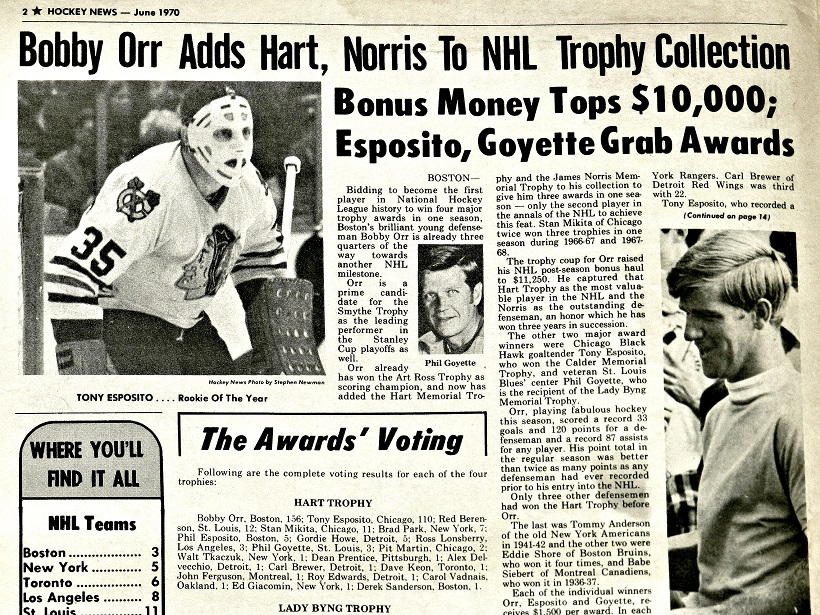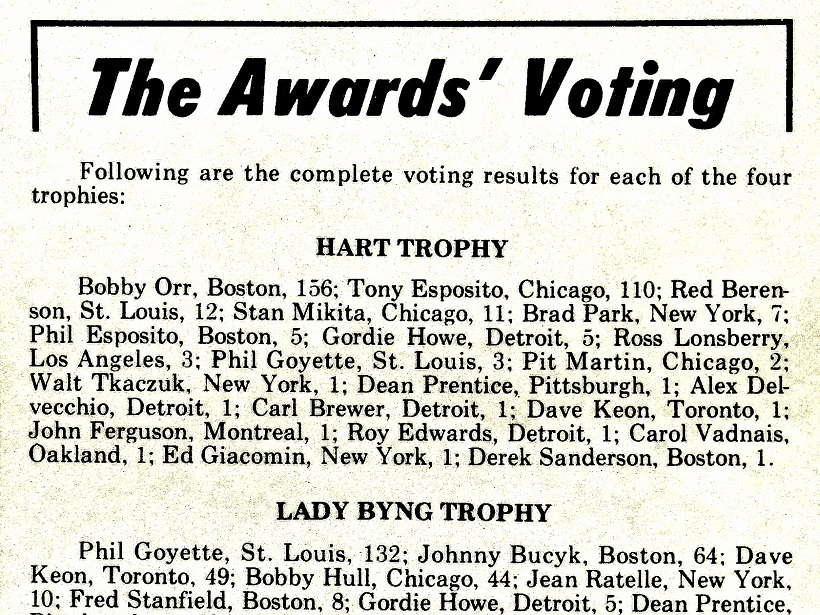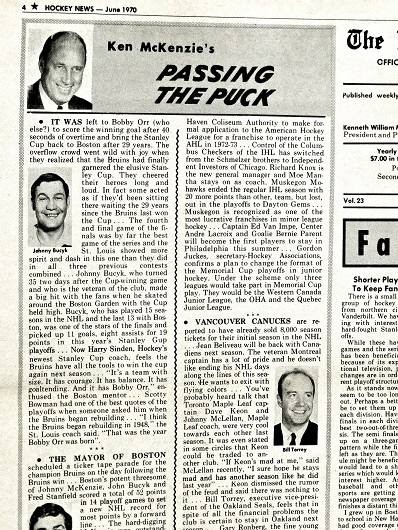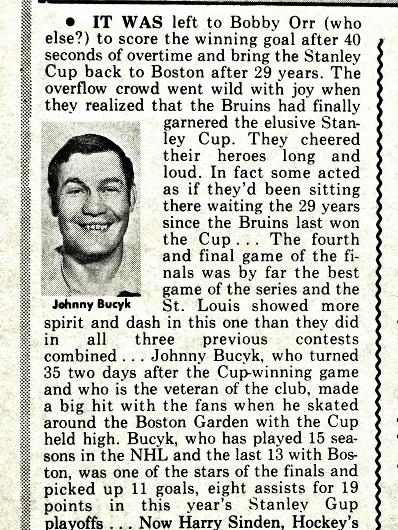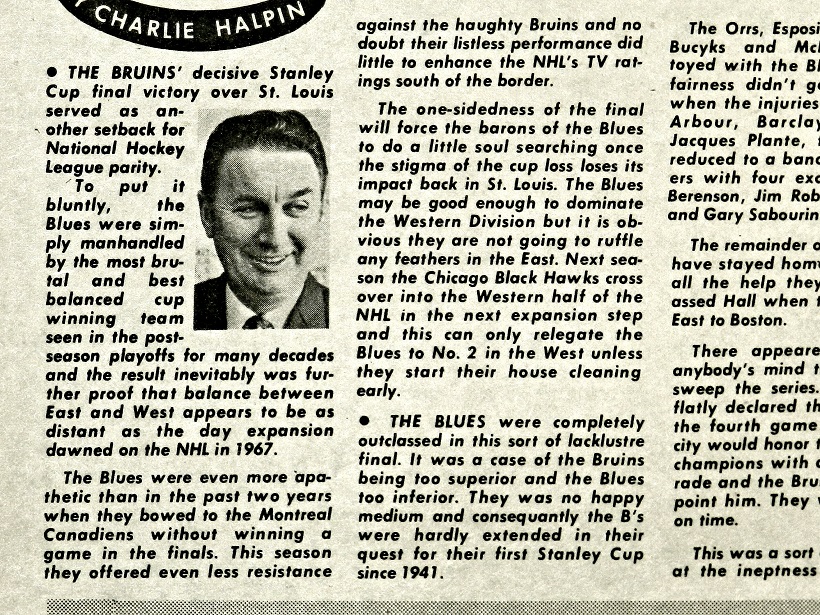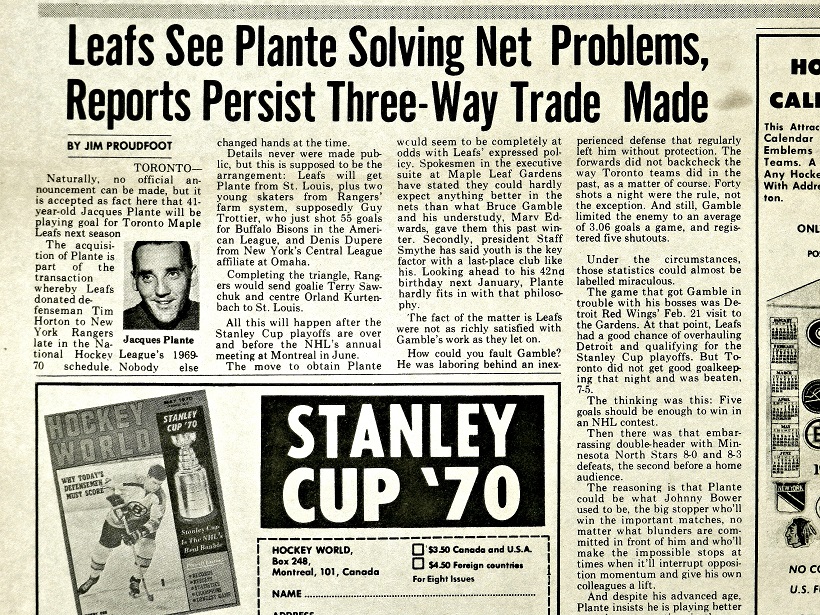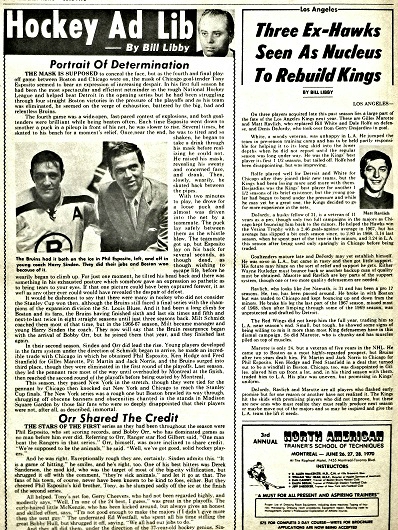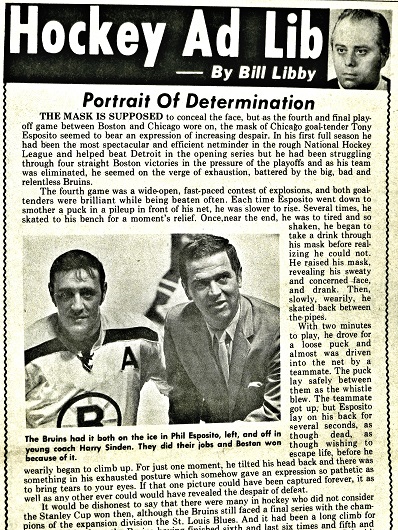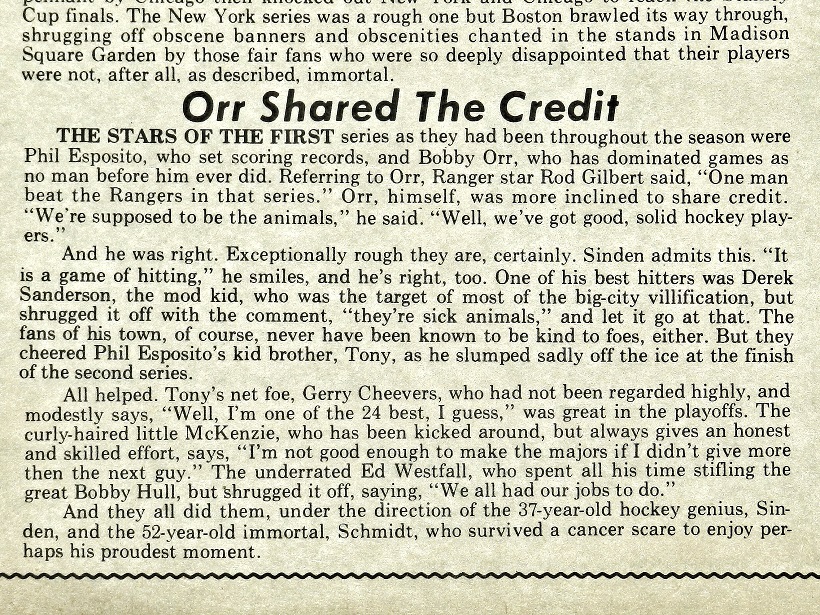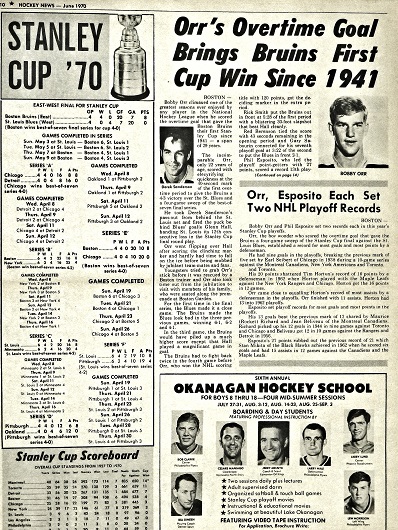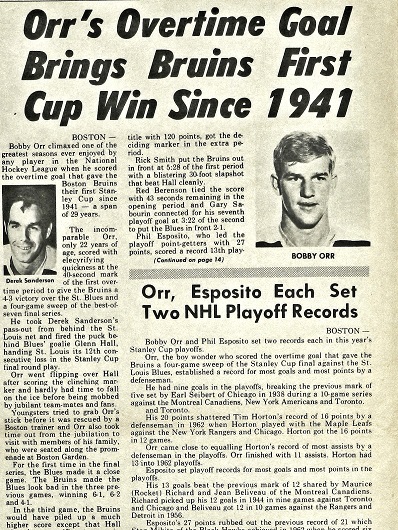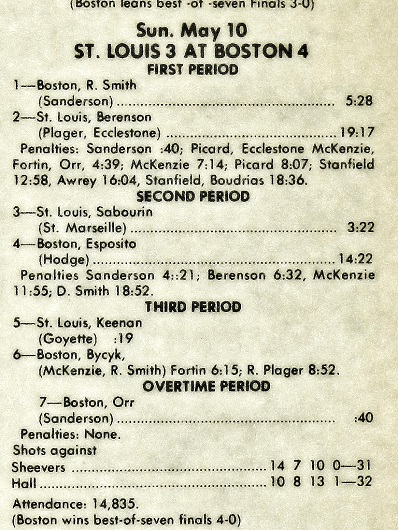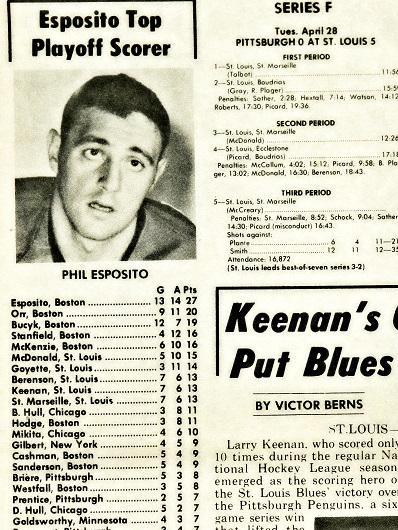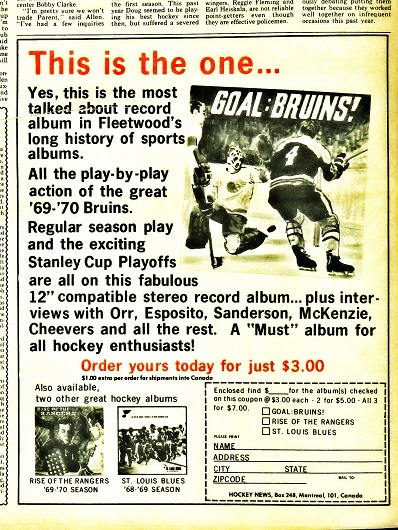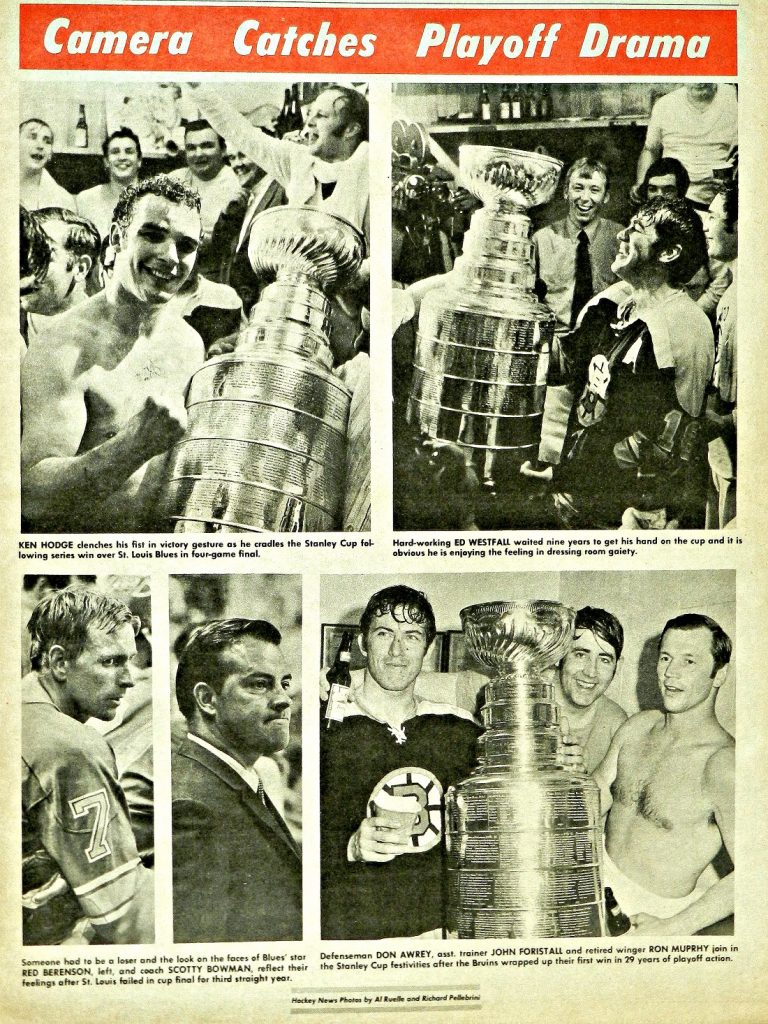 MY PERSONAL TREASURE…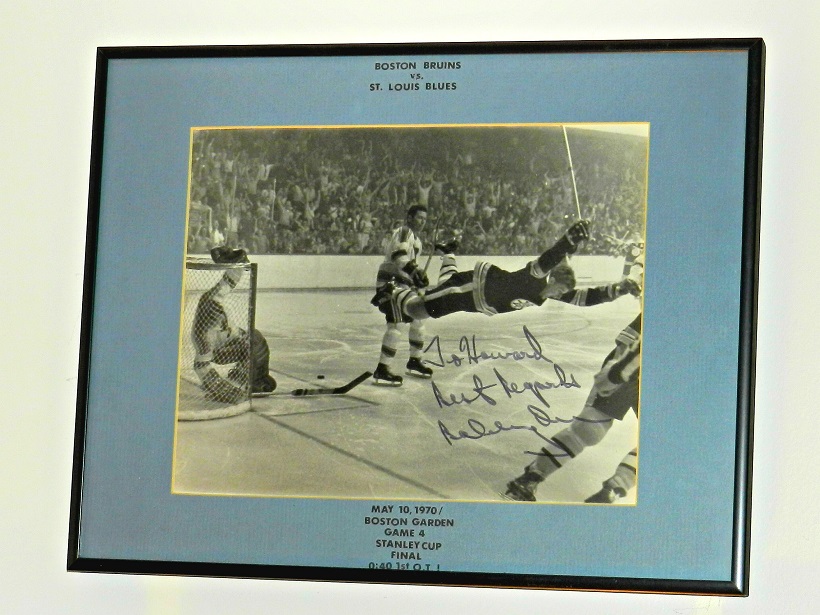 I bought this photo of "the goal" while walking along Faneuil Hall in Boston during the 1988 Stanley Cup final between the Bruins and Edmonton Oilers. That evening, I arrived early in the press box at the old Boston Garden and asked supervisor of off–ice officials (and former Bruin) Ed Sandford if he could take me to Orr, as I wanted the legendary defenseman to sign the picture. A wonderful gentleman — still alive at 89 years of age — Sandford led me along the top row of the still–empty upper–balcony and stopped beneath a private suite. "Wait here," he said. Moments later, Orr appeared at the ledge and greeted me as if I'd known him all my life. He took the photo; signed it, and actually thanked me for bringing it to him. Needless to say, I kind of floated on air for the remainder of that night. Among my biggest thrills in the ensuing years was getting to know Bobby on a personal level during my career covering hockey at The FAN–590 (1988–2011).
And, subsequently, through this website.
EMAIL: HOWARDLBERGER@GMAIL.COM