TORONTO (May 27) — It was 25 years ago tonight. Really.
May 27, 1993 in Inglewood, California. On the Berger calendar, it ranks as the most compelling game involving the Maple Leafs that yours truly has attended — as a fan or a reporter (along with Darryl Sittler's 10–point game in February 1976). I was in the Los Angeles Forum a quarter–century ago this eve with a horde of fellow media and 16,005 rabid spectators. Covering Game 6 of the Stanley Cup semifinals for The FAN–590. Back home, the Toronto Star posted a headline… its first–such exclamation in more than 26 years: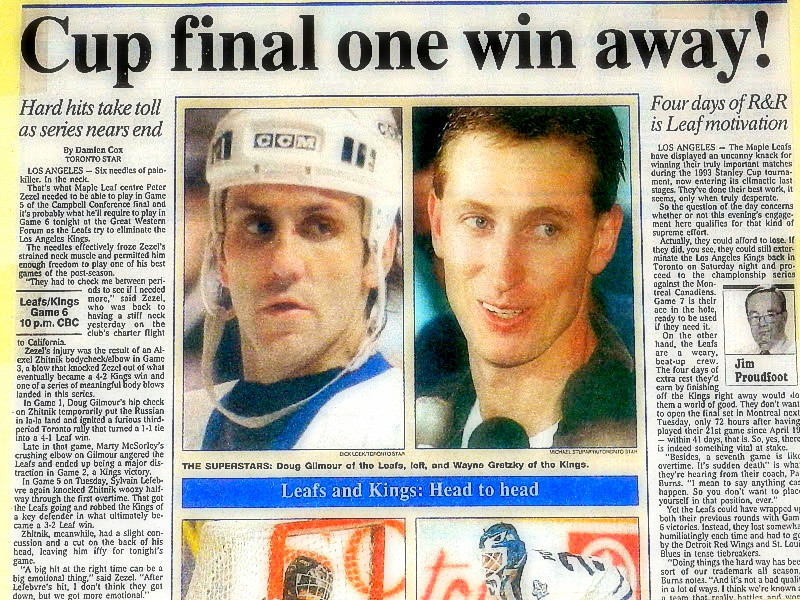 Forlornly, and hardly dulled by the passage of time, Maple Leaf zealots remember Game 6 as The Night Kerry Fraser Froze. But, it was much more than that. Above all, the Leafs have not been so close to playing for the Stanley Cup since 1967. It remains the lone example of the post–'67 era in which the club was one goal away from The Dance. As such, it still represents the funeral of hope for millions of hockey fans around here. Had the Maple Leafs scored in overtime, a Cup final clash with the Canadiens would have followed. Beginning three nights later at the Montreal Forum. Instead, the Los Angeles Kings moved on to face Patrick Roy and Co. Not 25 years ago tonight in California. That victory, authored, contentiously, on the powerplay by Wayne Gretzky, kept the Kings alive. It was two nights later, in Maple Leaf Gardens, that Gretzky consumed the heart of the Blue and White — and its expectant followers — with a 5–4 triumph in Game 7.
The unforgettable playoff run — 21 games in 42 nights between Apr. 19 and May 29 — followed a remarkable renaissance by the Blue and White under general manager Cliff Fletcher. It was Toronto's version of the Las Vegas hockey phenomenon that has carried a first–year expansion team into the 2018 Stanley Cup final. Thoroughly unanticipated, the Leafs of 1992–93 came alive at mid–season and soared to a franchise–record 99 points in the standings; 32 points more than the previous year, the largest increase in club annals. Scuffling on Jan. 2 at 15–16–7 after 38 games, the Leafs improved to 29–13–4 in their remaining matches, which included a scorching 18–3–3 run between Feb. 11 and Apr. 3. The surprise turnaround coincided with Doug Gilmour's breathtaking performance — the tenacious center–man with a gifted touch demolishing franchise records for assists (95) and points (127) in a season. No Maple Leaf has ever performed as prolifically during the span of 3½ months as did Gilmour between early–January and mid–April 1993. He continued his astounding pace with a team–record 35 points in the 21–game playoff march.
Until, however, the Leafs minimally appear in the Stanley Cup final, their fans will neither forgive nor forget what happened in suburban Inglewood on this date in 1993. The tale is timeworn by now, yet it never fails to ignite passion among Leaf supporters… those that remember watching the game on TV; those that were alive but too young to remember the game, and even such fans as my son, Shane, who hadn't yet been conceived. I've known Kerry Fraser for more than 30 years and can attest that he's a wonderful fellow. Yet, Kerry, among all–time referees, has long been the sworn enemy of Leafs Nation. His decision to keep Gretzky in the game after No. 99 had sliced open Gilmour's chin with the follow–through of a pass continues to haunt the Blue and White — enhanced by Gretzky scoring on Felix Potvin to prolong the series.
Frequently overlooked, or forgotten, is a terrible boarding penalty late in regulation by Glenn Anderson of the Leafs, who carelessly ran at Kings defenseman Rob Blake. Had Gretzky been banished in overtime, it would have temporarily evened the manpower situation and, of course, prevented him from playing hero.
But, it was Anderson's dumb penalty that carried over from the end of the third period.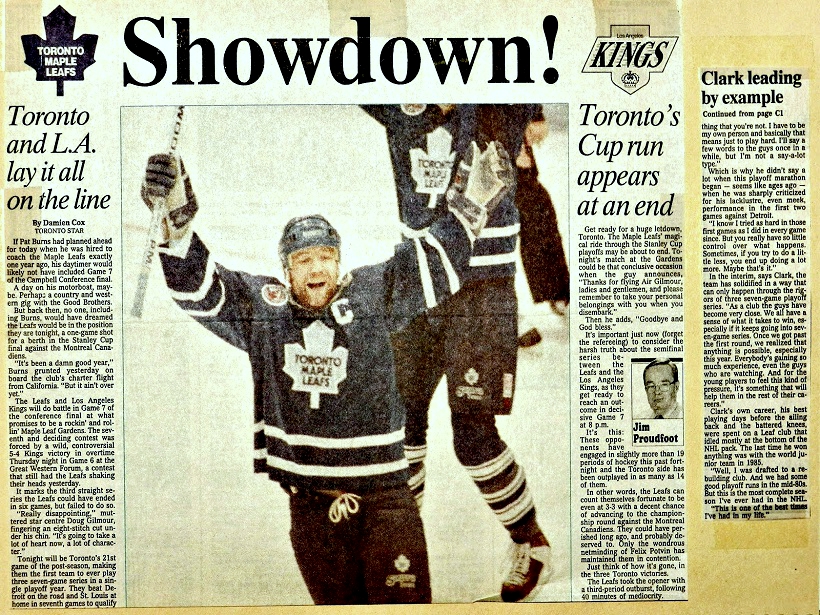 The Great Western Forum (as it was known in 1993) — built just east of Los Angeles International Airport in 1967 by Canadian entrepreneur (and Kings owner) Jack Kent Cooke — was a scene of contrasting emotions 25 years ago tonight. Tumultuous when the Kings had a 4–2 lead midway through the third period; shocked and stupefied after Wendel Clark came off the bench to tie the count with 1:21 left in regulation and Potvin replaced by an extra attacker (Clark completing a natural hat–trick in one of the big–time performances of his career). That 10–minute mood–swing — on the road — with the Leafs building toward a berth in the Stanley Cup final, cemented Game 6 of the '93 Conference championship as the most memorable in my years covering the team. Imagine how modern Leafs history might have changed that night…
IF the Kings hadn't held a marked edge in play through the first 50 minutes of regulation…
IF Anderson had used his head — and copious playoff experience while winning five Stanley Cups with the Edmonton Oilers — and held up rather than plastering Blake into the end boards…
IF Fraser had given Gretzky a five–minute major and game misconduct for cutting Gilmour…
IF a visiting player had scored in overtime to end the series.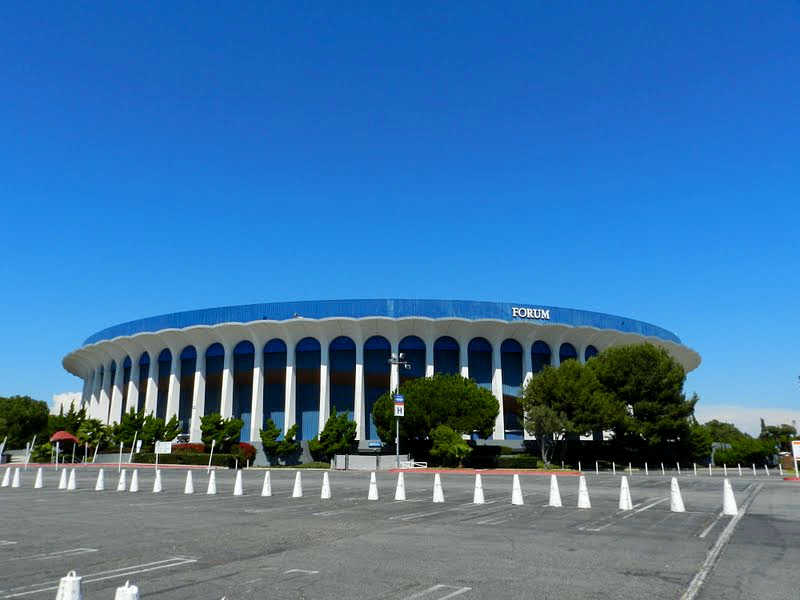 MY PHOTOS (ABOVE AND BELOW) OF THE GREAT WESTERN FORUM, AS IT APPEARED IN MAY 1993.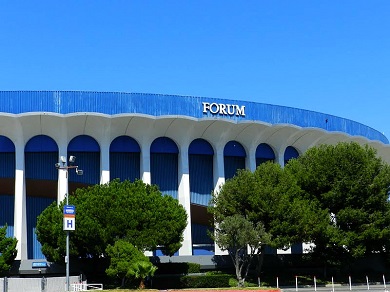 As it were, the Game 7 showdown at Maple Leaf Gardens was nearly anti–climactic. Though the Leafs and Kings were tied, 3–3, late in regulation, you never really had a sense that Gretzky would be denied. One way or another (in fact, several ways), he was going to vanquish the team he grew up cheering for. That's why the match two nights earlier in Los Angeles still has no peer among Leaf games of the post–1967 era.
And, why May 27, 1993 ranks with any date in the modern history of Toronto's NHL franchise.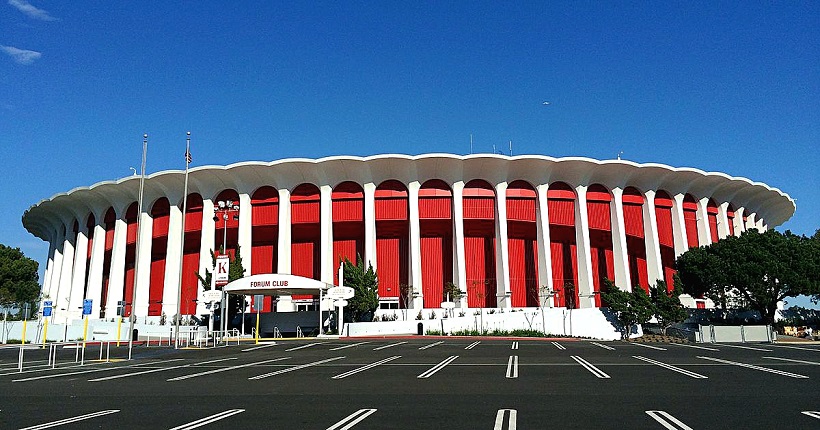 THE LOS ANGELES FORUM — RE–PAINTED ITS ORIGINAL RUST–RED — AS IT LOOKS TODAY.
McKENZIE'S "ASSIST"
Today, he is known — on The Sports Network (TSN) here in Canada — as the ultimate hockey insider. But, 25 years ago, while a columnist at the Toronto Star, Bob McKenzie was at–least partially credited with (and blamed for) Wayne Gretzky coming alive in Games 6 and 7 of the Stanley Cup semifinals to shatter the dream of local hockey fans. McKenzie's now–infamous "piano–on–his–back" submission to the Star after Game 5 at the Gardens — won by Glenn Anderson late in the first overtime period, giving the Maple Leafs a 3–2 lead in the best–of–seven series (more later) — may have provided Gretzky the emotional fuel needed to score the overtime marker in Game 6; then a hattrick in Game 7, which he still calls the best performance of his playoff career (quite a mouthful given the four Stanley Cup titles in a five–year span with Edmonton from 1984–88). Nothing McKenzie wrote about Gretzky in the "offending" column (below) was inaccurate after five games. It became the stuff of legend only in the wake of the Kings' comeback: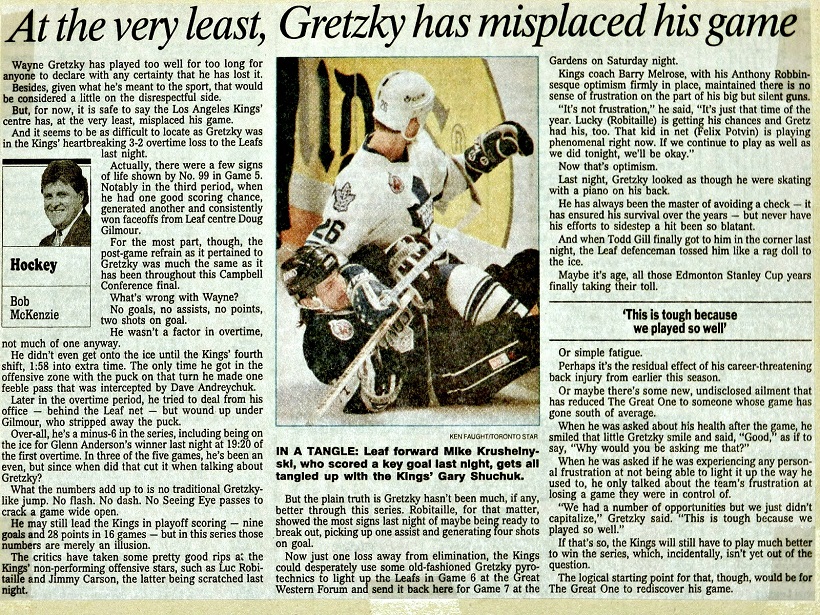 KERRY FRASER REMEMBERS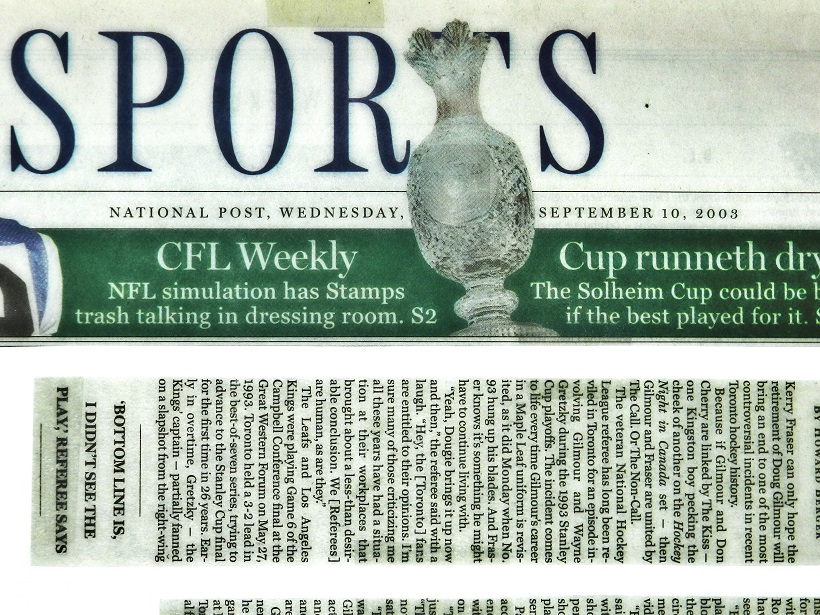 Just fewer than 10 years after the Toronto–Los Angeles playoff battle of 1993, Doug Gilmour was re–acquired by the Maple Leafs in a trade–deadline deal with Montreal (Mar. 11, 2003 for a sixth–round draft pick). Sadly for Gilmour and Leaf fans, the veteran saw his NHL career end two nights later at the Saddledome in Calgary (irony, here, in that Gilmour was initially acquired by the Leafs from the Flames, with whom he won the 1989 Stanley Cup). Early in his second Toronto debut, Gilmour locked legs with defenseman Dave Lowry in a mid–ice collision, shredding the ligaments in his left knee. Though he underwent surgery and rehabilitation, No. 93 did not play another NHL game, announcing his retirement on Sep. 8, 2003. The following day, I spoke to Kerry Fraser and wrote this story for the National Post: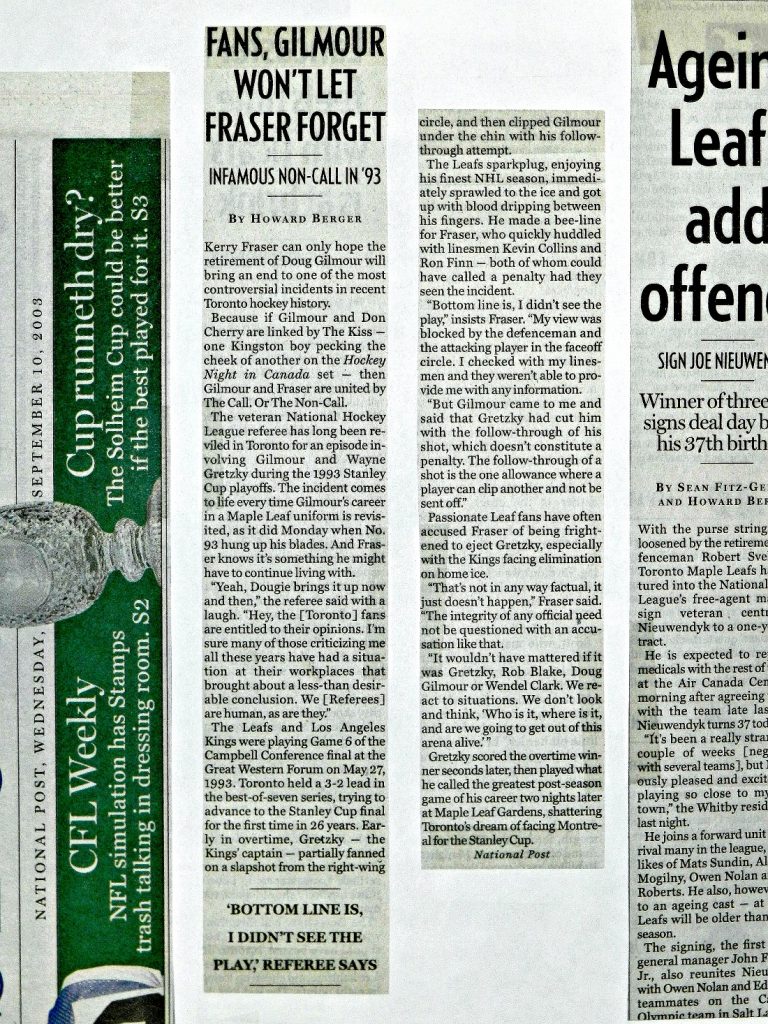 BARRY MELROSE REMEMBERS
The 1992–93 Los Angeles Kings were coached by one–time Leafs defenseman Barry Melrose — he of the famed mullet. In his 2012 autobiography DROPPING THE GLOVES, Melrose took umbrage with those that contend Kerry Fraser cost the Leafs a berth in the 1993 Stanley Cup final by failing to penalize Gretzky for the high–stick on Gilmour:
"THEY STILL DISCUSS IT IN TORONTO. A LOT OF PEOPLE THINK GRETZKY GOT AWAY WITH A HIGH STICK ON GILMOUR THAT WASN'T CALLED. KERRY FRASER STILL TAKES HEAT ABOUT IT. BUT, HOCKEY IS THE FASTEST GAME IN THE WORLD. THINGS HAPPEN IN A SPLIT SECOND. FRASER DIDN'T SEE ANYTHING. REFS ARE TAUGHT THAT IF THEY DON'T SEE IT, THEY CAN'T CALL IT. IF THEY SEE A GUY CUT, THEY ARE SUPPOSED TO THINK SOMEONE MUST HAVE CUT HIM, AND IT MUST BE THE OPPOSING TEAM, SO THEY'LL GIVE L.A. A PENALTY? I DON'T THINK SO. FRASER DIDN'T SEE ANYTHING, SO HOW COULD HE CALL IT? I'M ALWAYS AMUSED LISTENING TO LEAFS PEOPLE TALKING ABOUT THE NON–CALL LIKE IT MEANT THE SERIES. TORONTO HAD US 1–0 [IN GAMES OF THE BEST–OF–SEVEN]. THEY HAD US 3–2; LOST GAME 6, THEN GAME 7 WAS IN THEIR BUILDING AND THEY STILL COULDN'T CLOSE THE DEAL.
"AND [LEAF FANS] ARE BLAMING FRASER?"
ANDERSON WINS GAME 5 AT THE GARDENS
It looked good for the Leafs after Glenn Anderson swatted his own rebound past Kelly Hrudey at 19:20 of overtime to win Game 5 of the L.A. series at Maple Leaf Gardens and provide Toronto a pair of opportunities to play for the Stanley Cup. These newspaper images from both cities are in my '93 playoff scrapbook:
TORONTO STAR: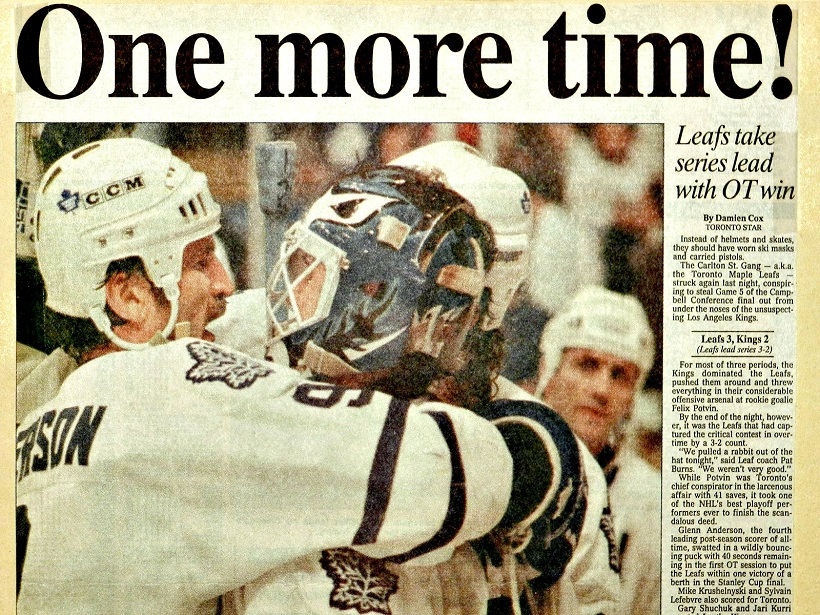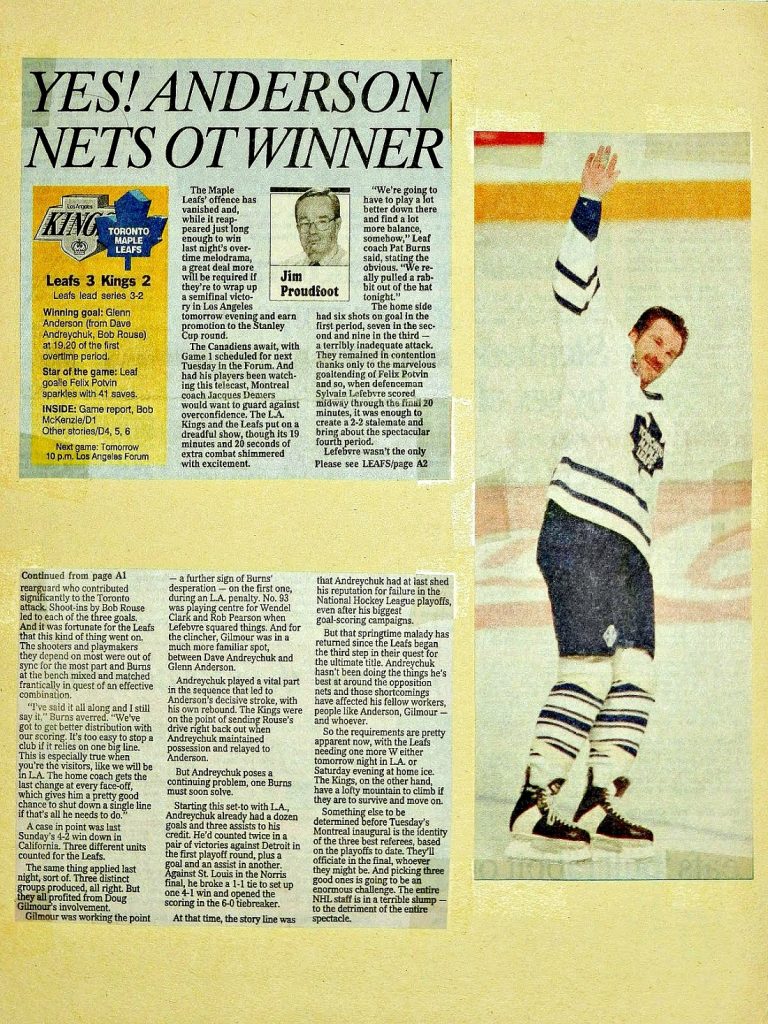 LOS ANGELES TIMES: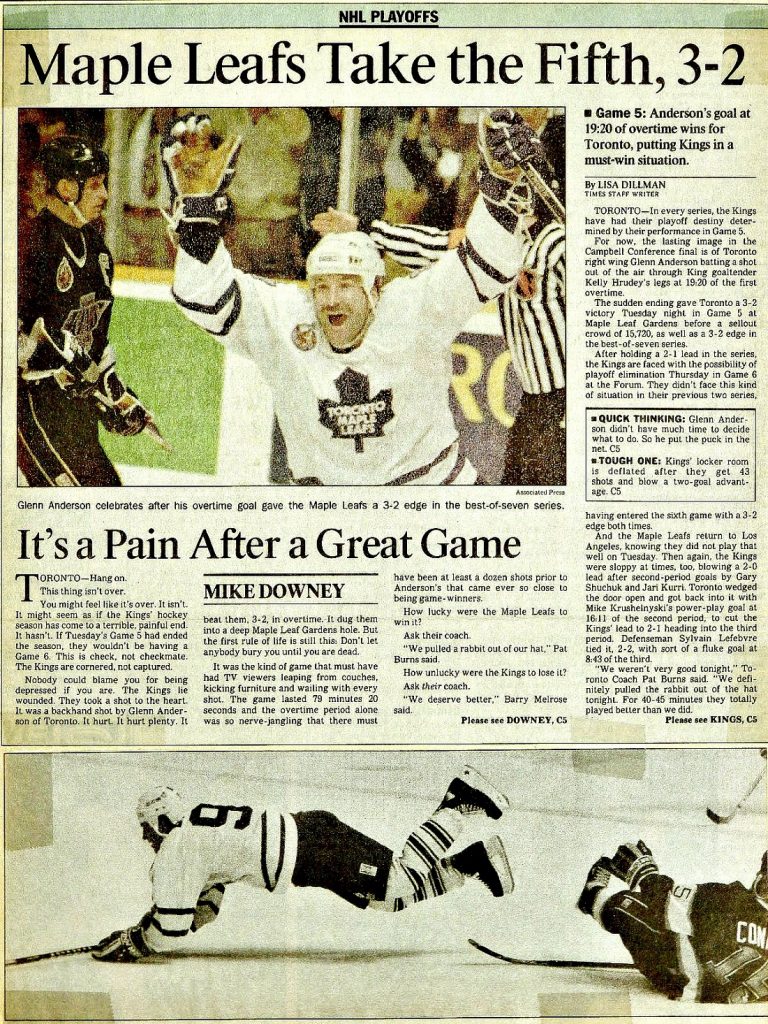 LOS ANGELES DAILY NEWS: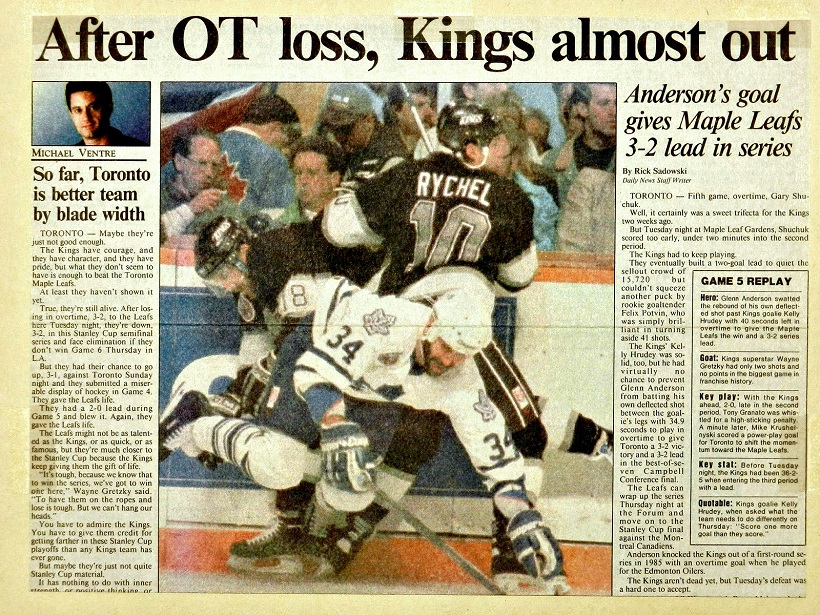 ORANGE COUNTY REGISTER: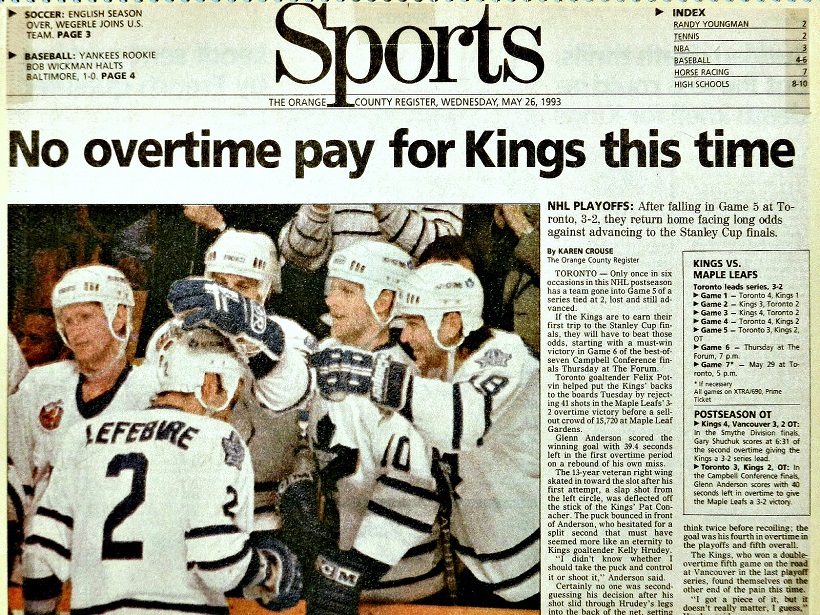 NO GARDEN PARTY
Then there was 30 years ago this week and another enduring playoff memory. While covering the first Stanley Cup final of my radio career, I was in the old Boston Garden on May 24, 1988 when the lights went out during Game 4 of the championship series between the Bruins and Edmonton Oilers. I remember, to this day, how stifling hot it was in the ancient arena, as I sat in an auxiliary press location behind the north goal. At 16:31 of the second period (9:31 p.m. Eastern time), as the P.A. announcer detailed an Edmonton score by Craig Simpson (now of Hockey Night In Canada), the Garden went dark. And, I mean pitch–black. Seconds later, an emergency generator kicked in, providing enough light to see, but not nearly enough to continue the match. The crowd of 14,451 was ordered to evacuate the building. I'll never forget carefully negotiating the mostly dark stairwell that led to a street exit. Game 4 was re–scheduled for Edmonton two nights later and the Oilers of the Gretzky era won their fourth and final NHL title.
Before leaving Boston, I picked up the local newspapers: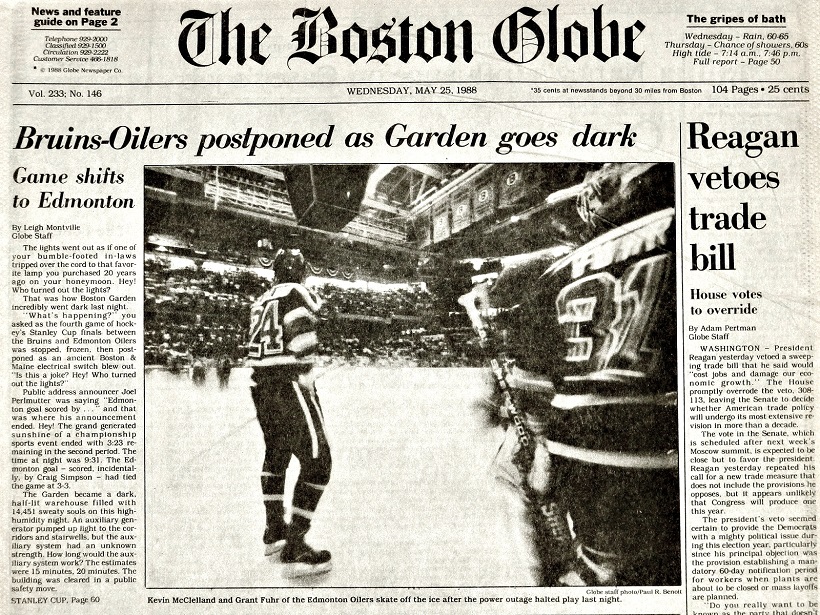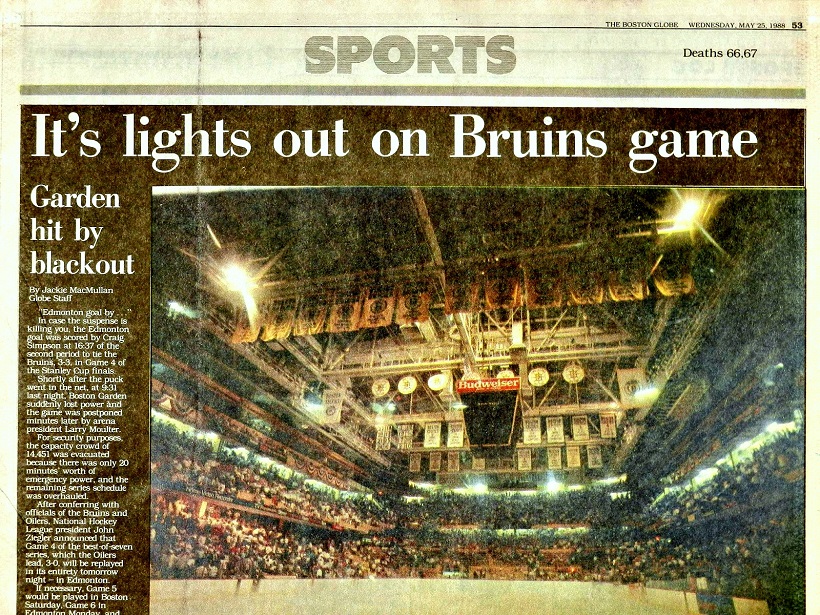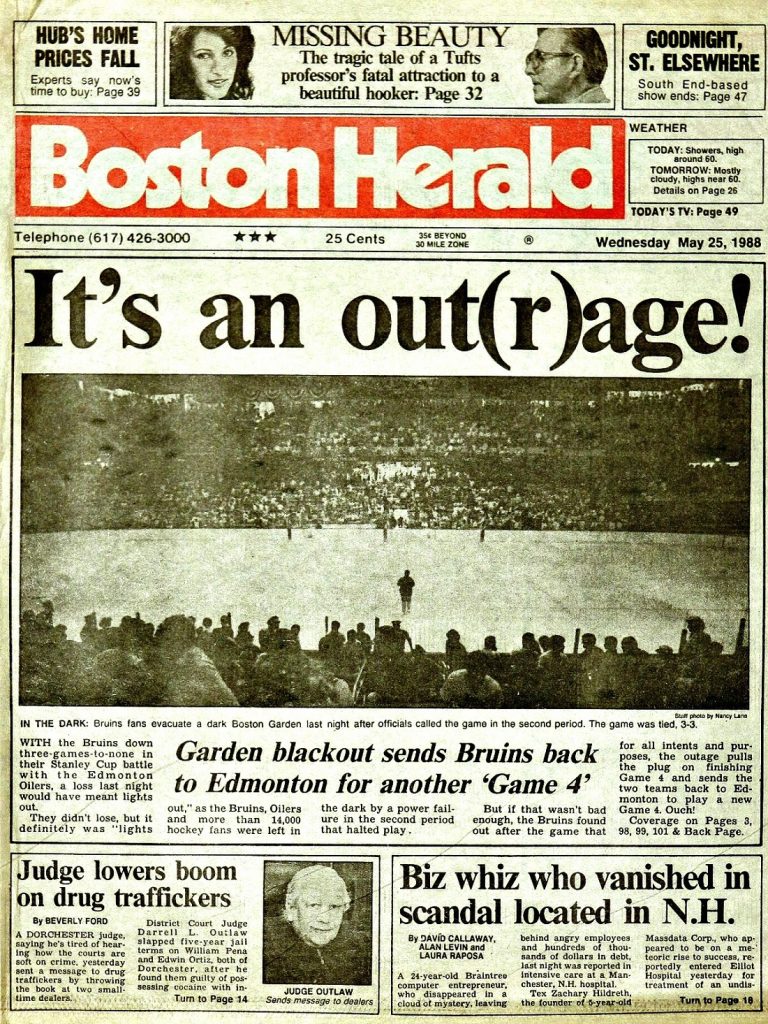 OF COURSE VEGAS WILL WIN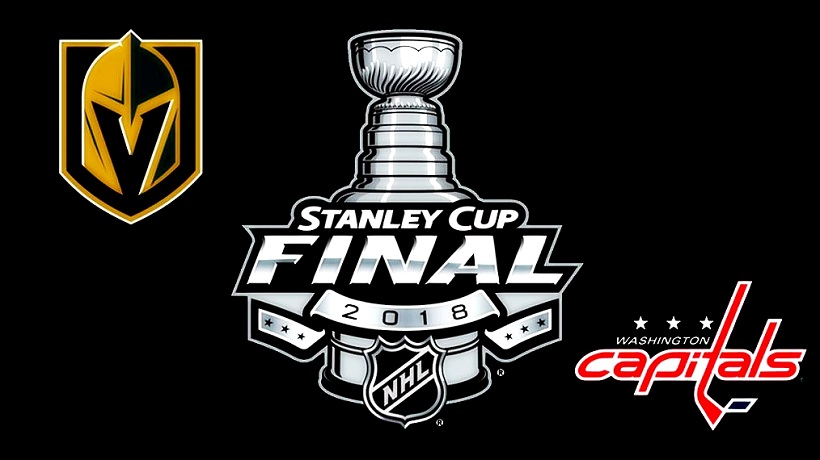 Yes, I'm tired of picking against the once–in–a–lifetime Vegas Golden Knights, which I've done in two of three rounds in the 2018 Stanley Cup playoffs. My composite record of 10–4 after 14 series would be all–the–more wonderful had I not chosen Los Angeles to knock off Vegas in the opening round; then Winnipeg to do the same in the West final. So, phooey on logic. How can this upstart group not go the distance? It is the year of Sin City. The Golden Knights will defeat the Washington Capitals in five games to hoist the Stanley Cup.
EMAIL: HOWARDLBERGER@GMAIL.COM