Twenty–four years after trading for a guy named Sundin at the 1994 NHL Draft in Hartford, the Leafs chose a guy named Sandin Friday night in Dallas. Will Rasmus turn out anything close to Mats? In the meantime…
TORONTO (June 23) — Nothing in professional sport is more amusing than hindsight. And, hindsight may never be quite as amusing as the blog you have started to read. Or, nearly as bizarre.
The late comedian, George Carlin, once did a skit on flatulence. As part of his routine, he talked about a middle-aged person: "He was 55 years old and had a perfect diet all his life. The man had never farted!"
Forget the punch–line. It's the "perfect diet" part that is relevant here. Why? Because every bit as ludicrous as a man in his mid–50's living without an intestinal rumble is a team with a "perfect" record in the first round of the National Hockey League draft — the 2018 event just completed at the American Airlines Center in Dallas. Were the Toronto Maple Leafs to have been flawless with their first selection since the advent of the universal draft in 1970… well, there'd be no–such elephant as a 51–year Stanley Cup drought.
Of course, this is pure fantasy. So, have some fun with it.
Forget the emails about "this would never happen and the same exercise can be done with any team." I'll ask you, in advance, to spare me such bulletins. And, please refrain from purporting — at middle–age — that you've never passed wind. 🙂
So, here's what would have been if the Leafs had always made the perfect selection with their first pick: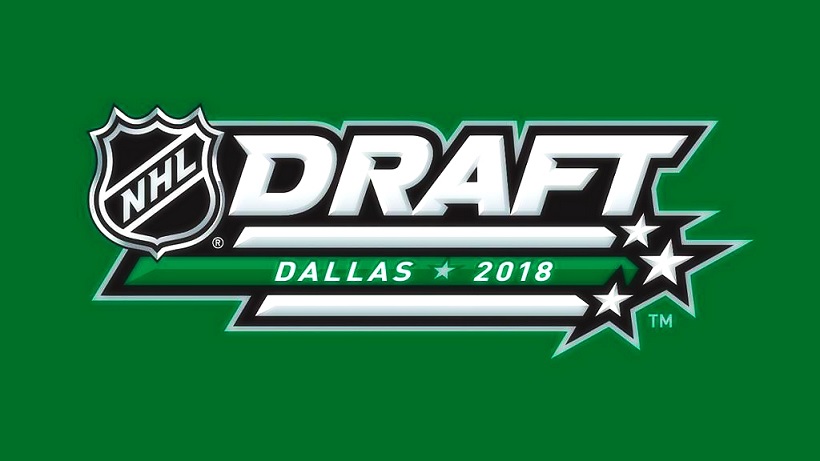 For a club with such a spotty draft record as the Maple Leafs, it is coincidental that its first–ever pick in the universal draft was bang–on. General manager Jim Gregory chose London junior Darryl Sittler No. 8 overall in 1970. Sittler went on to captain the Leafs; set an all–time record for points in one game (10) and become the franchise scoring leader (916 points) until eclipsed by Mats Sundin on Oct. 11, 2007. Looking at other "notable selections" still available when Gregory took Sittler, only Cornwall junior Billy Smith can provide an argument. Smith went 59th overall to Los Angeles; appeared in five games with the Kings and was chosen by the New York Islanders in the 1972 expansion draft. He went on to backstop the Islanders to four consecutive Stanley Cups (1980–83). Sittler, through no fault of his own, never played in the Cup final.
The same applies to Year 2 of the universal draft — 1971. The Leafs (as would later become habitual) did not have a first–round selection; it was traded to Philadelphia in the February 1971 deal that brought goalie Bernie Parent to Toronto (the Flyers blew the pick by taking forward Pierre Plante when Kitchener defenseman Larry Robinson was still available). The Leafs, drafting 22nd overall, chose Hamilton junior Rick Kehoe, who went on to score 33 goals in 1972–73 before a trade sent him to Pittsburgh (for Blaine Stoughton) on Sep. 18, 1974. This was a double–whammy for Toronto. Kehoe had seasons of 55, 33 and 30 goals with the Penguins. After two middling years (and 29 goals), the Leafs allowed Stoughton to jump to Cincinnati of the World Hockey Association. When he came back to the NHL with Hartford in 1979–80, Stoughton erupted for seasons of 56, 52, 45 and 43 goals. In the 1971 draft, however, Kehoe was the best player available when the Leafs made their pick. He retired after the 1984–85 season with 371 career goals.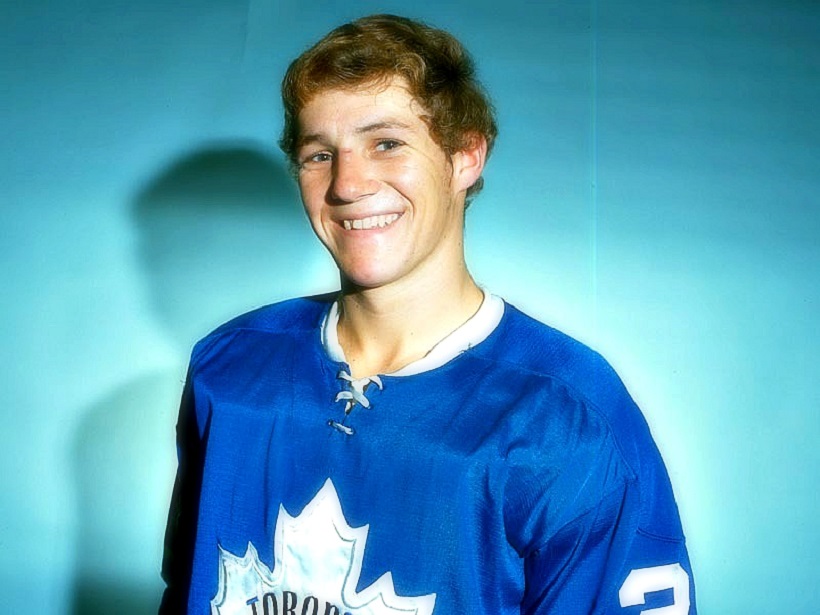 DARRYL SITTLER, CHOSEN NO. 9 IN 1970, MAY STILL BE THE LEAFS BEST–EVER DRAFT PICK.
1972 was kind of a wash. The Leafs, drafting 11th, took Toronto Marlboros center George Ferguson, who never scored much (19 goals in 1974–75) but proved valuable in a penalty–killing role over six seasons. Several better choices were still available — Bob Nystrom (four Stanley Cups and 235 goals with the New York Islanders) and Al MacAdam (93 points with Minnesota in 1979–80) among them. But, no superstars.
The 1973 draft was mostly a windfall for Gregory, as the Maple Leafs had three picks in the opening round. Lanny McDonald (Medicine Hat WHL) came aboard fourth overall, followed by Bob Neely (Peterborough OHL) and Ian Turnbull (Ottawa OHL). McDonald and Turnbull starred for the Blue and White. Instead of Neely, who never matched expectation (39 career goals), Gregory could have taken forward Rick Middleton (Oshawa OHL). Foolishly dispatched after two years by the New York Rangers to Boston, Middleton had seasons of 105, 103, 96, 94 and 92 points with the Bruins. He was a borderline Hall–of–Famer.
The real "fun" for the Maple Leafs began in 1974 when the club took forward Jack Valiquette (Sault Ste. Marie OHL) 13th overall — a fitting, star–crossed number given that Bryan Trottier (Swift Current WHL) and Mark Howe (Toronto OHL) were among those still available. Both are Hall of Famers. Trottier ranks 16th in all–time NHL points (1,425). He won four Stanley Cups with the New York Islanders and two with Pittsburgh. Howe, the son of the late, great Mr. Hockey, compiled 742 career points as a smart, mobile defenseman with Hartford, Philadelphia and Detroit. Valiquette scored 33 goals for Toronto over three seasons.
Let's now look at the ensuing years in chronological order:
1975: Regarded, by many, among the most–shallow first rounds of the universal draft era. Mel Bridgman (Philadelphia), Barry Dean (Kansas City), Ralph Klassen (California), Bryan Maxwell (Minnesota) and Rick Lapointe (Detroit) were the top five picks. 'Nuff said. The Leafs took forward Don Ashby (Calgary WHL) sixth overall and began regretting it soon–after. Still available, and from their backyard, was Toronto native Dennis Maruk (London OHL) — known as "Peewee" for his 5–foot-8, 165–pound body. Yet, Maruk wasn't too small for the godforsaken California Seals, who drafted him 21st, 15 selections after Ashby. Peewee scored 356 NHL goals (with California, Cleveland, Washington and Minnesota), merely 316 more than Ashby, who died, tragically, in Kelowna, B.C. on May 30, 1981 after a head–on collision with another road vehicle. Maruk had seasons of 60, 50 and 36 goals in the NHL. Ashby's best was 19 goals (1976–77).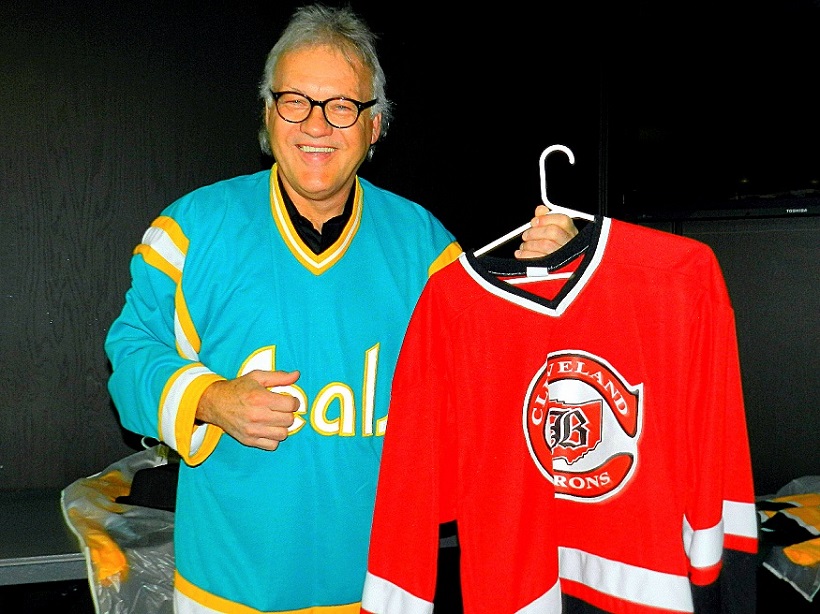 DENNIS MARUK, IN 2015, MODELS TWO OF THE NHL JERSEYS FROM HIS 13–YEAR NHL CAREER. HE'S WEARING THE CALIFORNIA SEALS (circa 1974–76) AND HOLDING THE CLEVELAND BARONS (1976–78).
1976: With no first–round pick (it was traded to Montreal in June 1975 for goalie Wayne Thomas), the Leafs drafted 30th and took defenseman Randy Carlyle (yes, that Randy Carlyle) from Sudbury of the OHL. Had they retained Carlyle beyond June 1978, the pick wouldn't look so bad. With Pittsburgh, in 1980–81, Carlyle rang up 83 points and won the Norris Trophy. Still available to Toronto was Swedish forward Kent Nilsson, who scored 264 NHL goals with Atlanta/Calgary, Edmonton and Minnesota, including seasons of 49, 46, 40 and 37. When the smoke cleared, the Leafs were left with veteran blue–liner Dave Burrows — well past his prime when acquired from the Penguins for Carlyle.
1977: With consecutive first–round picks (11th and 12th overall), the Leafs stayed at home and chose Toronto Marlboro juniors John Anderson and Trevor Johansen. Available three picks later was some guy named Mike Bossy (Laval QMJHL), who scored 573 goals in just 10 seasons with the New York Islanders and lifted the Stanley Cup in four consecutive years. Only once — in his final NHL campaign (38 goals in 1986–87) — did Bossy fail to reach the 50–goal plateau. Anderson had some good years with the Leafs (37, 32, 31 and 31 goals) while Johansen performed ruggedly in 286 NHL games with Toronto, Colorado and Los Angeles. But, the Maple Leafs, rather than the Islanders, could have had Bryan Trottier and Mike Bossy. Ouch!
1978: Another first–round pick had been swapped to Detroit (for veteran winger Dan Maloney) and the Leafs selected Joel Quenneville (Windsor OHL) 31st overall. Quenneville today stands second in career NHL coaching wins to Scotty Bowman. Forty years ago, he was an average, second or third–pairing defenseman. Among those still available was forward Tony McKegney, who went to Buffalo as the 32nd pick. One of the few black skaters in the NHL, McKegney scored 320 career goals with the Sabres, Quebec, Minnesota, the Rangers, St. Louis, Detroit and Chicago. Included were seasons of 40, 37 and 36 markers.
1979: Another ouch for the Leafs… multiple times over. With the No. 9 selection, recycled GM Punch Imlach chose center Laurie Boschman (Brandon WHL), a decent NHLer with 229 career goals. There was, however, the small matter of three overlooked juniors: Michel Goulet (20th to Quebec), Mark Messier (48th to Edmonton) and Glenn Anderson (69th to Edmonton). We'll pick Messier out of this group given his third–place ranking (behind only Wayne Gretzky and Jaromir Jagr) on the NHL all–time points list — 1,887 — or a paltry 1,310 more than Boschman. Goulet and Anderson combined to score 1,046 regular–season goals.
1980: A total wash–out as the Leafs took defenseman Craig Muni (Kingston OHL) 25th overall. Muni played a grand total of 14 games with the Blue and White. A slightly better pick may have been Finnish–born winger Jari Kurri, who went to Edmonton in the No. 69 spot and compiled 601 NHL tallies. Yes, he played alongside Gretzky, but Kurri still had scoring seasons of 71, 68, 54 and 52 goals. Muni had 28 goals in 819 NHL games.
1981: Another disaster. With the sixth overall pick, the Leafs chose defenseman Jim Benning (Portland WHL). Benning was a gifted passer. He just couldn't skate. Perhaps the club would have fared better with blue–liner Al MacInnis (Kitchener OHL), who is today in the Hockey Hall of Fame with 1,274 career points — third, all–time, among defensemen, behind only Raymond Bourque and Paul Coffey. MacInnis had seasons of 103, 90, 83 and 82 points for Calgary and St. Louis. He won the Conn Smythe Trophy in 1989 with the Stanley Cup–champion Flames and the Norris Trophy in 1999 with the Blues.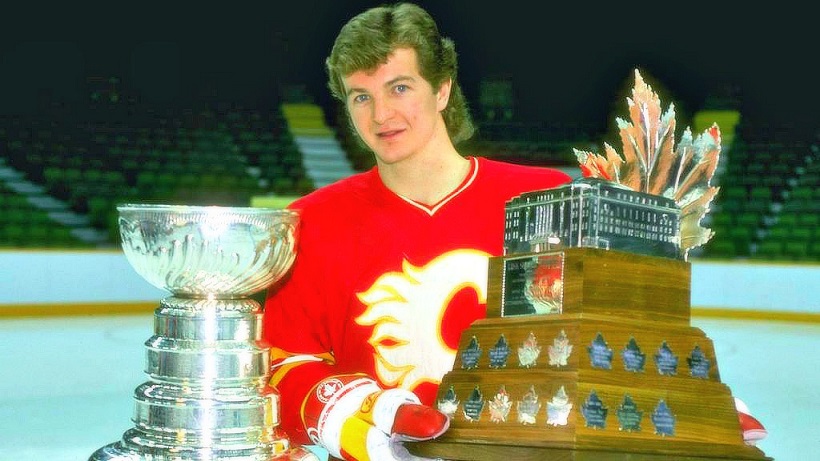 HALL OF FAMER AL MacINNIS SHONE WITH CUP–CHAMPION CALGARY IN THE SPRING OF 1989.
1982: The Leafs figured to have an elite defenseman by choosing mammoth Gary Nylund (Portland WHL) third overall. But, Nylund tore up his knee and never came close to expectation. Scott Stevens (Kitchener OHL ) may have worked out a tad better. Hockey's most–menacing blue–liner while helping New Jersey to three Stanley Cup titles (1995–2000–03), Stevens is also a member of the HHOF. Coincidentally, future Leafs Dave Andreychuk (16th to Buffalo) and Doug Gilmour (134th to St. Louis) were also available.
1983: Picking seventh overall, the Leafs did reasonably well with talented center Russ Courtnall (Victoria WHL), though Cam Neely (Portland WHL) was still available and went to Vancouver two picks later (he scored 395 career goals). With the 20/20 hindsight of this blog, however, the Leafs should have grabbed the 207th selection — Czech goalie Dominik Hasek, a virtual unknown at the time. Hasek was chosen by Chicago, which dealt him to Buffalo (Aug. 7, 1992) in one of the NHL's all–time worse trades (ranking just beneath the 'Hawks unloading Phil Esposito in 1967). In the late–90's, Hasek was the best hockey player on Earth… at any position. He won consecutive Hart Trophies (1997, 1998); the only netminder since Jacques Plante in 1962 to be named the league's MVP. Hasek also won the Vezina Trophy six times between 1994 and 2001.
1984: Imagine a goaltending tandem of Hasek and Patrick Roy. Or, Brett Hull skating alongside Trottier. Yup, both were available to the Leafs in the '84 NHL draft. Selecting fourth, Toronto chose defenseman Al Iafrate (Belleville OHL), a gifted but vulnerable young man whose development stalled early in his career… then, like so many others, accelerated once he left Toronto. But, there was Roy — lurking 51st overall in the third round and finally nabbed by Montreal; today mentioned among the top half–dozen goalies in NHL history. Hull went a ridiculous 117th to Calgary. Only Gretzky, Gordie Howe and Jagr have more career goals than Hull, with 741. A "consolation" prize could have been Luc Robitaille, chosen 171st by Los Angeles and, today, sitting 12th all time in goals (668). Iafrate had 63 points with the Leafs in 1989–90.
1985: You'd have to search far and wide for a Leafs fan disappointed that Wendel Clark (Saskatoon WHL) was chosen first overall by the club. With a statue on Legends Row, Wendel is among the most–popular Leaf players of all time. Still, it's fair to ask whether Joe Nieuwendyk (selected 27th by Calgary) would have been a better pick. In the Hall of Fame with 564 career goals and 1,126 points, the Cornell University graduate had seasons of 51, 51, 45, 45, 39 and 38 goals with the Flames, Dallas, New Jersey, Toronto (toward the end of his career) and Florida. He also contributed largely to three Stanley Cup triumphs (Calgary 1989, Dallas 1999, New Jersey 2003). Clark's best season was 46 goals with the Leafs in 1993–94. He possessed, without a doubt, the best combination of scoring ability and physical toughness among any Toronto skater of the post–1967 era. But, still, the question about Nieuwendyk deserves to be asked.
1986: Another near–miss, but a big one. Not that Vincent Damphousse (Laval QMJHL), selected sixth by the Leafs, didn't have a terrific career in the NHL (432 goals, 1,205 points). But, the guy taken by New York three picks later would have looked better in Toronto blue… and, for certain, would not have been traded by the Leafs after four seasons. Brain Leetch (Avon Old Farms H.S.) went ninth to the Rangers and became one of top ten defensemen in the NHL's expansion era. He had seasons of 102, 88, 85, 79, 79 and 78 points in the Apple — winning the Conn Smythe Trophy when the Rangers finally busted their 54–year Stanley Cup drought in 1994. The Leafs record for points by a defenseman is 79 (Ian Turnbull 1976–77).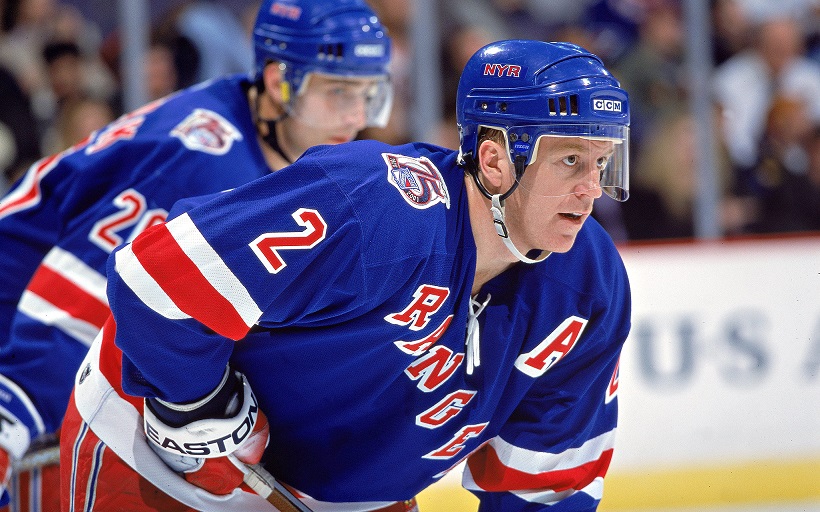 BRIAN LEETCH: HE COULD HAVE BEEN A MAPLE LEAF AT THE BEGINNING OF HIS NHL CAREER (1988) RATHER THAN THE END (FOR 15 GAMES AFTER THE 2004 TRADE DEADLINE).
1987: All together now: "Oy Vey!!" God bless Luke Richardson, a fine chap and a dependable, stay–at–home defenseman between 1987 and 2009. Chosen seventh overall by the Leafs. But, Toronto missed, by eight picks, one of the best all–around forwards in modern NHL history. Joe Sakic (Swift Current WHL) went 15th to the Quebec Nordiques. Even worse was Boston, which had two shots at Sakic, but took Glen Wesley (Portland WHL) third and Stephane Quintal (Granby QMJHL) 14th. Richardson actually played 39 more NHL games than Sakic (1,417 to 1,378) but trailed him, at the end, by a measly 1,449 regular–season points. Sakic is ninth on the all–time points list (1,641), trailing only Gretzky, Jagr, Messier, Howe, Ron Francis, Marcel Dionne, Steve Yzerman and Mario Lemieux. What more needs be said?
1988: "Oy Vey!! — Part 2. With the No. 6 overall selection, the Leafs chose forward Rob Pearson (Kingston OHL) rather than a Finnish–born winger named Teemu Selanne (Winnipeg, 10th). Pearson scored a total of 56 NHL goals, 20 fewer than Selanne rang up as a rookie with the Jets: 76 goals in 1992–93 — tied with Phil Esposito and Alexander Mogilny for the fourth–most in a single season behind Gretzky (92, 87), Brett Hull (86) and Lemieux (85). Selanne ended his Hall–of–Fame career with 684 goals — 11th on the all–time list.
1989: The biggest "Oy Vey!!" of them all. This was the year the Leafs — with Picks 3, 12 and 21 — went all–Belleville (OHL), choosing Scott Thornton, Rob Pearson and Steve Bancroft (396 combined NHL points). They might have done a tad better with Nicklas Lidstrom (Detroit 53rd), Sergei Fedorov (Detroit 74th) and Pavel Bure (Vancouver 113th), who combined for 3,100 points. What do you think? 😛
1990: Oh… my… God! With the No. 10 selection at B.C. Place Stadium in Vancouver, the Leafs took defenseman Drake Berehowsky (Kingston OHL). Eight picks later, some fella named Martin Brodeur (St. Hyacinthe) went to New Jersey. Honestly, folks… the Leafs could have drafted any of Grant Fuhr, Dominik Hasek, Patrick Roy and Brodeur. And, took none. Berehowsky had 149 points in 549 NHL games.
1991: Their first–round pick notoriously traded to New Jersey for defenseman Tom Kurvers (turned into No. 3 overall and the Devils took Scott Niedermayer… "Oy Vey!!") the Leafs didn't select 'til 47th and chose forward Yanic Perreault (Trois–Rivieres QMJHL). He was as good as any of the others in the drab second round. Perreault twice played for the Leafs (1993–94, 1998–2001). His best Toronto season was 24 goals and 52 points in 2000–01. He was superb in the face–off circle and a splendid fellow. Stanley Cup–winning goalie Chris Osgood (Medicine Hat WHL) was still around and went 54th to Detroit.
1992: A total waste in the final draft held at the Montreal Forum. With the No. 8 pick, the Leafs chose forward Brandon Convery (Sudbury OHL), who contributed 17 points in 50 games with the club. A team forever seeking character and defensive acumen would have done much better with the No. 40 pick — Michael Peca (Ottawa OHL). A Toronto native, Peca went to Vancouver and was traded to Buffalo during the 1995 NHL draft in Edmonton. With the Sabres (and, later, the Islanders), he became, for a time, the best two–way skater in hockey — winning the Frank J. Selke Trophy as top defensive forward in 1997 and 2002. Michael did play 35 games for the Maple Leafs, in 2006–07.

MICHAEL PECA — ALL–TOO–BRIEFLY AS A MAPLE LEAF IN THE 2006–07 NHL SEASON.
1993: On a stifling–hot afternoon in the un–air conditioned Quebec Colisee, the Maple Leafs again got burned — though not quite as severely as in previous years. With the 12th selection, Toronto chose Swedish defenseman Kenny Jonsson. Among those still available was Finnish center Saku Koivu, who went 21st to Montreal; conquered a deadly stomach cancer, and registered 832 career points. Jonsson played only two seasons for the Leafs before going to the Islanders in the March 1996 deal that brought Wendel Clark back to Toronto. He had a career–best 40 points on Long Island in 1997–98.
1994: Completely overshadowed by the acquisition of Mats Sundin from Quebec minutes before the draft at the Hartford Civic Center, the Leafs, again, made a fruitless pick. Selecting 16th, they took goalie Eric Fichaud (Chicoutimi QMJHL), who never suited up in blue and white. Late in the second round (51st overall), New Jersey drafted Czech center Patrick Elias (Kladno), who played 1,240 more games for the Devils than did Fichaud for the Leafs; scored 408 career goals and won the Stanley Cup on the club's top forward unit (with Jason Arnott and Petr Sykora) in 2000 and 2003. Elias had seasons of 40, 38, 38 and 35 goals.
1995: Another incredible bomb at the draft in Edmonton and overshadowed, again, by a trade — this time, the acquisition (from Pittsburgh) of future Hall–of–Fame defenseman Larry Murphy. With the 15th pick, the Maple Leafs chose defenseman Jeff Ware (Oshawa OHL), whose glorious NHL career spanned 21 games (15 with Toronto; six with Florida) and one assist. The aforementioned Petr Sykora (Detroit Jr. Red Wings) was taken three picks later by New Jersey and scored 323 goals in 1,017 NHL games with the Devils, Anaheim, the Rangers, Edmonton, Pittsburgh and Minnesota (Wild). He had seasons of 35, 34, 29, 28, 25 and 25 goals. Sykora won Stanley Cups with New Jersey in 2000 and the Penguins in 2009.
1996: Their first–round pick traded to Philadelphia for defenseman Dmitry Yushkevich (Aug. 30, 1995), the Leafs chose Czech forward Marek Posmyk 36th overall at the new Keil (now Scottrade) Center in St. Louis. Posmyk never played for the Leafs; his NHL career totaled 19 games and one goal with Tampa Bay. Still available to Toronto (another loud "Oy Vey!!", please) was Czech defenseman Zdeno Chara, who went 56th to the Islanders. After New York and Ottawa gave up on the 6–foot–9–inch monster, he went to Boston and became the most dominant defense figure in the NHL between 2006 and 2012 (captaining the Bruins to the 2011 Stanley Cup). Still active at age 41, not only has Chara played in 1,423 NHL games (1,423 more than Posmyk with Toronto), he helped Boston demoralize the Leafs with Game 7 playoff wins in 2013 and 2018.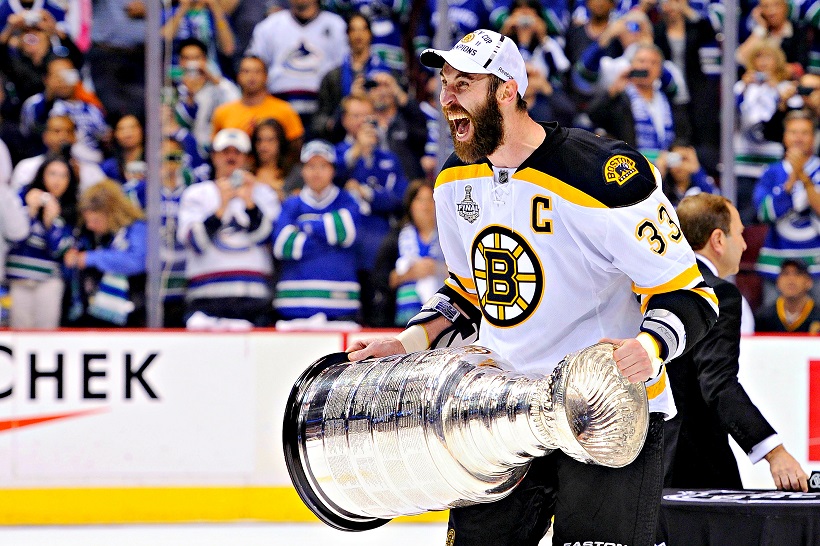 ZDENO CHARA ACCEPTS THE 2011 STANLEY CUP FROM NHL COMMISSIONER GARY BETTMAN.
1997: Another first–rounder gone (in the trade with the Islanders, Mar. 13, 1996, that brought Wendel Clark back to Toronto), the Leafs chose 57th and took forward Jeff Farkas (Boston College), who appeared in six regular–season and three playoff games for the Blue and White, scoring once in the 2000 Stanley Cup tournament. Though bombing once again, the Leafs did not overlook an all–timer. Russian forward Maxim Afinogenov (Buffalo 69th) was probably the best of the rest. He had seasons of 24, 23, 22 and 21 goals with the Sabres and Atlanta Thrashers. To recap, the Leafs' first picks in the 1994–95–96 and 1997 drafts (Fichaud, Ware, Posmyk, Farkas) combined to play 21 regular–season games with the club.
1998: Choosing 10th, the Leafs took a lanky and largely–unknown forward from Russia, Nikolai Antropov. Though never attaining the heights Toronto expected of him, he did appear in 509 games with the club (1999–2009), compiling 125 goals and 291 points. Among the half–dozen or so better choices would have been Pavel Datsyuk (Detroit 171st), who had 918 points for the Red Wings in 953 NHL games (2001–16); seasons of 97, 97, 87, 87 points and played an integral role in the Stanley Cup victories of 2002 and 2008.
1999: The expansion Atlanta Thrashers destroyed this NHL draft by choosing Czech forward Patrik Stefan (best NHL season: 40 points) first overall, allowing Vancouver GM Brian Burke to trade up and bag the Sedin twins (Daniel and Henrik) second and third. The Leafs totally muffed as well, selecting Swiss forward Luca Cereda 24th overall (though an unexpected heart condition sadly derailed Cereda's big–league hopes; he never played a game in the NHL). Again, Detroit (and super–European scout Hakan Andersson) embarrassed Toronto — and all other teams — by unearthing Swedish winger Henrik Zetterberg 210th overall. "Hank", as he became known, is a future first–ballot Hall–of–Famer; still active at age 37. He has 337 goals and 960 points in 1,082 NHL games, including seasons of 92, 85 and 80 points. He was instrumental in the Red Wings' 2008 Stanley Cup victory under coach Mike Babcock, winning the Conn Smythe Trophy with 27 points.
2000: Selecting 24th in Calgary, the Leafs took clever forward Brad Boyes (Erie OHL), who didn't play with the club before a trade to San Jose (for veteran Owen Nolan) in March 2003. Boyes later had seasons of 43 and 33 goals with St. Louis; then appeared in 60 games for Toronto as a free agent in 2015–16. Still available, and drafted way down (205th overall) by the Rangers, was future Hall–of–Fame goalie Henrik Lundqvist of Sweden. Lundqvist has been New York's No. 1 goalie throughout the salary cap era (since 2005–06), compiling a career 2.37 GAA in 805 regular–season appearances. He won the Vezina Trophy in 2012 and backstopped the Rangers to the 2014 Stanley Cup final (Game 6 overtime loss to the L.A. Kings).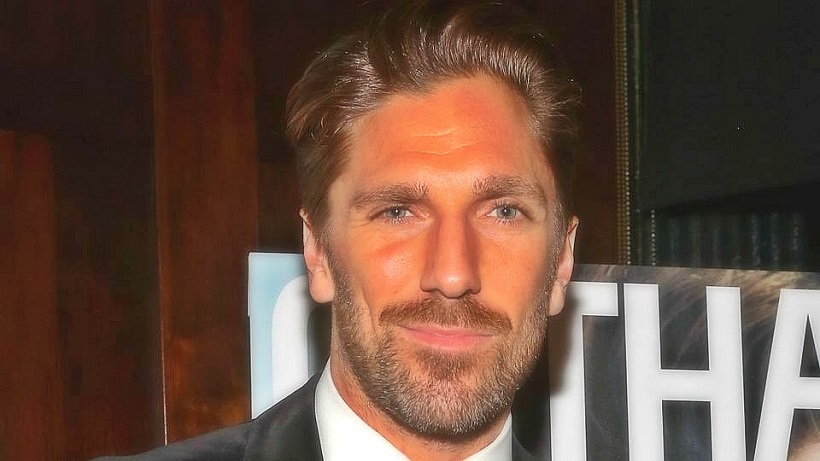 SWEDISH–BORN GOALIE (AND NEW YORK HEARTTHROB) HENRIK LUNDQVIST COULD ALSO HAVE BEEN A MAPLE LEAF.
2001: The Leafs, picking 17th, took another Erie Otters grad — defenseman Carlo Colaiacovo, whose career was side–swiped, early on, by a rash of freak injuries. A terrific guy, Carlo persevered and played in 470 NHL games with Toronto, St. Louis (twice), Detroit, Philadelphia and Buffalo. His best season yielded 32 points with the Blues in 2009–10. Among those still available was Richmond Hill, Ont. native Michael Cammalleri (University of Michigan), who went 49th to Los Angeles. Still playing with Edmonton, Mike has 294 NHL goals and seasons of 39 (for Calgary) and 34 (for L.A.). He was superb for Montreal (13 goals in 19 games) during the spring of 2010, as the Canadiens lost to Philadelphia in the Eastern Conference final.
2002: The first NHL draft held in Toronto since 1985 took place at the Air Canada Centre. And, the Leafs, selecting 24th, took Swedish forward Alexander Steen, the son of former Winnipeg Jets star Thomas Steen. This turned into another "Oy Veyy!!" on two counts: a) that the Leafs dealt Steen to St. Louis in a terrible swap (for Lee Stempniak)… and b) that the club failed to draft Michigan State defenseman Duncan Keith, who went 54th overall to Chicago. Keith became arguably the best blue–liner (along with Chara, Drew Doughty and Erik Karlsson) of the post–lockout era, helping Chicago to the Stanley Cup three times in six years (2010–13–15). With seasons of 69, 61 and 53 points, Keith combined skating, puck–movement and a mean streak to win the Norris Trophy in 2010 and 2014. Steen has scored 33, 24 and 24 goals for St. Louis.
2003: Their first–round pick dealt to San Jose in the Owen Nolan deal (Mar. 5, 2003), the Leafs didn't select 'til 57th and chose someone named John Doherty (Phillips Andover H.S.). Doherty, like Fichaud, Posmyk and Cereda, never played a game for Toronto. The Leafs would have been slightly better off with winger/defenseman Dustin Byfuglien (Prince George WHL), who went 245th to Chicago. "Big Buf," as he is known, has been a force in recent years on the Winnipeg Jets blue line. He has NHL seasons of 56, 53 (three times) and 52 points. And can throw his weight around as effectively as any player in hockey.
2004: Another first–rounder gone — in exchange (at the 2004 trade deadline) for veteran defenseman Brian Leetch of the Rangers. Not selecting 'til 90th, the Leafs took goalie Justin Pogge (Prince George WHL), who appeared in seven games with Toronto in 2008–09 (4.36 GAA)… then never again. A little–known Finnish stopper was still available at the time. Pekka Rinne went 258th to Nashville); bavkstopped the Predators to the 2017 Stanley Cup final; to the 2017–18 Presidents' Trophy; won the Vezina Trophy this season after twice being runner–up, and has a sparkling GAA of 2.37 in 567 NHL games.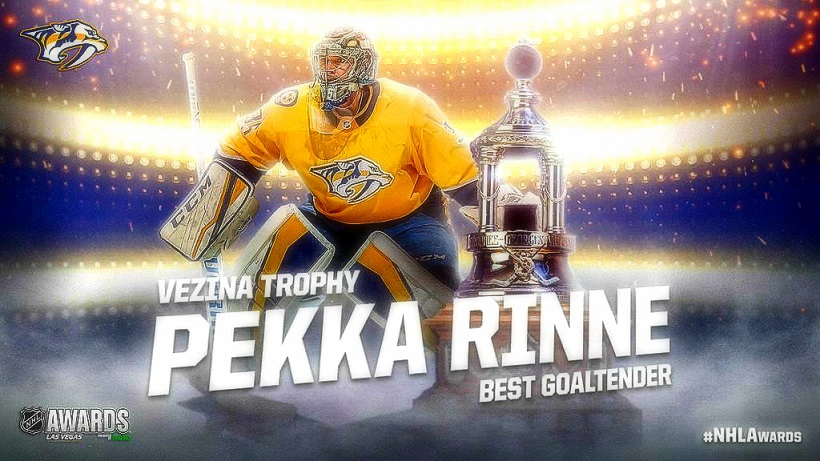 PEKKA RINNE OF NASHVILLE WAS VOTED THE NHL's TOP GOALKEEPER THIS PAST SEASON.
2005: The post–lockout draft was held, unobtrusively, at the Westin Hotel in Ottawa and Sidney Crosby went first to Pittsburgh. The Leafs, choosing 21st, made an excellent pick — Swedish goalie Tuukka Rask, who should have been the club's No. 1 man between the pipes since 2009–10. Instead, Rask was foolishly dealt to Boston at the 2009 draft in Vancouver for one–year wonder Andrew Raycroft. Therefore, the Leafs would have been better off choosing center Paul Stastny (University of Denver), who went 44th to Colorado. The son of Hall–of–Fame forward Peter Stastny has 646 NHL points; most accumulated in early–career seasons of 79, 78 and 71 with the Avalanche. Dealt to Winnipeg by St. Louis at the trade deadline this past season, Stastny was a major cog (15 points in 17 games) in the Jets' advancement to the Western Conference final.
2006: Another waste. Picking 13th, the Leafs chose smallish center Jiri Tlusty (Kladno, Czech Republic), who scored 10 goals in 74 games with Toronto before being traded to Carolina. Right–winger Claude Giroux (Gatineau QMJHL) was still available and went 22nd to Philadelphia. He has 677 points for the Flyers since 2007–08 and is coming off his best NHL season (102 points — second in scoring behind Connor McDavid and nine more points than Hart Trophy winner Taylor Hall).
2007: With Raycroft having gone pfffft, the Leafs gave up yet another first–round pick (to San Jose) for goalie Vesa Toskala, who was just marginally better in 62 games with Toronto (3.08 GAA) from 2007–10. The Leafs didn't choose 'til 74th and selected Oshawa (OHL) forward Dale Mitchell (no games played in the NHL). Jamie Benn (Victoria WHL) would have been a better option (sigh). He went to Dallas, 129th overall, and has 596 points in 667 NHL games. Benn won the Art Ross Trophy in 2014–15 with 87 points and followed with 89 points the next year. He had 79 for Dallas this past season.
2008: At the Canadian Tire Centre in Ottawa, the Leafs traded up (from eighth to fifth) and selected defenseman Luke Schenn (Kelowna WHL), overlooking another rearguard — Erik Karlsson from Sweden (double–sigh) — who went 15th to the hometown Senators. All Karlsson has done is twice win the Norris Trophy (2012, 2015) and register 518 points in 627 NHL games, including seasons of 82, 78, 74 and 71. Perhaps the Leafs can make amends by somehow acquiring the latest "Big E" from the downtrodden Sens before he becomes an unrestricted free agent next summer.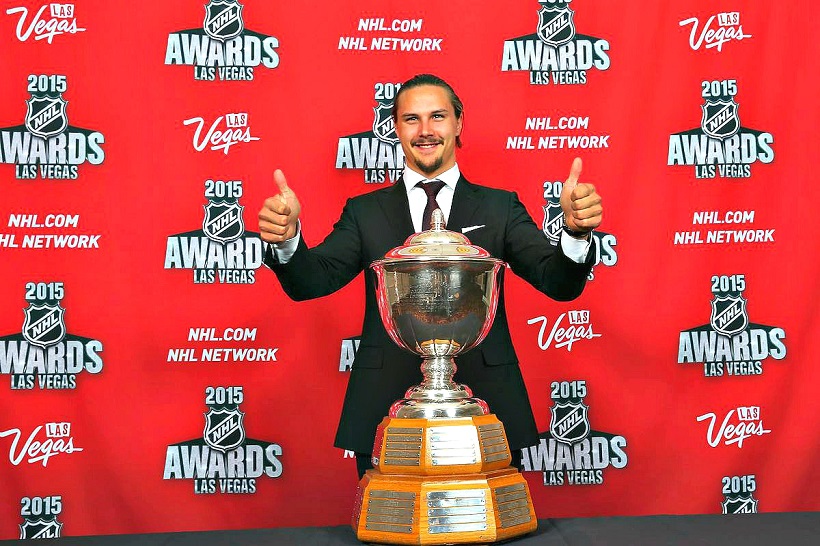 YES, TWO–TIME NORRIS TROPHY WINNER ERIK KARLSSON COULD ALSO HAVE BEEN A LEAF AT THE NHL DRAFT.
2009: At the Bell Centre in Montreal, the Leafs took Nazem Kadri (London OHL) seventh overall. He's become a solid asset with back–to–back 32–goal seasons. Still, and given their interminable woes on defense, the club may have been better–served with either Ryan Ellis (Windsor OHL) or Mattias Ekholm (Mora IK, Sweden) — both selected by Nashville (11th and 102nd); both currently among the NHL's top blue–liners.
2010: Toronto's first–round pick dealt to Boston for Phil Kessel (the Bruins took Tyler Seguin second overall), the Leafs drafted left–winger Brad Ross (Portland WHL) 43rd at the Staples Center in Los Angeles. Ross has never played in the NHL. Center Tyler Toffoli (Ottawa OHL) was still around and went 47th to L.A. Though not a star, Toffoli has seasons of 31, 24 and 23 goals with the Kings.
2011: With the latter of two first–round picks dealt for Kessel, Boston chose defenseman Dougie Hamilton (Niagara OHL) ninth. The Leafs, selecting 25th at the Xcel Energy Center in St. Paul MN, took defenseman Stuart Percy (Mississauga–St. Michael's), who made the team out of training camp in 2014 but quickly fizzled. He appeared in just 12 games and had three assists. Ready for another colossal "Oy Vey!!?" Nikita Kucherov (CSKA2 Moscow) went 58th to Tampa Bay and is now among the most–dynamic forwards in the NHL. He had 39 goals and 100 points for the Lightning this past season — third in scoring behind McDavid and Giroux.
2012: Selecting fifth, the Leafs took Morgan Rielly (Moose Jaw WHL), who is — in the words of his coach, Mike Babcock — a "real good No. 2 [defenseman]." Goaltending issues may have again been addressed with either Andrei Vasilevskiy (Tampa Bay 19th) or Matt Murray (Pittsburgh 83rd and two Stanley Cup titles).
2013: Drafting 21st at the Prudential Center in Newark, the Leafs took the "Goat", Frederik Gauthier (Rimouski QMJHL), who has 37 NHL games on his ledger and three goals. Gauthier just helped the Toronto Marlies win their first Calder Cup championship. Center Jake Guentzel (Nebraska–Omaha) was still available and went 77th to Pittsburgh. He's been a terrific playoff performer with the Penguins — 21 points in 25 games in the 2017 Stanley Cup spring… and 21 points in just 12 games this spring (fifth overall).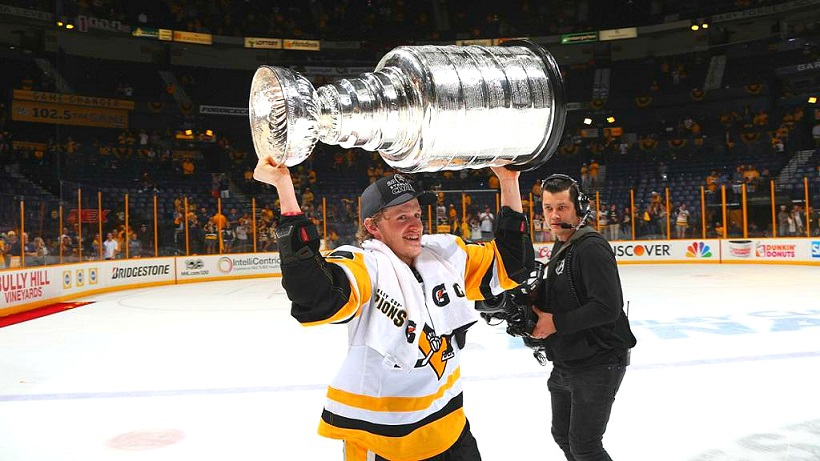 ROOKIE JAKE GUENTZEL CARRIED THE 2017 STANLEY CUP AT BRIDGESTONE ARENA IN NASHVILLE.
To summarize, had the Leafs — in hindsight — been perfect since 1970 with their first draft choices, the following players could have dressed in blue and white: Darryl Sittler, Rick Kehoe, Bob Nystrom, Lanny McDonald, Bryan Trottier, Dennis Maruk, Kent Nilsson, Mike Bossy, Tony McKegney, Mark Messier, Jari Kurri, Al MacInnis, Scott Stevens, Dominik Hasek, Patrick Roy, Joe Nieuwendyk, Brian Leetch, Joe Sakic, Teemu Selanne, Nicklas Lidstrom, Martin Brodeur, Chris Osgood, Michael Peca, Saku Koivu, Patrick Elias, Petr Sykora, Zdeno Chara, Maxim Afinogenov, Pavel Datsyuk, Henrik Zetterberg, Henrik Lundqvist, Michael Cammalleri, Duncan Keith, Dustin Byfuglien, Pekka Rinne, Paul Stastny, Claude Giroux, Jamie Benn, Erik Karlsson, Ryan Ellis, Tyler Toffoli, Nikita Kucherov, Matt Murray and Jake Guentzel.
The Big 3 — 2014, 2015 and 2016
The Maple Leafs have rocketed up the standings in the past three seasons primarily as a result of drafting William Nylander (8th overall 2014), Mitch Marner (4th overall 2015) and Auston Matthews (1st overall 2016). It's too early to determine whether any of those selected beneath the Big 3 is a better choice, though it's pretty much neck–and–neck right now between Matthews and Patrik Laine (Winnipeg), the top two choices in 2016 at Buffalo. Same applies to 2017 first–round pick Tim Liljegren (defenseman, Rolgle Sweden) and, of course, Rasmus Sandin (Sault Ste. Marie OHL), chosen 29th overall on Friday night in Dallas.
EMAIL: HOWARDLBERGER@GMAL.COM