TORONTO (June 25) — This is one man's opinion and I have some difficulty sharing it.
But, the one man — an amateur scout in the National Hockey League — has been around so long, he remembers watching John Tavares as a 13–year–old. According to this individual, who was a very decent source in my years at The FAN–590 (he told me, in 1998, the Leafs were about to sign Curtis Joseph and insisted, in 2006, the club would buy out the remainder of Tie Domi's contract; both happened), if the Leafs make "at least a parallel offer" to Tavares this week, the Toronto native will defect to his home town.
"That's all it will take," said my scouting friend. "The Maple Leafs don't have to blow the Islanders or the other teams out of the water. Just a comparable arrangement and Johnny T will be in Toronto. You'll see."
Though hardly unimaginable, my friend's notion contradicts the more–common assessment that Tavares is merely sounding out rival teams and will ultimately sign a long–term extension with the club that drafted him first overall in 2009. By so doing, he would follow the routine practice of staying put in unrestricted free agency. You can be sure, however, that the Maple Leafs, Boston, Tampa Bay, Dallas, San Jose and Los Angeles — the six clubs reportedly to meet with Tavares — will tempt the 27–year–old to switch allegiance after a largely fruitless nine–year term on the Island. TSN, which continues to cover the NHL better than any media outlet, print or electronic, had Montreal reporter John Lu on site at the Creative Arts Agency (CCA) building in Los Angeles when the Maple Leafs' contingent of president Brendan Shanahan, general manager Kyle Dubas and coach Mike Babcock arrived to gather with Tavares and his representative, Pat Brisson.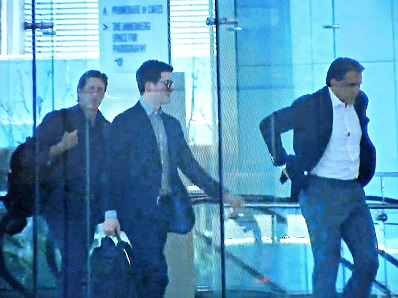 WITH REPORTER JOHN LU ON HAND MONDAY AFTERNOON, TSN CAMERAS CAUGHT THE MAPLE LEAFS' BRASS ARRIVING AT CAA HEADQUARTERS IN LOS ANGELES FOR A THREE–HOUR SESSION WITH JOHN TAVARES AND AGENT PAT BRISSON (BRENDAN SHANAHAN, FOLLOWED BY KYLE DUBAS AND MIKE BABCOCK). THE LEAFS WERE THE FIRST TEAM TO BE GRANTED TIME WITH THE POTENTIAL UFA.
The Leafs, clearly, have more to offer Tavares than money and term; and, certainly, a lot more than the Islanders at this time. Though signing the star forward would necessitate (under the salary cap) trading William Nylander, the club could still boast a splendid five–pack of Tavares, Auston Matthews, Nazem Kadri, Mitch Marner and Patrick Marleau; the first three providing Toronto as much depth and talent at the key center–ice position as any rival. Nylander's availability on the trade market could help the Leafs add much–needed skill and savvy on the blue line; perhaps in a trade with scuffling Ottawa for Erik Karlsson, who is unlikely to re–up with the Senators after next season. Heading into 2019–20, the Leafs would obviously have some tough financial decisions — there would be no way to keep all of Tavares, Matthews, Kadri, Marner, Marleau and Karlsson under the payroll ceiling — but a solid Stanley Cup push could be made beforehand.
There is much to like about the Leafs' front office; younger and more dynamic now that Lou Lamoriello has moved on to run the Islanders. Babcock, in particular, has been known to hold sway with his acclaimed gift of gab, while Shanahan's respect in the league is large and universal. The Leafs are on a sharp upward curve since the end of the 2015–16 season, having soared from 69 to a team–record 105 points in a two–year span; from 29 to 49 victories. The Islanders, meantime, are trending downward, decreasing in points (101–100–94–80) in the past four seasons. Only once has Tavares been past the opening round of the Stanley Cup playoffs: in 2015–16 when the Isles beat Florida in six games before losing to Tampa Bay in five. Neither has Toronto, under Babcock, scorched a playoff path, succumbing in the first round to Washington and Boston the past two springs. But, the Maple Leafs can offer Tavares a more–gifted array of teammates… and the lure of potentially being part of this city's first championship team in more than half–a–century.
In that regard, my scouting friend's assertion that the Leafs would prevail over the other five contenders with "a parallel [contract] offer" makes abundant sense. But, Tavares would need to resist a long–standing trend in order to make it happen. The big money is still on him remaining with the Islanders.
Though, I'm not quite as convinced of that anymore.
EMAIL: HOWARDLBERGER@GMAIL.COM