TORONTO (June 28) — Let's assume, for the sake of this blog, that long–time New York hockey writer Arthur Staple (now of The Athletic) — having driven much of the John Tavares coverage — is well within the confines of accuracy when reporting that the most–coveted free agent potentially on the market has narrowed his choices to remaining with the New York Islanders, or joining one of the Toronto Maple Leafs and San Jose Sharks. If true, Staple's Thursday–afternoon account should surprise no one.
From the outset of this multi–team pursuit, it's been taken for granted that Tavares feels a strong sense of loyalty to the club that drafted him first overall in 2009 — even if that club has failed rather miserably to surround him with a commensurate roster. San Jose has long–been successful in the Western Conference, if not often in the playoffs, and is among the most–stable, widely–respected and capably–run organizations in the National Hockey League. Playing in a clean, vibrant, Northern–California city. The Maple Leafs, as you know, are dramatically improved over the past two NHL seasons (69 to a club–record 105 points) and offer Tavares the best chance to compete for the Stanley Cup. Next year and, likely, in several to follow.
As such, this is truly a story of three hockey solitudes.
The Islanders are going nowhere fast — with or without Tavares. The arrival of Lou Lamoriello and his Stanley Cup resume shouldn't be much of an allurement for the 27–year–old center. In all due respect to the Hall of Fame executive, he's accomplished precious little since 2003, when New Jersey last won the silver mug. Martin Brodeur's swan–song helped guide the Devils to a surprise Cup final appearance in 2012 (and a six–game defeat against Los Angeles), but the once–mighty club was abysmal in Lamoriello's final years — missing the playoffs four times and losing in either the first or second round. With the Leafs, Lamoriello made but one trade of significance: acquiring goalie Frederik Andersen from Anaheim (June 20, 2016) for a late first–round draft pick. As I've written before, a blind monkey could have drafted William Nylander, Mitch Marner and Auston Matthews in consecutive years (Lamoriello was around for the latter two choices). The Maple Leafs, therefore, couldn't help but rocket up the NHL pecking order during Lou's term as GM.
If Tavares stays on the Island, it would be strictly out of loyalty and convenience.
Many would question his competitive inclination and his desire to play for a championship team.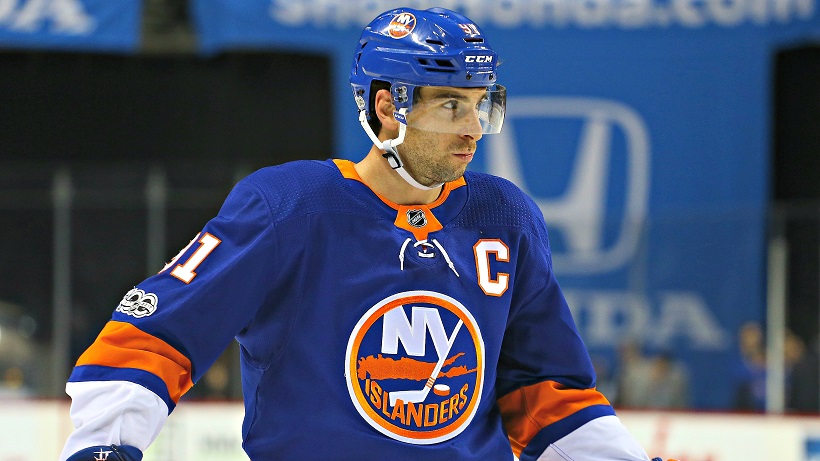 The same issues would not be raised if Tavares chooses San Jose, though some may wonder about an appetite for remaining rather anonymous (in relation to his skill and influence). He is unquestionably the most–gifted all–around forward in the large New York hockey region (Hart Trophy winner Taylor Hall of the Devils included) and the Islanders have forever played second–banana to the Rangers, save for their Stanley Cup dynasty in the early–1980's. But, the zeal surrounding all four Islander championships couldn't compare to the lone title won by the Rangers in 1994. So Tavares, even while toiling within sight of Madison Square Garden (Brooklyn), has largely flown under the radar. Which he'd continue to do in northern–California. Johnny T. would clearly enjoy a weather advantage over New York or Toronto and, as mentioned, spend his prime NHL years with a marvelous franchise. Are the Sharks, however, on the same upward curve as the Maple Leafs with respect to Stanley Cup contention? No reasonable observer would say "yes".
Here in Toronto, Tavares's anonymity would be stripped bare; he'd split the immense hockey limelight with Matthews and form, almost certainly, the best one–two punch up the middle in the NHL. Again, we're not sure whether he has the ardor for boundless attention, or the proclivity to work under such a famously–stringent coach as Mike Babcock. Were new GM Kyle Dubas to somehow acquire an elite defenseman — and the potential availability of Nylander in a trade would contribute to such a cause — Tavares, a local boy, could find himself going far deeper into the Stanley Cup tournament than the Islanders (for certain) and the Sharks, an aging club that likely peaked two springs ago with a Cup final loss to Pittsburgh.
Toronto would provide Tavares his biggest challenge — a fanatical hockey market that reluctantly holds the longest–ever Stanley Cup drought (51 years) among teams that have copped the trophy at least once.
Accordingly, Tavares would be immortalized for helping to end the interminable famine.
So, the choices seem clear… a) convenience and continued futility in Brooklyn; b) lovely weather; lovely city; an always–competitive team and further obscurity in San Jose; c) incessant fame, fortune (on and off the ice) and reachable Stanley Cup contention here in Toronto. If you're Johnny T., which would you opt for?
We should find out by late–Sunday or Monday; earlier, perhaps, if Tavares chooses to stay put.
EMAIL: HOWARDLBERGER@GMAIL.COM