TORONTO (June 29) — Isn't it deliciously coincidental that the home of the Maple Leafs, on the very day that John Tavares could choose to ply his trade on Bay St., changes title from an airline to a bank?
Yes indeed, July 1st — Canada Day or Free Agent Frenzy Afternoon (we're not sure which is the more sacred holiday in our land) — signals an end to the nearly two–decades–long reign of the Air Canada Centre, which becomes Scotiabank Arena after the national depository coughed up a mere $800 million (on Aug. 29 of last summer) for 20 years of naming rights. Or, ten times the amount yielded by our domestic air carrier for a similar privilege in 1999. Committing roughly $77 million of that total for the premier pick of the 2018 National Hockey League swap–meet is clearly a pittance, given it excludes the deluge of cash that engorges the arena–by–the–lake (whatever it is called) from September to April… and, beyond. John Tavares would become a splashy tax write–off. The grand poobahs at Bell Canada Enterprises and Rogers Communications (which own a combined 75 percent of Maple Leaf Sports and Entertainment) could light their Cigarillos with Johnny T's annual stipend. All the local lad needs to do is "come home" for his prime NHL years.
Increasingly loud whispers on Friday afternoon suggested Tavares has all–but abandoned the notion of returning to the New York Islanders. Which may surprise some people, but really shouldn't. Left standing, apparently, are the Leafs and San Jose Sharks — teams that are considerably closer to a Stanley Cup challenge than the bumbling Brooklynites. A last–minute change of heart, of course, could induce Tavares to re–up with the franchise that drafted him first overall in 2009. The only cup he'd raise, in such an event, would be that which contains his morning java. If he truly covets the silver version donated by Lord Stanley of Preston in 1892, he'll flee Long Island for any of a half–dozen better choices; though two of the best, Tampa Bay and Boston, were said to no longer be on his wish list. Many consider San Jose to be the heavy favorite, but wouldn't Tavares wonder why Mr. Lifetime Shark — Patrick Marleau — abandoned the Silicon Valley for leafier pastures a summer ago? As such, permit me to postulate, for regional blog content, that Johnny T. signs as an unrestricted free agent with the Blue and White (sans orange) early next week.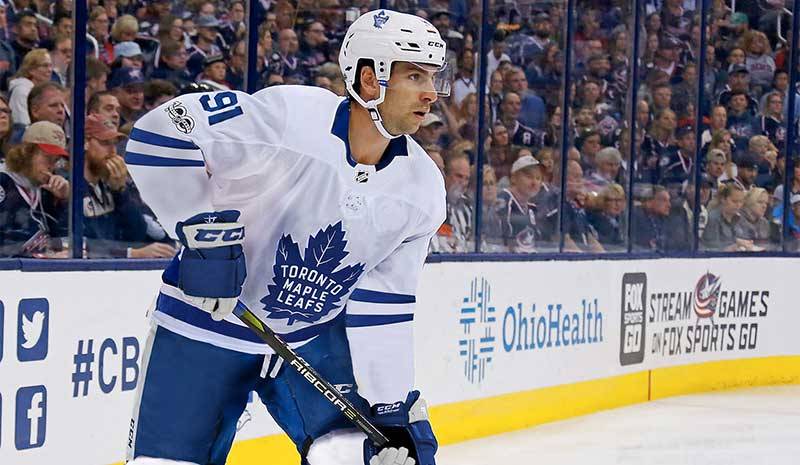 SOMEONE WITH MUCH TIME ON HIS OR HER HANDS CAME UP WITH THIS SUPER–IMPOSED IMAGE.
It would obviously solidify the Leafs at the integral center–ice position for at least the next five years — Tavares running shot–gun with Auston Matthews while Nazem Kadri, drafted six lengths behind Johnny T. in '09, provides luxury in the No. 3 hole. Such a lucrative addition, however, would be largely undermined without a significant upgrade on the blue line, where the Leafs have not possessed a Norris Trophy candidate since Borje Salming was in his prime 40 years ago. Given that Drew Doughty, unsurprisingly, is on the verge of a career extension with the Los Angeles Kings, Erik Karlsson becomes the lone viable option for the Maple Leafs. And, Karlsson is almost–surely available via trade; not a soul anticipating that he'll remain with the indigent Ottawa Senators after next season, when able to offer his services on the open market.
Multitudes may contend that Ottawa would never deal Karlsson within the Atlantic Division, and particularly to its provincial rival. Yet, the prospect of acquiring such a gifted youngster as William Nylander (okay, let's hear it: "the Leafs would never trade him in the division!") could easily move Pierre Dorion to consider a Swedish swap. Members of the Toronto hockey media that should know better are claiming the Leafs — with $24,679,167 of salary cap space (according to capfriendly.com) — wouldn't "need" to trade Nylander before the end of next season. Which may be accurate from a numbers perspective but is terribly shortsighted. How would obtaining Tavares in free agency buttress the Blue and White with Morgan Rielly, Jake Gardiner and Nikita Zaitsev continuing to anchor a middling defense corps? If Kyle Dubas is either hesitant or dead–against trading from a position of strength, why even consider signing Tavares?
Of course, Dubas could theoretically ink Tavares and proceed to add "bodies" to the blue line, as Toronto general managers have repeatedly (and fruitlessly) done since the late–70's. The Stanley Cup drought would therefore continue through Johnny T's most–advantageous years with the club. Were Dubas, on the contrary, inclined to dangle Nylander in front of Dorion for the procurement of Karlsson, the Leafs would logically stand a more–than–reasonable chance of ending their long championship misery next spring. Without question, roster amendments would be in order before the 2019–20 schedule, as no team could afford the contracts of Tavares, Karlsson, Marleau, Matthews and Mitch Marner; the latter two coming off entry–level salary restriction. But, how happily would that be done as the defending Stanley Cup titlist?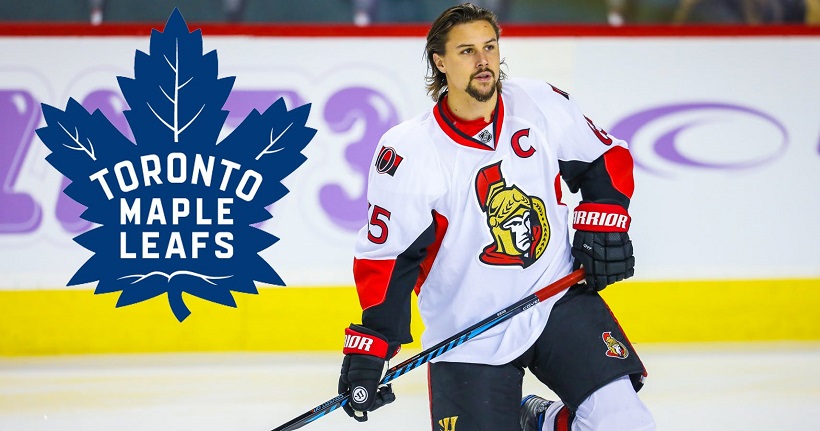 OTTAWA SENATORS CAPTAIN ERIK KARLSSON WOULD LOOK MAGNIFICENT WEARING A LEAFS LOGO.
As such, the point of this blog is simple: If the Leafs are successful in wooing Tavares north of the border, they should act boldly and strive for an immediate Stanley Cup challenge. Any–such blueprint would obviously be very un–Leaf–like, but who's to say Dubas doesn't have the stones to go for it all? Leaf supporters, typically and fatally myopic, will excoriate me for even suggesting Nylander be sacrificed. And then watch forlornly, again, as other teams battle for the silver mug in the final three rounds of the playoffs.
Over–valuing assets has been pandemic among Toronto management and its easily–placated supporters for as long as anyone can remember (though Brian Burke had the correct concept).
With Tavares, it would be time to venture down a divergent path.
EMAIL: HOWARDLBERGER@GMIL.COM