TORONTO (July 3) — So, we wonder, even more curiously: What did Mike Babcock discuss with Auston Matthews during their post–playoff summit in Arizona? You remember: Nick Kypreos of Sportsnet claiming, after the Maple Leafs were bounced from the opening Stanley Cup round in Boston, that the no–show by Matthews against the Bruins (two points in seven games) resulted largely from antipathy toward his coach.
Both parties awkwardly dismissed the report, yet Babcock wouldn't likely have flown to Scottsdale — lovely though it is — to confer about nonsense. Nor did Matthews apparently beef about too much ice time against Boston. Not known to assuage particularly well as a coach in the National Hockey League, you can be sure Babcock refrained from licking the boots of his young forward. He presumably reminded Matthews about which of the two was running the hockey team… and the lone objective in mind — to win the Stanley Cup. At which point he may have lightly softened and told Matthews that any–such plan could be executed only by having the club's top scorer "on plan" and fully invested in the team concept. These remarks would have been made by Babcock with the self–assurance of knowing that a) he was well–insulated with six years still remaining on his record–shattering $50 million contract with the Blue and White, and b) that the only other NHL "veteran" on board — general manager Lou Lamoriello — wouldn't be around the office much longer.
Given the events of this past week, it's reasonable to assume that Babcock also informed Matthews the club would be making a monstrous bid for John Tavares in the week prior to July 1. Which may have temporarily soured the ambiance in No. 34's living–room. Maybe even thrown a liter of petrol on the fire. No use, however, in keeping the grand plan under cover. If Matthews was indeed miffed over his deployment in the seven–game clash the Bruins, we'll speculate he wouldn't have been buoyed by the news the Leafs were chasing another No. 1 center. So, player and coach didn't likely hug and kiss upon the latter's departure.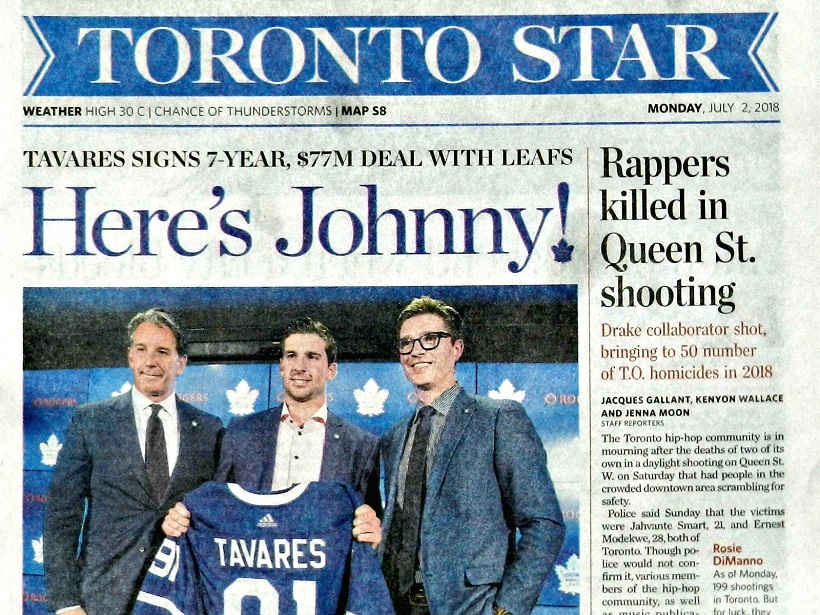 Fast–forward six weeks to the triple–teaming of Tavares at his agent's office in Los Angeles — Babcock, Brendan Shanahan and new GM Kyle Dubas making the flight west. Again, while not having been there, it's unlikely Babcock said to Tavares "hey, Johnny, come to town; we'll safely hide you behind the kid and give you a whirl now and then on the second powerplay unit. And, you'll be further diminished when we make Auston our new captain. But, don't worry, we'll pay you nicely for being a good boy." Though Tavares — like Matthews — isn't one to seek attention, there's no way he'd have joined the Leafs without an absolute guarantee that he and Matthews would share No. 1 and 1–A status. As for the captaincy, the path of lowest resistance is to defer the matter for at least another year. Alternately, the club could follow its free–agency chutzpah and offer the 'C' to Tavares; he, among the two, being the respected nine–year veteran. Not for a moment do I believe Matthews would sulk over such a decision; if anything, it would slightly cushion him upon the burden of rebounding from an injury–plagued, yet productive (34 goals) second year in the NHL.
So, let's call this, at least potentially, a delightful "problem" for Babcock.
No Toronto coach since Hap Day in the late–1940's has possessed such a pair of front–line center–men (Syl Apps and Teeder Kennedy). If Matthews and Tavares truly desire a Stanley Cup with the Maple Leafs — and why wouldn't that be the case? — they will play off one another; pick up one another during the inevitable slumps of a long season and share the crushing media responsibility. Had Matthews not allegedly been upset with Babcock during the playoff round against Boston, no one would bat an eyelash at either player; each appearing to be selfless and a first–rate professional. But, something prompted Babcock to fly to Arizona and we're not certain whether the impromptu visit alleviated Matthews' concern(s).
Of comfort in this situation could be Bobby Orr — the NHL's all–time greatest star as a player; now the point–man of Matthews' new agency, the Orr Hockey Group; to which No. 34 recently defected from, coincidentally, Creative Arts Agency of Los Angeles, manned by Pat Brisson, who represents Tavares. Though a completely different era; devoid of social media, and during which mainstream media was far–more streamlined, Orr won a pair of Stanley Cup titles in Boston (1970 and 1972) largely by running shot–gun with Phil Esposito. He knows all about the treasure and benefits of two front–line superstars and has likely counseled Matthews on the potential reward. I suspect it wasn't an arduous process for the great No. 4.

HALL OF FAME DEFENSEMAN BOBBY ORR RECENTLY TOOK OVER AS AGENT FOR AUSTON MATTHEWS.
As I fully anticipate Matthews and Tavares finding common ground.
Even if it requires some adroit maneuvering by the head coach.
YUP — IT'S BEEN THAT LONG
Further to my interminable claim that the Leafs — even with John Tavares — will almost–surely not with the Stanley Cup in the absence of a Norris Trophy–caliber defenseman (Dallas is apparently now the front–runner to land two–time Norris Trophy winner Erik Karlsson of the Senators), I present the cover (bottom–left) of THE HOCKEY NEWS from Apr. 8, 1977. Indeed, it's been 41 years since Toronto possessed a First Team Team All Star on the blue line; the official voters concurring with fans that chose Borje Salming alongside Montreal star Larry Robinson toward the end of the 1976–77 NHL season. The Hall–of–Fame pioneer from Sweden had a career–high 78 points (12 goals, 66 assists) for the Maple Leafs. Salming's defense partner, Ian Turnbull, went one better with 79 points (22 goals, 57 assists) — still a franchise record for one season. Yet, Turnbull was usurped by Denis Potvin (103 points) of the New York Islanders and Guy Lapointe (76 points) of the eventual Stanley Cup–champion Canadiens (again, copied by the official voters).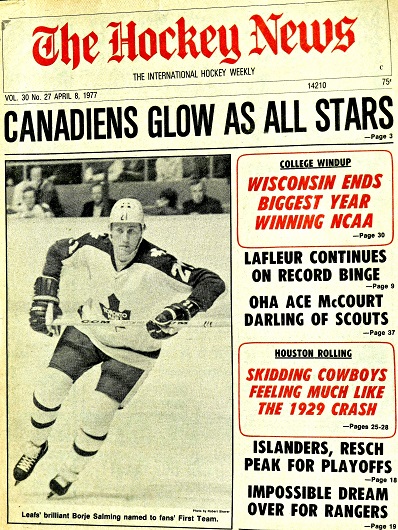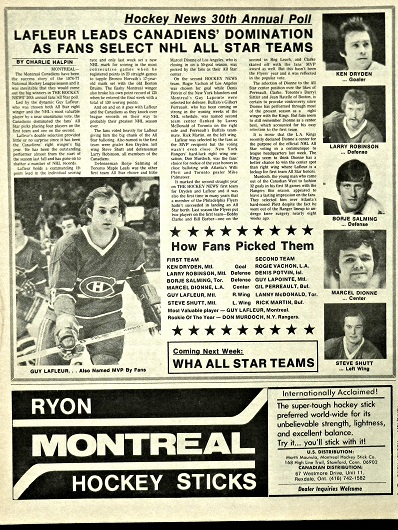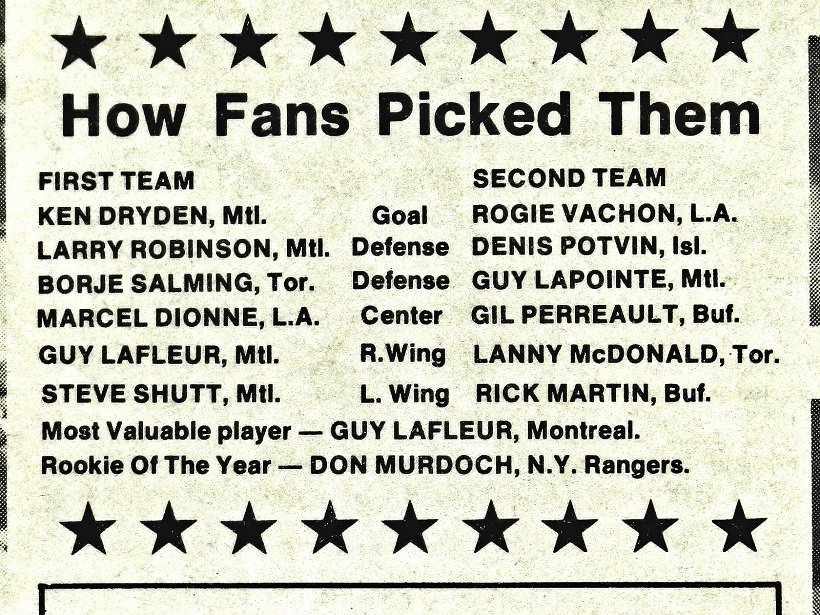 Only one Leafs defenseman since Salming (a Second Team selection in 1979–80) has been voted to the official NHL All–Star squad. In 2003–04, Bryan McCabe (53 points) joined Chris Pronger of St. Louis on the Second Team (behind First Team picks Nicklas Lidstrom of Detroit And Scott Nidermayer of Anaheim). Had McCabe not been injured midway through the 2005–06 season, he could easily have been named an All–Star. Even having missed nine games in January, McCabe registered 68 points (19 goals, 49 assists). Only Salming and Turnbull compiled more in one season. Of note, McCabe's defense partner, Tomas Kaberle, had a career–best 67 points in 2005–06. EMAIL: HOWARDLBERGER@GMAIL.COM