TORONTO (July 1) — You really cannot ask more from a team in the National Hockey League during the off–season than signing the best unrestricted free agent on the market. Which is exactly what the Toronto Maple Leafs did Sunday afternoon by wooing local boy John Tavares north of the border. It happened nine years, two months and 16 days after Brian Burke pledged to trade with the New York Islanders (Apr. 15, 2009) for the top pick in that year's NHL draft (https://tgam.ca/2Koukoa): a pie–in–the–sky plot that showed double–B was at least thinking big (he settled for Nazem Kadri at No. 7). On Canada Day 2018, new Leafs general manager Kyle Dubas — with abundant exhorting from Brendan Shanahan and Mike Babcock — acted big and landed the biggest bear in the woods for only the second time in franchise history.
Exactly two weeks from now will mark 20 years since the first time. Must be something about a calendar ending in the numeral '8'. Curtis Joseph left the Edmonton Oilers to sign with the Maple Leafs on July 15, 1998. There was kind of a blip in–between when recalling that the ignominious (though good guy) Jeff Finger highlighted Toronto's off–season haul in 2008. But, we digress. The summers of 1998 and 2018 are to be commemorated and celebrated in the land of the blue and white, even if the circumstances that separate two decades are altogether different. Cujo came aboard to help rescue a team that had twice missed the playoffs and finished the 1997–98 schedule with a measly 69 points. Under first–year coach Pat Quinn, the '98–99 Leafs improved by 28 points; made the playoffs; knocked off Philadelphia and Pittsburgh; then lost to Buffalo in the Eastern Conference final. If Tavares sparks a 28–point ascent in the standings, the Leafs will finish with 133 next season; most in NHL history (Montreal holds the record of 132 in 1976–77). And, three extra rounds of playoff toil would land the Maple Leafs in the Stanley Cup final for the first time since 1967.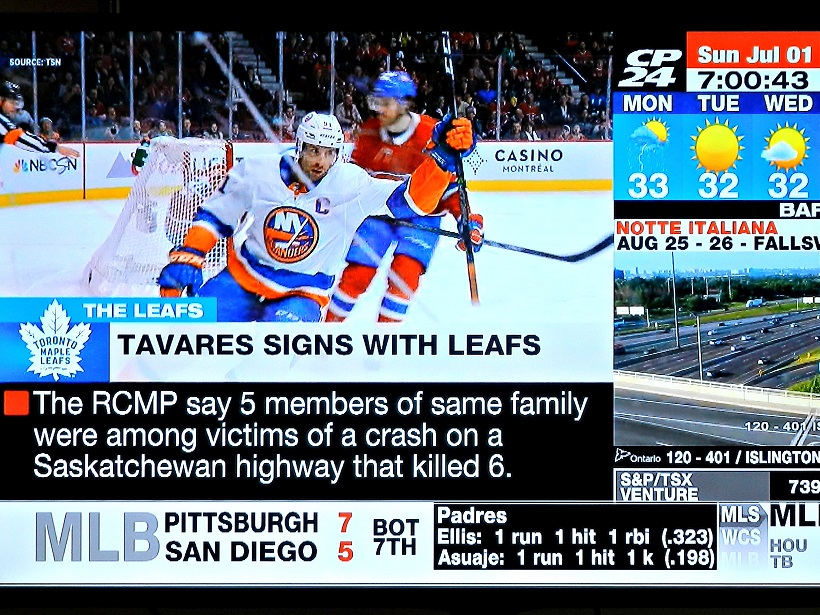 This sort of plan was behind the pursuit of Tavares. It was therefore hardly a shock that the flag–waving media in our town jumped on the blue and white bandwagon; one local columnist writing under a headline that screamed WITH TAVARES ON BOARD, THE LEAFS A CUP FAVORITE. I apologize for drizzling on the parade — even one that many believe will meander north along Bay St., from Union Station to City Hall, next June. But, I'm more inclined to designate the 2018–19 Maple Leafs a Cup "contender" rather than "favorite". Tavares, alone, isn't likely to compensate for the 47 goals and 50 assists accumulated last season by the now–departed Tyler Bozak (St. Louis) and James van Riemsdyk (Philadelphia). Frederik Andersen still has to grow stones between April and June. And, my mantra in this corner for many years has claimed the Leafs need a Norris Trophy–type defenseman (as clearly available 450 kilometers up the road in Ottawa).
I am, however, willing to acknowledge that Pittsburgh captured the 2016 Stanley Cup without its No. 1 blue–liner, Kris Letang, who missed the playoffs with a herniated disc in his neck. And, that NHL titles in the salary cap era have been won by teams that are front–loaded with a couple of exclusionary forwards. Chicago, of course, had Jonathan Toews and Patrick Kane; Los Angeles (to a lesser extent) Anze Kopitar and Jeff Carter. The Penguins had Sidney Crosby and Evgeni Malkin while Washington, this spring, had Alex Ovechkin and Evgeny Kuznetsov (combined 76 goals, 170 points). All but the '16 Penguins, however, were also anchored by a star on the back end: Duncan Keith in Chicago; Drew Doughty in Los Angeles; Letang with the 2017 Penguins and John Carlson (68 points last season) with the Capitals. So, my long–standing argument still applies to the Maple Leafs, who clearly now have the twin–pegs up front in Tavares and Auston Matthews.
Not since the halcyon days of the 1940's, with Syl Apps and Ted Kennedy, have the Maple Leafs possessed such a gifted pair of center–men. When the club briefly made noise In the post–1967 era, it had a lone jewel up the middle: Darryl Sittler in the mid–to–late–70's; Doug Gilmour in 1993 and 1994; Mats Sundin in the late–90's and early–2000's. Matthews and Tavares provide the Leafs as skilled a one–two punch as any of the recent Stanley Cup winners. Add in Kadri, Mitch Marner and William Nylander, and the Leafs could be more skilled up front than any of the Blackhawks, Kings, Penguins and Capitals of recent ilk. Perhaps even the great Detroit teams of Henrik Zetterberg and Pavel Datsyuk, though Nick Lidstrom — on a par with Jaromir Jagr as the best Eurpoean–born player of all time — stirred the mix from the back end.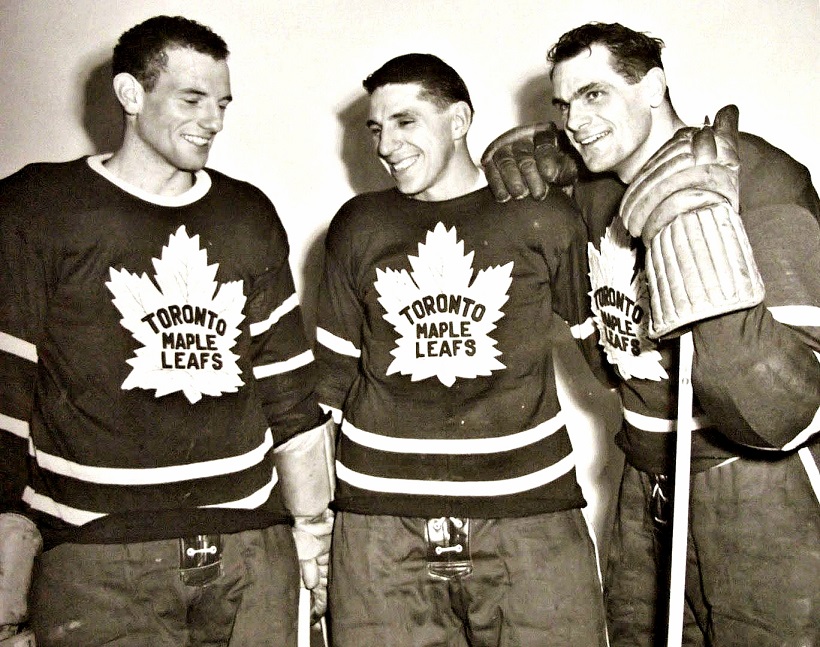 ONLY ONCE IN FRANCHISE HISTORY HAVE THE LEAFS BEEN AS LOADED UP FRONT AS THEY ARE TODAY, WITH (LEFT–TO–RIGHT) TED KENNEDY, MAX BENTLEY AND SYL APPS IN THE LATE–1940's. ALL THREE STARRED ON THE 1947–48 STANLEY CUP TEAM. THE LEAFS WON TITLES IN 1947–48–49 AND 1951.
So, yes, the Maple Leafs are good… and getting better. Tavares, Matthews, Marner, Nylander, Kadri and Patrick Marleau are as potent a Top 6 up front as any in franchise history. To such an extent, I have argued, that Nylander is expendable, should Ottawa desire an enormously–skilled forward in exchange for Erik Karlsson, who otherwise walks a year from today as an unrestricted free agent. Perhaps the Senators can do better than Nylander as a trade linchpin. But, I doubt it. If Dubas has the urgency and audacity to deal from a position of strength, the Leafs could become that Stanley Cup "favorite" written about, with a dollop of hyperbole, earlier today. It can happen in a heart–beat. Otherwise, there's still a gaping hole in the roster.
The Tavares signing proves that good players attract other good players. Yes, Johnny T. is "coming home", but he could have been born on Mars and still considered Toronto his premier destination this summer.
What an incredible turnaround for the Maple Leafs in two short years.
EMAIL: HOWARDLBERGER@GMAIL.COM