TORONTO (July 22) — One day in March of 2014, I was feeling silly. Or, for today's blog: narish.
I began to think about my late mother, Sandee, and how she would launch into Yiddish on the telephone (with another person) when she didn't want me to understand the conversation. It always worked.
When I wrote this (Mar. 26, 2014), the Leafs were deep into the late–season collapse that marked so many of their years in the pre–Brendan Shanahan era. Credit, still, to Brian Burke for his legendary "18–wheeler going over the cliff" description. Toronto had been 35–23–8 after 66 games of the 2013–14 schedule — and very much in the playoff conversation — only to lose six in a row as part of a catastrophic, eight–game streak (Mar. 16–29). A 2–12 tailspin in their last 14 games doomed the Leafs for yet another spring.
For whatever reason, I was thinking Yiddish as a way to try and calm the fan base here in town (not many Jews have played in the NHL; but, we watch hockey). Consequently, this emerged (Yiddish in YELLOW):
___________________________________________________________________________________________
"Oy Abroch!" as Mom used to wail when glancing at my school report cards.
Here's a bit of an idea amid all the tsorris (grief): Don't give up on the Blue and White.
You can never tell when some naches (good fortune) will rain upon the club.
Among my earliest hockey memories is the farshtinkener (rotten) Leafs during a record ten–game drought in February 1967. Oy vey, the team was gornisht helfn (beyond salvation). But, then Moishe Mahovlich, Duvid Keon and Yochanan Bower came alive under interim coach Melech (King) Clancy. Zets (Punch) Imlach, the meshugginah (crazy man), was in hospital, all fertummelt (tired, confused) – his kishka (guts) in an uproar. With him no longer hoken a chainik (aggravating, talking nonsense), the Leafs began to prosper once again and their farbissina (embittered) supporters howled "Mazel Tov!" for the rest of the season. Even that goy (gentile), Toe Blake, couldn't stop Leafs from rolling past his Montreal Canadiens in the Stanley Cup final. The alter cockers (old players) in blue and white noodged (bothered) the Habs to death in six games.
Montreal fans were kvetching (complaining); Leaf fans were kvelling (beaming with pride).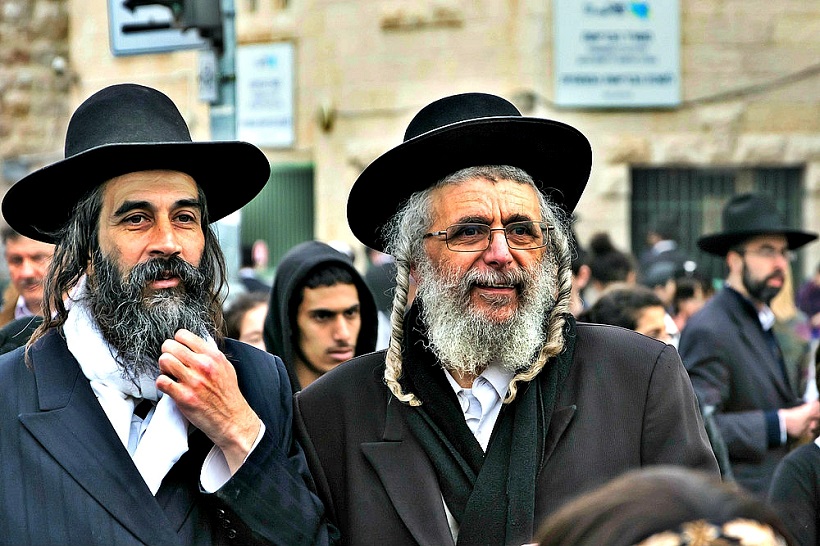 NO WISE MEN (OR WOMEN) SHOULD GIVE UP ON THE MAPLE LEAFS, JUST YET.
Maintain a little hofenung (hope), Leafs Nation. I know the team has grepsed (belched) away a comfortable playoff cushion in the Eastern Conference, but luzzem gay (leave them alone) for an hour or two. Remember how the club put a scare into the meeskait (homely one), Zdeno Chara, last spring. If it wasn't for that momzer (bastard), Patrice Bergeron, the Leafs would have made it to the second round against Chaim Lundqvist and the New York Rangers. My son, Shane, was in more agony than after his brit milah (circumcision) – so distraught that he called James Reimer a nebbish (fool, loser). The poor kid was ready to plotz (explode) before I calmed him down. So take some rachmones (compassion) on the Leafs right now. Jonathan Bernier injured his shmekel (groin area) in Los Angeles after his zaftig (juicy, plump) coach, Randy Carlyle, acted like a shmendrick (weak person) by leaving the decision to play up to his already injured goalie. The Leafs needed that like a loch in kop (hole in the head). No amount of gelt (money) could save them with Bernier on the shelf. But now he is back, though a little ferdrayt (dizzy, confused). Still, if the Maple Leafs didn't gay shlafen (go to sleep) against St. Louis, the result could have been different.
Though he struggled against the Blues, Dion Phaneuf isn't a gonif (thief). Most nights, he earns his groisa (big) pay–check. I know some fans want him to gay avek (go away), but it isn't going to happen. Even if the Leafs have come away with gornisht (nothing) in their past six games, there is still hope — kine–ahora (washing away evil). Don't get all fermisht (shook up). Even a pisher (young person) like Nazem Kadri can be a noodnik (pest). Imagine what could happen if Yakov Lupul gets hot?
The little shiksa (gentile woman) in front of me at the Air Canada Centre Tuesday night was all ferblunjit (mixed up) when the Maple Leafs were out-shot, 23–7, in the first period.
"Oy gavalt!" she geshried (screamed) over and over – sitting next to her mishpucha (family).
Don't be like her, Leaf fans.
Keep some saychel (common sense) in the final 2½ weeks. Do not throw in the shmatta (towel, rag).
Shalom (hello; goodbye or peace).
FROM THE BOOKBINDERY
It's hard for me to fathom that it's been more than 30 years since I took my most–coveted hockey magazines and game programs to a Czech immigrant named Peter Stransky, who operated a bookbindery in downtown Toronto. The idea to tether these loose periodicals into book form came to me from the old Hockey Hall of Fame building at the Canadian National Exhibition. The curator of the Hall was Maurice (Lefty) Reid — still with us today at 91 years of age. Whenever I visited Reid's office in the Hall, I marveled (and envied) at the shelves of bound magazines and newspapers that dated to the 1950's. There were issues of The Hockey News; Hockey World and Hockey Pictorial magazines; all organized by NHL season. I had many of the same publications at home (mostly from the 60's and 70's); stacked in boxes and rather difficult to access.
So, I decided to find a book–binder and create my own little Hall of Fame.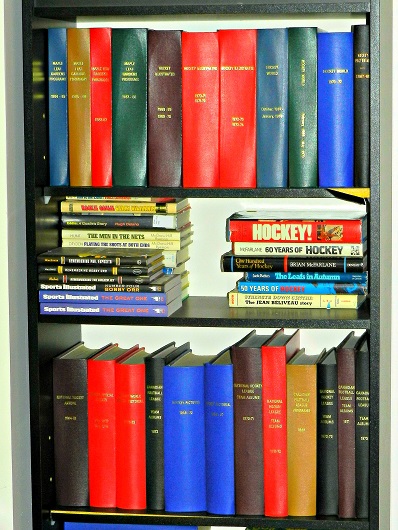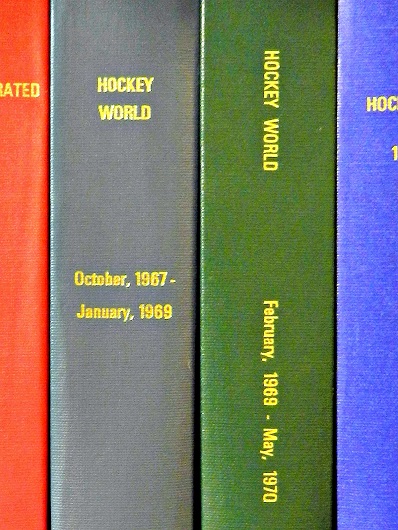 These albums, randomly colored, still adorn two of the top three shelves on my living–room book case. They are, without question, the most–cherished items in my collection of sports memorabilia, as they take me back to a boyhood I remember with so much happiness and affection. The hockey programs are from Maple Leaf Gardens (bottom–right) over four seasons: 1964–65 to 1967–68. The latter compilation includes a program from the first visit of each of the six expansion teams: Los Angeles Kings (Oct. 25, 1967), California Seals (Oct. 28, 1967), Minnesota North Stars (Nov. 22, 1967), Pittsburgh Penguins (Dec. 13, 1967), St. Louis Blues (Dec. 30, 1967) and Philadelphia Flyers (Jan. 24, 1968). A number of these were saved from actually attending the games as a child; many others were procured at collector's shows in the mid–to–late–1980's.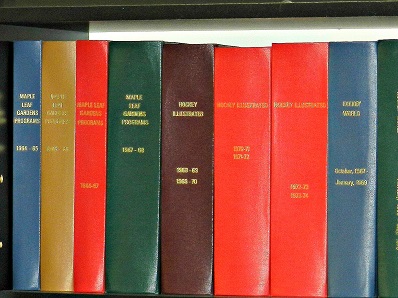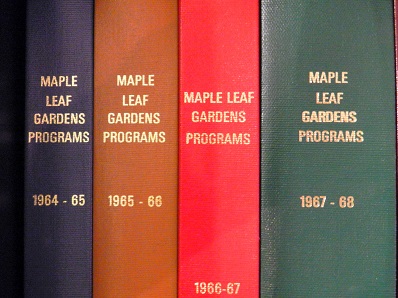 MAPLE LEAF GARDENS PROGRAMS
An example, per book (and season), of programs sold at Leafs games: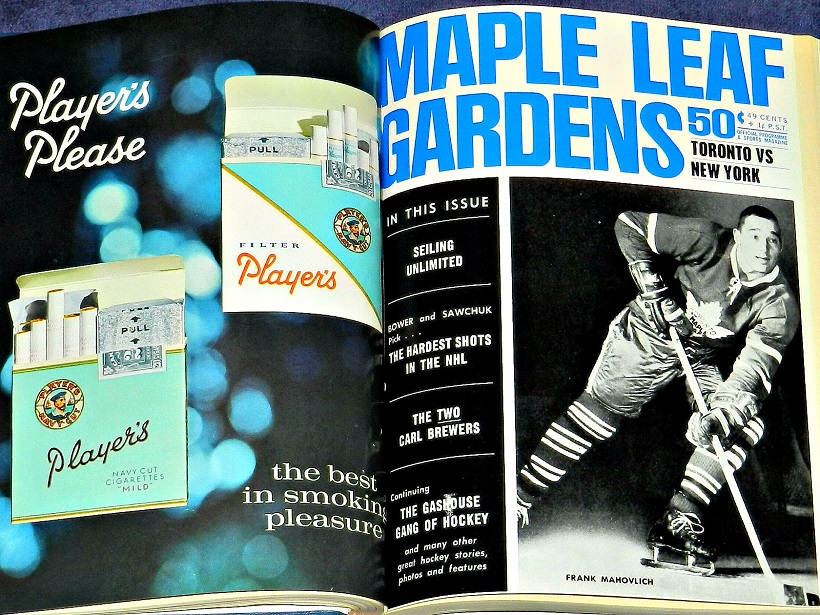 DEC. 19, 1964: The Leafs doubled the New York Rangers, 6–3.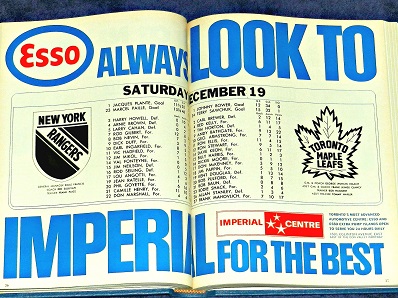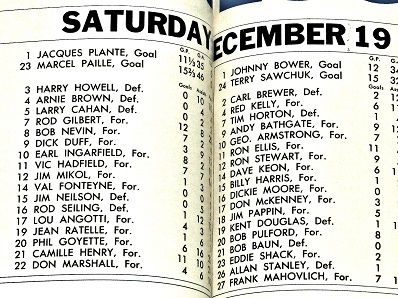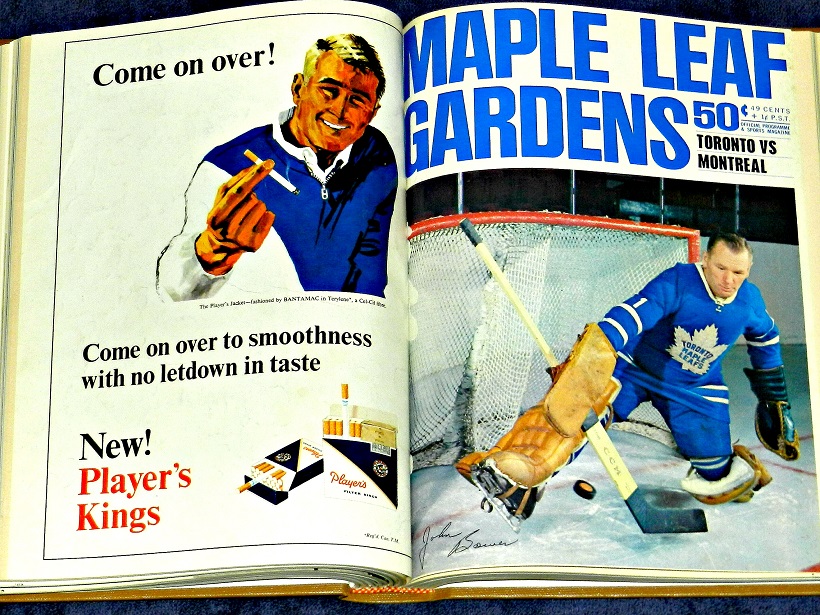 MAR. 16, 1966: Montreal hammered the Leafs, 7–2.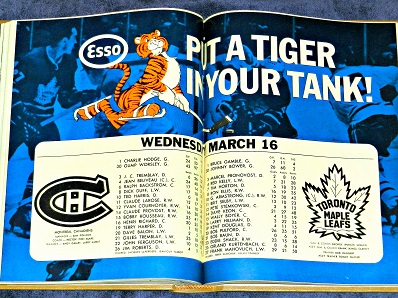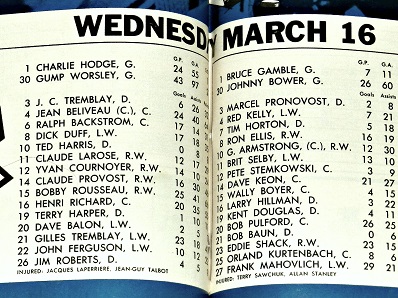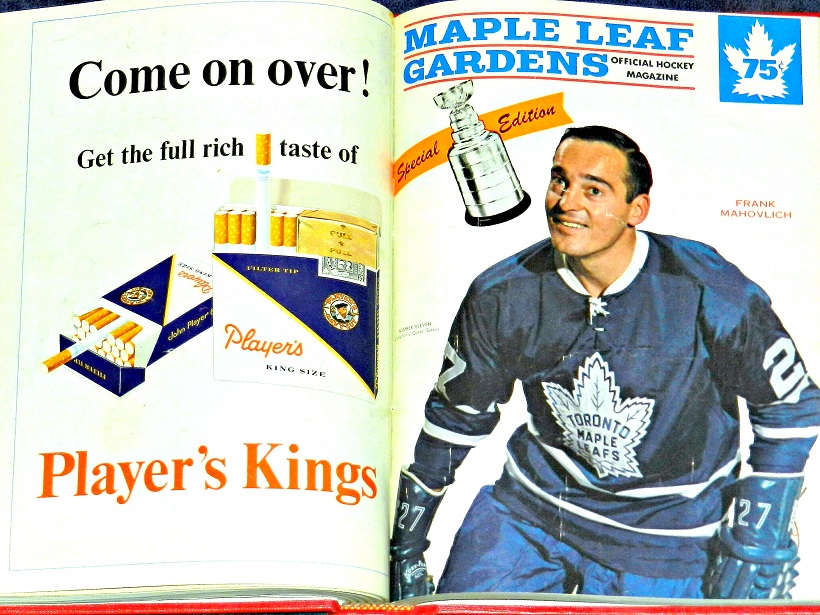 APR. 11, 1967: Toronto beat Chicago, 3–1, in Game 3 of the Stanley Cup semifinals.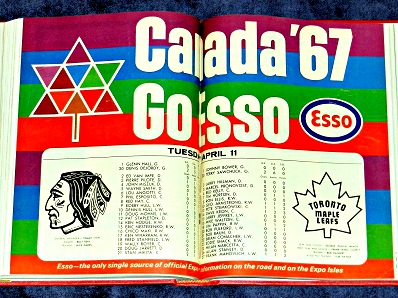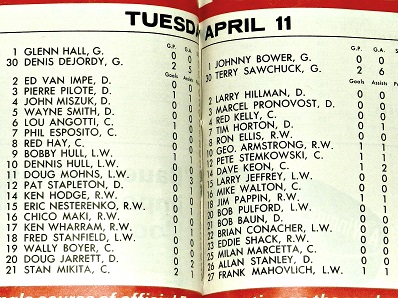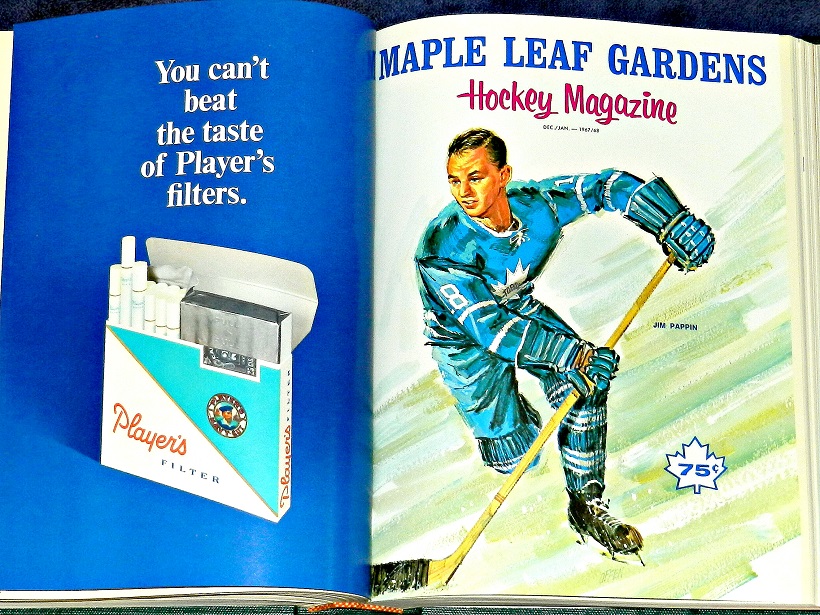 JAN. 13, 1968: The Leafs routed the Pittsburgh Penguins, 7–0, in a Saturday matinee.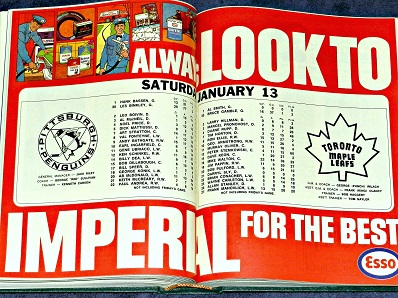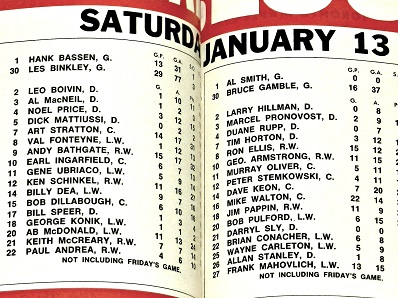 HOCKEY (MONTHLY) MAGAZINES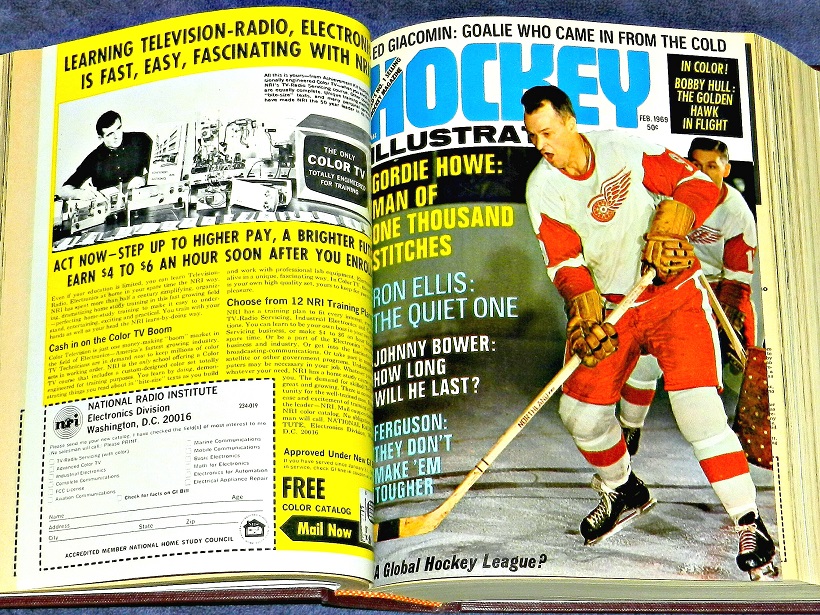 The cover of Hockey Illustrated from February 1969 (above), with Gordie Howe. And from March 1969 (below), with Bobby Orr, who autographed his photo for me in the Maple Leaf Gardens press box in 1988.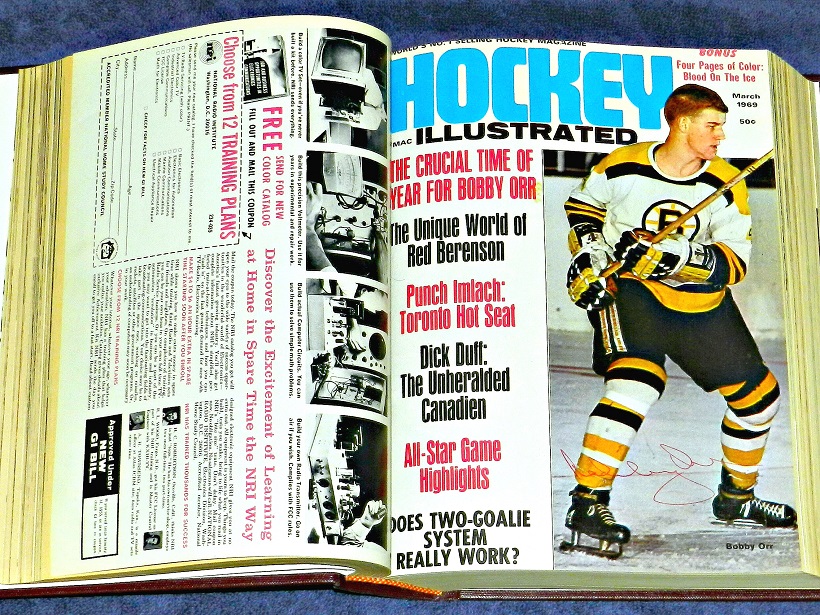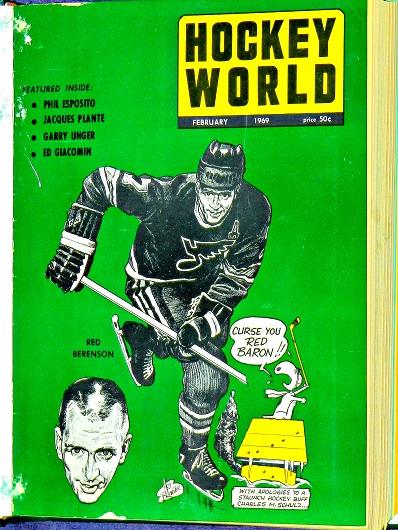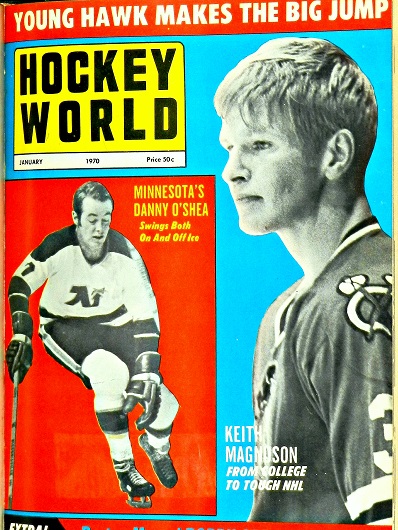 Hockey World magazine from February 1969 (left) and January 1970.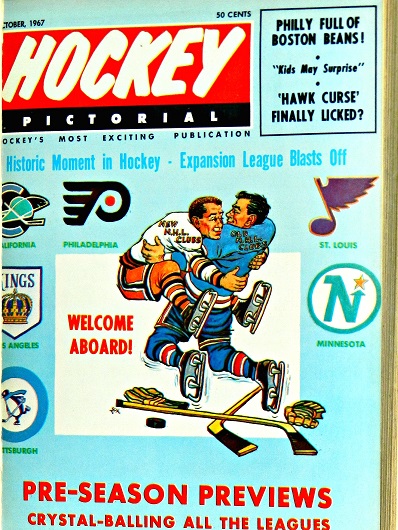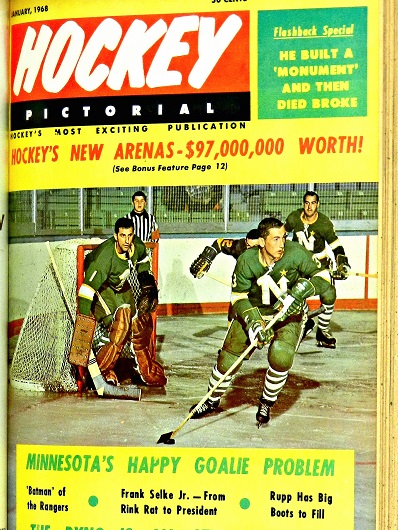 Hockey Pictorial magazine from October 1967 (left) and January 1968.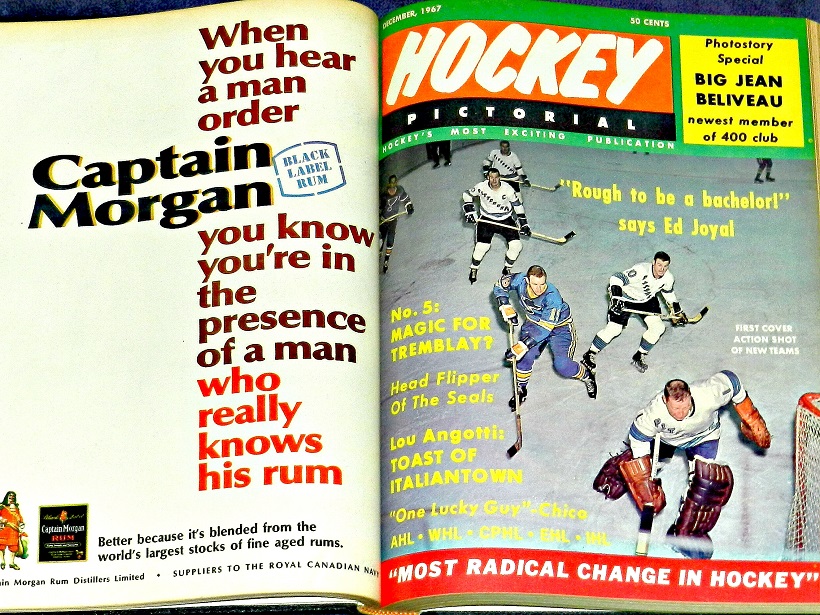 Hockey Pictorial (December 1967) with the first cover–photo of the expansion teams: Pittsburgh at St. Louis from Oct. 13, 1967 — the Penguins first–ever road game.
MAPLE LEAF GARDENS TICKETS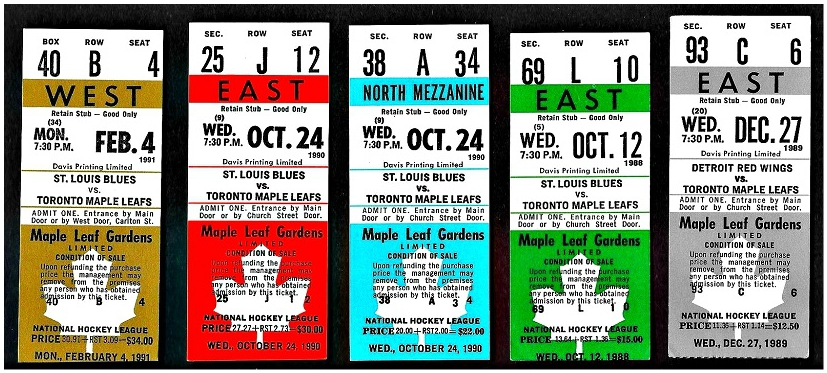 These un–used tickets were available on e–Bay Saturday for $490. And, apparently were sold.
EMAIL: HOWARDLBERGER@GMAIL.COM