TORONTO (July 6) — For as long as anyone can remember; but, specifically, in the age of Internet and social media, the Toronto Maple Leafs have possessed as rabid and unconditionally–loyal a fan–base as any in professional sport. How do we know? Simple… only one team holds the longest Stanley Cup drought: 51 years and counting. Wishful thinking has therefore been pandemic amid followers of the Blue and White.
Few fan–bases in North American pro sport have so–regularly latched onto false hope. Of course, it is hardly the fault of Leaf supporters that they've been repeatedly duped for half a century. All these patriotic, sincere folks wish for is a competitive hockey club with stable ownership and management ("stable", in this case, meaning astute). As such, when legitimate hope materializes, nearly all pretense of rationale is surrendered.
This has occurred, unabated, in the six–day span since the Maple Leafs signed free agent center John Tavares. It was a move, by the way, that I thoroughly endorsed and advocated in this corner. For only the second time in franchise history, the club went all out to procure the biggest prize on the open market (the first being 20 years ago, and quite by accident, when goalie Curtis Joseph came over from Edmonton). To what extent Tavares's seven–year contract hand–cuffs the Maple Leafs — and, make no mistake, the final two or three years of the $11 million cap–hit will be onerous — is not an issue for today. If the local lad helps the club end its title famine, it will rank among the surest investments in the era of unrestricted free agency.
At the moment, however, and as ardently as Leaf fanatics wish to claim otherwise, Tavares, alone, does not put the club over the top. In fact, the Leafs may be no more–improved today than at the end of last season. Such a contention, offered in a blog earlier this week, spawned predictable outrage… and a classic example of the delusion that tends to incapacitate Leaf diehards. "Howard," began a quizzical e–mailer, "a 105–point team adds John Tavares and you're saying it hasn't improved over last season. Are you okay?" To which I promptly replied: "Do you honestly think, my friend, that the Maple Leafs would have accomplished what they did last season without James van Riemsdyk and Tyler Bozak (a combined 50 goals and 97 points)? As such, is John Tavares really joining a 105–point team?" Not surprisingly, I'm still awaiting a second response.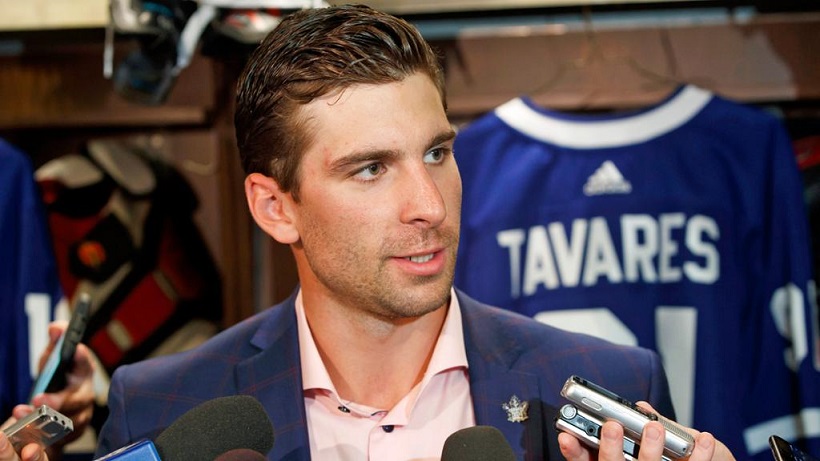 Now, this isn't to even imply that the Leafs should have kept JVR and Bozak; then refrained from pursuing Tavares. I didn't start watching hockey last winter. It was crystal–clear that the team, as constituted in April, couldn't win a playoff round, let alone challenge for the Stanley Cup. As much as I respect both veterans, they had to move on (JVR went back to Philadelphia; Bozak to St. Louis). No one, however, can possibly allege that van Riemsdyk and Bozak were not significantly tied to the record–breaking club. In fact, without them — and given the number of games Auston Matthews lost to injury — the Leafs may have rung up 90 or 95 points and missed the playoffs altogether (97 being the Eastern Conference terminator). So, please, let's try to desist from suggesting, inanely, that Johnny T. has been added to a 105–point team. It just isn't true.
This frivolous rationale will shift into overdrive, possibly like never before, once Erik Karlsson is dealt by Ottawa; particularly if he winds up with Conference–rival Tampa Bay, alongside Victor Hedman. Forget that such a duo would be the most–remarkable blue–line tandem in the NHL's expansion era (after 1967); rivaled only by Scott Niedermayer and Chris Pronger of the 2007 Stanley Cup–champion Anaheim Ducks; perhaps also Niedermayer and Scott Stevens of the three–time–champion New Jersey Devils (1995–2000–2003).
Inevitably, Toronto hockey addicts will convince one another that it's no big deal.
From all appearances, the Leafs are not involved in the Karlsson talks. Some contend that Ottawa would never trade Karlsson within the Atlantic Division, or to its heated provincial rival. Baloney. General manager Kyle Dubas was quoted, earlier this week, saying he will lock up his Big 3 draft picks — Matthews, William Nylander and Mitch Marner — as "it wouldn't be fair to Tavares for us to lose a key piece". Now, I have some hope for Dubas as a GM, mainly because he comes from Brendan Shanahan, who's been a revelation for the Blue and White. I was totally on–side with Shanahan's decision to replace the aging Lou Lamoriello with his hand–picked protege. If, however, young Kyle thinks be can build a Stanley Cup team in the absence of a No. 1 defenseman, good luck to him. He'll need every ounce of it. I'm not suggesting the task is impossible. Just overwhelmingly improbable. And, in the context of his remark this week, incredibly "unfair" to Tavares, whose best years in a Toronto jersey will be wasted with a run–of–the–mill blue line. Were Kyle intent on becoming part of the Karlsson discussion, he'd make it known that Nylander is available. Unless Senators' GM Pierre Dorion has gotten a jump on legalized marijuana, Dubas would have his colleague's attention.
As for the salary–cap gymnastics, any club acquiring Karlsson will have to be creative. The Leafs included.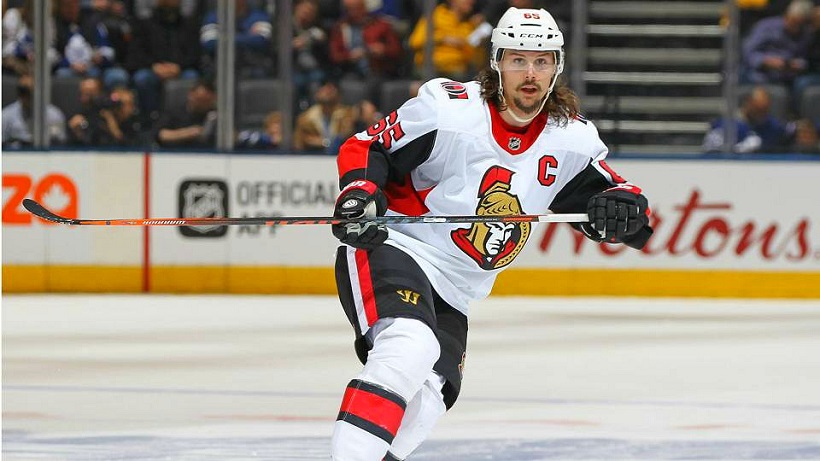 While retaining the Big 3 will easily placate Leaf fans, it must be noted that innumerable gifted forwards have come through town in the past four–plus decades — all of them undermined by the lack of a linchpin on defense. Given that Dubas seems content to add more "bodies" to the back end, the draft phenoms — and Tavares — will simply be the next in line. Not long ago, three mainstays were potentially available; all scheduled to become unrestricted free agents next summer. Los Angeles and Arizona were smart enough to re–sign Drew Doughty and Oliver Ekman–Larsson through their prime NHL years; Ottawa has regrettably imploded at crunch time for Karlsson, who wants nothing more to do with the club that drafted him 15th overall in 2008 (the Leafs, by the way, traded up to grab Luke Schenn fifth. Ouch!). With Dubas adamant about retaining his current nucleus, the prospect of landing a Norris Trophy type is no–longer conceivable.
As for the "105–point team" that Tavares joined last weekend, it must unearth a winger capable of scoring 30 goals (JVR's approximate total). Nothing more than hope indicates that Kasperi Kapanen or Andreas Johnsson (combined 64 NHL games) will be that person. Similarly on defense, with fingers crossed for Travis Dermott, Tim Liljegren and — perhaps down the road — Rasmus Sandin (combined 37 NHL games).
The Leafs unquestionably have superb quality and depth at center ice. Which is important. And, a very good regular–season goalie. But, still — and for more than 40 years — a gaping cavern on the blue line.
EMAIL: HOWARDLBERGER@GMAIL.COM