TORONTO (July 8) — In responding to my "How Delusion Festers" blog of late–Friday (http://bit.ly/2KXRIF4) — and, particularly, to my long–held conviction that the Maple Leafs will likely not win the Stanley Cup without a Norris Trophy type on the blue line — readers went all the way back in history to the 2016 Pittsburgh Penguins and 2018 Vegas Golden Knights. As I perused their comments, the nostalgia was overwhelming.
For those that may not be aware, hockey was played prior to the year that Donald J. Trump became President of the United States. In fact, somebody named Grover Cleveland occupied the White House when the Stanley Cup made its first appearance in 1893. Twenty other men have since followed. Closer to home, John Sparrow David Thompson was Prime Minister of Canada when the Montreal Amateur Athletic Association won the inaugural Stanley Cup; 18 others (Pierre Elliott Trudeau, twice) have ruled Parliament Hill in the interim. And, that's just political history in North America. For the purpose, however, of this blog, I'm going to focus on the National Hockey League… and fast–forward nearly 80 years, to the spring of 1967.
Those that regularly follow this corner probably know where I'm going here. Others — in fact, many others — appear to require a solid history lesson… or a gob–smack of reality. So, please, allow me to provide both.
Let's begin by confirming to readers with a two–year memory–span (or, a deliberate mental block) that, yes, the Stanley Cup has been won since 1967 by teams devoid of an elite, Top–5 defenseman. It's happened precisely nine times in 50 attempts. With enormous question–marks beside two of them. In 1974 and 1975, Philadelphia prevailed with no defender in the Norris conversation. In both years, however, goalie Bernie Parent — once a Maple Leaf; currently in the Hockey Hall of Fame, and always mentioned among the top ten stoppers in NHL history — earned the Conn Smythe Trophy. He was phenomenal each spring. Or, quite the paradox to what we've seen from Frederik Andersen during his first two April adventures in blue and white. (Going a step farther: Why has Freddy tuckered out against Washington and Boston? You know the answer. Primarily because he doesn't benefit from playing behind a defenseman that can control the puck, and the pace of a game. As such, he encounters more rubber during the regular season than any of his colleagues).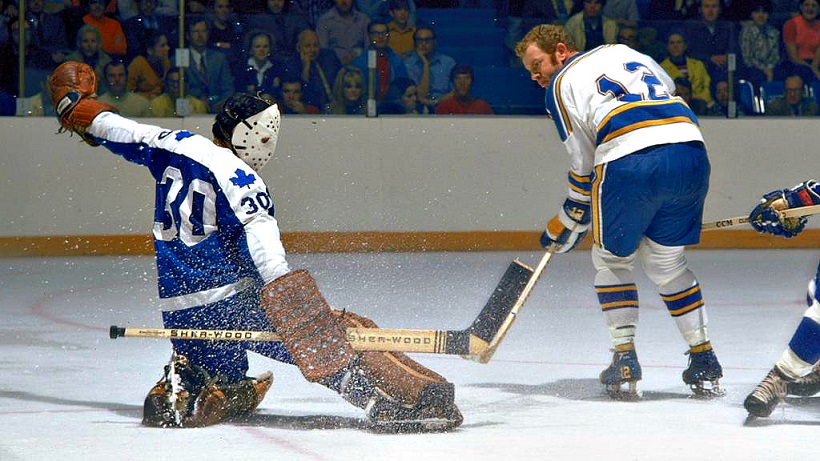 YEAH, THE TORONTO MAPLE LEAFS HAD BERNIE PARENT FOR PARTS OF TWO SEASONS (1970–71 AND 1971–72), BUT OWNER HAROLD BALLARD WAS TOO CHEAP TO RETAIN THE FUTURE HALL–OF–FAME GOALIE — HERE MAKING A SAVE OFF TERRY CRISP OF THE ST. LOUIS BLUES.
Moving ahead to 1988, Edmonton won its fourth Cup in five years the season it traded Paul Coffey to Pittsburgh. But, Wayne Gretzky was still around. In 1990, the Oilers won, surprisingly, without Coffey and Gretzky, who'd been dealt to Los Angeles. Yes, Kevin Lowe (a member of all five Oiler champions) was a very good defenseman, but not an elite puck–handler. The 1993 Montreal Canadiens rather mirrored the '74 and '75 Flyers, given that a goalie (Patrick Roy) single–handedly guided them to a championship. Roy did the same with the 1996 Colorado Avalanche, also devoid of a Norris threat. The '93 Habs, however, had a couple of blue–liners that moved the puck very well: Eric Desjardins and Mathieu Schneider. So, to that club, we add the first question–mark. The second question–mark applies to the 2004 Tampa Bay Lightning, as nifty Dan Boyle was on the periphery of Norris contention. But, I'll reluctantly place the '04 champs in the small group of teams that prevailed without a real stud on the back end. The 2006 Carolina Hurricanes are still an anomaly, winning the Cup with good forwards and another hot goaltender (Cam Ward). The 'Canes blue line (Bret Hedican, Glen Wesley, Mike Commodore) was mediocre–to–average. Which leaves us the 2016 Penguins and another Norris facsimile — Kris Letang — on the shelf with a herniated disc in his neck.
This is the club that hopeful Leaf followers are grasping onto until their hands turn blue.
Now, I'll present the bulk of my argument.
If you haven't yet heard of the following names, please look them up: Tim Horton, Jacques Laperriere, Serge Savard, Bobby Orr, Larry Robinson, Denis Potvin, Paul Coffey, Al MacInnis, Larry Murphy, Brian Leetch, Scott Niedermayer, Scott Stevens, Nicklas Lidstrom, Derian Hatcher, Sergei Zubov, Rob Blake, Raymond Bourque, Chris Chelios, Chris Pronger, Duncan Keith, Zdeno Chara, Drew Doughty, Kris Letang, John Carlson.
All were central to 41 of the past 50 Stanley Cup triumphs; several more than once and/or with different clubs. Turning to simple arithmetic, 41 of 50 equals a percentage of 82. Which provides the current Maple Leafs, based on more than half–a–century of evidence, an 18–percent chance of becoming NHL champion. This isn't theory, by the way. It is cold, hard fact. The aforementioned blue–liners truly existed, and most performed wonders with the puck. They combined to win the Norris Trophy (since 1967) on 41 occasions.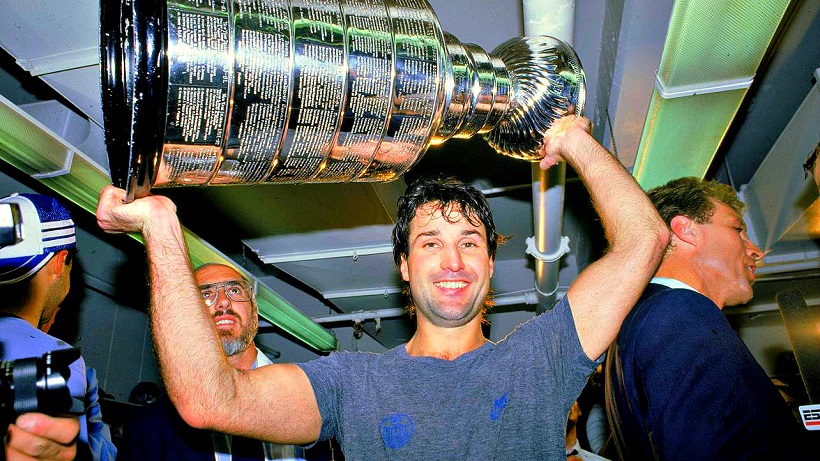 THE GREAT PAUL COFFEY LIFTED THE STANLEY CUP FOUR TIMES — THREE WITH EDMONTON AND ONCE WITH PITTSBURGH. ONLY BOBBY ORR WAS AS DYNAMIC WITH THE PUCK.
Here is the chronological run–down of Stanley Cup winners and Norris types:
(Years in PINK indicate the lack of a Norris contender).
1967: Toronto Maple Leafs (Tim Horton). 1968: Montreal Canadiens (Jacques Laperriere, Serge Savard). 1969: Montreal Canadiens (Laperriere, Savard, Guy Lapointe). 1970: Boston Bruins (Bobby Orr). 1971: Montreal Canadiens (Laperriere, Savard, Lapointe). 1972: Boston Bruins (Orr). 1973: Montreal Canadiens (Laperriere, Savard, Lapointe, Larry Robinson). 1974–1975: Philadelphia Flyers. 1976–77–78–79: Montreal Canadiens (Savard, Lapointe, Robinson). 1980–81–82–83: New York Islanders (Denis Potvin). 1984–1985: Edmonton Oilers (Paul Coffey). 1986: Montreal Canadiens (Robinson, Chris Chelios). 1987: Edmonton Oilers (Coffey). 1988: Edmonton Oilers. 1989: Calgary Flames (Al MacInnis). 1990: Edmonton Oilers. 1991: Pittsburgh Penguins (Coffey, Larry Murphy). 1992: Pittsburgh Penguins (Murphy). 1993: Montreal Canadiens. 1994: New York Rangers (Brian Leetch). 1995: New Jersey Devils (Scott Niedermayer, Scott Stevens). 1996: Colorado Avalanche. 1997–1998: Detroit Red Wings (Murphy, Nicklas Lidstrom). 1999: Dallas Stars (Derian Hatcher, Sergei Zubov). 2000: New Jersey Devils (Niedermayer, Stevens). 2001: Colorado Avalanche (Raymond Bourque, Rob Blake). 2002: Detroit Red Wings (Lidstrom, Chelios). 2003: New Jersey Devils (Niedermayer, Stevens). 2004: Tampa Bay Lightning. 2006: Carolina Hurricanes. 2007: Anaheim Ducks (Niedermayer, Chris Pronger). 2008: Detroit Red Wings (Lidstrom, Chelios). 2009: Pittsburgh Penguins (Kris Letang). 2010: Chicago Blackhawks (Duncan Keith). 2011: Boston Bruins (Zdeno Chara). 2012: Los Angeles Kings (Drew Doughty). 2013: Chicago Blackhawks (Keith). 2014: Los Angeles Kings (Doughty). 2015: Chicago Blackhawks (Keith). 2016: Pittsburgh Penguins. 2017: Pittsburgh Penguins (Letang). 2018: Washington Capitals (John Carlson).
As you can see, there is considerably more GREEN than PINK in this 50–year summary.
Offering bios of these NHL legends would serve no purpose. Such information, for those interested, is available all over the Internet. Of the 25 men listed above, five are still active. Among the 20 that have retired (Tim Horton is dead), only Hatcher and Zubov are not in the Hockey Hall of Fame. Of those currently playing in the NHL, Keith, Chara and Doughty are first–ballot locks. Some may argue that John Carlson doesn't belong on the list. But, he led all NHL defensemen with 68 points this past season (then 20 points in 24 playoff games) — more than Brent Burns, Victor Hedman, Erik Karlsson, Doughty and P.K. Subban, who have combined to win the Norris Trophy six times since 2012. So, yes, he belongs.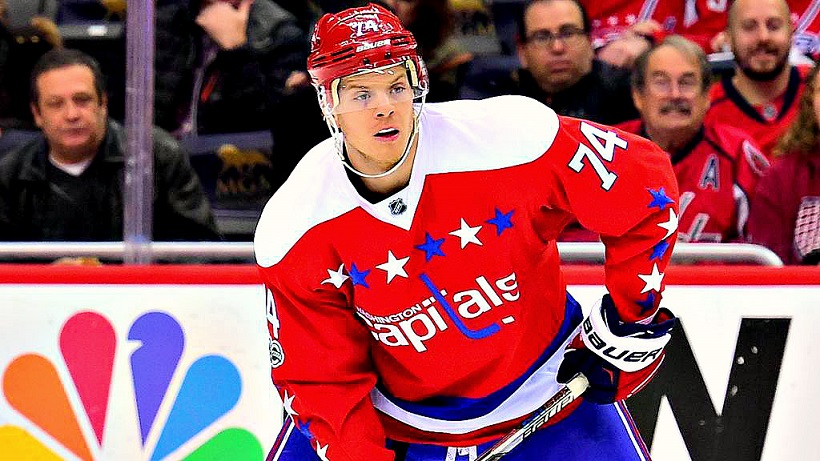 JOHN CARLSON HAD 88 POINTS FOR WASHINGTON LAST SEASON IN 106 REGULAR–SEASON AND PLAYOFF GAMES.
In writing this blog, I am merely revealing an undeniable trend — again, that 82 percent of Stanley Cup winners since 1967 have deployed at least one elite defenseman. Toronto hockey zealots would rather point out that zero percent of the 2016 Stanley Cup champion possessed such a commodity. Which is their prerogative. Others believe the trend is actively changing. My friend Steve Simmons of the Toronto Sun — who, minimally, ranks alongside me on the list of "Leaf haters" (sigh) — offered this opinion today:
Are the Maple Leafs strong enough in goal and on defence to win a Stanley Cup? Logic would indicate no. But based on the last two Cup champions — and three of the past four winners — that answer would be a surprising yes. Time was, you could not consider yourself a real Stanley Cup contender without being near the top of the NHL in fewest goals against. Mike Babcock understands this better than anyone. He won his only Cup with the best defensive team in the league. He made it to the final in Anaheim in 2003 with a very tight defensive squad. Los Angeles won its two Cups, finishing first and second in goals against. Chicago won three Cups recently, two of them among the best in goals against.
But that trend appears to be changing as the NHL game has opened up slightly. Washington just won the Stanley Cup after finishing 16th overall in goals against, allowing 238 goals in the regular season, eight more than the Leafs let in this past season. Normally that would represent an outlier of a season. But a year earlier, the Stanley Cup was won by Pittsburgh, a team that managed to struggle with a 2.79 goals-against average over 82 games, good enough for 17th in the NHL. The Leafs finished last season at 2.80. A one goal difference between a championship team and a team eliminated in Round 1.
Is the Leafs defence ideal? No. But with John Tavares, Auston Matthews and Nazem Kadri creating match–up difficulties, they could well compete, just as the Capitals and Penguins, without the back end of your dreams.
What Steve understands, but failed to mention, is the point I touched on earlier — that without an elite and confident puck–moving defenseman, the opposition has control far–too often on the attacking side of center ice. As such, and among No. 1 goalies, Frederik Andersen saw the highest number of shots in the NHL last season: 2,211 in 66 appearances, or 33.5 per outing. Steve may argue (and it pokes holes in my theory) that the second and third–most shots were directed at Andrei Vasilevskiy (Tampa Bay) and Connor Hellebuyck (Winnipeg) — teams that appeared in the Conference finals. The Lightning, of course, has Hedman, the Norris Trophy winner, and a terrific puck–handler. Statistically, the answer would be quality of goaltending.
Vasilevskiy and Hellebuyck shared the NHL lead with 44 wins, six more than Andersen. Each had a better save–percentage and goals–against average than Andersen (.918 / 2.81) — particularly Hellebuyck (.924 / 2.36). It can also be argued, with ease, that Mike Babcock did a poor job of deploying his No. 1 stopper by extending him late in the regular season when the Dane was beginning to lag. Andersen had nothing left, as you'll recall, at the end of the Boston playoff round. Curtis McElhinney proved more–than capable of standing in more often, yet Babcock stubbornly refused to go that route in the final six weeks of the schedule. When available (Andersen missed three games in mid–March with an injury), Babcock played his fatigued starter in 15 of 18 matches (Feb. 20 to Apr. 7). From my perspective, that was a colossal blunder.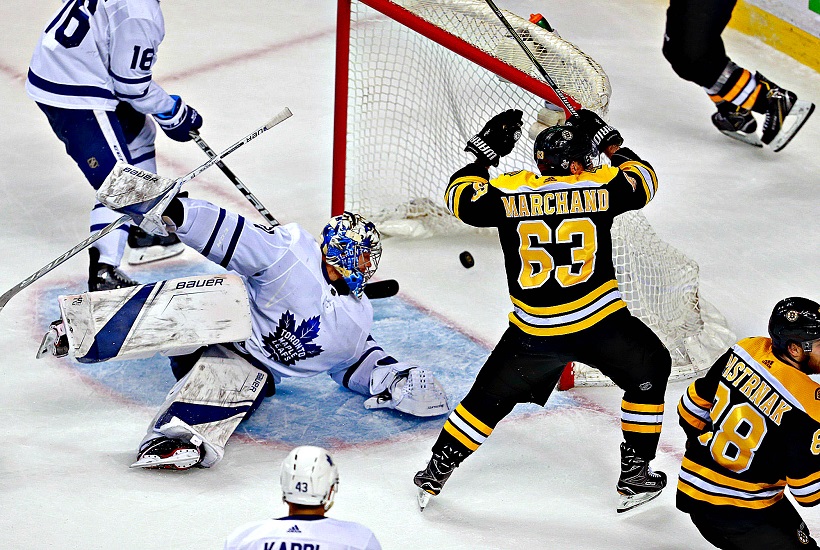 AFTER ANOTHER LONG, BUSY SEASON TENDING GOAL FOR THE MAPLE LEAFS, FREDERIK ANDERSEN HAD NOTHING LEFT IN GAME 7 OF THE PLAYOFFS. BOSTON HERALD PHOTO
When healthy, and as Simmons pointed out, the current Leafs may have the most skill and firepower up front of any team in the NHL. Can you therefore imagine the possibilities in concert with that long–sought Norris candidate (Karlsson is still available and Toronto can easily afford him under the cap next season)?
I certainly can. But, my name isn't Kyle.
EMAIL: HOWARDLBERGER@GMAIL.COM