TORONTO (July 9) — This is a purely hypothetical exercise, for it appears — and to their detriment — that the Toronto Maple Leafs are not involved in trade talks with the Ottawa Senators for Erik Karlsson.
Nowhere else on the planet would the Leafs find the component missing the longest, and most acutely, from their arsenal. But, all indications are that general manager Kyle Dubas will not toy with his roster — undeniably gifted with the recent addition of John Tavares, but also lacking balance between forward and defense. Ideally, in my view, Dubas would avail himself of every opportunity to improve the Leafs from a position of strength. The notion I've had is to dangle William Nylander in front of Ottawa GM Pierre Dorion and see what happens. Aside from salary–cap gymnastics (and we'll get into that), I'm not certain Dorion can be offered a more–skilled alternative. But, again, it seems to be Tampa Bay in the East; Dallas, Vegas or San Jose out west. Certainly, wherever Karlsson lands, that team will rocket northward in Stanley Cup chatter.
To obtain the "temperature" of this subject among Leaf supporters (and, likely, to my detriment), I put it out there on Twitter earlier today. "Wouldn't Erik Karlsson look good in Toronto blue and white?" Aside from the anticipated allotment of deep, learned replies (such as "no"), the general consensus (and, not surprisingly) was a wide reluctance to unload Nylander. Leaf fans, and they're surely not alone, have forever over–valued local players; in this case, justifiably. Nylander is a wonderful skater and puck–handler, with a quick, deceptive shot. I suggested in this corner last year that the Leafs try him on the blue line. His skill–set, alone, could shore up the club's interminable deficit. As it pertains to a trade with Ottawa, how else might the Leafs acquire a player of Karlsson's ability? Offer Josh Leivo? Connor Carrick? Obviously, there has to be something equitable in a trade proposal. If only Dubas felt the urgency to get involved. Which, apparently, he doesn't.
"It [wouldn't be] worth it for one year of Karlsson. No," offered @MattHarnum05 on Twitter.
"Even if it led to the end of the Cup drought?" I responded.
"That's a big 'if'. I wouldn't be comfortable sacrificing Nylander."
"A big 'if' with Tavares, Matthews, Marner, Kadri and Karlsson? How could the Leafs ever ice a better line-up?"
"The Leafs would certainly have the best team on paper, however we both know nothing is guaranteed in the playoffs and the No. 1 seed rarely wins. Stay the course."
(Coincidentally, as I write this, Leafs Nation Network is showing the end of Game 6 in the 1967 Stanley Cup final, when Toronto beat Montreal, 3–1, to capture its most–recent championship. As per below):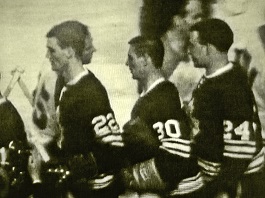 @MattHarnum05's sentiment was echoed by @RogerWnek:
"Not worth it even to end the [51–year] drought. Look at how Chicago has been losing key, quality players since winning a Cup. Granted they have [Duncan] Keith and [Brent] Seabrook, but, in my opinion, the guy that would have been worth luring to Toronto was Drew Doughty."
This comment was rather intriguing. Again, a Leafs fan said that winning the Stanley Cup next spring with a loaded roster wouldn't be worth exchanging Nylander for Karlsson. Which sort of blows the mind. He also mentioned Chicago winning "a Cup" rather than three, in six years, between 2010 and 2015. By admitting that "granted" the Blackhawks had a pair of elite blue–liners, he was (perhaps unknowingly) agreeing with my contention that the Maple Leafs won't raise the Cup until acquiring at least one–such player. And, I couldn't help but wonder if the opposite had occurred — Karlsson being extended by Ottawa; Doughty being available for trade by Los Angeles — that @RogerWnek would have said "the guy worth luring was Karlsson."
Twitter follower @kieranhughes26 chose to "educate" me:
"You don't get it @Berger_BYTES. Karlsson would be awesome for the Leafs. But, not for Nylander. The Leafs trade Nylander to Ottawa and the [Senators] control him for a long time. Karlsson walks away from Toronto July 1, 2019. Not worth it. Also, Dubas said the young core stays."
I stopped short of thanking @kieranhughes26 for the bulletin on free agency. But, he did raise an important point. Would Karlsson be worth one season of service for the long–term future of Nylander… even if Bodog went kookier than today and suggested the Maple Leafs were "heavily–favored" to win the Cup next spring? My answer is absolutely, unequivocally, positively "yes". Other blue–line options could be available next summer, and how happily would Leaf zealots entertain them after a championship parade? Those rejecting a one–Cup scenario must be fairly certain the Maple Leafs can win multiple titles by retaining Nylander, along with Matthews and Marner. But, again, we're talking about a team that hasn't been to The Dance in 51 years. Besides, according to @kieranhughes26, whatever Kyle Dubas says is gospel. So, why bother?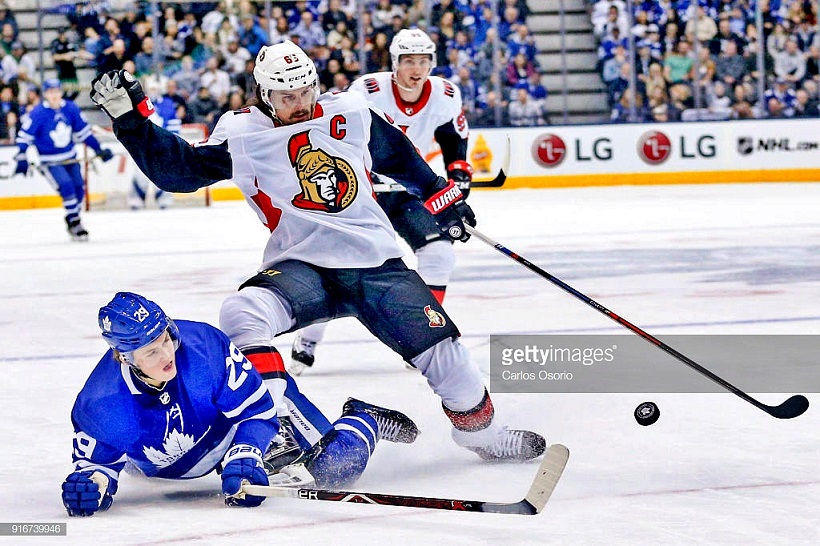 LEAFS FANS HAVE FALLEN SO HARD FOR WILLIAM NYLANDER (29) THAT FEW WOULD TRADE HIM FOR OTTAWA CAPTAIN ERIK KARLSSON AND A BIGGER CHANCE TO WIN THE STANLEY CUP NEXT SPRING.
Then there was this comment from @longtimeleafan about trading Nylander:
"It has to be for a home run: Karlsson; [P.K.] Subban. Otherwise the Tavares [signing] is all for naught."
Which, precisely, is my point. Though I'm not sure I'd place Subban at the same level as Karlsson, the Leafs must somehow obtain a Norris Trophy paradigm in order to augment and maximize the value of shelling out $11 million in salary and cap space for Tavares. Remember, Johnny T. will be 28 by the time the puck drops on Opening Night for the Maple Leafs: Oct. 3, vs. Montreal, at Scotiabank Arena (which still sounds weird). According to the physio experts, he is already encroaching the down side of peak years in the NHL. It's likely Tavares will not be quite as efficient at age 30 or 31, when he approaches the halfway mark of his seven–year, $77 million contract. Championship windows do not open widely. Sometimes, there is only a sliver of opportunity for a team to accentuate its resources. That opportunity, for the Maple Leafs, could be right now, with Tavares, Frederik Andersen (29 this season) and Patrick Marleau (39 this season) in the fold.
As for acquiring Karlsson, @insuremetodayca came up with this ditty:
"No. Not for what it would cost. Karlsson is a powerplay specialist… you can't pay a guy based on [one] huge playoff performance [for Ottawa in 2017]. I am not for abandoning the Shanaplan. Wait for [Tim] Liljegren."
Given that Karlsson was minus–25 last season on a lousy Senators team, he is suddenly a "powerplay specialist". Sure. All defensemen incapable of thriving at even–strength twice earn the Norris Trophy. The year Los Angeles won its first Stanley Cup (2012) Doughty was a minus–2. Karlsson won his second Norris in 2015 at merely plus–7. When you play 30 minutes a game, stuff happens. Good and bad. Besides, what's the matter with being deadly on the powerplay? Any blue–liner that puts up 62 points in a "bad" year is good enough for me. Reducing Karlsson to "one huge playoff performance" was simply absurd. And, yeah, let's wait for Liljegren. Or, Rasmus Sandin. So, Tavares can come out with a walker and drop the first puck.
But, again, does it matter? The Leafs, by all appearances, are going to continue neglecting the blue line and try to win the Stanley Cup by playing a 100–foot game. Perhaps it can work. Even if it hasn't. For decades.
EMAIL: HOWARDLBERGER@GMAIL.COM