TORONTO (Aug. 4) — This will not be the worst season, by record, in the 42 years since the Toronto Blue Jays joined Major League Baseball — a distinction that belongs to the 1979 club, which compiled a mark of 53–109. The current team would have to go 3–50 in August and September to match that inglorious record.
By virtually any other measure, however, the 2018 season is the most damaging and demoralizing of all time for the only Canadian entry in the Majors. In less than 2½ calendar years, the Blue Jays have regressed from the American League East Division champion to a laughingstock that has no chance of contending for a wild card playoff berth. And, an even–smaller chance, moving forward, of competing with Division rivals Boston and New York. It is therefore easy to dump all over president Mark Shapiro and general manager Ross Atkins — summoned from Cleveland to replace Paul Beeston and Alex Anthopoulos just when the franchise had come to life for the first time in nearly a quarter–century. And, yes, the unceremonious ditching of Beeston engendered the current misery. Yet, elements of the rapid decline are largely beyond the control of Shapiro and Atkins. Whatever can go wrong for the Blue Jays essentially has in the past two seasons.
Nothing is more calamitous than alienating an entirely new generation of fans that jumped aboard in the final months of the 2015 schedule; young men and women who had no recollection of the World Series triumphs in 1992 and 1993. When the Blue Jays first became competitive, in their seventh Major League season (1983), a full decade of hope (mixed with acute disappointment) led to the consecutive titles. The club was in contention virtually every year; further momentum arrived when it moved from Exhibition Stadium to SkyDome (now Rogers Centre) midway through the 1989 season. The team maintained its grasp on a following that eclipsed, for a time, that of the Maple Leafs. Once the 'Dome opened, nearly a half–decade of record attendance followed, as the Blue Jays played to capacity audiences for every game.

MEMORABLE MOMENTS IN THE PLAYOFFS OF 2015 AND 2016 SEEM IN THE DISTANT PAST FOR THE BLUE JAYS — NOW, AND RATHER SUDDENLY, AT THE LOWEST EBB IN FRANCHISE HISTORY.
Unexpectedly, and virtually overnight, the passion returned when Anthopoulos reinforced a middling club at the 2015 non–waiver trade deadline. After more than two decades of dormancy, the Blue Jays began to accumulate fans across the country. The club, for the first time, moved into contention with a monopoly north of the border; in its run–up to the World Series championships, it shared Canadian allegiance with the Montreal Expos, who went south to become the Washington Nationals after the 2004 season. Sellout crowds at Rogers Centre were mirrored by the enormous television audiences from coast to coast. The club was likely never–more prolific than during the 56–game stretch of July 29 to Sep. 30, 2015, when it compiled a 42–14 record and spectacularly overcame a seven–game deficit to the New York Yankees atop the A.L. East.
A thrilling comeback against Texas in the Division playoff round — Toronto became the only team to rebound from losing the first two games at home in a best–of–5 series — climaxed with Jose Bautista's now–legendary "bat flip" at Rogers Centre. An 11th–inning home run at the 'Dome by Edwin Encarnacion the following year provided the Blue Jays a victory over Baltimore in the A.L. Wild Card game and, ultimately, a second trip to the League Championship Series. Baseball was, indeed, "back in town" — the title of a book by former Globe and Mail sports writer Lou Cauz that preceded the club's first–ever game (Apr. 7, 1977).
Less than two years later… and the silence is deafening.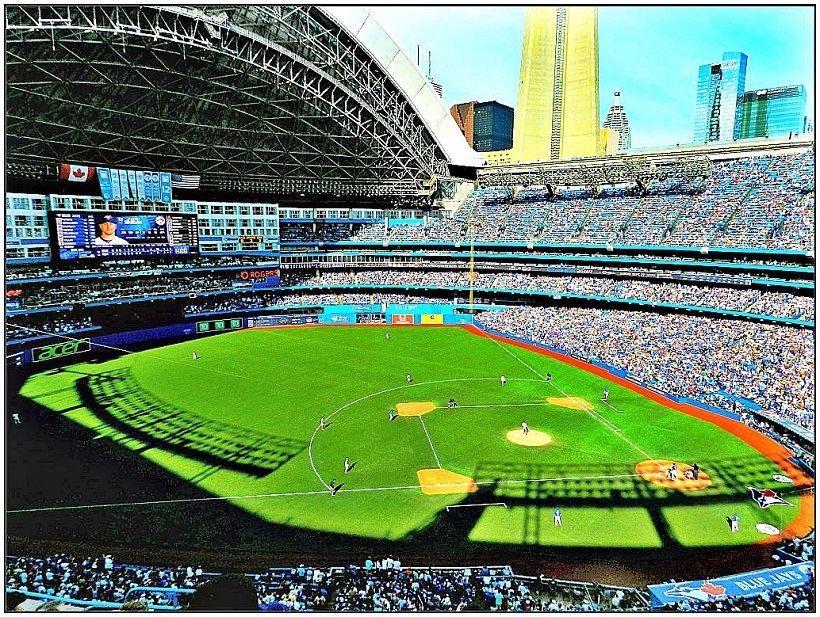 MY PHOTO FROM THE UPPER–DECK OF ROGERS CENTRE ON SEP. 21, 2015. THE AUTUMN SUN CASTING LATE–AFTERNOON SHADOWS ACROSS THE FIELD. ANOTHER SELLOUT CROWD ON HAND.
Remarkably, the entire core of the 2015 club is no longer with the Blue Jays — having either worn out; been traded; lost to free agency or debilitated by injury. It includes Bautista, Encarnacion, David Price, Josh Donaldson, Troy Tulowitzki and Roberto Osuna. All but Price were also on the 2016 team. Additionally, the young, promising rotation of Marcus Stroman, Aaron Sanchez and Marco Estrada has been decimated by injury and sub–par performance. When you therefore consider that nine of the most integral roster components since 2015 are either no longer with the club — or, in the case of the pitchers, scuffling — it is no secret why the Blue Jays are in free–fall. And, though Shapiro and Atkins have overseen the decline, they cannot be faulted for the entire mess. How were they to know, for example, that the bodies of Tulowitzki and Donaldson would break down; that Osuna would demolish his reputation in the city with a domestic–assault rap, or that Sanchez would be unable to overcome a blister problem on his throwing hand (the club has repeatedly fibbed about the injury sidelining Sanchez since June 22, calling it a "finger contusion" when it is, in fact, a flare–up of the blister)? These issues are clearly well–beyond the purview of management.
The absence of Donaldson has been particularly detrimental — the 2015 American League MVP missing 132 games (as of today) the past two seasons with varied ailments. A healthier Donaldson would have garnered the club some value in a trade prior to the non–waiver deadline last week. Instead, it appears the third–baseman will limp into free agency after the current season; his value to the team all–but exhausted.
Major League Baseball operates in a luxury–tax system, without a salary cap. As such, it is still largely a game of spending — particularly in the American League East. Sadly for fans of the Blue Jays, the Red Sox and Yankees are forever willing to shell out big dollars in the interest of World Series contention. Here in Toronto, Rogers Communications could, if desired, play the money game, but it operates the Blue Jays on a budget (ignoring that the brief turnaround in 2015 and 2016 was remarkably profitable). The spending tier became evident once again last off–season in free agency when the Red Sox lured J.D. Martinez from Arizona; the Yankees Giancarlo Stanton from Miami and the Blue Jays Randal Grichuk from St. Louis.
Martinez (as of today) has 32 home runs and 90 RBI for arguably the best Major League team since the 1998 Yankees, which compiled a 114–48 record and defeated San Diego in the World Series. The 2018 Red Sox lead all of baseball with a mark of 77–34 (.694 win–percentage); are 7.5 games up on second–place New York and a 26 gargantuan lengths ahead of the Blue Jays. In a sub–par first year with the Yankees, Stanton has 25 homers and 77 RBI. Grichuk, playing well for Toronto after a somnolent April, has 14 homers and 36 RBI.
Yes, there's a bit of hope on the horizon. Baseball's top prospect in 2018, Vladimir Guerrero Jr., ripped it up with Double–A New Hampshire (.402 / 14 HR / 60 RBI in 60 games) before getting the call to Triple–A Buffalo. Left–hander Ryan Borucki shows promise with a sparkling 2.30 Earned Run Average after seven starts. Given, however, where the Blue Jays were less than two years ago (making it to the ALCS while leading the American League in attendance) and where they are today (with acres of empty seats at the 'Dome; in a different dimension from the Red Sox and Yankees), this is the lowest epoch in franchise history.
When the infant club first became competitive, it built an enormous following over 11 seasons; twice winning the World Series. The current team cultivated a new generation of fans… and quickly smothered the movement. You can bet these individuals will be more discerning with their dollars and affection.
MORE NHL PHOTOS FROM 60's / 70's
Continuing with my summer–time look at legendary hockey images: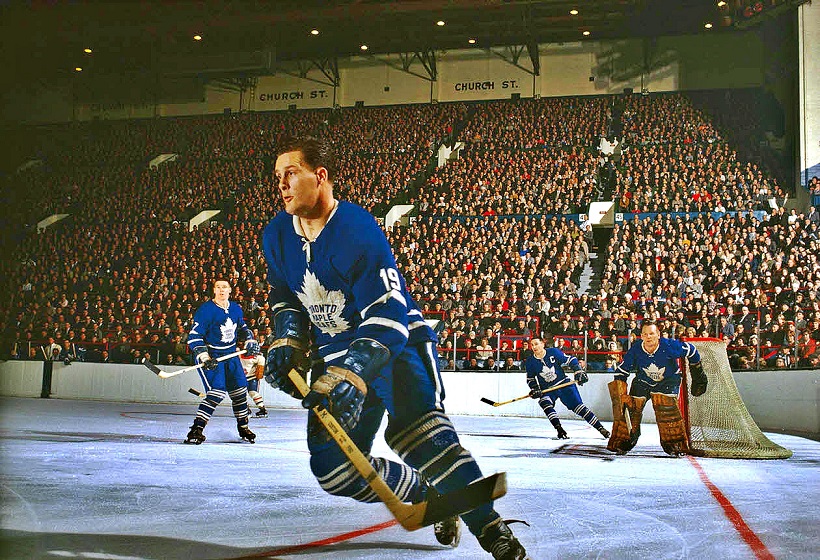 MONTREAL at TORONTO — 1962–63: REMARKABLE IMAGE FROM THE SOUTHWEST CORNER OF MAPLE LEAF GARDENS SHOWS THE ENTIRE EAST (OR CHURCH ST.) SIDE OF THE ARENA ILLUMINATED BY A STROBE ON THE END–GLASS. LEAFS DEFENSEMAN KENT DOUGLAS (d. Apr. 12, 2009) IS IN THE FOREGROUND. DOUGLAS WOULD WIN THE CALDER TROPHY AS NHL ROOKIE–OF–THE–YEAR. THE CLUB WOULD WIN ITS FIRST STANLEY CUP IN 11 YEARS. IN BACKGROUND (LEFT–TO–RIGHT) ARE TIM HORTON (d. Feb. 21, 1974); GEORGE ARMSTRONG (NOW 88) AND JOHNNY BOWER (d. Dec. 26, 2017).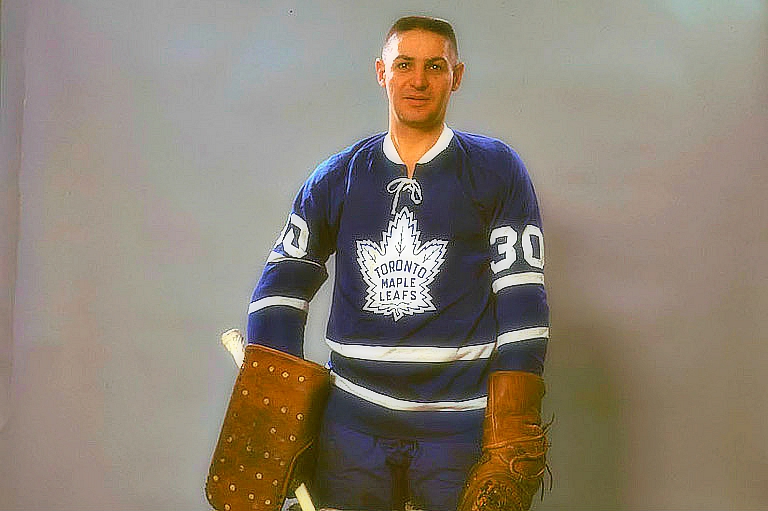 1966–67 (ABOVE and BELOW): HALL–OF–FAME GOALIE TERRY SAWCHUK WOULD ENJOY THE LAST
GREAT MOMENT OF HIS CAREER BY BACK–STOPPING THE LEAFS TO A SURPRISE CHAMPIONSHIP
IN 1967. SAWCHUK (d. May 31, 1970) POSES ABOVE IN HIS TORONTO JERSEY AND WINKS AT CAMERA
(BELOW) IN THE TV STUDIO AT MAPLE LEAF GARDENS BEFORE APPEARING AS AN INTERMISSION
GUEST WITH HOCKEY NIGHT IN CANADA HOST WARD CORNELL (d. Feb. 5, 2000).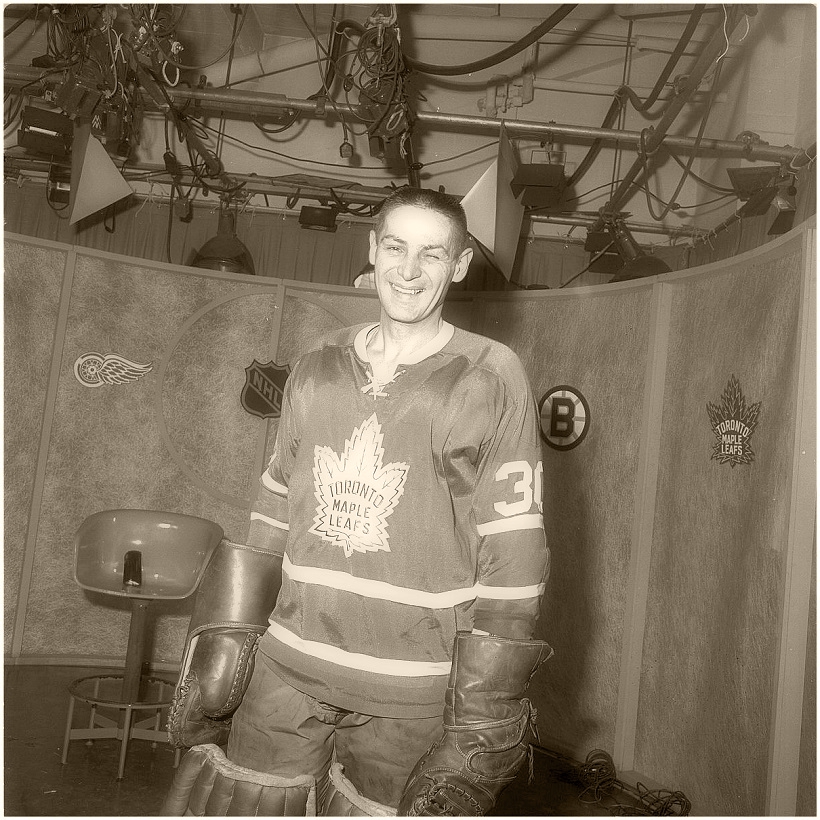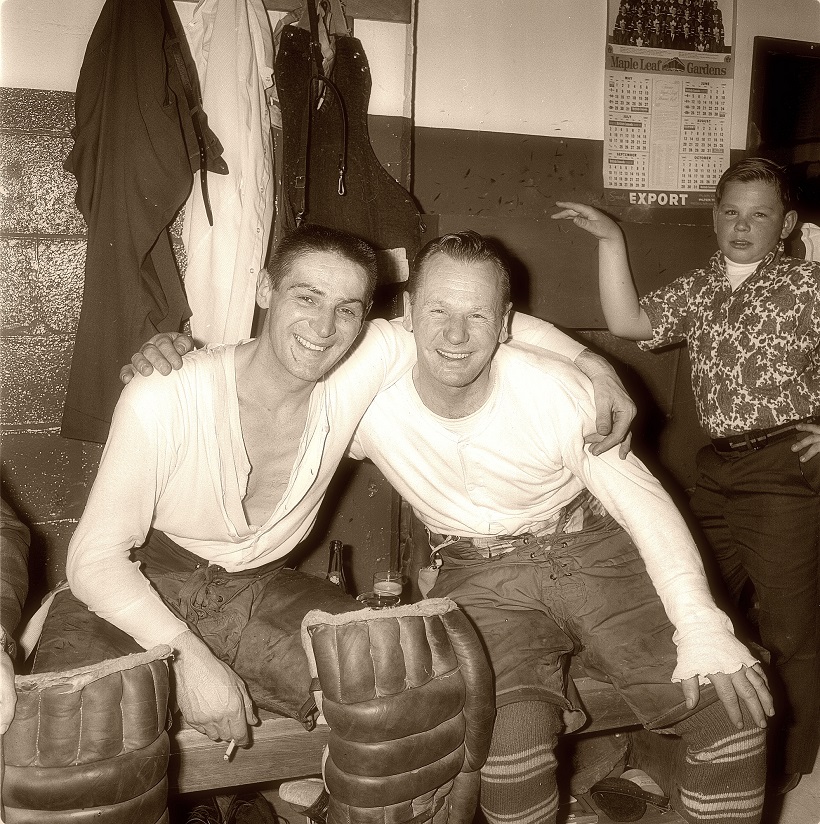 MAY 2, 1967: AFTER COMBINING TO DEFEAT MONTREAL FOR THE 1967 STANLEY CUP, SAWCHUK (LEFT) AND BOWER EMBRACE. BOWER'S SON, JOHN Jr., IS IN THE BACKGROUND.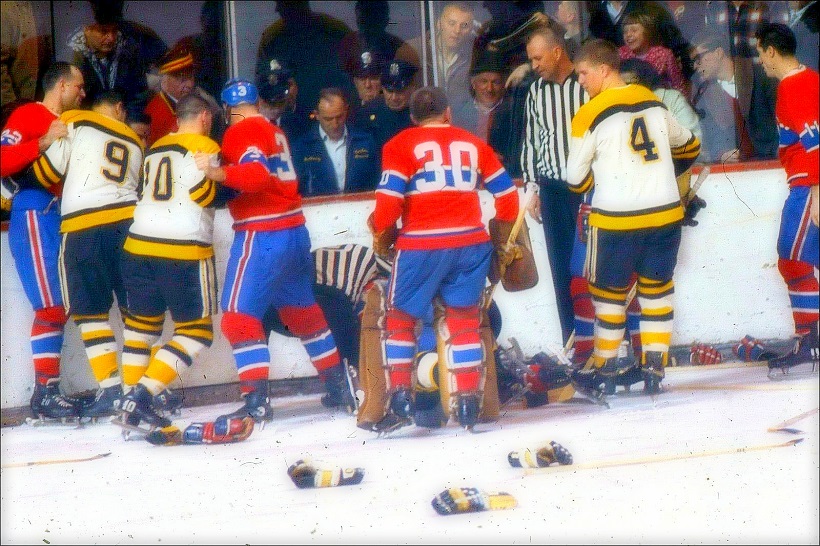 BOSTON at MONTREAL — 1966–67: THE BRUINS AND CANADIENS SQUARE OFF AT THE FORUM. HABS PLAYERS (LEFT–TO–RIGHT) ARE NOEL PRICE (NOW 82); J.C. TREMBLAY (d. Dec. 7, 1994); GUMP WORSLEY (d. Jan. 26, 2007) and CLAUDE LAROSE (NOW 76). BOSTON PLAYERS (LEFT–TO–RIGHT) ARE: JOHNNY BUCYK (NOW 83); GILLES MAROTTE (d. July 26, 2005) AND BOBBY ORR (NOW 70). IT WAS ORR'S ROOKIE SEASON AND HE WON THE CALDER TROPHY. THE REFEREE IS ART SKOV (d. Apr. 19, 2009).

BOSTON at DETROIT — 1965–66: GORDIE HOWE (d. June 10, 2016) IN HIS 21st NHL SEASON.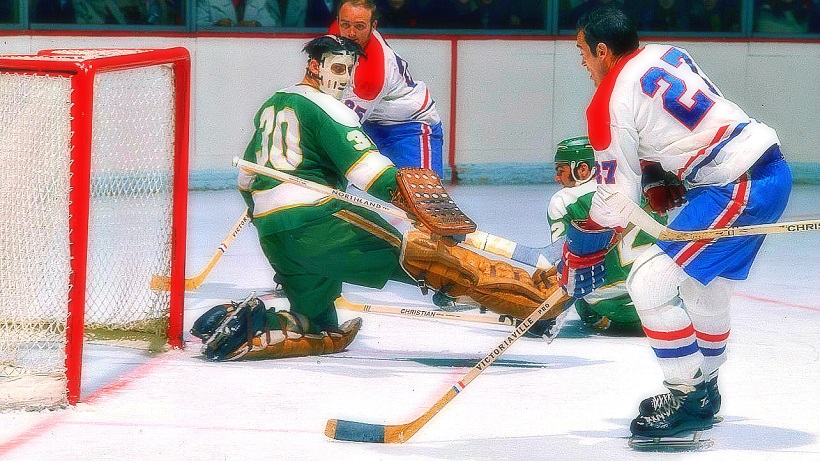 MINNESOTA at MONTREAL — 1972–73: THOUGH THE PUCK ISN'T VISIBLE, FRANK MAHOVLICH (NOW 80) OF THE CANADIENS HAS APPARENTLY BEATEN NORTH STARS GOALIE CESARE MANIAGO (NOW 79), GIVEN THAT MANIAGO IS LOOKING DIRECTLY AT THE "BIG M". IN THE BACKGROUND IS MONTREAL'S JACQUES LEMAIRE (NOW 72). ON THE ICE IS MINNESOTA DEFENSEMAN BARRY GIBBS (NOW 69).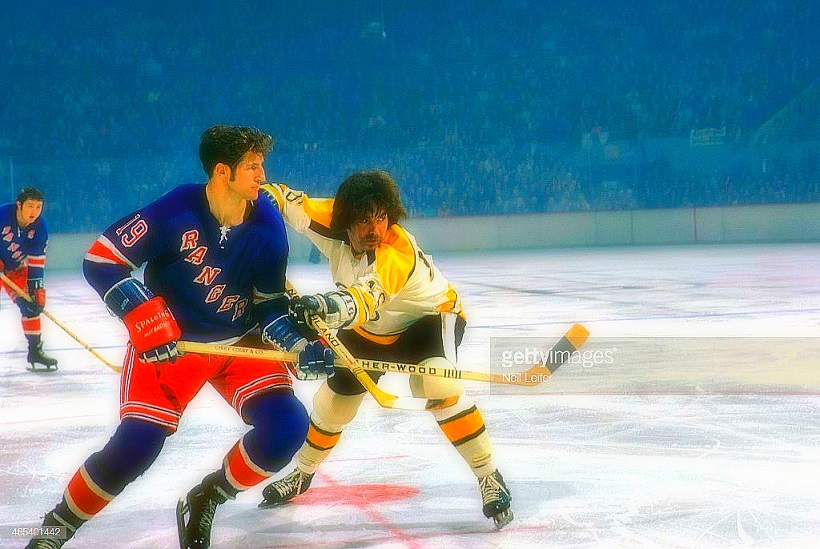 NEW YORK at BOSTON — 1971–72: BRUINS FORWARD DEREK SANDERSON (NOW 72) CROSS–CHECKS JEAN RATELLE (NOW 77) OF THE RANGERS. IN THE BACKGROUND IS NEW YORK DEFENSEMAN BRAD PARK (NOW 70). ALL THREE PLAYERS WOULD SWITCH TEAMS — SANDERSON WITH THE RANGERS (IN 1974–75); RATELLE WITH BOSTON (1975–81); PARK WITH BOSTON (1975–83).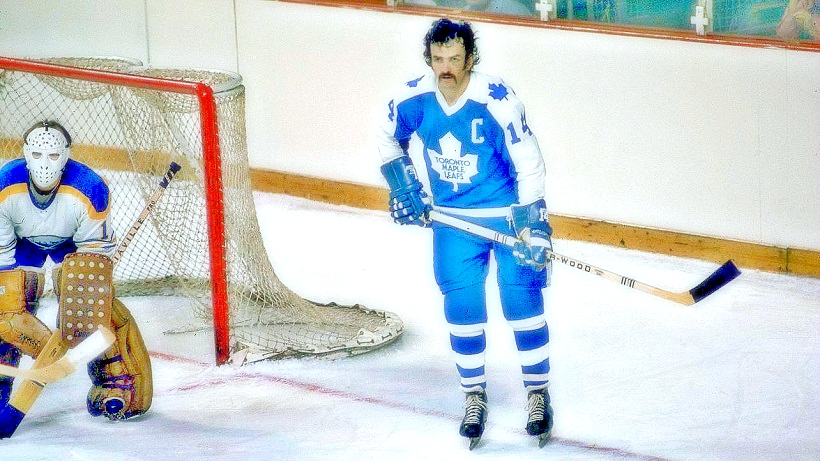 TORONTO at BUFFALO — 1971–72: AFTER YEARS OF SPORTING A CREW–CUT, LEAFS CAPTAIN DAVE KEON (NOW 78) WENT ALL HAIRY IN THE EARLY–70's. HERE, KEON SNEAKS UP ON SABRES GOALIE ROGER CROZIER (d. Jan. 11, 1996) AT THE BUFFALO MEMORIAL AUDITORIUM.

1973–74: HALL–OF–FAME DEFENSEMAN BORJE SALMING AS A ROOKIE WITH THE MAPLE LEAFS.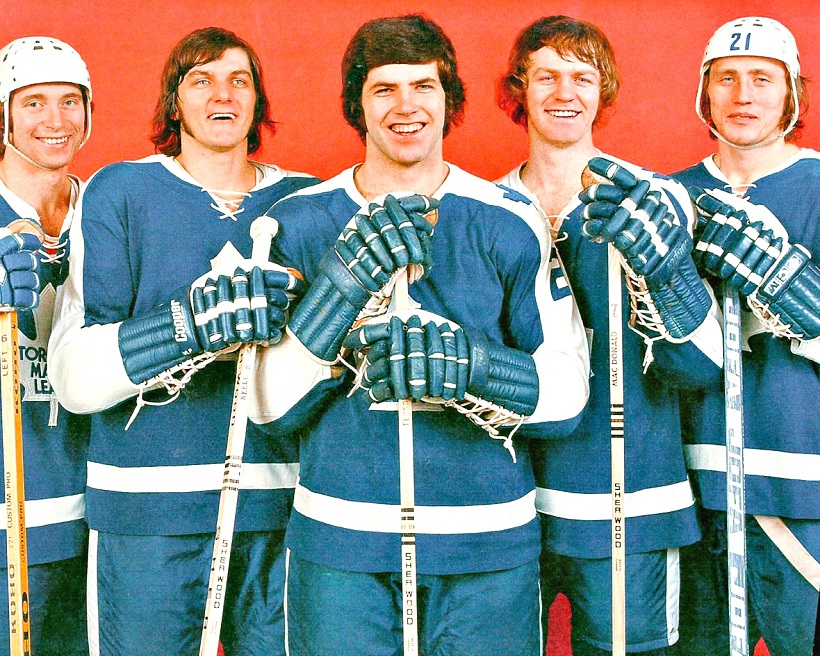 SALMING (RIGHT) AND LEAFS ROOKIES FROM 1973–74 (LEFT–TO–RIGHT): INGE HAMMARSTROM (NOW 70); BOB NEELY (NOW 64); IAN TURNBULL (NOW 64); LANNY McDONLD (NOW 65).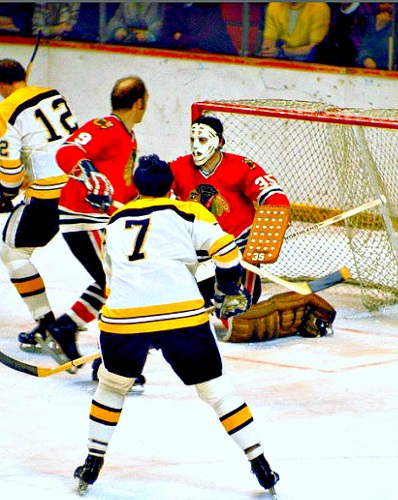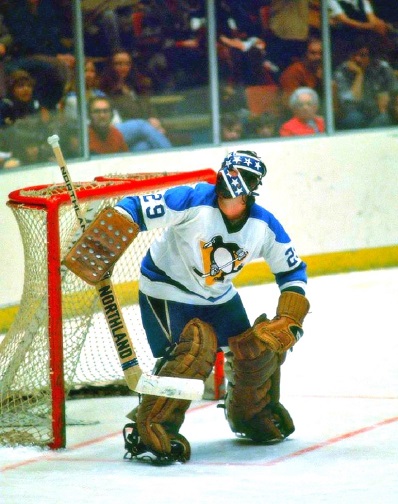 (LEFT) CHICAGO at BOSTON — 1971–72: PHIL ESPOSITO (No. 7 — NOW 76) OF THE BRUINS MOVES IN TOWARD BROTHER TONY ESPOSITO (NOW 75) PLAYING GOAL FOR THE HAWKS. BOBBY HULL (NOW 79) IS DEFENDING IN HIS FINAL CHICAGO SEASON; BOSTON'S WAYNE CASHMAN (NOW 73) IS TURNING WAY FROM THE PLAY. (RIGHT) 1976–77: PENGUINS GOALIE DUNC WILSON (NOW 70) DEFLECTS PUCK OVER THE GLASS AT THE PITTSBURGH CIVIC ARENA. THE PENS WORE LIGHT AND DARK–BLUE UNTIL 1979, WHEN THEY SWITCHED TO BLACK AND GOLD TO MATCH THE STEELERS AND PIRATES.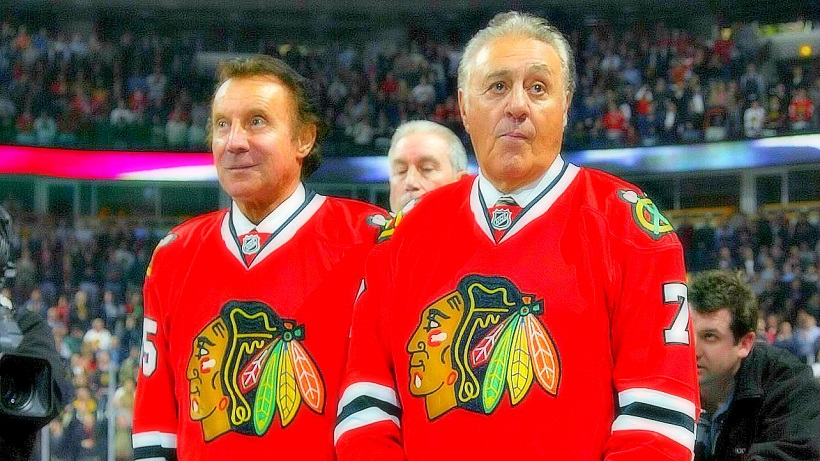 TONY (LEFT) AND PHIL ESPOSITO DURING A RECENT CHICAGO BLACKHAWKS REUNION AT THE UNITED CENTER. TONY PLAYED GOAL FOR THE HAWKS FROM 1969 TO 1984. PHIL BEGAN HIS CAREER IN CHICAGO (1963–67) BEFORE GOING TO BOSTON (May 15, 1967) AS PART OF THE MOST LOP–SIDED TRADE IN NHL HISTORY. HE SCORED 717 GOALS WITH THE HAWKS, BRUINS AND RANGERS.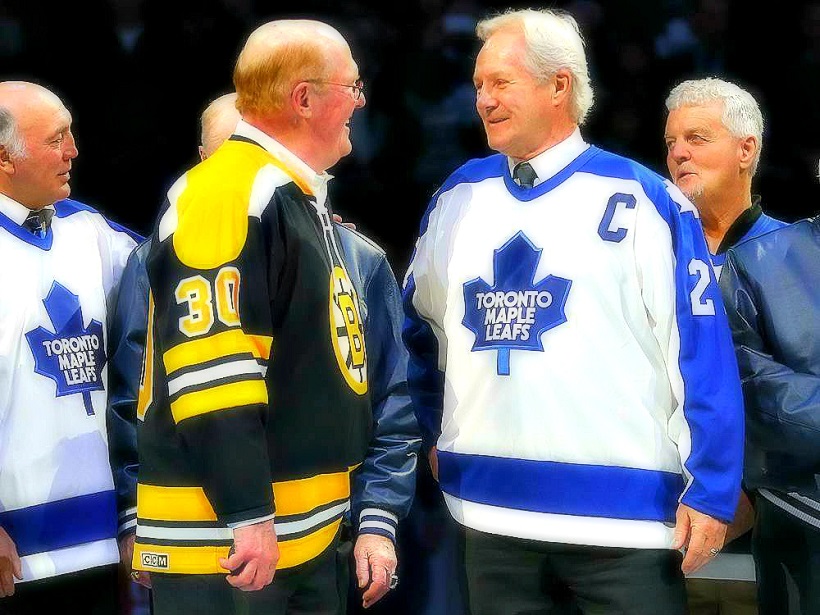 FEB. 4, 2016: DURING A PRE–GAME CEREMONY AT AIR CANADA CENTRE TO HONOR THE 40th ANNIVERSARY OF DARRYL SITTLER'S NHL–RECORD 10–POINT ERUPTION AGAINST BOSTON, THE FORMER LEAFS CAPTAIN (NOW 67) SHARES A LAUGH WITH THE GOALIE HE DECIMATED, DAVE REECE (NOW 69). ALSO IN PHOTO IS FORMER SITTLER LINE–MATES DAVE (TIGER) WILLIAMS (LEFT — NOW 64) AND ERROL THOMPSON (NOW 68). BELOW (FEB. 7, 1976): SITTLER SCORES ONE OF SIX GOALS AGAINST REECE AT MAPLE LEAF GARDENS. HE ADDED FOUR ASSISTS IN THE 11–4 TORONTO ROUT.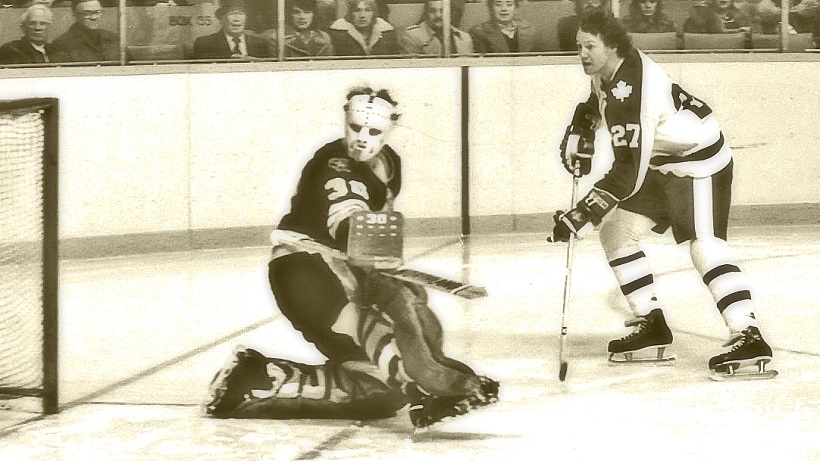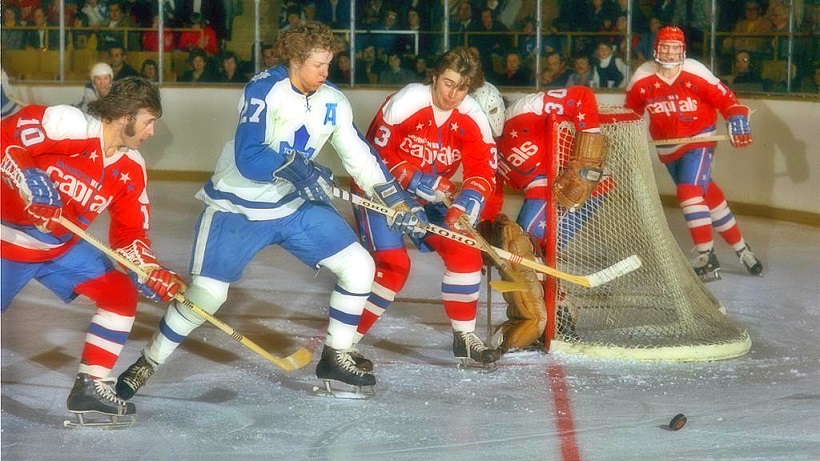 WASHINGTON at TORONTO — 1974–75: DARRYL SITTLER IS ALONE AT MAPLE LEAF GARDENS AGAINST THE WORST TEAM IN NHL HISTORY… THE EXPANSION WASHINGTON CAPITALS (8–67–5 FOR 21 POINTS). CAPS PLAYERS (LEFT–TO–RIGHT) ARE GORD BROOKS (NOW 67); GREG JOLY (NOW 64) AND GOALIE RON LOW (NOW 68). LOW HAD PLAYED FOR THE LEAFS IN 1972–73.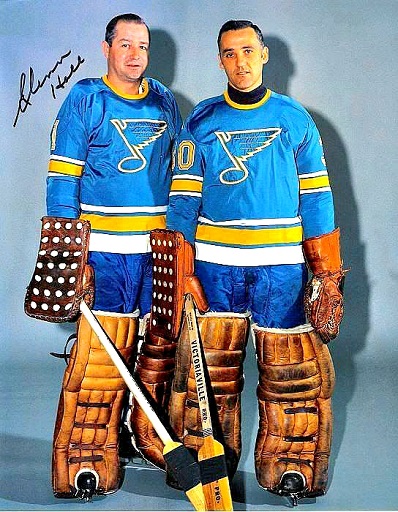 (LEFT): TWO OF THE GREATEST GOALIES IN NHL HISTORY COMBINED WITH THE ST. LOUIS BLUES TO WIN THE 1968–69 VEZINA TROPHY — GLENN HALL (NOW 86) AND JACQUES PLANTE (d. Feb. 27, 1986). (RIGHT): MUSTACHIOED LANNY McDONALD WITH COLORADO IN 1979–80. THE TRADE THAT SENT McDONALD TO THE ROCKIES (Dec. 29, 1979) RANKS AMONG THE WORST IN LEAF ANNALS.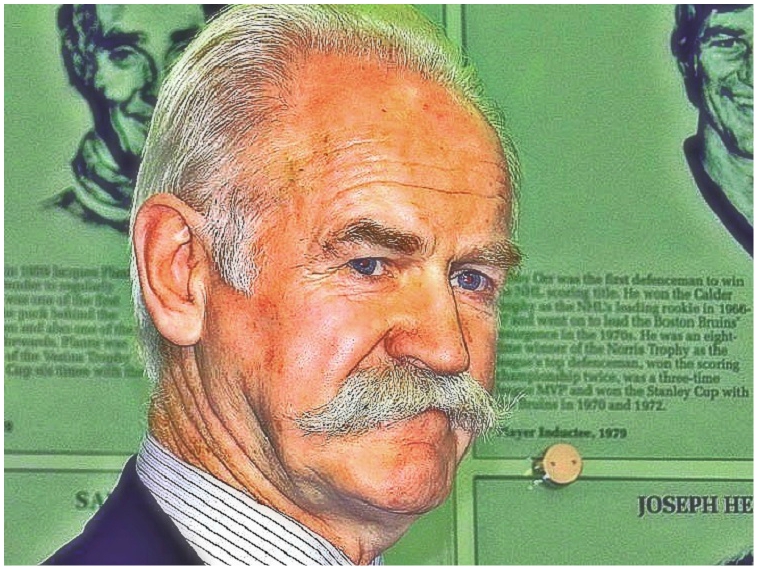 MY PHOTO OF MACHINE–GUN LANNY, AS HE APPEARS TODAY AT 65.

LATE IN THE 1970–71 SEASON, THE MONTREAL CANADIENS PROMOTED CORNELL UNIVERSITY GOALIE KEN DRYDEN (NOW 70) FROM THE MONTREAL VOYAGEURS OF THE AMERICAN HOCKEY LEAGUE. DRYDEN (RIGHT) JOINED INCUMBENTS PHIL MYRE (LEFT — NOW 69) AND ROGATIEN VACHON (MIDDLE — NOW 72). HE DRAMATICALLY ASSUMED THE NO. 1 ROLE BY STARRING AGAINST HEAVILY–FAVORED BOSTON IN HE FIRST ROUND OF THE '71 PLAYOFFS (BELOW), WHERE HE STOPPED JOHN McKENZIE (d. June 9, 2018) OF THE BRUINS, WITH DEFENSEMAN JACQUES LAPERRIERE (NOW 76) HELPING OUT. THE CANADIENS WON THE CUP THAT SPRING; DRYDEN THE CONN SMYTHE TROPHY. VACHON WAS LATER DEALT TO LOS ANGELES; MYRE WAS CHOSEN BY ATLANTA IN THE 1972 EXPANSION DRAFT.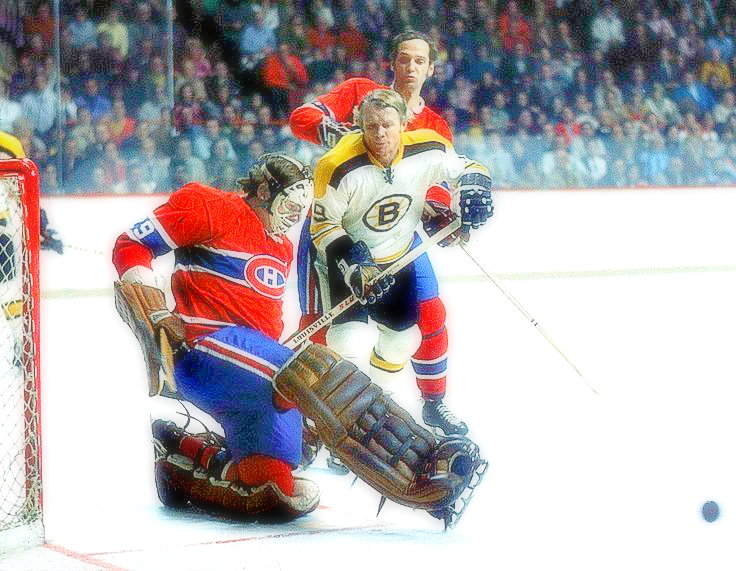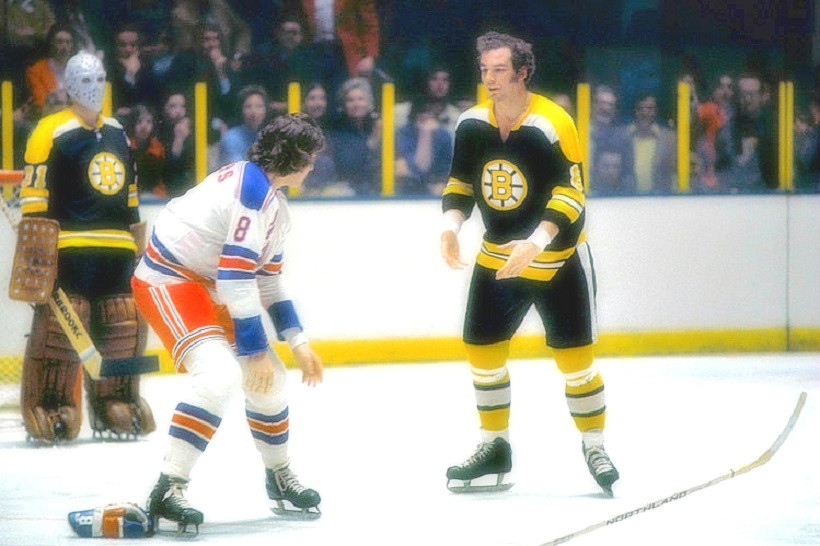 BOSTON at NEW YORK — 1972–73: STEVE VICKERS (NOW 67) OF THE RANGERS AND KEN HODGE (NOW 74) DROP GLOVES AT MADISON SQUARE GARDEN DURING OPENING ROUND OF THE 1973 STANLEY CUP PLAYOFFS. LOOKING ON IS JACQUES PLANTE (31), WHO'D BEEN ACQUIRED FROM THE MAPLE LEAFS AT THE TRADE DEADLINE (A DEAL THAT LANDED TORONTO IAN TURNBULL).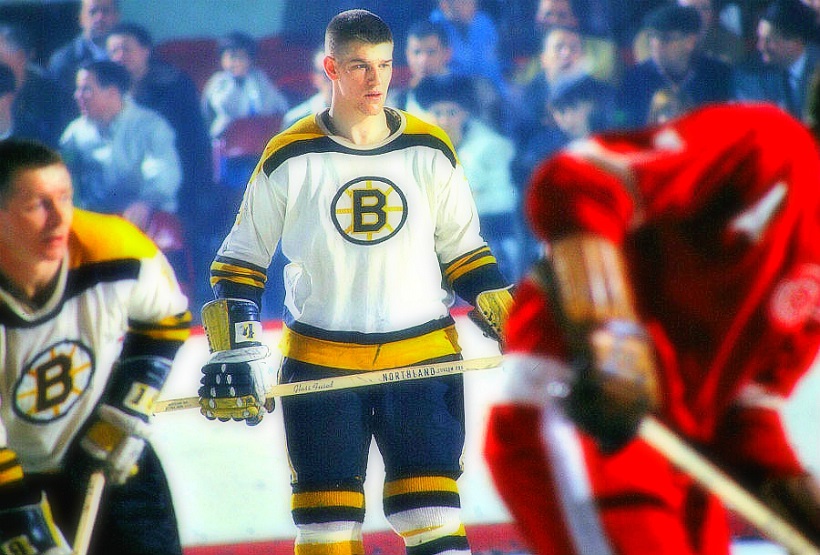 BOSTON at DETROIT — OCT. 19, 1966: PHOTOS, ABOVE AND BELOW, OF HOCKEY'S ALL–TIME GREATEST
STAR, BOBBY ORR, IN HIS FIRST NHL GAME. ORR RECORDED AN ASSIST AS THE BRUINS POUNDED THE
RED WINGS, 6–2, AT THE DETROIT OLYMPIA.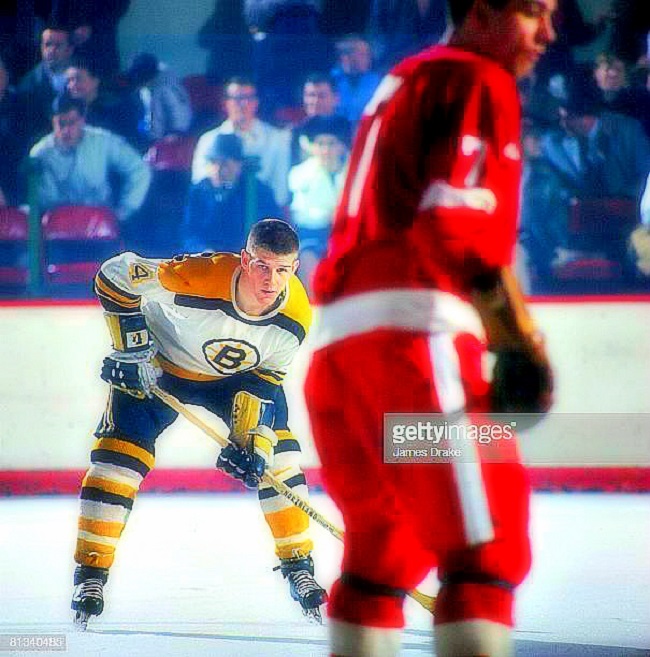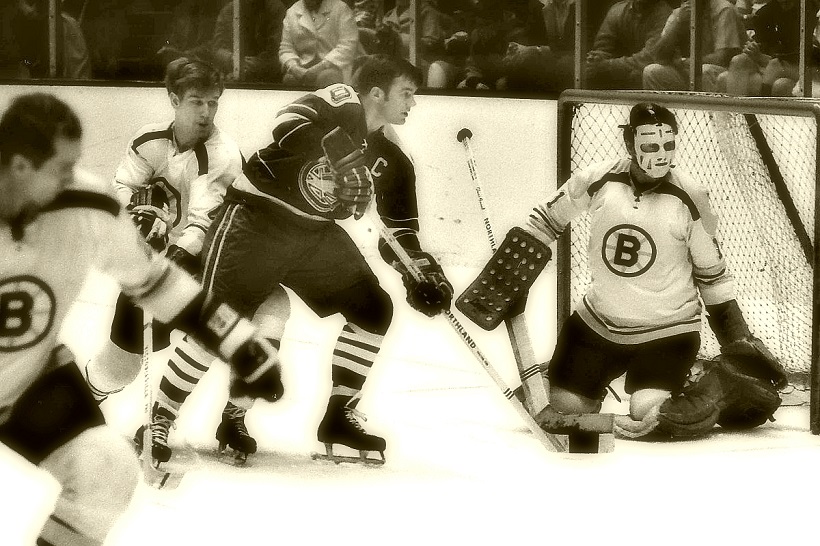 BOSTON at OAKLAND — 1969–70: ORR DEFENDS AGAINST SEALS CAPTAIN TED HAMPSON (NOW 81) IN FRONT OF GOALIE ED JOHNSTON (NOW 82).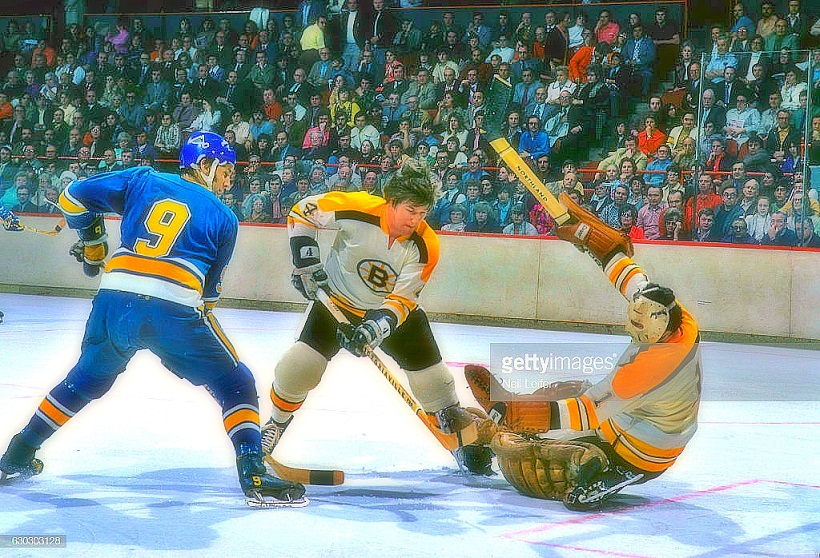 BOSTON at ST. LOUIS — 1969–70: ORR AND JOHNSTON COMBINE TO THWART FORWARD FRANK ST. MARSEILLE (NOW 78) OF THE BLUES AT ST. LOUIS ARENA DURING THE 1970 STANLEY CUP FINAL.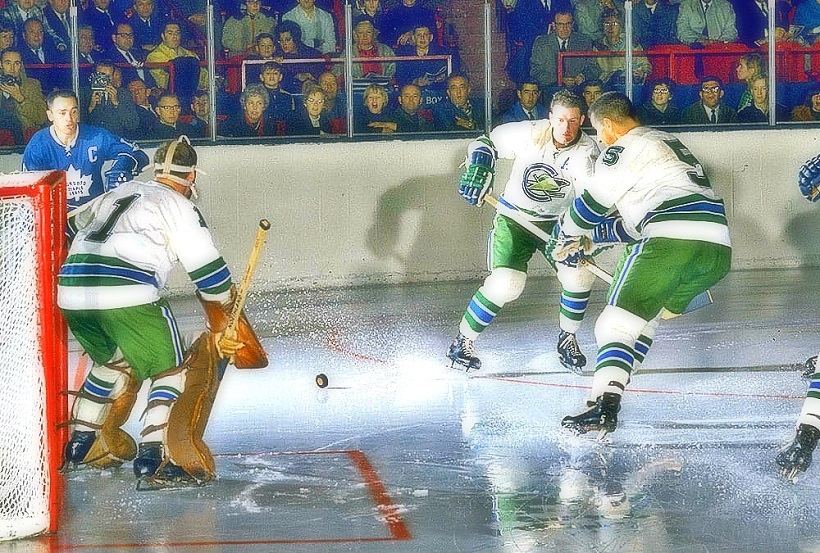 CALIFORNIA at TORONTO — OCT. 28, 1967: EARLY IN THE EXPANSION SEASON OF 1967–68, THE SEALS MADE THEIR FIRST VISIT TO MAPLE LEAF GARDENS. HERE, A LOOSE PUCK IS EYED BY CALIFORNIA GOALIE CHARLIE HODGE (d. Apr. 16, 2016); TEAMMATES KENT DOUGLAS (d. Apr. 12, 2009) AND LARRY CAHAN (No. 5 — d. June 25, 1992). LEAFS CAPTAIN GEORGE ARMSTRONG IS IN THE CORNER.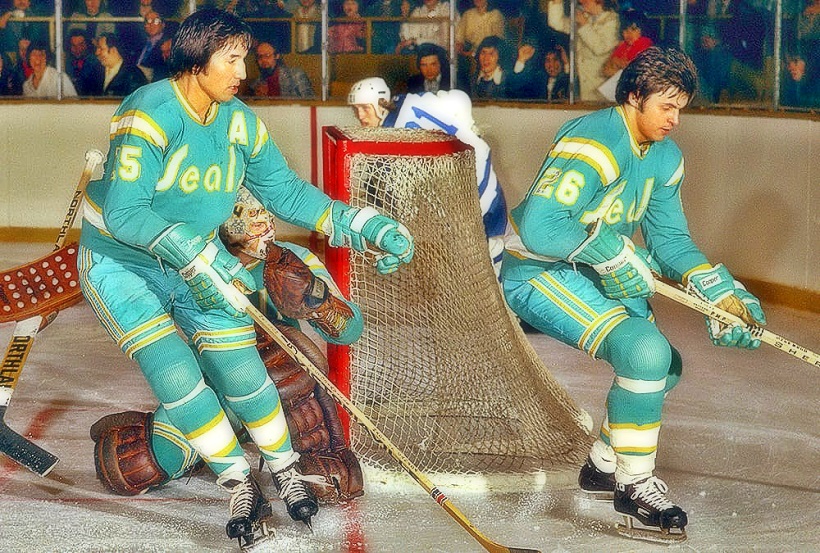 CALIFORNIA at TORONTO — 1974–75: DURING THEIR EIGHTH AND SECOND–LAST SEASON IN OAKLAND, THE SEALS CAME TO THE GARDENS WEARING "PACIFIC BLUE" AND GOLD. HERE, DEFENSEMAN JIM NEILSON (LEFT — NOW 76) AND FORWARD GEORGE PESUT (NOW 65) PURSUE THE PUCK BEHIND THE NET. BORJE SALMING IS IN THE BACKGROUND.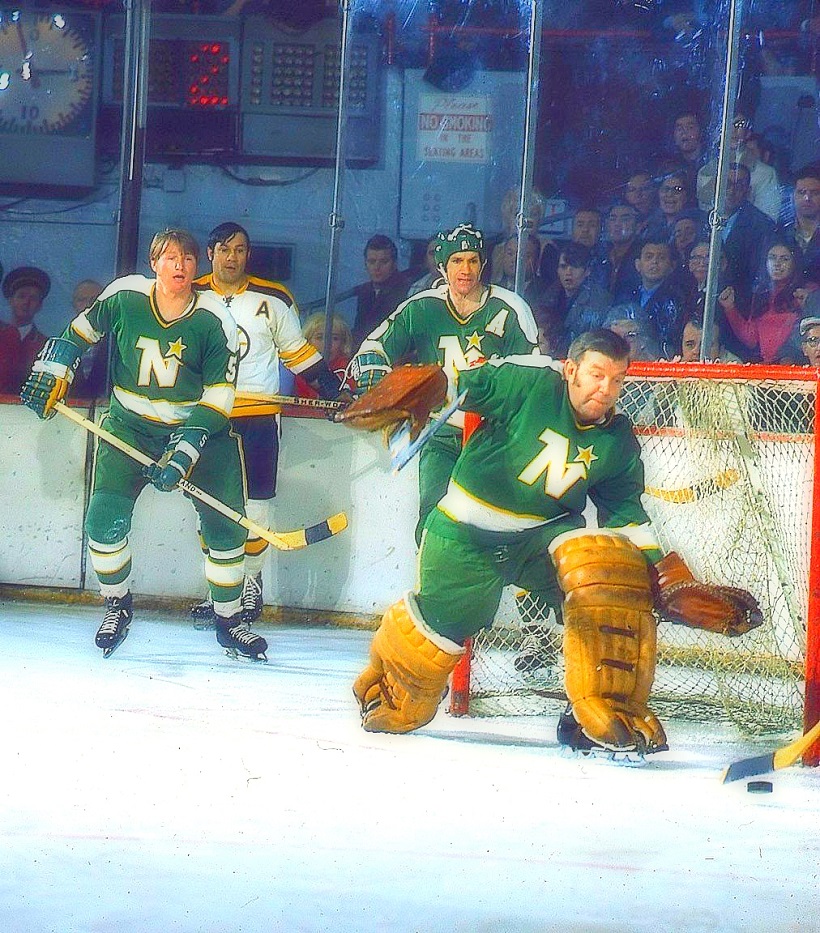 MINNESOTA at BOSTON — 1971–72: GOALIE GUMP WORSLEY ANXIOUSLY WATCHES PUCK WITH NORTH STAR TEAMMATES DENNIS O'BRIEN (NOW 69) AND HELMETED CHARLIE BURNS (NOW 82) IN THE CORNER. BRUINS VETERAN JOHNNY BUCYK (NOW 83) ALSO LOOKS ON.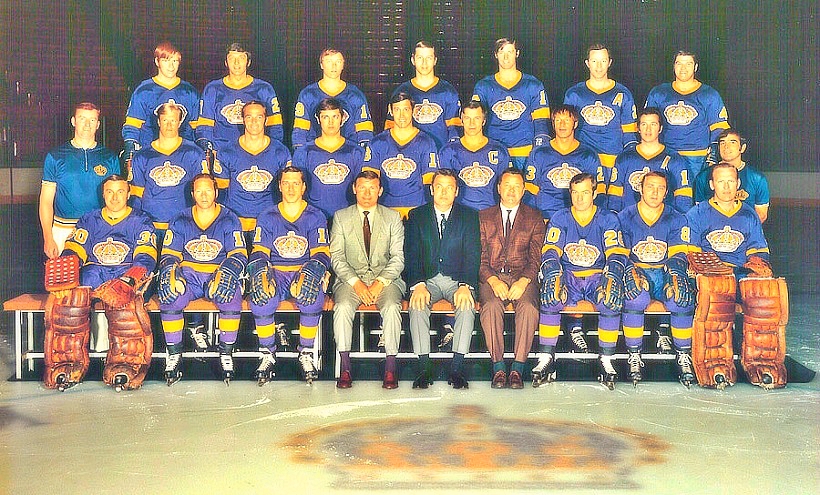 THE 1969–70 LOS ANGELES KINGS HAD A TERRIBLE SEASON: 14–52–10 FOR 38 POINTS — 20 POINTS BEHIND THE NEXT–LOWEST TEAMS, PHILADELPHIA AND OAKLAND. PERHAPS THAT IS WHY GM LARRY REGAN (DARK–BLUE SUIT, FRONT ROW) HAS SUCH AN EXASPERATED LOOK N HIS FACE. AMONG THE NOTABLE PLAYERS ARE EX–LEAF TEAMMATES DICK DUFF (NOW 82) WEARING NO. 20 IN THE FRONT ROW. AND EDDIE SHACK (NOW 81) THIRD–FROM–RIGHT IN THE SECOND ROW.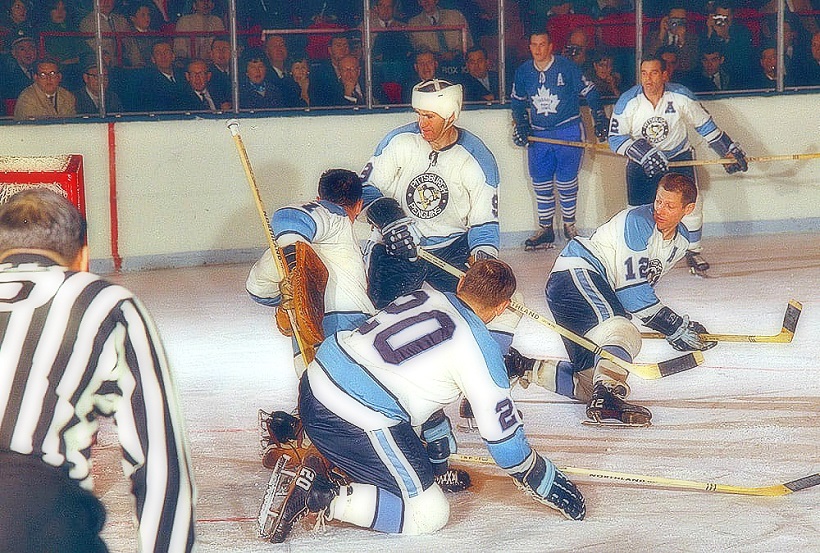 PITTSBURGH at TORONTO — 1968–69: ALL FIVE PENGUINS ARE IN THE VICINITY OF GOALIE JOE DALEY (NOW 75). THEY ARE: CHARLIE BURNS (No. 9); BOB WOYTOWICH (No. 20 — d. July 30, 1988); KEN SCHINKEL (No. 12 — NOW 85) AND LEO BOIVIN (No. 2 — NOW 86). DAVE KEON IS THE ONLY LEAF.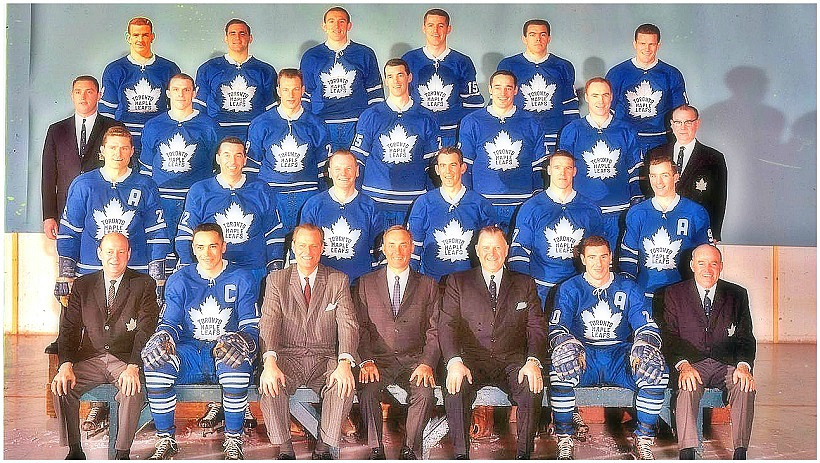 THE 1961–62 TORONTO MAPLE LEAFS WON THE STANLEY CUP FOR THE FIRST TIME IN 11 YEARS, BEGINNING A STREAK OF THREE CONSECUTIVE NHL CHAMPIONSHIPS. FRONT ROW (LEFT–TO–RIGHT): COACH PUNCH IMLACH (d. Dec. 1, 1987); GEORGE ARMSTRONG; JOHN BASSETT (d. Apr. 27, 1998); STAFFORD SMYTHE (d. Oct. 13, 1971); HAROLD BALLARD (d. Apr. 11, 1990); BOB PULFORD (NOW 82); KING CLANCY (d. Nov. 10, 1986). SECOND ROW (LEFT–TO–RIGHT): ALLAN STANLEY (d. Oct. 18, 2013); RON STEWART (d. Mar. 17, 2012); JOHNNY BOWER; DON SIMMONS (d. Sep. 24, 2010); TIM HORTON, DICK DUFF. THIRD ROW (LEFT–TO–RIGHT): TRAINER BOB HAGGERT (d. June 6, 2011); CARL BREWER (d. Aug. 25, 2001); EDDIE SHACK; ED LITZENBERGER (d. Nov. 1, 2010); FRANK MAHOVLICH; RED KELLY (NOW 91); EQUIPMENT MANAGER TOMMY NAYLOR. TOP ROW (LEFT–TO–RIGHT): DAVE KEON, BOB BAUN (NOW 81); BOB NEVIN (NOW 80); BILLY HARRIS (d. Sep. 20, 2001); JOHN MacMILLAN (NOW 82); KENT DOUGLAS.
EMAIL: HOWARDLBERGER@GMAIL.COM