"We're here for a good time, not a long time…
So have a good time, the sun can't shine every day."
— Trooper, 1977
TORONTO (Sep. 30) — Note to fans of the Maple Leafs: As the song goes, be sure to have a "good time". It is all–but certain that your team, as currently comprised, will not be intact for a "long time".
This, of course, is good and bad news. The former will prevail for the National Hockey League season that begins Wednesday night at Scotiabank Arena, with the Montreal Canadiens in town. At no time since 1993–94 has "Maple Leafs" and "Stanley Cup" been deployed so frequently in the same sentence. The '93–94 club — led by Pat Burns and Doug Gilmour; coming off a near–Cup final miss the previous spring — won its first 10 games of the season before finding an appropriate level. The current team, though still devoid of an elite NHL defenseman, has potential firepower unlike any Toronto outfit since the late–1940's. As such, its level is projected as loftily as any in the post–1967 era. But… perhaps not beyond the upcoming season.
Nor should this be a stunning revelation. Two factors are working for and against the Maple Leafs: a trio of splendid first–round draft picks since 2014 and the NHL salary cap. In that order. The celebrated signing of John Tavares in July jeopardizes the Leafs retaining all of William Nylander, Mitch Marner and Auston Matthews past next summer. The Nylander contract stalemate, which threatens to breach Opening Night on Wednesday, is an indication that rookie general manager Kyle Dubas may not move into the 2019–20 season with all three draft gems. And, you can bet the house Marner and Matthews aren't going anywhere. With Tavares under contract at $11 million per season; Marner, Matthews, Jake Gardiner, Kasperi Kapanen, and Andreas Johnsson needing to be re–signed, and Patrick Marleau's $6.25–million stipend guaranteed in its final year, something has to give. Which is surely the reason Dubas is being cautious with Nylander.
A "bridge" contract of two or three years at a lower salary would benefit the Maple Leafs, but Nylander is justifiably looking for a long–term deal — similar to what the club will negotiate with Matthews and Marner. There is always the risk of injury and bridge contracts do not provide a lot of insurance.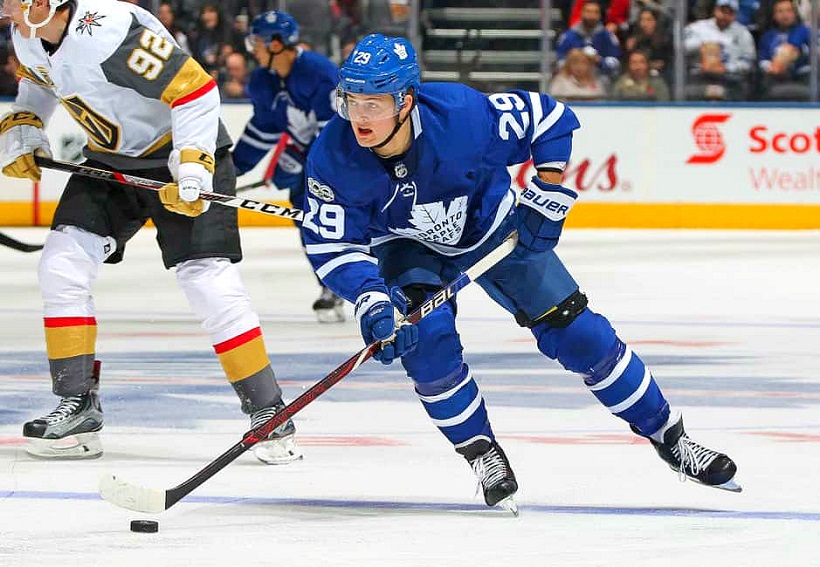 CAN THE LEAFS RETAIN WILLIAM NYLANDER BEYOND THIS SEASON? CLAUS ANDERSEN GETTY IMAGES
The antithesis of a salary cap in the NHL is continuity. A team, such as the Leafs, that excels at the draft and exploits the UFA market, cannot remain undisturbed beyond several years — that period comprising a Stanley Cup "window". Beginning here in town on Wednesday, the Leafs are in their Cup–window prime. It isn't necessarily now or never. But, pretty–darned close. Nor can we iron–clad–guarantee that Nylander will be traded at some point. It is, however, difficult to comprehend the Leafs carrying Tavares, Marner, Matthews, Nylander, Gardiner and Marleau in 2019–20 — all of them past entry–level salary restriction. The NHL no longer allows for such opulence. Contending teams are usually orchestrated around a three–player nucleus (goaltender excluded). Such Stanley Cup winners in the salary–cap era as Washington (Alex Ovechkin–Evgeni Kuznezov–John Carlson); Chicago (Patrick Kane–Jonathan Toews–Duncan Keith); Los Angeles (Anze Kopitar–Jeff Carter–Drew Doughty) and Detroit (Pavel Datsyuk–Henrik Zetterberg–Nicklas Lidstrom) have deployed a two–forward, one–defenseman core. The Leafs are built more around the Pittsburgh model of skill up front (Evgeni Malkin–Sidney Crosby–Phil Kessel). Both have prevailed since 2005.
Without a doubt, Toronto's three–player nucleus beyond the coming season will be Tavares, Matthews and Marner — swallowing upward of $27 million in cap space. The current cap limit of $79.5 million per team (and pending labor uncertainty in the next couple of years) allows roughly $50 million for the remaining 20 roster positions. Though Stanley Cup challengers are typically front–loaded, the gap between first and fourth–tier personnel cannot be enormous. Otherwise, roster balance comes into question. This is the principal challenge awaiting Dubas. And, why the current Maple Leafs aren't likely to be the future Leafs.
As for the 2018–19 season, the sky appears to be the limit. Never in the post–expansion era (after 1967) has Toronto carried as much skill and depth at the center and wing positions; potentially more if Kapanen and Johnsson blossom as goal–scorers. This is the route the Leafs are taking — at the notable expense of a Norris Trophy type on the blue line. It comes with obvious risk, but the club selected forwards at the top of the draft in 2014, 2015 and 2016. Add in Tavares and the Leafs are unavoidably more powerful up front.
Toronto's place in the Atlantic Division is both a blessing and a curse. While the Leafs should accumulate points against Detroit, Montreal, Ottawa and Buffalo this season, a berth in the Eastern Conference final will necessitate the un–seating of Tampa Bay and Boston. The Lightning, in particular, provides a threat with its gifted and balanced nucleus of Steven Stamkos, Nikita Kucherov and Victor Hedman (the NHL's top defenseman). The Bruins are getting older, yet they still match up well against Toronto. Especially in April.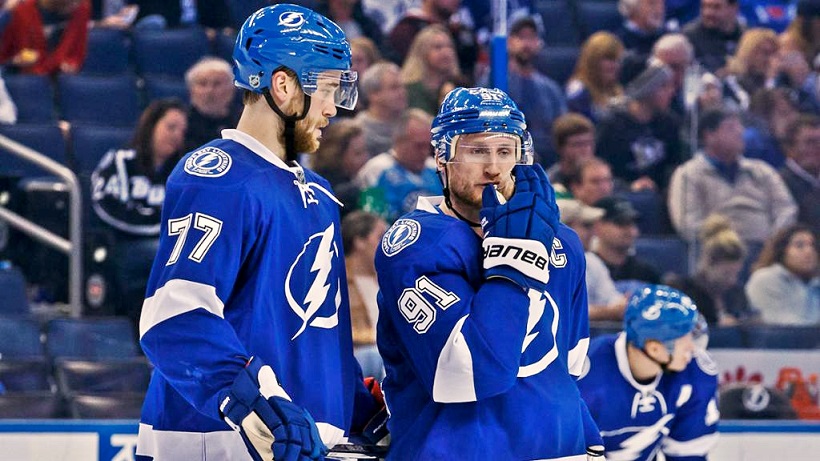 TORONTO'S MOST–NOTABLE STANLEY CUP THREAT MAY COME FROM WITHIN THE ATLANTIC DIVISION — VICTOR HEDMAN (77), STEVEN STAMKOS AND THE WELL–BALANCED TAMPA BAY LIGHTNING.
As I've written on several occasions, the key to the Maple Leafs advancing beyond the opening playoff round is between the pipes. And, I firmly contend that Frederik Andersen has been over–extended by Mike Babcock the past two seasons. If the Leafs continue to allow close to the league–high in shots on goal — and Babcock insists on deploying Andersen, once again, in 65–plus games — the Stanley Cup drought will continue. The Leafs No. 1 goalie must be able to withstand four grueling rounds of competition between April and June. Which likely cannot happen with such an extensive workload in the regular season.
Whatever transpires, this will be among the most–enjoyable and entertaining Leaf teams of recent ilk. With momentum, relative health and sound coaching strategy, a lengthy playoff run looms large.
LEAFS WILL FINISH: 51–24–7 — 109 points. 2nd in Atlantic Division.
LEAFS LEADING SCORER: Mitch Marner — 29 Goals, 66 Assists, 95 Points.
2019 STANLEY CUP PREDICTION: Tampa Bay over San Jose.
EMAIL: HOWARDLBERGER@GMAIL.COM