TORONTO (Oct. 29) — So, it's official… and not at all surprising: Auston Matthews, according to the Maple Leafs, will be sidelined "a minimum four weeks" with the left–shoulder injury he sustained when side–checked, on Saturday night, by Jacob Trouba of the Winnipeg Jets. Whenever the Leafs say "minimum four weeks" we can add on at least one more; probably two. As such, we won't likely see No. 34 back in uniform until the first week of December. Which, indeed, is tough luck for Auston, Mike Babcock and the millions with emotional attachment to the Blue and White. But, inevitable, nonetheless.
Such myopic, Leaf–centric websites as Pension Plan Puppets implored their readers, on the weekend, to "not panic" over Matthews' injury. Another way of hoping for the near–impossible (a minor bruise, perhaps?). Those grounded in reality could see — given the awkward position of Matthews' left shoulder and his grimace of pain as he left the ice — that damage had been inflicted. The injury, of course, plays into strategy for rookie general manager Kyle Dubas. Not with respect to a compensatory trade or capitulation in the William Nylander stalemate. At least, we don't think so (according to TSN's Darren Dreger, there's been virtually no movement in the Leafs vs. Nylander impasse). But, rather, as it pertains to finalizing and strengthening his roster prior to the start of December. It is merely coincidence that the deadline for signing Nylander and the projected return of Matthews come at virtually the same time. And, even if Nylander agrees to a new contract, we justifiably wonder if Dubas can, in fact, pull off a meaningful trade.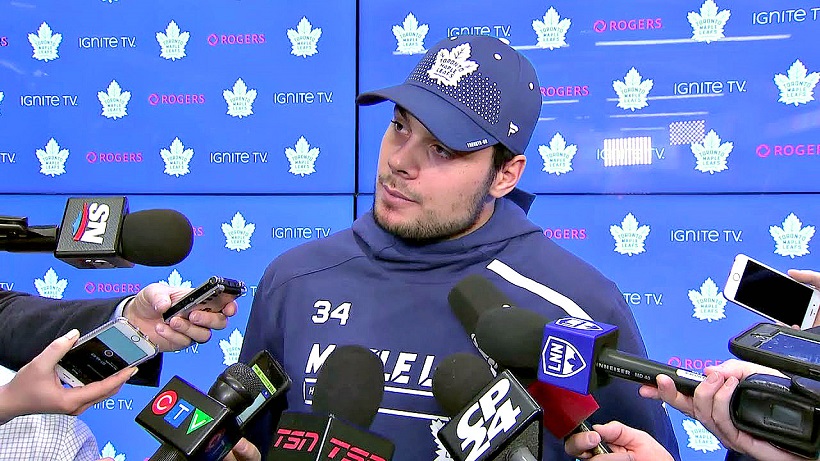 A SUBDUED AUSTON MATTHEWS IS SURROUNDED BY MEDIA AFTER THE LEAFS' MONDAY PRACTICE.
In the immediate hours after John Tavares chose to join the Maple Leafs, there was speculation that Dubas had "promised" the unrestricted free agent he would maintain the club's nucleus; the clear implication being that young Kyle would move heaven and earth to lock down Matthews, Nylander and Mitch Marner long past their entry–level terms. Whether this was a verbal promise — as opposed to (God forbid, Leafs Nation) a decree written into the Tavares contract — isn't known, but it gained validity when president Brendan Shanahan publicly implored his young phenoms to accept home–town discounts. Only then could the Leafs wedge their nucleus into salary–cap constraints. Time, of course, will tell whether or not the draft jewels of 2014–16 succumb to Shanahan's plea. Nylander cannot suit up until he agrees to a post–entry–level pact; neither Marner nor Matthews will be eligible to step on the ice next season before doing the same.
The elephant–in–the–room forever resides behind center–ice, where the Leafs have lacked a Norris Trophy type for the past 40 years. Is Dubas so madly in love with the current group that he's chosen to rest on its laurels, come hell or high water? Or, might he adopt a more resistant path and work toward balancing his roster via the trade market? If doing so contravenes the pledge he made (or put in writing) to Tavares, then what you see is what you get. Tavares, Nylander, Marner and Matthews are here to stay; monetary scraps left over for the other 19 bodies. If, however, Dubas assured Tavares he would barter assets to reinforce the club on both sides of the center–red line (a more responsible and reasonable tack), then possibility abounds.
My ol' pal, Steve Simmons, called himself "crazy" in his weekend Toronto Sun notes–column by proposing a swap that would "never happen" — Nylander and Jake Gardiner to goal–starved Los Angeles in return for Drew Doughty waiving his no–movement clause. If that type of suggestion is "crazy", I've been deranged for the past couple of years. The embarrassment of riches among Toronto forwards screams for a roster–balancing deal. Which can happen only if Dubas is willing to offer up Nylander as the kernel of trade discussion. Few teams in the National Hockey League possess such a gifted "extra". As the season moves along — and rivals are unavoidably weakened by health issues — opportunity will present itself. None of which will matter if Dubas is hell–bent on keeping Nylander and turns a blind–eye toward his rival GM's.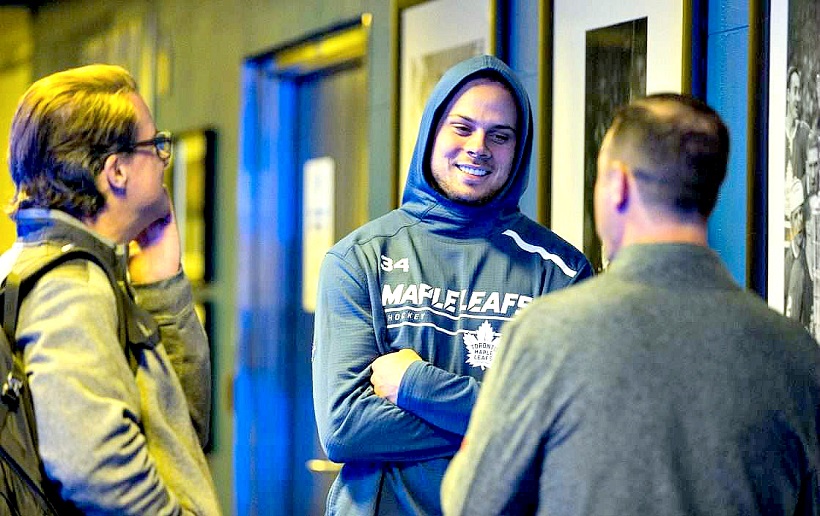 AUSTON SMILES, LATER ON, OUTSIDE THE LEAFS DRESSING ROOM. ERNEST DEROSZUK TORONTO SUN
So, let's see what happens in the land of the Blue and White — whether or not the club is weakened by the loss of Matthews for the next five–odd weeks (Toronto, without Tavares, was 11–7–2 in games Matthews missed a year ago). And, if the lengthy absence of No. 34 somehow alters the Nylander stalemate.
In the bank after 11 games are 16 of 22 available points (8–3–0 record), which should help to cushion the blow of the club skating without its leading scorer. For awhile, anyway.
ROCK–BOTTOM FOR TORONTO?
During the past 50 years, or since I've been old enough to watch and appreciate professional sport, I've seen some really bad teams here in Toronto. I mean pathetically–bad. And, I'm far from alone. But, I'm not certain I've witnessed a club so thoroughly devoid of personnel as the current edition of the Toronto Argonauts.
Say what you wish about the Canadian Football League, but it is a professional circuit with players earning money to perform. Despite the precipitous decline of CFL awareness here in town over the past 15–to–20 years, I still enjoy the product. When reasonably presented. Which it hasn't been at BMO Field throughout the 2018 season. The current Argos (4–13; outscored 536–360, or roughly 32–21 per game) possess only one rival in my years watching the club — the 1981 edition that staggered to a 2–14 mark in 16 games. And, it got me thinking about the worst Toronto professional teams I've observed in half–a–century.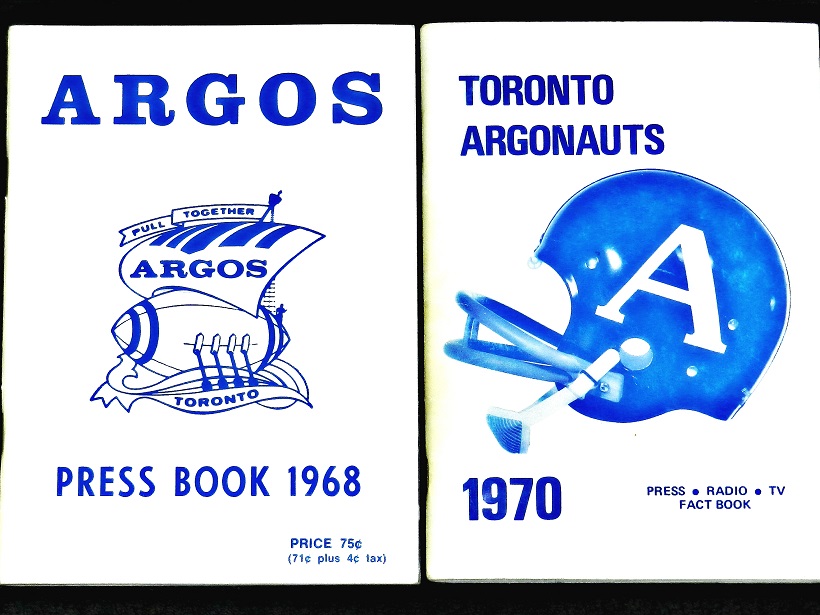 AS A BIG FAN OF THE TORONTO ARGONAUTS THROUGH MUCH OF MY LIFE, I ASSEMBLED A VAST COLLECTION OF MEDIA GUIDES DATING TO THE 1960's. THE 1983 CLUB (BOTTOM–RIGHT) WON THE GREY CUP TO FINALLY END A 31–YEAR CHAMPIONSHIP DROUGHT IN A NINE–TEAM LEAGUE.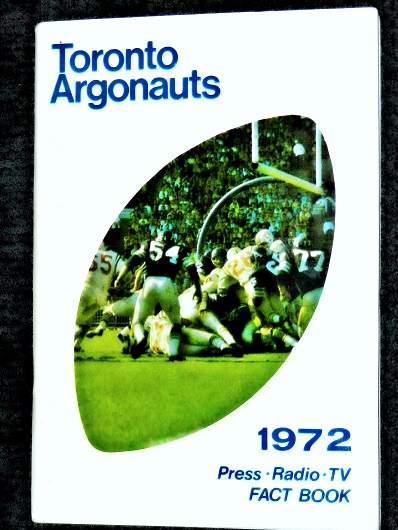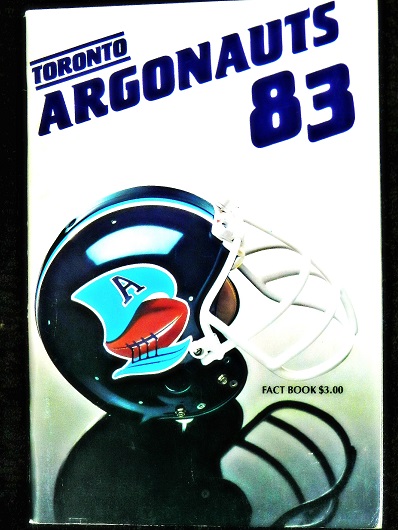 The Leafs have missed the Stanley Cup playoffs 21 times since last winning the NHL title in 1967 — including 10 of 11 post–lockout years between 2005–06 and 2015–16. But, I'll take you back to the team of 1981–82 for the most–laughable group assembled in my years. That club finished 19th in the 21–team NHL with a record of 20–44–16 for 56 points and featured such–household names as Bob Manno, Norm Aubin, Fred Boimistruck, Ron Zanussi, Barry Melrose (yes, that Barry Melrose), Fred Perlini, Paul Marshall, Greg Hotham and Ernie Godden. Though two other teams in the Harold Ballard era earned fewer points — 48 in 1984–85 and 52 in 1987–88 — the '81–82 version, in my memory, tops 'em all. That was the year the Leafs traded Darryl Sittler to Philadelphia for someone named Rich Costello, which prompted Allen Abel of the Globe and Mail to pen a derisive (and brilliant) column entitled "Aubin and Costello".
Indeed, the Maple Leafs of 1981–82 were perversely comical.
As for the worst edition of the Toronto Blue Jays — hatched during my 18th year (1977) — I'll go with the most–recent club. Though past Blue Jay teams had fewer wins, there was something particularly odorous about the 2018 version (73–86). Perhaps it was the sharp franchise decline after consecutive playoff appearance (in 2015 and 2016). Or, that all of the front–line talent (Jose Bautista, Edwin Encarnacion, Josh Donaldson, Roberto Osuna) had disappeared, one way or another. It was just a crappy team to watch — from Opening Day onward — and graphically reflected in average attendance, which fell from 41,878 in 2016 to 29,066 this past season. That nearly 30,000 turned out each day (or night) to view such a dreadful club speaks loudly about baseball passion in Toronto.
EMAIL: HOWARDLBERGER@GMAIL.COM