TORONTO (Oct. 30) — It was like watching the re–run of an old Honeymooners episode, minus the comedy. I've seen the Classic 39 installments from 1954 so often, I can mouth the gut–splitting dialogue between Jackie Gleason and Art Carney. And, I howl with laughter each time. So, too, have I watched the "movie" that unfolded on Monday night at Scotiabank Arena. Perhaps also to be anticipated… only not with this team? A club possessing speed, skill and firepower unequaled in the modern history of the Toronto Maple Leafs.
I ask you, then: Why have the 2018–19 Leafs — with or without Auston Matthews — appeared so lethargic; so apathetic; so profoundly disinterested in their first seven home games? Though nonsensical, it's almost as if the players have concluded that patrons anteing up the most–expensive ticket of any crowd in the National Hockey League are unworthy of toil. Effort comes in spurts; usually with a one or two–man advantage, and after long stretches of inexplicable detachment. Trailing the Calgary Flames, 2–0, on Monday, the Leafs did not record a third–period shot on goal until 14 minutes and 25 seconds had elapsed. Mike Smith — perhaps surprisingly — was still awake and alert at the west end of the somnolent arena.
Of course, this is hardly an unfamiliar development. That the Leafs are 5–0–0 on the road and 3–4–0 at home early in the season should bewilder only those oblivious to the annals of the Blue and White. For decades, hockey zealots around here have wondered why their troops are so–easily manageable in the friendly confines — be it at Maple Leaf Gardens or the re–named Air Canada Centre. Heck, even at the old Mutual Street Arena, forerunner to the Gardens, the Leafs were a middling 19–18–7 in their first two seasons: 1926–27 and 1927–28. Must be something about the downtown air. Perhaps they should build an arena in the expanse of Downsview Park. Or, as frequently proposed, up in Markham, northeast of the city.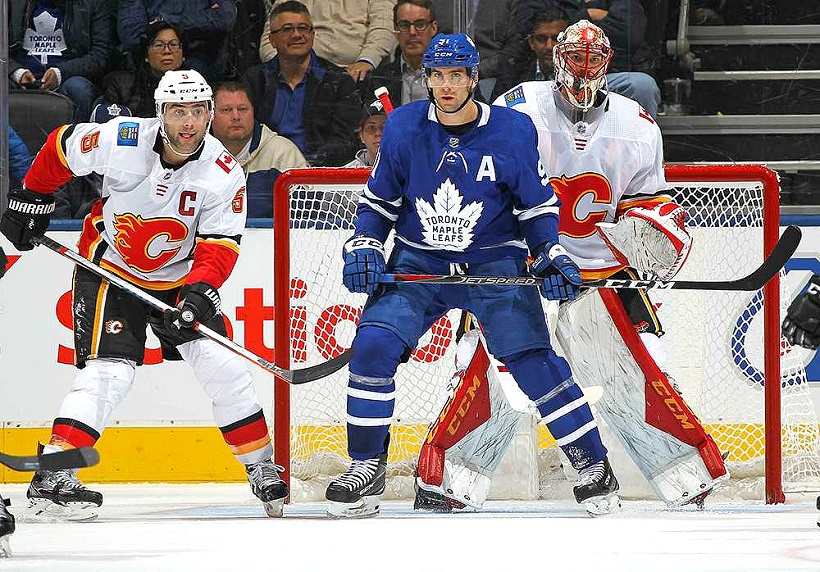 THE CALGARY FLAMES RECEIVED MINIMAL PUSH–BACK FROM JOHN TAVARES AND THE LEAFS MONDAY AT SCOTIABANK ARENA, CONTINUING AN EARLY–SEASON PATTERN. CLAUS ANDERSEN GETTY IMAGES
Used to be — or so went the bromide — that Toronto players were victimized by opponents strung out on Dopamine; boys from the city and nearby towns jacked up to perform well in front of neighbors, relatives and those watching across the land on Hockey Night In Canada. That banality endured for decades. So, what's the excuse today? That friends and family in Sweden, Finland, Russia and the Czech Republic need to be awarded for staying up in the middle of the night to watch games from Toronto? How many future Hall–of–Fame forwards must the Maple Leafs assemble at one time to derive energy and effort in front of paying customers that occupy every nook of the home lair? None of these questions are unreasonable. Or original.
Blaming the coach may sound appropriate, but how can so many people get it wrong? Mike Babcock stands, vicariously, alongside Randy Carlyle, Ron Wilson, Paul Maurice, Pat Quinn, Pat Burns, Dan Maloney, Roger Neilson, Red Kelly and others; all of whom, at one time or another, have failed to arouse the troops. The current squad — with Matthews, John Tavares, Mitch Marner, Nazem Kadri, Morgan Rielly and Jake Gardiner — should be able to go half–speed and out–maneuver the opposition. Why the club chooses to go no–speed for long periods on home ice is enigmatic beyond reason. And, thoroughly unfair to the Scotiabank patrons.
EMAIL: HOWARDLBERGER@GMAIL.COM