TORONTO (Oct. 20) — Nazem Kadri is not only a reliable goal–scorer and one of the National Hockey League's most–personable young men, but he ranks among the truly important figures in Toronto Maple Leafs history. Given the multicultural city in which he plays, Kadri's heritage can neither be neglected nor overstated. He became, in 2009, the first Muslim to be drafted by the Leafs and he carries that enormous flag with pride. While scoring 32 goals in each of the past two seasons, he evolved into a No. 1–caliber center — equal parts blessing and curse, for he cannot, now, rank higher than No. 3 with the Blue and White.
This, of course, is hardly a bulletin… to Kadri, the Leafs, the media and the club's legion of fans. With Auston Matthews in the fold — and when John Tavares chose to leave the New York Islanders as an unrestricted free agent — Kadri unavoidably became the most–prolific third–line center in the NHL. And, therein lies the issue. On a handful of rival teams, Nazem would be a No. 1 pivot; No. 2 on at least half the clubs in the league. Here in the Big Smoke, he garners less playing time than his skill warrants. And though he is somewhat bedeviled with the puck early in the season, neither can the seven–year veteran — through any personal fault — expect to match his previous goal and point totals. Not here. Not anymore.
That Kadri is goal–less in the first eight games of the schedule became a hot topic after practice on Friday at MasterCard Centre. Typically, there were no excuses from No. 43 — as honest and candid as any player the Leafs have deployed in the new millennium. Naz is a breath of fresh air for reporters amid the usual staleness and detachment of today's hockey heroes. Personality is frowned upon by agents and most general managers (Kyle Dubas included). Kadri, by comparison, has been himself from the first time he pulled on a Maple Leafs jersey. Ask him a question, you'll receive a blunt reply… and always on the record.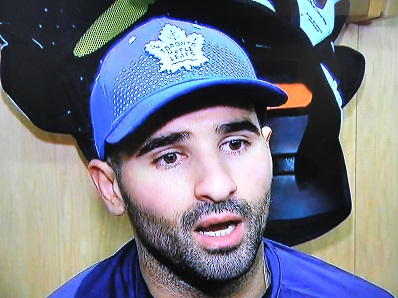 Kadri has begun the season on a line between Connor Brown and rookie Par Lindholm. Those in the Toronto media that cheer for the Leafs will tell you that as soon as the beloved William Nylander signs — providing a trickle–down effect among forwards — Kadri's goal and point opportunities will flourish. Which may, in fact, be true. Otherwise, ol' Naz is something of a wasted commodity with the Blue and White. He still performs more aggressively than almost all of his teammates and therefore offers a superb blend of attributes. He is also an economic Godsend for the hockey club, under contract at a manageable $4.5 million through the 2021–22 season. As well, Kadri provides inestimable injury–depth at the key middle spot, should one of Matthews or Tavares be sidelined. All of which has likely has precluded Dubas from considering trade inquiries. To this point, anyway. But, it sure doesn't do much for the player in question.
Though you won't hear a peep from Kadri, not many 32–goal scorers in the NHL are logging third–line minutes; his spot on the No. 1 powerplay unit (with Matthews, Tavares, Mitch Marner and Morgan Rielly) notwithstanding. Imagine, for example, how Naz might look with the Arizona Coyotes, who wouldn't score in the Playboy Mansion (eight goals in six games thus far; 208 last season was 30th in the NHL). Of course, other than defenseman Oliver Ekman–Larsson — under contract for eight years (beginning next season) at an $8.25–million cap hit — which Coyotes' player would the Leafs possibly desire for Kadri? The Los Angeles Kings are similarly challenged in the offensive zone, but also not much of a trade partner for Toronto. Drew Doughty isn't going anywhere. Veteran defenseman Alec Martinez, 31, has a ton of playoff experience (and a Stanley Cup–winning overtime goal in 2014). His cap–hit is a marginal $4 million through 2020–21. But, the Kings would need to add at least a second–round draft choice in any–such dialogue for Kadri.
This situation could change when Nylander returns.
Though he's played mostly wing for Toronto in his first two seasons, the talented Swede is a natural center. Were I given the choice of trading either Kadri or Nylander to strengthen the blue line, it wouldn't be difficult. Nylander is likely capable of scoring more goals, but Kadri is ten–fold the competitor.
Which is why I claim that the Leafs, at the moment, are perfectly–suited beyond center ice.
A DANGLING REMARK: My favorite Maple Leafs beat–writer is the informative Terry Koshan of the Toronto Sun, who observes the team with balance yet is unafraid to offer criticism, when warranted. Perhaps that is why Terry confused me — and left me wanting more — with a comment he made in the newspaper after the Leafs were blanked by Pittsburgh on Thursday night. Koshan wrote: Good on Leafs general manager Kyle Dubas to make a trip to Zurich to meet face–to–face with William Nylander in an attempt to spur contract negotiations. And, if part of the reason behind the trip was to assuage any fears that Nylander might be traded, all the better for Dubas to make that heard. Interestingly, Terry failed to include why he feels that way. Does he believe the club cannot prevail without Nylander? Does he think there are no viable trade matches among the other 30 NHL teams? Or, does Terry just enjoy watching (and covering) the young forward? It would have been nice to know. Were I writing that story for the local tabloid, my take would have been altogether different. Dubas, as I view it, had the right to warn Nylander that he'll pursue every workable trade option — and increasingly so as it gets closer to the Dec. 1 deadline for the player to suit up this season. "Get your arse back in Toronto and sign our (reasonable) offer, or you'll likely end up with a far–inferior opponent," would have been my message to Nylander. In fairness to Koshan, his line of thinking is rather common. Most in the media are worried that Dubas may hurt Nylander's feelings.
Which, if true, is absolute hogwash.

NOT AT ALL SURE WHY KYLE DUBAS WOULD HAVE GONE TO SWITZERLAND THIS WEEK AND MADE "NICE" TO WILLIAM NYLANDER. MORE THAN EVER IN RECENT YEARS, THE LEAFS ARE INTENT ON COMPETING FOR THE STANLEY CUP. WITH THE DEC. 1 SIGNING DEADLINE CREEPING UP, DUBAS NEEDS TO KNOW — FAIRLY SOON — WHETHER NYLANDER WILL BE PART OF THAT EFFORT. AND, EVEN IF NYLANDER RETURNS, WHY WOULDN'T THE TORONTO GM EXPLORE TRADE OPTIONS WITH RIVAL TEAMS IN ORDER TO UPGRADE HIS DEFENSE CORPS? THOSE THAT ARE MARRIED TO YOUNG WILLIE — INCLUDING MANY IN THE LOCAL MEDIA — CONFUSE ME. TORONTO STAR PHOTO
EARLY SEASON 1968–69
Maple Leaf Gardens

In my memorabilia collection are the first two Saturday night programs from Maple Leafs Gardens in the 1968–69 NHL season — 50 years ago this week. The Leafs lost, 3–1, to Chicago (Oct. 19) and defeated Boston, 2–0 (Oct. 26). The line–ups, stories and several magazine advertisements are presented here: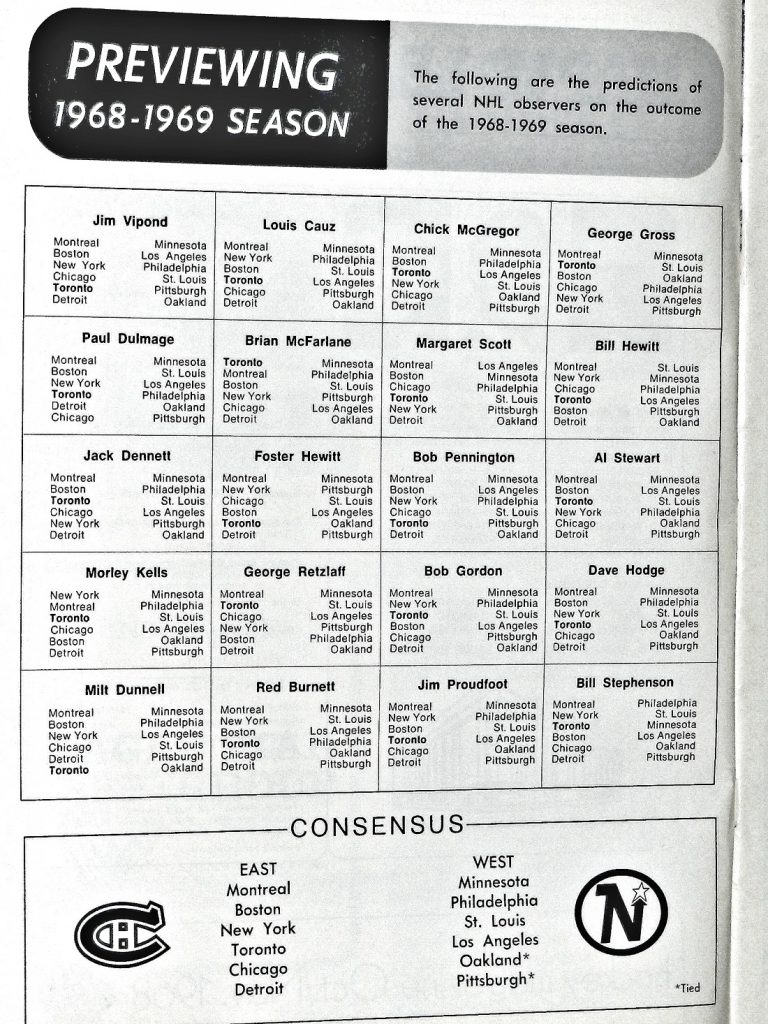 MONTREAL AND ST. LOUIS WOUND UP PLAYING FOR THE 1969 STANLEY CUP.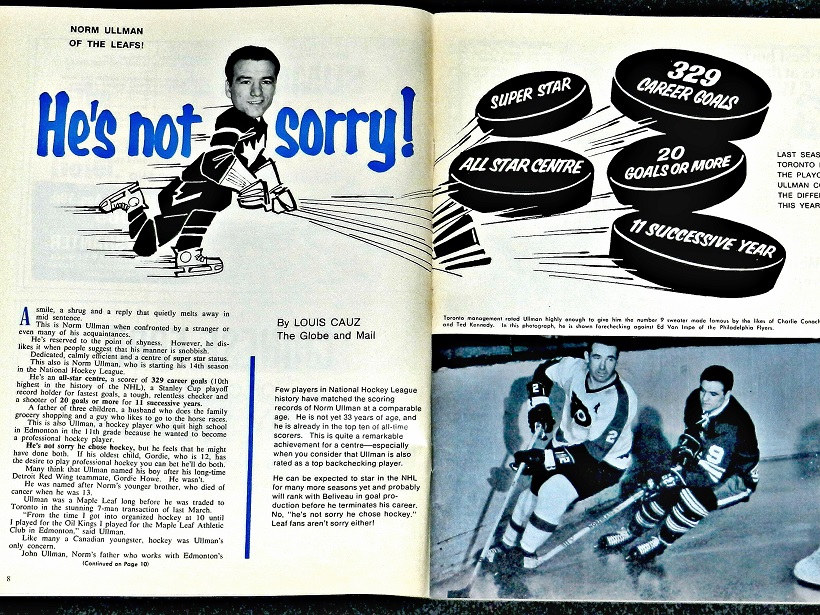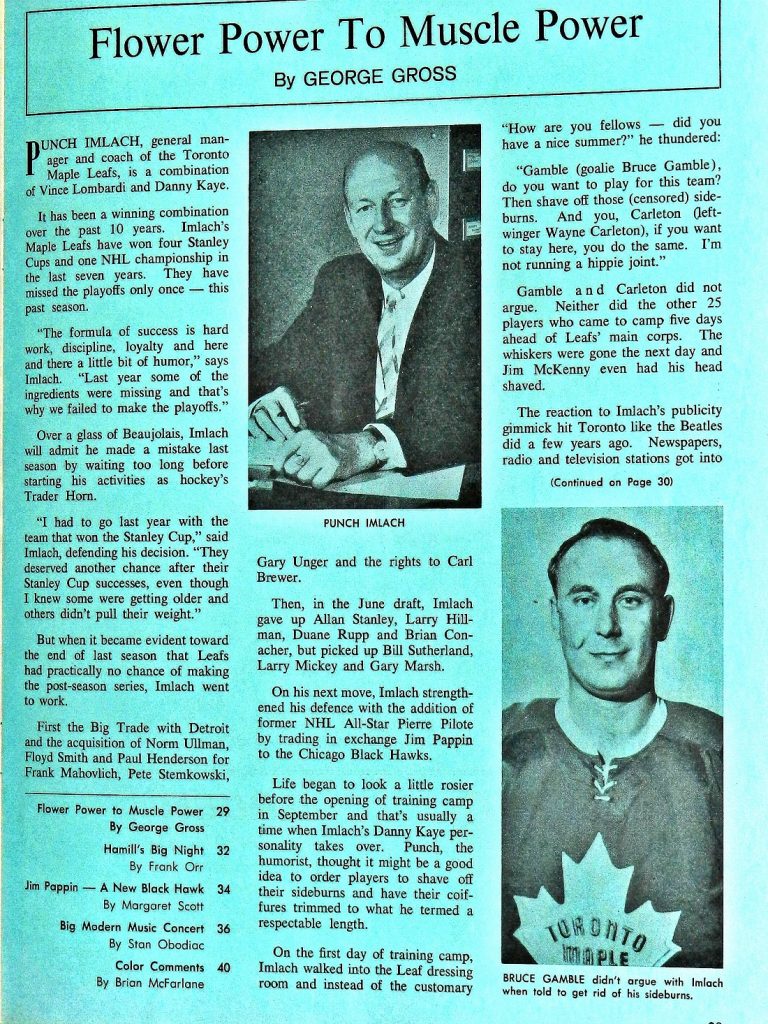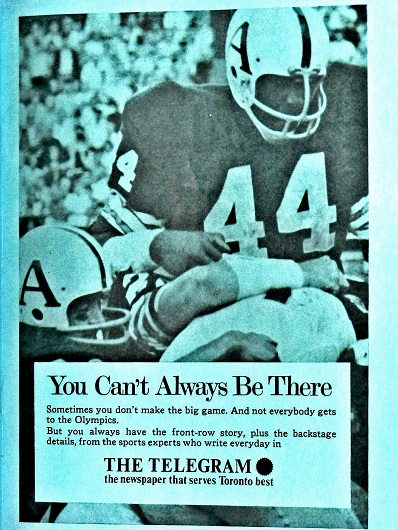 ALMOST NEVER, IN THE LATE–60's, WOULD A REGULAR–SEASON GAME FROM OUTSIDE OF TORONTO OR MONTREAL BE SHOWN ON HOCKEY NIGHT IN CANADA. THE LEAFS, HOWEVER, DID NOT PLAY ON THE FIRST SATURDAY OF THE SEASON (OCT. 12) AND CBC SHOWED MONTREAL AT PITTSBURGH (TOP–RIGHT, A 1–1 TIE). THE '68 "SUMMER" OLYMPICS IN MEXICO CITY WERE UNDERWAY AT THE TIME.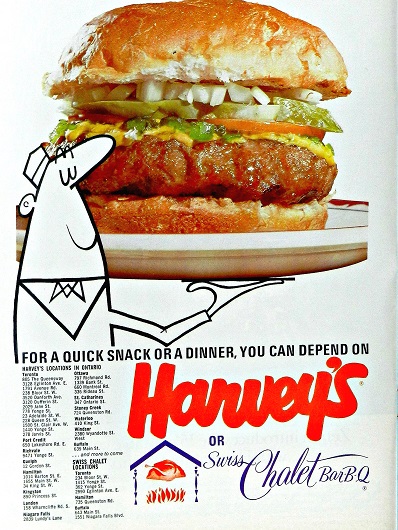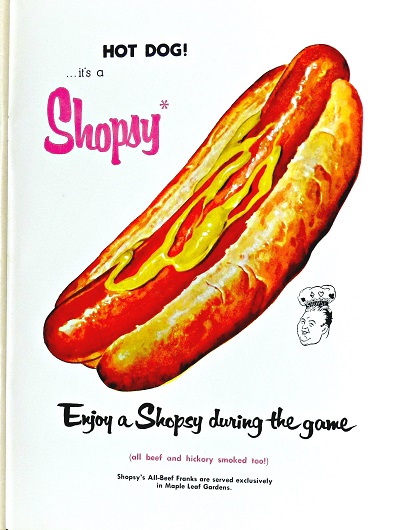 I USED TO DROOL OVER THE HAMBURGER AD (TOP–LEFT) IN THE GARDENS' PROGRAM.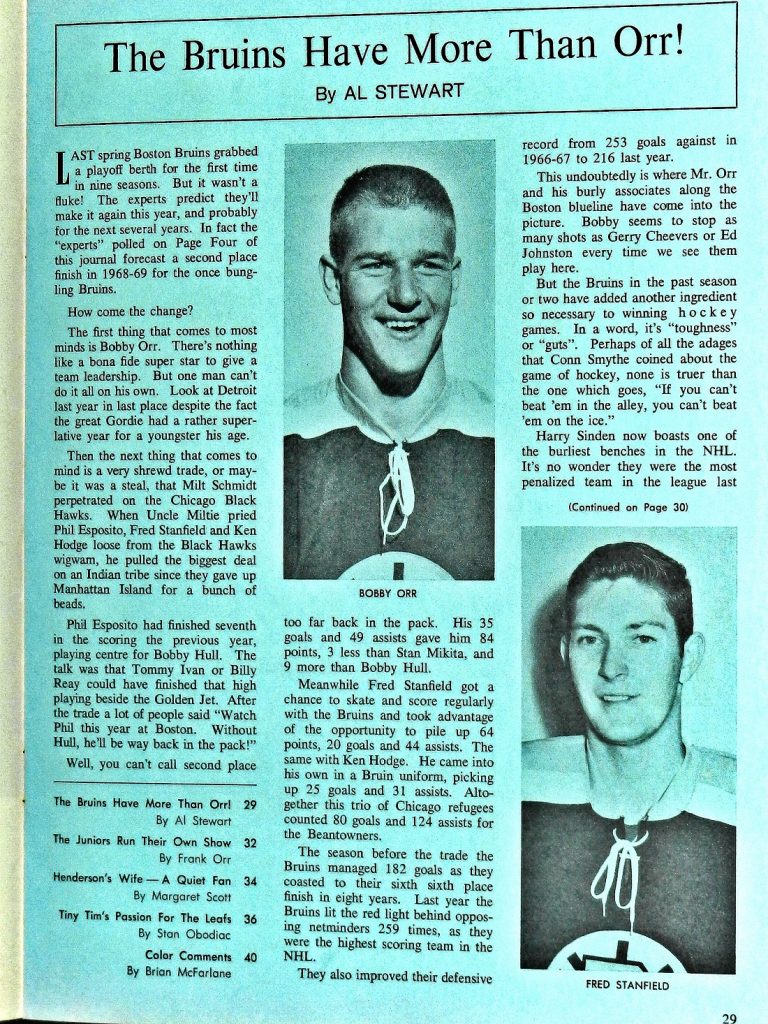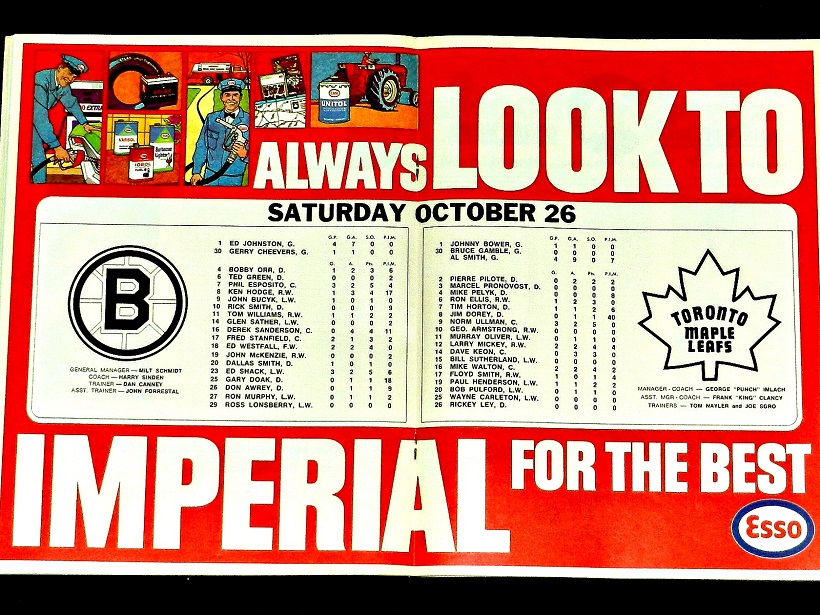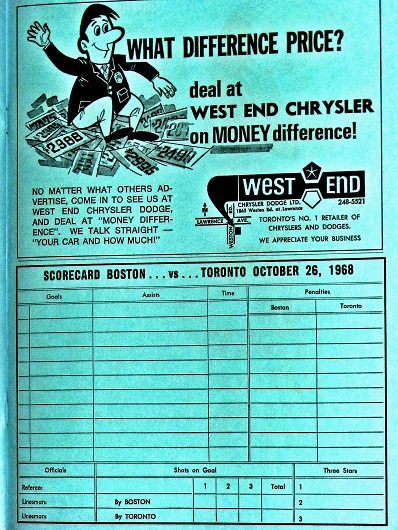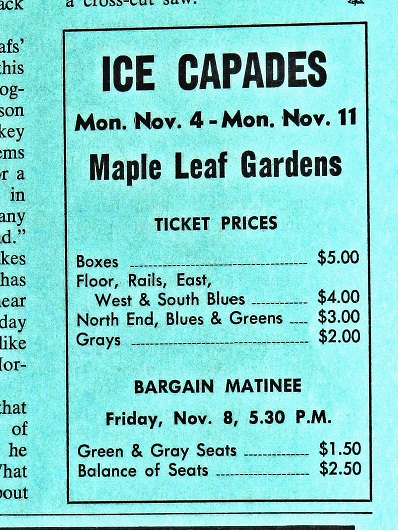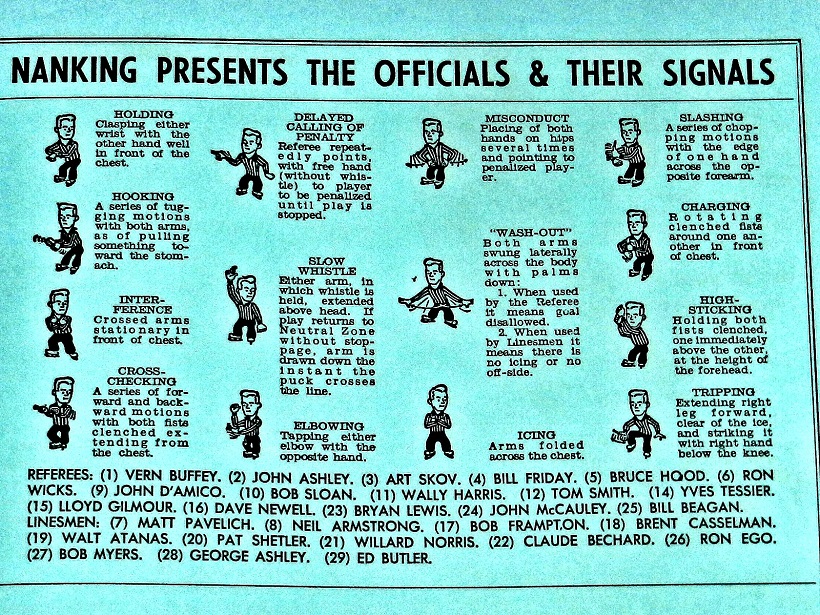 EMAIL: HOWARDLBERGER@GMAIL.COM