TORONTO (Oct. 16) — Whether it happens this season or next summer, I maintain the Leafs will have to trade one of their Big 3 draft gems of 2014–16. And, it ain't gonna be Mitch Marner or Auston Matthews. By process of elimination, therefore, William Nylander is the likely choice… and would have been regardless of the ongoing stalemate with general manager Kyle Dubas. Young Willie signing a "bridge" or long–term contract here is largely irrelevant. Toronto can upgrade its blue line by dealing from a position of strength.
The early–season (and unsurprising) emergence of Kasperi Kapanen as a sound fit alongside Matthews and Patrick Marleau has likely enabled Dubas to envision trade scenarios involving Nylander. Though Dubas has said he will not peddle the absent winger, common sense dictates the GM is looking at every alternative to balance his roster. With that in mind, could there be a more conspicuous trade partner than the Nashville Predators, a Western Conference adversary as loaded behind center ice as the Maple Leafs are up front?
Though it's a minuscule sample–size of less than two weeks, Toronto and Nashville are one–two in the overall National Hockey League standings after Monday night — the Leafs with 12 points; the Predators 10. As a likely precursor to the entire season, Toronto's goals–for/goals–against split after seven games is 33/23. Nashville is 19/12 after six matches. It shows, as anticipated, the Maple Leafs are prolific; the Predators stingy. Toronto and Nashville could therefore negotiate a "hockey" trade that is also financially prudent.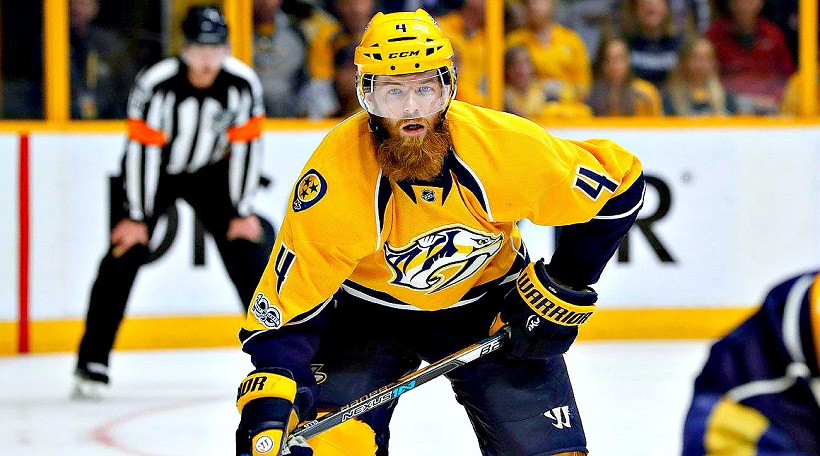 DEFENSEMAN RYAN ELLIS OF THE NASHVILLE PREDATORS. SPORTS ILLUSTRATED PHOTO
Were this to happen, for the sake of argument, prior to the Dec. 1 deadline for Nylander to sign a contract, which players might David Poile part with? Just as the Leafs will not trade Matthews or Marner, neither will the Predators unload Roman Josi or P.K. Subban. That leaves Mattias Ekholm and Ryan Ellis among blue–liners Toronto would consider. Both are relatively young (Ekholm 28; Ellis 27) and poised. Ellis, however, is a right–handed shot who scored 16 goals for the Predators two seasons ago. What a remarkable upgrade he would be as a defense partner for Morgan Rielly (even if the plodding Ron Hainsey is performing rather well in the first couple of weeks). A Toronto blue line of Rielly, Ellis, Jake Gardiner, Nikita Zaitsev, Travis Dermott, Hainsey and Igor Ozhiganov would splendidly balance the Matthews–Marner–John Tavares triumvirate.
Fans of the Maple Leafs might argue that Nylander — potentially a 40–goal shooter — is worth more than a blue–liner with a career–best 38 points (in 2016–17). But, remember, Ellis plays on a defense–first club in Nashville and has not been surrounded by the ethereal skill of the current Leaf forwards. His numbers would surely rise in a Toronto jersey. Nylander would provide the Predators a gifted natural scorer and a 5½–year age advantage. Financially, it could be a near saw–off. Ellis is under contract through 2024–25 at a $6.25–million cap hit (beginning next season). Nylander is reportedly asking the Maple Leafs for $8 million annually in a multi–year arrangement, but will almost–surely have to settle for a figure much closer to Ellis.
So, why wouldn't Dubas and Poile contemplate such a deal? It would improve both clubs and set neither back monetarily. I'd be rather surprised if the two GM's haven't held at least cursory dialogue.
DOREY'S WILD DEBUT
50 Years Ago — Maple Leaf Gardens
Pittsburgh at Toronto: Oct. 16, 1968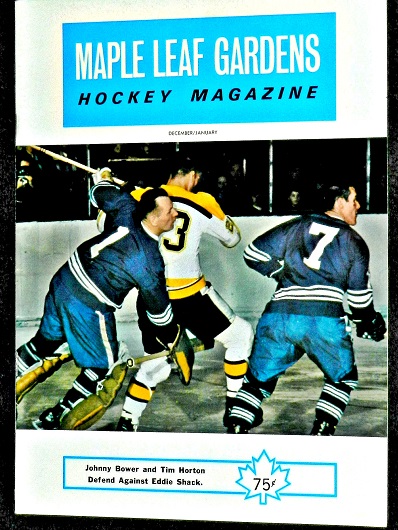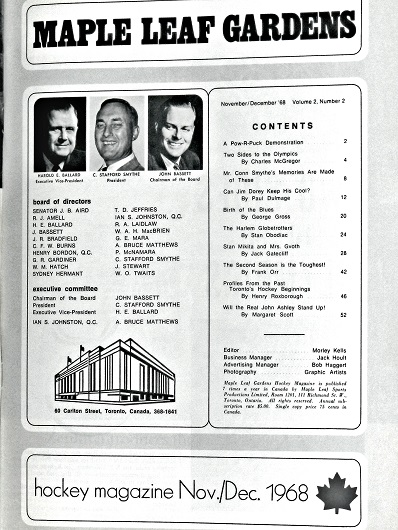 The Maple Leafs home opener of the 1968–69 season is still legendary for perhaps the greatest tantrum — and ensuing melee — in modern franchise history. It was 50 years ago (Oct. 16, 1968) that the Leafs played their first of 38 home games in '68–69. The Pittsburgh Penguins, in their second NHL season, provided the opposition three nights after Toronto had begun its schedule with a 2–1 victory at Detroit. The Maple Leafs–Penguins match ended in a 2–2 draw, yet no one, afterward, was talking about the final score. Instead, the topic was Toronto's rookie defenseman, Jim Dorey, and the NHL records (nine penalties; 48 penalty minutes) he compiled while touching off a bench–emptying brawl late in the second period.
The Maple Leaf Gardens hockey magazine of November/December 1968 (above and below) featured an article on Dorey's outburst against Pittsburgh — by Paul Dulmage of the old Toronto Telegram: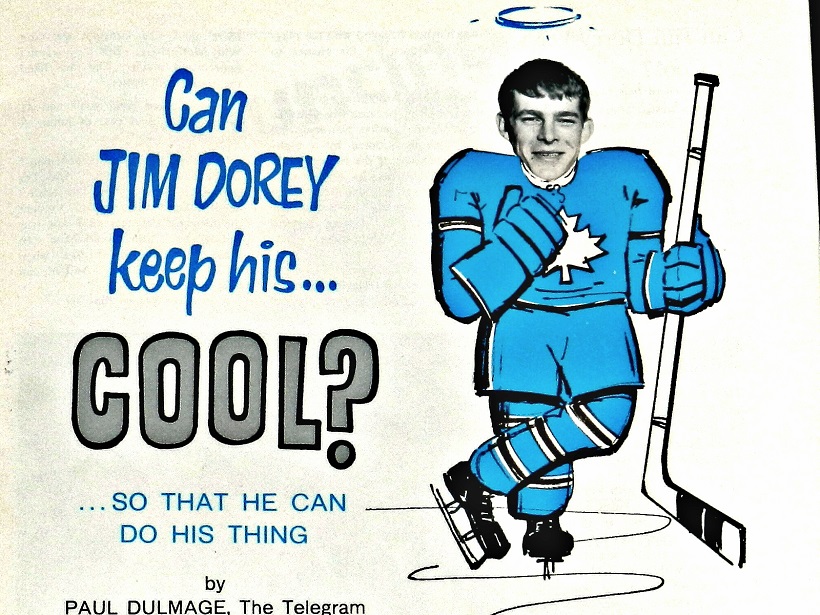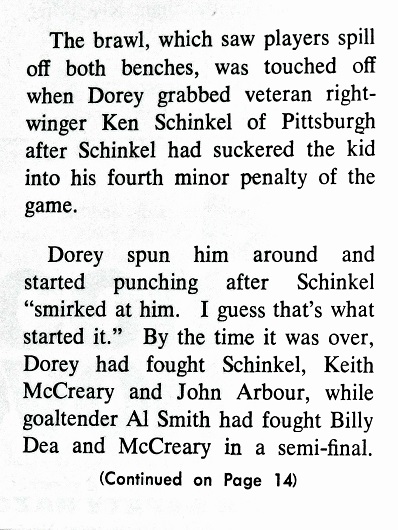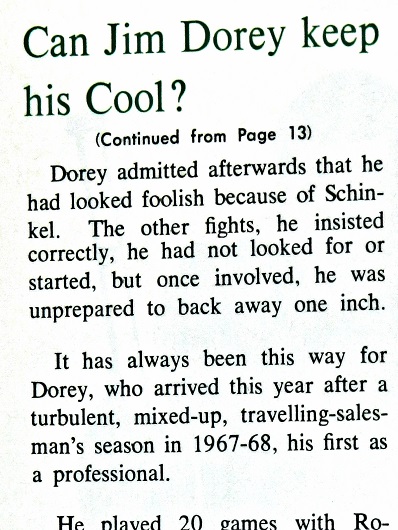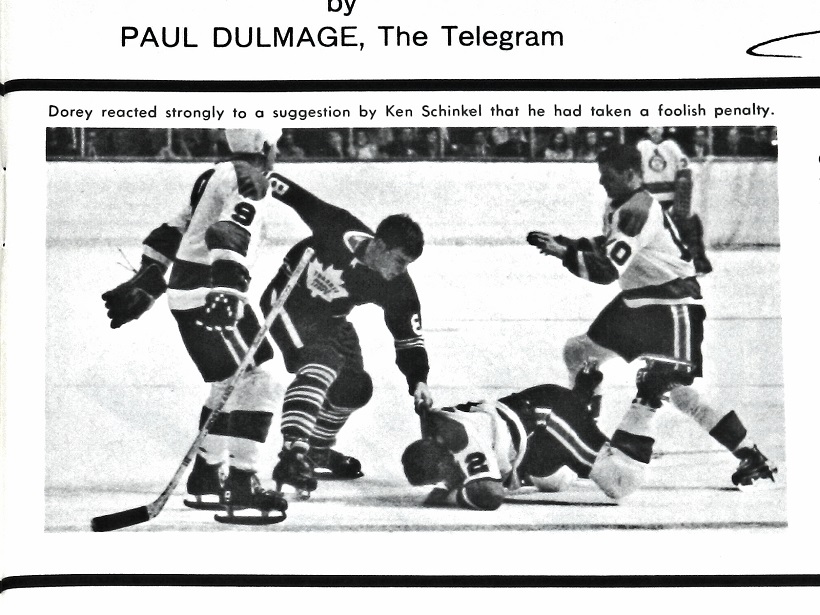 DOREY WAS STANDING IN THE BACKGROUND (MIDDLE, NEXT TO LINESMAN MATT PAVELICH) AS THE BRAWL HE SPARKED CONTINUED BETWEEN THE LEAFS AND PENGUINS. TORONTO PLAYERS (LEFT–TO–RIGHT) WERE MURRAY OLIVER, BRUCE GAMBLE (30), AL SMITH (1), PAUL HENDERSON, MIKE WALTON (16) AND FLOYD SMITH (BEAR–HUGGING NOEL PRICE OF PITTSBURGH FROM BEHIND).
IN THEIR WORDS
Chapter 9 of a book I wrote (below) in 1994 for Warwick Publishing detailed the Toronto–Pittsburgh war of Oct. 16, 1968 in the words of the players that took part: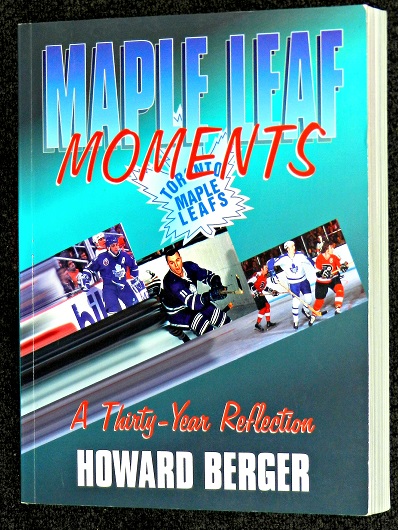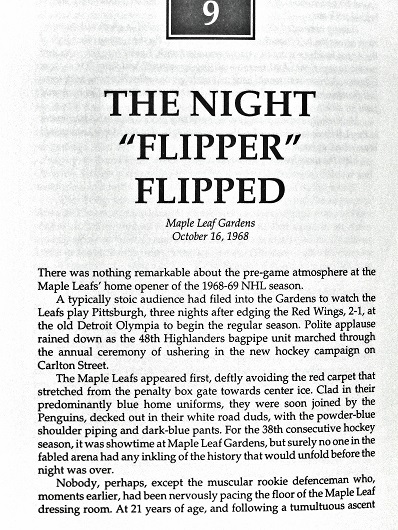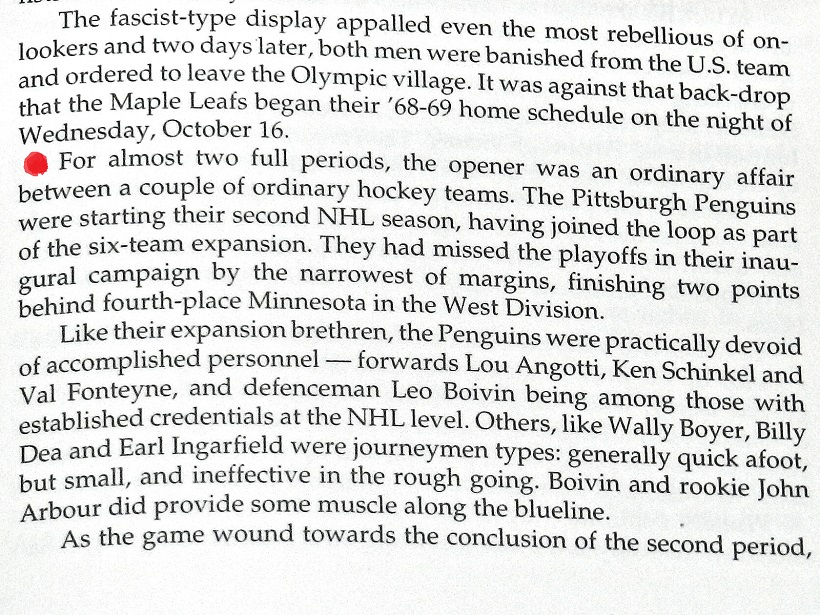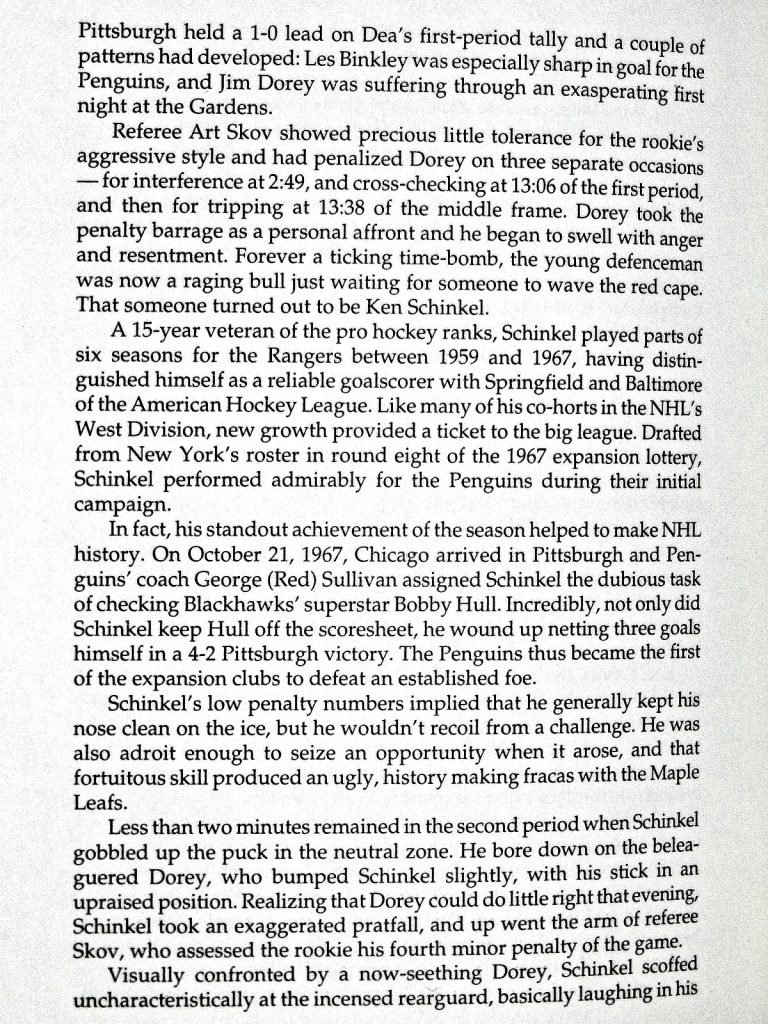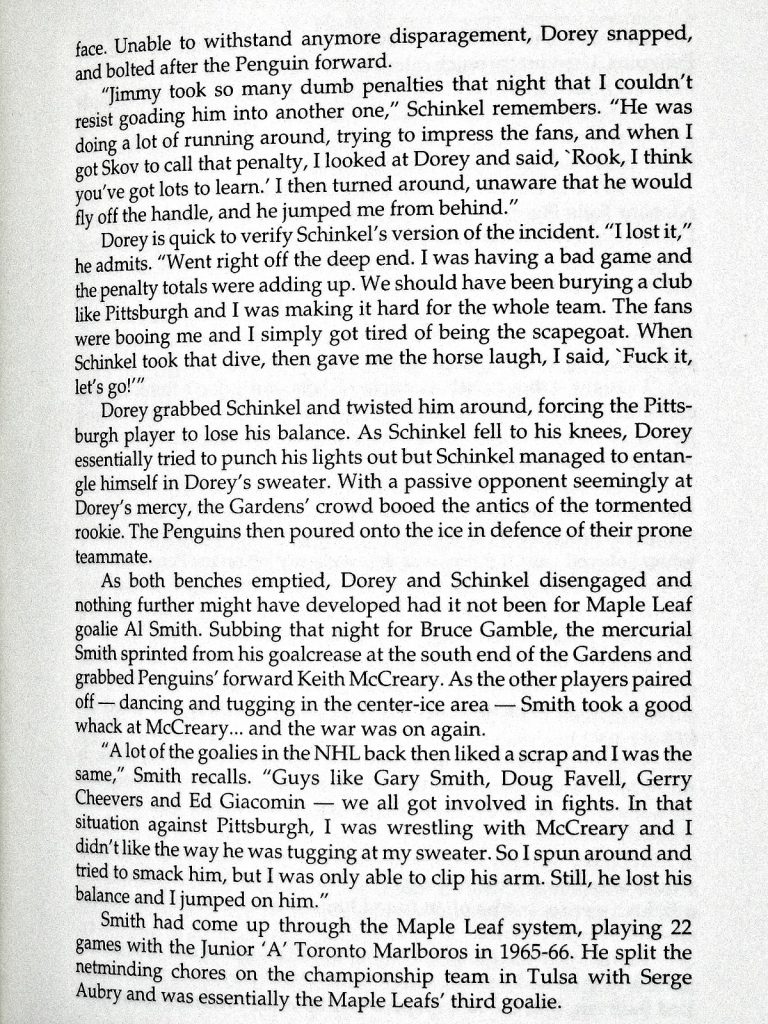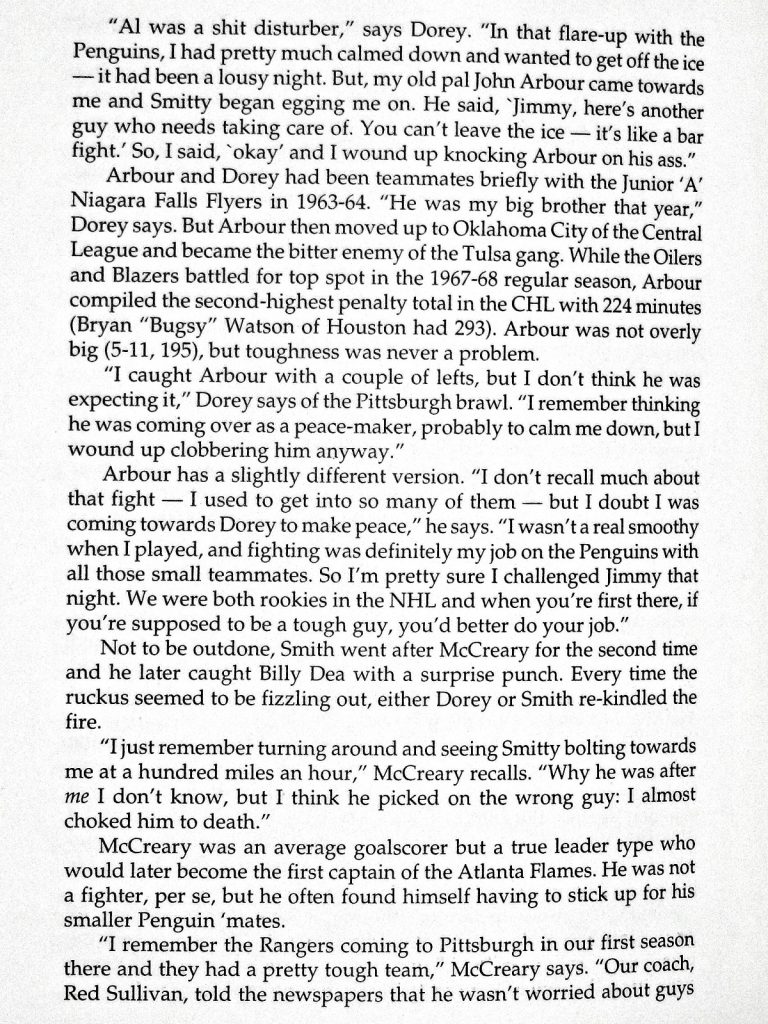 FOR THE RECORD BOOK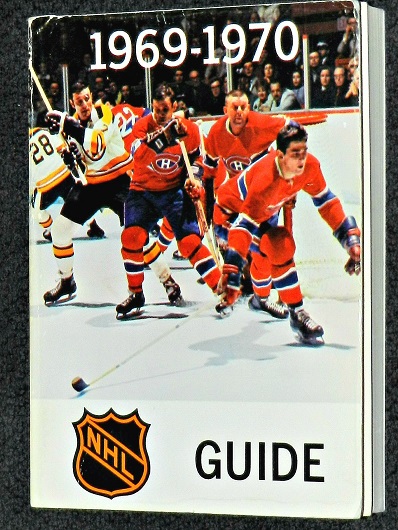 Jim Dorey's penalty haul made the official NHL Guide (above and below) for the following season: 1969–70. The nine infractions and 48 minutes stood as NHL marks for nearly 10½ years, until defenseman Randy Holt of the Los Angeles Kings went berserk in a game at Philadelphia on Mar. 11, 1979. Holt also accrued nine penalties, but compiled 67 minutes — still a league record. Brad Smith of the Leafs (vs. Detroit — Nov. 15, 1986) and Reed Low of St. Louis (vs. Calgary — Feb. 28, 2002) also eclipsed Dorey's total with 57 penalty minutes apiece, second–most in NHL history.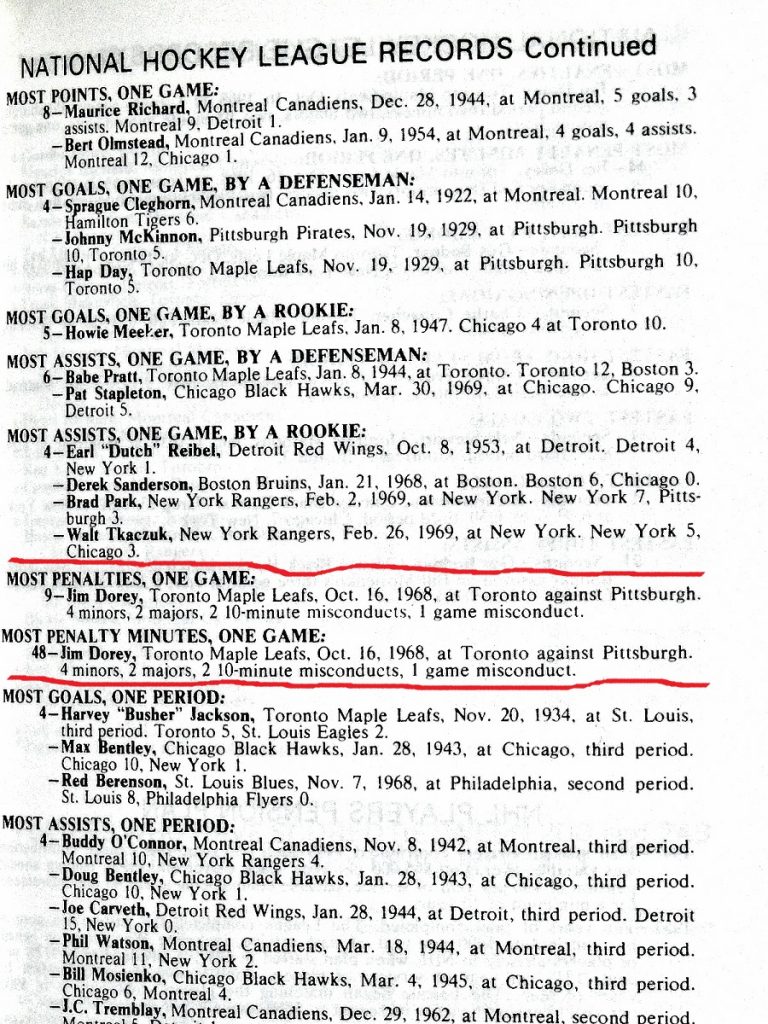 EMAIL: HOWARDLBERGER@GMAIL.COM