TORONTO (Oct. 12) — After the first five games of the National Hockey League season, players on the Toronto Maple Leafs have been compared, in local print, to Wayne Gretzky, Bobby Orr and Mario Lemieux.
Merely the most–gifted trio in the history of the sport.
But, hey, that's alright. The Leafs have never played five–such games at the beginning of a season. Even 25 years ago, when the club established a league record by winning its first ten starts of the 1993–94 schedule (remember Pat Burns, Doug Gilmour, Wendel Clark, Dave Andreychuk, Felix Potvin et al?). The tenacious Clark had erupted from the gate in the otherwise–drab 1991–92 Leafs season with five goals and three assists in the opening two games — contributing to all–but one scoring play in a 4–3 loss at Montreal and an 8–5 win over Detroit at Maple Leaf Gardens. Wendel had at least one point in his first eight appearances that October. Sadly, he missed 34 games with a knee injury and finished with 40 points in 43 matches.
But, no Toronto tandem has gone quite as berserk, statistically, in the first eight nights of a season than Auston Matthews, Morgan Rielly, John Tavares and Mitch Marner — in that order, topping the NHL points parade this Friday eve. During road victories over Montreal, Chicago, Dallas and Detroit, and a home–loss to Ottawa, the Maple Leafs' Fab 4 has combined for 44 points. Rielly, the Leafs' captain–without–a–letter, has 12 of them for the most–prolific five–game streak to begin a schedule among all defensemen in league history; including Orr, who delivered 11 points for Boston in 1973–74 and finished that season with 122.
At his (ahem) current pace, young Morgan will equal Orr's '73–74 assists total by Game 50 (he'll have 30 goals and 90 helpers after Toronto plays at Detroit, Feb. 1). If able to avoid injury, Rielly will destroy all existing NHL standards for defensemen with a total of 198 points (50 goals, 148 assists — the latter demolishing Gilmour's team–record of 95 assists, set in 1992–93). Only Gretzky (215, 212, 208, 205) and Lemieux (199) will have generated more points in a season. Rielly, however, will not win the Art Ross Trophy. Though tied with Matthews at 198 points, the latter will get the not by virtue of his NHL–record 148 goals (56 more than Gretzky in 1981–82). Of course, Tavares and Marner will be right behind with 164 points apiece: Johnny T. contributing 99 goals and 65 assists; Magical Mitch 50 goals and 114 assists (also breaking Gilmour's mark). While combining for 347 goals, Matthews, Rielly, Tavares and Marner, alone, will snap the single–season team–record by 10 (the 1989–90 Leafs scored 337). The 2018–19 club will obliterate that mark by 77, finishing with 414 goals (still 32 shy of Edmonton's NHL standard in 1983–84). Staggering figures… all.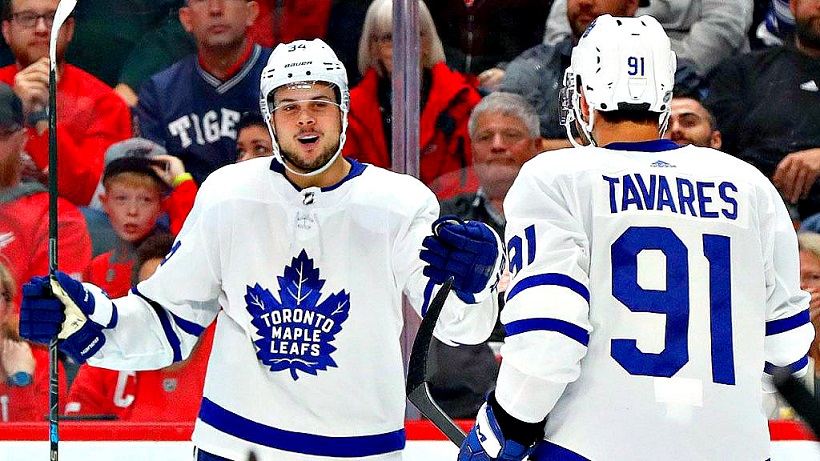 AUSTON MATTHEWS AND JOHN TAVARES CELEBRATE ONE OF MATTHEWS' TWO GOALS AT LITTLE CAESARS ARENA IN DETROIT THURSDAY NIGHT. THE LEAFS WON, 5–3. GETTY MAGES
Yes, folks, we've gone a bit over the edge. It is forever fun to extrapolate numbers, but the above–mentioned are slightly ambitious. Likewise, the Leafs probably will not finish 66–16–0 for 132 points — tying the NHL record of the 1976–77 Montreal Canadiens (60–8–12). A sobering reminder, again, is Clark in 1991–92. After two games, he was on pace for 200 goals, 120 assists and 320 points. Good ol' Wendel fell a mere 280 shy of the latter sum. So, perhaps we can get a grip. If we cannot, then let's turn to Captain Morgan, who typically refused to stoke the fire when questioned, on Thursday, about the Bobby Orr comparison. "I'm not going to really talk about that, it's not important," Rielly said from Detroit. "I think we should move on. There's lots going on with this team to be proud of when it comes to wins and to new players playing really well. I'm not going to address personal stuff … I just don't think it's important. It's more important that we start thinking about playing on Saturday (in Washington against the defending Stanley Cup–champion Capitals)."
With respect to potential and authenticity, it would not be surprising were a healthy Matthews to score 60 goals this season, breaking Rick Vaive's club–record of 54, set in 1981–82 (Andreychuk also had 54, in 1992–93, but the first 29 with Buffalo before his trade to the Leafs). And, Rielly appears, at first glance, quite capable of threatening the Leafs' single–season record of 79 points for a defenseman, established by Ian Turnbull in 1976–77. Were that to happen, the talk (from this corner and elsewhere) about the Leafs lacking a Norris Trophy type will cease. Tavares seems like a good, early bet to approach (or eclipse) his season–best total of 86 points, set with the Islanders in 2014–15. And, I contend, once more, that a healthy Marner will lead the club in points at the end of the season; perhaps threatening Connor McDavid for the Art Ross Trophy. Magical Mitch is a 100–point guy, in my opinion (though I picked him to compile 95 this year).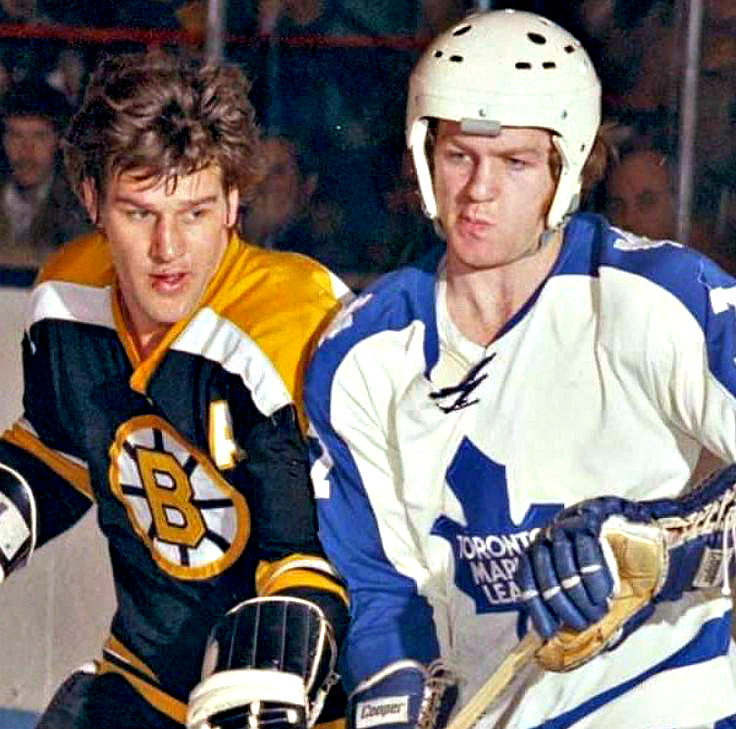 BOBBY ORR, CHECKING MAPLE LEAFS ROOKIE LANNY McDONALD (SANS MUSTACHE),
COMPILED 11 POINTS FOR BOSTON IN THE FIRST FIVE GAMES OF THE 1973–74 SEASON.
TORONTO DEFENSEMAN MORGAN RIELLY HAS GONE ONE BETTER THIS YEAR.
Also, how many Leaf teams of recent ilk could we have envisioned sweeping four regulation points during visits to Chicago and Detroit on the same road trip? Since 1997, the Blackhawks and Red Wings have combined to win the Stanley Cup on seven occasions. Again — and as I've continuously pointed out here — the most–important task facing Mike Babcock is to somehow ensure that Frederik Andersen is less–fatigued going into the playoffs than the past two years. I cannot, however, see that happening if the coach continues to deploy Garret Sparks only on the back–half of consecutive–night games. Andersen was pooped after his 66–game log last season. And, even with the Leafs scoring at an incomparable pace in the first five games, all indications from a defensive perspective point to Andersen encountering as much rubber as any goalie in the league. Again. If the Big Dane is tired come April, all of the other eye–popping stuff could be neutralized.
EMAIL: HOWARDLBERGER@GMAL.COM