TORONTO (Oct. 28) — The shoulder ailment that could sideline Auston Matthews for an appreciable term may prompt fans of the Toronto Maple Leafs to wonder if a career pattern has beset their best player. After all, Matthews sat out nearly a quarter of last season's schedule (20 games) with shoulder and concussion issues; full participation (82 games) as a Calder Trophy winner in 2016–17 seems like a distant memory.
But, let's not jump the gun on this issue.
Matthews did leave the ice awkwardly and in considerable pain on Saturday night at Scotiabank Arena when his left shoulder collided with Winnipeg defenseman Jake Trouba. The incident occurred early in the second period and Matthews did not return. Afterward, coach Mike Babcock immediately ruled him out for Monday's home date against Calgary. And, if the shoulder was separated — as it clearly seemed to be on TV images (below) — No. 34 will miss several weeks of action. Still, it is far–too–early in Matthews' career to label him "injury–prone". Unless his shoulders have been "weakened" by the ailments incurred this season and last, what happened on Saturday is merely a hazard of the sport. Look around the league and you'll see a bevy of big–name players on the shelf early this season — among them Corey Perry (Anaheim); Torey Krug (Boston); Brandon Dubinsky (Columbus); Alex Radulov (Dallas); Jonathan Quick (Los Angeles); Shea Weber (Montreal); Pekka Rinne (Nashville); Zack Smith (Ottawa); James van Riemsdyk (Philadelphia); Tomas Hertl (San Jose); Jake Allen (St. Louis); Victor Hedman (Tampa Bay); Alex Edler (Vancouver) and Max Pacioretty (Vegas). Matthews and Hedman are the biggest names on the list, though St. Louis might argue after losing its No. 1 goalie (Allen) in a crease mishap against Chicago on Saturday. Injuries in hockey are inevitable.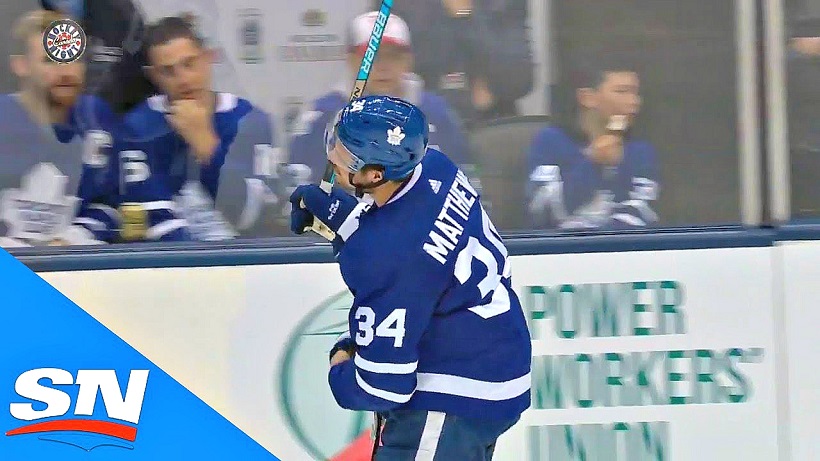 HOCKEY NIGHT IN CANADA IMAGE OF AUSTON MATTHEWS LEAVING THE ICE AT SCOTIABANK ARENA ON SATURDAY AFTER COLLIDING WITH WINNIPEG DEFENSEMAN JACOB TROUBA. ROGERS/CBC
Given the void created by Matthews, Toronto pulled out a monstrous victory against Winnipeg — scoring three unanswered goals in the third period to overcome a 2–0 deficit and earn a sweep of the home–and–home set. This is what Brendan Shanahan and Kyle Dubas envisioned when going hard after John Tavares in free agency last summer. Not that the Leafs will be impervious to a lengthy absence by Matthews, but depth at the key center–ice position remains intact with Tavares and Nazem Kadri. Neither, as it pertains to Matthews leaving early, should we read too much into the comeback against Winnipeg. While the Leafs were resting at home, the Jets knocked off the Red Wings the previous night in Detroit. Clearly, they faded in the final 15 minutes on Saturday and the Leafs took full advantage — just when it appeared as if more points would be squandered on home ice (Toronto is a perfect 5–0–0 on the road; just 3–3–0 at Scotiabank).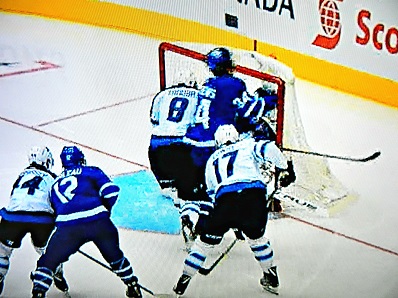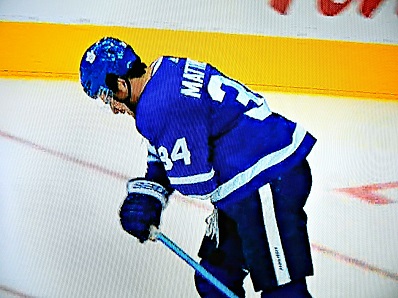 THE SHOULDER COLLISION (TOP–LEFT) WITH JACOB TROUBA THAT INJURED AUSTON MATTHEWS ON SATURDAY NIGHT AND FORCED HIM TO LEAVE THE GAME AGAINST WINNIPEG. ROGERS/CBC
At this moment, we cannot even guess how long Matthews will be sidelined. If reading into the post–game report from Babcock — who wouldn't confirm a person's death five days after the funeral — No. 34's shoulder injury is severe. (UPDATE: Leafs have announced Matthews will miss a minimum four weeks. Which probably means six weeks. So, yes, "severe"). Still, Matthews would have to sit out another 20–odd games this season and a similar amount next year before earning the "injury–prone" tag. Today's large and increasingly–fast players — wearing rock–hard shoulder and elbow protection — are performing on the same NHL–ice dimensions as their smaller and slower counterparts in the 1940's and 50's. It is virtually a "cage" match every night… and rather remarkable that any player can avoid injury during the 82–game regular–season marathon.
A BLIGHT ON THE NHL
It is the aspect of hockey that I thoroughly despise — a player, after delivering a clean hit in open ice or along the boards, having to defend himself by fighting the opposition. It happened again on Saturday afternoon in Philadelphia (below) when Flyers defenseman Ivan Provorov leveled Mathew Barzal of the New York Islanders with a textbook, shoulder–to–shoulder check. Seconds after Barzal hit the ice at the Wells Fargo Center, Provorov was enveloped by a swarm of New York players. I've asked this before, but what's next? Connor McDavid, Sidney Crosby or John Tavares being attacked from behind for scoring a highlight–reel goal? Is a shoulder–to–shoulder check any less "legal" than fooling a goaltender with the puck?
Not according to the rule book. Unfortunately, hockey is going the way of football. While protecting athletes from illegitimate contact, allowable physical play is frowned upon — if not by referees then by opponents that choose to take the law into their own hands. A player having to fight after dishing out a clean hit is simply bush–league; a blight on the game over the past decade. It continues to make the NHL look silly.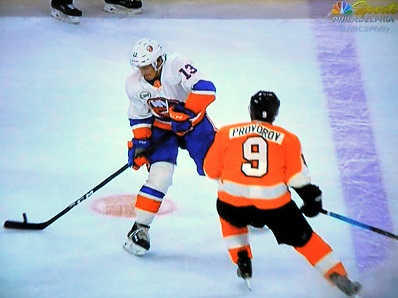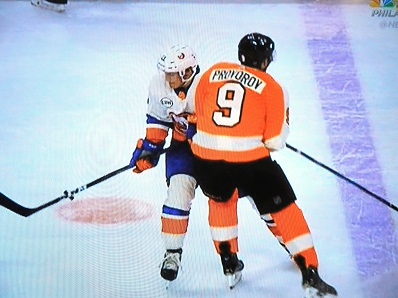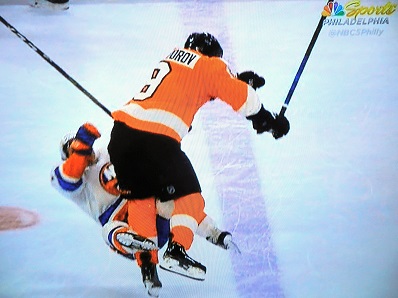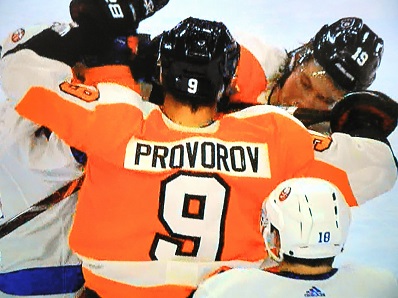 NHL MEDIA GUIDES — NO LONGER IN PRINT
From the mid–1950's until roughly seven or eight years ago, all National Hockey League teams published a media guide/yearbook, normally at the start of the season; occasionally in November or December. I became interested in these items in the late–60's when souvenir kiosks at Maple Leaf Gardens sold them for $1 apiece. Turns out that Leafs owner Harold Ballard — the shyster — grabbed as many as he could from Gardens' publicity director Stan Obodiac, to whom the guides had been delivered from other NHL teams for media distribution. Ballard scattered them for sale at souvenir stands throughout the arena.
At 10 and 11 years of age, I became a willing dupe for Pal Hal; hoarding these colorful items while attending games. Later, I bought guides at collector shows. During my 23 years at The FAN–590, I received full NHL sets from the Leafs' media department. As mentioned, these books were published until sometime after 2010, when clubs began to furnish information in PDF–Computer format — originally via Digital Video Discs (DVD's); now team websites on NHL.com. With the Official Guide & Record Book going PDF this year, NHL publications have ceased. According to those available on EBay.com, guides of more–recent ilk (1995 onward) haven't yet crossed into the realm of valued collectible. There are still too many in circulation. As for the older editions — some of which, from my collection, are displayed here — I do not have an answer. Most cannot be found on the Internet. As time passes, I suspect the NHL team–guides will increase in worth.
Given the voracious hockey appetite here in Toronto, the Leafs have been among the holdouts — publishing a guide until last season (2017–18). This year, the club produced limited editions of the book while going PDF. If following the league–wide pattern, there may no longer be a Leafs media book after the current season. My four oldest Toronto guides (1962–63 to 1966–67) are shown at the bottom of this display.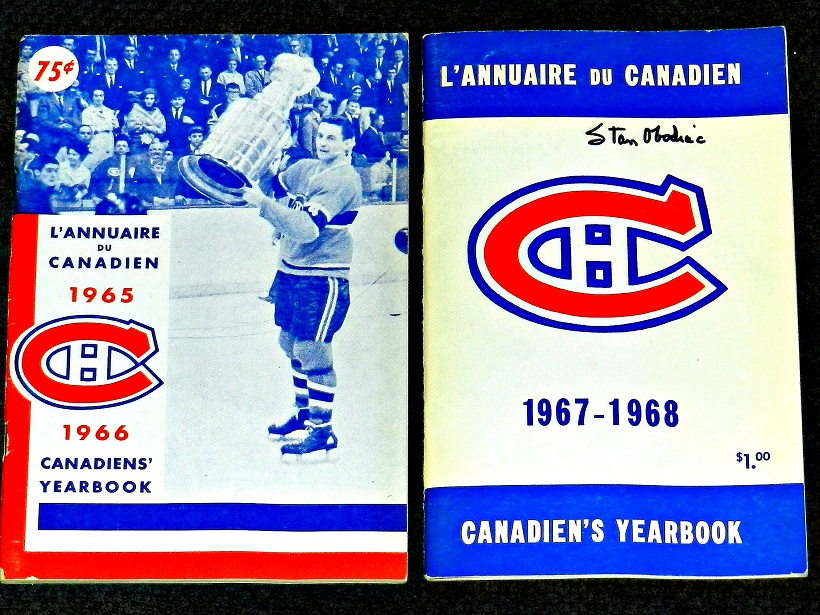 I mentioned Stan Obodiac, who handled publicity for Maple Leaf Gardens from 1958 to 1984, when he was diagnosed with cancer. During his brief illness, I was up in Stan's office and noticed several stacks of media guides from the 60's and 70's, including originals from the 1967 expansion teams (California Seals, Los Angeles Kings, Minnesota North Stars, Philadelphia Flyers, Pittsburgh Penguins, St. Louis Blues). I told Stan I collected NHL guides and wondered what his plans were for those in his office.
"I'd give them to you, Howard, but I still use them frequently," he replied.
At which point — and I'll remember this forever — I rubbed my index–finger over the 1969–70 St. Louis guide and carved out half–an–inch of dust. "Stan, is 'frequently' once per generation?" I asked with a smile.
He laughed and said "okay, you can take them. I guess I won't be needing them much longer anyway."
Having arrived in his office on another matter, I quickly said "Stan, you know I didn't come up here because you're sick. Until now, I never realized you had these items. But, I wouldn't find them anywhere else."
"Actually, I'm glad you're here. And, I'm happy to give these to someone who really wants them."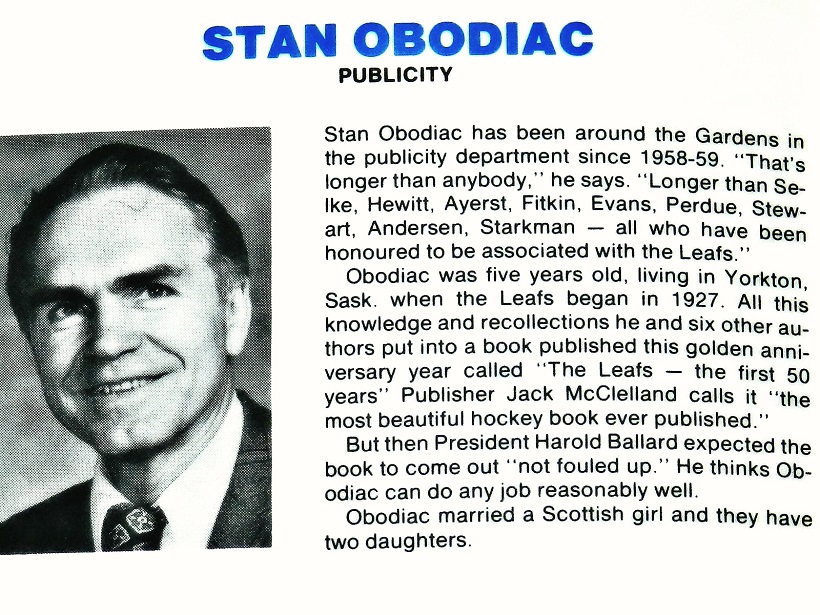 Stan died in November 1984, leaving a wife and two daughters. He was unfailingly cooperative with me in the early part of my career and I remember him fondly. As you'll see, below, the guides I collected from Obodiac's office bore his signature on the cover (including the aforementioned '69–70 St. Louis edition).
Here is a random display from my collection: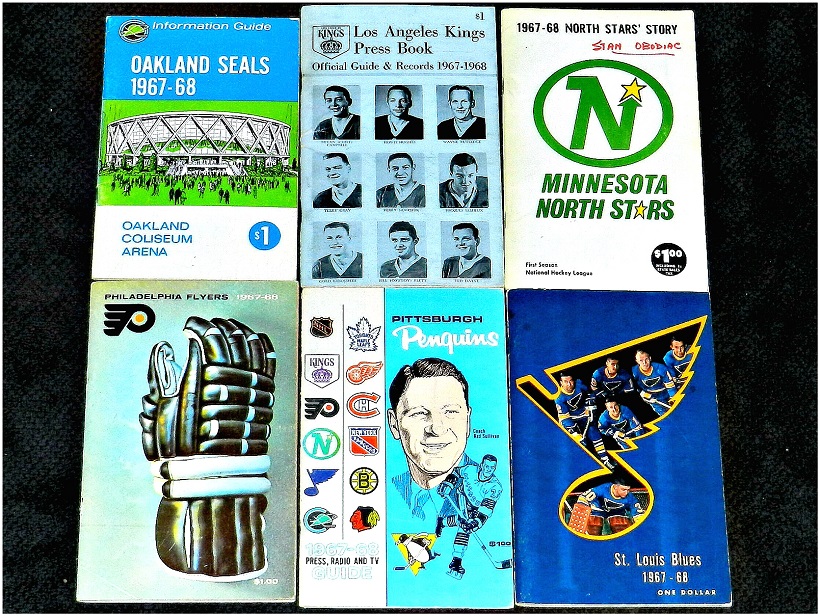 ORIGINAL MEDIA GUIDES FROM THE SIX EXPANSION TEAMS OF 1967–68.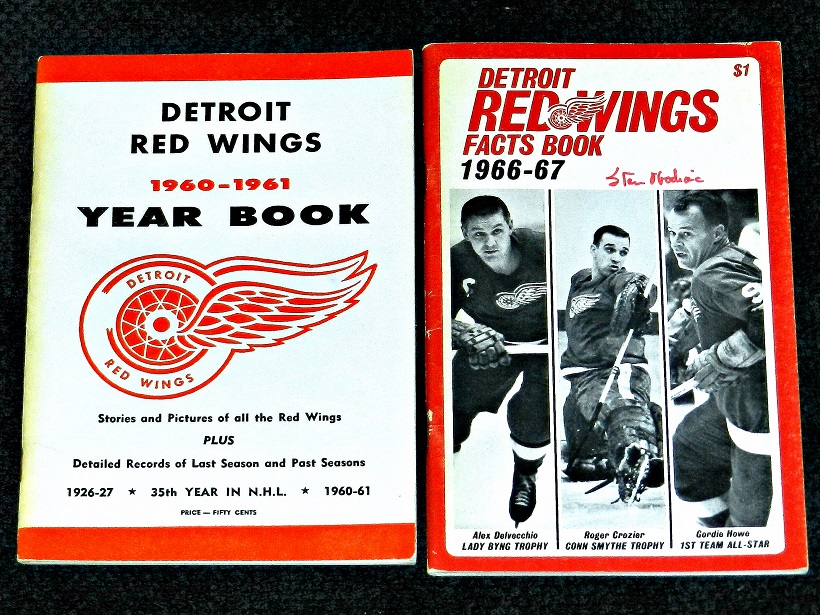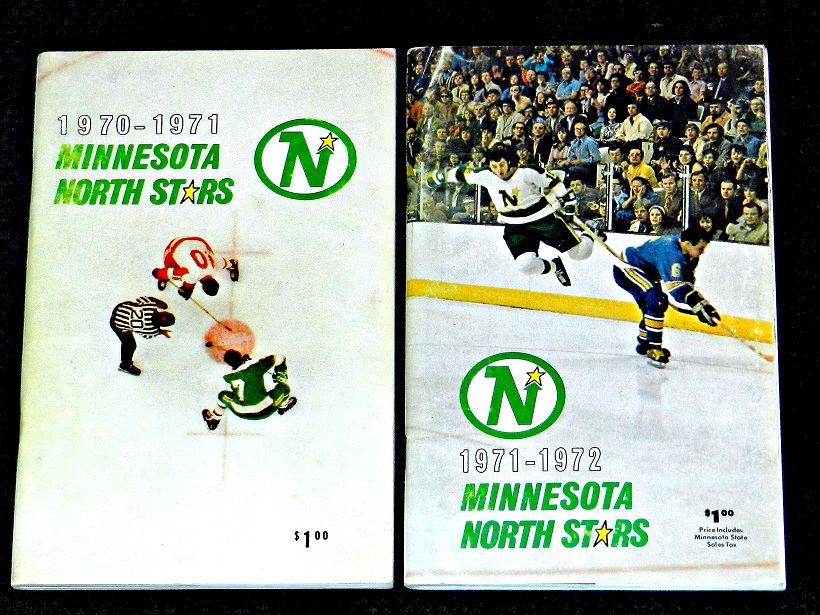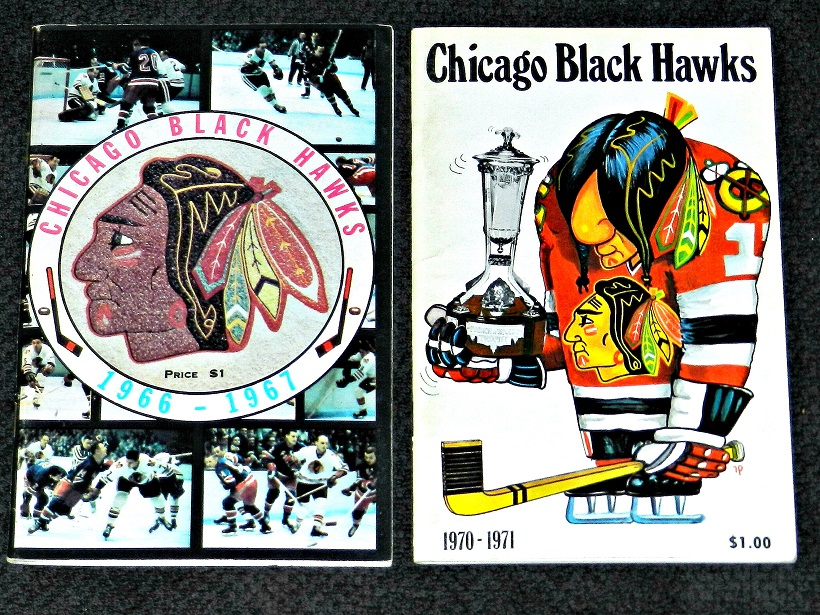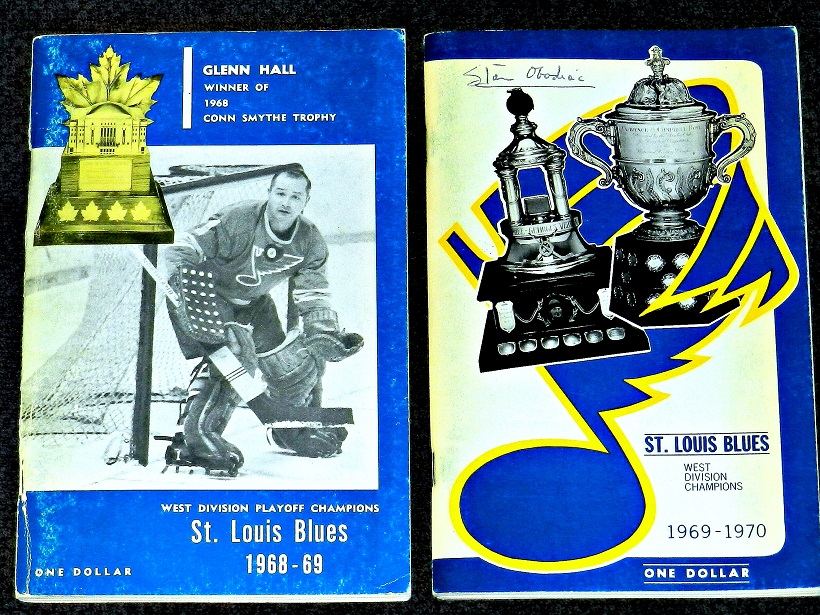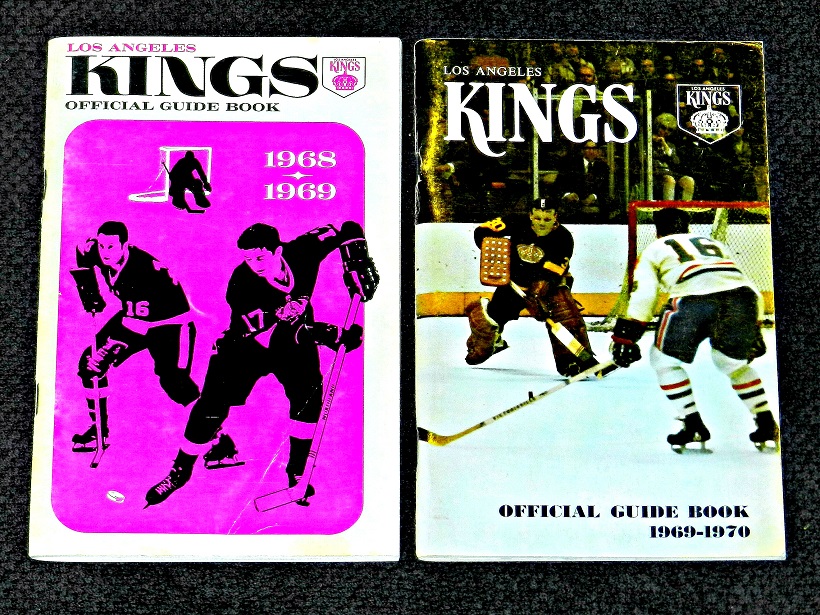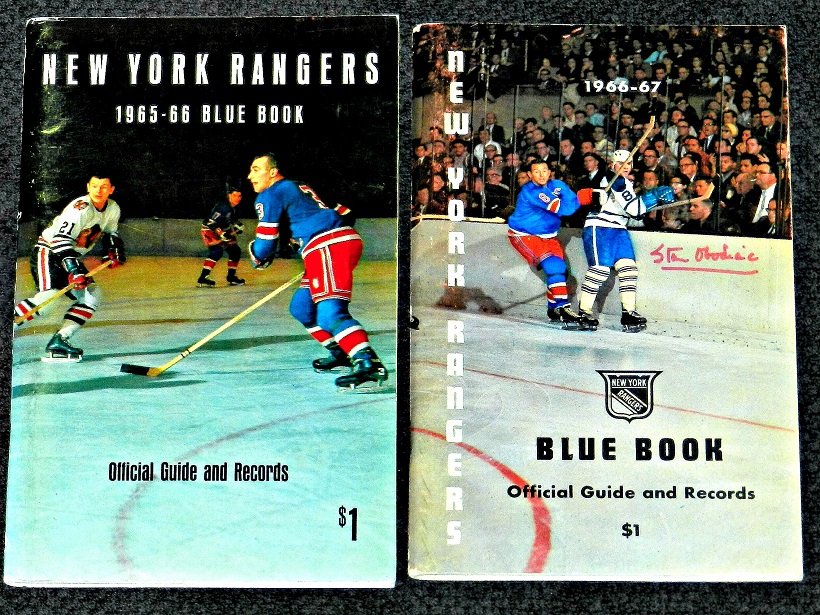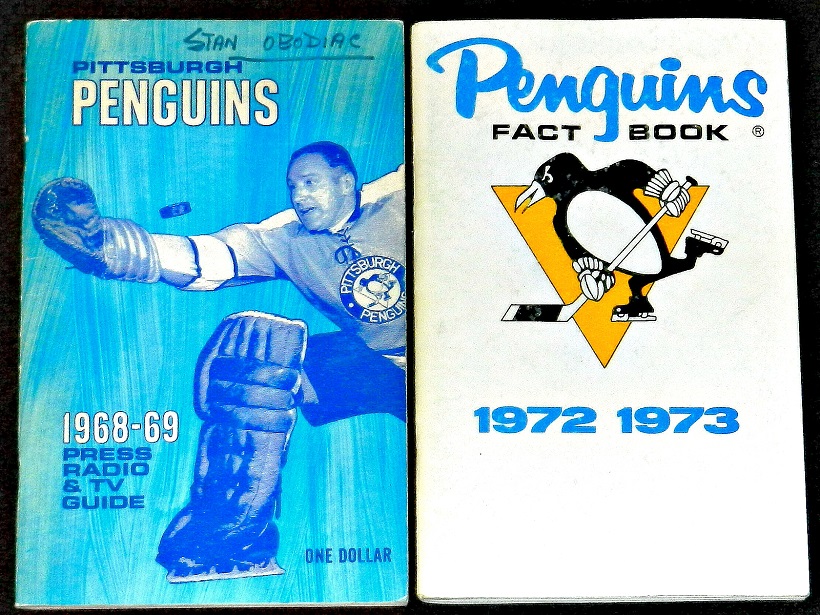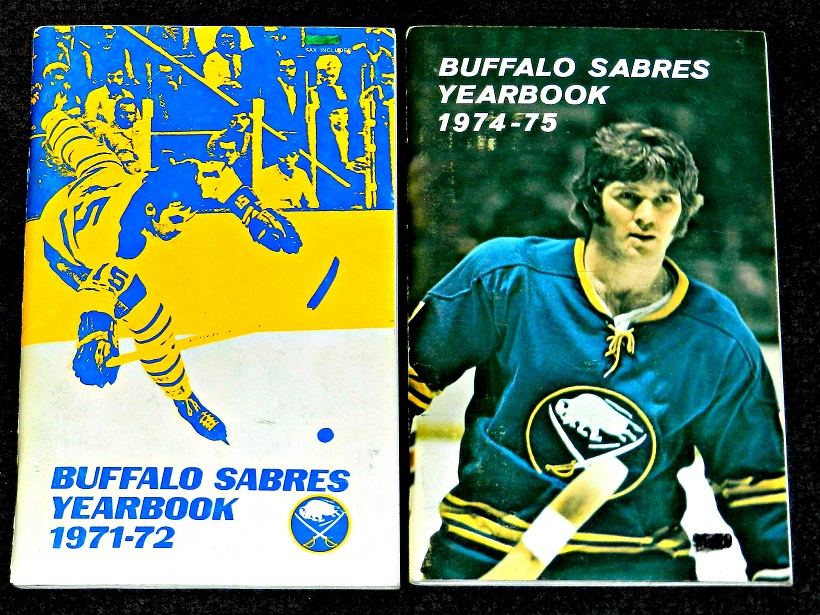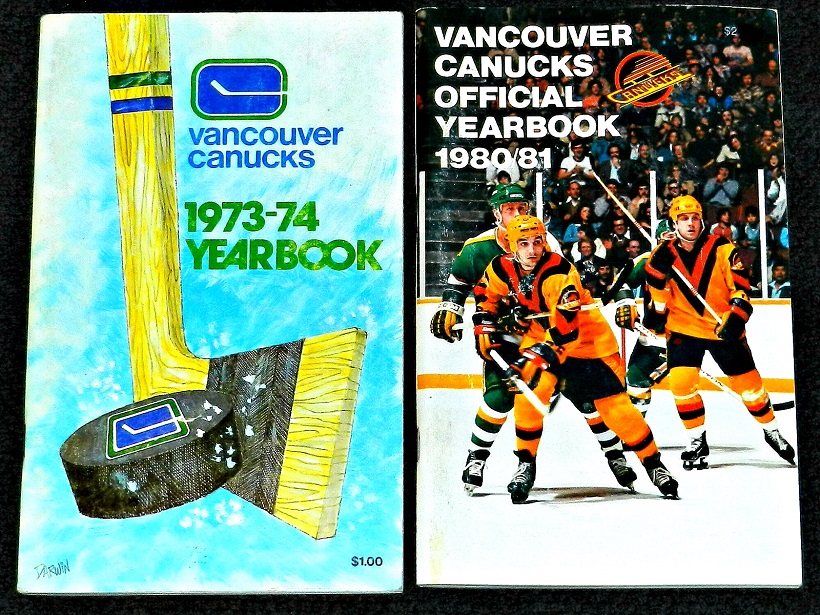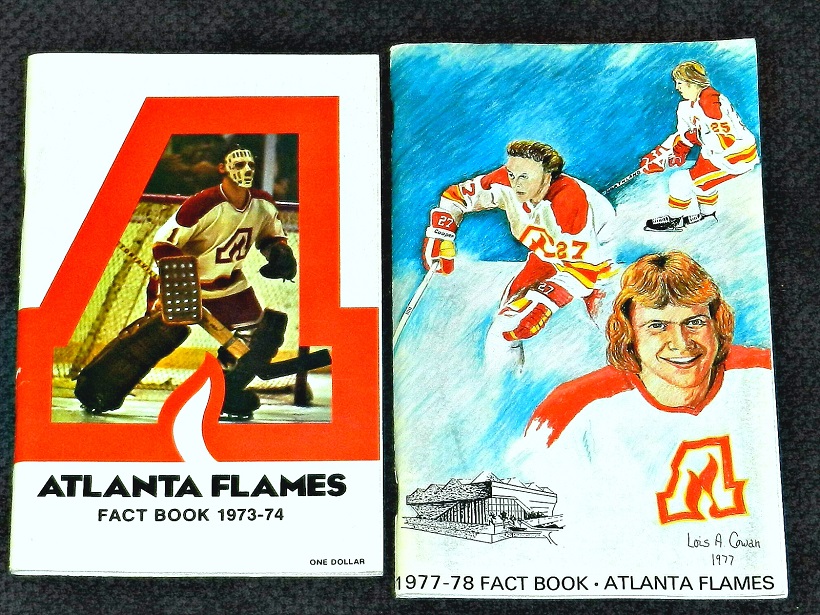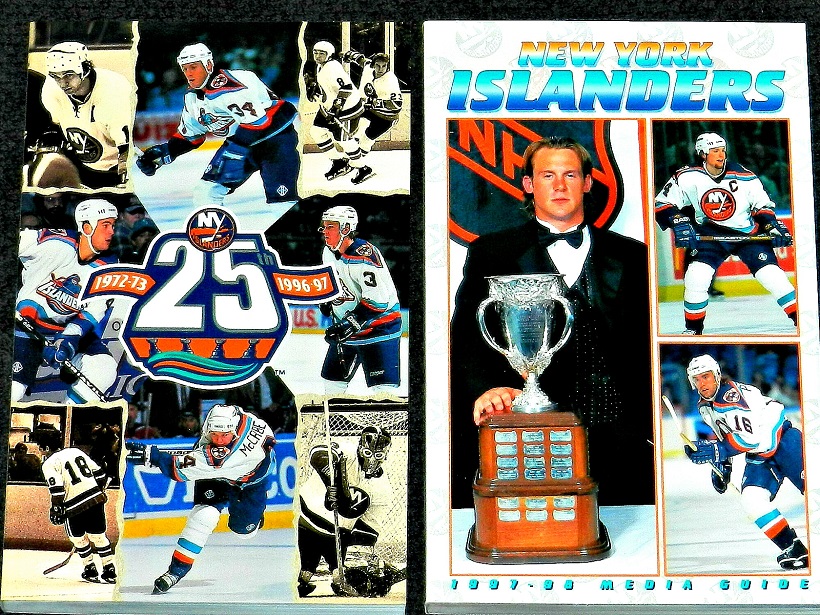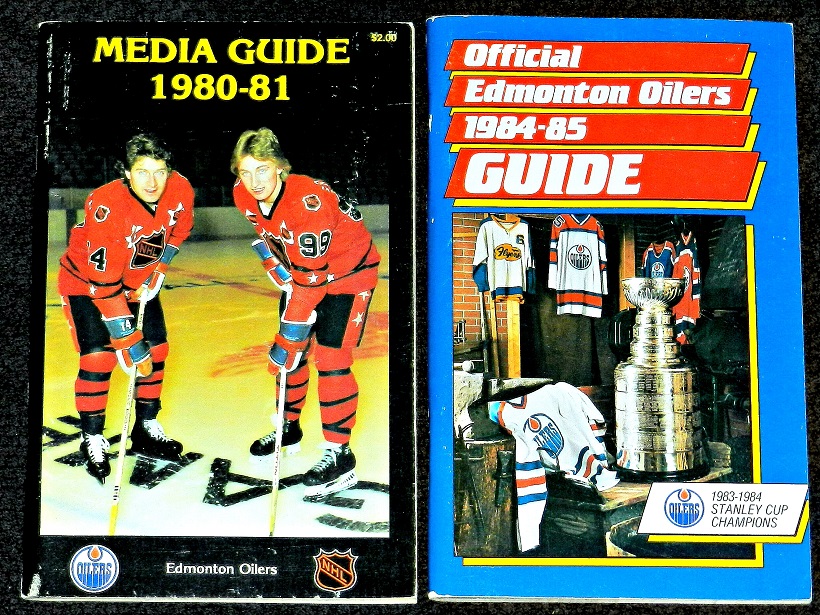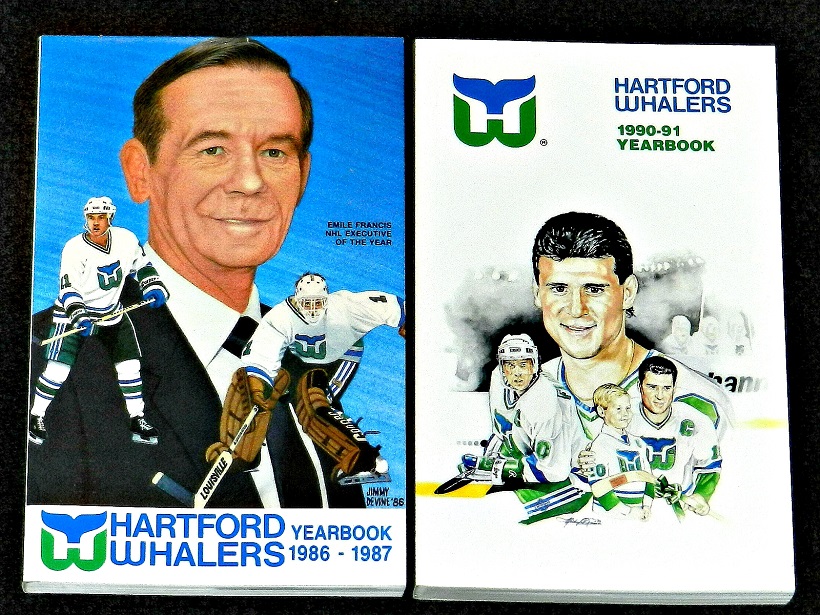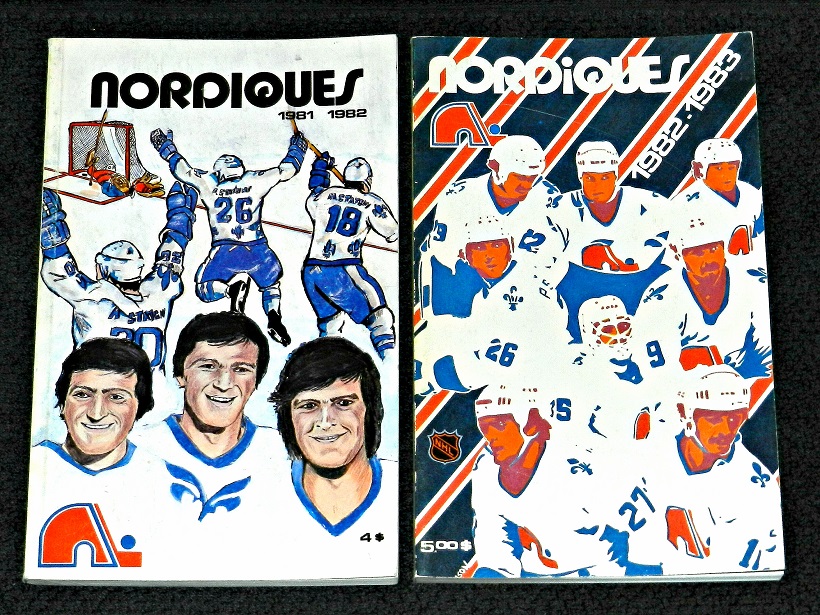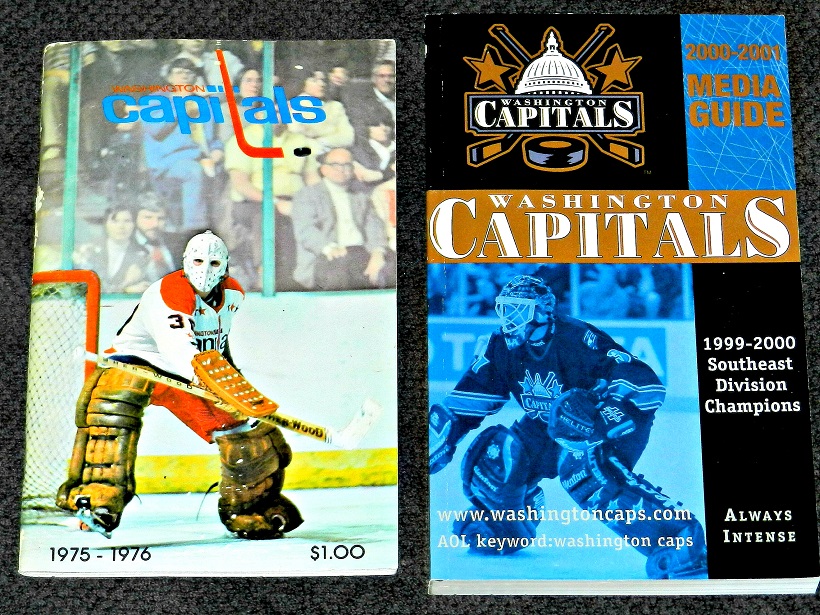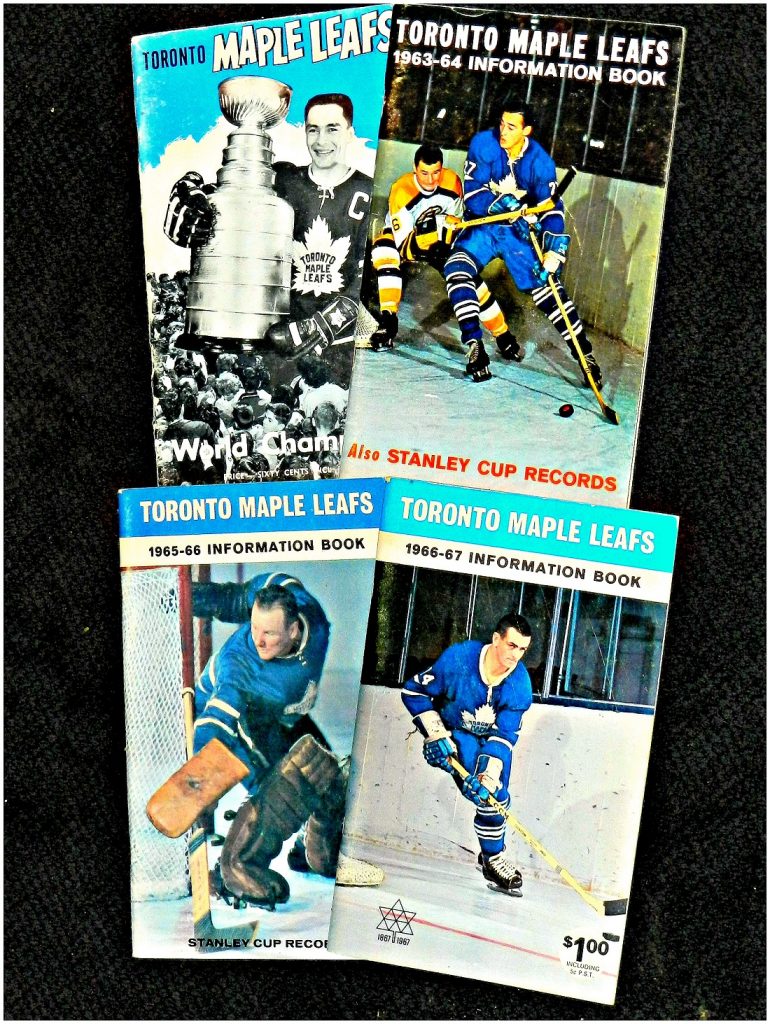 EMAIL: HOWARDLBERGER@GMAIL.COM