TORONTO (Nov. 17) — So, here we are, precisely two weeks from the deadline of L'Affair Nylander. With no apparent resolution in sight and only one scenario that will best–serve the Maple Leafs: a "bridge" contract of two years and roughly $11 million; thereby allowing space in which to cram larger commitments, before next season, to Mitch Marner and Auston Matthews. All of which sounds logical until we ponder why Nylander has sacrificed six weeks of play… and, perhaps, $1.5 million in salary. Were a "bridge" compromise acceptable to the young forward and his peons, it would have been signed before the regular–season opener, Oct. 4, against Montreal. Clearly, the Nylander posse is holding out for greater term and cash.
Which party — if either — blinks before Dec. 1 is broadly intriguing. Should the impasse continue beyond the start of next month, Nylander will be ineligible to play in the National Hockey League this season. And, neither party will benefit from such–an outcome. If choosing sides, however, most would agree that the team has more to lose than the player. The Leafs, with all hands on deck, are fancied as a legitimate Stanley Cup contender. And, though the club has fared rather well in the first quarter of the season without Nylander, can it favorably navigate four rounds of Stanley Cup competition amid such an absence… or without components acquired in a trade for the Swedish winger prior to Dec. 1? The opening six weeks of the regular schedule aren't nearly parallel to the eight weeks of playoff toil. In elapsed time or endurance.
But, neither are Nylander's apparent terms (six–to–eight years; $6.5–to–$8 million) feasible.
With John Tavares hoarding $11 million a year in cap space — Marner and Matthews will consume a combined $23 million (or so) by next season — the Leafs cannot afford Nylander. Four players gobbling up north of $40 million is bad economics. What to do, then, if you're Brendan Shanahan and Kyle Dubas?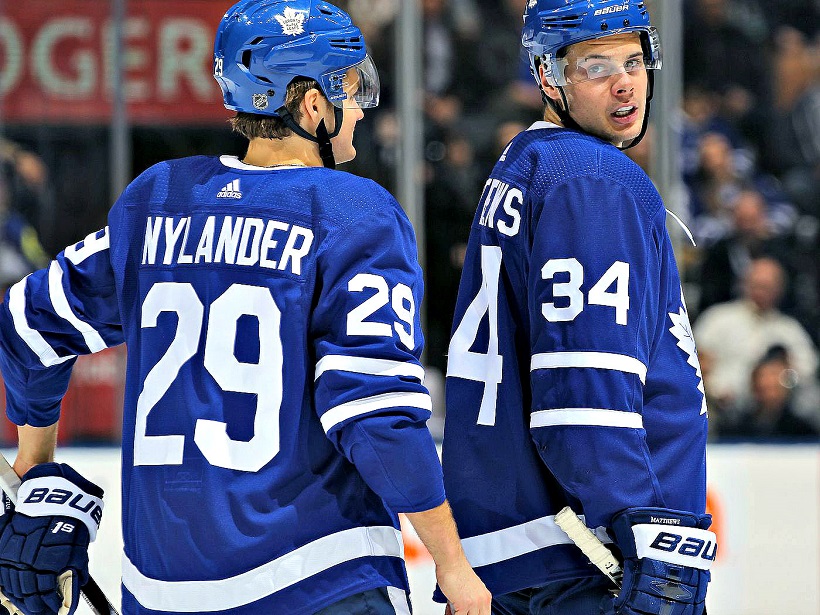 WE WONDER IF AUSTON MATTHEWS — SIDELINED SINCE OCT. 27 — IS SPENDING TIME LOOKING OVER HIS NON–INJURED SHOULDER AT THE WILLIAM NYLANDER CONTRACT IMPASSE?
Right now, of course, it appears the Maple Leafs can breeze to their first NHL championship since 1967 without Nylander or Matthews (a combined 54 goals, 70 assists and 124 points last season). Toronto is at the quarter–mark of the schedule atop the NHL standings with a 14–6–0 record; on pace for 114 points — nine more than last year's franchise–best total. For the first time since Dec. 14–17, 1995, the club is coming off a clean road–sweep of California, earning six points in victories over Los Angeles, San Jose and Anaheim. That the impotent Kings and Ducks couldn't find the ocean from the balcony of a cruise–ship matters not to euphoric hockey zealots here in town. "William who?" is now the predominant chorus of Leafs Nation.
But, trust me, folks: it's a long season… with a playoff grind unequaled in professional sport. To win the Stanley Cup, a team must be healthy and at full numbers–strength at the optimal time of year (March–June). For the Maple Leafs, health and numbers include Matthews and Nylander; or Matthews and players acquired in a trade for Nylander. Dismissing the talented winger may seem plausible at the moment… and we wonder, as the Dec. 1 deadline approaches, if Dubas has increasingly turned to the "sign or sit the whole year" threat (obvious though it may be). Nylander surely wants to play, but neither his career nor financial resonance will be terribly compromised by missing the 2018–19 season. At a spry 22 years of age, Willie has at least two mega–contracts ahead of him; all the little Nylander's in the next couple of generations will be looked after. As such — and as mentioned earlier — the team has more to lose this season than the player.
Most media pundits suspect that Nylander will sign before Dec. 1. Which indicates that one side or the other in this protracted negotiation must cave. By now, achieving compromise will be truly difficult.
THE BOBBY ORR CORNER
I had some photographs left over from attending the bi–annual Sport Card & Memorabilia Expo last Saturday at the Toronto International Centre. Thought I would share them with you today: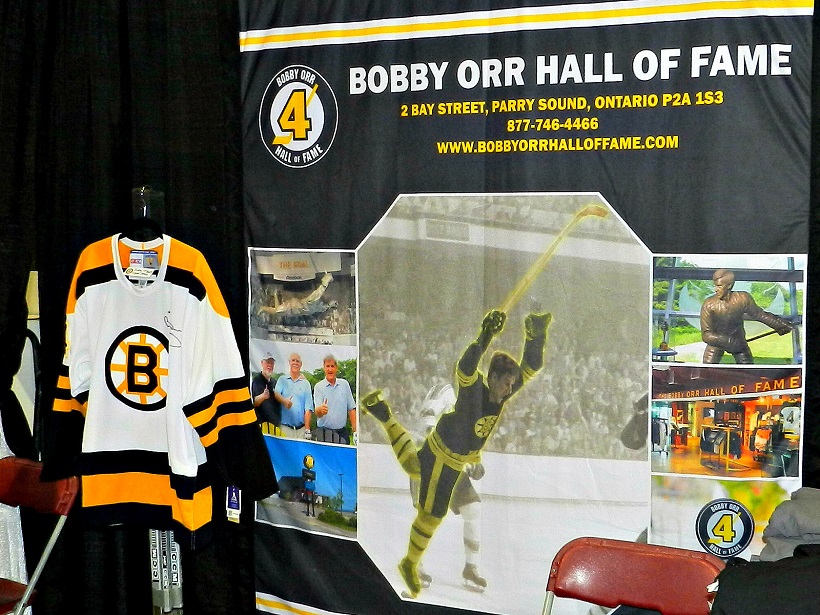 The NHL's all–time greatest player had a large corner of the Expo Hall dedicated to him, with artifacts from the Bobby Orr Hall of Fame in Parry Sound, Ont., his birthplace. Items for sale included Bobby's new book (bottom–left) — a pictorial history of his life and career. Also, woolen No. 4 sweater and mittens (bottom–right) that would likely keep any person warm in the northern–Ontario winter.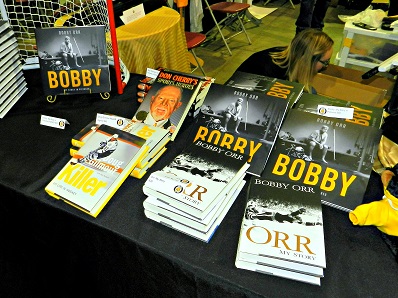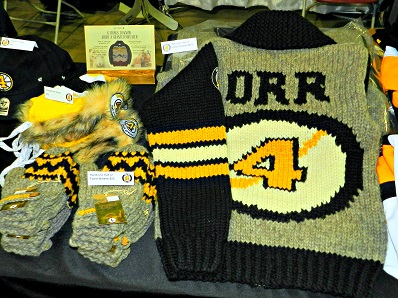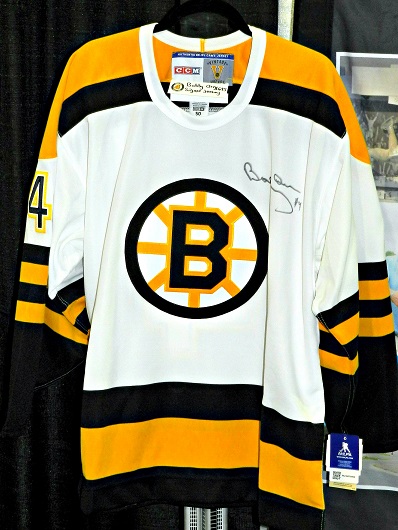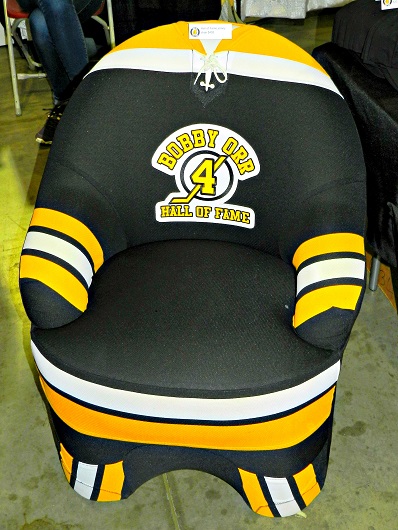 A signed replica jersey from Bobby's rookie season with the Bruins (1966–67) was a terrific collectible, along with a comfortable chair, in Bruins colors, adorned with the Bobby Orr Hall of Fame logo.
AND, SOME OTHER ITEMS…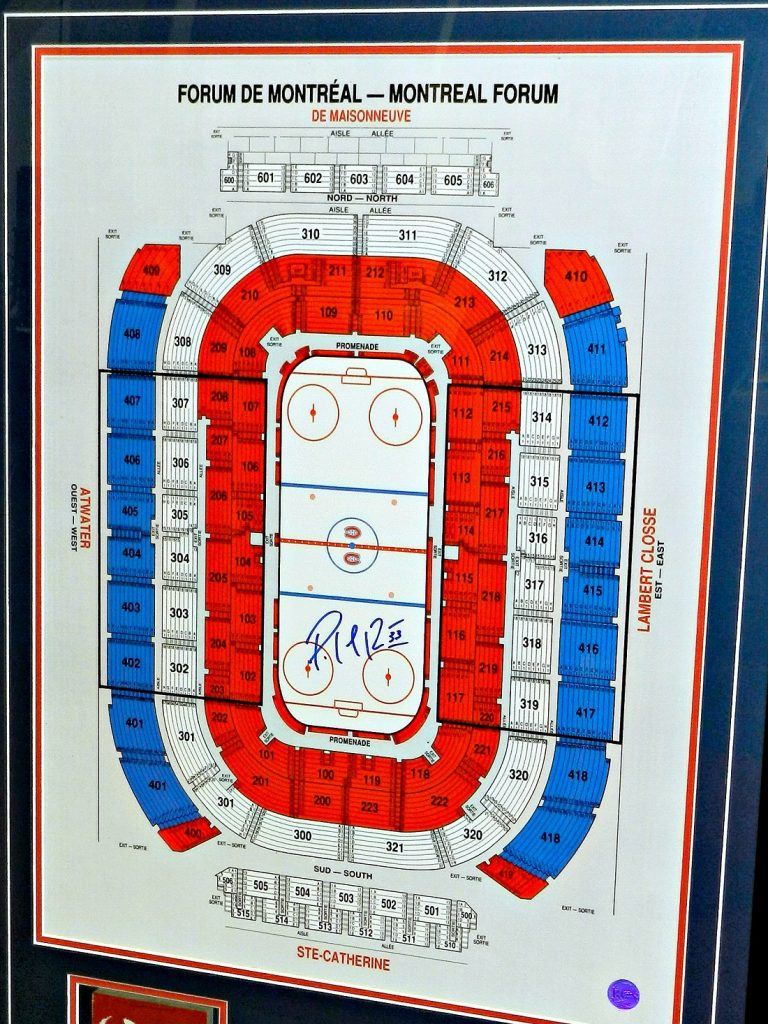 FRAMED SEAT–MAP OF THE OLD MONTREAL FORUM, SIGNED BY PATRICK ROY.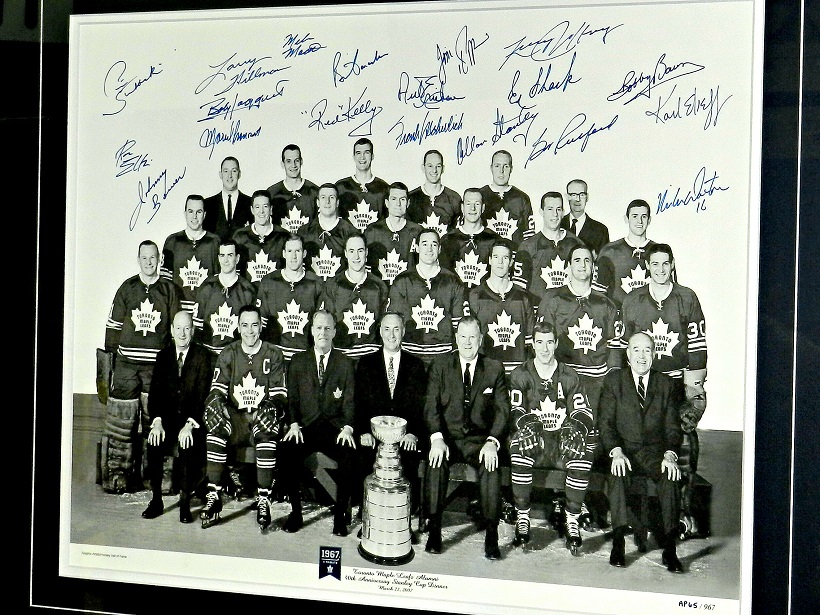 THE 1967 TORONTO MAPLE LEAFS STANLEY CUP PHOTO, SIGNED BY (*indicates deceased) PETER STEMKOWSKI, RON ELLIS, JOHNNY BOWER*, LARRY HILLMAN, TRAINER BOBBY HAGGERT*, MARCEL PRONOVOST*, MILAN MARCETTA*, BRIAN CONACHER, RED KELLY, JIM PAPPIN, AUT ERICKSON*, FRANK MAHOVLICH, LARRY JEFFREY, EDDIE SHACK, ALLAN STANLEY*, BOB PULFORD, BOB BAUN, PHYSIOTHERAPIST KARL ELIEFF* AND MIKE WALTON. A ONE–OF–A–KIND COLLECTIBLE.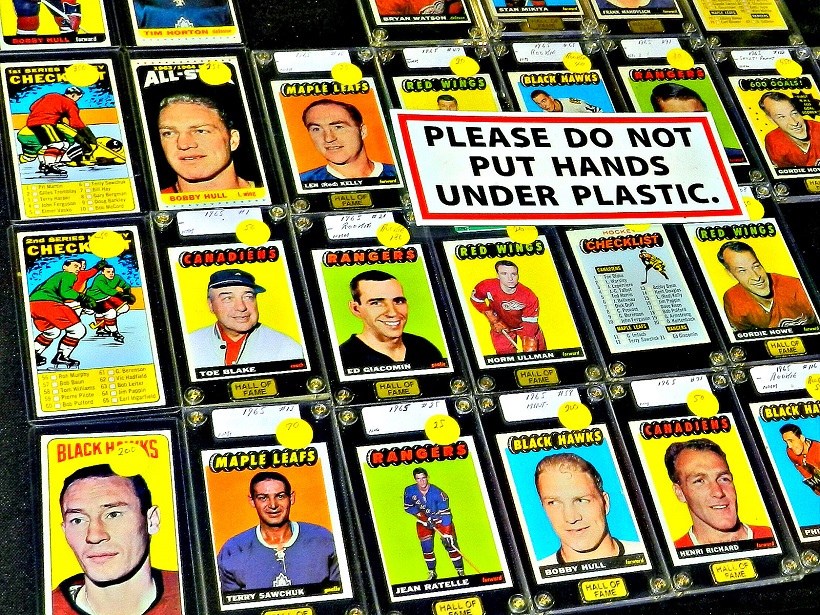 MINT CONDITION CARDS (AND UN–MARKED CHECK–LISTS) FROM THE 1965–66 TOPPS NHL SET.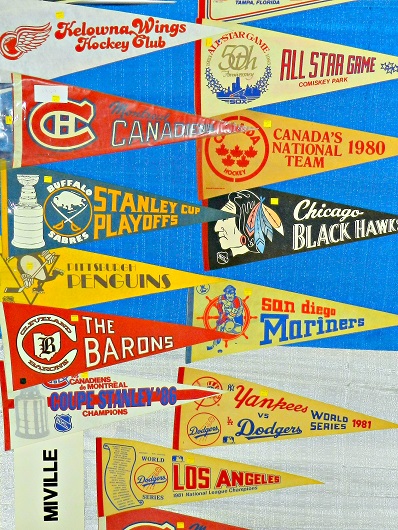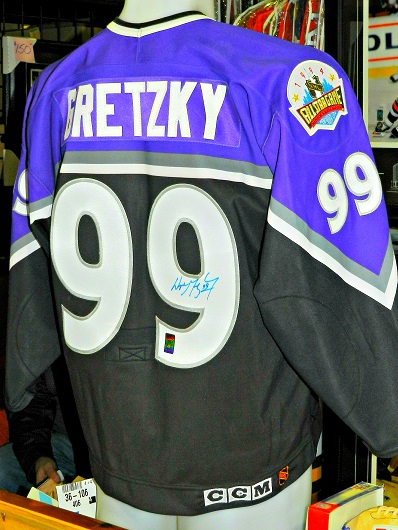 FOR $25 (CAD), I COPPED THE CLEVELAND BARONS PENNANT FROM THE TOP–LEFT DISPLAY. THE WAYNE GRETZKY AUTOGRAPHED JERSEY FROM THE 1994 NHL ALL–STAR GAME COST A BIT MORE.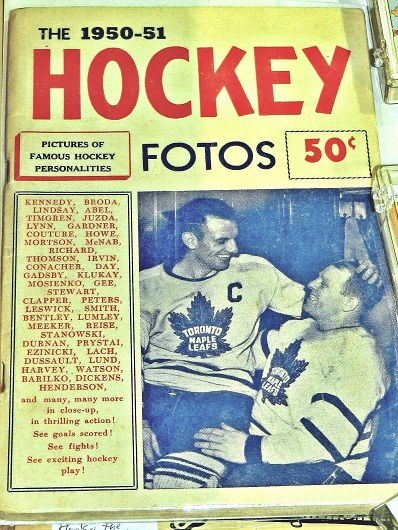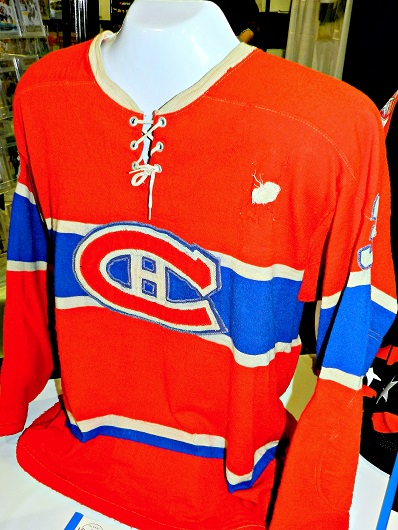 CHECK THE HOCKEY LEGENDS INCLUDED IN THIS "FOTO" BOOKLET FROM 68 YEARS AGO. AND, THE COLORFUL JERSEY (RIGHT) WORN AT HOME BY J.C. TREMBLAY OF MONTREAL IN THE MID–60's.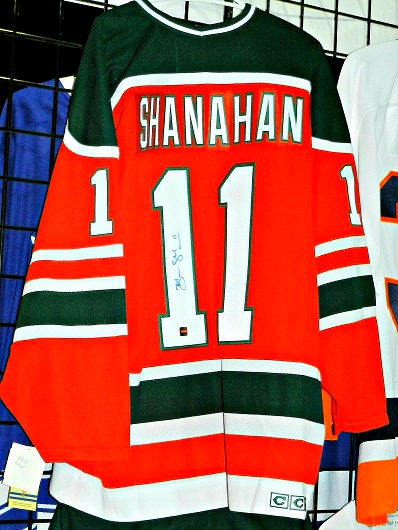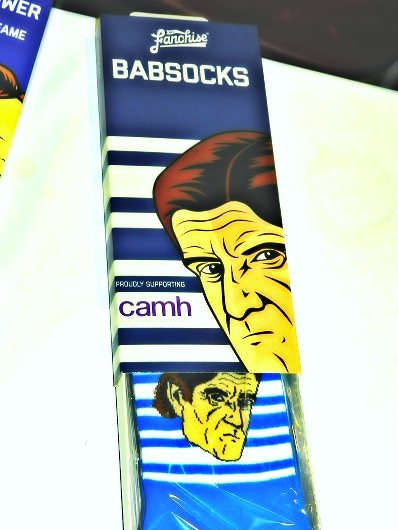 YES, MAPLE LEAFS PRESIDENT BRENDAN SHANAHAN WORE NO. 11 FOR THE RED–AND–GREEN NEW JERSEY DEVILS FROM 1988–91. AND, THE COACH'S FEET ARE NEVER COLD.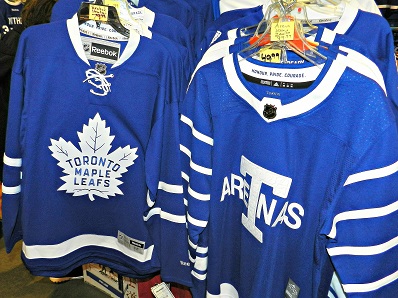 THE TORONTO MAPLE LEAFS, ARENAS AND MARLIES. DID I MENTION THE SHOW WAS IN TORONTO?

SIGNED JERSEYS BY A TRIO OF HOCKEY HALL–OF–FAME PLAYERS.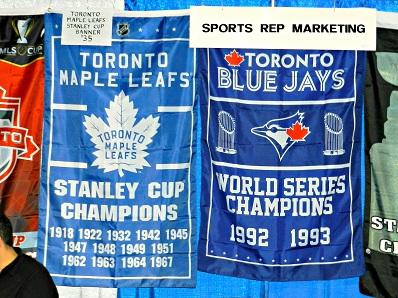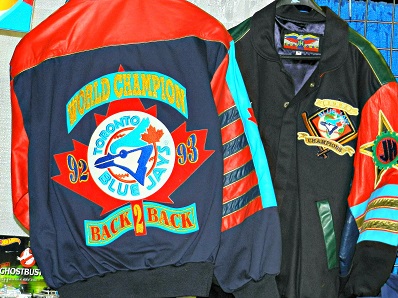 AND, A BIT OF LOCAL BASEBALL WAS MIXED IN WITH THE HOCKEY MEMORABILIA.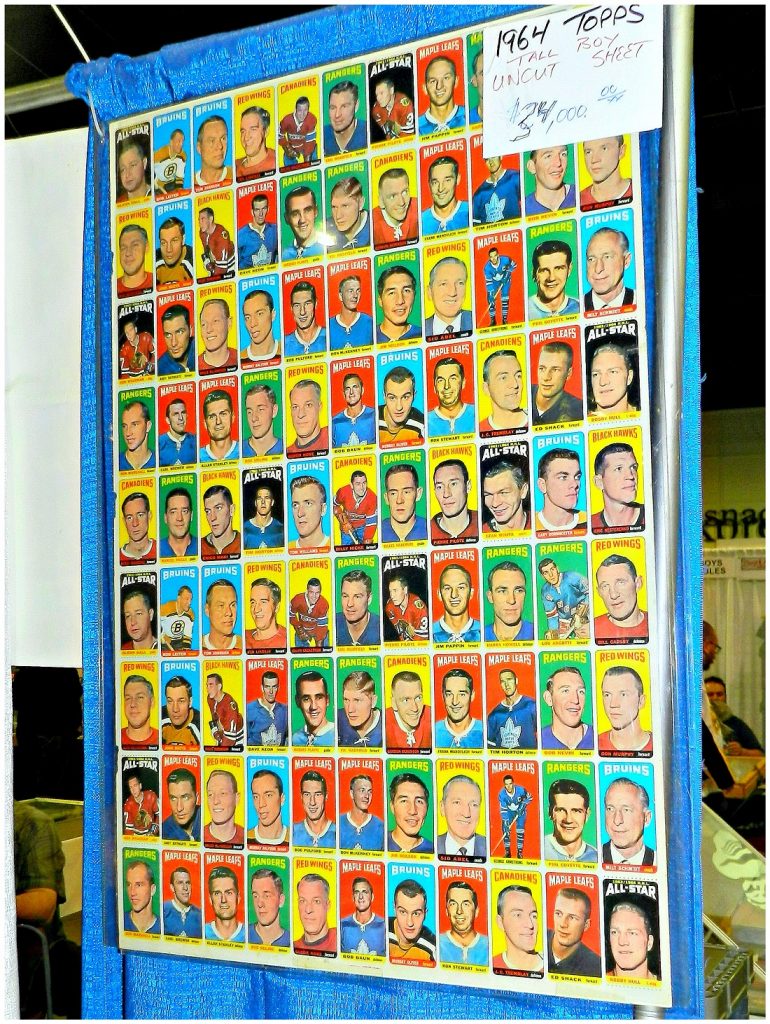 FROM MY OBSERVATION, THIS WAS THE MOST–EXPENSIVE ITEM AVAILABLE AT THE EXPO LAST
WEEKEND: A LARGE, UN–CUT SHEET OF TOPPS 1964–65 "TALL BOYS" CARDS. JUST $34,000.
EMAIL: HOWARDLBERGER@GMAIL.COM