TORONTO (Nov. 12) — How many times can we put a different spin on the same likelihood? Let us count.
1 Toronto's three–player nucleus beyond the coming season will be Tavares, Matthews and Marner.
2 The Nylander contract stalemate… is an indication that Kyle Dubas may not move into the 2019–20 season with all three draft gems. And, you can bet the house Marner and Matthews aren't going anywhere.
3 Whether it happens this season or next summer, I maintain the Leafs will have to trade one of their Big 3 draft gems of 2014–16. And, it ain't gonna be Mitch Marner or Auston Matthews.
4 William Nylander is the likely choice (to be traded by the Leafs)… and would have been regardless of the ongoing stalemate with general manager Kyle Dubas.
5 Nylander cannot suit up until he agrees to a post–entry–level pact; neither Marner nor Matthews will be eligible to step on the ice next season before doing the same.
6 Steve Simmons (Toronto Sun) called himself "crazy" by proposing a swap that would "never happen": Nylander and Jake Gardiner to goal–starved Los Angeles in return for Drew Doughty waiving his no–movement clause. If that type of suggestion is "crazy", I've been deranged for the past couple of years.
7 Members of the Toronto media are claiming the Leafs wouldn't "need" to trade Nylander before the end of next season. Which may be accurate from a numbers perspective but is terribly shortsighted.
Have I made it clear that the Maple Leafs will "probably" trade William Nylander — whether or not he signs with the club before the in–season deadline (Dec. 1)… and whether or not he settles on a long–term or "bridge" contract? The seven passages, above, are from blogs in this corner since the summer and Toronto's free agent pursuit of John Tavares. I have neither the time nor ambition to check prior instances of saying the Leafs must trade from a position of forward–depth to balance the roster behind center ice. So, neither did I snap to attention on Saturday when my ol' pal (and FAN–590 colleague) Elliotte Friedman reported that Kyle Dubas is assembling trade offers less than three weeks before Nylander becomes ineligible for the current season. Given such an impeccable media source, the news merely affirmed my long–held belief.

TERRIFIC PHOTO BY WINSLOW TOWNSON OF THE ASSOCIATED PRESS DURING THE LEAFS–BRUINS GAME IN BOSTON SATURDAY NIGHT. ICE SHAVINGS FLY AS KASPERI KAPANEN CHECKS JOHN MOORE INTO THE BOARDS. THE BRUINS PREVAILED, 5–1, HANDING TORONTO ITS FIRST ROAD LOSS.
And, for the record, I love No. 6, above. Los Angeles — sitting dead–last in the 31–team National Hockey League as of today with 11 points and a measly 33 goals–scored in 16 games; having already fired a coach this season (John Stevens) — would be an ideal landing spot for Nylander.
Too bad blockbuster trades in the salary–cap world are almost unheard of.
ANDERSEN A BARGAIN? I understand the theory that emerged in local print last week about the Leafs' No. 1 goalie providing economic worth. Given his numbers through 12 starts (7–5–0 / tied with Andrei Vasilevskiy of Tampa Bay for most wins / 2.28 GAA / .924 SV%), Frederik Andersen is good value ($5 million salary and cap–hit through the 2020–21 season). He will not, however, be considered any sort of "bargain" until minimally guiding the Leafs beyond the opening round of the Stanley Cup tournament. Nor will the tag hold water if Andersen does so… and then falls apart in the second round. Only a deep run (into June) can erase the notion that the big Dane is not a "playoff goalie". Proof to the contrary is still required. As is evidence that Freddy can survive another overload of 65–plus starts in the regular season.
SAME MOVIE, DIFFERENT YEAR: Saturday night's 5–1 beat–down in Boston could easily have been Game 8 of the Leafs–Bruins opening–round playoff series from last April. It followed the script of Toronto coming up small in most visits to the TD Garden and the inability to contain Boston's top forward unit of Patrice Bergeron, Brad Marchand and David Pastrnak. That trio erupted for 30 points in the seven–game playoff round. Pastrnak fooled Garret Sparks three times on Saturday. Deja vu… again.
GOOD, BUT NOT GREAT: Toronto will reach the quarter–pole of its schedule this week during a three–game swing through fire–ravaged California (Tuesday: Los Angeles; Thursday: San Jose; Friday: Anaheim). Though the club is faring nicely — fourth in the NHL with an 11–6–0 record for 22 points — it can no longer match the best "start" (pertaining to fewest losses) in modern franchise history. Having won their first 10 games, the 1993–94 Maple Leafs (Pat Burns, Doug Gilmour et al) were 19–5–4 after 28 outings. With rookie coach Roger Neilson, the Leafs of 1977–78 compiled a 19–6–3 record in their first 28 matches. The current club needs to go undefeated in the next 11 games (8–0–3) to match that mark.
MINIMAL WORK: Only twice this season have the Leafs gone past regulation time — in the season opener (Oct. 4) at home to Montreal and the first road game (Oct. 7) in Chicago. Leafs won both in overtime. Toronto hasn't lost after 60 minutes since Feb. 27 (3–2 in OT) at Florida… 33 regular–season games ago.
SPORT CARD & MEMORABILIA EXPO
Toronto International Centre — Nov. 9–11, 2018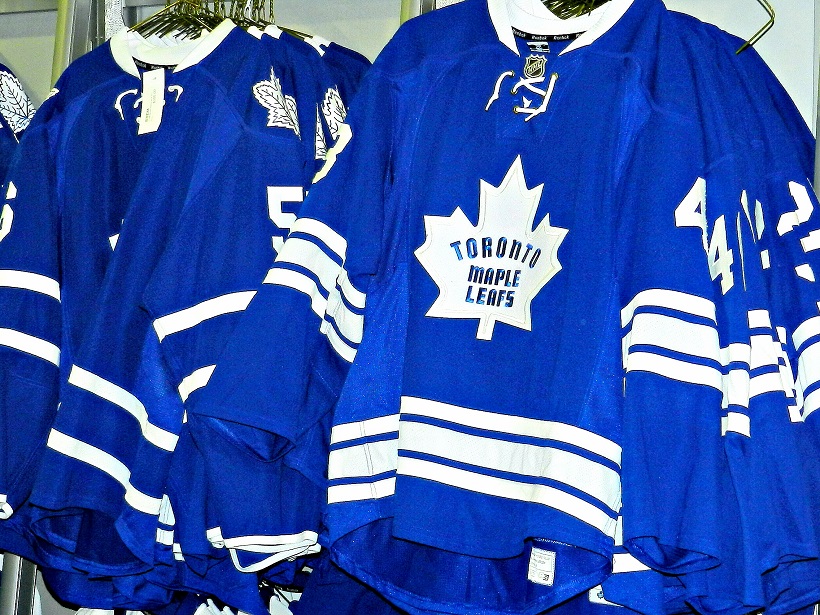 Always enjoy attending the bi–annual sports collector's show across from Pearson International Airport here in Toronto — held in May and November each year. From the old–style Toronto Maple Leafs jersey (above: worn at home from the 1967 Stanley Cup playoffs through the 1969–70 NHL season) to tables full of trading–card boxes (below), the Memorabilia Expo is a treat for those with a nostalgic flair. I spent some time perusing the aisles on Saturday afternoon… with, of course, my trusty NIKON: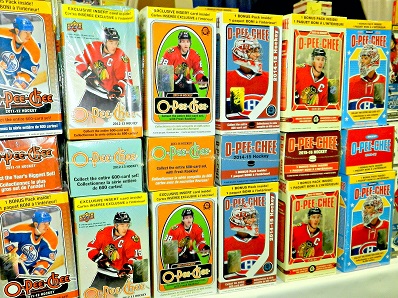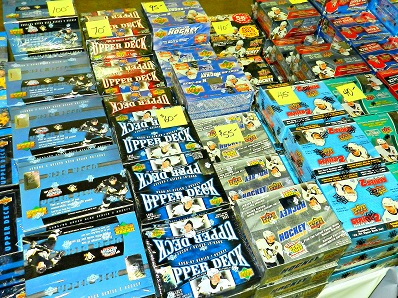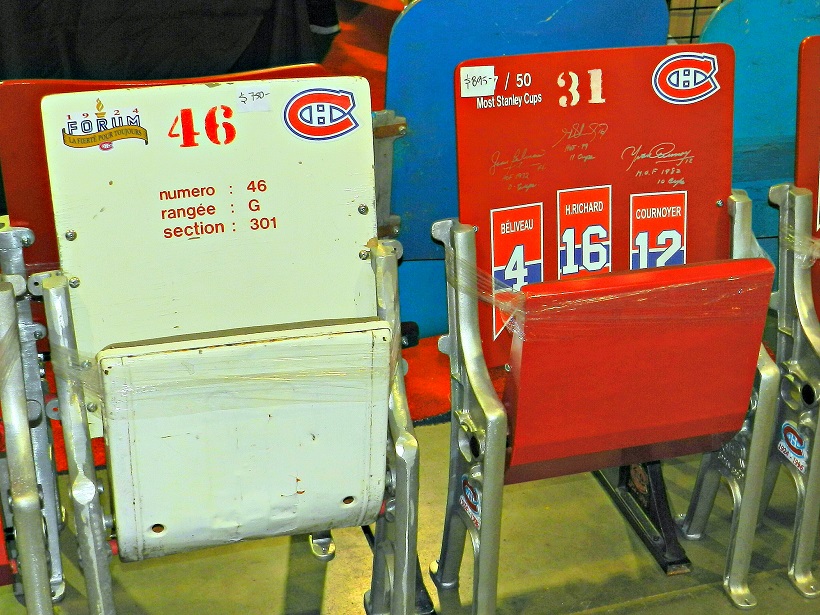 A SEAT FROM THE OLD MONTREAL FORUM, WHICH CLOSED TO THE NHL IN MARCH 1996, COULD BE HAD (ABOVE) FOR LESS THAN A THOUSAND DOLLARS. AUSTON MATTHEWS PARAPHERNALIA WAS ALL OVER THE PLACE (BELOW), AS YOU'D IMAGINE IN THIS RABID HOCKEY TOWN.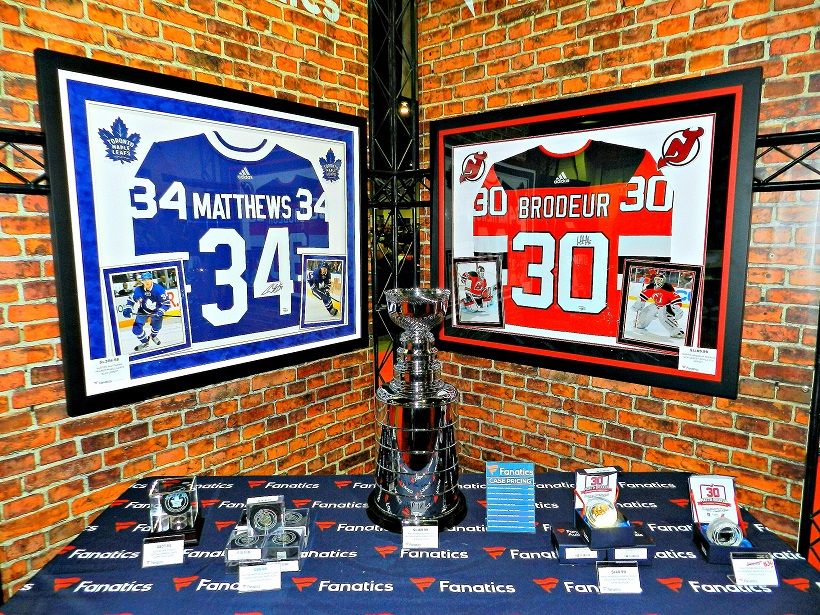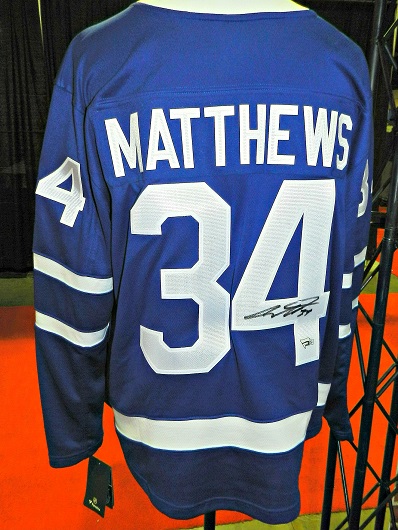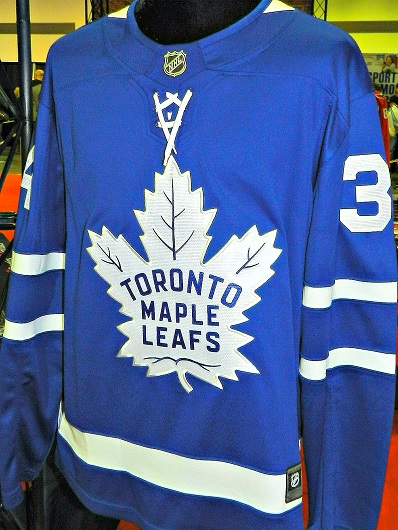 HOWARD WALKED AWAY WITH…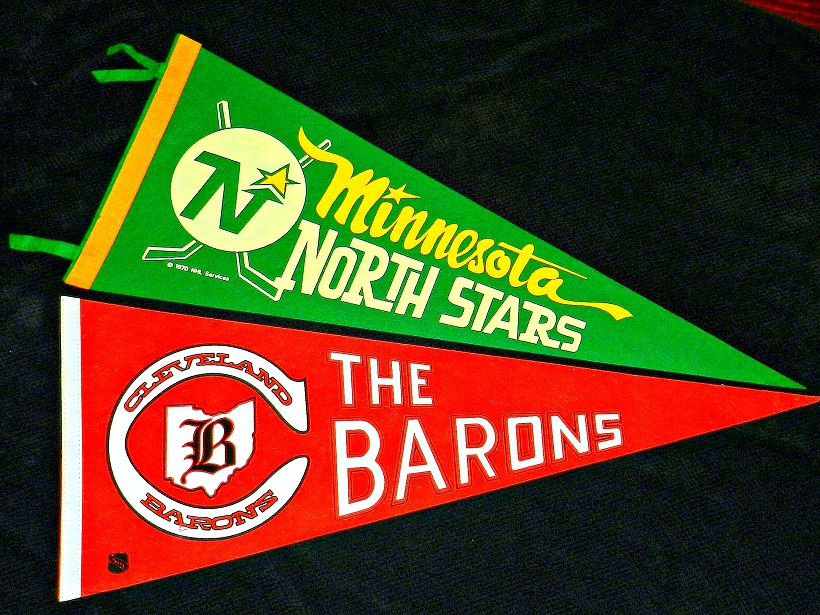 Every time I attend this show, I think of the Barenaked Ladies' song If I Had a Million Dollars. A moving van would be needed to clear the place. As it is, I arrive with a modest budget and usually maintain it. On Saturday, I dropped $50 on the vintage pennants (above): Minnesota North Stars (from 1970) and Cleveland Barons (1976). It's difficult to find anything Barons–related; the club played only two seasons in the NHL (1976–77 and 1977–78) after relocating from Oakland. Coincidentally, the North Stars absorbed (or "merged" with) the bankrupt Barons in 1978–79; the franchise moving to Dallas in 1993. I also picked up a media guide (bottom–left) from the Maple Leafs' 50th anniversary season. I already had one, but not in such–immaculate condition. And, The Sporting News (digital only since 2012) published a Hockey Register beginning in the 1960's (final edition in 2000–01). It featured statistics of all active players dating to their junior or college years. Maple Leafs defenseman Borje Salming graced the cover of the 1977–78 edition (bottom–right).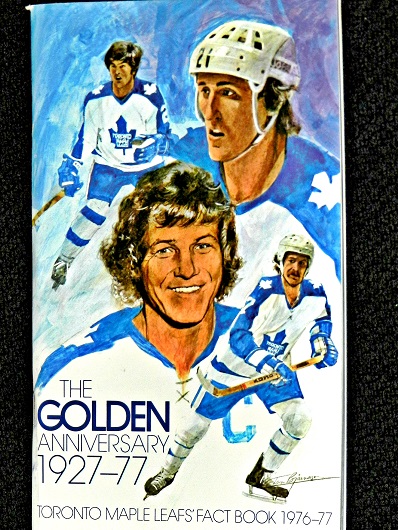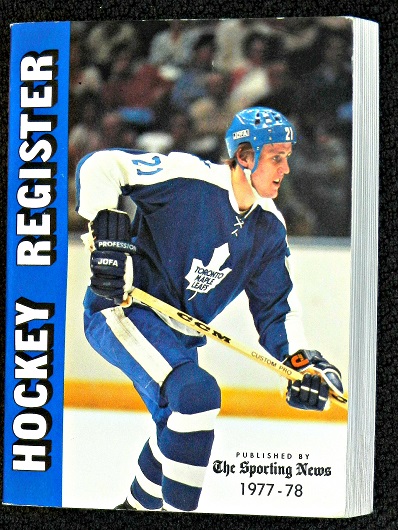 KEN REID'S LATEST BOOK…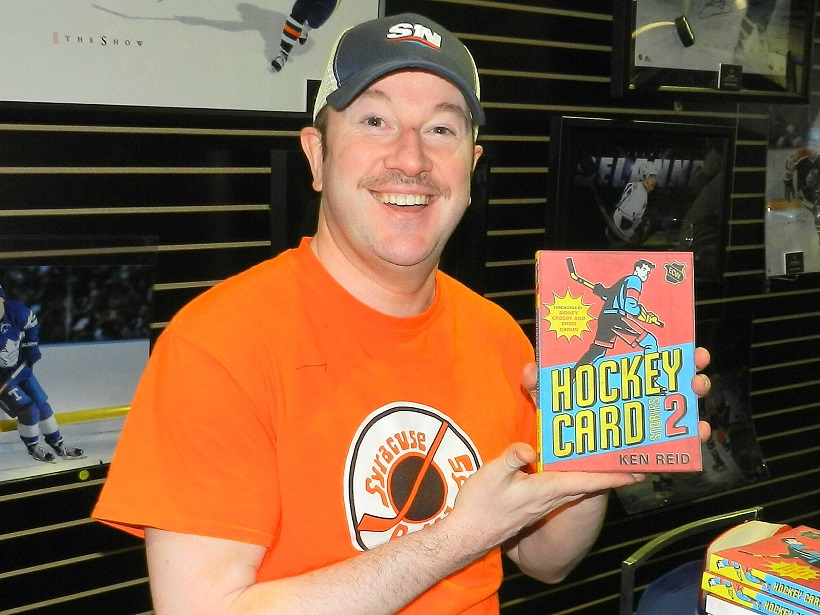 My long–time media pal, Ken Reid, was at the Expo, selling copies of his latest book HOCKEY CARD STORIES 2 — a sequel to his first–such effort in 2014. One of the good guys in the business (and a terrific broadcaster), Ken somehow finds time for his nightly Sportsnet Central wrap–up (with Evanka Osmak); a wife and two kids… and to write books. How he juggles all three, I'll never know. Forever a champion to marginal players in the NHL, Ken features many–such figures in this volume — among them: Tom Hartje, Cam Russell, Troy Mallette, Claude Vilgrain, Ken Sabourin, Hubie McDonough, Ron Plumb and Tim Bernhardt. The common factor? They all had at least one NHL card. Invariably, the lesser–lights are funny as hell.
An example, early in this book, is provided by Jamie Linden, brother of Vancouver Canucks' legend Trevor Linden. In February 1995, Jamie appeared in four NHL games with Florida, merely 1,378 fewer than Trevor. When asked by Ken about his first NHL match (at the Philadelphia Spectrum, Feb. 9, 1995), Jamie had the following recollections: "I was skating around and they were playing Welcome to the Jungle for the [pre–game] warm–ups… great. Dave Brown (of Philadelphia) skated by and his ass was like four feet wide. I'm thinking Oh my God, this is the biggest thing I've ever seen on skates… the ice is breaking. I go in and take an easy slap shot from between the blue line and the top of the circle, and I hit (teammate) John Vanbiesbrouck right in the nuts. He spent the whole warm–up bent over in the corner."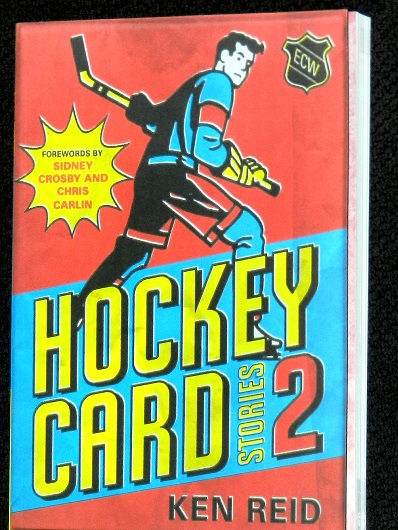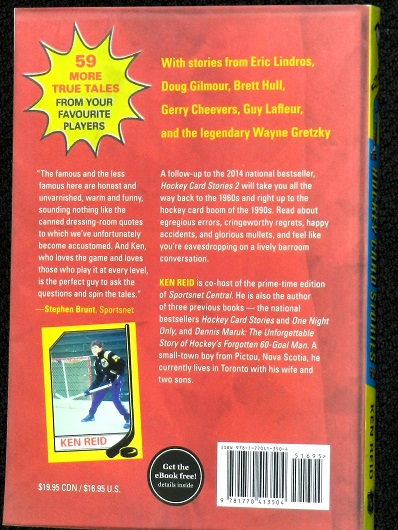 Published by sports–book leader ECW Press of Toronto, the book, cleverly, has a waxy feel on the front and back covers (above), similar to an old pack of bubble–gum hockey cards. The art–work is slightly blurred and off–color, also consistent with the card packs. Though Ken pays homage to non–household names, there is a section that features Hall–of–Famer's, including Eric Lindros, Doug Gilmour, Brett Hull, Paul Coffey, Mike Modano, Dino Ciccarelli, Gerry Cheevers, Guy Lafleur… and, yes, the Great One, Wayne Gretzky (rookie card, bottom–right). Perhaps with intrinsic knowledge of how mediocre I appeared on skates, Ken offered a coaching tip (bottom–left) while signing a copy of the book on Saturday. Like his first hockey–card stories, four years ago, the sequel offers a light, refreshing read.
You can order your copy here: https://amzn.to/2QAYeoa.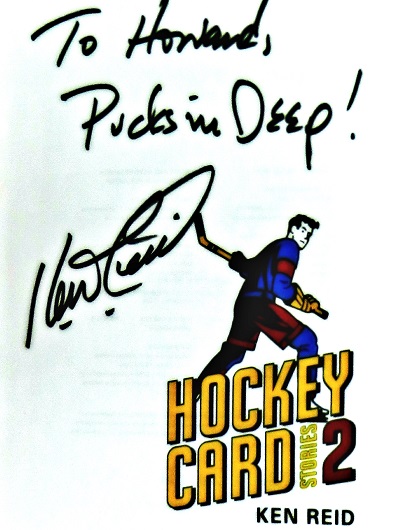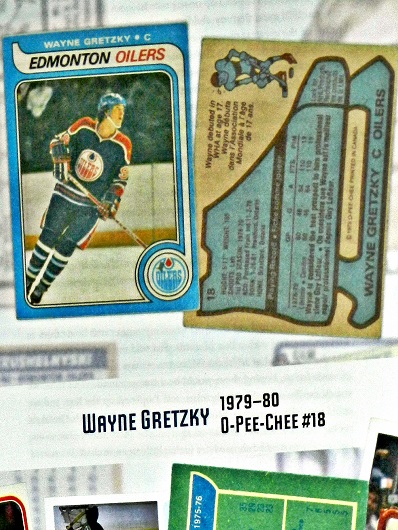 MORE FROM THE SHOW…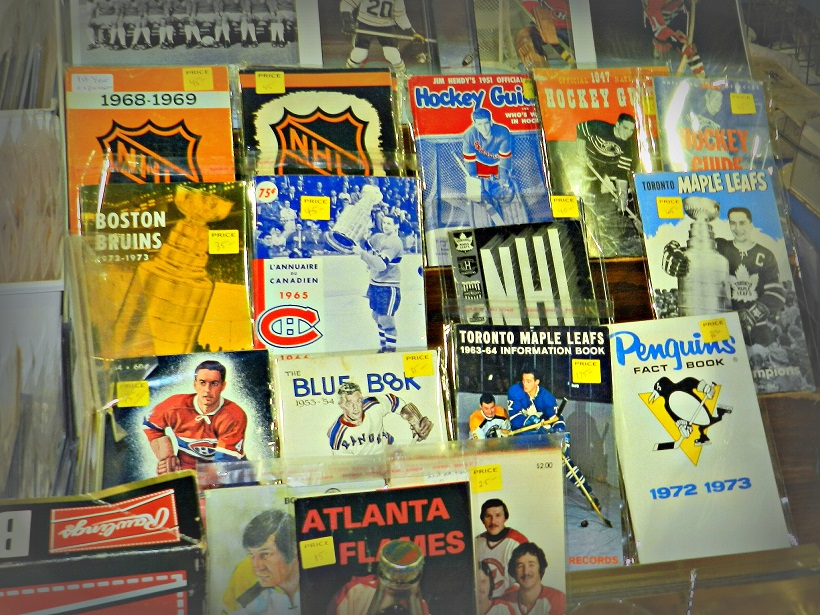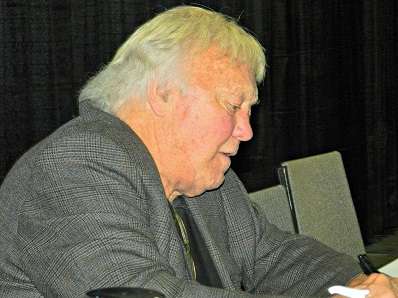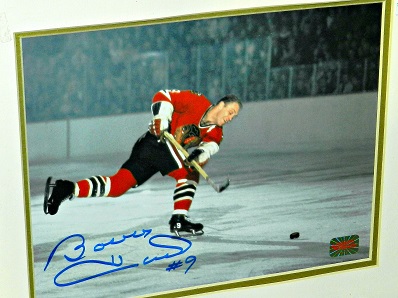 BOBBY HULL IS A REGULAR AT THE CARD AND MEMORABILIA EXPO. HE SIGNED AUTOGRAPHS (LEFT) FOR HOURS ON SATURDAY. HARD TO FATHOM THAT THE GOLDEN JET WILL TURN 80 ON JAN. 3.
JERSEYS… JERSEYS… EVERYWHERE JERSEYS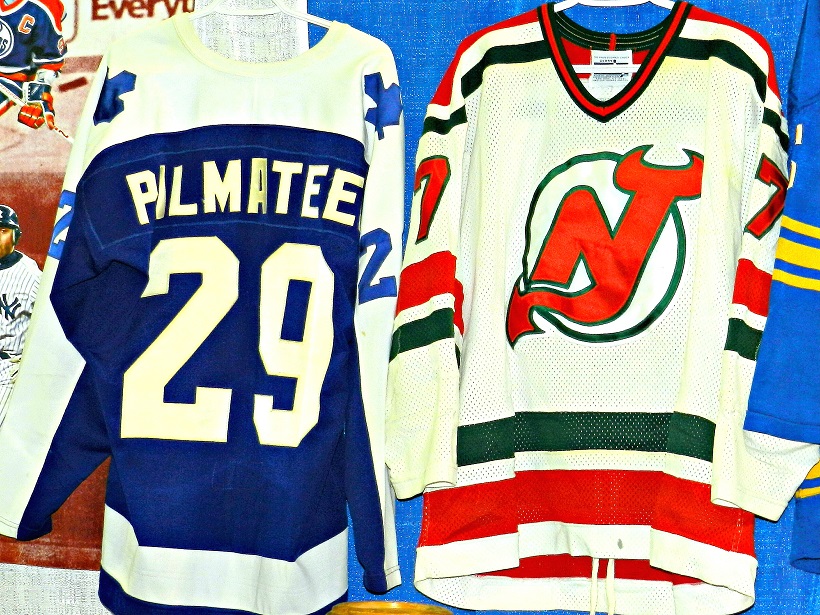 FROM LEAFS GOALIE MIKE PALMATEER (circa 1978) TO THE ORIGINAL NEW JERSEY DEVILS COLORS (RED AND GREEN), NHL VINTAGE JERSEYS (MOST AUTOGRAPHED) WERE ALL OVER THE EXPO HALL.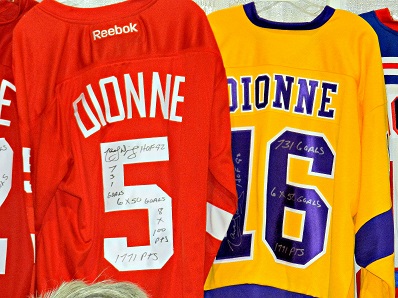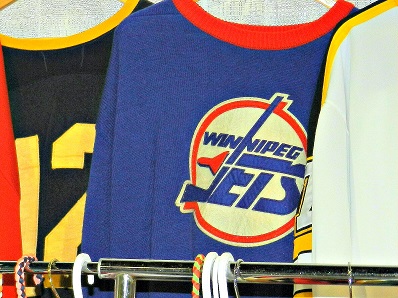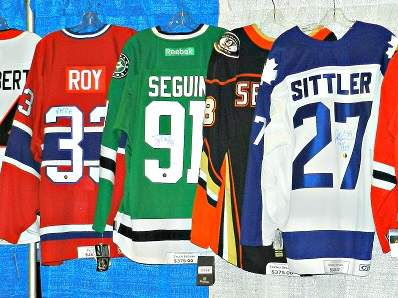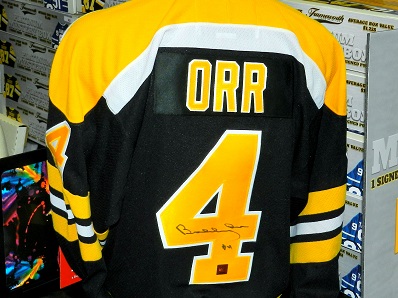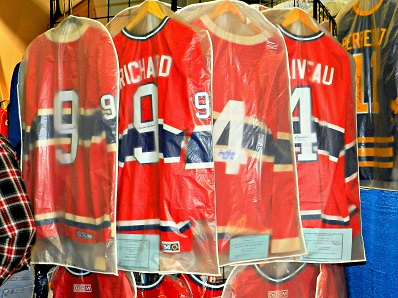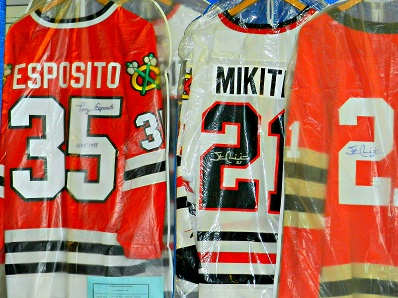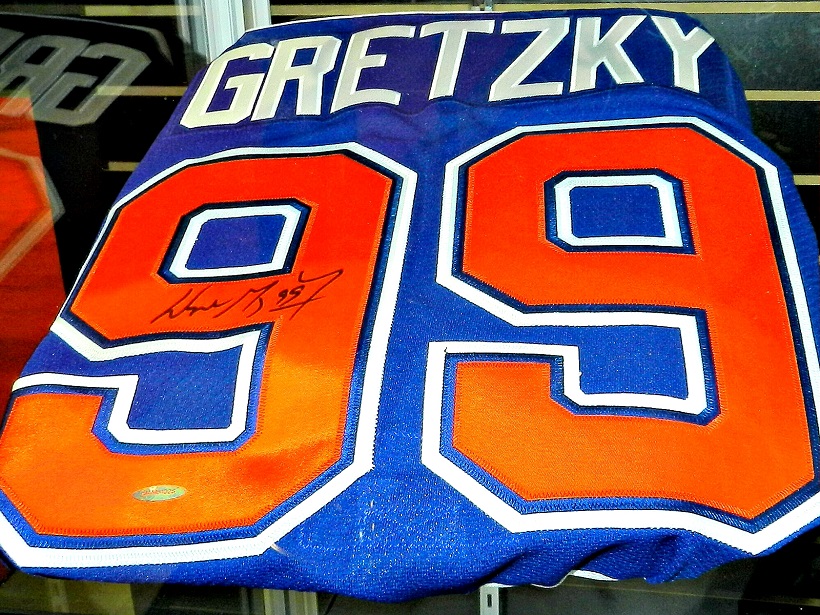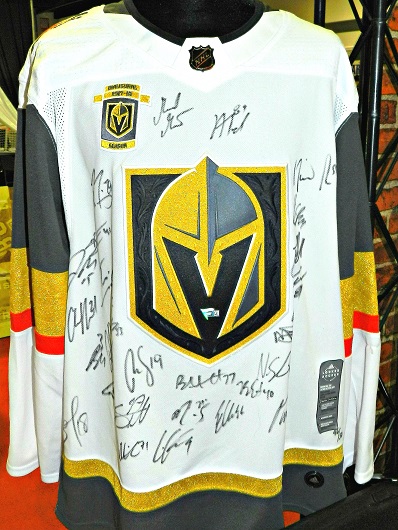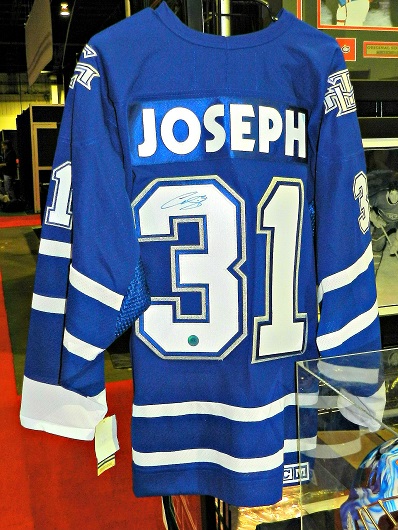 A ROAD JERSEY OF THE VEGAS GOLDEN KNIGHTS (TOP–LEFT), SIGNED MY ALL MEMBERS OF THE RECORD–SMASHING EXPANSION TEAM, WILL BE WORTH A FORTUNE SOME DAY. SELLER AT THE SHOW WANTED CLOSE TO $2,000. AND, CUJO ITEMS (TOP–RIGHT) ARE STILL POPULAR HERE IN TORONTO.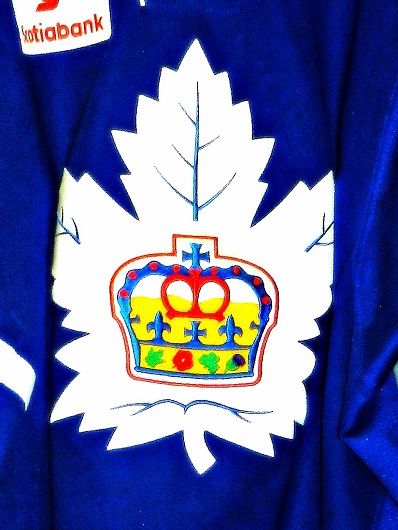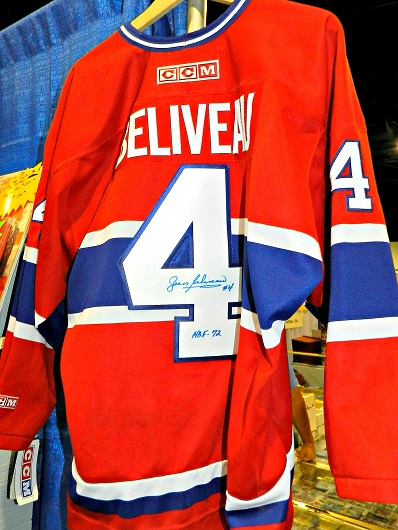 THE TORONTO MARLIES (AND THE MARLBORO ATHLETIC CLUB'S) LEGENDARY LOGO (TOP–LEFT) WAS ON COPIOUS JERSEYS FROM THE 2018 CALDER CUP (AHL) CHAMPION. AND, WHAT WOULD A HOCKEY COLLECTOR'S SHOW BE WITHOUT ITEMS SIGNED BY THE LATE, GREAT JEAN BELIVEAU?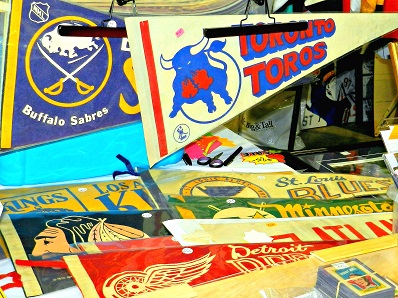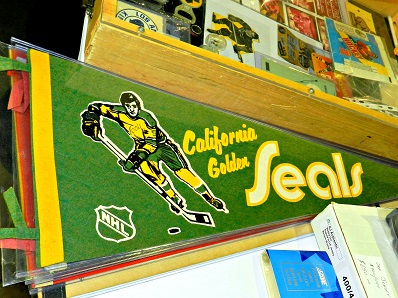 TORONTO TOROS (WHA) AND CALIFORNIA GOLDEN SEALS: TEAMS FROM A BYGONE ERA.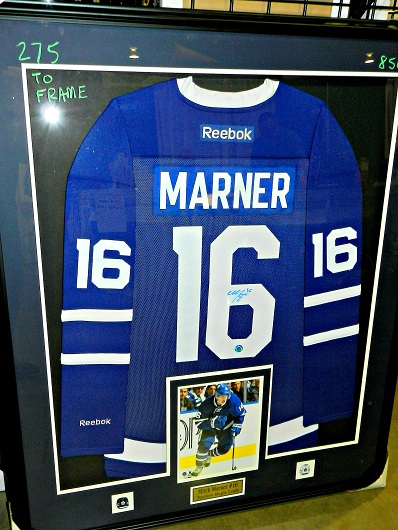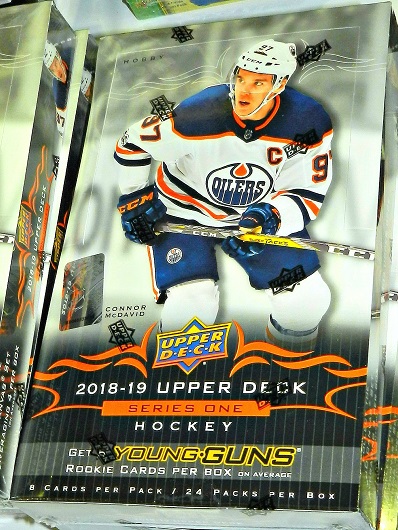 TWO OF THE NHL's BRIGHTEST "YOUNG GUNS" WERE UBIQUITOUS IN THE EXPO HALL.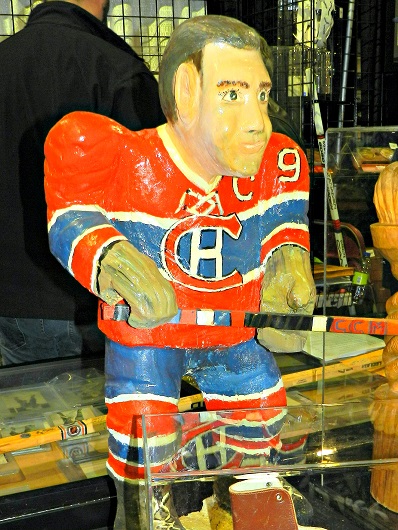 CERAMIC LIKENESS OF THE ROCKET (LEFT). AND A REPLICA (SIGNED) KEN DRYDEN GOALIE–MASK.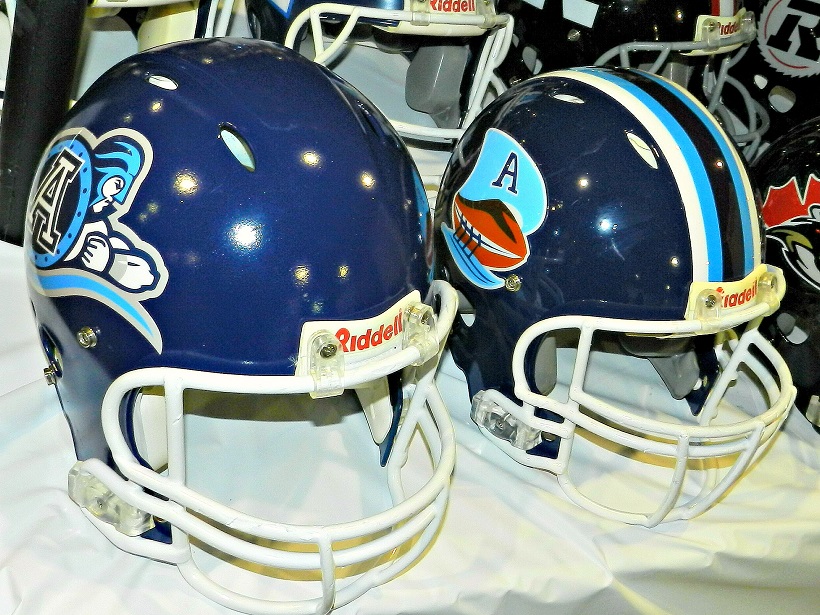 REPLICA FOOTBALL HELMETS WERE APLENTY IN ONE CORNER OF THE HALL. TORONTO ARGONAUTS GREY CUP VERSIONS (1996–97, TOP–LEFT, AND 1983, RIGHT) LOOKED PARTICULARLY ENTICING. A "MIRRORED" NEW ENGLAND PATRIOTS HELMET (BOTTOM–LEFT) SIGNED BY TOM BRADY WAS AVAILABLE FOR SOMEONE WEALTHY. AND, OLD–STYLE BUFFALO BILLS LIDS (BOTTOM–RIGHT).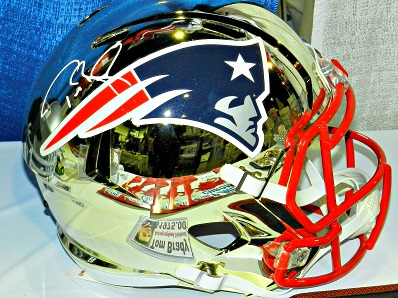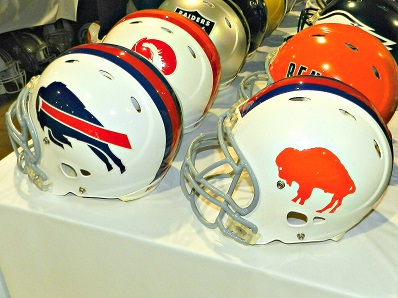 EMAIL: HOWARDLBERGER@GMAIL.COM