TORONTO (Dec. 10) — Don Cherry, on Feb. 5, will be 85 years of age, having enjoyed what is likely the longest–running show for an individual in the history of television, anywhere in the world.
Over 37 years, since the 1981–82 season, Cherry has appeared in the first intermission of Hockey Night In Canada on Coach's Corner — with Dave Hodge until 1986; then with Ron MacLean. Only play–caller Bob Cole, just more than seven months older than Cherry, has been seen longer on Canadian television, beginning with a Bruins–Montreal semifinal playoff game at the Boston Garden on April 24, 1969. Cole is in the final season of his career, calling 18 games for Rogers; his workload notably reduced over the past decade. Cherry, by comparison, continues his Saturday intermission segment; travels during the Stanley Cup final and remains busy writing books and producing his annual Rock 'em Sock 'em Hockey video, now in its 30th year. He is, in every conceivable way, a Canadian icon and the most–recognizable face in our country.
Old age, however, rarely discriminates.
Though Donald S. still brings remarkable energy and passion to his TV segments, he increasingly struggles to find words and names. Which is different from his silly, yet comical shtick of mispronouncing player names on purpose: "Lulongo" for Roberto Luongo; Oliver "Lossum–Tossum" rather than Ekman-Larsson; "Pokahonsky" for ex–Leafs winger Alexei Ponikarovsky; "Bee–eska" for Kevin Bieksa, and the all–time best (or worst) — when being told about former National Hockey League coach Alpo Suhonen (from Finland), replying to MacLean "Alpo… isn't that dog food?" Today, in his 85th year, Cherry is tripping up accidentally.
On Saturday night, for example, Don spoke about prolific Ottawa defenseman Thomas Chabot (eight goals and 33 points in 31 games), saying "he's playing a lot there because 'Eriksson' is gone." Cherry, of course, meant to say Erik Karlsson, traded to San Jose in the off–season. After showing the hit Boston defenseman Charlie McAvoy delivered from behind to Mitch Marner of the Leafs — in which Marner exaggerated his tumble into the boards and "suckered" the officials into calling a minor–penalty — Cherry told MacLean "what [McAvoy] should have done, kids, because you can't hit 'em anymore; you take your stick, [extend your arms], and hold 'em in there. Brian, uh… Brian, uh, uh… what he says, don't do the bear–hug anymore…" Cherry, I believe, was thinking of Sportsnet colleague Brian Burke, but the last name escaped him. Also in the first intermission of the Toronto–Boston game, and when proudly recalling the tough Bruin teams he coached in the 1970's, Cherry said "we were the guys that gave the 'energies'" — meaning injuries.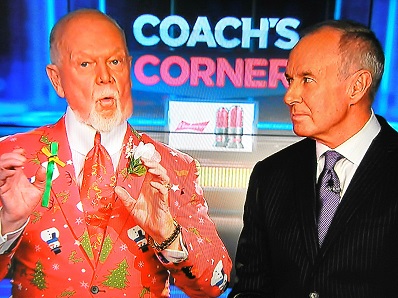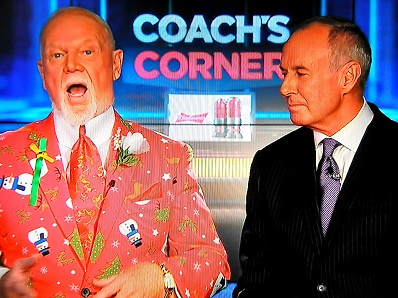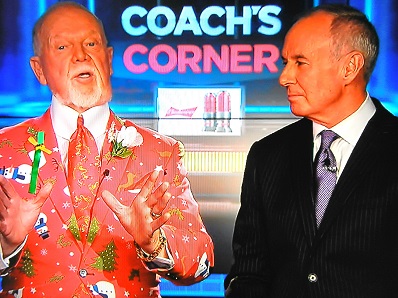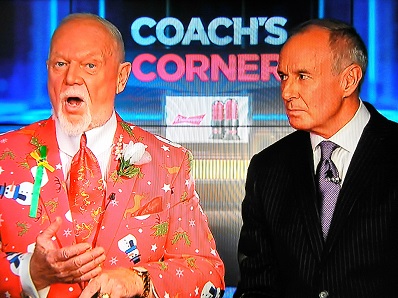 OUTFITTED FOR THE HOLIDAY SEASON (ABOVE) WITH RON MacLEAN ON SATURDAY NIGHT. AND, AUTHOR ONCE MORE (BELOW). ONLY AGE, IT APPEARS, CAN SLOW DON CHERRY. ROGERS/CBC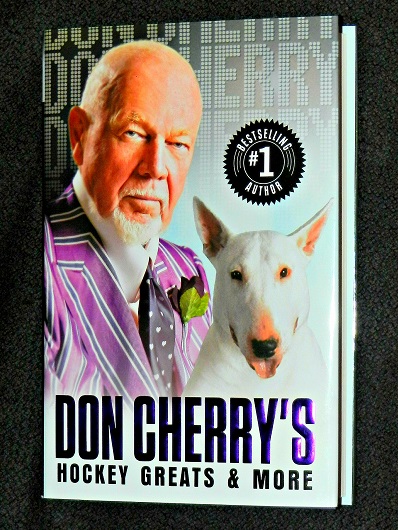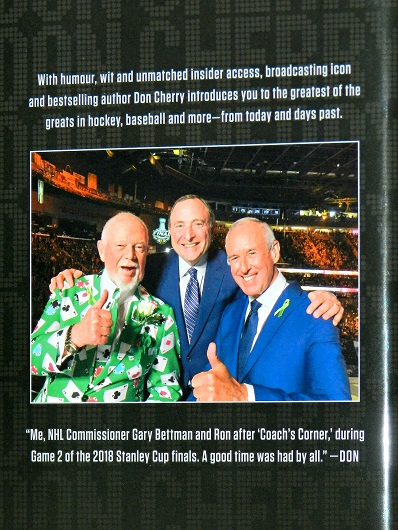 Despite his increasing gaffes, however, Donald S. can still make a point as sharply as any hockey analyst. Having shown the McAvoy hit–from–behind on Marner, and the rude manner in which Nicklas Kronwall of Detroit catapulted Auston Matthews into the end–boards last Thursday in Toronto, Cherry said "Matthews grew up in Arizona where they don't hit [while playing hockey]. He went to Switzerland, the Ice Follies over there where they don't hit… he doesn't know how to protect himself. You take Marner: ever since he was a little boy, everyone was after him. Same as 'Saint Lewis' (meaning Martin St. Louis); MVP, Hall–of–Famer, you never saw him hurt because he knew how to protect himself." In trying to assess whether Matthews is injury–prone (and/or something of a China Doll), it never dawned on me that he played a far–different style of hockey during his pre–NHL days and, in fact, may not know how to help himself avoid a mishap. Marner and St. Louis, by comparison, grew up in Canada and learned the NHL game in their formative years.
With the score out of hand (6–1 Boston) in the third period, the Leafs–Bruins match degenerated into an exchange of cheap–shots. Looking, perhaps, to avenge McAvoy's tap–from–behind on Marner, Toronto teammate Zach Hyman barreled into the defenseman from the blind side well–after McAvoy had passed the puck up ice. Neither seeing Hyman, nor expecting to be run over, McAvoy hit the boards hard, having just returned from a concussion. Hyman was given an interference–major and game–misconduct; later suspended for two games by the NHL. Moments afterward, Chris Wagner of Boston took a run at Morgan Rielly in the neutral zone and clipped the Toronto defenseman in the chin, sending Rielly sprawling and earning a charging–minor and 10–minute misconduct. On Hockey Night, analyst Craig Simpson — not usually excitable — nearly jumped out of the broadcast booth while yelling about the "predatory" assault.
After the game, and again accurate, Cherry laughed, saying "predatory? Rielly was looking right at him." Perhaps a bit of an exaggeration, but pointing out that Rielly saw Wagner more than McAvoy saw Hyman.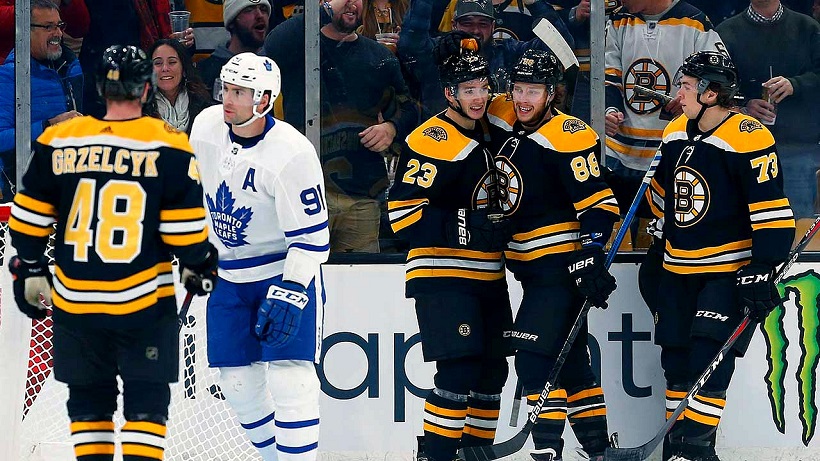 IN A RUGGED, LOP–SIDED AFFAIR, THE BRUINS AGAIN PUMMELED JOHN TAVARES (91) AND THE MAPLE LEAFS AT TD GARDEN, WINNING 6–3 ON SATURDAY NIGHT. GETTY IMAGES/NHL
Cole and Cherry rank among the oldest sports figures in North America to regularly appear on television and/or radio. Vin Scully holds the record, calling Los Angeles Dodgers games past his 89th birthday, before retiring in 2016. The late Ernie Harwell was 84 when he called his last game as voice of the Detroit Tigers. Pat Summerall, the most–recognizable NFL play–caller in the 1970's and 80's, retired from the booth at 80 (his celebrated partner, John Madden, at 73). Today, the venerable Marv Albert, 77, remains the lead play–caller for NBA games on TNT (Turner Network Television). Dick Stockton, 76, calls a weekly NFL game for FOX. And, Al Michaels is still going strong at age 74 as the voice of Sunday Night Football on NBC.
Interesting, too, that Cherry would stumble over Brian Burke's name on Saturday, for it is Burke who will almost–surely replace Cherry as the lead–pontiff on Hockey Night whenever the latter is unable or unwilling to continue. Coach's Corner will cease to exist and perhaps MacLean will exit with Cherry. But, Burke, a brilliant hire by Rogers, will draw huge intermission numbers with his candor and knowledge of the game.
EMAIL: HOWARDLBERGER@GMAIL.COM