TORONTO (Dec. 4) — If I saw it once, I saw it 100 times in emails and Twitter replies: "Yes, the Leafs can keep all of William Nylander, Mitch Marner and Auston Matthews under the salary cap." Often followed by "you're a moron" or other–such invective spewed by those hiding anonymously behind a social media handle.
It was in response to my blog here on Saturday night; moments after Nylander signed a six–year contract with nearly $7 million of salary–cap consumption beginning next season. As I repeatedly concluded during the negotiating impasse between Nylander and general manager Kyle Dubas, I offered the view that the Maple Leafs cannot retain all three of their draft gems and preserve the roster balance necessary to be a perennial Stanley Cup front–runner. On reflection, however, I saw that I used the wrong word. The Leafs, in fact, "can" do whatever they wish under the salary cap allotment. And, if stockpiling prolific forwards at the cost of defensive acumen is the club's financial strategy (as it clearly seems), I'm not at all certain the 52–year Cup drought will end. The more appropriate word was "should" — as in the Maple Leafs should ultimately trade Nylander to bolster their blue line and should not stubbornly retain their 2014–16 draft prizes in an effort to out–gun opponents at playoff time. An opinion that I'll perpetuate… until proven wrong.
Neither do I contend the Leafs over–compensated Nylander. They paid for potential rather than existing numbers… common among players moving past entry–level salary restriction. But, do the Leafs need the extra scoring Nylander will provide? Not if you're watching the same club as me. What the Leafs desperately require is personnel that can make life easier for Frederik Andersen. Even with the gifted triumvirate of Matthews, Marner and John Tavares, the big Dane needs to be spectacular most nights to keep the club in front, or on even terms. Saturday, at St. Paul, Minn., was a classic example: Andersen's brilliance in the third period — as the Wild out–shot the Maple Leafs, 18–8 — preserved a 3–3 tie until Nazem Kadri scored a fluky goal with 3:20 left (Zach Hyman added an empty–netter in Toronto's 5–3 win). In total, Andersen faced 41 Minnesota shots, a recurring theme for the club that allowed the most shots in the National Hockey League last season. And, essentially, a recurring theme throughout the post–1967 era for the Blue and White.

FREDERIK ANDERSEN AND NAZEM KADRI (43) PROVED THE DIFFERENCE FOR THE LEAFS IN MINNESOTA.
Evidence, to this point, clearly indicates that Andersen cannot endure more than one round of Stanley Cup competition; let alone the four rounds required for a championship. Certainly not behind a run–and–gun team, which the Leafs are, more than ever, this season. Unless Toronto effectively plays keep–away for two months, beginning in the second week of April, the end result isn't likely to be much different than last spring against Boston, or two years ago against Washington. Any assessment to the contrary is wishful thinking. Mike Babcock is again intent on running Andersen into the ground during the regular season; somehow believing his No. 1 goalie will find reserve energy when it matters most. Babcock's talented team performs almost identically to the past two years: flamboyant and creative beyond center–ice; loose and inefficient (most nights) defensively. Exactly how Nylander's presence will alter that pattern is a mystery.
Yet, many in the media regard this season as the Leafs' best opportunity to end the longest current Stanley Cup drought. Before the cap–crunch begins in the summer. And, maybe they'll be proven correct. After all, few clubs can boast a forward six–pack of Tavares, Matthews, Marner, Nylander, Kadri and Patrick Marleau. These same observers contend there's a "new way" to win the NHL title — puck possession and a swarming attack replacing the conventional reliance on toughness and order in the defensive zone. It is, however, difficult to envision any club prevailing through four rounds when its goalie enters the playoffs with a quarter–tank of gas. Which will be Andersen's fuel reserve if he continues to encounter 35 shots a night during 60 to 65 regular–season appearances.
So, yeah, the Leafs "can" keep all of their spiffy offensive stars under any salary–cap configuration. But, winning it all with a tired goalie and a lax defensive system is rather ambitious. And, it's the reason I would elicit any and all overtures for Nylander before the puck drops next October.
Dec. 4, 1968
Pittsburgh Civic Arena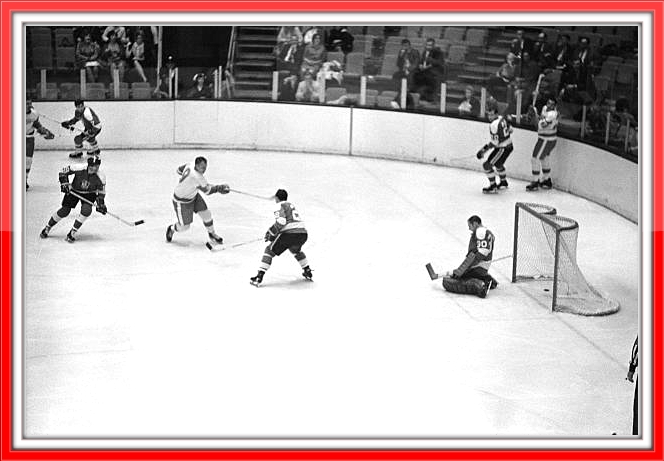 It was 50 years ago tonight that Gordie Howe became the first NHL player to reach the 700–
goal mark. Howe took a pass from linemate Frank Mahovlich and beat Pittsburgh goalie Les
Binkley with a low shot from 20 feet (photo above) at 7:13 of the first period. The Red Wings
hammered the Penguins, 7–2, at the old Civic Arena. The clubs wore jerseys as pictured
below: Mahovlich being watched by defenseman Bob Woytowich, beside Binkley. Today, the
NHL has seven players with 700–or–more goals: Wayne Gretzky (894); Howe (801); Jaromir
Jagr (766); Brett Hull (765); Marcel Dionne (731); Phil Esposito (717) and Mike Gartner (708).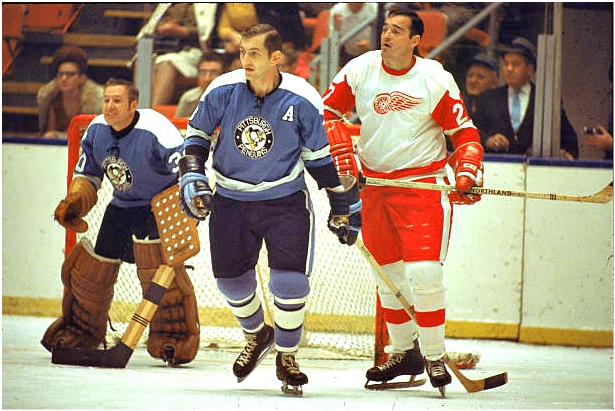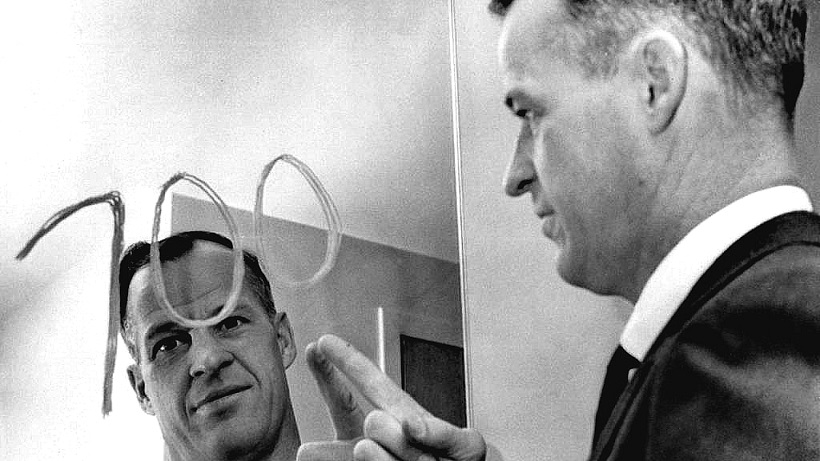 GORDIE HOWE POINTS TO THE NUMBER "700" ON A MIRROR AT CIVIC ARENA 50 YEARS AGO TONIGHT.
A STROLL PAST THE GARDENS
Having to drive downtown earlier today, I took the opportunity — as usual — to stop by my old stomping ground: Maple Leaf Gardens. Where I watched the Toronto Maple Leafs as a fan; then as a reporter, from 1966 to 1999. It's hard to fathom that Feb. 13 will mark 20 years since the final NHL game at the Gardens; Chicago upending the Leafs, 6–2, on that date in '99. The arena, though nearly identical in appearance on the outside, underwent a massive internal renovation which spawned the Mattamy Athletic Centre for Ryerson University and an enormous Loblaws outlet (on the southeast corner) for grocery shoppers. Still, memories abound whenever I stroll past 60 Carlton St. — which I did early this afternoon with my trusty NIKON: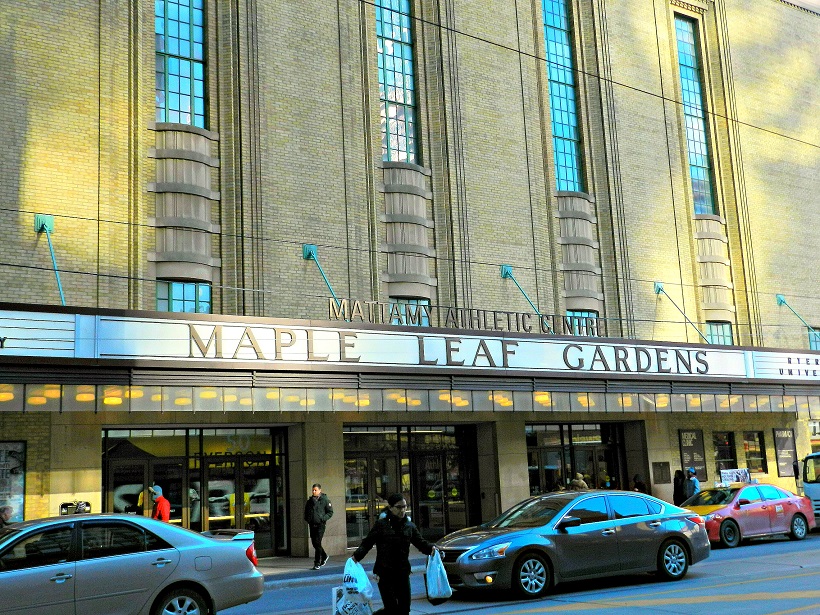 YES, PEOPLE TODAY EXIT THE GARDENS WITH SHOPPING BAGS, NOT PROGRAMS AND SOUVENIRS.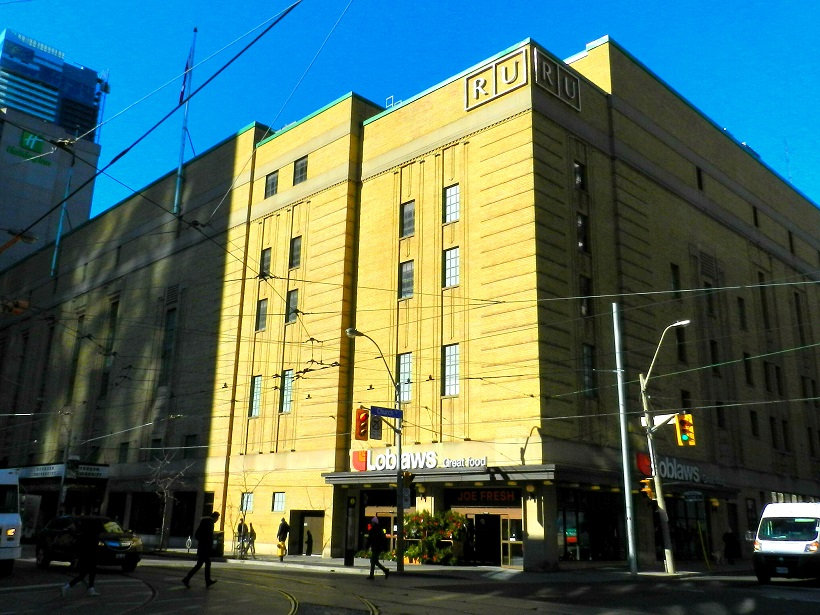 FROM THE ICONIC INTERSECTION OF CHURCH AND CARLTON STREETS. SOUTHEAST SIDE.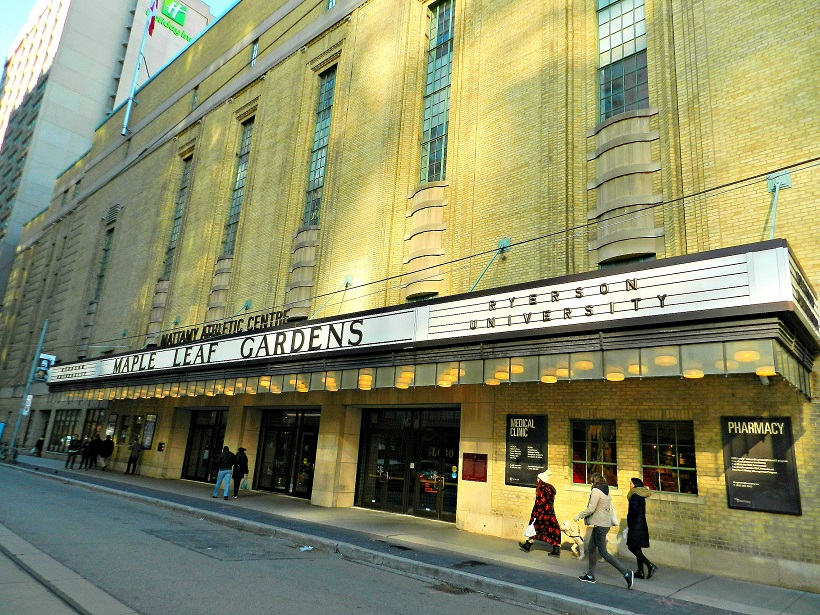 RENOVATION OF THE BUILDING IN THE EARLY–2000's MAINTAINED THE LEGENDARY SOUTH FACADE ON CARLTON ST., WITH THE DISTINGUISHING CATHEDRAL–LIKE WINDOWS ABOVE HE MARQUEE.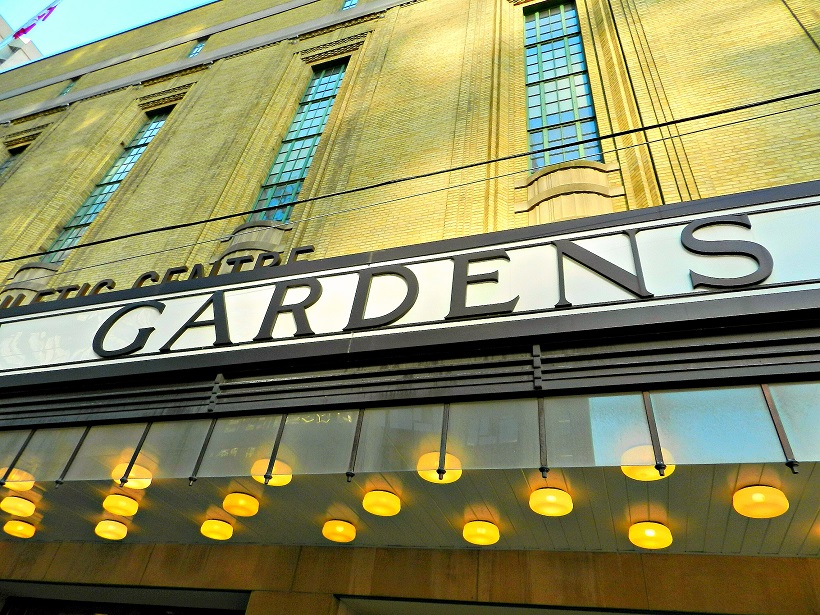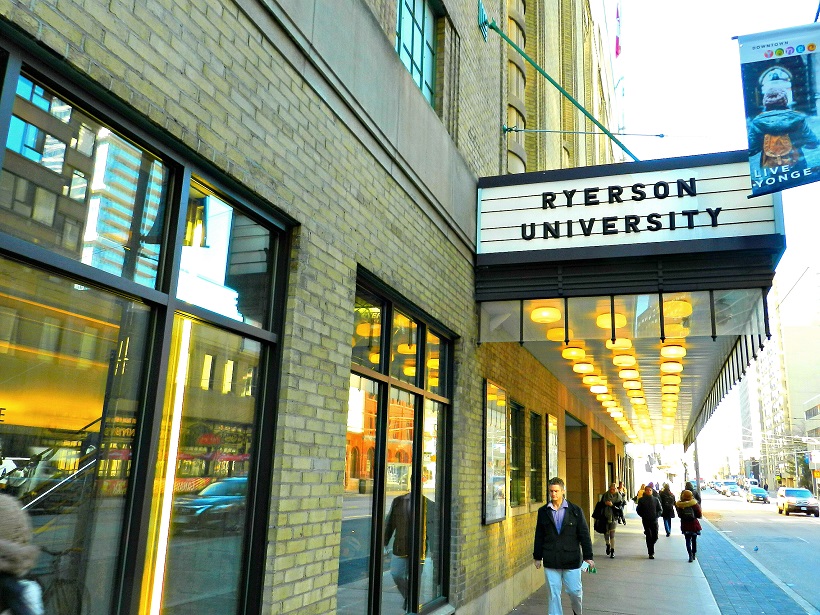 APPROACHING THE GARDENS IN THE 1960's AND 70's, THE ARENA SIDE–MARQUEE (RYERSON UNIVERSITY) WOULD SIMPLY STATE THE DAY AND VISITING TEAM. SUCH AS: "SATURDAY BOSTON".
EMAIL: HOWARDLBERGER@GMAIL.COM