TORONTO (Dec. 8) — Somehow, there has to be a trade–fit between the Maple Leafs and St. Louis Blues. Clubs arranged in separate Conferences. One building toward Stanley Cup contention; the other within three points of the National Hockey League basement. The former team with a surplus of offensive talent; the latter anemic beyond center ice. Unquestionably, the prime years of behemoth defenseman Colton Parayko are being wasted in Missouri. Perhaps not to the extent of Drew Doughty in Los Angeles, but Doughty has a couple of Stanley Cup rings. The only ring Parayko will acquire is through marriage.
Imagine how the Leafs might appear with a 6–foot–6, 226–pound addition to the blue line. A very good player — still just 25 — that uses his size effectively and doesn't take stupid penalties. One that could perfectly augment a team looking to end its 52–year championship drought. And, with personnel to dangle in front of Blues general manager Doug Armstrong, who has already fired a coach (Mike Yeo) this season. Don't you think Armstrong and Kyle Dubas could spend perhaps 20 minutes on the phone and arrange a swap to enhance both clubs? If yours truly were the GM of either team, the first 15 minutes would be spent making small–talk — asking about Christmas plans. It would require only five minutes at the end to cement a deal bringing Parayko and a third–round draft pick to Toronto for Kasperi Kapanen and Jake Gardiner.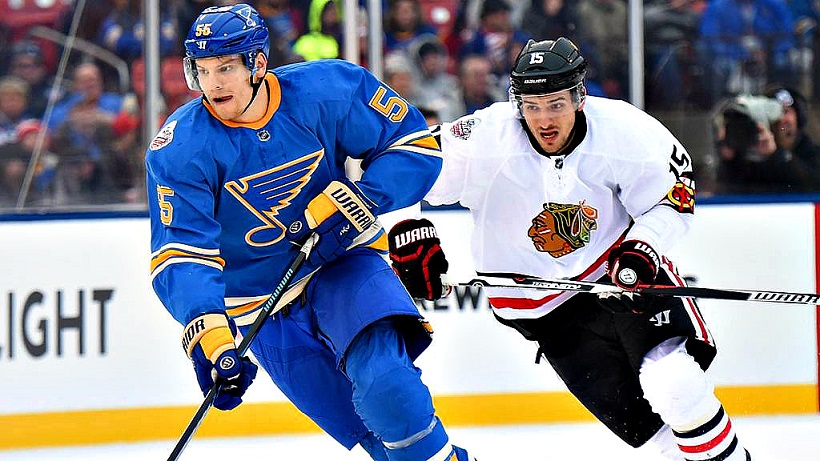 BIG COLTON PARAYKO LUGS THE PUCK DURING THE 2017 BRIDGESTONE WINTER CLASSIC BETWEEN THE BLUES AND CHICAGO BLACKHAWKS AT BUSCH STADIUM IN ST. LOUIS. NHL.COM
This would be a good hockey trade and a workable financial exchange.
Parayko is locked in at a $5.5–million cap–hit for three more years after this. Among defensemen, and currently on LITR (long–term injured reserve), the Blues have only Alex Pietrangelo ($6.5 million) under contract beyond next season. Gardiner, an unrestricted free agent in July, would thus be a superb addition to the St. Louis back end. Neither would he break the bank, as the Blues should have plenty of cap–space for 2019–20 (with, the contracts of Patrick Maroon, Jordan Nolan, Jay Bouwmeester, Carl Gunnarsson and No. 2 goalie Chad Johnson likely off the books). As of today, the website capfriendly.com has St. Louis at a projected cap–hit of $60,574,999 for next season, roughly $22 million beneath the anticipated limit. Kapanen, 22, is developing into a good scorer and also must be re–signed (as a restricted free agent coming off entry–level) before next season. He and Gardiner would surely spice up the impotent Blues' attack.
Toronto, meanwhile, would add a monster to the blue–line and not have to worry about negotiating with Gardiner and Kapanen. Given what we've observed in the first half of this season, young Andreas Johnsson (with five goals; also coming off ELC) appears capable of filling any void left by Kapanen. Also, the Leafs might (and I stress, might) be able to keep William Nylander, though his status will be largely determined by the contracts awarded to Mitch Marner and Auston Matthews. If Dubas, as it appears, is dead–set on retaining Nylander, the chances improve by unloading perhaps $11 million in salary for next season (Gardiner and Kapanen) in exchange for Parayko's $5.5 million. And, the Leafs get better behind center ice.
So, really, how much time should be consumed on the blower between Armstrong and Dubas to complete this transaction before the NHL trade deadline in February? Heck, they could FaceTime the deal tonight.
50 YEARS AGO
at Maple Leaf Gardens

Continuing to look, via my collection, at Maple Leaf Gardens hockey programs from the first half of the 1968–69 season. Fifty years ago this weekend (Dec. 7, 1968), the much–improved New York Rangers came to the Gardens sitting atop the NHL overall standings with 32 points (one ahead of Montreal). But, the Leafs — in the early stage of an eight–game unbeaten streak (7–0–1 from Dec. 4–21) — hammered the lofty visitors, 5–2. A 10–3–4 record between Dec. 4 and Jan. 8 turned around Toronto's season and lifted the club back toward the playoffs, after missing in 1967–68. Here are some contents from the program: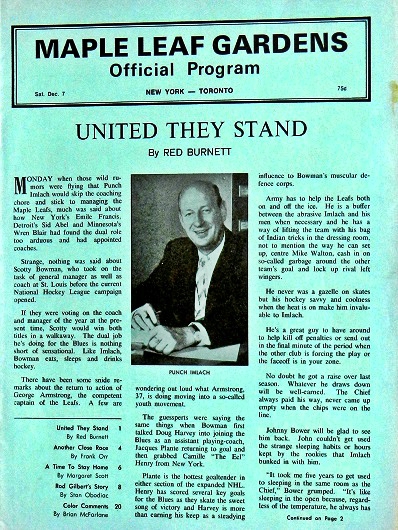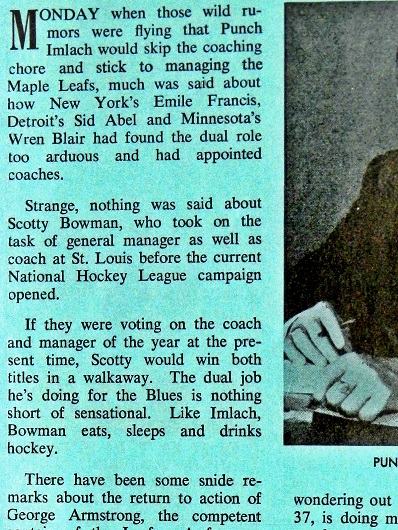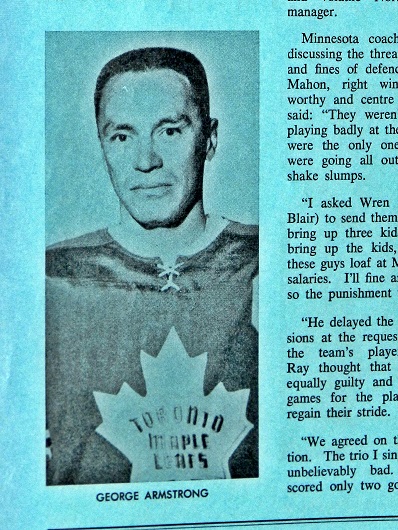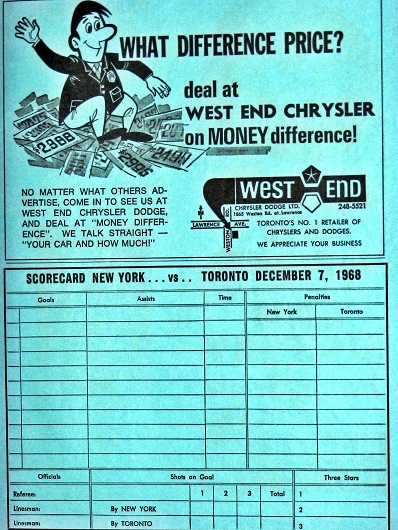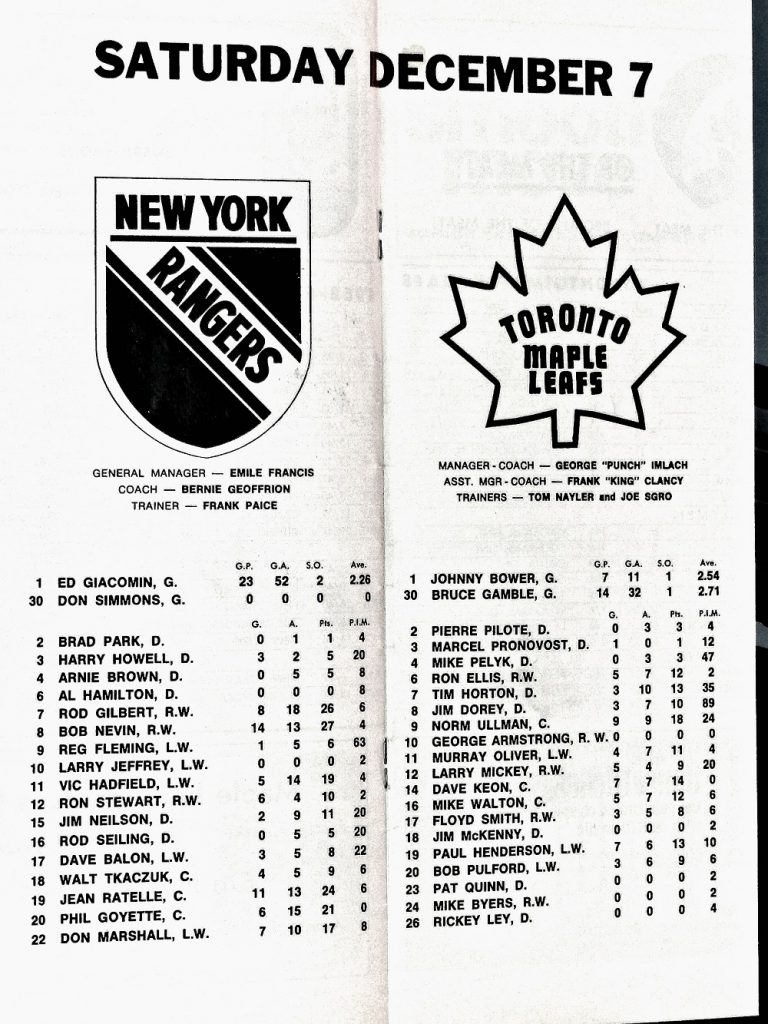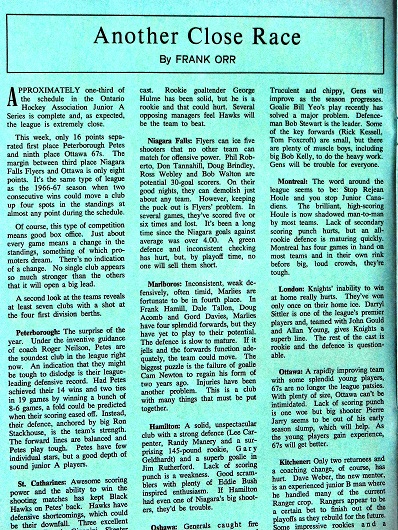 FRANK ORR OF THE TORONTO STAR (ABOVE AND BELOW) UPDATED THE OHA JUNIOR 'A' SEASON.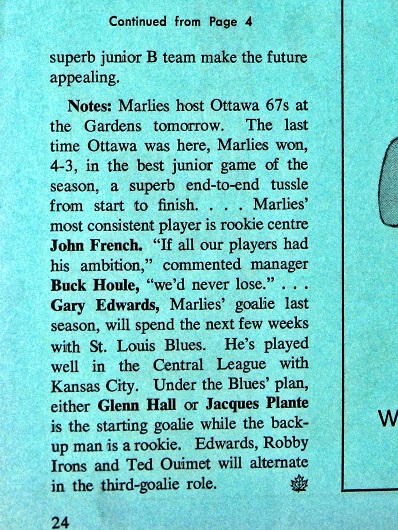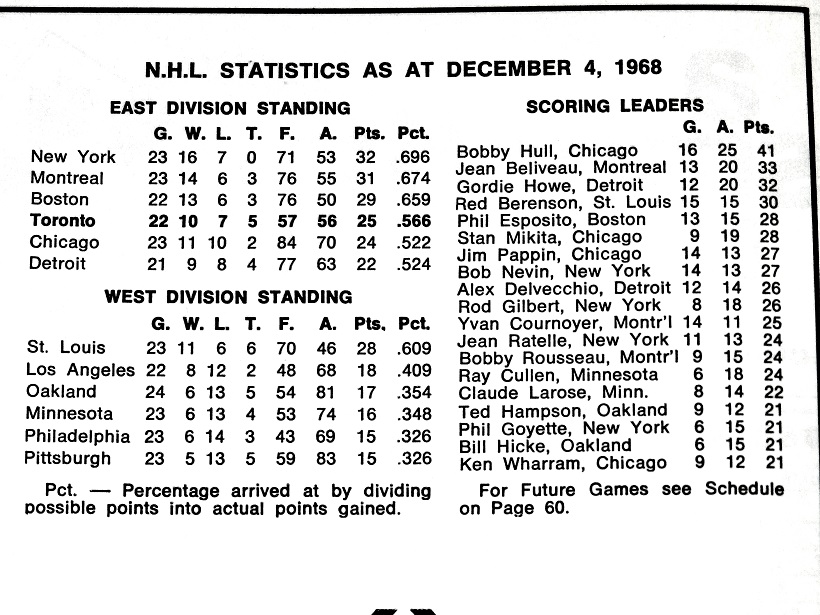 EMAIL: HOWARDLBERGER@GMAIL.COM