TORONTO (Dec. 18) — The headline on the Toronto Star website was so understated as to be comical: Maple Leafs GM Kyle Dubas confident team will sign Mitch Marner and Auston Matthews to long-term contracts.
Confident? The words that come to my mind are "certain". Or, "convinced". In fact, young Kyle has absolutely no choice but to retain the club's top two players for the maximum eight years, beginning next season. Never mind this "confident" drivel. Marner and Matthews are the faces of the Maple Leafs today… and moving forward. No questions asked. In Kyle's defense, he may not have actually uttered the word. Perhaps it was merely a headline writer at the Star. Here's more from Mark Zwolinski's story: "It'll be our intention to try to get those (done) as soon as possible," said Dubas, who says he wants to avoid the impasse that arose with William Nylander, one that cause the younger winger to miss the club's first 27 games this season while negotiating six–year, $45–million deal. "We want to avoid the situation we were just in (with Nylander) … we're completely in control of that this time in that there's no excuse that I can't say, 'Well, I wasn't doing this job a year ago.' We have to continue to work away with them. It (will) be our intention well before July 1 that we have an agreement and both players are here long–term. One way or another we'll get to that point."
I might argue one matter with Kyle: The Leafs are not "completely in control" of both situations. Who knows, for example, what Marner's agent, Darren Ferris, may request if his client leads the club in scoring this season and becomes the first 100–point winger in Leafs history? There is control with Bobby Orr as it pertains to Matthews, but only in a deal that guarantees the maximum term (eight years) and cap–hit ($12.5 million). Annual salary for Auston will likely top $14 million. John Tavares's cap figure is $11 million. Nylander comes in at $6.96 million through 2023–24. Patrick Marleau, $6.25 million in the final year of his contract. So, who's to say Ferris will not ask the Leafs for a Matthews–type package? Is Marner really less–important to the Blue and White? If so, I can't explain how. In a blog here on Sep. 22 (http://bit.ly/2DlBQgb), I wrote, in fact, that Marner is the club's most–indispensable player. Which I maintain. Matthews has Tavares to fall back on in the event of injury or a slump. And, vise versa. Without Marner's creativity, the Maple Leafs would have an insurmountable void. How can that not be reflected in his first multi–year contract?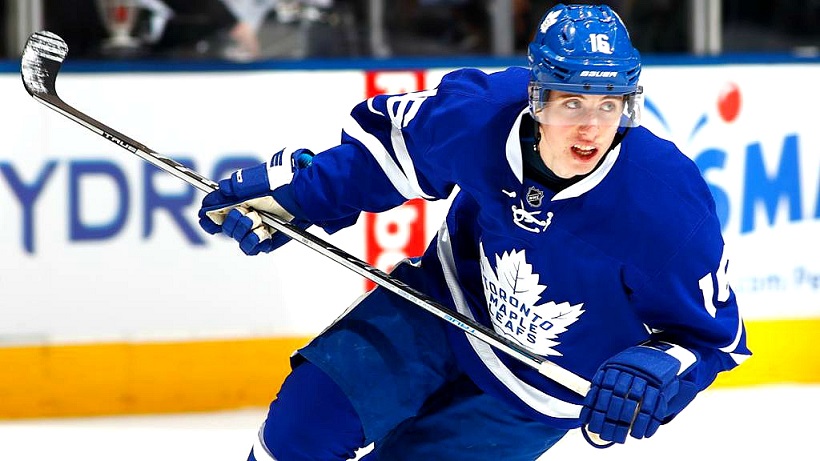 IS THERE A MORE–SIGNIFICANT LEAFS PLAYER THAN MITCH MARNER? DOUBTFUL. NHL.COM
And, it brings to mind, once again, the relentless cap–crunch awaiting Dubas. With Marner and Matthews almost–certain to devour $23 million in cap space — and with Jake Gardiner, Kasperi Kapanen, Andreas Johnsson, Tyler Ennis, Ron Hainsey, Par Lindholm, Igor Ozhiganov and Garret Sparks also needing to be re–signed or replaced before next October — Dubas won't get much sleep this summer. It's the reason I continue to favor the sort of trade I wrote about here 10 days ago (http://bit.ly/2SDaIfG): Toronto sending Gardiner and Kapanen to St. Louis for giant defenseman Colton Parayko. Coincidentally, and six days after posting the blog, TSN's Frank Seravalli listed Parayko atop his Trade Bait board (http://bit.ly/2S6QqLx) prior to the National Hockey League's holiday roster freeze (Dec. 19–27). Whether it happens tonight; next month or in the summer, such a deal would improve the Toronto blue line; help the punch–less St. Louis attack, and scratch two players off the 2019 negotiating list for Dubas. In other words, a win for both sides.
In any event, debating whether or not Matthews and Marner will be retained until the cusp of their 30th birthdays is a waste of time, air and newsprint. Barring a catastrophe, the Maple Leafs will be built and re–built around both players (and an aging Tavares). Only the Stanley Cup will assuage fans of the hockey club.
HOCKEY WORLD MAGAZINE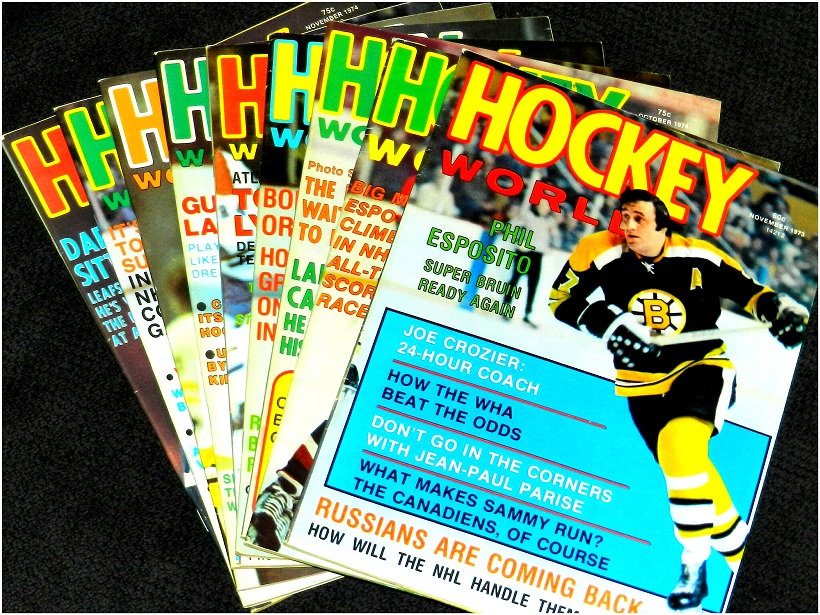 The most–expansive part of my hockey collection involves programs and magazines from the 1960's, 70's and 80's. Hockey World Magazine was published by The Hockey News during that time. Editions from the 60's and early–70's are bound into book–form on the top shelf of my bookcase (below). Those from 1973 on (above) are still piled in boxes. I looked at these issues and photographed some of the colorful covers. They show many of the NHL uniforms from the first half of the 70's. So, please enjoy this journey–in–time: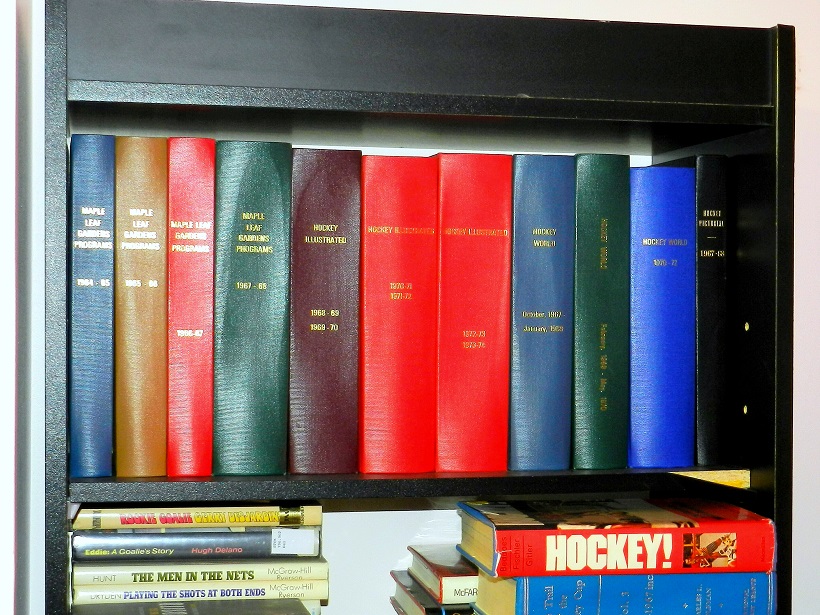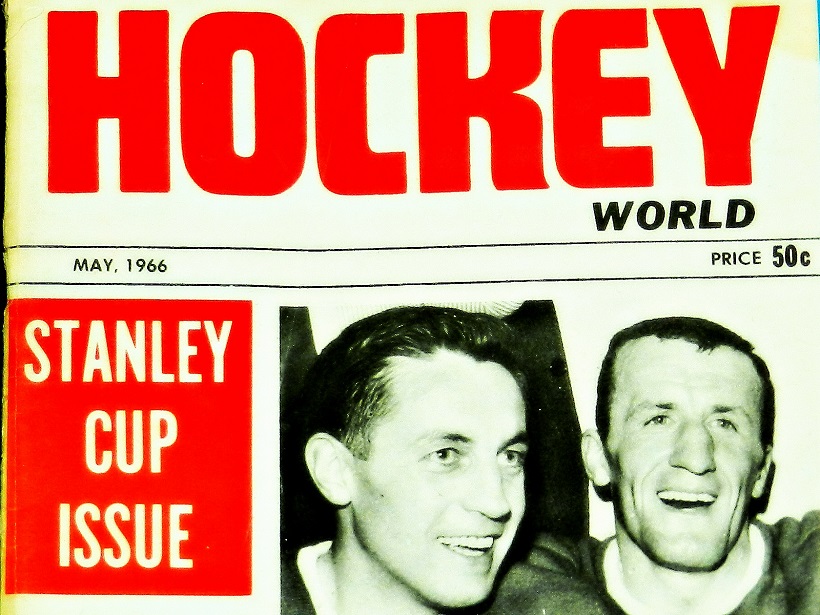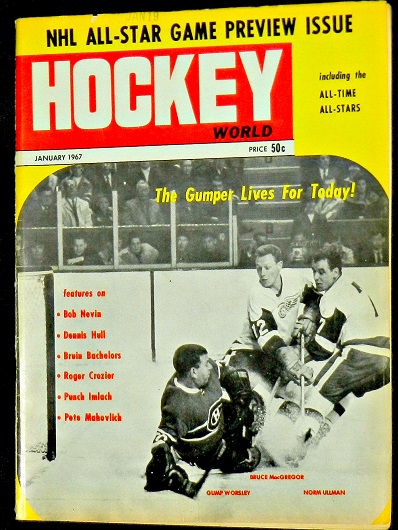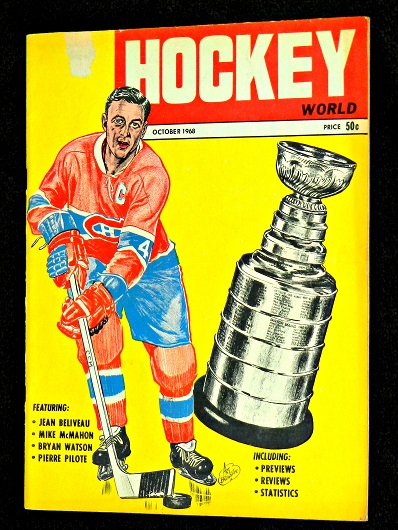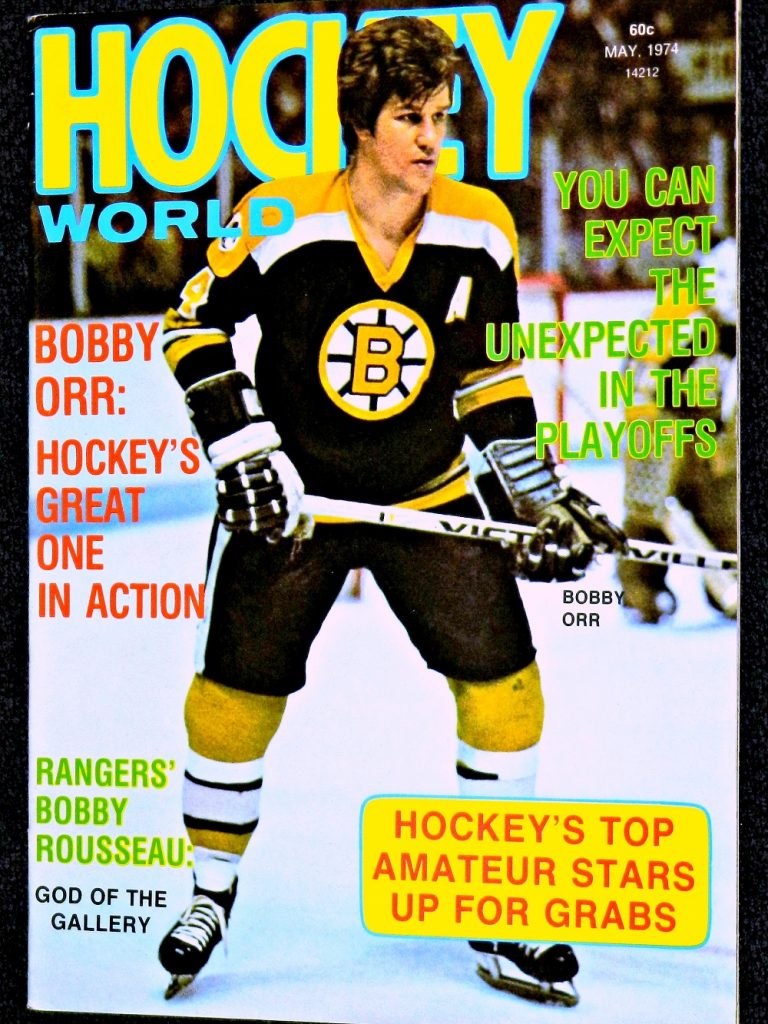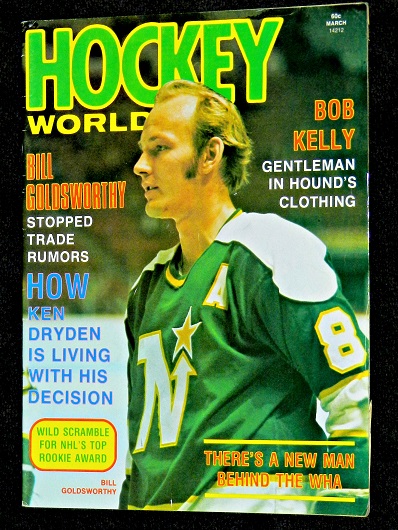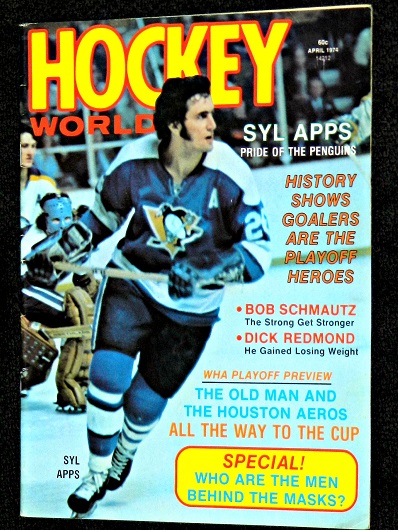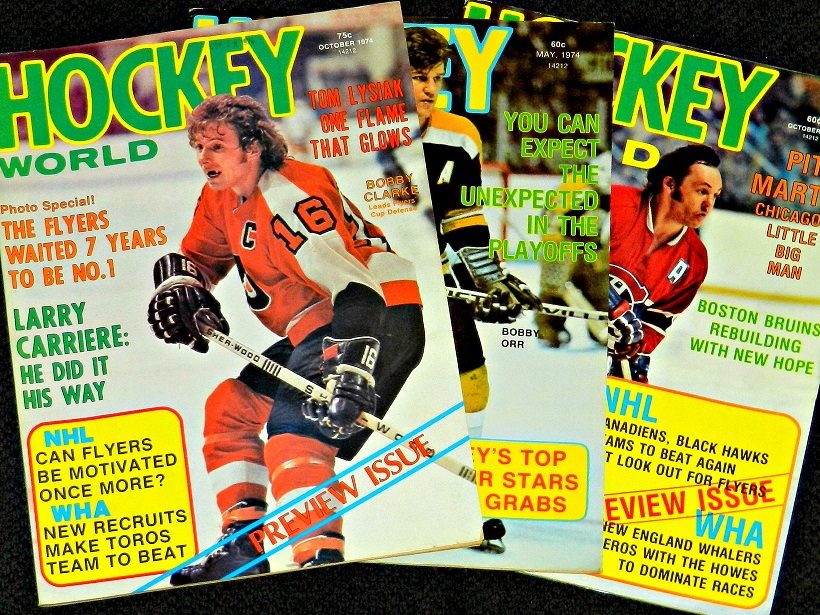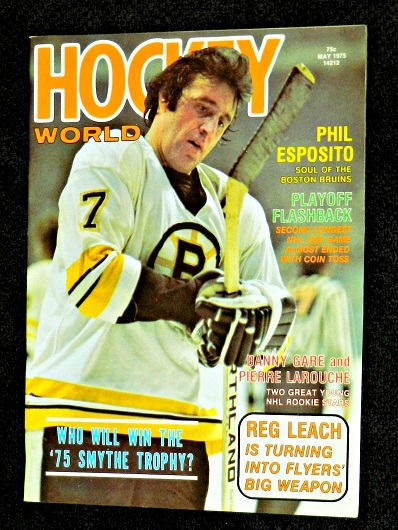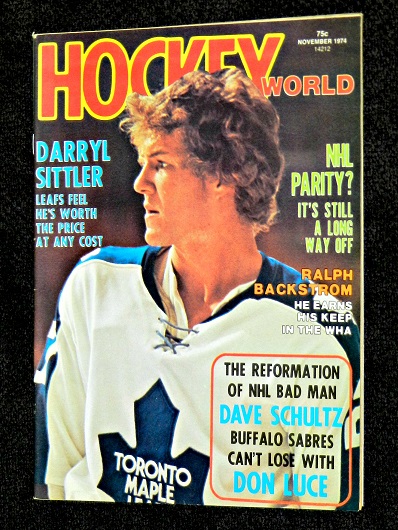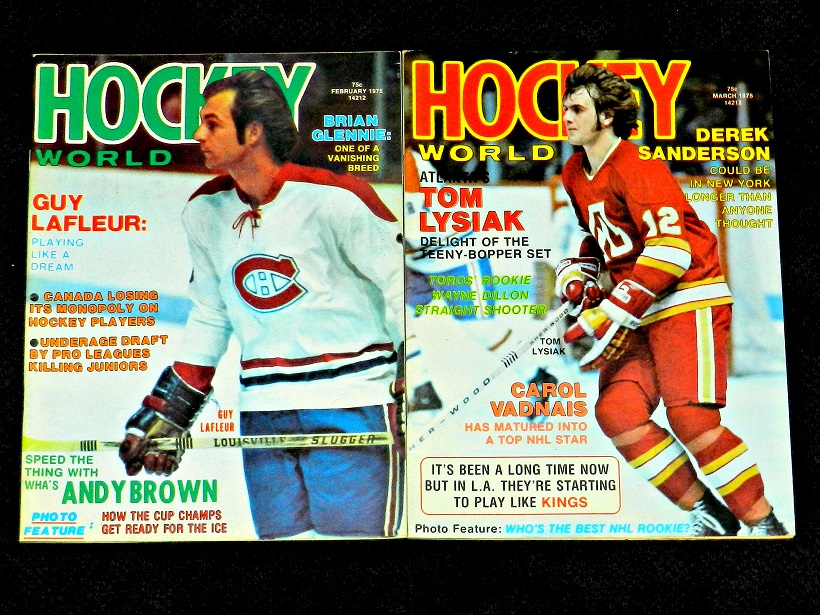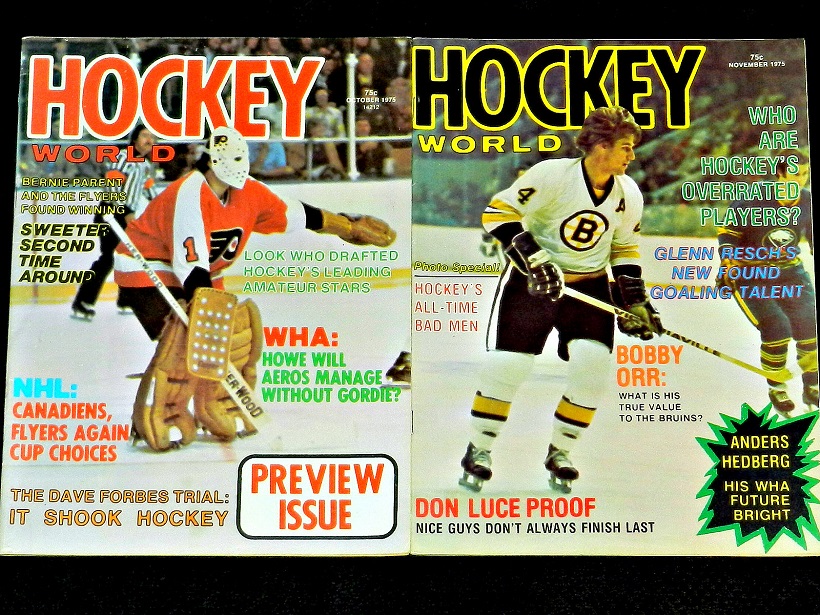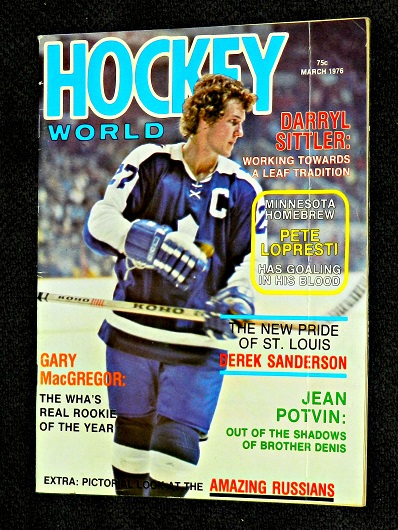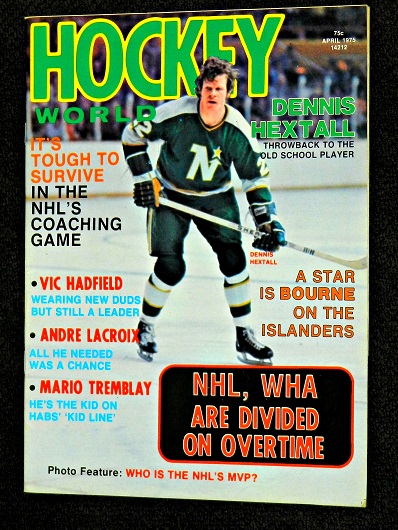 EMAIL: HOWARDLBERGER@GMAIL.COM