TORONTO (Dec. 22) — For whatever it's worth (and I think many would agree), my criteria for the James Norris Memorial Trophy in today's National Hockey League is a defenseman capable of putting up a minimum 60 points… and a plus–20 (or better) in even–strength situations. No player wearing a Toronto Maple Leafs jersey has been named the NHL's best defenseman since the trophy was first awarded in 1954. Allan Stanley (in 1960); Tim Horton (1964, 1969) and Borje Salming (1977, 1980) were runners–up. If, however, the Norris were handed out today — nearing the halfway mark of the current schedule — there's a splendid chance that Morgan Rielly would end the Toronto famine of 63 years (there was no winner, of course, in the lost season of 2004–05). And, honestly, these are words I never believed I would write (or say).
Nor is it a stretch to think that Rielly, if he stays healthy, can prolong his excellent performance over the course of the entire season. After 35 games, he leads all NHL defensemen in goals (11) and points (40). He trails only John Carlson of Washington and Brent Burns of San Jose in assists (30–29). And, his plus–21 figure is second to Carlson (plus–30). On too many occasions to remember, I have written that the Leafs will not end their Stanley Cup drought until either developing or acquiring a legitimate Norris candidate. Nor is it unusual for a top blue–liner to display such tendencies, as with Rielly, in the sixth season of his career.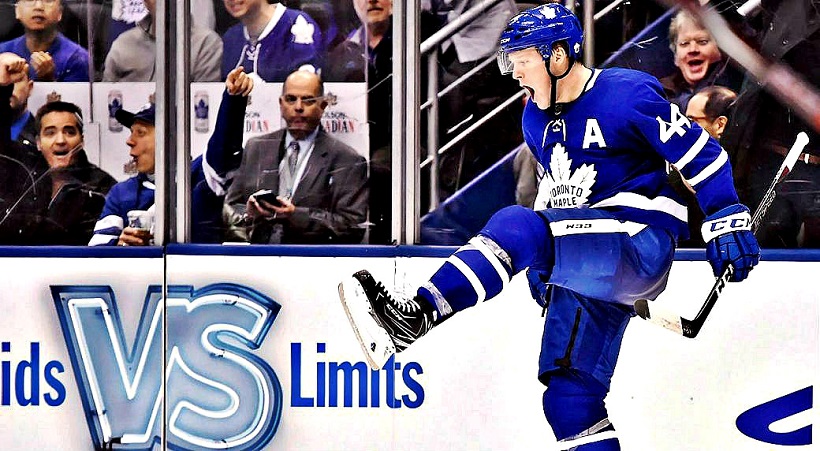 MORGAN RIELLY, AFTER 35 GAMES, IS ENJOYING A BANNER SEASON FOR THE MAPLE LEAFS, LEADING ALL NHL DEFENSEMEN WITH 11 GOALS AND 40 POINTS. NATHAN DENETTE THE CANADIAN PRESS
Al MacInnis won the Norris Trophy in 1999 with St. Louis after his 16th NHL campaign. Nicklas Lidstrom won his first of seven in 2001, after his 10th. Drew Doughty won in 2016, after his eighth. As did Hall–of–Famer Raymond Bourque, in 1987. Coming in a bit earlier were Bobby Orr (in 1968, the first of eight consecutive, after his second season); Denis Potvin (in 1976, the first of three, after his third season); Larry Robinson (in 1977, the first of two, after his fourth full season); Paul Coffey (in 1985, the first of three, after his fifth season) and Erik Karlsson (in 2012, the first of two, thus far, after his third season). Rod Langway (1983/1984) and Doug Wilson (1982) also won after Year 5. So, Rielly, were he to cop the award, would fall right in line.
At his current pace of 1.14 points–per–game, Rielly would accrue 93 in the full, 82–game schedule. That would eclipse the Toronto franchise record by 14 points; Ian Turnbull had 79 in the 1976–77 season. It would also obliterate the 68 points with which Carlson led all defenders a year ago. The last NHL rearguard to reach 90 points in a season was Bourque of the Bruins (91 in 1993–94). Phil Housley of the Winnipeg Jets was the last to accumulate 93 or more; leading all defensemen with 97 points in 1992–93.
So, Rielly — at the moment — is in rather exclusive company.
Also, the usual Norris suspects haven't yet come to the fore. Last year's winner, Victor Hedman, missed seven games (Oct. 27 to Nov. 8) with an upper–body injury and has only 19 points in 29 matches. His past two seasons in Tampa yielded 63 and 72 points. Two–time Norris winner Karlsson has 24 points in 36 games with San Jose. Doughty has 19 points in 35 games with the woebegone Los Angeles Kings. Carlson bears watching. His 35 points in 33 games and plus–20 with Washington shows that last season was no fluke.
As a cautionary tale, we reflect on Bryan McCabe, who seemed poised to annihilate Turnbull's 79–point Leafs record in 2005–06. McCabe had 40 points after 32 games. At 1.25–per–game, he was on pace for 103 points. But, he suffered what was initially called a "minor groin–strain" (later revealed to be a slight groin–muscle tear) on Jan. 7, 2006 in Edmonton and sat out the following nine games. He finished third in defenseman scoring with 68 points (in 73 games) — the sixth–highest total in Leafs history, behind only Turnbull (79) and Salming (seasons of 78, 76, 73 and 71 points). Neither did McCabe play with anything close to the array of forward skill that surrounds Rielly this season. His defense–partner on the powerplay, Tomas Kaberle, was a very good passer; Kaberle had 58 assists in 2005–06, third–most in franchise history, behind Salming (66 in 1976–77 and 60 in 1977–78). Though Jake Gardiner has offensive flair, he isn't as gifted a set–up man as was Kaberle. But, no Leafs defenseman before Rielly has ever skated with such remarkable talent up front as Auston Matthews, John Tavares, Mitch Marner, William Nylander, Nazem Kadri and Kasperi Kapanen.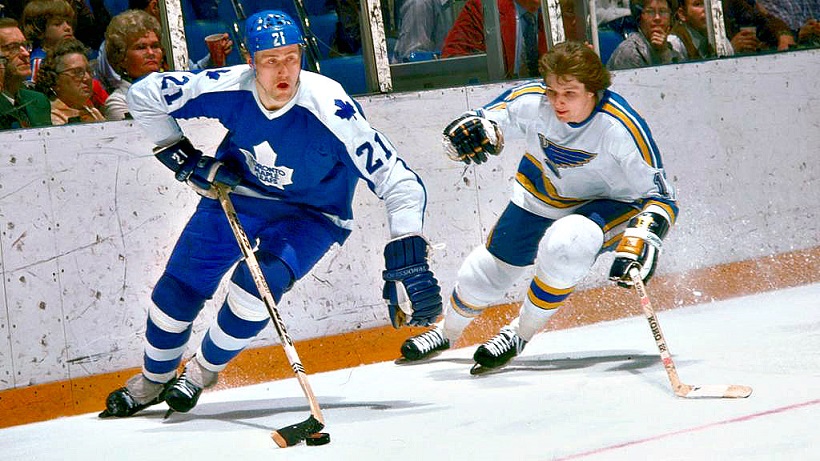 NOT SINCE BORJE SALMING HAVE THE MAPLE LEAFS POSSESSED A PERENNIAL NORRIS TROPHY THREAT. SALMING WAS RUNNER–UP FOR THE AWARD IN 1977 AND 1980.
Neither does it suggest the Leafs should not upgrade their defense corps before the Feb. 25 NHL trade deadline. Though Rielly is a superb skater with elite ice–vision, he has virtually no physical element to his game. Who knows how dominant he would be with such a mean–streak as former Norris winners Chris Chelios, Keith and Doughty? Rielly is also a middling performer in the defensive zone… which puts him in no exclusive company among Toronto blue–liners. Don Cherry pointed out, astutely, how Rielly failed to "stay in the middle" during a 2–on–1 break for the Florida Panthers in overtime last Saturday. Instead, Rielly skated toward the puck carrier (Jonathan Huberdeau), leaving Aleksander Barkov open to win the game with his third goal of the night. Staying "in the middle" is fundamental strategy for a defenseman facing a 2–on–1. So, the Maple Leafs would easily benefit from a big body on defense with more acumen behind center–ice.
Why did I never believe I'd be writing about Rielly as a solid Norris Trophy candidate? Mainly because he hadn't come close in his first five NHL seasons. And, I still have Mike Babcock's honest appraisal ringing in my ears from 2015–16, when the first–year Leafs coach called Rielly "a real good No. 2" defenseman. Until the first half of this season, young Morgan hasn't been anything more than a No. 2. But, he's currently performing at a true No. 1 level and has finally — to this point — provided the Leafs what they haven't possessed since Salming nearly 40 years ago. The latter half of the 2018–19 schedule will determine whether that translates into Rielly becoming the first–ever Toronto player to win the Norris Trophy.
THE THREE BIGGIES
Alexander Mogilny and Auston Matthews are the only Maple Leaf players since the mid–1960's to win a major NHL award — Mogilny, the Lady Byng Trophy in 2002–03; Matthews, the Calder Trophy as top rookie in 2016–17. But, no Toronto skater since 1955 has captured any of the Big 3 NHL honors: the Hart Trophy (as most valuable player to his team); the Art Ross Trophy (for most scoring points) or, as mentioned, the Norris Trophy (as top defenseman). Incredibly, it's been nearly 81 years since a Leaf won the Art Ross — Gord Drillon compiling 52 points in 48 games in the 1937–38 season (teammate Syl Apps was second, with 50 points). From my collection, here is the cover; the back–page advertisement and the line–ups from a Leafs–New York Americans game at Maple Leaf Gardens during that season — on Dec. 18, 1937: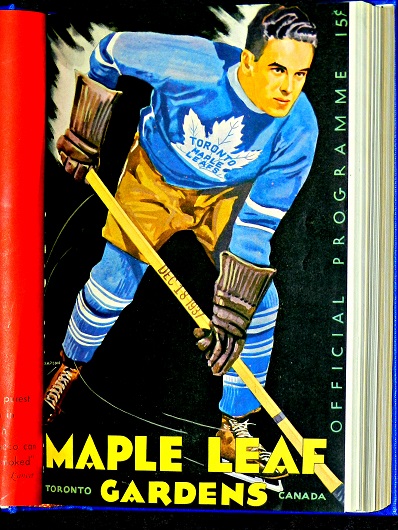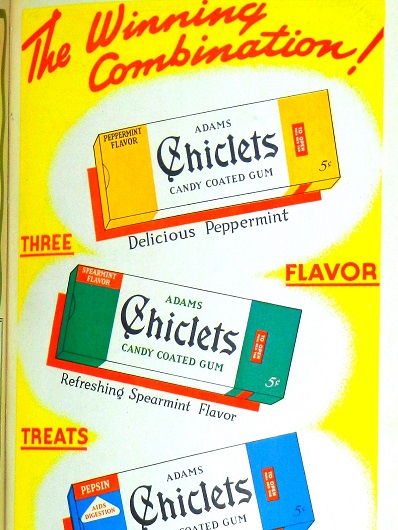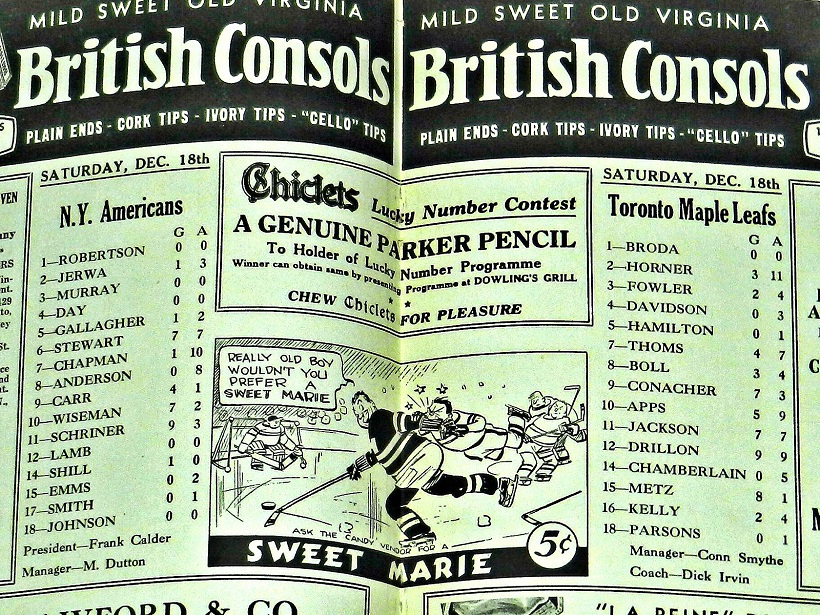 It's been nearly 64 years since a Toronto player won the Hart Trophy — Ted Kennedy edging out teammate Harry Lumley in the 1954–55 season. Same program elements from a Leafs–Chicago game on Dec. 11, 1954: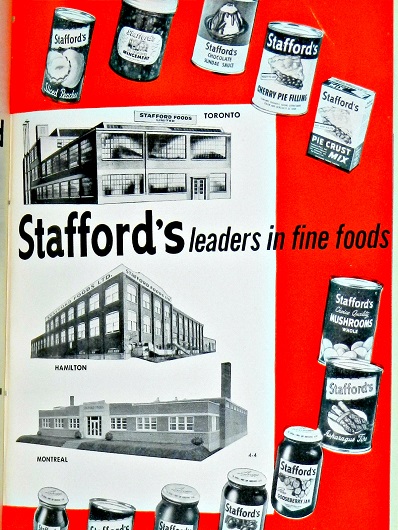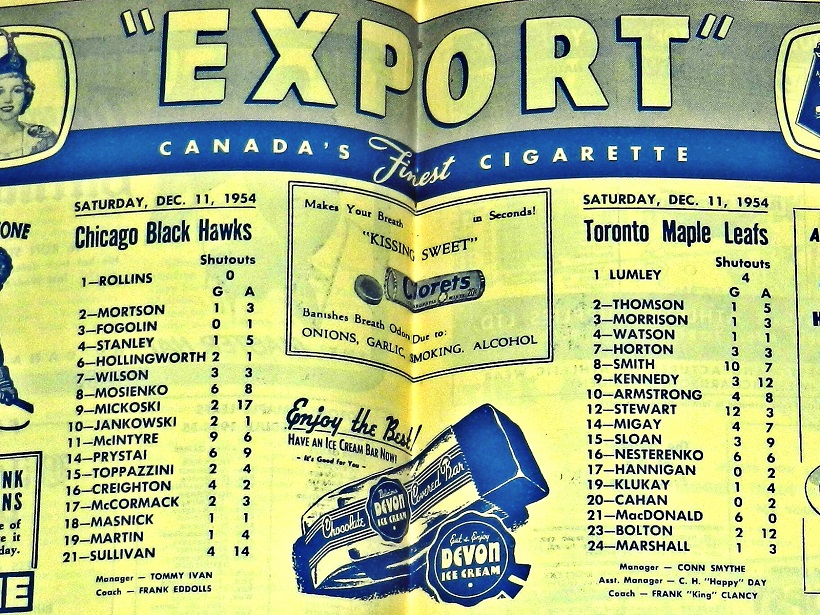 EMAIL: HOWARDLBERGER@GMAIL.COM