TORONTO (Dec. 31) — We aren't at the point yet where William Nylander is stealing money from the Maple Leafs. But, it's getting close. Very close. The built–in excuses are about to run dry.
Wednesday will mark one calendar month since Nylander signed a generous contract with the Blue and White that pays him $10.3 million for four months of toil this season. Or, $2.56 million for each of December, January, February and March. Just more than $85,000 a day. Rather decent bread for a much–skilled hockey player with two assists and a minus–3 in 11 games. William's sister, Jacqueline, could accrue those numbers on such a gifted team. Her brother should be embarrassed by his puny output. Yes, young Willie missed training camp and the first two months of the National Hockey League schedule. So, he arrived here from Stockholm on a bit of a honeymoon. That period is now over. It's time for Nylander to start putting out.
As always with the No. 8 pick in the 2014 NHL draft, it isn't about talent. Nylander has more natural ability in one finger than most of his colleagues in their entire body. When he's moved to compete — as he did for long stretches in each of the past two seasons — he is one of the most–feared shooters in the game; a player easily capable of 35–40 goals. When he loafs on the perimeter, as in December of the current schedule, Nylander is virtually useless. So, really, it's up to him. At the moment, William seems more interested in becoming the hairiest player of all time. Which is thoroughly his business. What he cannot do is mail it in for three periods a night; not at any time, and certainly not after Brendan Shanahan and Kyle Dubas agreed to pay him nearly $7 million a season. The Maple Leafs, in so doing, compensated Nylander for his potential; not his middling 42 goals and 122 points the past two years. William is gifted enough to challenge that goal figure every season. He won't challenge ten goals by coasting as he has the past month.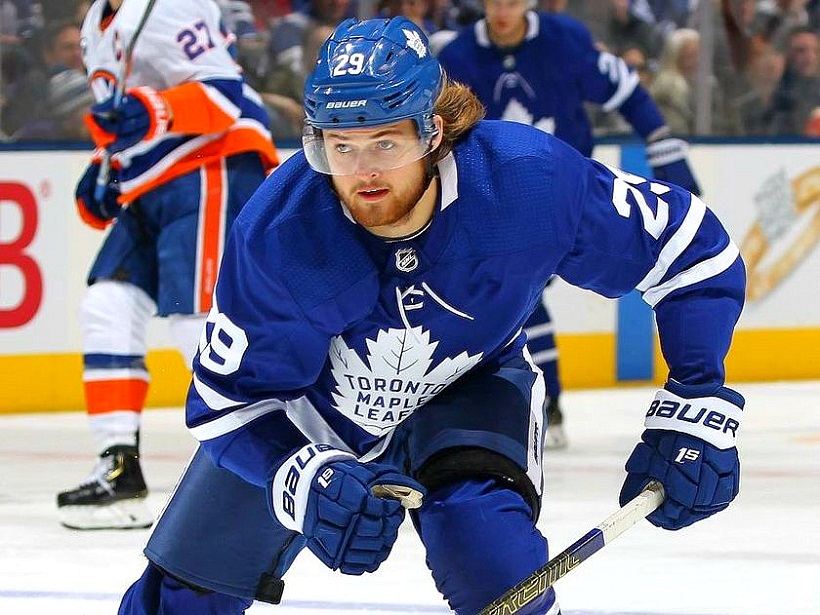 WILLIAM NYLANDER HASN'T BEEN AROUND THE PUCK OFTEN ENOUGH THIS SEASON TO BE THE SUBJECT OF PHOTOGRAPHERS. CLAUS ANDERSEN OF GETTY IMAGES PRODUCED THIS RARITY DURING SATURDAY NIGHT'S 4–0 LEAFS LOSS TO THE NEW YORK ISLANDERS AT SCOTIABANK ARENA.
Nylander has recently skated alongside Auston Matthews and either Kasperi Kapanen or Andreas Johnsson. Mike Babcock shouldn't need to worry about situating the 22–year–old winger, who has enough skill to abet those around him. When Willie shows up uninterested, however, a spot alongside Wayne Gretzky and Mario Lemiueux in their primes wouldn't matter.
Unlike many others, who contended the Leafs over–paid Nylander, I felt the contract was fair to both sides. Shanahan and Dubas clearly figured Nylander would strive to earn a living most nights. That hasn't yet materialized. Even with the winger seeing enough ice, now, to perform at a much–higher level. Given my opinion of his contract with the Leafs, I suspect the numbers will begin to improve. Starting very soon.
SPORTS DVD SETS — Part 1
It's been less than 22 years (April 1997) since the Digital Video Disc (or DVD) first appeared in North America, quickly rendering Video Home System (VHS) cartridges obsolete. I spent the better part of 10 months in 2006 transferring my VHS tapes to blank DVD's, which had the longest shelf–life of any recording format prior to Hard Disc Drive (or HDD). In the first decade of the new millennium, I purchased (frequently from Amazon) a plethora of sports DVD's — hockey, baseball and football — some of them documentaries; most containing sets of memorable games. These are stored in an Ottoman in the living–room of my condo north of the city. Over the weekend, I photographed them for the first of a two–part blog feature.
There are many hours of terrific memories here: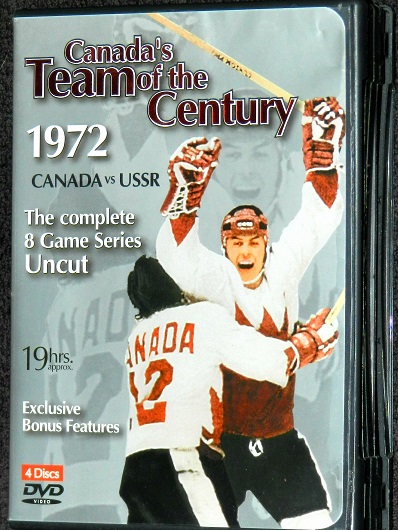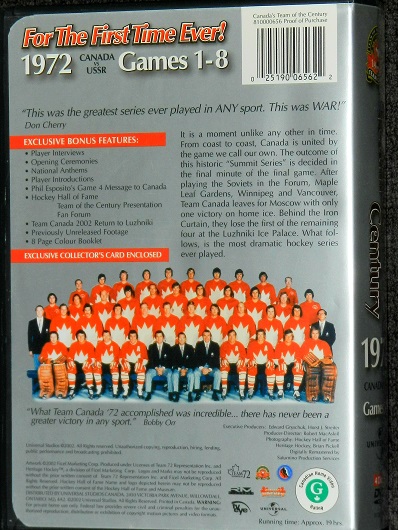 STILL THE GREATEST INTERNATIONAL HOCKEY SERIES OF ALL TIME (ABOVE AND BELOW) — THE FIRST TO INVOLVE CANADIAN NHL PLAYERS AGAINST THE FORMER SOVIET UNION. IN THIS SET, ALL EIGHT GAMES (MONTREAL, TORONTO, WINNIPEG, VANCOUVER AND MOSCOW) AS SHOWN BY CTV AND CBC HERE IN CANADA WITH THE BROADCAST TANDEM OF FOSTER HEWITT AND BRIAN CONACHER.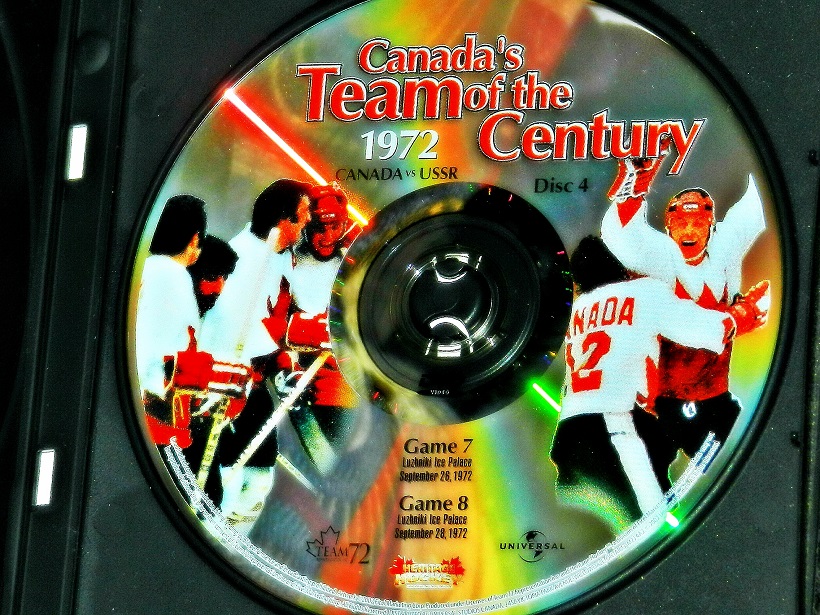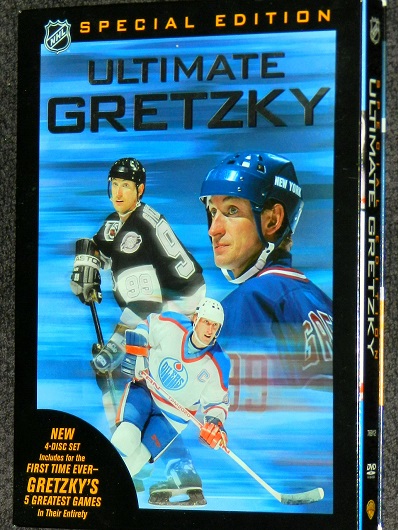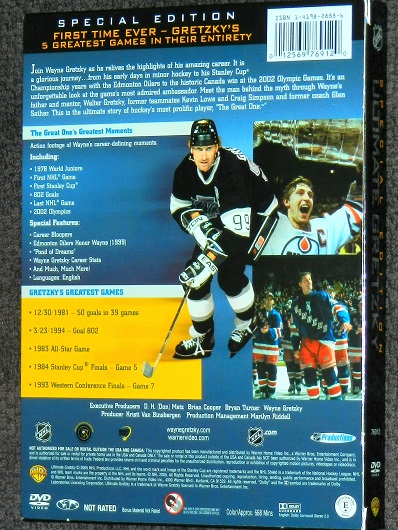 NO HOCKEY COLLECTION WOULD BE COMPLETE WITHOUT SOMETHING GRETZKY, AND THIS DVD COMPILATION FEATURES NO. 99's FIVE GREATEST GAMES (AS MAGNIFIED, BELOW) — INCLUDING THE MAY 29, 1993 MATCH AT MAPLE LEAF GARDENS DURING WHICH GRETZKY (THREE GOALS) AND THE LOS ANGELES KINGS ELIMINATED DOUG GILMOUR AND THE LEAFS IN GAME 7 OF THE STANLEY CUP SEMIFINALS. TORONTO HAS NOT–SINCE COME AS CLOSE TO COMPETING FOR THE NHL TITLE.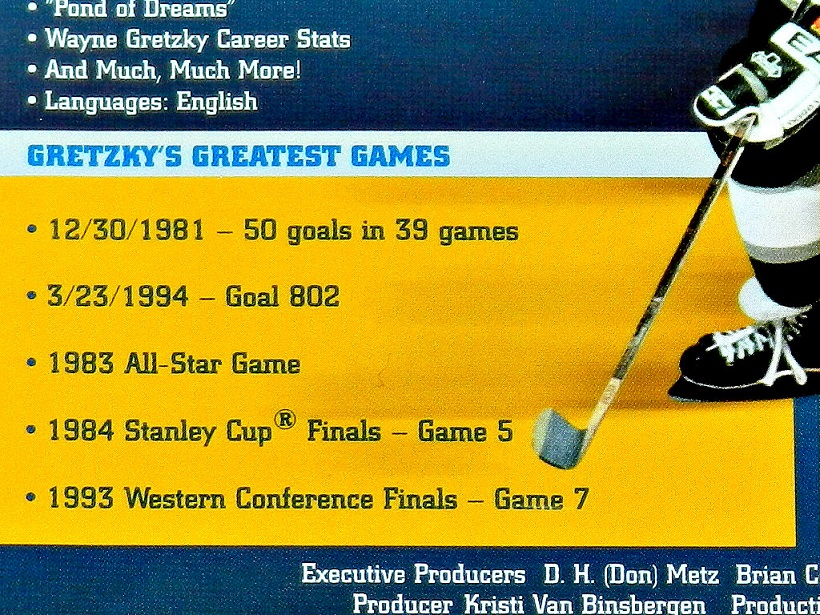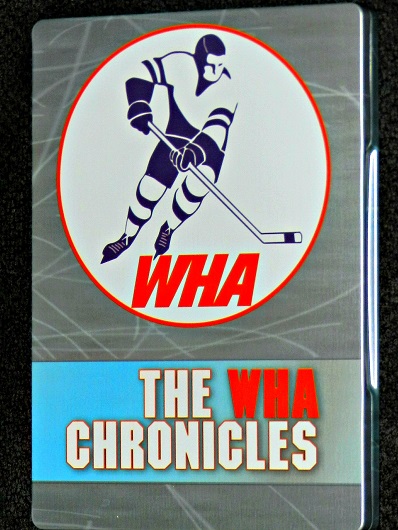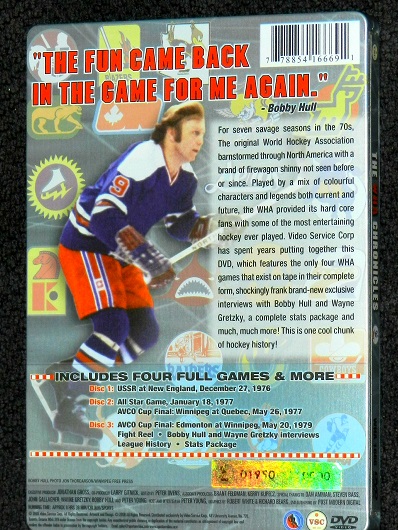 THE WORLD HOCKEY ASSOCIATION (1972–1979) ESTABLISHED THE PAY–SCALE THAT EVENTUALLY LED TO FOUR WORK–STOPPAGES (AND COUNTING) IN THE NHL. WHEN BOBBY HULL LEFT CHICAGO TO SIGN HOCKEY'S FIRST MILLION–DOLLAR PACT WITH THE WINNIPEG JETS, THE FLOOD–GATES OPENED. THIS DVD SET PROVIDES A WONDERFUL HISTORY OF THE WHA, AND INCLUDES FOUR FULL GAMES (AS SHOWN BELOW). TODAY, THE EDMONTON OILERS, CAROLINA HURRICANES (FORMERLY THE HARTFORD WHALERS), ARIZONA COYOTES (THE ORIGINAL WINNIPEG JETS) AND COLORADO AVALANCHE (FROM 1979–95, THE QUEBEC NORDIQUES) ARE DISTANT REMNANTS OF THE WHA.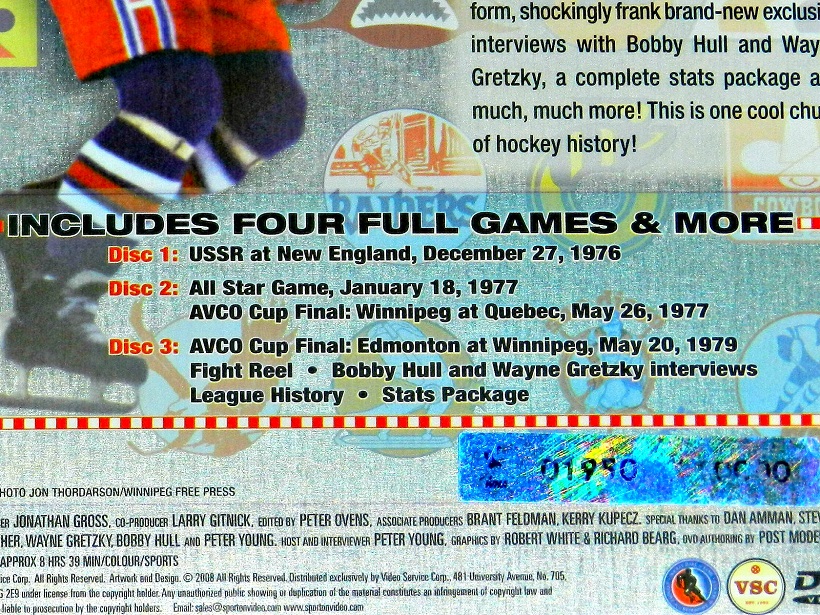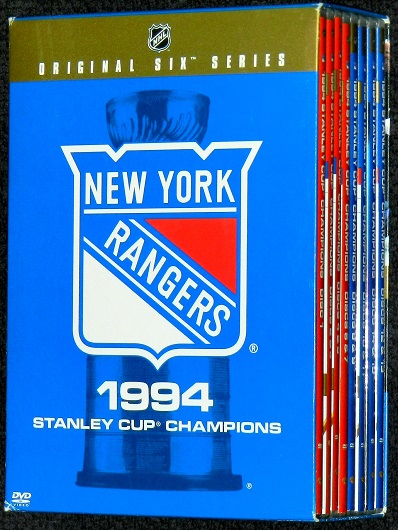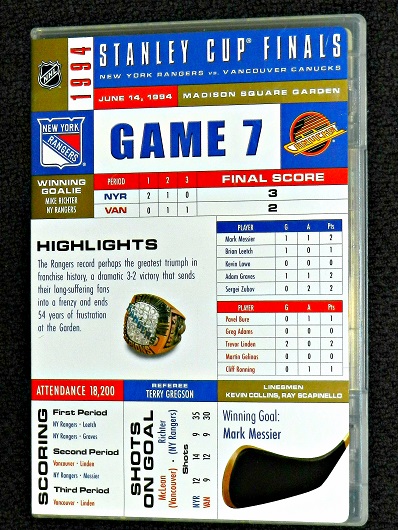 IN THE SPRING OF 1994, THE NEW YORK RANGERS ENDED THEIR 54–YEAR STANLEY CUP DROUGHT. THIS SET (ABOVE AND BELOW) CONTAINS EIGHT DVD's AND 14 FULL GAMES — ALL SEVEN AGAINST NEW JERSEY IN THE SEMIFINALS (WON IN OVERTIME OF GAME 7 AT MADISON SQUARE GARDEN BY STEPHANE MATTEAU) AND ALL SEVEN FROM THE CHAMPIONSHIP ROUND AGAINST VANCOUVER. I'LL NEVER FORGET COVERING GAMES 5 AND 7 OF THE ' 94 CUP FINAL AT THE GARDEN FOR THE FAN–590.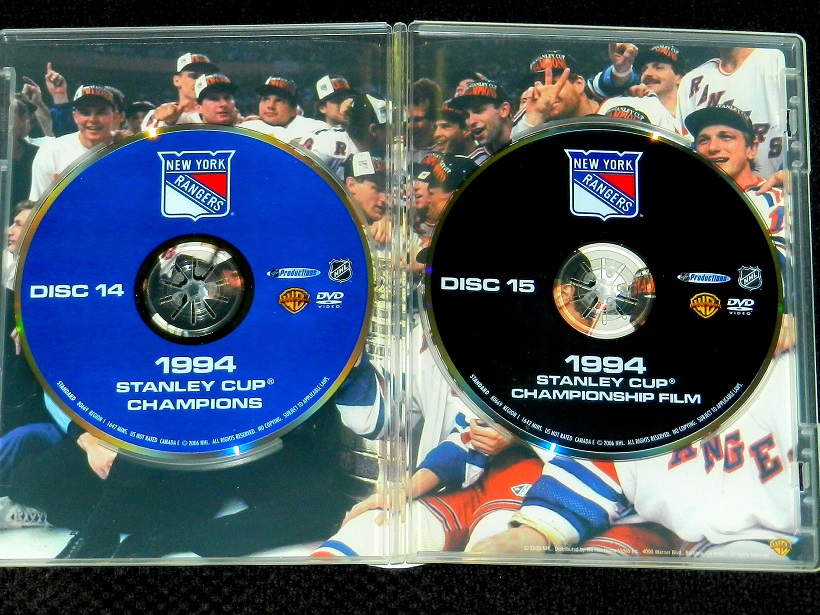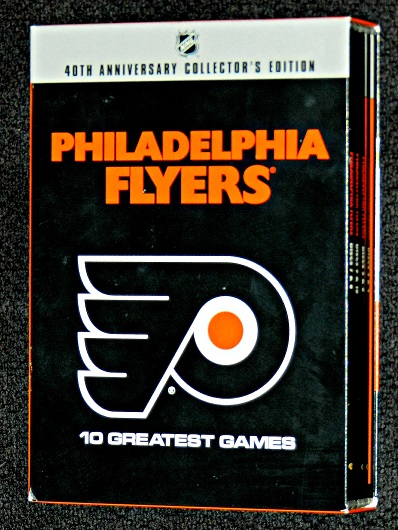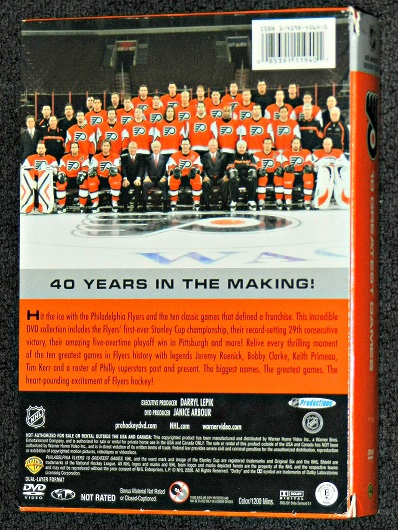 THIS SET CAME OUT IN 2007 TO COINCIDE WITH THE 40th ANNIVERSARY OF THE PHILADELPHIA FLYERS. AMONG THE TV BROADCASTS ARE GAME 6 (BOTTOM–LEFT) OF THE 1974 STANLEY CUP FINAL, WHEN THE FLYERS DEFEATED BOSTON AT THE SPECTRUM AND BECAME THE FIRST OF THE 1967 EXPANSION TEAMS TO WIN THE NHL TITLE. ALSO, THE FAMOUS SPECTRUM MATCH (JAN. 11, 1976) AGAINST THE TOURING SOVIET RED ARMY TEAM (BOTTOM–RIGHT), IN WHICH THE VISITORS LEFT THE ICE TO PROTEST THE FLYERS' INTIMIDATION (BOB COLE, LEGENDARILY, ON CBC: "THEY'RE GOING HOME!!"). THE RUSKIES RETURNED WHEN TOLD THEY WOULDN'T RECEIVE THEIR SHARE OF THE GATE.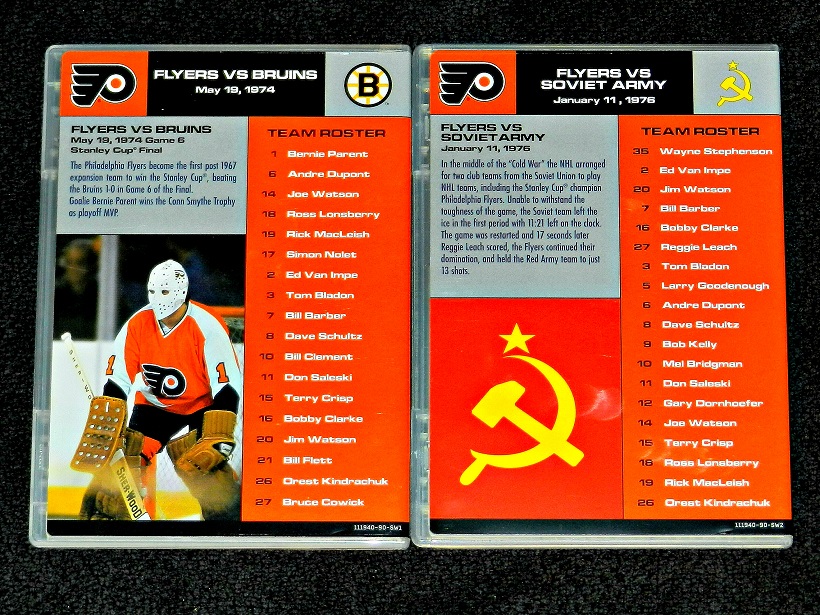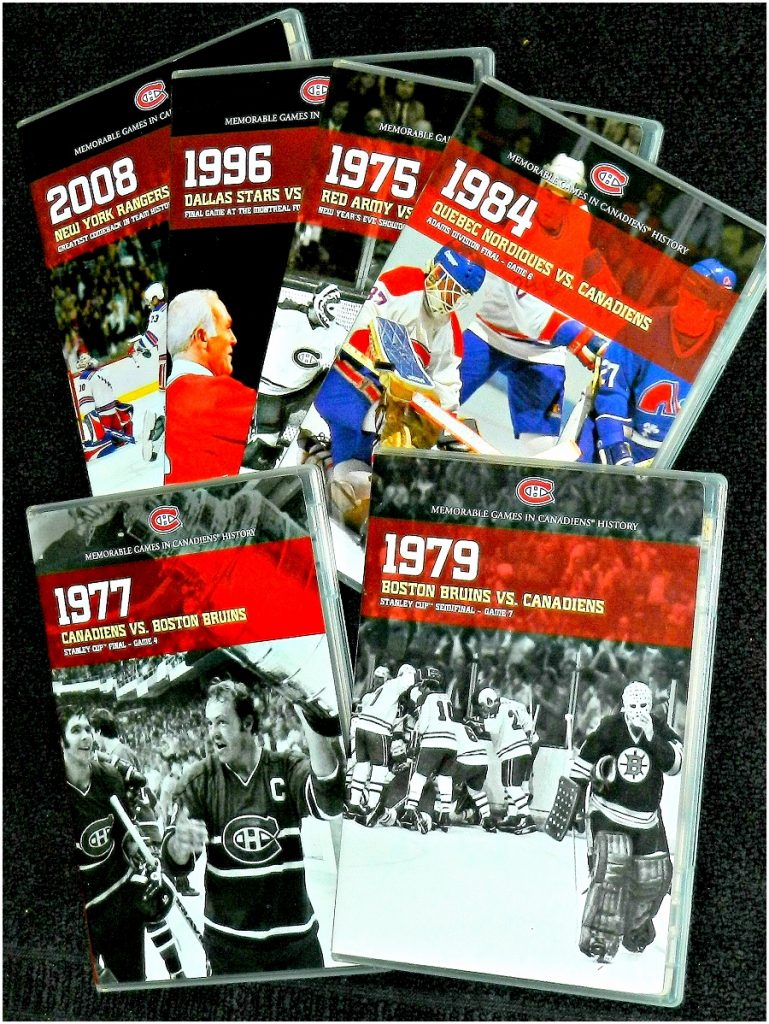 THIS MONTREAL CANADIENS SET INCLUDES SOME CLASSICS: THE NEW YEARS EVE 1975 MATCH AGAINST THE SOVIET RED ARMY; THE "GOOD FRIDAY BRAWL" AGAINST QUEBEC IN THE 1984 PLAYOFFS; GAME 7 OF THE 1979 STANLEY CUP SEMIFINALS AT THE MONTREAL FORUM, WHEN DON CHERRY AND THE BOSTON BRUINS FAMOUSLY GOT CAUGHT WITH TOO MANY MEN ON THE ICE, AND THE FINAL NHL GAME AT THE FORUM (MAR. 11, 1996) BETWEEN THE CANADIENS AND DALLAS STARS.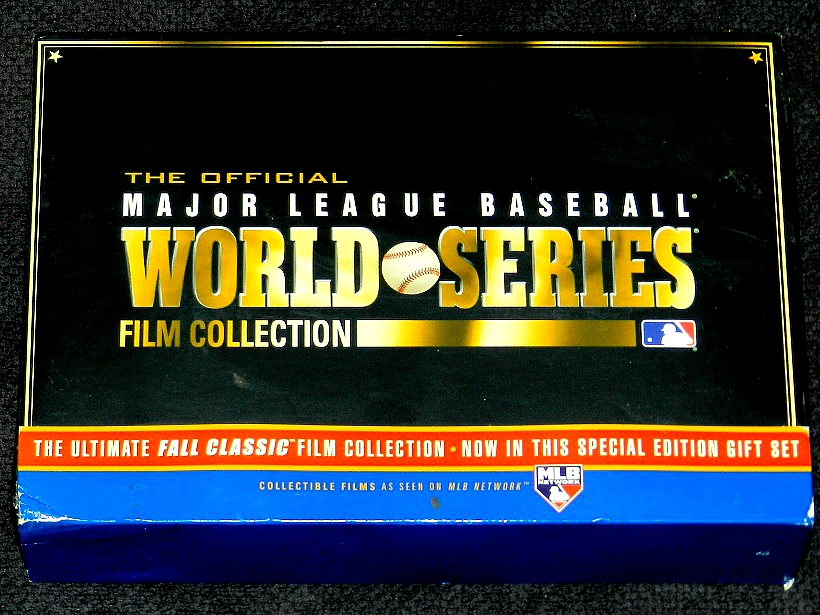 THE LARGEST DVD SET IN MY COLLECTION (ABOVE AND BELOW): 20 DISCS AND 65 WORLD SERIES FILMS OR VIDEOS (BEGINNING IN 1947; ENDING IN 2008). INCLUDED, IS THE 1993 OFFICIAL WORLD SERIES VIDEO, AS THE TORONTO BLUE JAYS DEFEATED THE PHILADELPHIA PHILLIES ON JOE CARTER'S WALK–OFF HOME RUN AT SKYDOME TO REPEAT AS BASEBALL CHAMPION.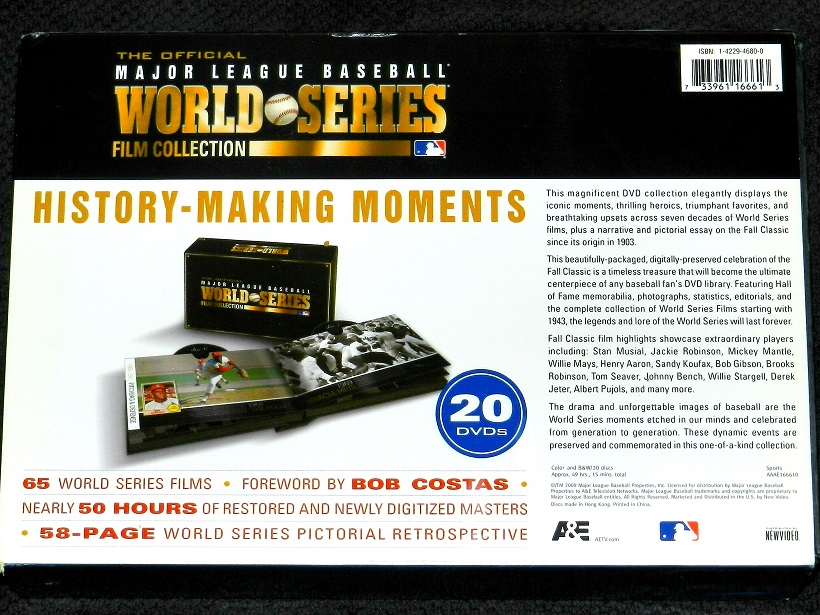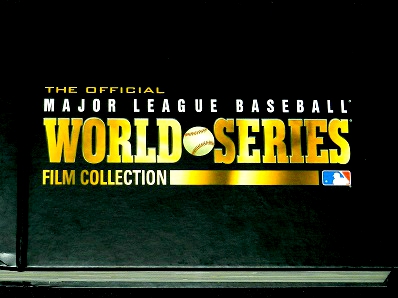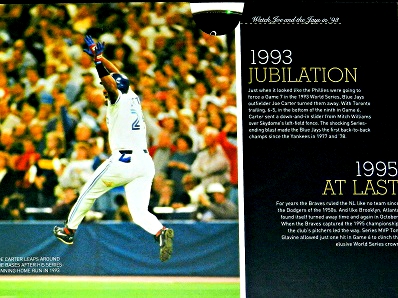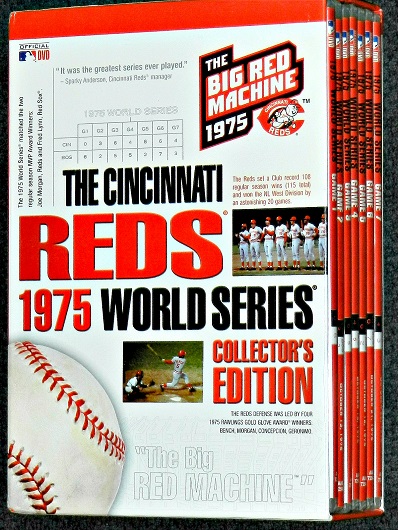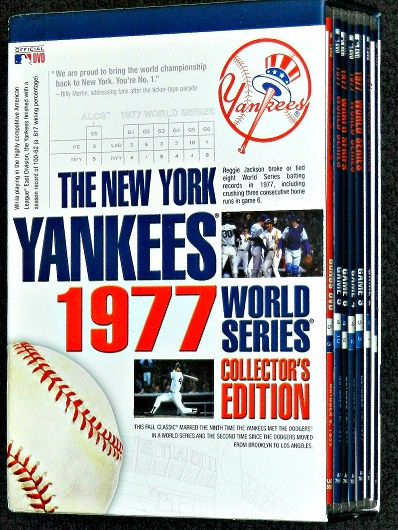 BASEBALL MEMORIES FROM MY YOUTH: ALL TV GAMES OF THE 1975 WORLD SERIES (TOP–LEFT) BETWEEN THE CINCINNATI REDS AND BOSTON RED SOX. AND, THE 1977 SERIES (TOP–RIGHT) BETWEEN THE NEW YORK YANKEES AND LOS ANGELES DODGERS. JOHNNY BENCH… JOE MORGAN… SPARKY ANDERSON… TONY PEREZ… BILLY MARTIN… REGGIE JACKSON… THE NAMES ARE ALL LEGENDARY.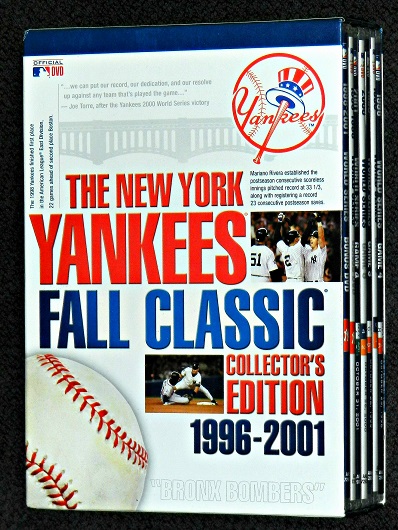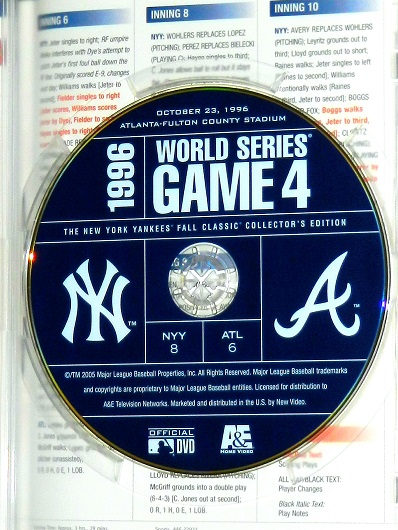 THE LATEST NEW YORK YANKEES' DYNASTY — FOUR WORLD SERIES TITLES IN SIX YEARS UNDER MANAGER JOE TORRE — IS FEATURED IN THIS DVD SET. CHAMPIONSHIPS OVER ATLANTA (1996); SAN DIEGO (1998); ATLANTA (1999) AND THE NEW YORK METS (2000). AND A SEVEN–GAME, WALK–OFF DEFEAT AGAINST THE ARIZONA DIAMONDBACKS IN 2001.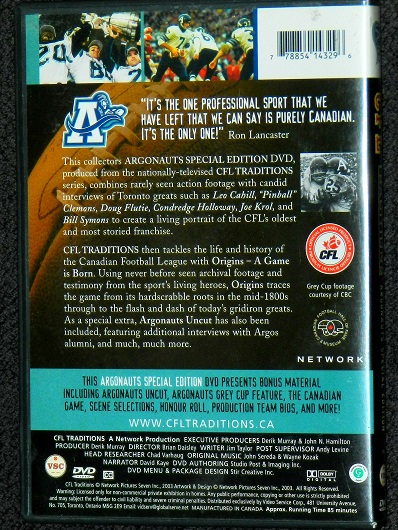 THIS 85–MINUTE DVD WAS PART OF A SERIES, IN 2003, COMMEMORATING THE HISTORY OF THE CANADIAN FOOTBALL LEAGUE AND ITS NINE TEAMS. THE TORONTO ARGONAUTS VERSION INCLUDES SUCH–MEMORABLE FIGURES AS LEO CAHILL, JOE THEISMANN, CONDREDGE HOLLOWAY, TERRY GREER, DOUG FLUTIE AND MIKE (PINBALL) CLEMONS. AMONG THE FAVORITE DVD's IN MY COLLECTION.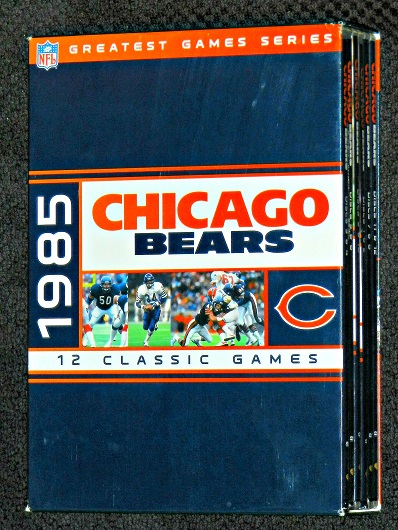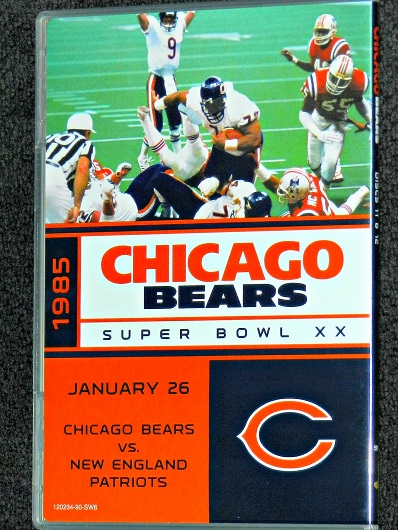 WHO CAN FORGET "DA BEARS" OF 1985 UNDER MIKE DITKA — AMONG THE WILDEST AND MOST–DOMINANT DEFENSIVE CLUBS IN NFL HISTORY? THIS SET CONTAINS 12 FULL TV GAMES FROM THAT SEASON, INCLUDING THE ROMP OVER NEW ENGLAND IN SUPER BOWL XX AT NEW ORLEANS.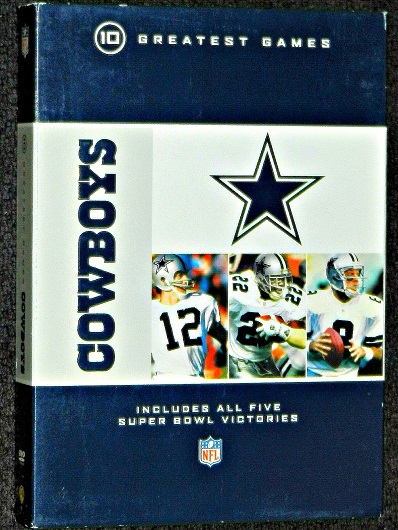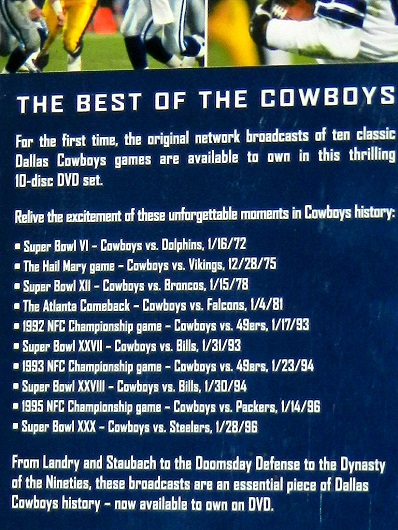 THEY'VE LONG–BEEN CALLED "AMERICA'S TEAM" IN THE NFL, AND WHY NOT? THE DALLAS COWBOYS WON FIVE SUPER BOWLS BETWEEN 1971 AND 1996, FEATURING SUCH–LEGENDARY NAMES AS TOM LANDRY, ROGER STAUBACH, TONY DORSETT, ED (TOO TALL) JONES, TROY AIKMAN, EMMITT SMITH AND DEION SANDERS. FULL TELECASTS FROM ALL FIVE SUPER BOWL WINS ARE IN THIS PACKAGE.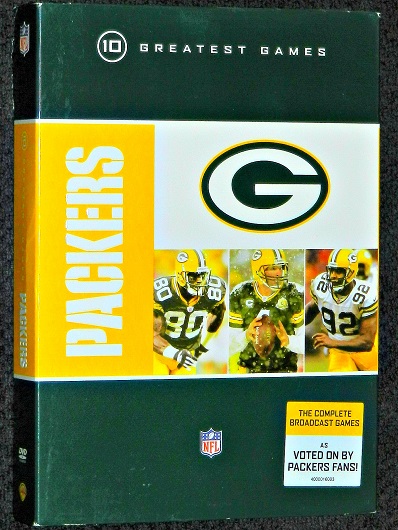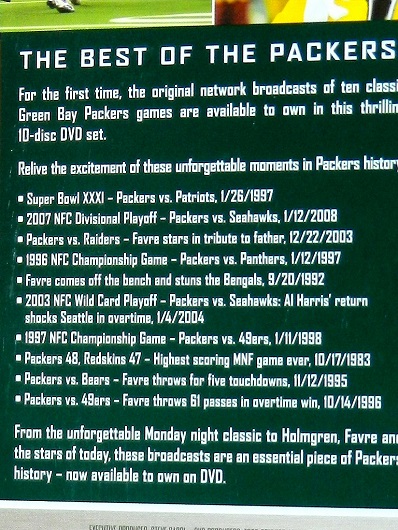 UNFORTUNATELY, GAMES FROM THE VINCE LOMBARDI ERA IN GREEN BAY (THREE NFL CHAMPIONSHIPS AND TWO SUPER BOWL TITLES BETWEEN 1961 AND 1967) WERE NOT PRESERVED ON VIDEOTAPE. AS SUCH, THIS PACKERS' COLLECTION BEGINS IN 1983 AND THE HIGHEST–SCORING GAME IN THE HISTORY OF ABC's MONDAY NIGHT FOOTBALL (WASHINGTON AT GREEN BAY). QUARTERBACK BRETT FAVRE IS THE STAR OF THE DVD SET, WHICH INCLUDES THE PACKERS' VICTORY OVER NEW ENGLAND IN SUPER BOWL XXXI AFTER THE 1996 SEASON.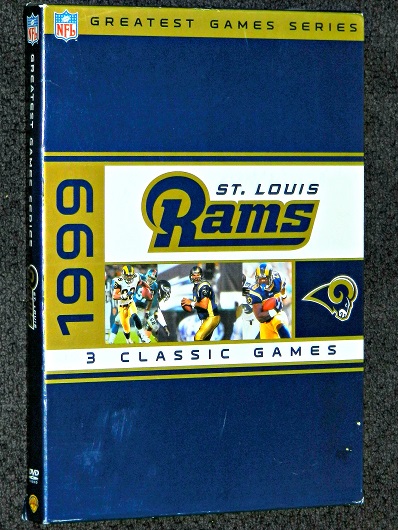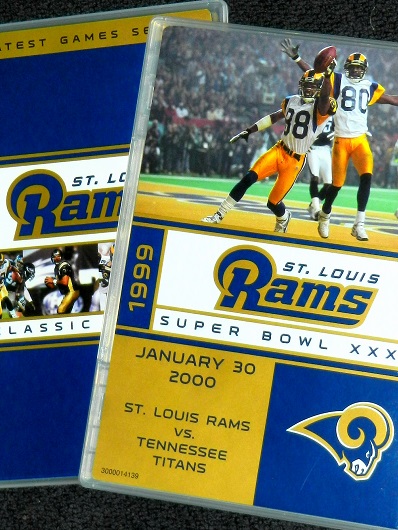 MY FAVORITE NFL TEAM OF ALL TIME — THE EXPLOSIVE ST. LOUIS RAMS UNDER QUARTERBACK KURT WARNER IN 1999 (526 POINTS IN 16 GAMES, AN AVERAGE OF 32.9 PER MATCH). A 13–3 RECORD AND SUPER BOWL XXXIV VICTORY OVER TENNESSEE. ALL THREE RAMS' PLAYOFF GAMES ON TV (INCLUDING DIVISION vs. MINNESOTA AND CONFERENCE vs. TAMPA BAY) ARE INCLUDED IN THEIR ENTIRETY.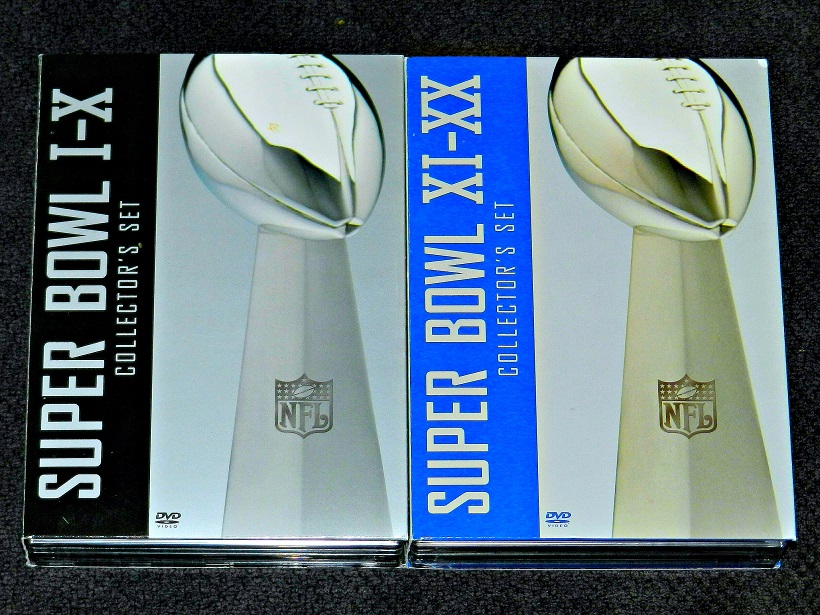 JOHN FACENDA (1913–1984) WAS KNOWN AS THE "VOICE OF GOD" WHEN HE NARRATED NFL FILMS IN THE 60's, 70's AND 80's. THIS DVD SET (ABOVE AND BELOW) CONTAINS THE OFFICIAL NFL FILMS PRODUCTION OF THE FIRST 20 SUPER BOWL GAMES (1967–1986). IT IS AN ABSOLUTE TREASURE.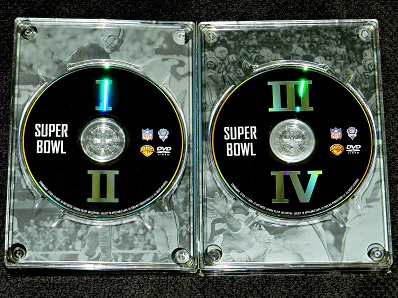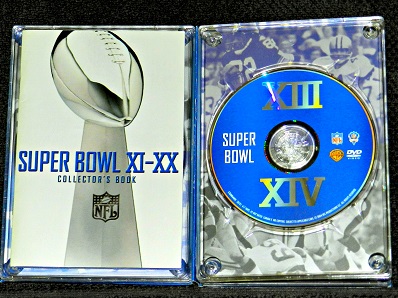 TO ONE AND ALL…
EMAIL: HOWARDLBERGER@GMAIL.COM