TORONTO (Jan. 6) — Pending the outcome, it could be a blessing or a curse that largely impacts the Maple Leafs this season. By tomorrow night (Monday), Frederik Andersen will have accrued 15 consecutive days of rest in the middle of the National Hockey League schedule. Or, 19 of the previous 20 days — owing to the NHL's Christmas break… and a groin injury that has sidelined him since the 4–2 win at Columbus, Dec. 28.
Given the Leafs goaltending situation — and were he healthy — Andersen would never have enjoyed the luxury of one game–played in a three–week span. Like he unwisely did a year ago, Mike Babcock seemed intent on deploying his No. 1 stopper in all but the back–end of consecutive–night games. Andersen, again, would have started on more than 65 occasions; his stamina beginning to wane by the first week of March.
As such, this mid–season ailment could be a blessing–in–disguise for the Maple Leafs and their fans.
Andersen is now practicing with the club, which indicates the groin–strain is not terribly severe. Conversely, when considering the type of injury — among the easiest to be aggravated — it could be a chronic, season–long issue. Babcock may therefore need to share the netminding load far–more–so than he had planned. Which brings us to Michael Hutchinson, the 28–year–old veteran acquired from Florida for a fifth–round draft choice in 2020. Hutchinson could be the goalie that — for Babcock — replaces Curtis McElhinney.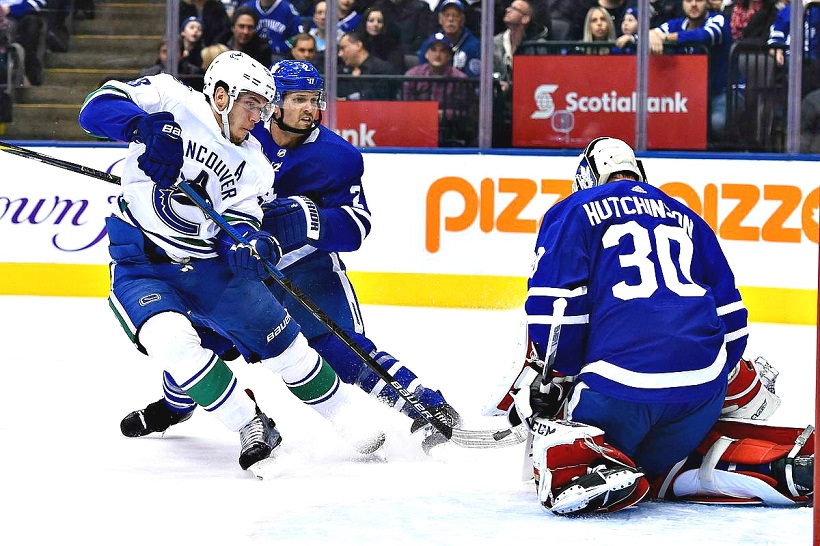 MICHAEL HUTCHINSON BLANKED THE VANCOUVER CANUCKS 5–0 ON SATURDAY NIGHT AT SCOTIABANK ARENA FOR HIS FIRST VICTORY IN A MAPLE LEAFS UNIFORM. DAN HAMILTON USA Today
Prior to the season, rookie GM Kyle Dubas pulled rank and awarded the back–up job to Garret Sparks, who won the American Hockey League championship last year with the club Dubas managed. Babcock wanted to keep the more–experienced McElhinney — later claimed on waivers by the Carolina Hurricanes. It caused strife between the 55–year–old coach and his 32–year–old "boss". Without any recourse, Babcock played Sparks in consecutive–night situations… though reluctantly. With Andersen and Sparks on the shelf last week (the latter in concussion protocol), Dubas traded for Hutchinson, who appeared in 102 games with the Winnipeg Jets from 2014–17. It is therefore likely Hutchinson will stay with the Leafs in the second half of the season and spell Anderson, perhaps necessarily, on a more–regular basis. Again, a blessing–in–disguise.
If Andersen's groin issue is properly–handled by Babcock and the medical staff, he could be much–better–suited to begin the playoffs than last season, when his fuel supply was diminished. The multi–talented Leafs have proven capable of winning with their No. 2 stoppers — Sparks and Hutchinson are a combined 7–3–1 thus far — which should (I repeat: should) induce Babcock to deploy Andersen less–frequently in the second half… providing, of course, the groin injury, alone, doesn't dictate such a scenario. Should Andersen fully recover from the tricky ailment, the current three–week respite will likely be a considerable benefit.
EXTRAPOLATING THE NUMBERS: The Leafs begin the second half of the 2018–19 schedule Monday night against Nashville at Scotiabank Arena. By simply doubling the statistics accumulated in the first half, Toronto is on pace to finish with a 54–24–4 mark for 112 points — eclipsing franchise records established a year ago for wins (49) and points (105). The Leafs would end with a home–ice record of 26–14–2 and a splendid road mark of 28–10–2. The franchise high for road victories is 23 (in 2003–04). The club is on pace to accrue a +78 in goals for/goals against: 304 to 226. Among players having appeared in all 41 games thus far, Mitch Marner would finish with 30 goals and 80 assists for 110 points, becoming the first winger in club annals to attain triple figures. John Tavares would score a career–high 54 goals and add 40 assists for 94 points, thereby equaling the franchise goal–mark of 54 set by Rick Vaive in 1981–82. Morgan Rielly is on pace for 26 goals and 64 assists for 90 points, which would break Ian Turnbull's club–record of 79 points from 1976–77.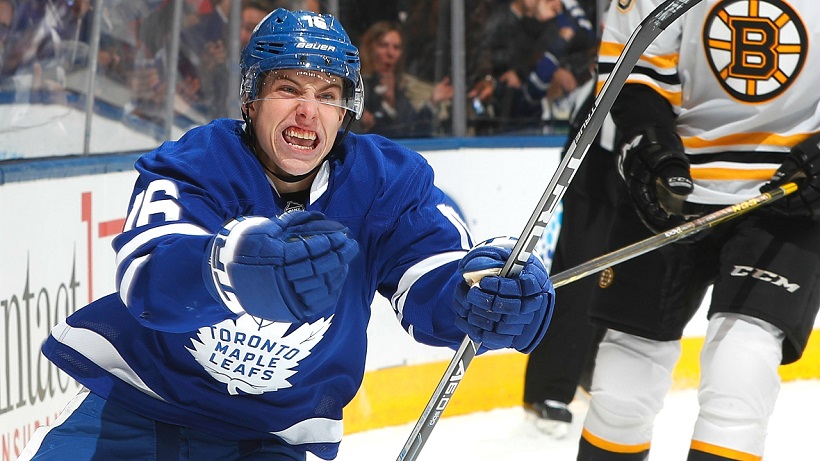 MITCH MARNER IS ON PACE TO LEAD THE LEAFS IN SCORING THIS SEASON. HIS 110 POINTS WOULD BE THE MOST FOR ANY LEAF SINCE DOUG GILMOUR COMPILED 111 IN 1993–94. HIS 80 ASSISTS WOULD BE THIRD–MOST IN FRANCHISE HISTORY, BEHIND GILMOUR'S CONSECUTIVE SEASONS OF 95 AND 84.
HUTCHINSON MAKES IT 68: When Michael Hutchinson faced the Minnesota Wild at Scotiabank Arena on Thursday afternoon, he became the 68th goalie to appear in a game for the Maple Leafs since their 1967 Stanley Cup victory. Here is the entire list, in order. How many names do you know (or remember)?
JOHNNY BOWER, BRUCE GAMBLE, AL SMITH, MARV EDWARDS, GERRY McNAMARA, JACQUES PLANTE, BERNIE PARENT, MURRAY McLACHLAN, GORD McRAE, RON LOW, DOUG FAVELL, DUNC WILSON, ED JOHNSTON, PIERRE HAMEL, WAYNE THOMAS,  MIKE PALMATEER, PAUL HARRISON, JIRI CRHA, CURT RIDLEY, VINCENT TREMBLAY, JIM RUTHERFORD, MICHEL (BUNNY) LAROCQUE, BOB PARENT, RICK ST. CROIX, ALLAN BESTER, KEN WREGGET, BRUCE DOWIE, TIM BERNHARDT, DON EDWARDS, JEFF REESE, MARK LaFOREST, PETER ING, DAMIAN RHODES, GRANT FUHR, FELIX POTVIN, RICK WAMSLEY, DARREN PUPPA, DON BEAUPRE, MARCEL COUSINEAU, GLENN HEALY, CURTIS JOSEPH, COREY SCHWAB, TOM BARRASSO, SEBASTIEN CENTOMO, ED BELFOUR, MIKAEL TELLQVIST, TREVOR KIDD, JEAN-SEBASTIAN AUBIN, ANDREW RAYCROFT, SCOTT CLEMMENSEN, VESA TOSKALA, MARTIN GERBER, JUSTIN POGGE, JEAN-SEBASTIEN GIGUERE, JONAS GUSTAVSSON, JOEY MacDONALD, JAMES REIMER, BEN SCRIVENS, JUSSI RYNNAS, JONATHAN BERNIER, DREW MacINTYRE, GARRET SPARKS, FREDERIK ANDERSEN, JHONAS ENROTH, ANTOINE BIBEAU, CURTIS McELHINNEY,  CALVIN PICKARD, MICHAEL HUTCHINSON.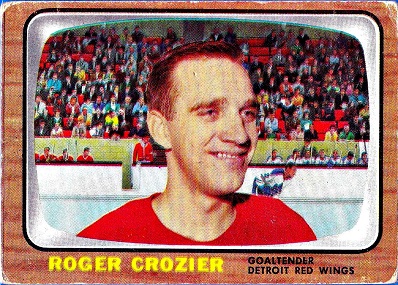 ALMOST THE SAME: These two goalies from the NHL's six–team era are the last to start all games (70) of a regular season: Ed Johnston of Boston in 1963–64 and Roger Crozier of Detroit in 1964–65. But, Johnson played every minute (4,200) for the Bruins while Crozier came up 32 minutes shy (4,168) for the Red Wings.
SHARKS TAKE A BITE: Early in the season — and to borrow, if I may, from the cult–movie Slapshot, — I was "feeling shame" over half my pre–season forecast of a Tampa Bay–San Jose Stanley Cup final. But, not so much anymore, as the Sharks have come alive with a 9–3–2 record in their past 14 games (23–13–7 overall) and are, today, situated only three points (57–54) behind first–place Calgary in the Pacific Division. Late Saturday night, the Sharks put an end to Tampa Bay's 16–game unbeaten streak in regulation time (15–0–1 since Nov. 29) with a 5–2 victory at the SAP Center (photos below). Evander Kane scored twice for San Jose.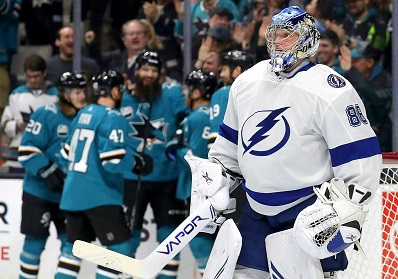 GETTY IMAGES/NHL
So, yeah, I'll stick with my Lightning–Sharks prediction. For now, anyway. 🙂
OBSCURE NHL FACTS
(or… playing with dates)
(or… news you can't use)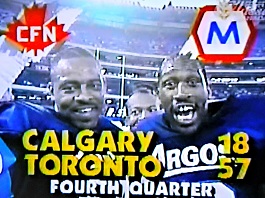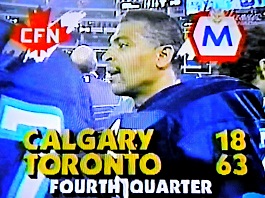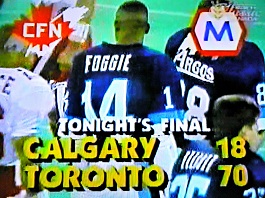 BET'CHA DIDN'T KNOW THAT… On the night John Tavares was born (Sep. 20, 1990) in neighboring Mississauga, the Toronto Argonauts (and quarterback Ricky Foggie) dismantled the Calgary Stampeders 70–18 at SkyDome for the highest single–game points total in franchise history and the second–highest in Canadian Football League annals (to Montreal's 82 points, vs. Hamilton, Oct. 20, 1956). The 1990 Argos also compiled the third–most points in a CFL game by defeating the B.C. Lions 68–43 on Sep. 1 at the 'Dome.

10 FOR 10… This is the actual NHL game–sheet (signed by official scorer Stan Boshier) from Maple Leaf Gardens on Feb. 7, 1976, when Darryl Sittler erupted for 10 points (six goals and four assists) against the Boston Bruins. Nearly 43 years later, it remains an all–time record for most points in one match. Little did hockey fans realize the youngster in Spruce Grove, Alta. celebrating his 10th birthday on that 10–point eve. Ten years later, in 1986, Grant Fuhr would own two of his four Stanley Cup rings with the Edmonton Oilers.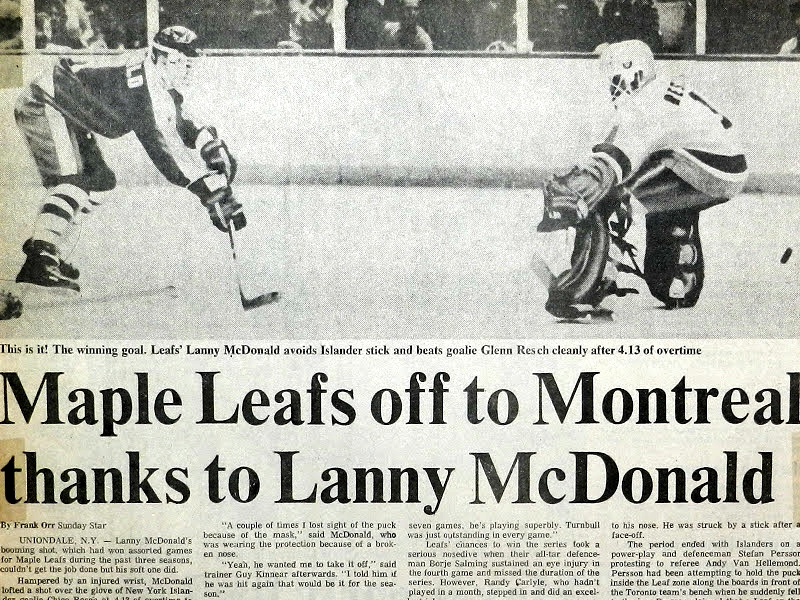 STILL A TEENAGER… Maple Leaf fans of vintage can easily recall Lanny McDonald's overtime goal at Nassau Coliseum in Game 7 of the 1978 Stanley Cup quarterfinals that eliminated the New York Islanders. But, how many of the same people would know that future coach Mike Babcock turned 15 years old that day? Or that future Leafs defenseman (and Vancouver Canucks GM) Jim Benning was born the same day as Babcock?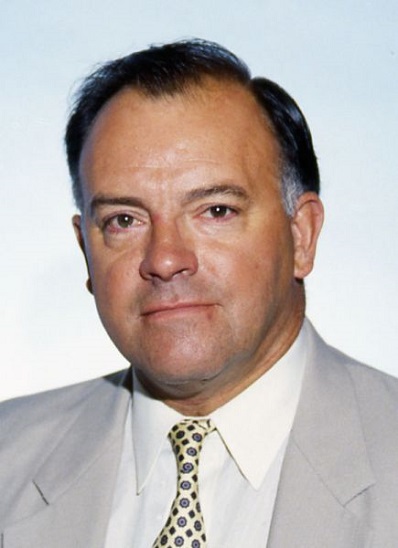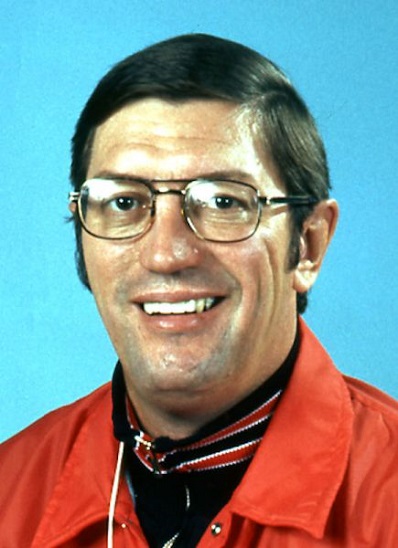 YOU MAY (OR MAY NOT) KNOW THAT… The St. Louis Blues, without a Stanley Cup title since their inception for the 1967–68 season, have the distinction of parting company with the four winningest coaches in NHL history: Scotty Bowman (top–left — 1,244 — after the 1970–71 season); Joel Quenneville (890 — after 61 games in 2003–04); Ken Hitchcock (823 and counting — after 50 games in 2016–17) and Al Arbour (top–right — 782 — after 13 games in 1972–73). Combined, the aforementioned have 17 Stanley Cups to their credit.

HOW COULD YOU POSSIBLY KNOW THAT… No future NHL'ers were born on the day (May 2, 1967) the Maple Leafs last won the Stanley Cup. The closest birth to that date — and rather coincidentally — belongs to Curtis Joseph, the Leafs goalie from 1998–99 to 2001–02. He arrived in Keswick, Ont. (70.3 kilometers northeast of Toronto) on Apr. 29, 1967, three days before George Armstrong raised the Cup at Maple Leaf Gardens. Afterward, came a gap of eight days until Steve Gotass was born, May 10, in Camrose, Alta. Gotass played 49 games with Pittsburgh and Minnesota from 1988–91, compiling six goals and 15 points.
HOLD THE FORT, BOYS… Among the Top 50 scorers (left column, below) in Toronto Maple Leafs history born during the NHL season, here's how their future team fared on the day (or night) they arrived:
01. MATS SUNDIN — Feb. 13, 1971 — Los Angeles 1 at Toronto 8.
08. BOB PULFORD — Mar. 31, 1936 — Toronto 0 at New York Americans 1 (Stanley Cup Semifinals).
12. NORM ULLMAN — Dec. 26, 1935 — Toronto 2 at Montreal 0.
19. GARY LEEMAN — Feb. 19, 1964 — Detroit 1 at Toronto 1.
24. TYLER BOZAK — Mar. 19, 1986 — Toronto 2 at Quebec 5.
29. NAZEM KADRI — Oct. 6, 1990 — Toronto 1 at Calgary 4.
31. VINCENT DAMPHOUSSE — Dec. 17, 1967 — Toronto 0 at Chicago 2.
34. DARCY TUCKER — Mar. 15, 1975 — Philadelphia 4 at Toronto 4.
47. ALEXEI PONIKAROVSKY — Apr. 9, 1980 — Toronto 2 at Minnesota 7 (Stanley Cup Preliminary).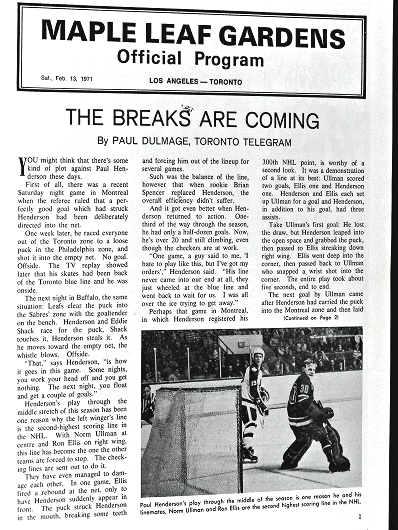 PROGRAM–INSERT AND LINE–UPS FROM LOS ANGELES at TORONTO GAME OF FEB. 13, 1971 AT MAPLE LEAF GARDENS. MATS SUNDIN WAS BORN EARLIER THAT DAY IN BROMMA, SWEDEN.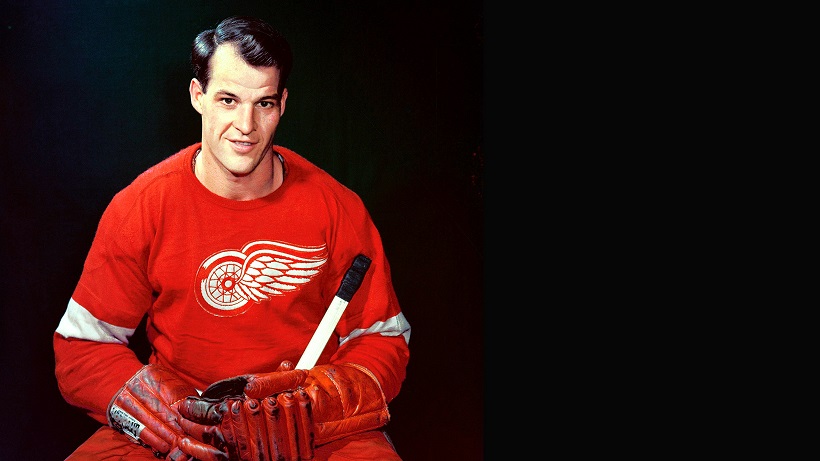 GORDIE HAD COMPANY… Mr. Hockey, Gordie Howe, was born in Floral, Sask. on Mar. 31, 1928. Seven other NHL'ers arrived afterward on the same date: Bob Pulford (1936); Bill Hicke (1938); Brad Marsh (1958); Tom Barrasso (1965); Pavel Bure (1971); Michael Ryder (1980) and David Clarkson (1984).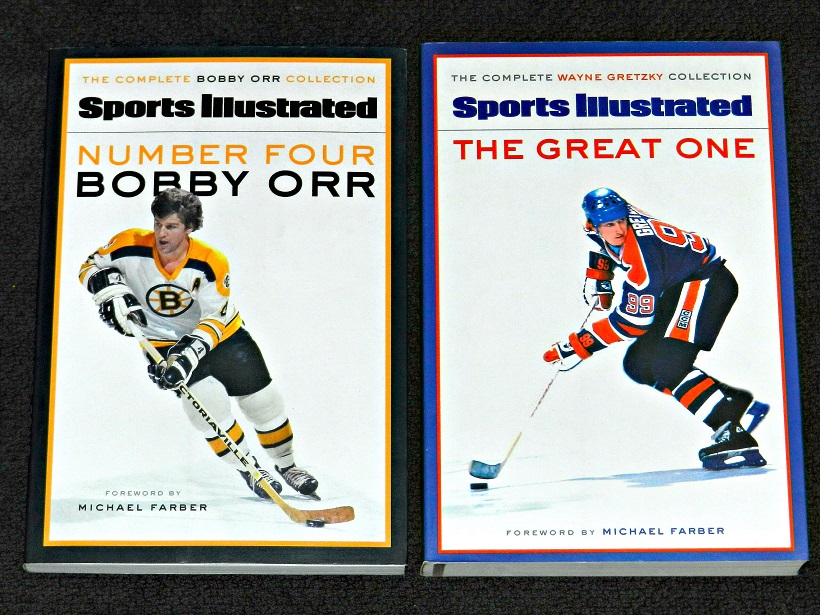 LESS COMPANY… The other two greatest players in NHL history were also joined on their birth dates. Bobby Orr was born in Parry Sound, Ont. on Mar. 20, 1948. Later came future NHL'ers Charlie Simmer (1954), Valtteri Filppula (1984) and Nick Leddy (1991). Wayne Gretzky, born in Brantford, Ont. on Jan. 26, 1961, has a bit more company, including one of the earliest NHL stars: Frank Nighbor (1893). Also, Vic Lynn (1925), who won three consecutive Stanley Cups (1947–48–49) with the Leafs; Ivan Hlinka (1950), Czech–born forward of the Vancouver Canucks (1981–83) and Dale McCourt (1957), first pick, by Detroit, of the 1977 NHL draft.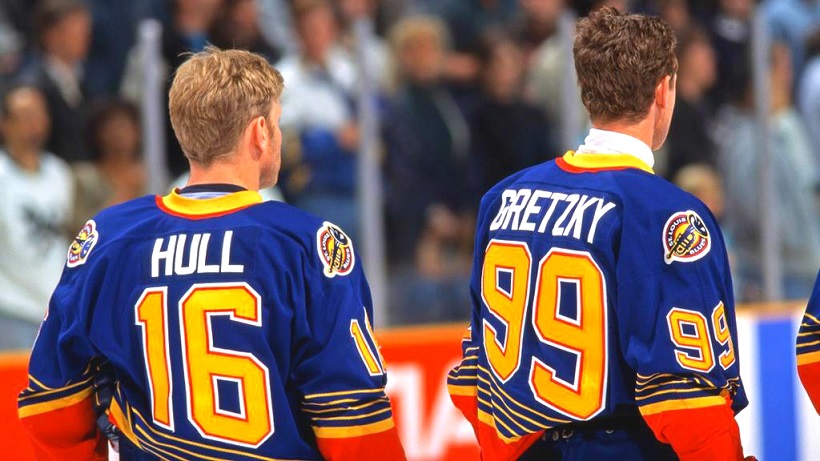 DOUBLE COMMEMORATION… Many hockey fans know that Wayne Gretzky and Brett Hull are great pals and briefly skated together with the St. Louis Blues in 1996. Today, they remain Nos. 1 (894 goals) and 4 (741 goals) on the all time scoring list. But, relatively few are likely aware that the stunning trade of Gretzky from Edmonton to Los Angeles (Aug. 9, 1988) took place on Hull's 24th birthday. The Golden Brett was about to embark on his first full season in St. Louis, having been dealt (Mar. 7, 1988) to the Blues by Calgary.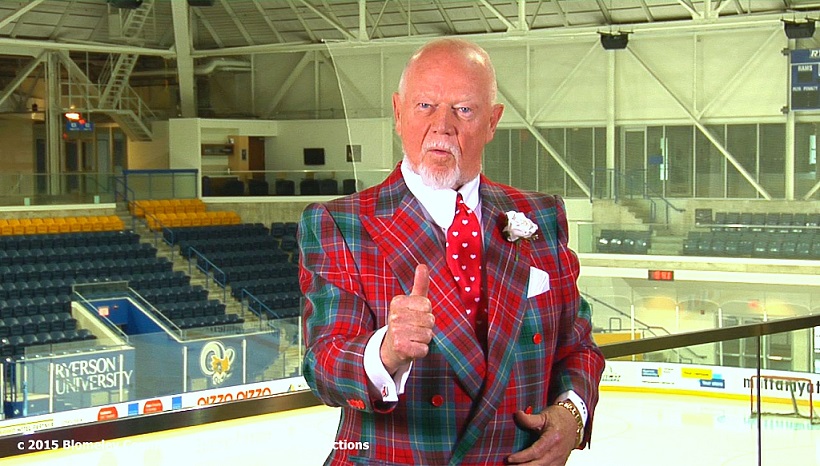 DONALD S. (for "snub")… Yes, Don Cherry did play one game in the NHL. No, Don Cherry is not listed among NHL'ers born on Feb. 5 (in 1934) — as his lone appearance (with Boston) occurred during the Stanley Cup playoffs, in 1955. Grapes hardly shares his birthday with illustrious company. Only one of the 17 others born Feb. 5 enjoyed true distinction in the NHL: defenseman Larry Hillman (b. 1935), who schlepped between Detroit, Boston, Toronto, Minnesota, Montreal, Philadelphia, Buffalo and Los Angeles during a nomadic career (1955–73). Hillman won the Stanley Cup with the Leafs in 1964 and 1967; then the Habs in 1969.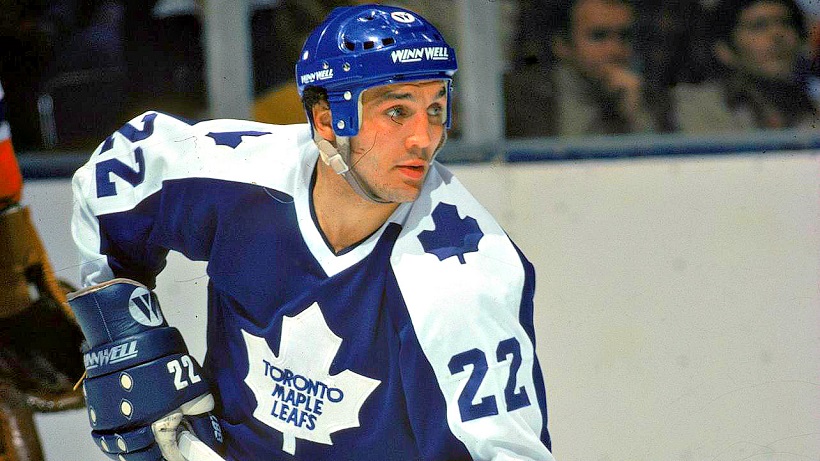 ME AND THE TIGER… Dave (Tiger) Williams, the rambunctious Leafs forward of the late–70's, was born in Weyburn, Sask. on Feb. 3, 1954. Yours truly came around five years later (Feb. 3, 1959 — quick math will tell you my age as of next month, but please keep it quiet). A total of 26 NHL'ers share our birthday, the most–notable being Hall–of–Famer Lynn Patrick, who played for the Rangers (1935–46) and was the first GM/coach of the expansion St. Louis Blues (1967–68). Just one other Feb. 3 birthday suited up for the Leafs: Mark Kirton (b. 1958) for 13 games in 1979–80 and 1980–81. Want to know which hockey players were born on your birthday? Here's the link:  http://bit.ly/2LOEGLi.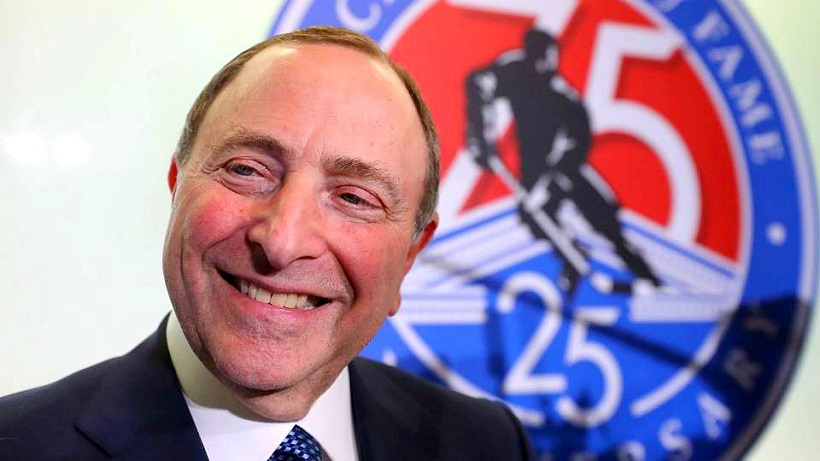 BETTMAN AND BIG BIRD… NHL Commissioner Gary Bettman, inducted this season into the Hockey Hall of Fame, shares his birthday with one honored member. Larry Robinson was born June 2, 1951, exactly one year before Bettman. The legendary Habs defenseman lifted the Stanley Cup six times and was never booed. The Commish has presented the Cup every season since 1993… and has never not been booed.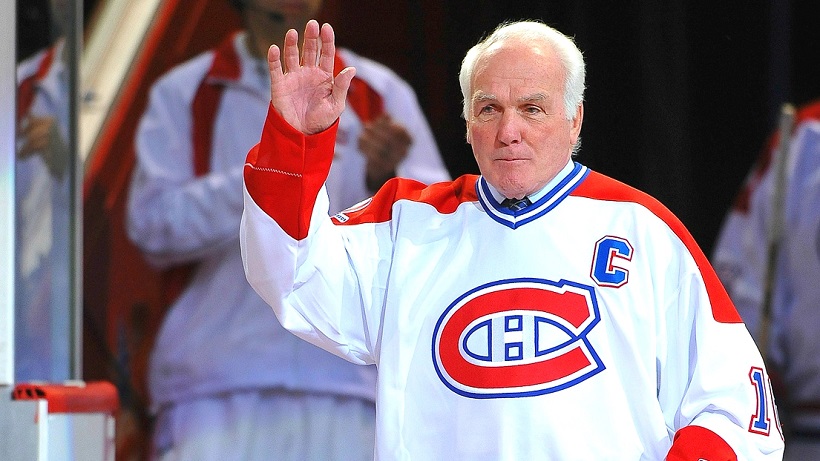 THAT'S QUITE A LEAP… A total of nine NHL'ers have been born on the Leap Year date of Feb. 29 — none more famous than Henri Richard, whose 11 Stanley Cups with Montreal is the most for any player. The Pocket Rocket arrived in 1936, which makes him 82. But, he's celebrated only 20 birthdays; his 21st slated for 2020. Dan Daoust (1960), Simon Gagne (1980) and Cam Ward (1984) are among the others born Feb. 29.

T'WAS THE SEASON… Sorry, folks, for using past tense, but the holidays are over. Which reminds me that 12 players in NHL history have been born on Christmas Day. The leading scorer among them was forward Stu Barnes (b. 1970), who amassed 261 goals and 597 points between 1992 and 2008 for Winnipeg, Florida, Pittsburgh, Buffalo and Dallas. Also included are a trio of defensemen: Larry Cahan (1933), Noel Picard (1938) and Dmitri Mironov (1965). Cahan and Mironov saw time with the Maple Leafs.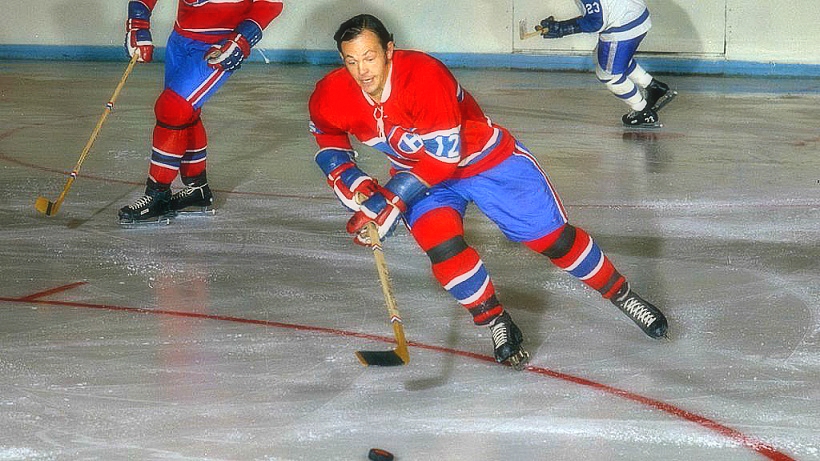 BET'CHA DIDN'T KNOW THAT... When President John F. Kennedy was assassinated in Dallas on Nov. 22, 1963, NHL'ers Yvan Cournoyer (above) and Bert Marshall (below) were celebrating their 20th birthdays. Born the same day in 1943, they bore other similarities: Cournoyer played 968 NHL games with Montreal; Marshall, exactly 100 fewer (868) with Detroit, Oakland/California, the Rangers and Islanders. Cournoyer's first full season was 1964–65; Marshall's 1965–66. Each retired after the 1978–79 campaign. One dissimilarity: Cournoyer won ten Stanley Cups with the Canadiens… 10 more than Marshall accrued in his career. Had he stuck around for one more season with the Islanders, Bert would have been part of the 1980 NHL champion.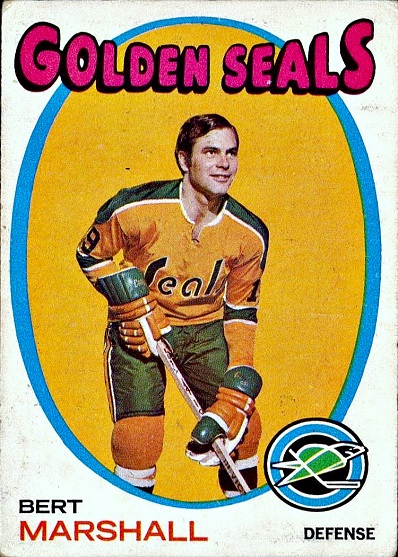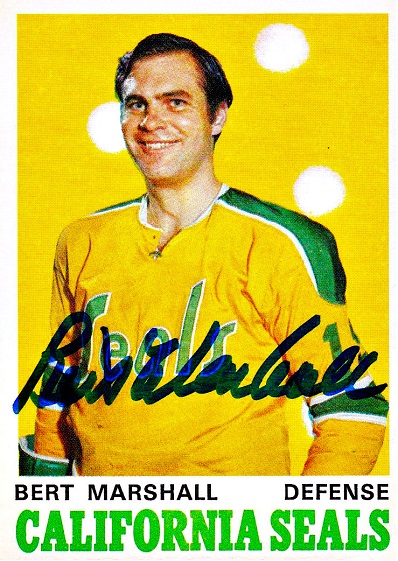 SPEAKING OF DARK DAYS IN WORLD HISTORY… A total of 25 NHL players have been born on Sep. 11 — the most–accomplished being former center Mike Comrie (1980, in Edmonton), who scored 168 goals in a 10–season career with Edmonton, Philadelphia, Arizona, Ottawa, the Islanders and Pittsburgh. That's Comrie, above, with singer/songwriter Hillary Duff during their six–year marriage, which ended in 2016.
EMAIL: HOWARDLBERGER@GMAIL.COM