TORONTO (Jan. 28) — Given the mammoth contract (eight years, $50 million) he signed with the Toronto Maple Leafs on May 21, 2015, it could seem incomprehensible for someone other than Mike Babcock to coach the hockey club next season. If, however, Babcock fails to guide the Leafs beyond the opening round of the Stanley Cup tournament for a third consecutive year, I contend that all bets are off.
Put more succinctly: Babcock needs a playoff win this April to keep his job.
Mike is a good person. Undeniably. But, pro sport is rather cut–throat. And, the Leafs are underachieving.
This may seem premature and over–reactive given where the club resides at the National Hockey League All–Star break: seventh in the 31–team league with a solid record of 30–17–2 for 62 points in 49 games. Many Toronto coaches since 1967 would have given a row of teeth for such a mark. But, the current squad isn't performing to standard. Neither is Babcock getting nearly as much from his high–powered roster as forecast — particularly at Scotiabank Arena, where the Leafs prevailed last Wednesday (against Washington) for only the second time in seven games. Toronto's 11 losses on home ice equals the number the Stanley Cup–champion Capitals dropped in D.C. all of last season. The powerplay has been shockingly impotent since the opening month of the schedule. Toronto stands ninth overall with a scoring–percentage of 22.1 — merely 2.2% above the league average (19.9). Tampa Bay, Boston, Florida, Winnipeg, Pittsburgh, Colorado, San Jose and Calgary all rank ahead of the Leafs. That John Tavares, Auston Matthews, Mitch Marner, Nazem Kadri and Morgan Rielly are scuffling with the man advantage reflects poorly on Babcock.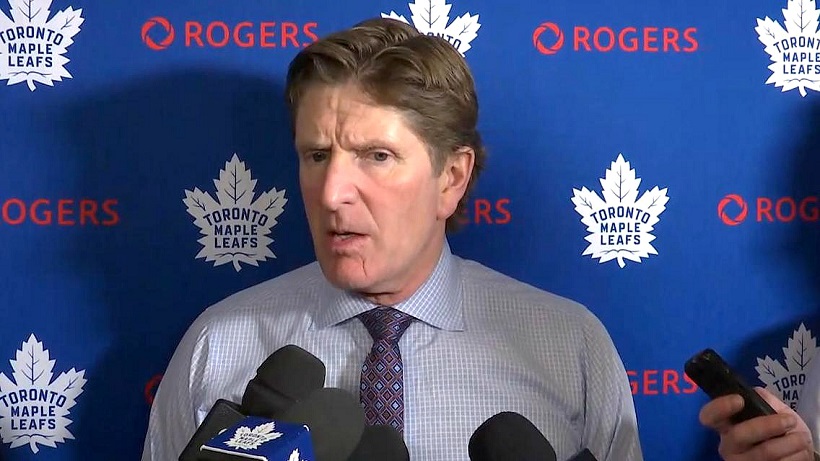 Barry Trotz, as an example, has squeezed way more out of the inferior New York Islanders (sans Tavares) this season. At the break, the Islanders were actually one point ahead of the Leafs (63–62) in the overall standings, having blanked Toronto, 4–0, at SBA on Dec. 29. In Calgary, Bill Peters (fired last season by Carolina) has the Flames second overall (71 points, five behind Tampa Bay) with a marvelous home record of 17–4–5 in 26 games. Claude Julien has Montreal just one point behind Babcock in a year everyone figured the Canadiens were doomed. Toronto, right now, is only three points removed from Wild Card territory in the Eastern Conference. These are facts that no hockey observer anticipated at the end of January.
Babcock's maniacal matching of forward units on home ice has been detrimental, costing Matthews abundant work. Incredibly, the Leafs center was 89th among NHL forwards at the break with an average ice–time of 18:06. By comparison, Connor McDavid (second overall) receives 22:49 of playing time per match with Edmonton; Mark Scheifele (third overall) 22:39 with Winnipeg; Nathan MacKinnon (seventh overall) 21:58 with Colorado and Sidney Crosby (18th overall) 20:42 with Pittsburgh. How can Babcock explain that 88 forwards in the league play more than Matthews? And, is it a wonder that speculation continues about a cool relationship between coach Mike and the face of the Toronto franchise? Even Toronto's leading scorer, Marner (62 points), is a distant 37th among NHL forwards with an average ice–time of 19:40.
So, yeah, I think Babcock needs the second round of the playoffs this year.
Fortunately for the Leafs bench–boss, fate has potentially offset his biggest weakness — over–extending No. 1 goalie Frederik Andersen during the regular schedule. A groin injury; the NHL All–Star hiatus and the mandatory five–day break per season for all clubs has determined that Andersen will play — Friday, at Detroit — just his fifth game in 40 nights (dating to Dec. 22). Providing the groin ailment doesn't recur, such rest at mid–season could be incalculable for Andersen, Babcock and the Leafs. And, may help the club achieve the minimum goal, in my view, for Babcock to continue as coach beyond this season.
EMAIL: HOWARDLBERGER@GMAIL.COM