TORONTO (Jan. 21) — To hammer–and–tong on the Maple Leafs right now would be piling on… and lack creativity. Rarely is it a challenge to kick someone — or something — when it's down. So, we'll begin this blog by reminding (or educating) you that the last Toronto team to win the Stanley Cup still holds the franchise record for most consecutive defeats: 10. History has long marveled at the 1966–67 Maple Leafs recovering from losses (in order) to Chicago, Detroit, Detroit, Boston, Montreal, Chicago, Chicago, Montreal, New York and Detroit between Jan. 15 and Feb. 8 of that final season before expansion. By comparison, the current Leafs (3–7–0 in the past 10) have merely stubbed a toe. A really big toe, perhaps, but only one.
For whatever reason — and theories are plentiful — the Leafs have misplaced their mojo in 2019. Chances are they'll rediscover a portion of it… and fairly soon, given the skill–level up front. Perhaps as early as Wednesday night, when the Stanley Cup–champion Washington Capitals visit Scotiabank Arena. Which would seem to be a far–preferable opponent to the scrubs the Leafs have lost to in the past week alone: Colorado, Florida and Arizona. No disrespect to the aforementioned, but none were forecast to be in the Toronto stratosphere this season. Though the Capitals are also struggling with five consecutive defeats — last–place Chicago raked them for eight goals on Sunday, five days after Nashville erupted for seven — they are still the defending champs. And, will provide a stern test for a Leafs team that habitually plays up, and down, to the opposition (the Coyotes beat the Leafs Sunday here in town and trail the league-leading Tampa Bay Lightning by 30 points; three nights earlier, Toronto had busted T–Bay's nine–game win streak at home).
So, not a lot makes sense right now.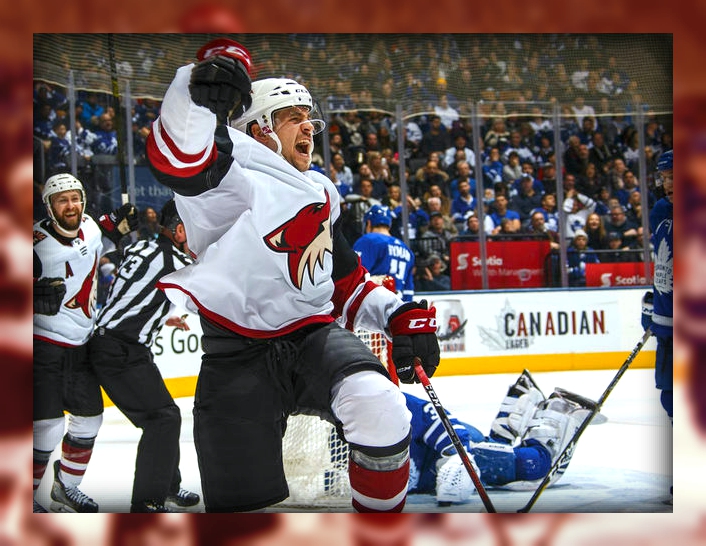 THE ARIZONA COYOTES WHOOPED IT UP GOOD AT SCOTIABANK ARENA SUNDAY NIGHT,
DOUBLING THE MAPLE LEAFS 4–2. TORONTO HAS LOST SIX OF ITS PAST SEVEN ON HOME ICE.
KEVIN SOUSA GETTY IMAGES/NHL
I'm beginning to wonder if the Leafs have somehow been victimized by their meteoric start to the season. Coming in as the consensus co–favorite (with Tampa) to win the Stanley Cup, you'll remember that virtually everything a Toronto player touched turned to gold early in the schedule. The Maple Leafs were not only corresponding to expectation, but doing it with uncanny ease. The vaunted powerplay quintet of John Tavares, Auston Matthews, Nazem Kadri, Mitch Marner (at the point) and Morgan Rielly looked remarkably similar to Wayne Gretzky, Mark Messier, Glenn Anderson, Jari Kurri and Paul Coffey of Edmonton vintage in the 1980's. Toronto scored 33 goals in its first seven games (winning six) while operating at more–than a 32% efficiency with the man advantage (Pittsburgh led the National Hockey League last year at 26.15%). The difference, however, between Toronto now and Edmonton then is that Gretzky and Co. were inextricable on the powerplay for half–a–decade… not one–tenth of one season. Since their ethereal performance from Oct. 5–15, the Maple Leafs have curiously fallen to 10th in the NHL (21.5%) while skating with an extra man.
Did the opening week–and–a–half of the schedule lull Toronto into the proverbial false sense of security? Everything was so easy for Tavares, Matthews et al — and just as predicted. Has all of that talent and shooting artistry been solved by the rest of the league? Or, might the Leafs have gotten a little fat above the shoulders; figuring that natural ability can trump old–fashioned hard work? If that were the case, you'd think the Toronto players would assume differently by now. But, their dozy performances — particularly, and alarmingly, on home ice — suggest otherwise. Clearly, opposition teams have adjusted to the Maple Leafs far quicker than the Toronto coaching staff can re–adjust. Conversely, the adaptations offered by Mike Babcock and his crew may be falling on deaf ears. Remember, this is Year 4 of Babcock whip–cracking for Rielly, Kadri, Marner, William Nylander and Jake Gardiner; Year 3 for others, including Matthews. Virtually every coach possesses a shelf–life… and that life tends to narrow when the coach has a single gear.
Nylander, for one, looks like he's never played the game. Young Willie couldn't hit a cow in the ass with a shovel right now — his lone–goal funk consuming one–quarter of the schedule. With practically the same roster each night, Babcock is reduced to re–arranging chess pieces… but Nylander is one that deserves to be off the board for a game or two. Why Babcock, instead, plunks him on a part–time unit with Par Lindholm and slow–as–molasses Frederik Gauthier is an abiding mystery.
When all is said and done, however, the coach can merely stand behind the bench and bark for 2½ hours. Wins and losses fall squarely upon those in uniform. Which may be the best news of all for the gifted Leafs.
EMAIL: HOWARDLBERGER@GMAIL.COM