TORONTO (Jan. 9) — Isn't it rather amazing how three losses in four games can alter a team's posture in the parity–stricken National Hockey League?
Throughout the first half of the 2018–19 schedule, the Toronto Maple Leafs lingered second in the overall, 31–team standings… and legitimately within striking distance of first–place Tampa Bay. Today, having been defeated on home ice by the New York Islanders, Minnesota and Nashville in the past 11 nights, the Leafs are tied for fifth in the NHL… and a mere four points removed from 11th. As for the Lightning? Forget it. Neither second–place Toronto nor any Atlantic Division rival has a reasonable hope of catching the top–ranked club (16–1–1 in the past 18 games); now 12 points beyond. As it stands — and here we go again — Toronto and Boston will tangle for home–ice advantage in yet another opening–round playoff quarrel.
Calgary, Vegas and San Jose have all surged ahead of the Leafs in the overall standings. The Bruins, with five consecutive victories, are only two points behind, though Toronto has a game–in–hand and a meaningful home date with its playoff nemesis Saturday night (after tangling with the New Jersey Devils, in Newark, on Thursday). Conversely, three wins in a four–game span would likely restore the Leafs behind only T–Bay in the NHL pecking order, while easing apprehension among followers. At the moment — No. 1 goalie Frederik Andersen on the shelf with a wonky groin — angst is beginning to prevail (Toronto is a mere four points ahead of Buffalo and Wild Card territory in the Eastern Conference; there is no time for rest in the Atlantic).
***UPDATE*** After Wednesday night's games, the Leafs are sixth in the NHL. Nashville moved ahead with a 4–3 overtime win at Chicago. Calgary toppled Colorado, 5–3, at the Saddledome and now has 60 points — four more than Toronto.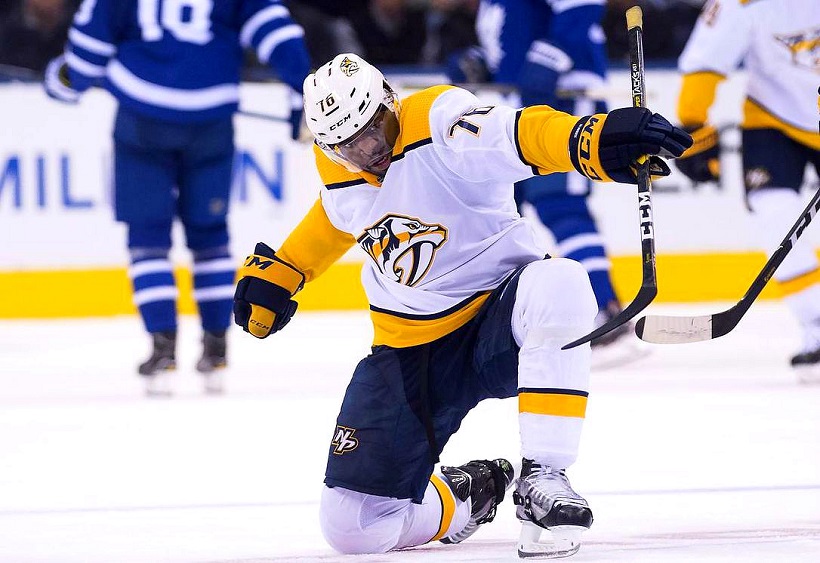 P.K. SUBBAN AND THE NASHVILLE PREDATORS SCHOOLED THE MAPLE LEAFS, 4–0, AT SCOTIABANK ARENA MONDAY NIGHT — TORONTO'S THIRD LOSS IN FOUR HOME GAMES. GETTY IMAGES/NHL
Given the unpredictability of Andersen's groin–strain, don't look for the Leafs to yield much before the Feb. 25 NHL trade deadline. Though general manager Kyle Dubas could utilize his depth at forward to swing a larger deal, it's unlikely he'll mortgage any part of the roster. There's talk the Maple Leafs have interest in veteran Wayne Simmonds of Philadelphia — an unrestricted free agent as of July 1 — and Simmonds could be a legitimate target were Dubas to offer up, say, Kasperi Kapanen (a restricted free agent). Such a move would provide the Leafs some backbone for a potential playoff clash with Boston. If, however, Andersen's injury proves chronic in the second half of the season, there's no way Dubas will pursue anything risky before the deadline. With their gifted skaters up front (Auston Matthews, Mitch Marner, William Nylander, John Tavares, Nazem Kadri, Kapanen), it's not as if the Leafs have a narrow Stanley Cup opportunity.
Of abiding concern for the Blue and White is sluggishness on home ice. A 13–8–1 record in 22 games at Scotiabank Arena should hardly infuse the opposition with fear. It seems that whenever the Leafs have a clunker, it happens in front of the 19,000–plus on Bay Street. The teams ahead of Toronto (and Boston, in behind) all perform more–adequately at home. Tampa Bay is 18–4–0 at Amalie Arena; Calgary 12–4–4 at the Saddledome; Vegas 15–3–3 at T–Mobile Arena; San Jose 15–4–4 at the SAP Center and the Bruins (yikes!) 16–5–0 at TD Garden. Yes, the Leafs have the second–best road mark in the NHL (14–5–1), yet they frequently offset that work by laboring at home. Nor can anyone adequately explain why this is an enduring issue.
IT'S CATCHING ON… In this corner on New Years Eve, I wrote a blog (http://bit.ly/2LHqBzn) entitled TIME FOR NYLANDER TO PICK IT UP, suggesting the talented winger was loafing on the perimeter of the ice. When it was published, most in the local media were typically making excuses for the Swede, who sat out the first two months of the NHL schedule in a contract impasse with the Leafs. Just more than a week later, the tune has changed. Both the Toronto Star (NYLANDER WATCH: WHEN'S HE GOING TO START PRODUCING?: http://bit.ly/2AEpcp7) and the Toronto Sun (STRUGGLING NYLANDER HAS TO FIND WORK ETHIC: http://bit.ly/2CY9Vkq) have jumped on the bandwagon, which isn't surprising.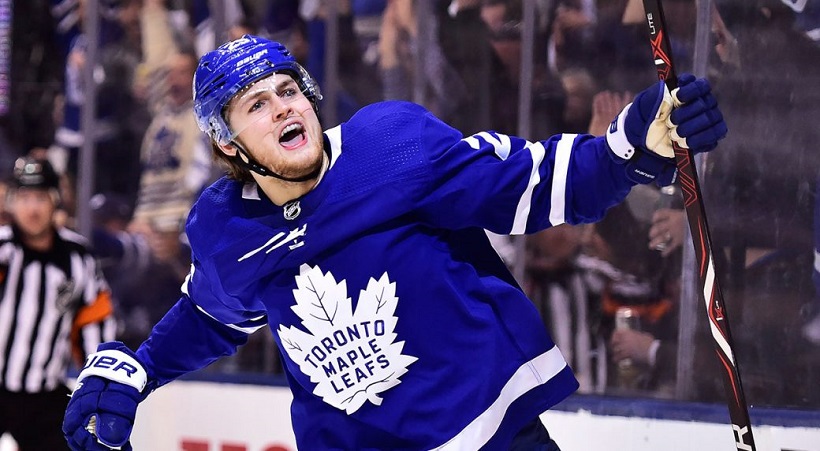 THE MAPLE LEAFS NEED — AND DESERVE — MUCH MORE OF THIS FROM WILLIAM NYLANDER.
The word on Nylander from well before the day he was drafted (June 28, 2014) warned of an imbalance between skill and competitive zeal. When appropriately engaged, he would dazzle in the NHL. When unmoved, which occurred too frequently, he'd become a liability. The scouts were bang on. To his credit, Nylander worked diligently for long periods the past two seasons, accumulating 61 points in each. The Maple Leafs rewarded him — some say too richly — with a six–year contract worth nearly $7 million a pop. For that, and despite the two–month delay in getting started, he should no longer be scuffling; 14 games in 5½ weeks is more–than–enough time for Nylander to begin earning his lofty stipend.
It seems, now, that most others are in agreement.
50 YEARS AGO
at Maple Leaf Gardens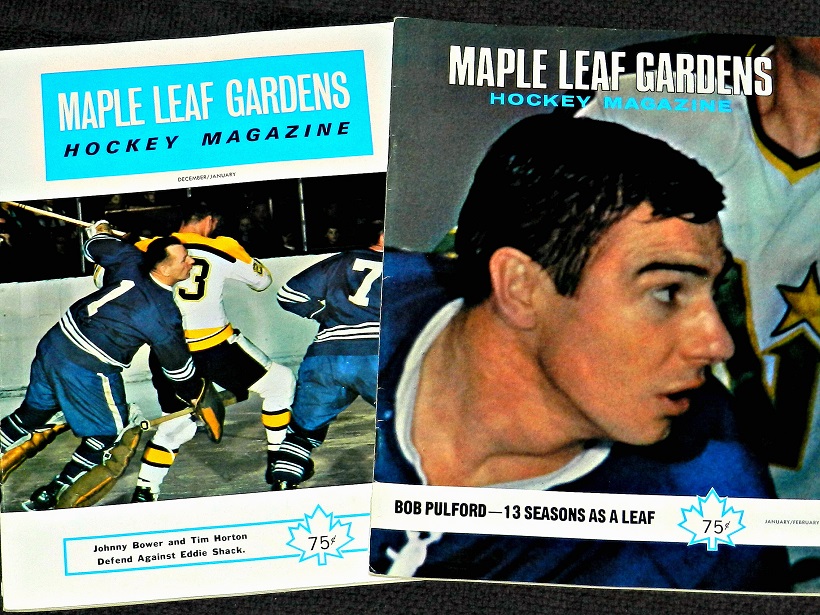 Continuing, via my collection, with a look at Maple Leaf Gardens hockey programs from 1968–69 — 50 years ago. On Jan. 11, 1969, the Los Angeles Kings made their second visit to the Gardens in two weeks. Having upset the Leafs, 4–1, on Dec. 28, the Kings were defeated 4–2 in the re–match. Four nights later, Bobby Orr, Phil Esposito and the Boston Bruins arrived in town and left with a 5–5 draw against the Leafs, who were in the midst of a struggle. Between Dec. 26 and Feb. 8, Toronto compiled a 5–9–5 record in 19 games.
Here are contents  and line–ups from the Los Angeles and Boston programs: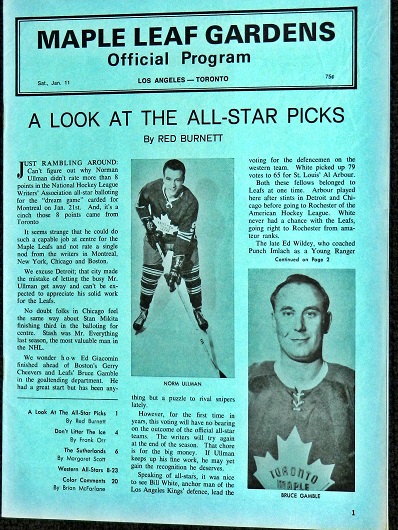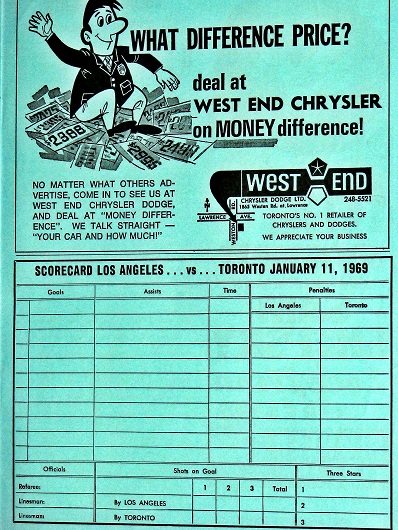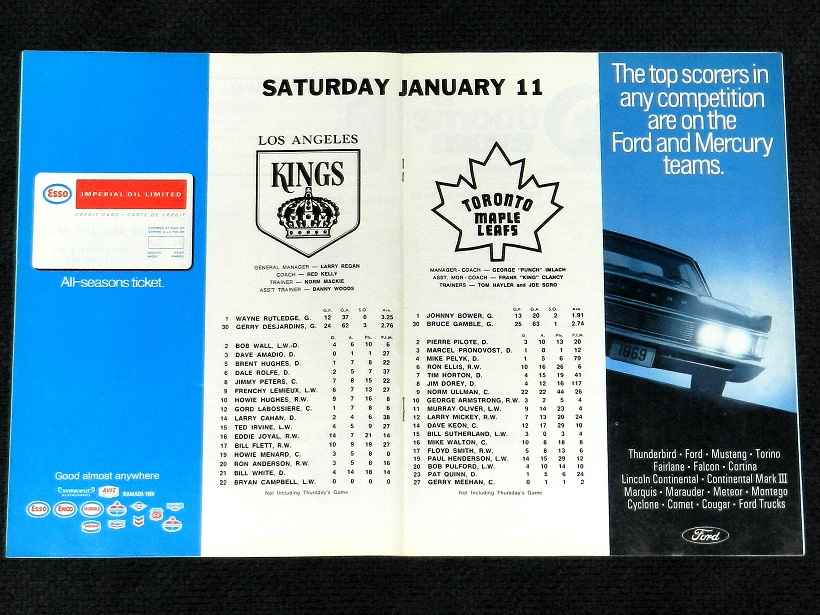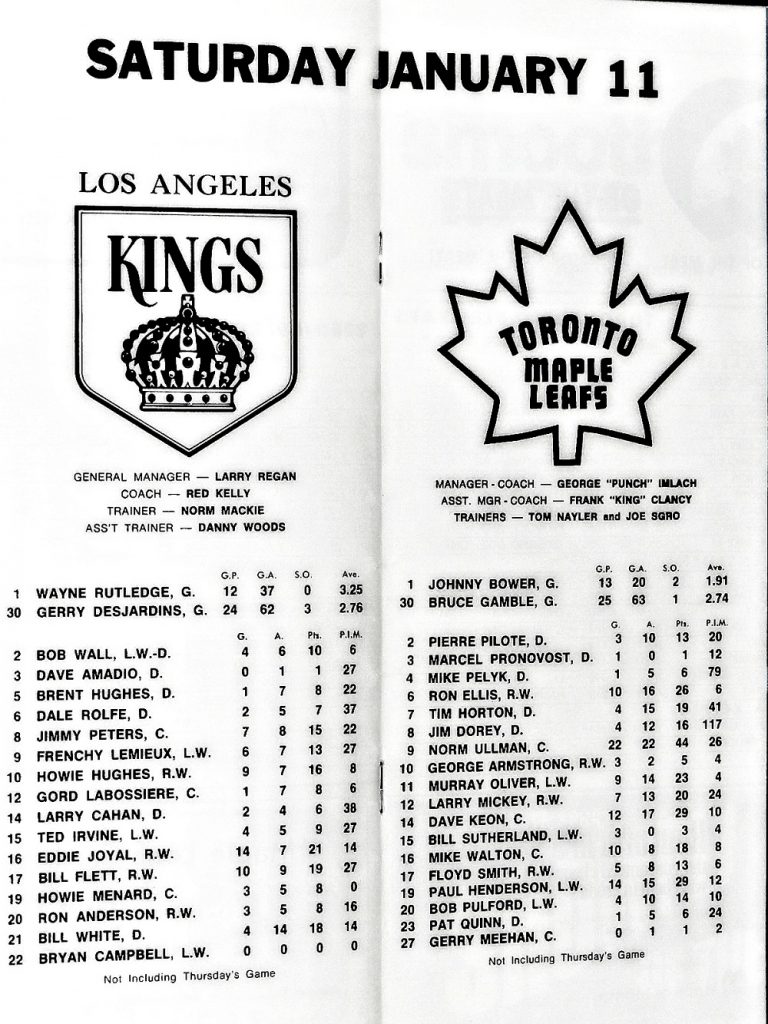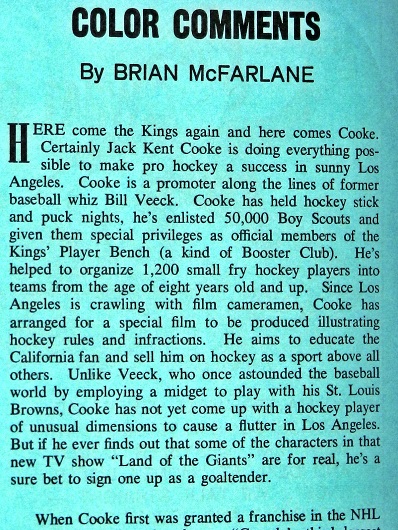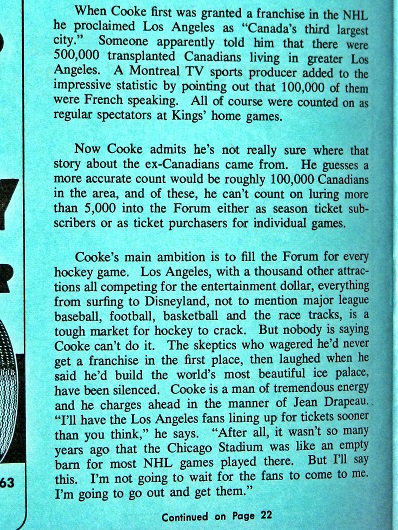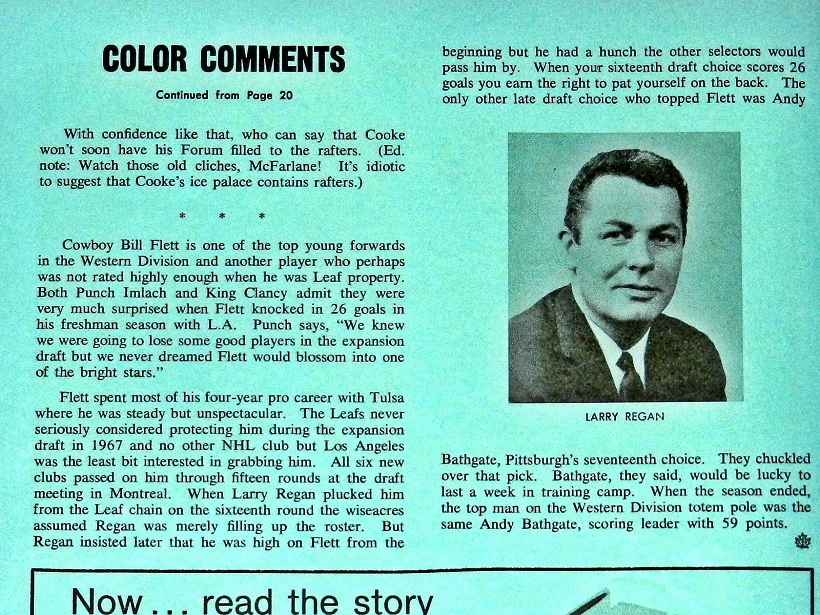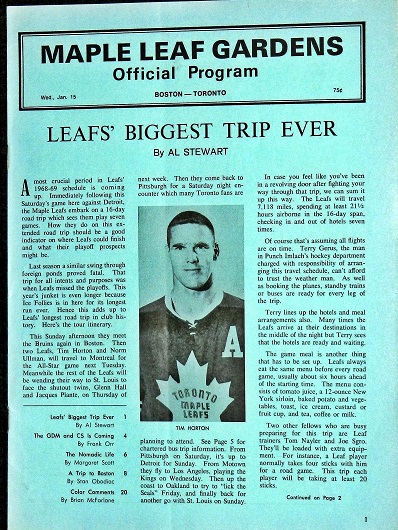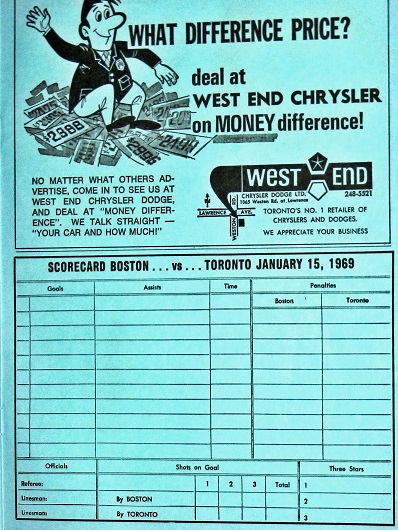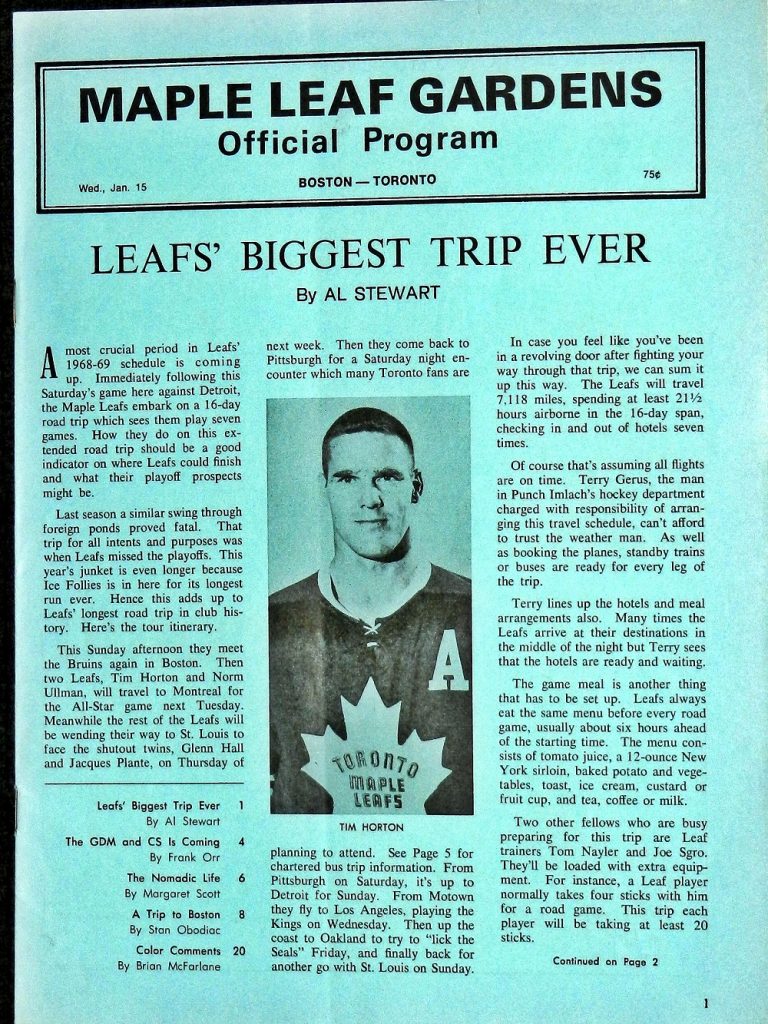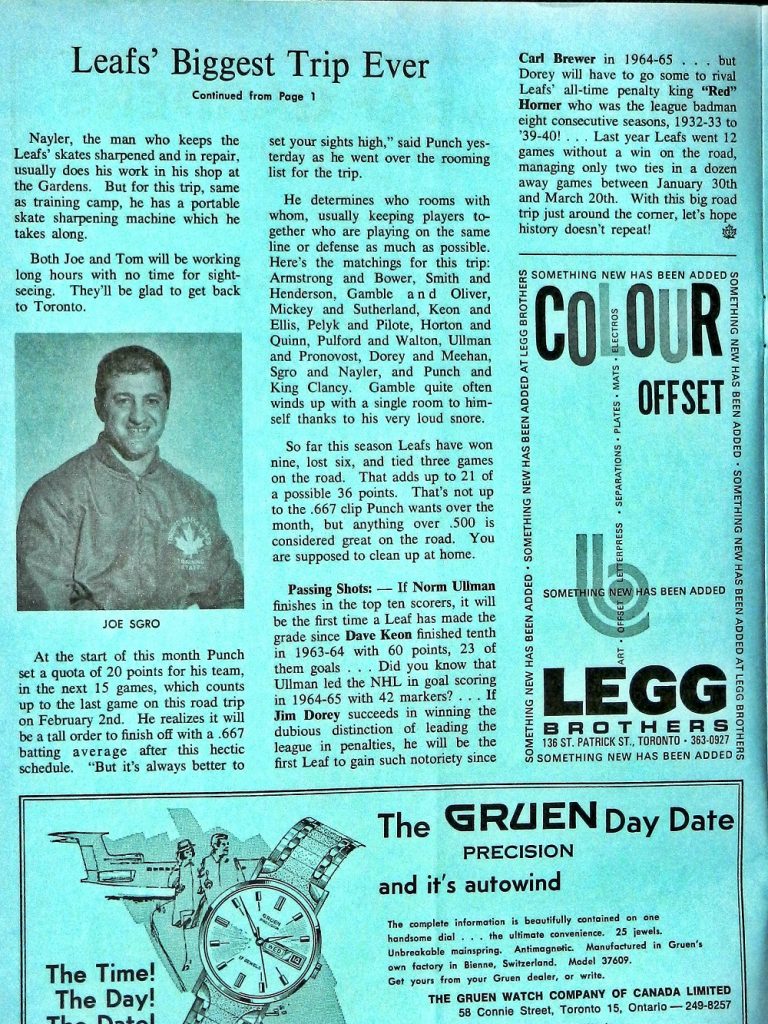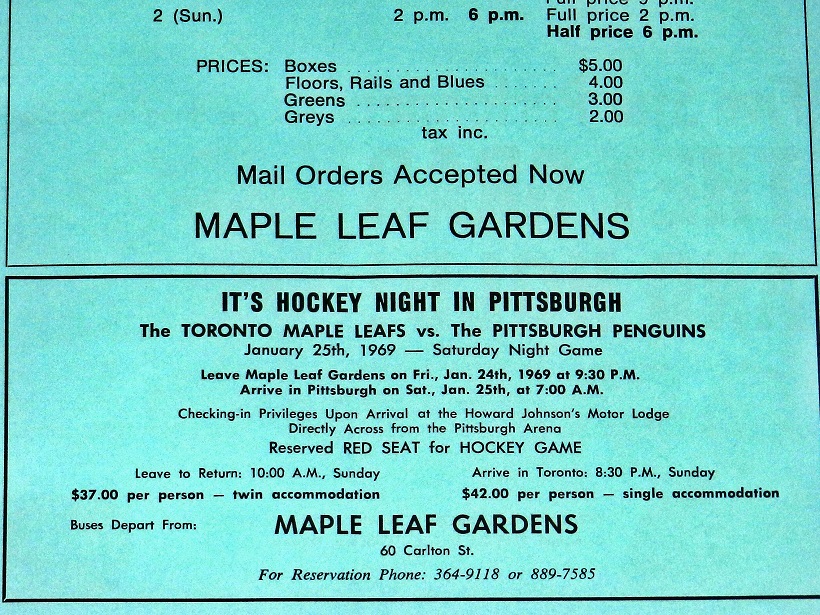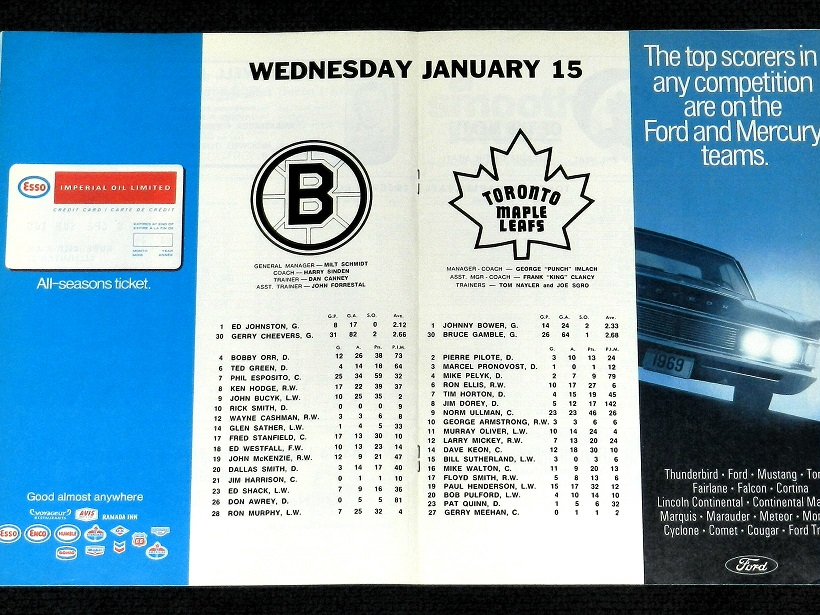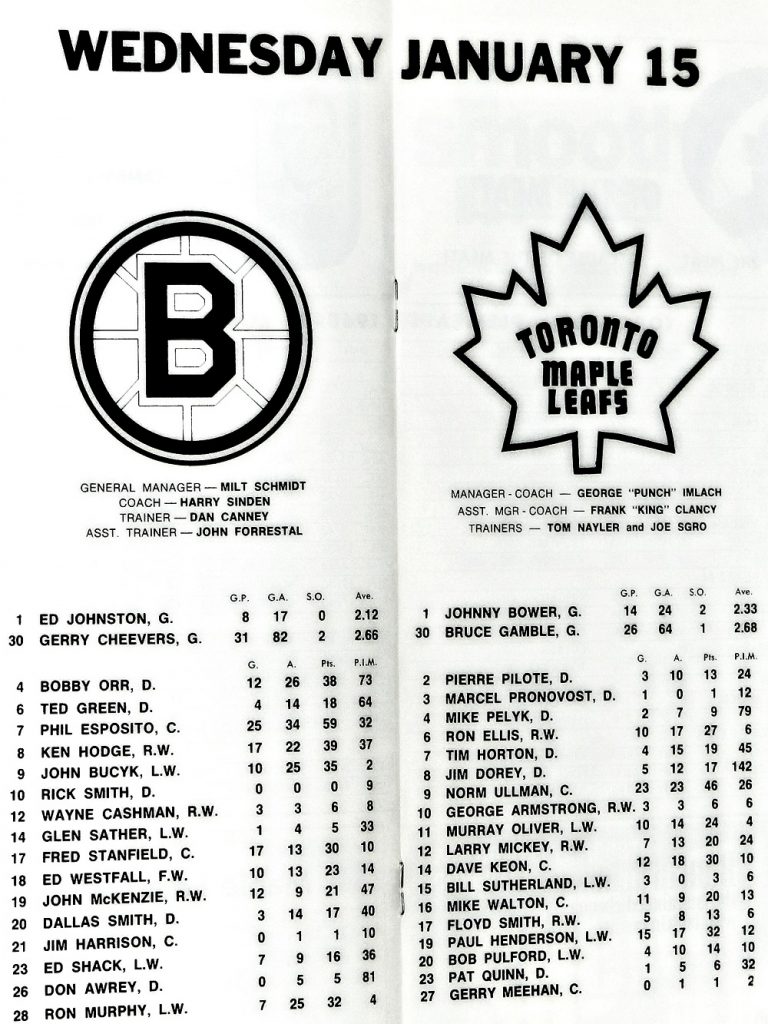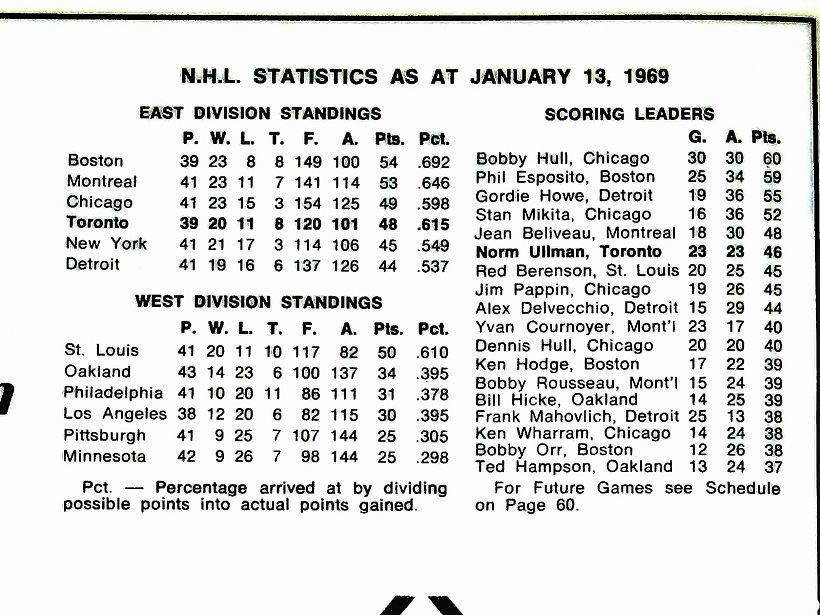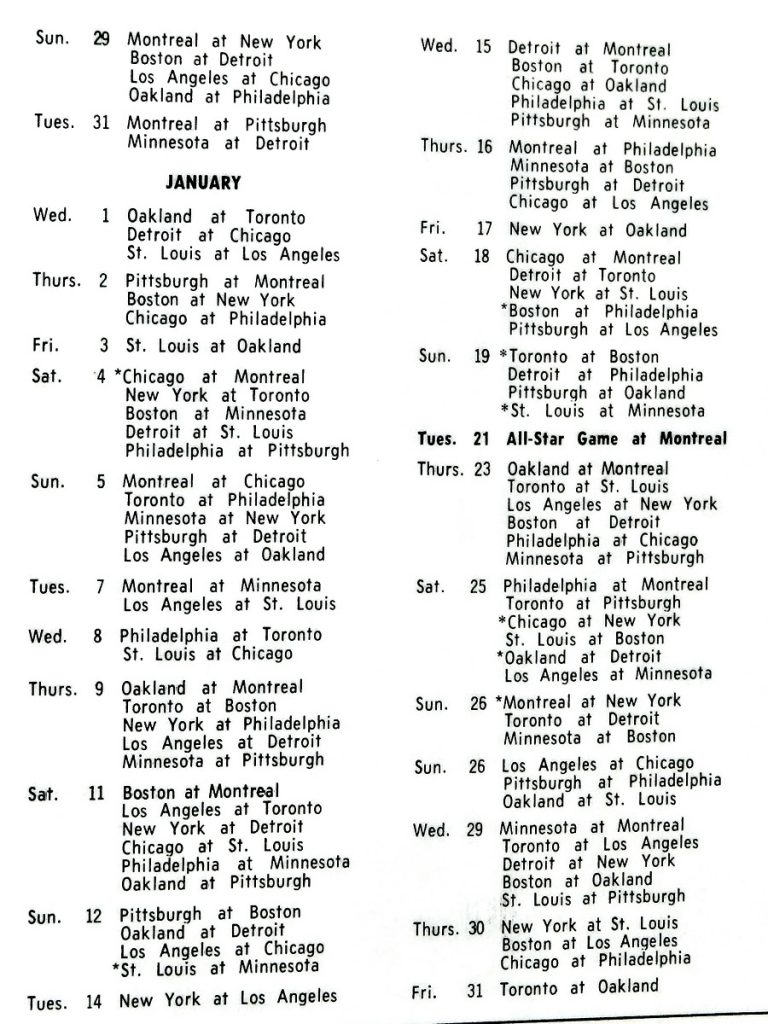 EMAIL HOWARDLBERGER@GMAIL.COM