TORONTO (Feb. 22) — One game remains. Saturday night. Against rival Montreal at Scotiabank Arena. The proverbial "four–pointer" in the Atlantic Division. And, a final opportunity for Kyle Dubas and Co. to evaluate the roster before Monday's National Hockey League trade deadline (3 p.m. Eastern).
But, really, does it count for much?
I ask you today: Are the Toronto Maple Leafs good enough to win the Stanley Cup, as odds–makers predicted before the season? Some may consider this a rhetorical question given how any of the 16 playoff teams could get hot at the right time. Best example being the 2011–12 Los Angeles Kings, who qualified for the post–season as the lowest–ranked club on the final weekend of the regular schedule. Then, romped to a 16–4 record; steamrolling Vancouver, St. Louis, Arizona and New Jersey to win their first NHL title. The Kings, that spring, accomplished a feat that may never be equaled, winning the first two games on the road in all four playoff rounds (Los Angeles won the prize again in 2014). Asking if the Leafs are good enough may also be a moot question if Tampa Bay continues its season–long dominance into the Stanley Cup tournament.
In any other context, however, it is a legitimate question. A quick Twitter poll this afternoon yielded eight "no's"; three "absolutely not's" and a couple of "not yet's". In other words, fairly decisive.
Though the Leafs can match firepower against any opponent (you wouldn't know it this week with three consecutive losses and only four goals scored), the club has two key deficits: It is not big or aggressive enough, particularly among forwards, to irritate the opposition. And, there is still too much confusion in the defensive zone. The latter will likely not be influenced by Monday's trade deadline. But, there are opportunities to amend the former. As do the Boston Bruins in practically every meeting with the Leafs, the Stanley Cup–champion Washington Capitals, on Thursday night, showed the value of having even one large, annoying presence up front. The infamous Tom Wilson — he of multiple NHL suspensions — did whatever he wanted against the passive Leafs. At 6–foot–4 and 218 pounds, Wilson had no one to offset him (in size or temperament). The Capitals won, 3–2, and again showed where the Toronto club is most–vulnerable.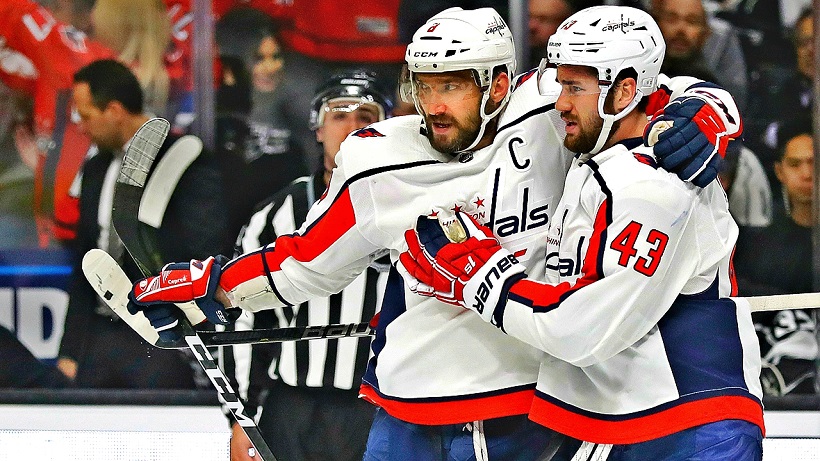 PESKY TOM WILSON, CELEBRATING A GOAL HERE WITH WASHINGTON CAPTAIN ALEX OVECHKIN, HAD HIS WAY AGAINST THE MAPLE LEAFS THURSDAY NIGHT AT SCOTIABANK ARENA. GETTY IMAGES/NHL
Let's remember the sobering fact (for Toronto fans) that the Leafs will likely have to eliminate Boston and Tampa Bay just to get into the Stanley Cup semifinals. No playoff–bound team faces such a task, because a) the Bruins simply understand how to beat the Leafs; are more playoff–hardened, and traded for additional size up front this week with Charlie Coyle from Minnesota. And, b) Tampa Bay is enjoying one of the truly–great seasons of the past quarter–century with a 47–11–4 record in 62 games for 98 points — 17 more than second–place Calgary and 22 more than Toronto. So, when you think about it, maybe this isn't the year for Dubas to become risky at the trade deadline. With no guarantee, of course, that next year, or the year after, will present less of a challenge. At some point, the Maple Leafs have to go for it. The question is… when?
50 YEARS AGO THIS WEEK
at Maple Leaf Gardens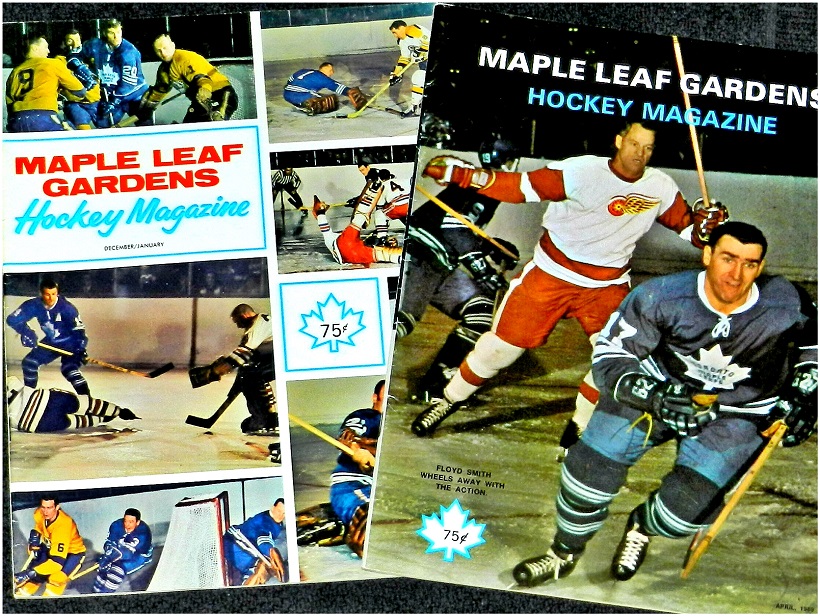 Continuing to look, via my collection, at Maple Leaf Gardens hockey programs from the 1968–69 season. This week, 50 years ago, the Leafs were embarrassed by the Minnesota North Stars — in just their second NHL season. Minnesota would finish last in the 12–team league with a record of 18–43–15 for 51 points. On Feb. 12, 1969, the North Stars were drubbed, 7–1, by the Leafs at the Gardens. The weekend of Feb. 22–23 would see the Leafs at home against Chicago (4–2 loss); then at Minnesota for a Sunday–night match. The North Stars avenged the one–sided defeat in Toronto by pounding the Leafs, 7–2, at the old Metropolitan Sports Center. There was something about the early Minnesota teams that the Leafs couldn't solve. A year later, the North Stars were in the midst of their longest–ever drought: 0–15–5 in 20 games between Jan. 14 and Feb. 28, 1970. Again, the Leafs went to the Met Center for a Sunday encounter — this one a matinee on Mar. 1, 1970 televised nationally in the United States by CBS. Somehow, Toronto lost, 8–0. Six nights later, the North Stars came to Maple Leaf Gardens and again routed the Blue and White, 8–3. To repeat, this Minnesota club was 2–15–8 in a 25–game span; its only victories against Toronto (by a combined 16–3 score). Back, however, to 1968–69 and the Feb. 22 home game against Bobby Hull and the Black Hawks.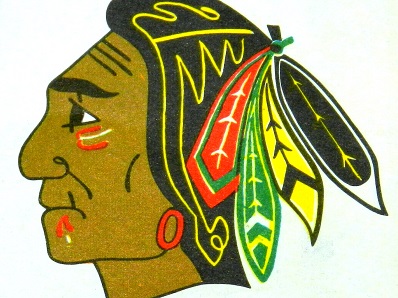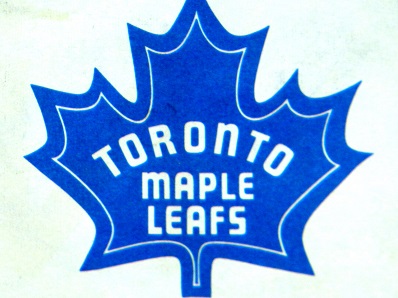 Here are contents and line–ups from the program–insert: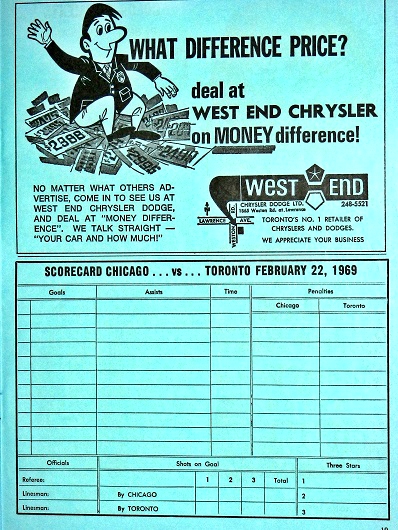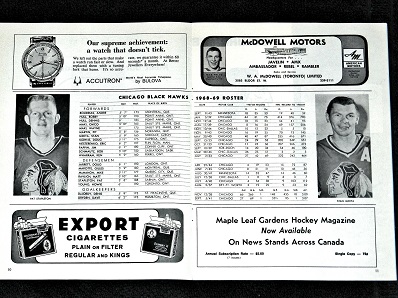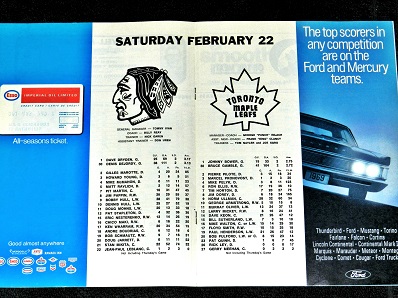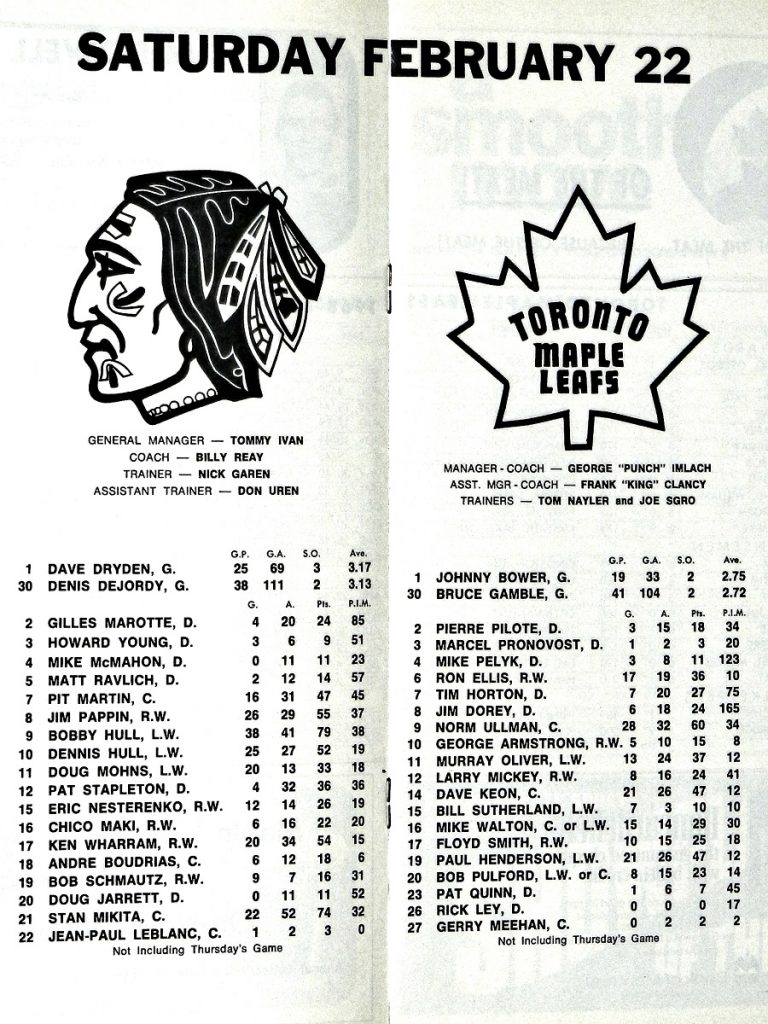 The Leafs had lost four of five when the St. Louis Blues visited the Gardens on Feb. 26, 1969. Also in their second season, the Blues were the success story of the early–expansion era, winning the West Division playoff title in 1968–69–70 and playing, all three years, in the Stanley Cup final (losing to Montreal, twice, and Boston). The all–time NHL coaching leader, Scotty Bowman, recorded the first 97 of his 1,248 regular–season wins with the Blues of 1968–70. This game wasn't among them as the Leafs prevailed, 3–2.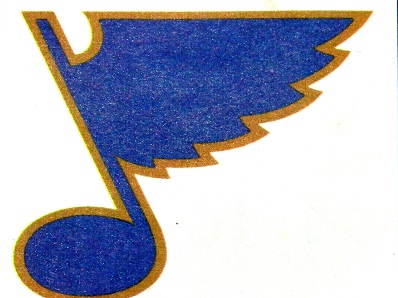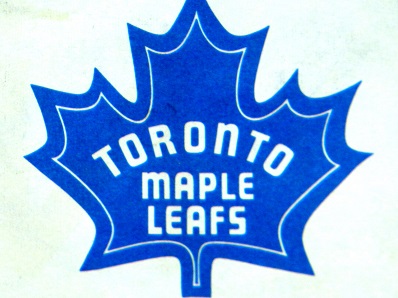 Here are contents and line–ups from the program–insert: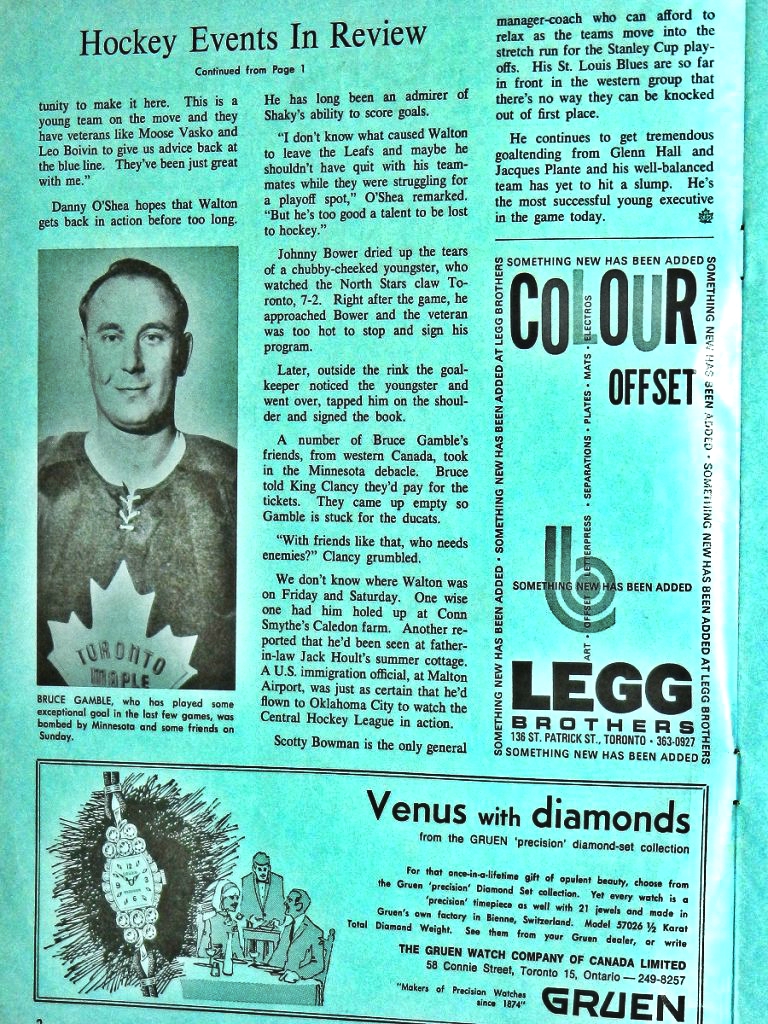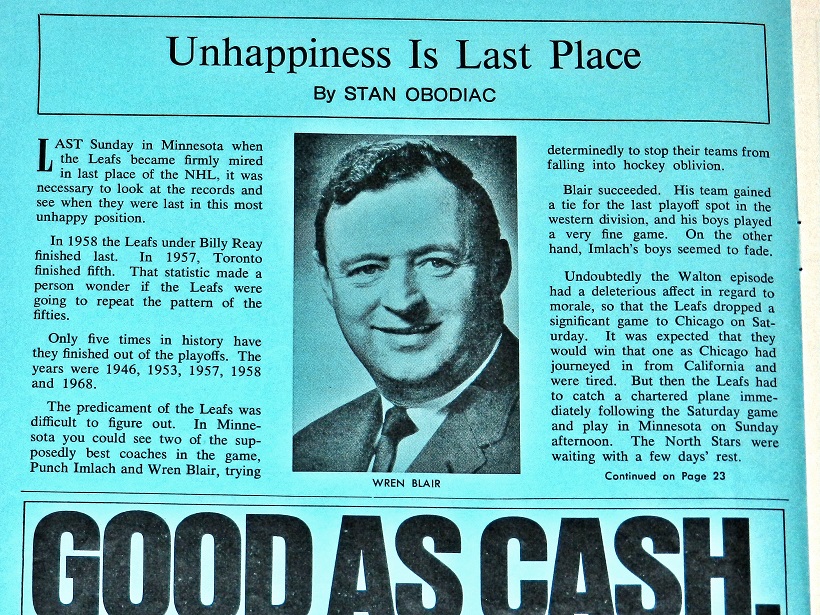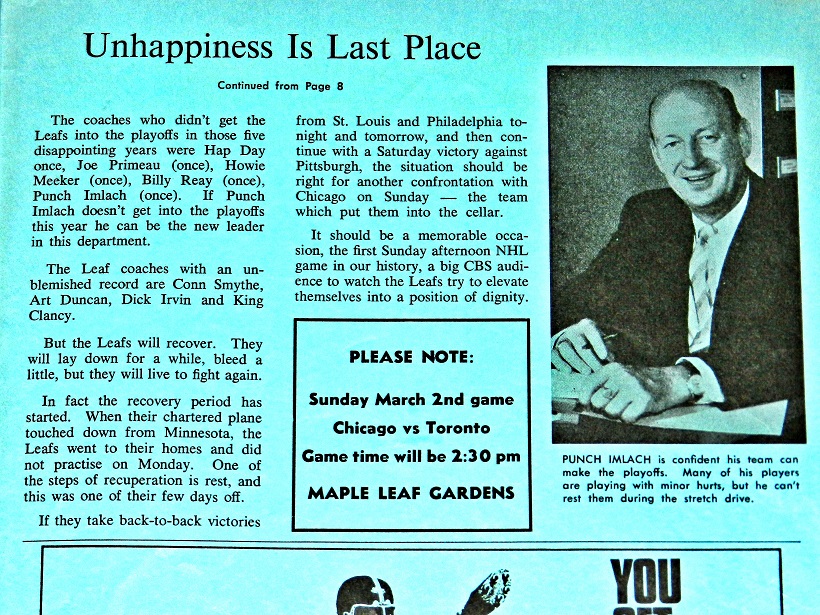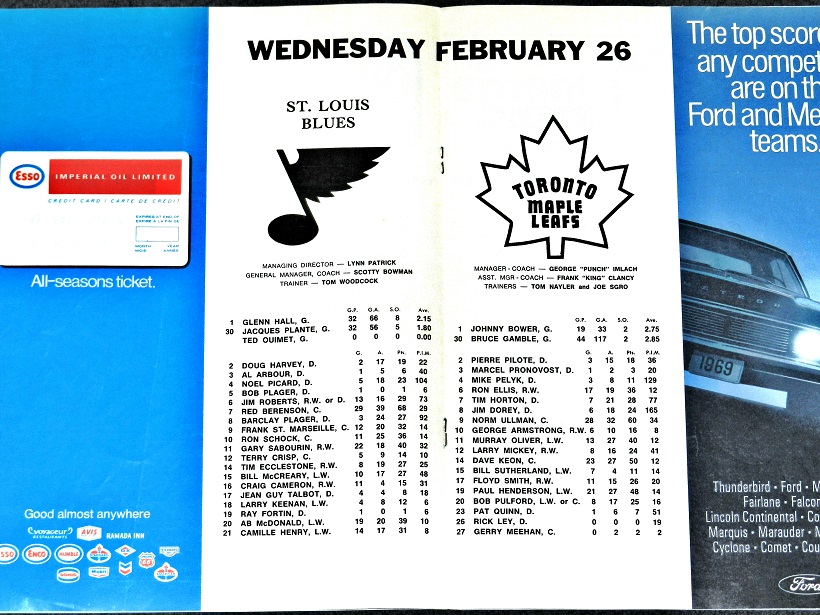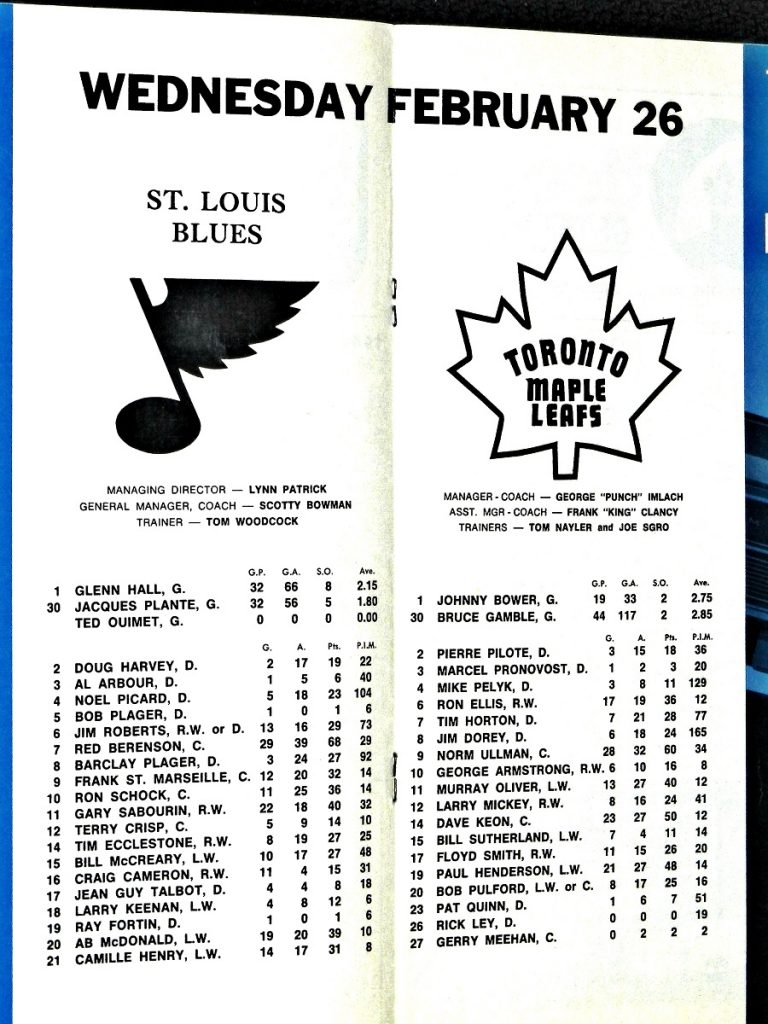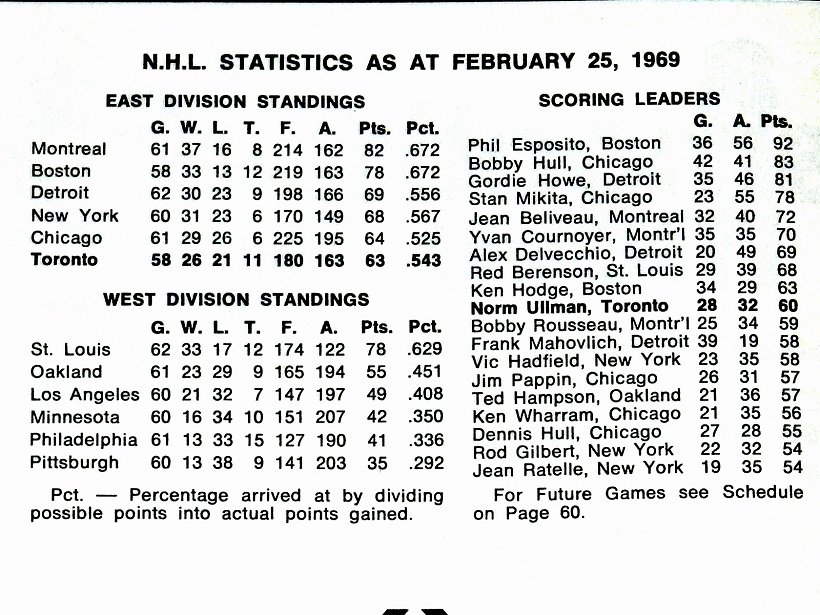 45 YEARS AGO: TRAGEDY ON THE QEW…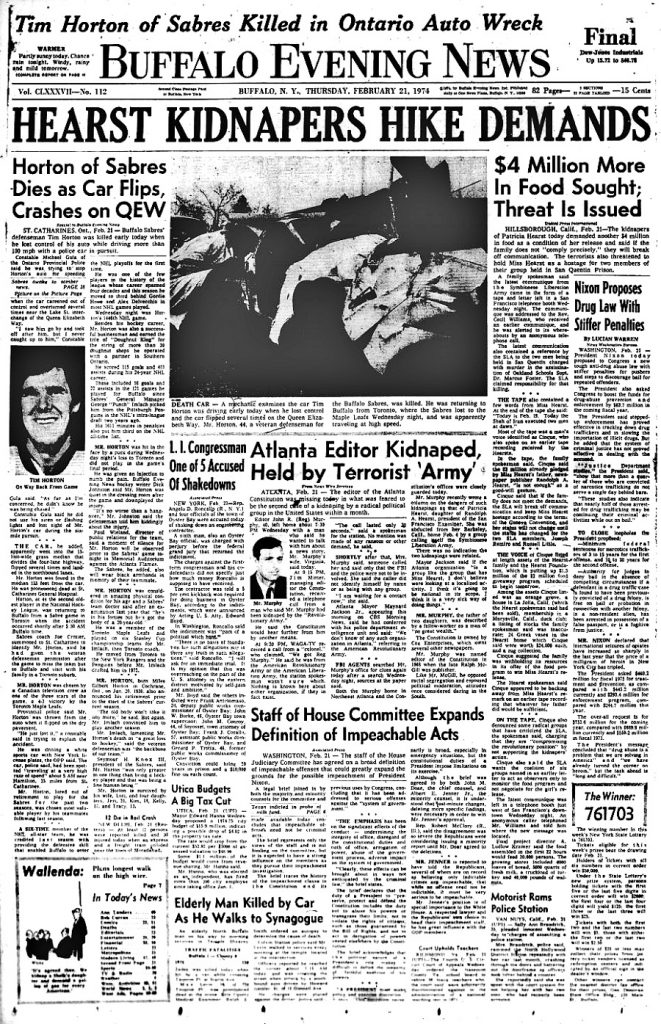 You likely know him today for baking fresh doughnuts and brewing hot coffee.
You may not recognize him for being the greatest defenseman in Toronto Maple Leafs history.
Both are true.
Also true is that Tim Horton – were he alive – would have celebrated his 89th birthday last month. That possibility ended 45 years ago this week (Feb. 21, 1974) when the veteran blue–liner killed himself in a single–car accident on the Queen Elizabeth Way near the Lake St. exit in St. Catharines. Having played in throbbing discomfort the previous night for the Buffalo Sabres at Maple Leaf Gardens, Horton – broken jaw swollen; pain-killers coursing through his blood – made the fateful choice to drive home after the loss to Toronto. His teammates traveled by bus, but Horton was given permission to go separately by Sabres' general manager Punch Imlach, with whom he had won four Stanley Cups in Toronto the previous decade. While zooming along in his Ford Pantera, Horton failed to negotiate a curve on the QEW. He was thrown from the vehicle and found more than 60 feet away. Police estimated he was driving 100 miles–per–hour.
As long as I live, I'll not forget the moment my Dad told me about Horton's death. I had turned 15 earlier in the month and slept in a large bedroom in the basement of our house on Kennard Ave. in North York. Each morning, Dad would come downstairs and get ready for work in a bathroom across the hall. Upon finishing, he would drop the Globe and Mail sports section outside my bedroom door. On this day, however, he knocked and woke me up.
"How, I've got some sad news: Tim Horton was killed overnight."
"Whad'ya mean he was killed? I watched him play for the Sabres last night against the Leafs. Why would someone want to kill Tim Horton?" My first thought is that Horton had somehow been murdered — figuring he traveled to Buffalo, as per normal, on the team bus. "Apparently he was driving back when he had a car accident on the QEW," Dad explained. "I just heard about it on the radio. It happened a few hours ago (around 4:30 a.m.) and there aren't many details." This was not the kind of news a 15–year–old could absorb.
"Tim Horton is dead?" I kept asking myself.
That day, my Grade 9 class at Dufferin Heights Junior High School went on a skiing trip to the Horseshoe Valley resort south of Orillia. I was in total disbelief. My earliest memory of watching hockey on TV included Horton wearing his No. 7 jersey for the Leafs; playing alongside defense–mate Allan Stanley and virtually never allowing an opponent to skate past him. At Imlach's behest, he had made a comeback with Buffalo and was 44 years old during that final, Wednesday–night game at the Gardens.
How could such a rock of a man be dead? It boggled the mind.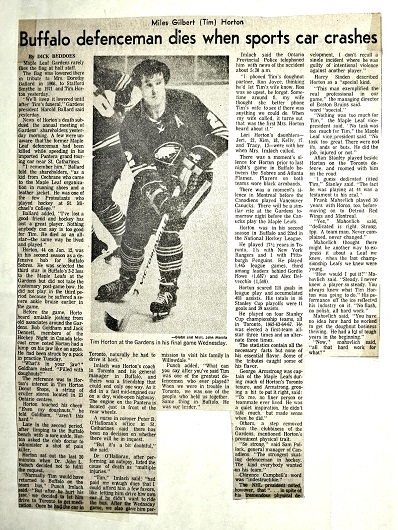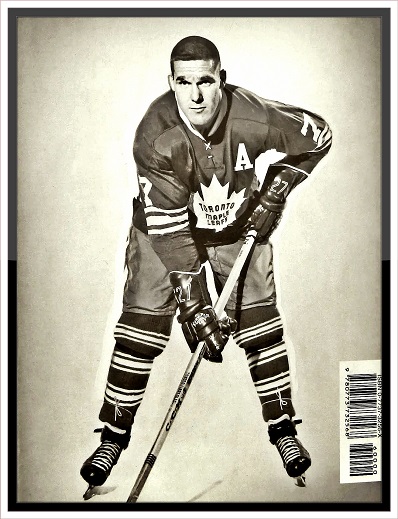 Just to be sure, I took a day off school (not recalling, right now, if I told my parents) and attended Horton's funeral on Feb. 25 at Oriole–York Mills United Church. I had gone to the Leafs Sunday home game the previous night against Los Angeles. That Monday morning, I took a bus to the church and walked into the chapel with everyone else. There were numerous familiar faces to a young hockey fan but I somehow remember Red Berenson – then playing for Detroit – sitting near me. Afterward, I stood behind an open hearse as Horton's casket was carried to it by pall–bearers Stanley, Bob Baun, George Armstrong, Dave Keon, Dick Duff and Billy Harris – all of them Stanley Cup teammates in Toronto during the 1960's.
It remains among the most surreal experiences of my life.
EMAIL: HOWARDLBERGER@GMAIL.COM