TORONTO (Feb. 18) — No specifics here, except this: I'll be very surprised if Maple Leafs general manager Kyle Dubas does not make at least one more move before the National Hockey League trade deadline a week from today. Said a good source of mine in the NHL scouting fraternity: "The Leafs are looking for a depth–defenseman and some more bite up front. I also think they're contemplating a move for a veteran goalie to support [Frederick] Andersen, but Dubas is kind of married to [Garret] Sparks. So, I'm not sure he'll do anything, even if his coach [Mike Babcock] wants it."
And, therein lies one of the sub–plots to the entire Leafs season. Dubas anointed Sparks his No. 2 stopper after training camp as a reward for the goalie winning the Calder Cup title last season with the American Hockey League Toronto Marlies — the team Kyle managed before moving up to replace Lou Lamoriello in the big chair. Babcock, akin to any coach, preferred retaining the experience of back–up Curtis McElhinney, but was over–ruled. Once placed on waivers, McElhinney was scooped up by the Carolina Hurricanes, with which he's won 15 games and posted a 2.36 goals–against average. Sparks has been no slouch with the Leafs, compiling a 7–4–1 record and 2.81 GAA in 12 starts. But, he isn't Babcock's guy and has never appeared in the Stanley Cup playoffs. As such, the coach would prefer a veteran presence, in case Andersen is befallen by injury or illness in April. Given Sparks would need to clear waivers before being sent to the Marlies, Dubas is hesitant to make a move. Which probably isn't in the best interests of the Blue and White.
If Dubas chooses to land a veteran back–up, there are several on the market with expiring contracts. One–such player, Cam Talbot, went to Philadelphia from Edmonton on Saturday. But, another returned from injury rather impressively on Sunday, making 23 saves for the Anaheim Ducks at the Honda Center in a 5–2 upset of the Stanley Cup–champion Washington Capitals. Ryan Miller, 38, appeared for the first time since suffering a knee injury on Dec. 9; he missed 24 games. The victory — No. 375 in his career — propelled him to No. 1 among U.S.–born goalies. Miller has a modified no–trade clause and the Leafs would need to be among six teams on a "wish" list. Given his age, and expiring contract, he wouldn't likely cost much and Dubas would be wise to look into a deal. Other goalies at the end of contracts are Jimmy Howard (Detroit) and Semyon Varlamov (Colorado). But, I suspect this is not a move that excites Toronto's first–year GM.

RYAN MILLER MADE A TRIUMPHANT RETURN TO THE ANAHEIM NET SUNDAY, HELPING THE DUCKS UPSET ALEX OVECHKIN AND THE WASHINGTON CAPITALS, 5–2. JOHN CORDES GETTY IMAGES
There remains some Leaf interest, I am told, in Detroit forward Luke Glendening, who has two years left on a deal that consumes only $1.8 million of salary–cap space. Primarily a right–winger, Glendening, 29, would represent strictly a depth–move up front for the Leafs. He is neither large (5–foot–11, 192 pounds) nor much of a scorer (nine goals in 60 games this season). But, he does have 17 games of playoff experience with the Red Wings and would come rather cheaply. Is he better than Tyler Ennis? Probably not.
Dubas would like to add a right–handed shooting defenseman and several could be available. Justin Faulk (Carolina) has been rumored on the market, but the Hurricanes upset Tampa Bay, 3–2 in overtime, on Sunday night and are just one point behind Montreal and Pittsburgh for a Wild Card playoff berth in the Eastern Conference. So, it's unlikely the 'Canes will be selling off assets in the next week. Ditto for Dougie Hamilton of Carolina. Veteran Alec Martinez of Los Angeles would help the Leafs, if not for two years remaining on his contract with a $4 million cap–hit. Several right–shot blue–liners are on expiring deals, including Cody Ceci (Ottawa — RFA); Nick Jensen (Detroit — UFA); Adam McQuaid (New York Rangers — UFA) and Ben Lovejoy (New Jersey — UFA). A real long–shot with St. Louis third in the Central Division is mammoth Colton Parayko, who has three years left with a $5.5–million cap–hit. The Blues are up against the cap ceiling but aren't likely to make a dramatic move while in a playoff position.
Then, there is Wayne Simmonds, who will likely be traded by Philadelphia providing a team can satisfy Chuck Fletcher with a return. Simmonds, 30, is also on an expiring contract and would perfectly–suit the Leafs in their quest for size and tenacity up front. Unlike others about to be UFA's, however, Simmonds won't be given away and it's unlikely Dubas has the stomach to yield a young asset (Andreas Johnsson?) for a deadline "rental" — even if the Toronto native, might be open to signing with his home–town club.
All of this said, I anticipate the Leafs will add another established player before next Monday.
REMEMBERING THE GREEN SEALS (and RED Barons)

Hockey's lovable losers from 1967 to 1976 have cultivated a nostalgic profile much larger than existed during their nine–season term in the NHL. Entering the league in the Great Expansion of 1967–68 as the California Seals, the team was re–named Oakland Seals in December 1967; Bay Area Seals in the summer of 1970 and the California Golden Seals to begin the 1970–71 season. Club colors changed from "Kelly" green, blue and white in the first three years… to "California" gold and green from 1970–74… then "Pacific" blue and "California" gold in its final two seasons. In the end, the Seals could have worn hot–pink with topless women on the front of their jerseys… and they still wouldn't have drawn fans to the Oakland Coliseum–Arena.
Making the playoffs only twice (1969 and 1970) in the NHL's West Division, the Seals finally pulled stakes and moved to Richfield, Ohio for 1976–77 as the Cleveland Barons. The vast emptiness of the 18,544–seat Richfield Coliseum proved even worse than the cozier emptiness in Oakland (capacity 12,500). As such, the Seals/Barons finally perished in the summer of 1978, merging with the Minnesota North Stars.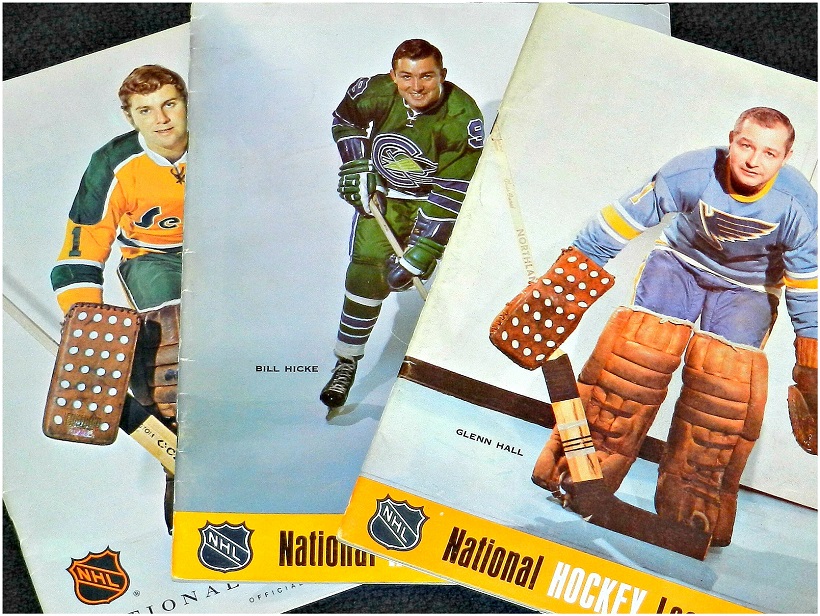 As part of my collection, I have three Seals programs (above) from the Oakland Coliseum–Arena — the season–opener in 1968–69 (Oct. 11) vs. Minnesota; a holiday game (Dec. 20, 1968) vs. the St. Louis Blues and a Friday–night encounter with the New York Rangers midway through the 1970–71 schedule (Jan. 15).
Here are contents and line–ups: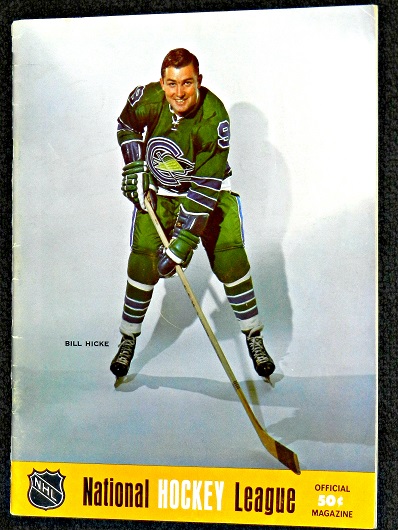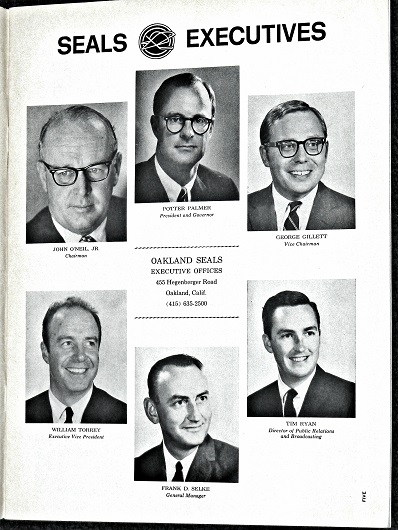 Bill Hicke (March 31, 1938 – July 18, 2005) was featured on the cover of the 1968–69 season–opening program (top–left). He began his NHL career in Montreal (1959–64); then played in New York (1964–67) before the Seals chose him in the 1967 expansion draft. Hicke played 292 games in Oakland between 1967–68 and 1970–71, scoring 79 goals. In 1968–69, he had a career–best 25 goals for the Seals. He played 74 games with brother, Ernie Hicke (b. Nov. 7, 1947), in 1970–71. Part of the Seals' executive in '68–69 (top–right) was Bill Torrey (June 23, 1934 – May 2, 2018), who would later, as GM, build the New York Islanders' Stanley Cup dynasty (1980–83). Torrey is pictured at left among the bottom–three photos.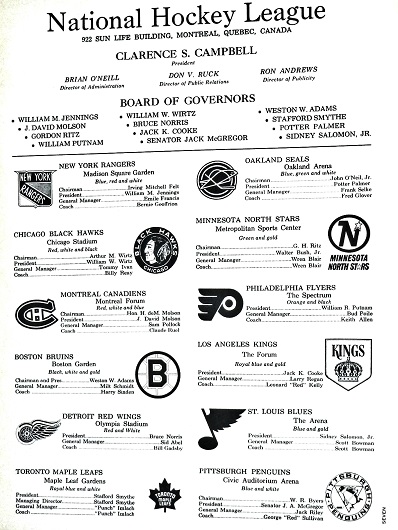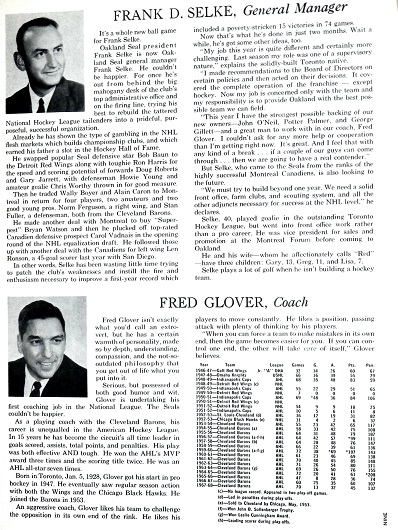 The NHL was a 12–team circuit in 1968–69 (top–left), a year after doubling in size by adding the Seals, Los Angeles Kings, Minnesota North Stars, Philadelphia Flyers, Pittsburgh Penguins and St. Louis Blues. In 1968–69, Oakland was managed (top–right) by Frank Selke Jr. (September 7, 1929 – March 18, 2013), whose father, Frank Selke Sr. (May 7, 1893 – July 3, 1985), was GM of the Maple Leafs (1929–46) and the Canadiens (1946–64). While running the Habs, Selke Sr. won six Stanley Cups, including a still–record five in succession (1956–60). Fred Glover (January 5, 1928 – August 16, 2001) had been a mainstay on the ice with Cleveland of the American Hockey League (1953–68). Hired to coach the Seals, Glover led the '68–69 club to a 22–point improvement and its first playoff appearance (falling to Los Angeles in seven games).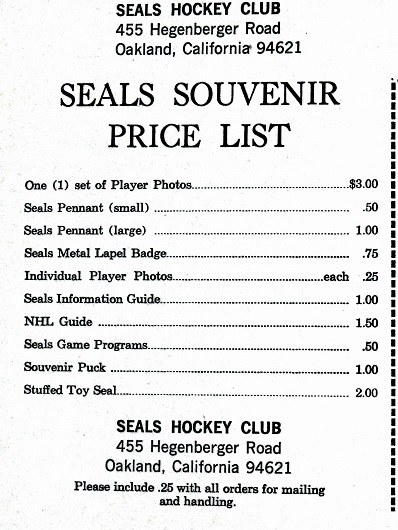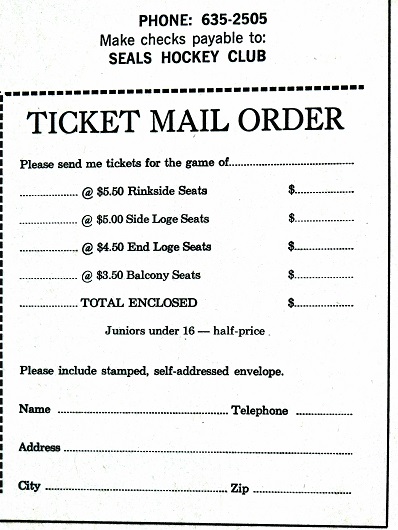 Can't help but wonder if some lucky soul in California has a "stuffed–toy Seal" (top–left) among his (or her) hockey souvenirs. And, imagine paying $5.50 for the best seats (top–right) at a game in the NHL.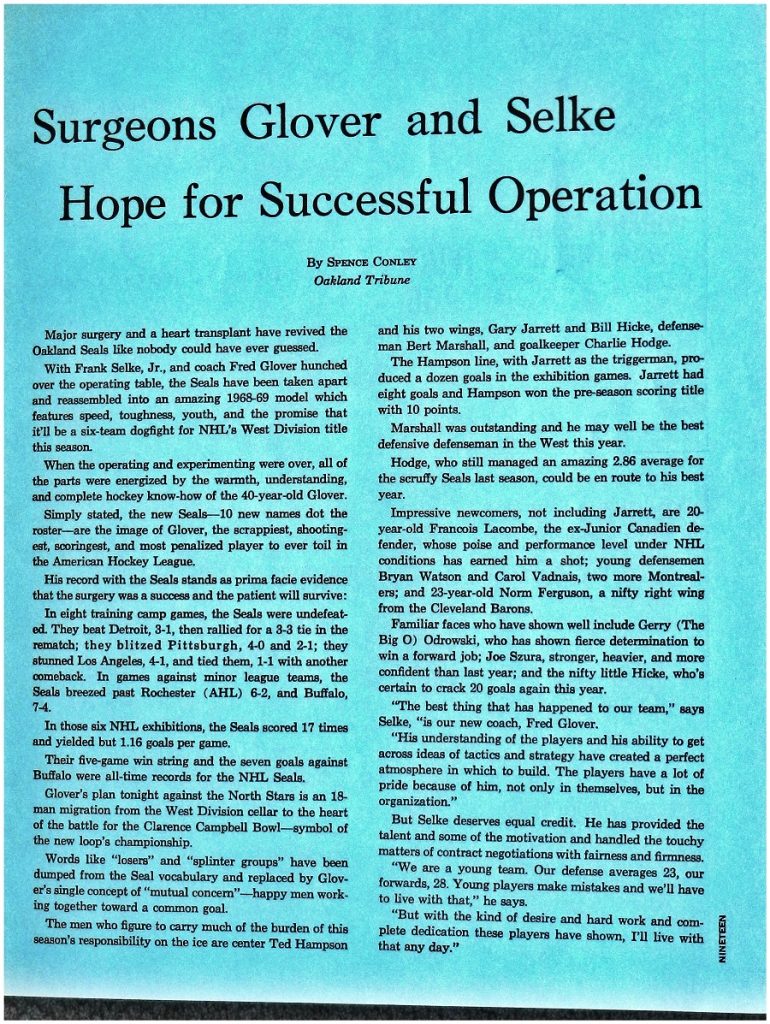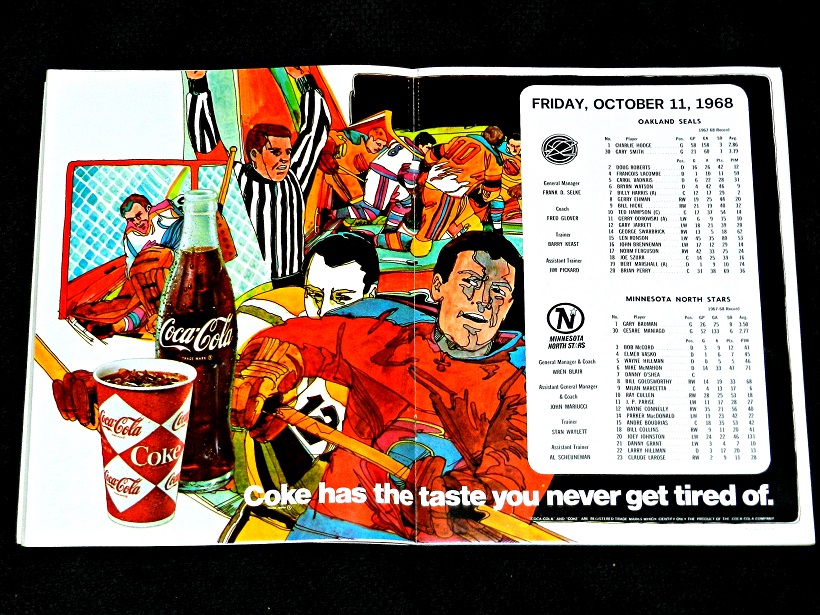 Center–spread (above) and line–ups (below). Include final stats for 1967–68 (in minors or NHL). Oakland's two goalies were Charlie Hodge (July 28, 1933 – April 16, 2016) and Gary Smith (b. Feb. 4, 1944). While playing for Montreal, Hodge shared the Vezina Trophy in 1964 and 1965 with Lorne (Gump) Worsley (May 14, 1929 – January 26, 2007). He won 26 games for the Stanley Cup–champion Canadiens in 1964–65 and 12 in 1965–66. Smith was known as "Suitcase" for playing in 13 cities (Rochester, Toronto, Victoria, Oakland, Vancouver, Chicago, Minnesota, Fort Worth, Hershey, Washington, Indianapolis, Tulsa, Winnipeg) during his professional career (1964–80). Minnesota routed the Seals, 5–1, in the season–opener at the Oakland Coliseum–Arena.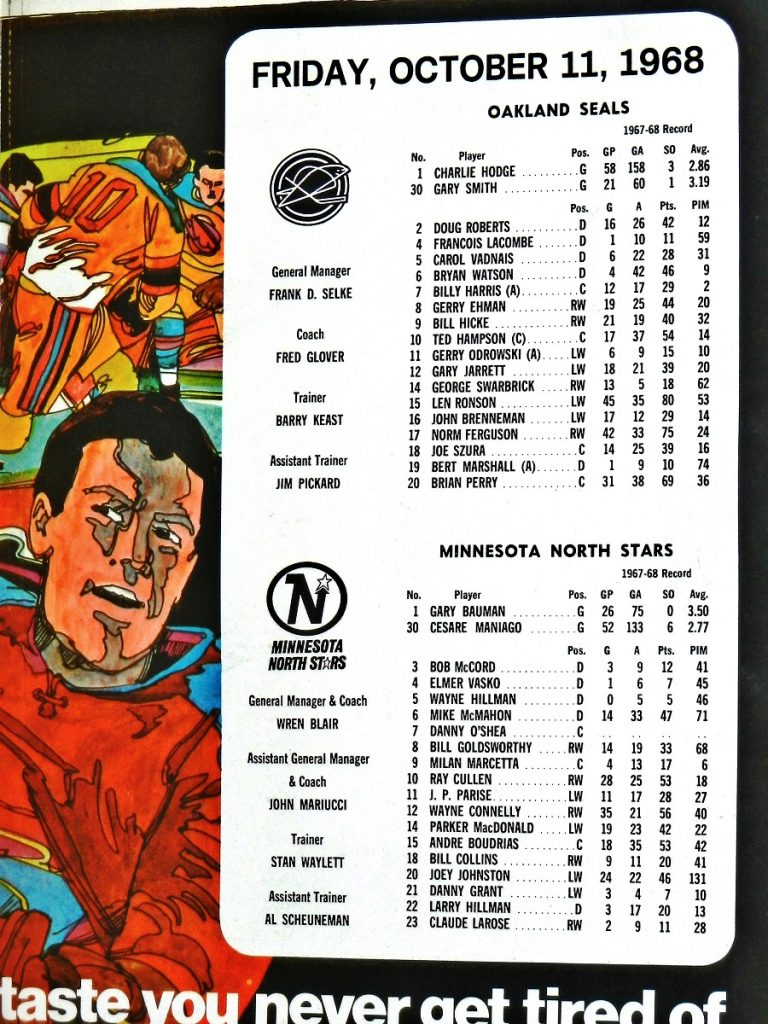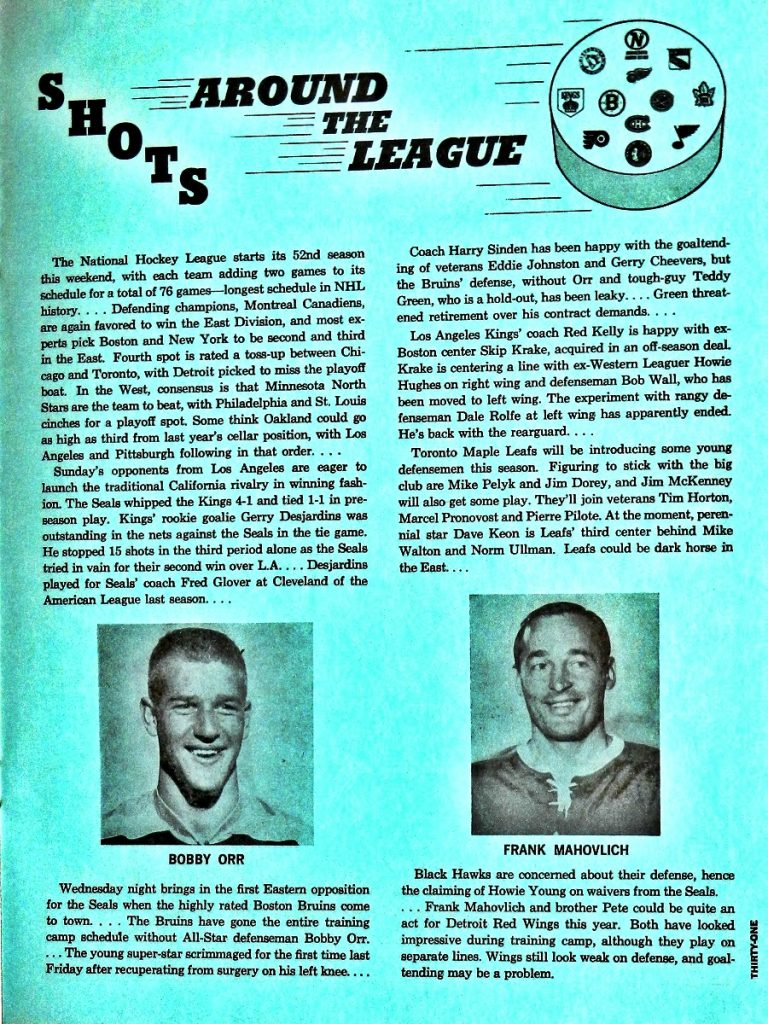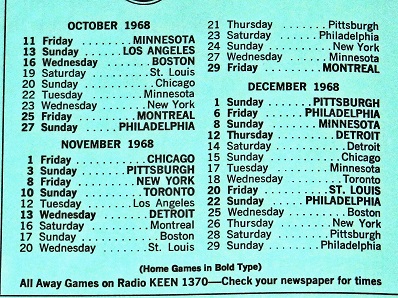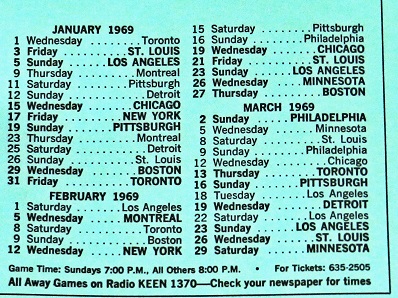 The Seals and Los Angeles Kings were the only NHL teams in the Pacific Time Zone in 1968–68. Closest rivals were St. Louis (2,045 miles) and Chicago (2,122 miles). As such, Oakland played long home–stands and road trips. Included, were six games in Oakland (Oct. 25 — Nov. 10) and seven on the road (Nov. 16–27).
1968–69 SUMMARIES IN OAKLAND:
A selection of games from The Hockey News…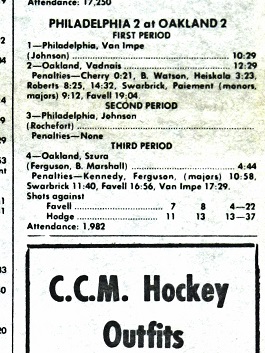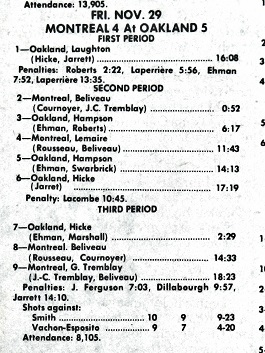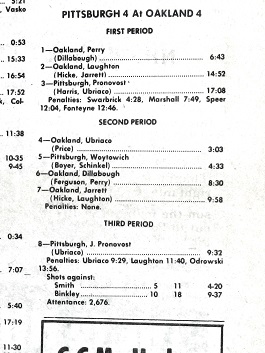 Oct. 29 (Philadelphia) / Nov. 29 (Montreal) / Dec. 1 (Pittsburgh).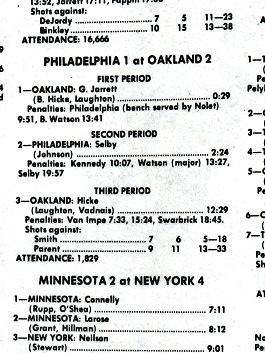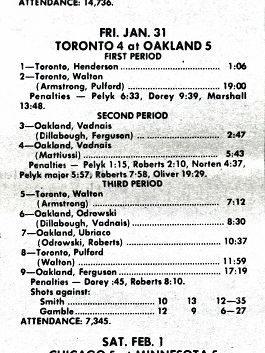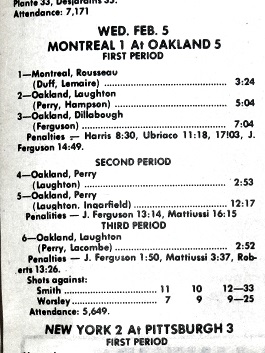 Dec. 22 (Philadelphia)* / Jan. 31 (Toronto) / Feb. 5 (Montreal).
*Game played at the Cow Palace in San Francisco.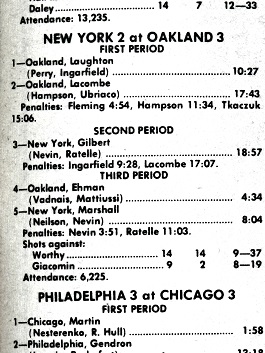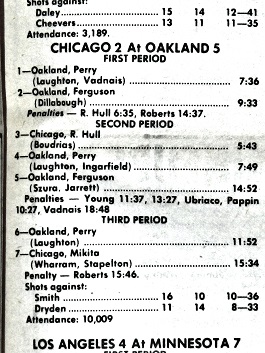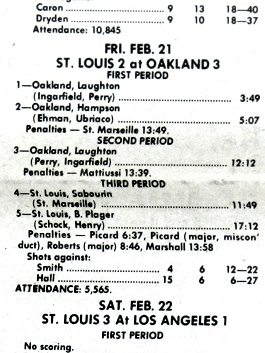 Feb. 12 (New York) / Feb. 19 (Chicago) / Feb. 21 (St. Louis)*.
*Game played at the Cow Palace in San Francisco.

Feb. 23 (Los Angeles).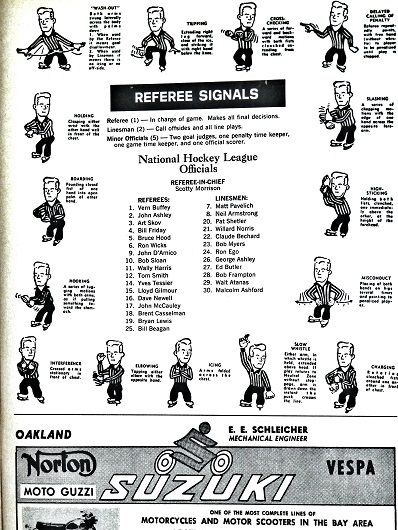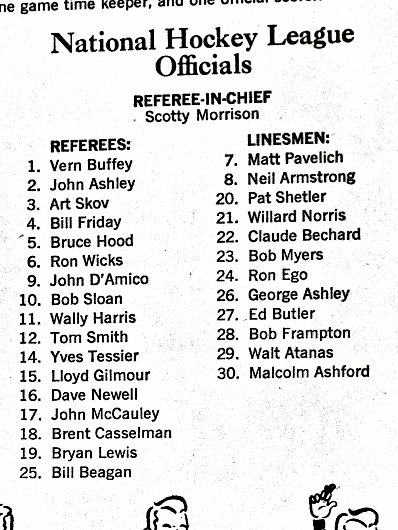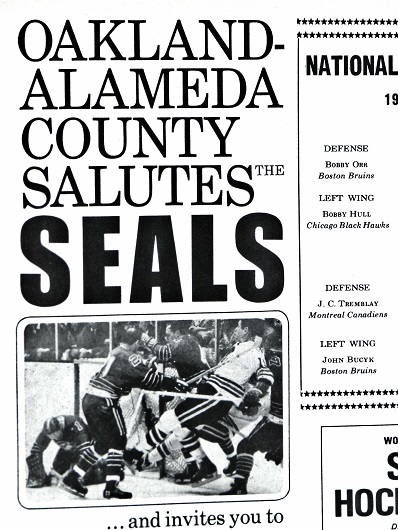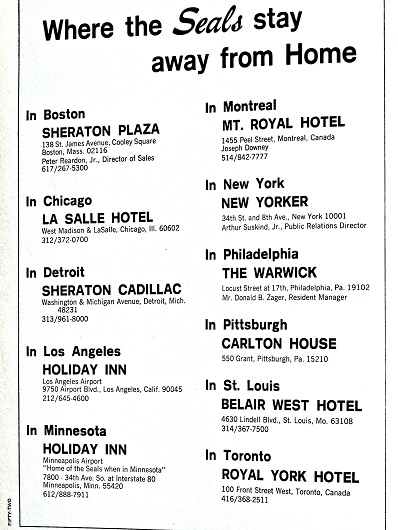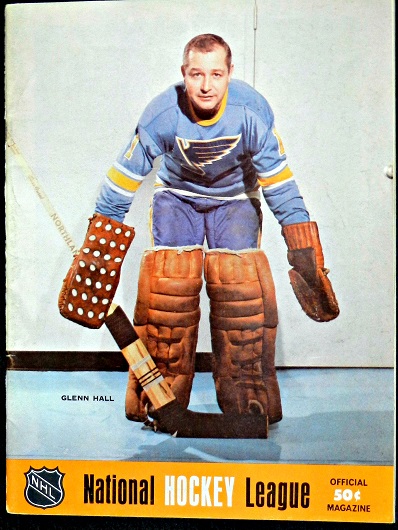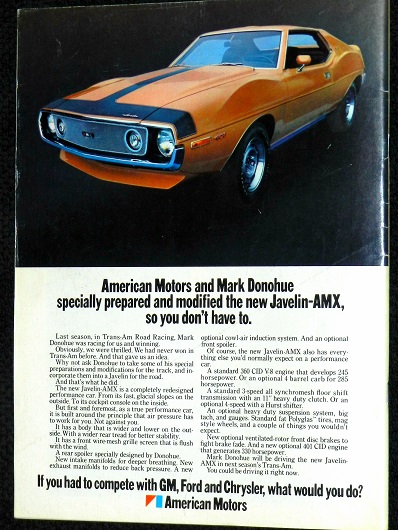 St. Louis goalie Glenn Hall (b. Oct. 3, 1931) graced the cover (top–left) of the Seals–Blues program, Dec. 20, 1968. Hall blanked the Seals, 1–0. And, a sports car from 1968 on the back–cover (top–right).
MORE SUMMARIES FROM 1968–69…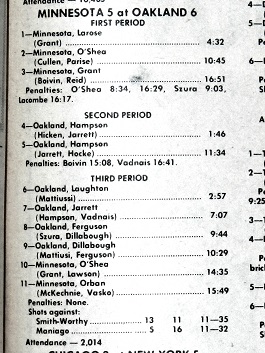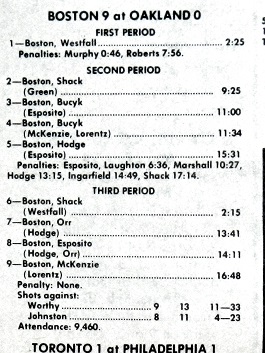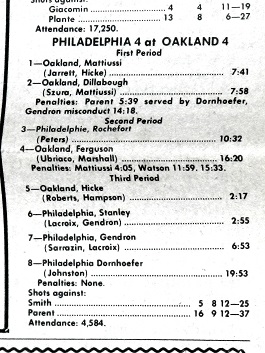 Feb. 26 (Minnesota) / Feb. 27 (Boston) / Mar. 2 (Philadelphia).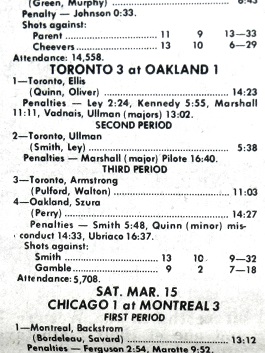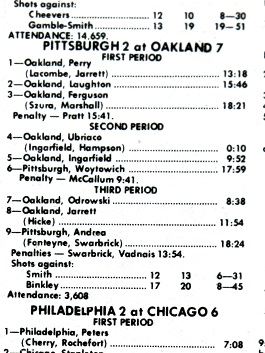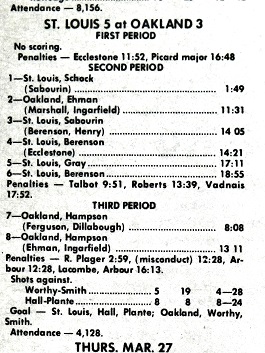 Mar. 13 (Toronto) / Mar. 16 (Pittsburgh) / Mar. 26 (St. Louis).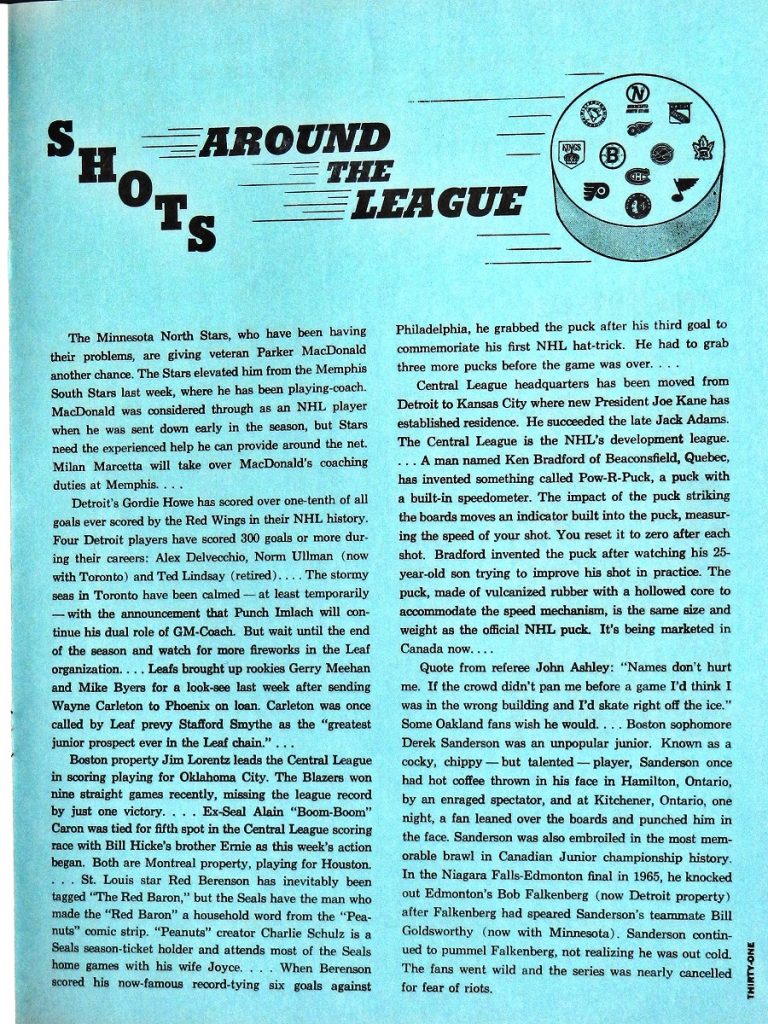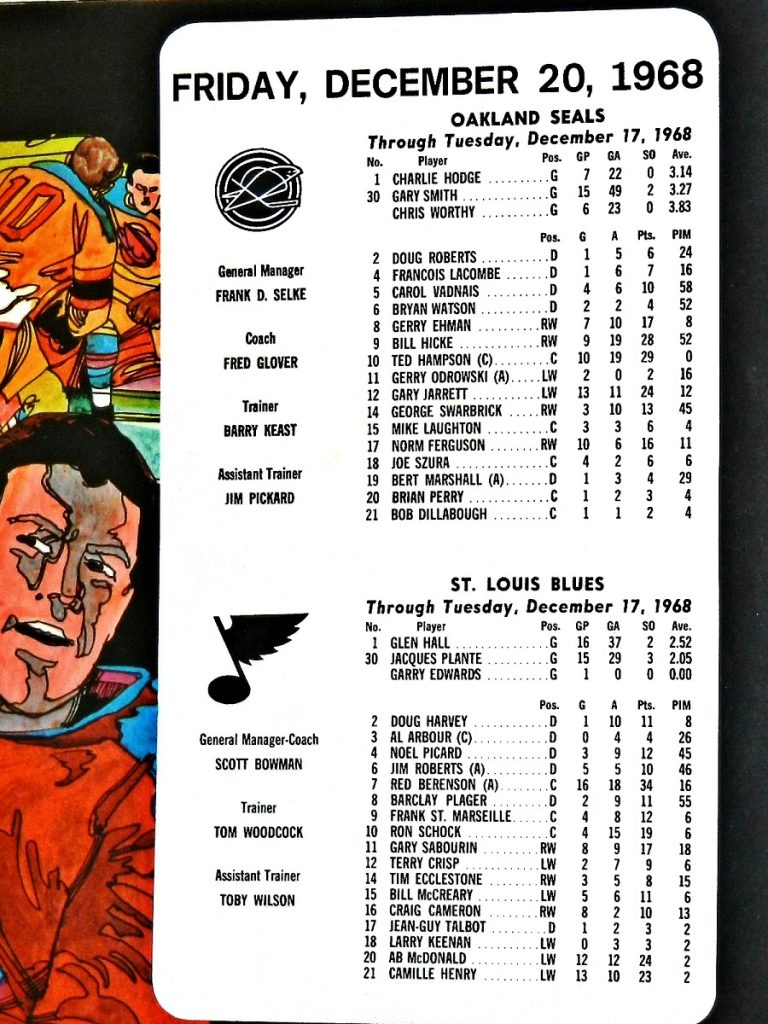 PLAYOFF SUMMARIES FROM 1969 AT OAKLAND:
Los Angeles Kings vs. Oakland Seals…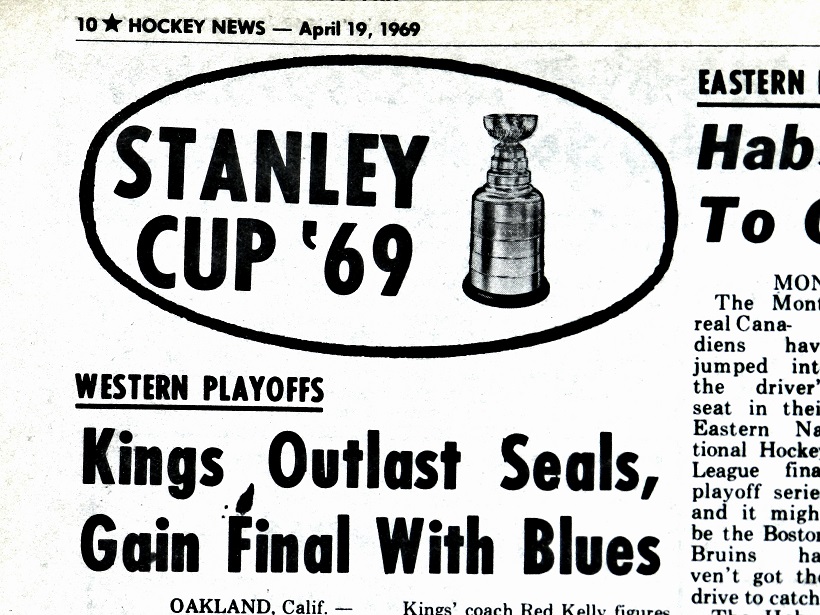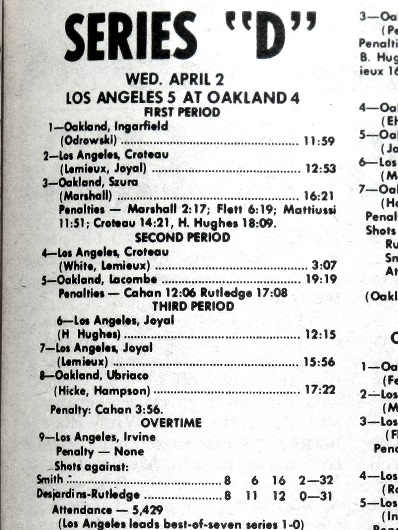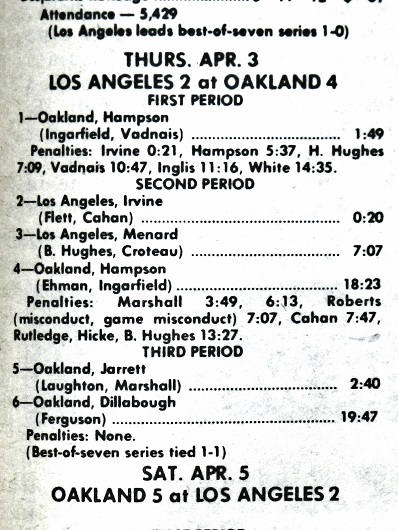 GAME 1 (Apr. 2)* / GAME 2 (Apr. 3).
*Ted Irvine scored for Los Angeles at 00:19 of first overtime period.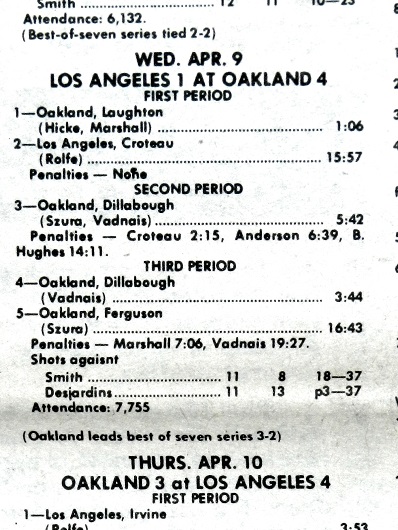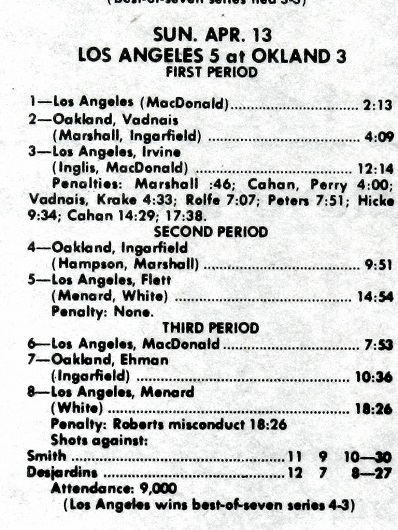 GAME 5 (Apr. 9) / GAME 7 (Apr. 13).
NEW OWNER, NEW NAME, NEW COLORS…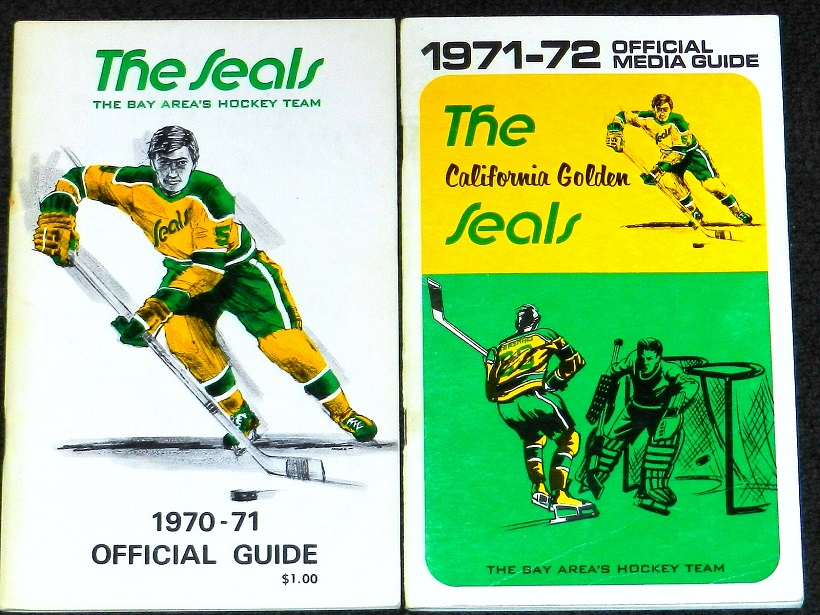 Chicago businessman Charles O. Finley (February 22, 1918 – February 19, 1996) bought the club in the summer of 1970 and changed the same from Oakland to Bay Area Seals. Prior to the season, he changed it again to the California Golden Seals. An entirely new uniform was designed (as below, courtesy NHLuniforms.com). Colors changed from green blue and white to California gold, green and white.
But, the Seals could still not draw fans to the Oakland Coliseum–Arena.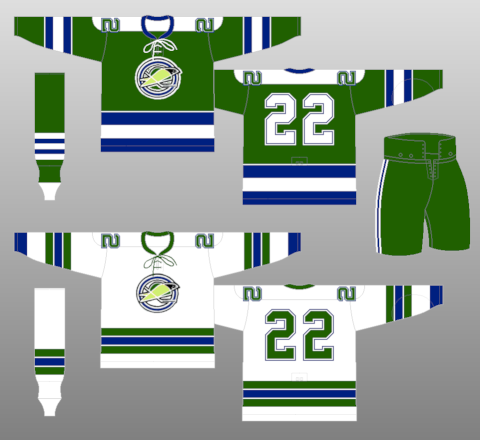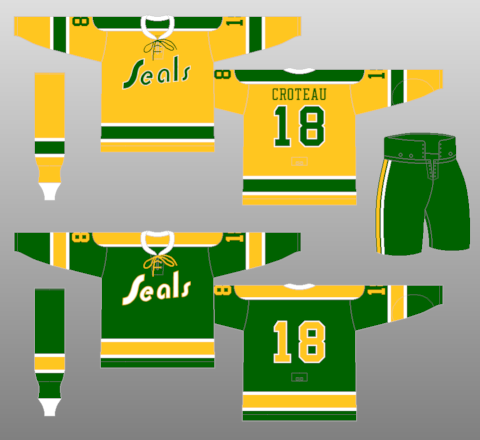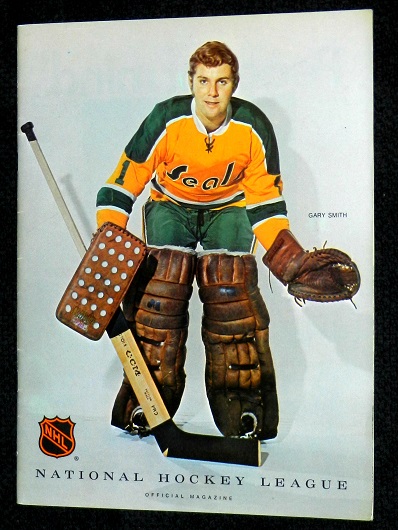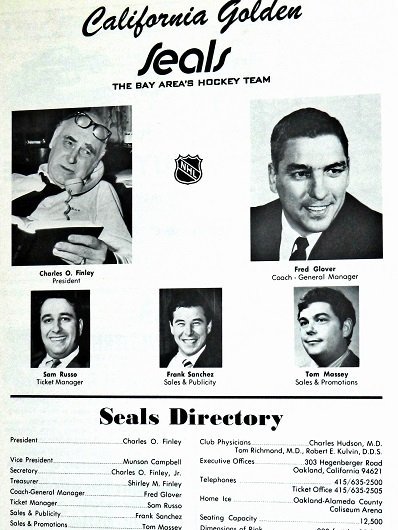 Program (top–left) from Seals game against the New York Rangers on Jan. 15, 1971 (3–1 California). Gary Smith was on the cover. Finley retained Fred Glover (top–right) as general manager and coach of the team.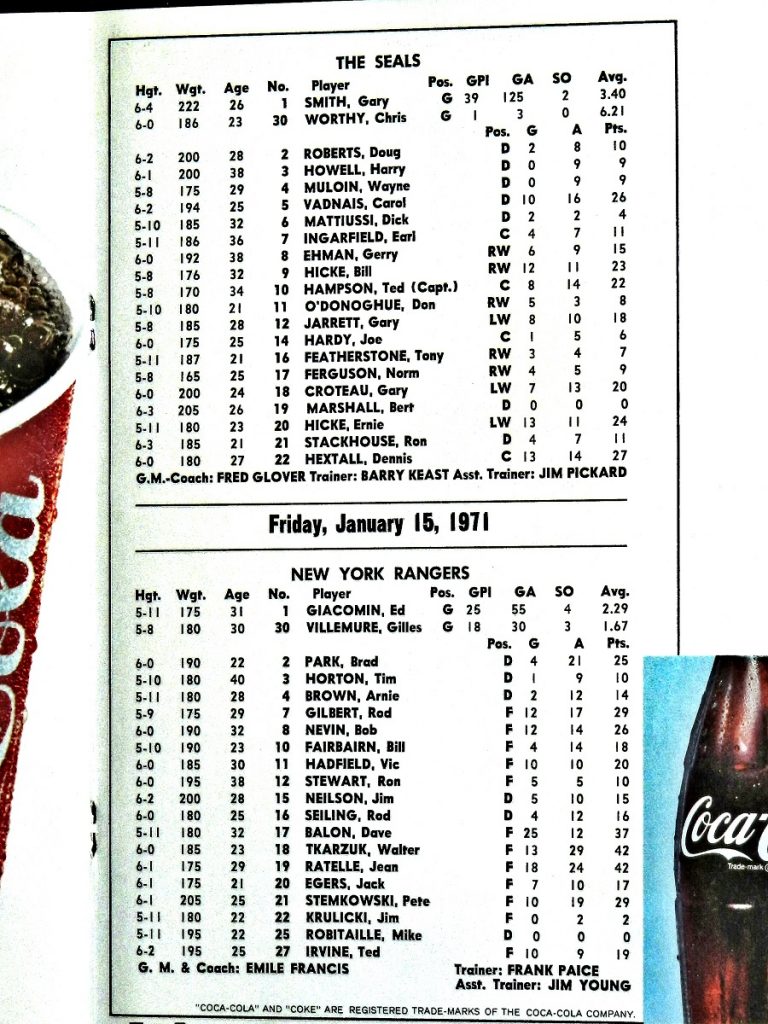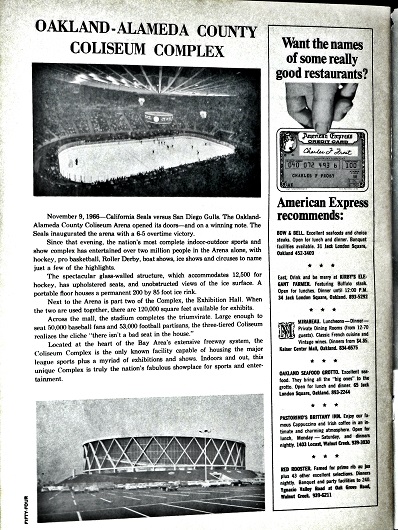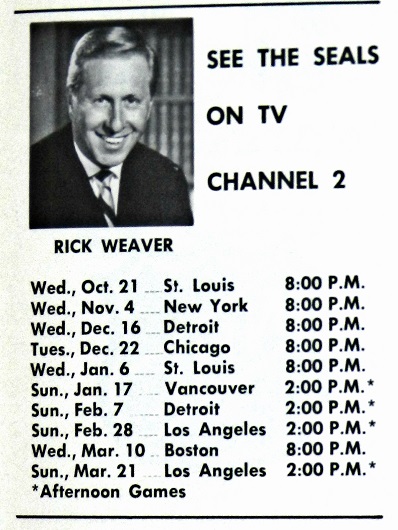 Only 10 of the Seals 78 games were shown on local TV (top–right) in 1970–71.
EMAIL: HOWARDLBERGER@GMAIL.COM