TORONTO (Feb. 7) — They are close. So very, very close to possessing all the components of a legitimate Stanley Cup contender. With one notable vacancy. Which needs to be filled in the next 18 days.
Though yielding 44 shots on Wednesday night to the worst team in the National Hockey League (Ottawa) indicates the Maple Leafs still have issues behind center ice, it's unlikely general manager Kyle Dubas will be able to improve on his savvy pick–up of Jake Muzzin from the Los Angeles Kings. Perhaps he'll add a depth piece… but what you see on the Toronto blue line at the moment is what you're going to get come playoff time. And, it's certainly not all–bad, with Muzzin joining Norris Trophy candidate Morgan Rielly on the No. 1 tandem. What the Leafs continue to lack, however, is size and pugnacity up front. The addition, prior to the Feb. 25 NHL trade deadline, of one–such forward would essentially round out the Blue and White roster.
Question is: Where do you find such a commodity… and at what price?
Amid all the pleasant tidings this season for Toronto hockey fans (33–17–3 for 69 points and fourth in the overall standings), the Leafs will encounter, arguably, the toughest task of any playoff–bound team. In order to make the Stanley Cup semifinals (or Final 4), Toronto will likely need to eliminate Boston and Tampa Bay. Such is the strength of the Atlantic Division in 2018–19. Though Montreal remains solidly (and surprisingly) in contention for second or third place in the Atlantic, I suspect the Maple Leafs and Bruins will hold down the two slots at the end of the regular schedule, thus matching up in the initial round of the Cup tournament for a second consecutive year. As of now — and for reasons that are obvious to fans in Boston and Toronto — the Bruins are not a favorable opponent for the Leafs. While Toronto is perhaps more skilled up front, there remains an irrefutable physical imbalance; Boston plays more belligerently. The Maple Leafs are still a bit too–soft and passive to be favored in a Stanley Cup series against their Division nemesis.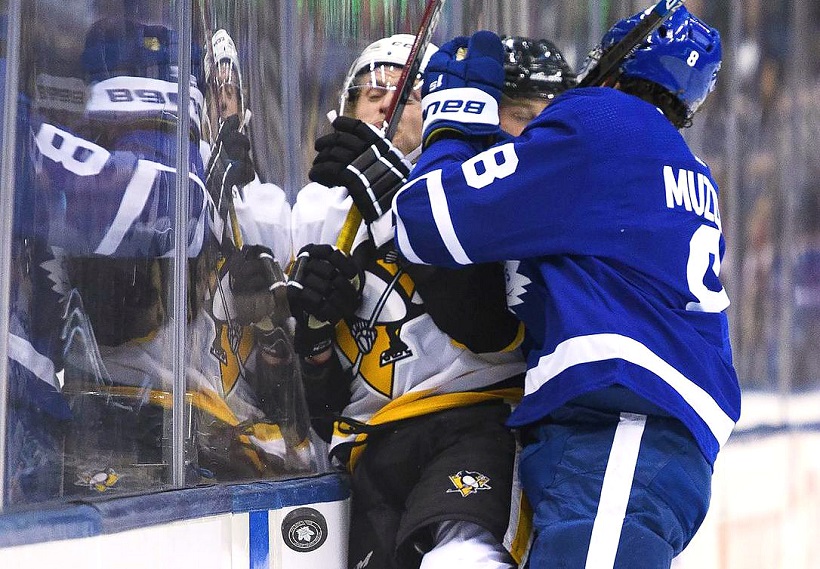 KYLE DUBAS MADE A SPLENDID ACQUISITION IN JAKE MUZZIN FROM LOS ANGELES. NOW, HE NEEDS TO PROCURE A FORWARD WITH SIMILAR TENACITY. NATHAN DENETTE THE CANADIAN PRESS
Which, of course, is not a bulletin… yet unmistakably tantalizing for Dubas, who knows that one, precise addition before Feb. 25 could offset the Bruins' playoff edge. It wouldn't guarantee passage into the Conference final for the Leafs, but would clearly improve the odds. I've said it before and I'll say it again: The perfect–such acquisition for Toronto currently resides in Philadelphia. Veteran Wayne Simmonds encompasses all that the Maple Leafs need to move alongside the Bruins. But, a trio of complications exists:
• The Flyers are currently the hottest item in the NHL, having won eight consecutive games. The club, however, dug itself such a chasm in the Eastern Conference as to be only a marginal playoff threat (seven points behind the No. 2 Wild Card team with Columbus, Buffalo and Carolina blocking its path). Still, most NHL owners are myopic enough to ignore the future in favor of a couple of lucrative playoff dates. If Comcast–Spectacor President Dave Scott is thus–inclined — and depending on how the Flyers fare in the next 2½ weeks — Simmonds may not be going anywhere before the trade embargo.
• Simmonds, 30, can become an unrestricted free agent on July 1 and is therefore a deadline "rental".
• Given the above–mentioned fact, there will nonetheless be ample competition for his services among a half–dozen–or–so teams leading up to the Feb. 25 cut–off. If available, Simmonds won't be given away.
Will Toronto possess the urgency and fortitude to part with an up–and–comer (Kasperi Kapanen, Andreas Johnsson, Travis Dermott) for a veteran that could help win the Stanley Cup this spring? Be it Simmonds or a reasonable facsimile (if such a player exists)? Or, will it be "wait til next year" for the 53rd time? According to general reaction among Leaf fans on the World Wide Web, the latter should prevail. And, perhaps it will. But, championship windows aren't easy to pry open. Nor do they remain unbolted for an indefinite span. The Maple Leafs are one player away from standing alongside any playoff contender in 2019. Just one.
Does Kyle have the guile? We'll find out fairly soon.
SITTLER AND McDONALD
THE TORONTO YEARS
They remain the most–prolific, homegrown forwards in Toronto Maple Leafs history. Darryl Sittler and Lanny McDonald. Center and right–winger. Teammates from Oct. 10, 1973 to Dec. 29, 1979. Joined by left–winger Errol Thompson, they formed one of the greatest lines to ever wear the Toronto NHL uniform. Sittler is still No. 2 in Leafs all–time scoring (916 points), behind only Mats Sundin (987). McDonald (459 points) is 13th, ahead of Tim Horton, Doug Gilmour and Wendel Clark. Sittler's 117 points in 1977–78 remains second–most in one season to Gilmour's 127 in 1992–93. McDonald's 47 goals that same year is the eighth–highest total in club annals, behind only Rick Vaive (54, 52, 51), Dave Andreychuk (54, 53), Gary Leeman (51) and Frank Mahovlich (48). The first 29 of Anderychuk's 54 goals in 1992–93 were scored with the Buffalo Sabres.

FROM THE O–PEE–CHEE HOCKEY CARD SET IN 1978–79. THEIR LAST FULL SEASON AS TEAMMATES.
In this retrospective, I look at the Sittler–McDonald tandem via my collection of Leafs media guides from 1970–71 to 1979–80. Sittler was drafted eighth overall in 1970 from the Ontario Hockey Association London Knights; McDonald fourth overall in 1973 from the Western Hockey League Medicine Hat Tigers. In their six full seasons together (1973–74 to 1978–79), they combined for 438 goals, 549 assists and 987 points. Sittler was inducted into the Hockey Hall of Fame in 1989; McDonald in 1992. Today, Lanny is the Hall's Board chairman, having replaced another former Leafs player (and coach), Pat Quinn, who died in November 2014. Sittler has been a Community Representative for the Maple Leafs since 1991, when hired by Cliff Fletcher.   
BEFORE LANNY…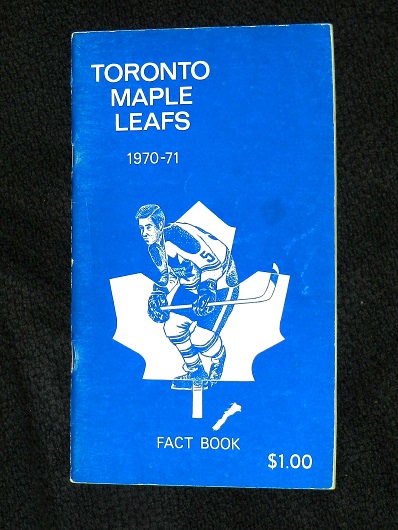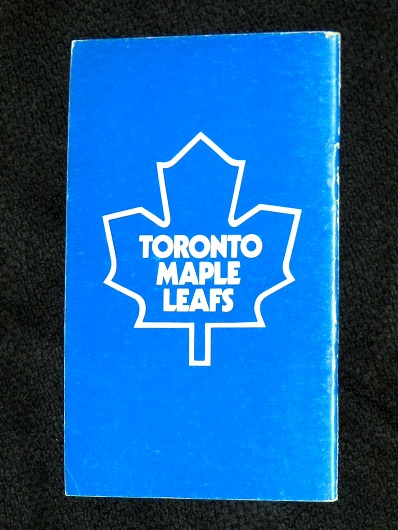 Sittler established himself for three seasons in the NHL before McDonald's arrival. His first bio (below) in the Leafs 1970–71 media guide proved clairvoyant: Darryl did make the Leafs as a left–winger (though a broken wrist against Los Angeles at Maple Leaf Gardens on Jan. 16, 1971 sidelined him until Mar. 24) and would indeed force others to shift to the wing once he assumed his posture at center ice. He debuted in Vancouver on Oct. 11, 1970 — it was the Canucks' second game in the NHL and their first–ever win (5–3).
The Leafs recovered from a slow start (7–18–1) — went 25–7–4 between Dec. 9 and Feb. 27 — and finished at 37–33–8 for 82 points. In the '71 Stanley Cup quarterfinals, they took a 2–1 series lead over the Rangers (Game 2, at Madison Square Garden, featured a bench–clearing brawl in which Vic Hadfield infamously threw Leaf goalie Bernie Parent's mask into the crowd) but lost the next three matches and the round in six. Ex–Leaf Bob Nevin eliminated Toronto with an overtime goal at the Gardens, beating Jacques Plante.

ROOKIE MILESTONE NIGHTS
From my collection of Maple Leaf Gardens 1970–71 programs.
OCT. 14, 1970: St. Louis at Toronto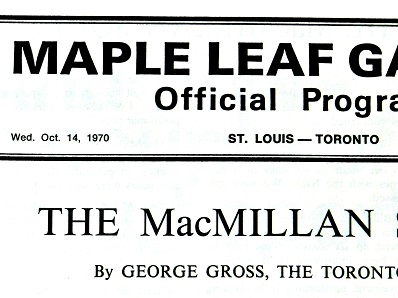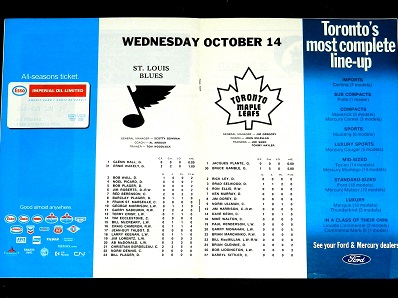 Line–ups (above and below) from home opener of the '70–71 season — Sittler's first game at Maple Leaf Gardens. In a brawl–filled affair, the Leafs routed the Blues, 7–3. The St. Louis executive tandem of Scotty Bowman and Al Arbour would combine for 2,026 regular–season coaching wins and 13 Stanley Cups.
Incredible to think the Blues allowed both men to get away.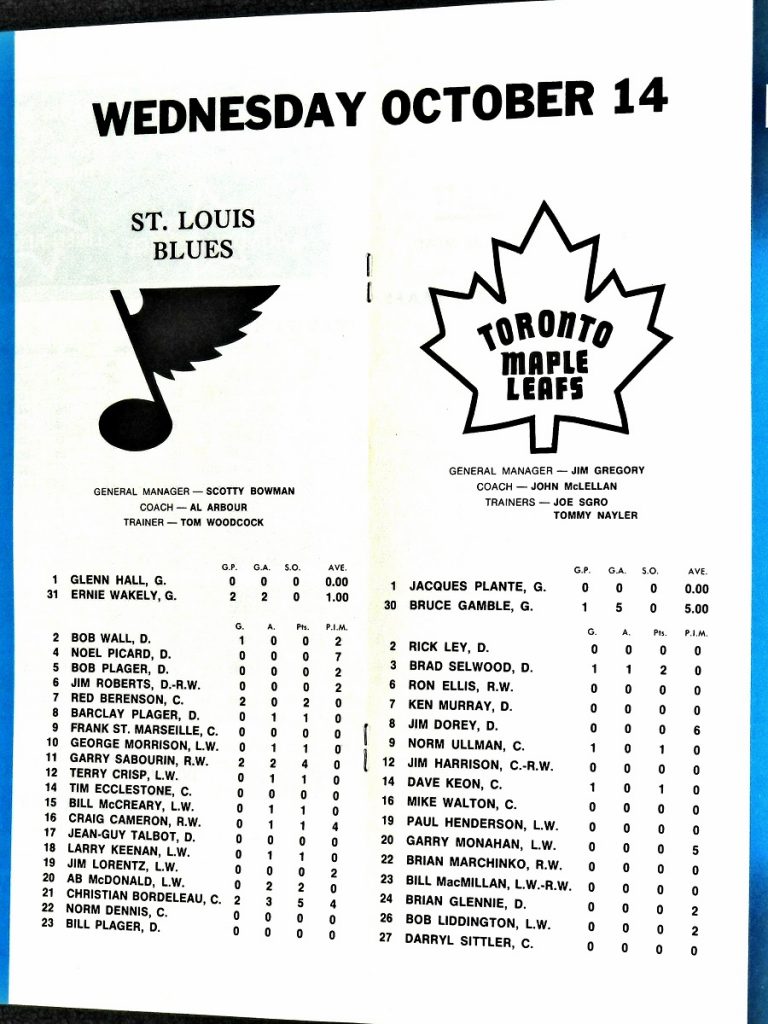 NOV. 14, 1970: Boston at Toronto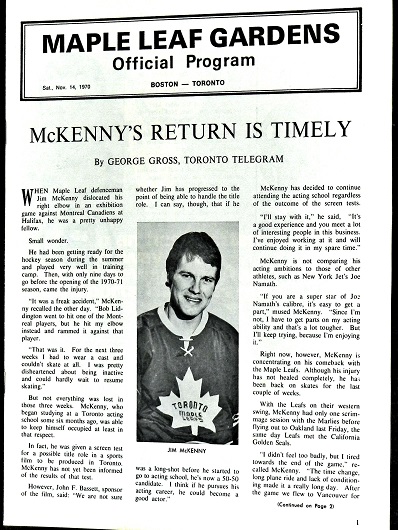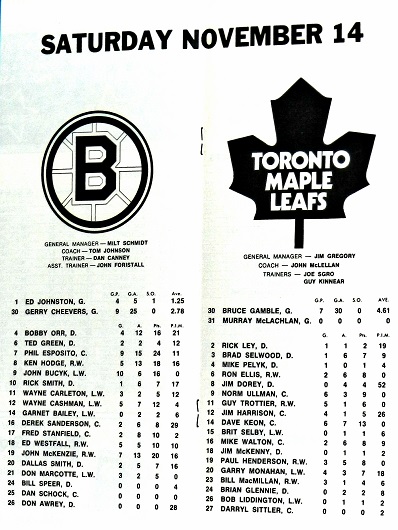 Sittler's first of 1,121 career points — an assist — was recorded against Boston, at the Gardens, Nov. 14, 1970. Toronto upset the Bruins, 3–2, for just its third victory in 14 games (4–10–0) to start the season.
It was one of only 14 losses Bobby Orr, Phil Esposito and Co. would incur in 1970–71.
NOV. 28, 1970: Detroit at Toronto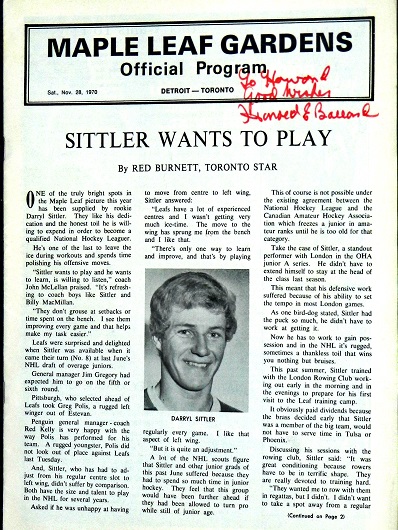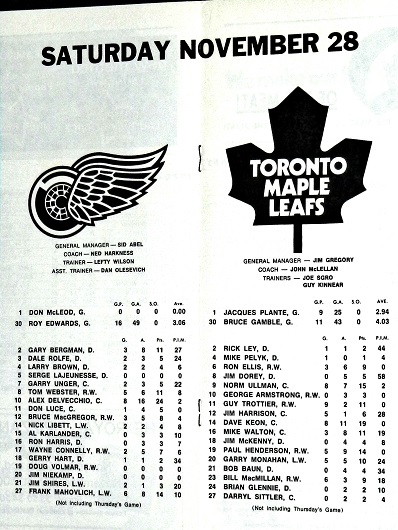 Sittler scored his first of 484 career goals in the NHL against Detroit, at the Gardens, on Nov. 28, 1970. It was the Leafs 21st game of the season and they romped to a 9–4 victory over the Red Wings.
Coincidentally, Sittler was the subject of the cover story in the program.
Also on the cover was an autograph, to me, by Leafs owner Harold Ballard.
DARRYL SITTLER 1970–71: GP–49 G–10 A–8 PTS–18.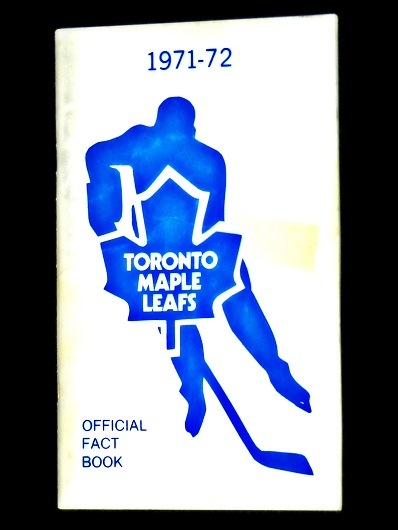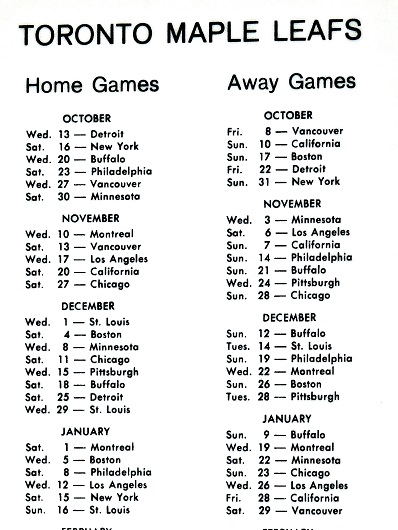 The 1971–72 season again started out west for the Leafs, who recorded a win at Vancouver (3–2) and a tie (3–3) at Oakland against the California Golden Seals. Sittler began the schedule by scoring against the Canucks and following with three more in the first seven games. He improved by five goals and 14 points from his rookie season. The home opener — Oct. 13, 1971 against Detroit — was postponed to Nov. 1, as Leafs president Stafford Smythe had died in the morning. As a result of the re–scheduling to a Monday, the Leafs encountered an oddity: three games in three nights (preceded by a Saturday home game against Minnesota and a Sunday–night match in New York). Toronto tied the first two, then beat the Wings, 6–1.
The Leafs finished a distant fourth in the East Division (33–31–14 for 80 points, 28 behind third–place Montreal) and encountered first–place Boston (119 points) in the Stanley Cup quarterfinals. Forward Jim Harrison shocked the Bruins by winning Game 2 at the Boston Garden in overtime to tie the series 1–1. But, the Bruins rolled to three straight victories and prevailed in five. Boston defeated New York to win the Cup.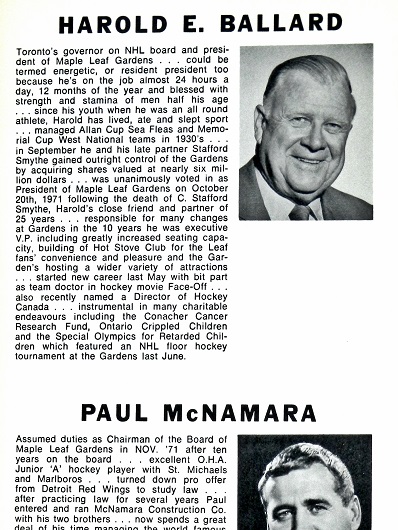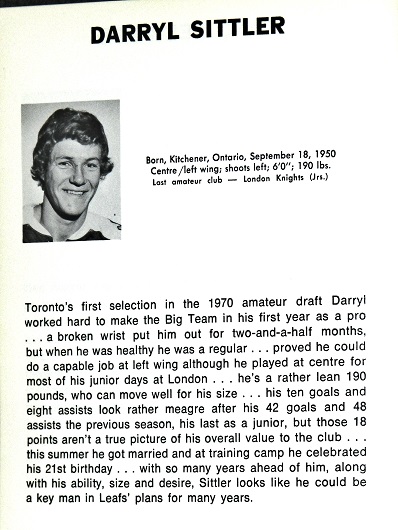 DARRYL SITTLER 1971–72: GP–74 G–15 A–17 PTS–32.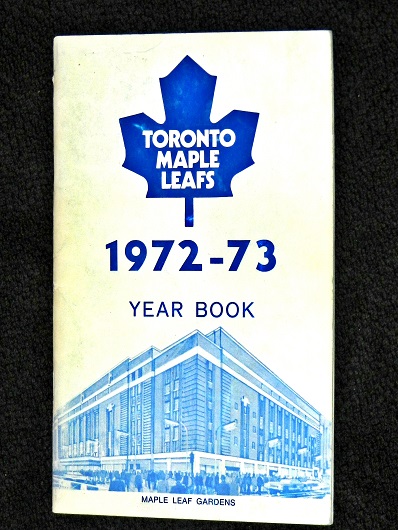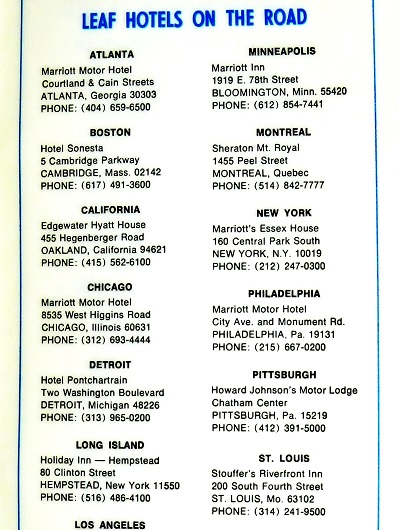 Sittler erupted into stardom in his third NHL campaign and led the Leafs in scoring (as he would in seven of the next nine seasons). He added 45 points to his total and registered five assists against the California Seals at the Gardens (Nov. 25, 1972) as part of an 11–0 Toronto rout. Darryl combined superbly on a line with right–winger Rick Kehoe, who scored 33 goals. Otherwise, this was the most–miserable season for the Leafs in modern franchise history. Ballard, the cheapskate, allowed five important players to jump to the newly–formed World Hockey Association, including future Hall–of–Fame goalie Bernie Parent and a trio of young defensemen: Rick Ley, Brad Selwood and Jim Dorey (the latter had been traded to New York once he made his WHA intentions known). Toronto (27–41–10 for 64 points) plummeted by 16 in the standings and missed the playoffs, finishing 22 points behind fourth–place Buffalo in the East Division.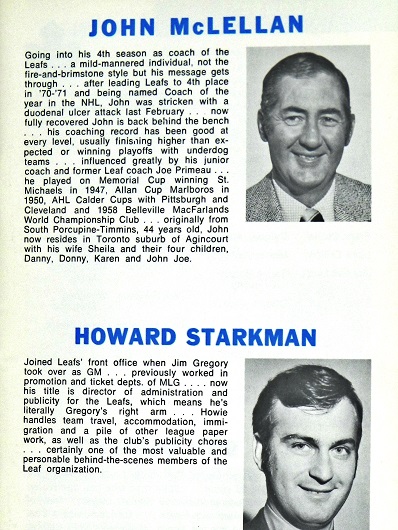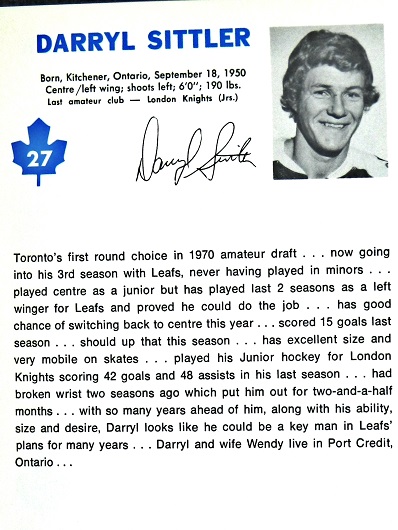 DARRYL SITTLER 1972–73: GP–78 G–29 A–48 PTS–77.
LANNY JOINS DARRYL: The Maple Leafs did not publish a media guide for the 1973–74 season — a shame given the addition of three future stars: Lanny McDonald, Borje Salming and Ian Turnbull. The club's publicity director was Howard Starkman (pictured, top–left, in the '72–73 guide), who would later (in 1977) become the first–such figure with the expansion Toronto Blue Jays of Major League Baseball. Earlier this week, Howard, now 73, explained in an email why there was no Leafs publication in '73–74: "The guide was usually ready for the start of the season, but the roster, with all the additions (McDonald, Salming, Turnbull, Bob Neely, Ed Johnston, Doug Favell, Dunc Wilson, Inge Hammarstrom, Eddie Shack) was unsettled in training camp. By the time the roster was finalized, it was deemed not worth doing." The Leafs, under new coach Red Kelly, improved by 22 points (35–27–16) and finished a comfortable fourth (by 10 points) in the East Division. Sittler added seven points to his total from 1972–73 and McDonald scored 14 goals in his rookie season, recording his first in Game 4 of the schedule, at Montreal, Oct. 17, 1973 (a 5–3 Leafs win).
Boston swept Toronto in the opening playoff round.
Philadelphia became the first expansion team to win the Stanley Cup by upsetting the Bruins in six.
DARRYL SITTLER 1973–74: GP–78 G–38 A–46 PTS–84.
LANNY McDONALD 1973–74: GP–70 G–14 A–16 PTS–30.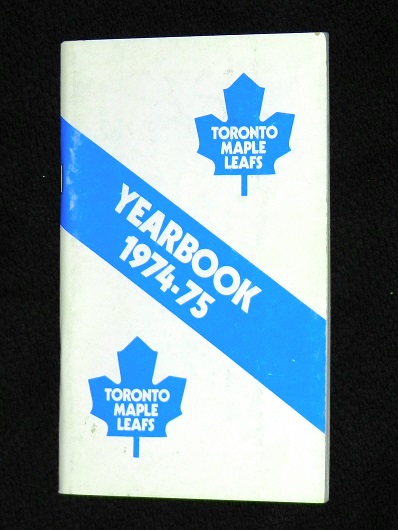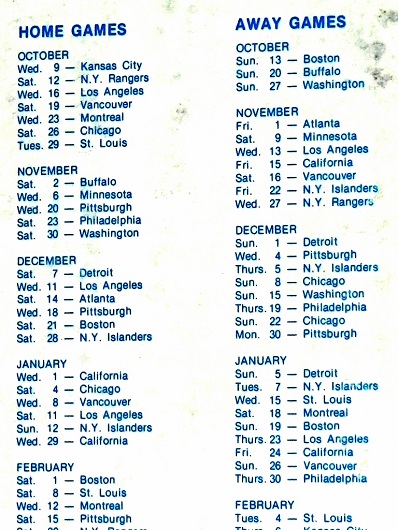 The yo–yo pattern that prevailed throughout the decade for the Leafs continued in 1974–75, when the club fell eight points in the standings and failed to prolong the bounce–back of the previous year. Among the lowest points of the decade was a trip to Boston, Los Angeles, California and Vancouver (Jan. 19–26, 1975) in which the Leafs lost all four games by an aggregate score of 26–8. Included were consecutive–night drubbings by the Kings (8–0) and Seals (6–1). On one of the commercial flights, goalie Dunc Wilson and others disturbed passengers with foul language and alleged drunkenness. But, a late–season surge (8–1–4 between Feb. 16 and Mar. 16) salvaged a playoff spot. Typically, it ended with a downer. A night after tying Philadelphia (4–4) at the Gardens, the Leafs were mauled 11–3 at home by Buffalo. Sittler had another excellent season, leading the club in points. McDonald generally struggled, though he upped his goal production by three and his points total by 14. He thrived, at times, on a line with George Ferguson and Errol Thompson. Toronto finished 31–33–16 for 78 points. In the playoffs, the Leafs pulled off a major upset by downing Los Angeles (105 points) in a best–of–three preliminary round for their first series win since 1967. The Flyers then swept Toronto in four, winning the quarterfinal set at the Gardens on an overtime goal by defenseman Andre (Moose) Dupont. Philly went on to defeat Buffalo for its second consecutive Cup.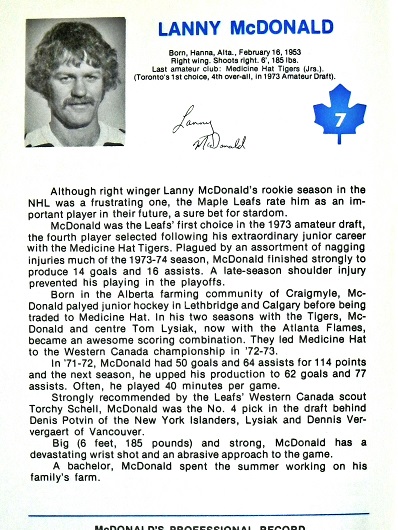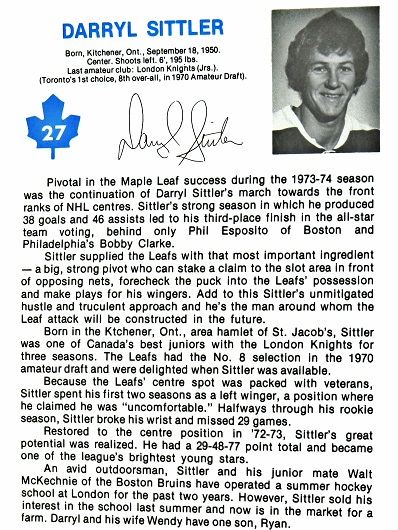 DARRYL SITTLER 1974–75: GP–72 G–36 A–44 PTS–80.
LANNY McDONALD 1974–75: GP–64 G–17 A–27 PTS–44.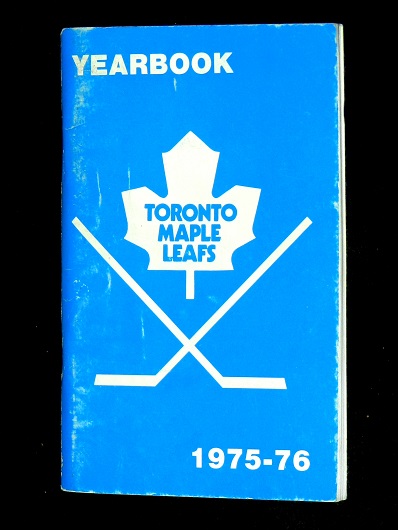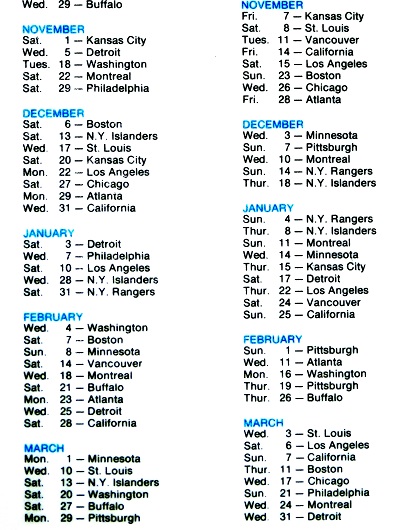 The greatest forward tandem in modern Leafs history came about in December 1975 when Red Kelly placed Sittler between McDonald and Thompson. It's likely the coach had seen enough of McDonald foundering; Lanny had just seven goals in the first 24 games of the season. The Leafs were in a tailspin — 2–6–6 in 14 games between Nov. 7 and Dec. 7. Then came Dec. 10, 1975 and a 3–3 draw at the Montreal Forum in which McDonald scored twice. It is remembered as the night that launched his Hall–of–Fame career. In the club's remaining 53 games, Lanny recorded 30 goals and 52 assists to become Toronto's highest–scoring right winger in a season. Thompson enjoyed his best NHL campaign with 43 goals. And, Sittler became the first Maple Leaf to register 100 points in a season. Most memorable, of course, was his 10–point eruption (six goals, four assists) against Boston at the Gardens on Feb. 7, 1976. It remains the NHL standard for most points in a game. The Sittler–McDonald–Thompson unit accounted for 121 goals and 273 points.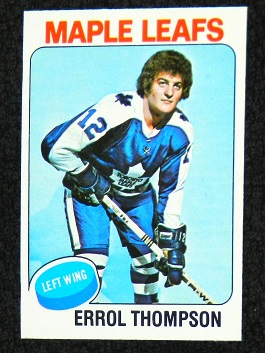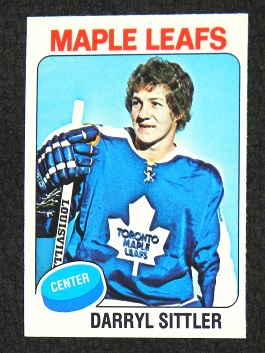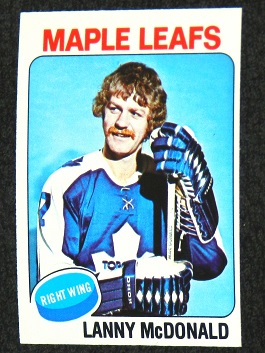 FROM THE 1975–76 O–PEE–CHEE HOCKEY CARD SET. THE LINE SCORED 121 GOALS.
HOT–STREAK SUMMARIES: The Sittler–McDonald–Thompson line was well–established during a 7–1–2 Leafs surge in late–February and early–March, 1976, combining for 22 goals and 45 points. Here are scoring summaries from seven of those games, including an 8–0 rout of Detroit at the Gardens (Feb. 25) in which the Maple Leafs established shots–on–goal records for one period (30, in the first) and one game (61). The initial summary (Feb. 23, 1976 vs. Atlanta Flames at the Gardens) marked the final game that pioneering broadcaster Foster Hewitt called on his radio station: CKFH–1430 (later, The FAN–590, Canada's first all–sports station; today, Sportsnet–590). Hewiit's first radio game was in 1923, at the old Mutual Street Arena.
These summaries are from home games against Atlanta (Feb. 23), Detroit (Feb. 25), California (Feb. 28) and Minnesota (Mar. 1). Road games at St. Louis (Mar. 3), Los Angeles (Mar. 6) and California (Mar. 7):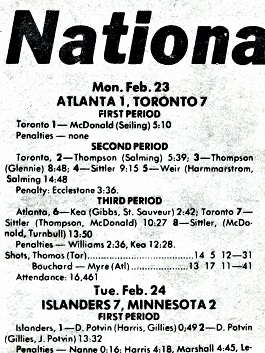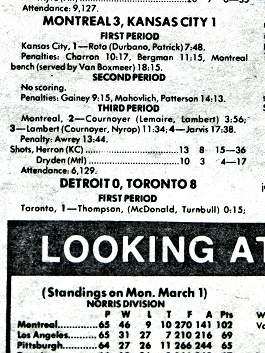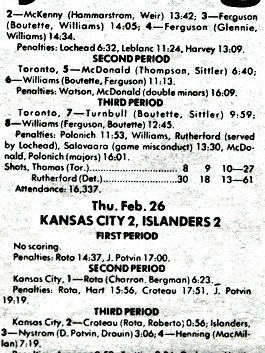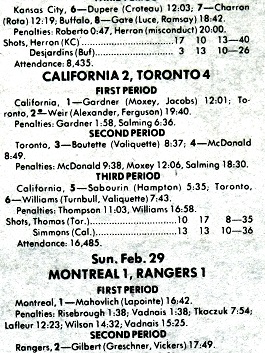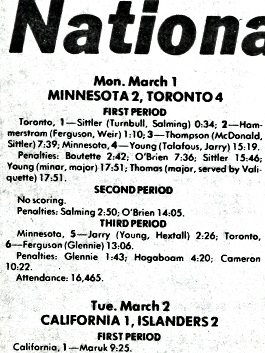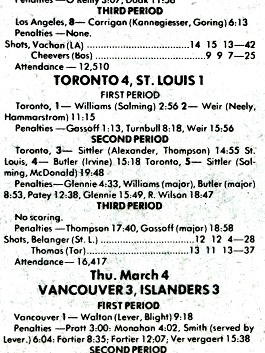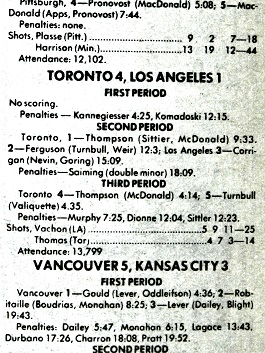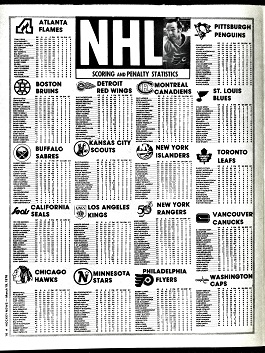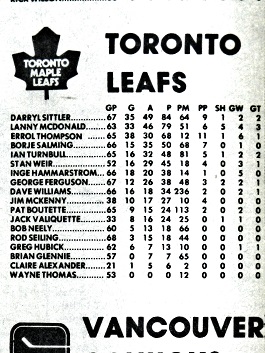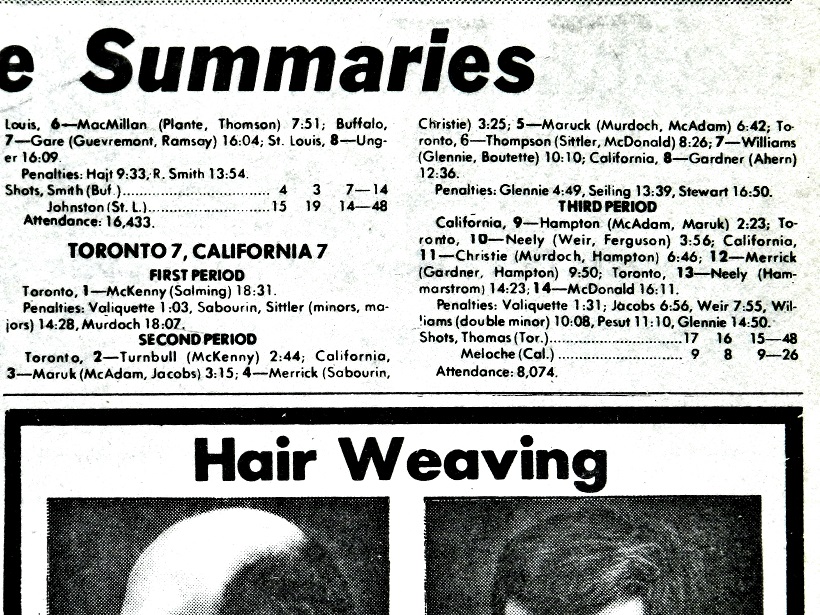 Toronto (34–31–15 for 83 points) knocked off Pittsburgh in the best–of–three preliminary round; then engaged Philadelphia in one of the most violent and memorable playoff series in franchise history. The home team held serve in the seven–game quarterfinal and the Flyers prevailed, 7–3, at the Spectrum in the deciding match. After Game 3, at the Gardens, a trio of Flyers (Mel Bridgman, Joe Watson, Don Saleski) was charged with assault by Ontario Attorney–General Roy McMurtry. Sittler again went wild and scored a playoff–record–tying five goals on ex–teammate Bernie Parent in Game 6, having placed his stick under a pyramid in the Leafs dressing room beforehand (a quirk designed by Red Kelly). Thus, "Pyramid Power" briefly flourished, only to die agonizingly in Game 7 at the Spectrum. Philadelphia's two–year Stanley Cup reign ended against Montreal; the Canadiens beginning their own string of four NHL titles.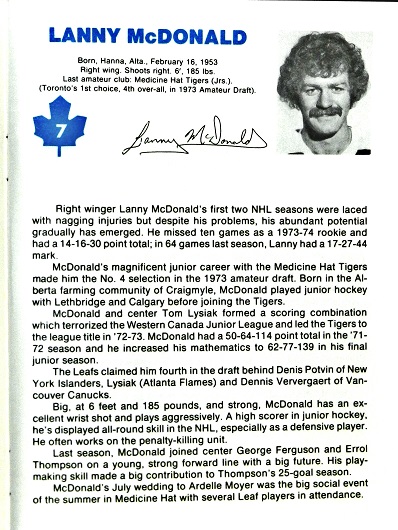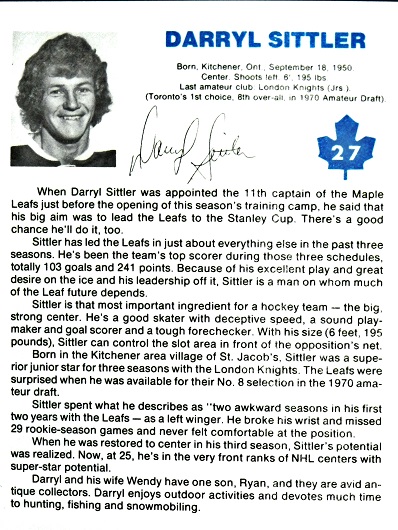 DARRYL SITTLER 1975–76: GP–79 G–41 A–59 PTS–100.
LANNY McDONALD 1975–76: GP–75 G–37 A–56 PTS–93.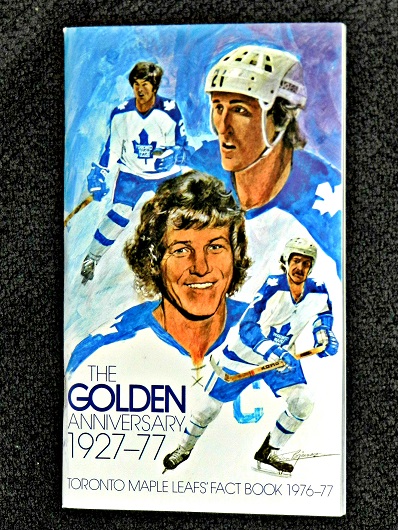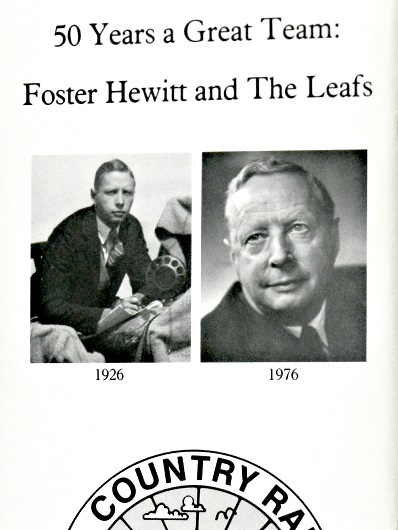 Once again, the promise of a good playoff run the previous spring failed to carry over, as the Maple Leafs began the 1976–77 season with a terrible 1–5–3 record in their first nine games. Goalie Wayne Thomas, a solid performer in 1975–76, struggled from the outset and was replaced at the end of October by rookie Mike Palmateer. The Leafs immediately responded with a season–salvaging 11–4–3 run between Oct. 30 and Dec. 5, including a 1–0 home triumph over Montreal on Nov. 17 — one of only eight losses for the Canadiens in '76–77. The Sittler–McDonald–Thompson line dissolved suddenly in Game 3 of the schedule (Oct. 13) when Thompson broke his wrist against Los Angeles at the Gardens. He missed 34 games, returning Dec. 29 at Cleveland. Sittler tore rib–cartilage at Los Angeles on Jan. 18 and missed seven games, returning Feb. 9 against Atlanta at the Gardens. It cost him the club scoring title for the only time in an eight–year span. Though he finished tied in points with McDonald, Sittler scored eight fewer goals. Defenseman Ian Turnbull provided the regular–season highlight by scoring five goals in a 9–1 romp over Detroit at Maple Leaf Gardens (Feb. 2, 1977) to establish a single–game record for defensemen that still exists. Turnbull's 79 points in '76–77 also remains a club standard and is being threatened, this season, by Morgan Rielly.
Toronto finished with a record of 33–32–15 for 81 points and again defeated Pittsburgh in the best–of–three preliminary playoff round. The Leafs should then have swept Philadelphia in the quarterfinals. After winning the first two games at the Spectrum, the Leafs led by a goal in the final minute of Game 3 at the Gardens, but lost in overtime. In Game 4, also at home, McDonald scored four goals and Toronto led, 5–2, with less than eight minutes remaining in regulation. But, Philly roared back to tie the match and prevailed again in extra time. The Flyers won four consecutive matches, and the series in six. It cost Red Kelly his job as Leafs coach. Sittler erupted for a team–record 21 points in nine playoff games. It stood until the spring of 1993, when Doug Gilmour registered 35 points in 21 games. Montreal defeated Boston for the 1977 Stanley Cup.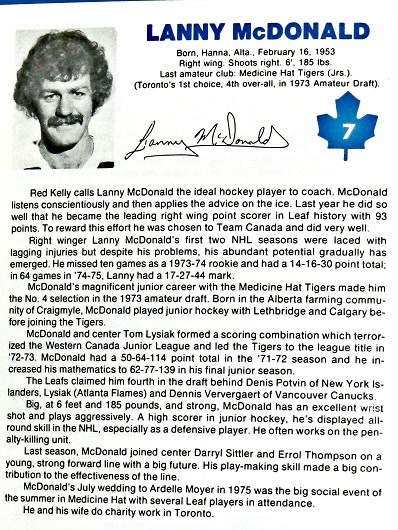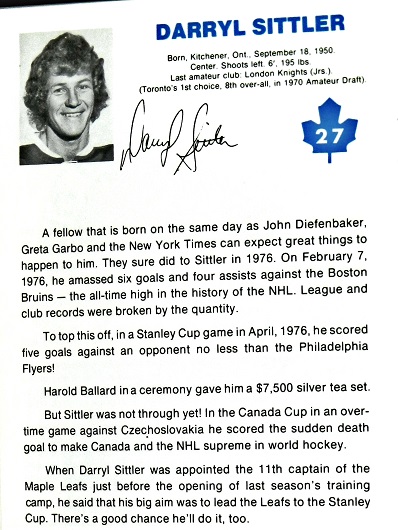 DARRYL SITTLER 1976–77: GP–73 G–38 A–52 PTS–90.
LANNY McDONALD 1976–77: GP–80 G–46 A–44 PTS–90.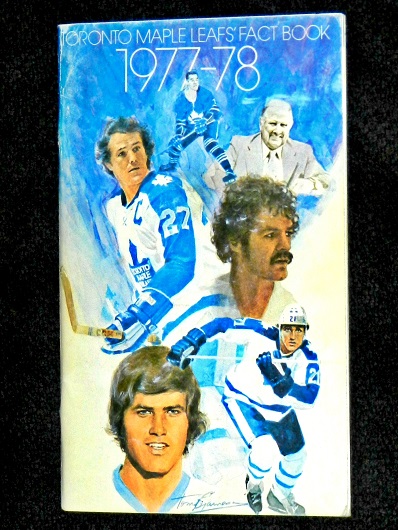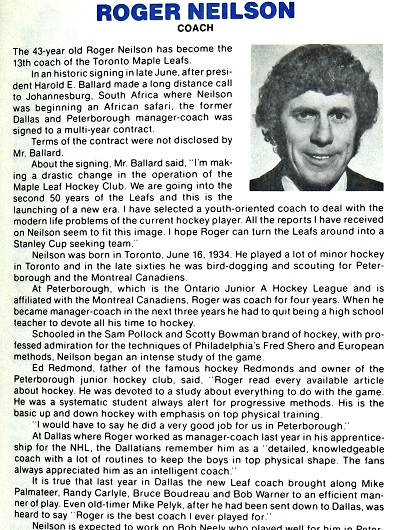 The second–best season to that point in Leafs history began with the hiring of Roger Neilson (top–right) as coach. Neilson adopted an entirely new defensive strategy, which resulted in a decrease of 48 goals scored against the club in 1977–78. The team embarked on its best–ever 28–game segment to begin a season: 19–6–3 from Oct. 13 to Dec. 19, 1977. After a 5–3 win at home over Washington on Mar. 15, 1978, the Leafs were 12–4–6 in their prior 22 matches… and 20 lengths over .500 (39–19–10) — the most during Harold Ballard's ownership tenure (1972–90). A late–season tailspin (2–10–0) prevented the club from breaking the 1950–51 record of 95 points. Instead, the Leafs finished with 92 (41–29–10). Sittler enjoyed the best season of his career, and second–most–productive to this juncture in franchise history. McDonald had his best scoring season as a Leaf, falling one shy of the goal record held, at the time, by Frank Mahovlich. Without much defensive acumen, Thompson was not among Neilson's favorites. He went to Detroit at the 1978 trade deadline for rugged Dan Maloney, who then played left–wing with Sittler and McDonald.
By Leaf standards of the 70's, the playoffs were golden. After another best–of–three preliminary triumph (over Los Angeles), the club matched up against the New York Islanders in the quarterfinals. Bryan Trottier, Mike Bossy, Denis Potvin and Co. won the first two games at Nassau Coliseum, but lost four of the next five. Adhering to Neilson's game–plan, the Leafs hammered the Islanders physically and won all three of their home games to set up a deciding match in Uniondale, N.Y. on Apr. 29, 1978. It (and the series) ended when McDonald beat goalie Glenn (Chico) Resch with a low shot to the glove–side at 4:13 of overtime. For the only time in the 70's and 80's, the Leafs advanced to the Stanley Cup semifinals, but were routed by the dynastic Canadiens in four straight. Montreal again defeated Boston (coached by Don Cherry) in the Cup final.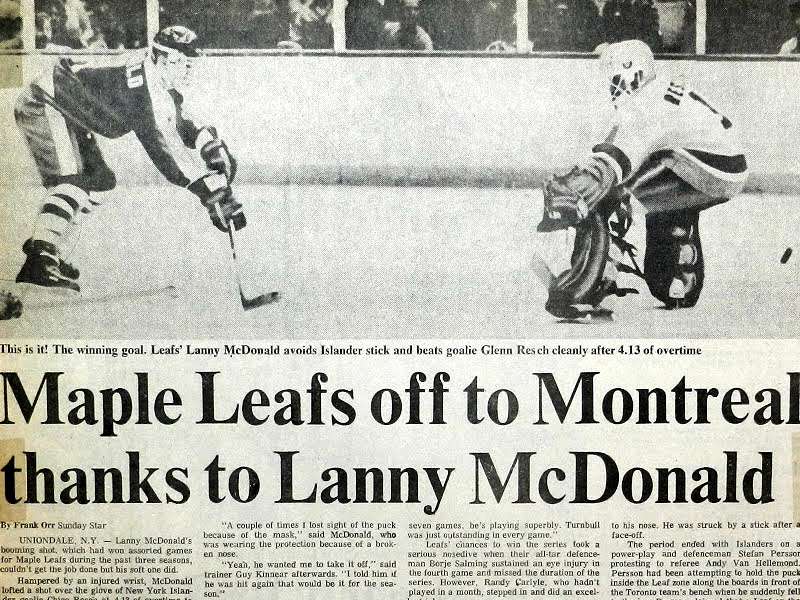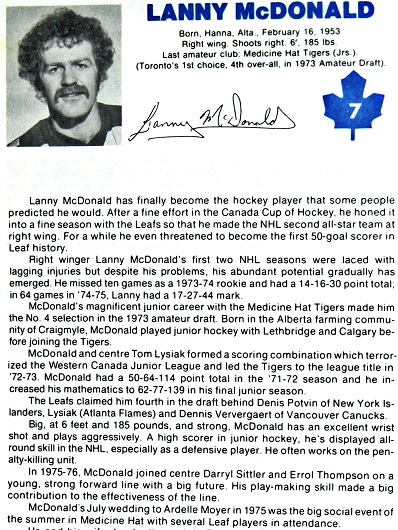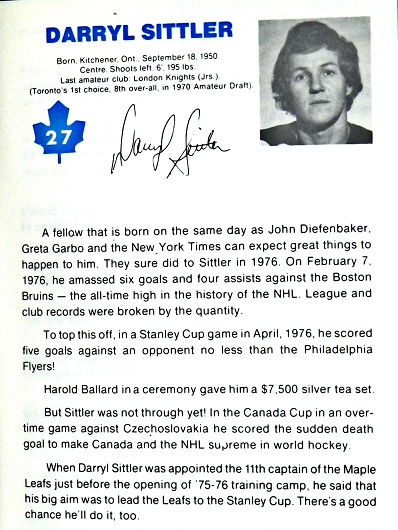 DARRYL SITTLER 1977–78: GP–80 G–45 A–77 PTS–117.
LANNY McDONALD 1977–78: GP–74 G–47 A–40 PTS–87.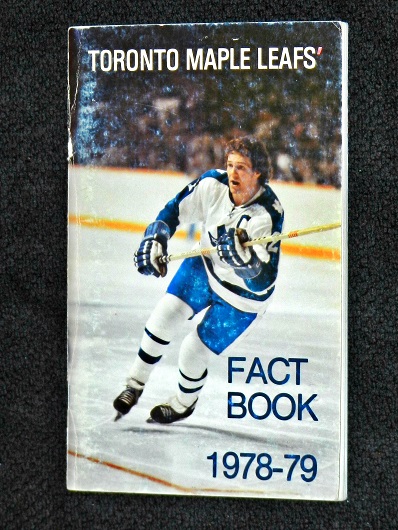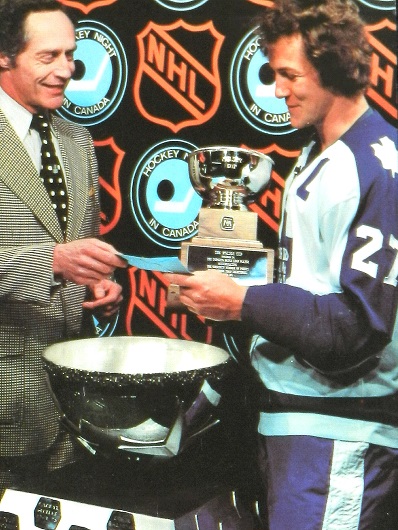 By now, it will come as no surprise to learn (or recall) that the Maple Leafs again regressed after a strong season. The 1978–79 club fell by 11 points in the standings and did not respond nearly as well to Roger Neilson. After a fifth consecutive loss — Mar. 1, 1979, at Montreal — Neilson was awkwardly fired on live television by Harold Ballard, who told CHCH–TV host/reporter Dick Beddoes "he's gone" when asked about the coach. The kooky owner, however, could not summon a replacement and Neilson was brought back for the next game, two nights later, at home to Philadelphia. Ballard infamously attempted to coerce Neilson into wearing a paper–bag when he appeared behind the bench at Maple Leaf Gardens, but Neilson wisely refused. Instead, the returning coach received a long and loud standing ovation from the crowd… while Ballard looked on disgustedly. Toronto embarked on a five–game win streak (Mar. 3–11, 1979) but finished with a middling record of 34–33–13 for 81 points. In their final full season together, Sittler and McDonald again finished one–two in team scoring, but the club was flat for long stretches.
Another preliminary–round playoff victory ensued against the Atlanta Flames — Toronto winning two straight. In the second match, at the Gardens, the Leafs set a Stanley Cup record by scoring three goals in 23 seconds (Sittler with two; Ron Ellis the other). But, that was it. Montreal again rolled past the Leafs in four games in the quarterfinals. Larry Robinson slapped the series–winner past Mike Palmateer on the powerplay in overtime, with Dave (Tiger) Williams in the penalty box. Robinson then saved Williams' NHL career by preventing him from attacking referee Bob Myers, whose chintzy slashing call put Toronto down a man. Ballard fired Neilson and GM Jim Gregory after the series; then made the egregious decision to bring back Punch Imlach for 1979–80. Montreal won its fourth consecutive Cup, defeating the Rangers.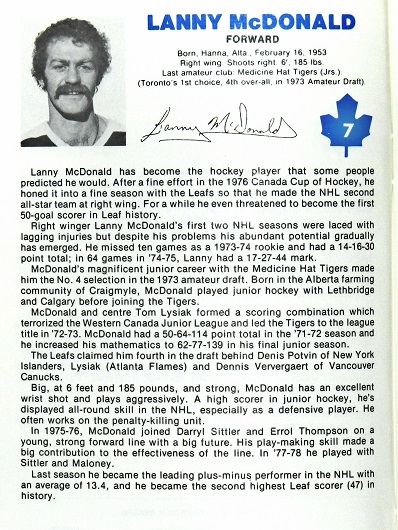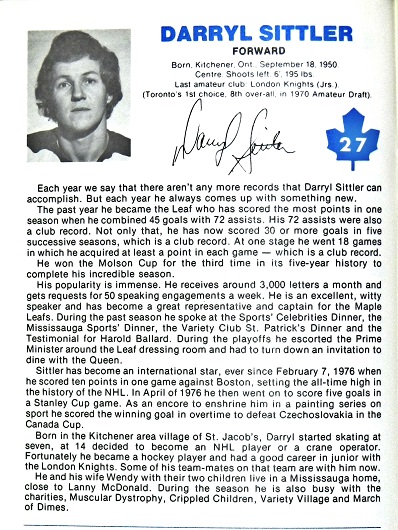 DARRYL SITTLER 1978–79: GP–70 G–36 A–51 PTS–87.
LANNY McDONALD 1978–79: GP–79 G–43 A–42 PTS–85.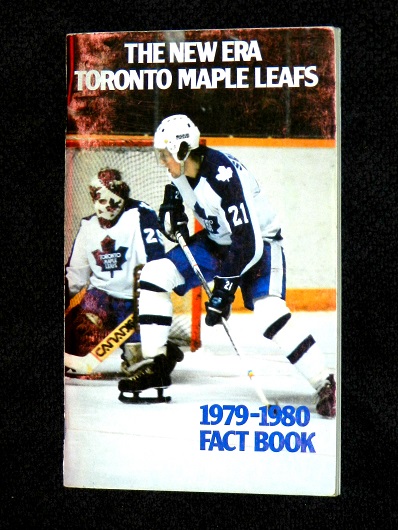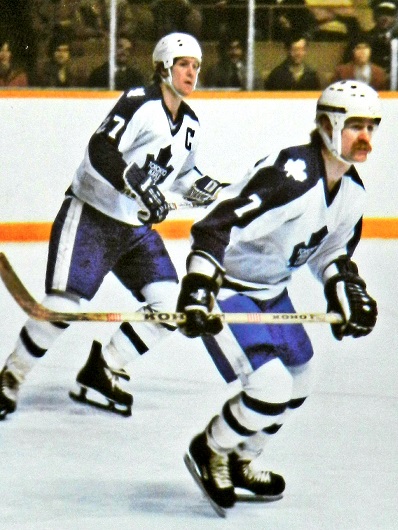 The "New Era" Leafs of 1979–80 quickly became a laughingstock. Imlach inexplicably and bitterly chose to diminish Sittler's hold on the dressing room; went to war with the captain; made a spiteful, damaging trade involving McDonald, and single–handedly destroyed the franchise for more than a decade. Though GM and coach in title, Imlach installed Floyd Smith behind the bench. When he realized he could not rid himself of Sittler, given a no–trade clause in the player's contract, Imlach venomously — and for no strategic purpose — dealt the captain's line–mate and best pal to the Colorado Rockies. Somehow, the Maple Leafs dropped only eight points in the standings, yet finished below .500 (35–40–5) for the first time since 1974–75.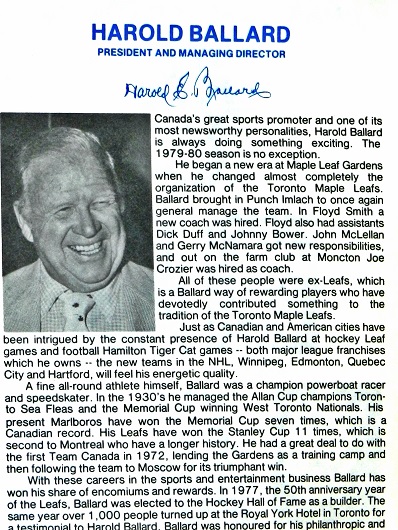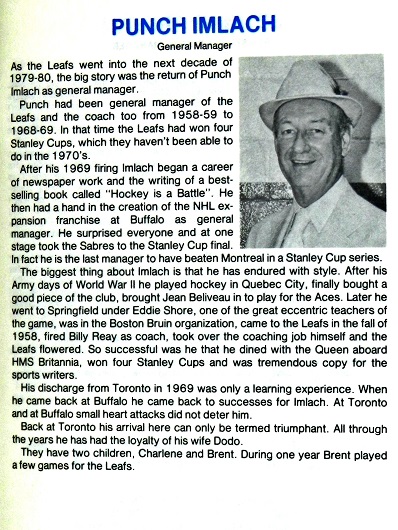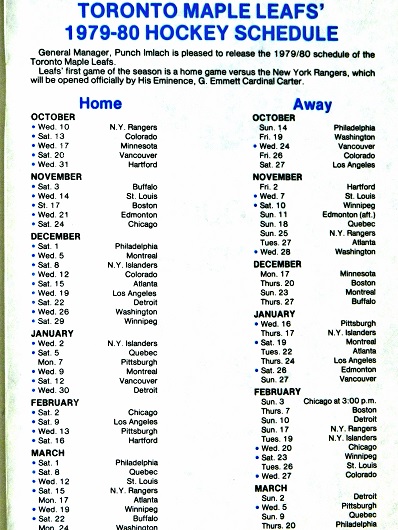 McDonald was traded to the Don Cherry–coached Rockies on Dec. 29, 1979. He and Sittler played together for the final time in a 5–3 loss at Buffalo, Dec. 27. A night earlier, the turmoil–filled club had been trounced, 8–2, at home by the Washington Capitals, who would win just 27 of 80 games. Prior to his first game without McDonald, and just hours after the deal went through, Sittler chose to remove the captain's 'C' from his home jersey. Trainer Guy Kinnear did the handiwork and the match against Winnipeg (circled, top–right) was delayed for half–an–hour when the Zamboni carved a chunk out of the Gardens' ice. A very good player, Wilf Paiement, came to the Leafs from Colorado, but McDonald couldn't be replaced. He was among the most–popular and charitable athletes in the city… and he owned one of the hardest shots in the NHL.
Though disheartened by the trade, Sittler teamed well with Paiement and registered his third–most–productive season with the Leafs. But, the players, as a group, hated Imlach and disparaged him off–the–record to Toronto Star writer Jim Kernaghan one afternoon while throwing darts at a photo of the GM. With no adherence to defense, the club yielded 75 more goals than in 1978–79.
While they made the playoffs, the Leafs were humiliated by Minnesota in the best–of–three preliminary round. Toronto yielded 64 shots in the opener at the Met Center (Apr. 8, 1980) and lost, 6–3, only because goalie Jiri Crha performed miraculously. The following night was even worse, as the North Stars prevailed at home, 7–2. Two nights later, at Maple Leaf Gardens, a goal by Al MacAdam at 0:32 of overtime mercifully ended the season for the Blue and White. McDonald was traded to Calgary by Colorado on Nov. 25, 1981 and scored 66 goals in 1982–83. He retired after winning the 1989 Stanley Cup with the Flames. The Leafs traded Sittler to Philadelphia on Jan. 20, 1982 (for someone named Rich Costello, who lives in infamy). Darryl then finished his career with Detroit in 1984–85. Together with the Leafs, Nos. 27 and 7 were magical.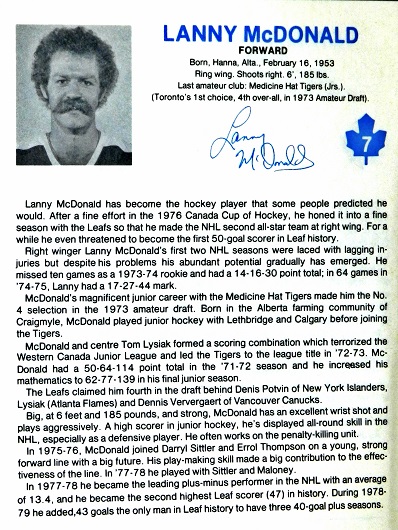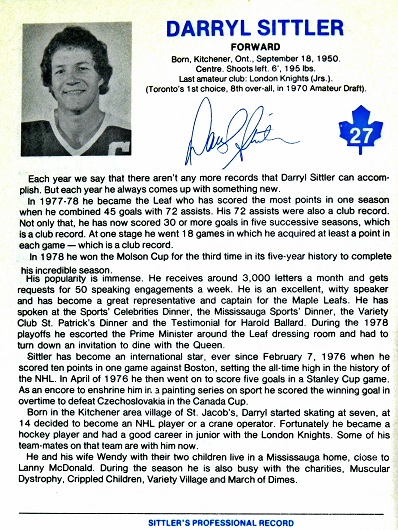 DARRYL SITTLER 1979–80: GP–73 G–40 A–57 PTS–97.
LANNY McDONALD 1979–80 (with Toronto): GP–35 G–14 A–15 PTS–30.
EMAIL: HOWARDLBERGER@GMAIL.COM