"You get the sense (Kyle) Dubas won't mind blaming (Mike) Babcock if the coach doesn't get this group to do what it's supposed to do — which is, at the very least, win the franchise its first playoff series in 15 years. This is Dubas's group, the one the Shana–plan produced. Now it's on the coach to find the answers for whatever opponents throw at it."
— Dave Feschuk, Toronto Star, Feb. 26, 2019
"Given the mammoth contract (eight years, $50 million) he signed with the Toronto Maple Leafs on May 21, 2015, it could seem incomprehensible for someone other than Mike Babcock to coach the hockey club next season. If, however, Babcock fails to guide the Leafs beyond the opening round of the Stanley Cup tournament for a third consecutive year, I contend that all bets are off."
— Howard Berger, Between The Posts, Jan. 28, 2019
TORONTO (Feb. 27) — I could begin this blog by hinting that great minds think alike. But, I don't want to insult Dave Feschuk. So, let's just say that coincidence appears to have prevailed among the two of us.
Though I cannot speak for Dave, I think we sense a rather tectonic shift in the power–structure of the Toronto Maple Leafs. When the parent company, Maple Leaf Sports and Entertainment, lured Mike Babcock from Detroit with the most–lucrative coaching contract in the game's history, all others fell in behind. Including Lou Lamoriello and Mark Hunter — both now departed from the Blue and White. Mike had eight years to end the longest current Stanley Cup drought… but would surely do so beforehand, with a ring on his finger from MoTown in 2008. As is custom with MLSE, any future general managers were to be hired with the coach already in place. This was Babcock's team… to be molded in his image. "Pain" or no "pain."
Nearly four years later, I'm not so sure.
As I wrote in my blog of Jan. 28 (http://bit.ly/2WtCazl), I felt Babcock needed, minimally, a first–round playoff triumph to ensure he'd be coach of the Leafs next October. Neither was I suggesting Mike would be gone, unequivocally, if the club fizzled again in April. Just that it wouldn't surprise me. Now, in late–February and after the National Hockey League trade deadline, it wouldn't come as any shock whatsoever. The Leafs, today, belong to Kyle Dubas — as they should any GM in any sport. What Dubas fundamentally told Babcock at the deadline on Monday was: "Hey, I got you John Tavares and Jake Muzzin; I signed William Nylander and Auston Matthews. Now, go and compete for the damned Cup. Or, you'll be answerable to me."
That the Leafs are still likely (though not surely) incapable of mounting such challenge may be immaterial. With the embargo on inter–league roster shuffling now in place — and for whatever my opinion is worth — I put Toronto roughly seventh among Stanley Cup contenders. Behind Tampa Bay and Boston in the East; Calgary, Winnipeg, Vegas and Nashville out west. Given the Leafs were anointed a Stanley Cup favorite the moment they signed Tavares as a free agent last July, seventh–best is quite a comedown. It's the reason the NHL conveniently executes an 82–game schedule after pre–season forecasts by the media. One wouldn't likely do well without the other. That T–Bay and Boston reside in the Atlantic Division complicates the Toronto task even more. So, perhaps the Maple Leafs cannot win the Cup this year even if the ghosts of Toe Blake and Al Arbour flank Babcock behind the bench. But, they must — in my view — advance beyond the opening round to assure Babcock's return. Which will almost–certainly entail knocking off the Bruins.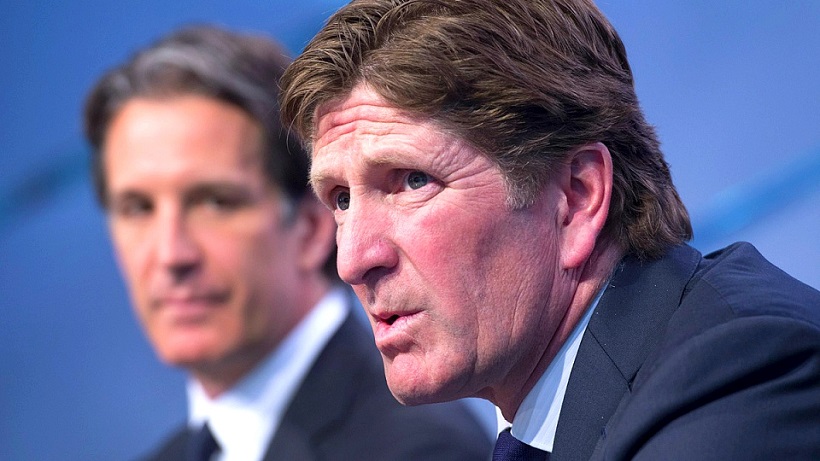 THE HIRING OF MIKE BABCOCK (RIGHT) ON MAY 21, 2015 WAS SEEN AS A WATERSHED MOMENT FOR THE MAPLE LEAFS. BUT, THAT WAS BEFORE BRENDAN SHANAHAN (LEFT) HAND–PICKED KYLE DUBAS, LAST SUMMER, TO REPLACE LOU LAMORIELLO AS G.M. THAT DUBAS AND BABCOCK AREN'T APPARENTLY ON THE SAME PAGE NOW THREATENS THE COACH'S FUTURE WITH THE HOCKEY CLUB.
Though Muzzin was seen as an adroit acquisition by Dubas (from Los Angeles, Jan. 28), Babcock has been singularly unimpressed. The GM's vision was to have Muzzin play alongside Norris Trophy contender Morgan Rielly on the Maple Leafs' top defense–pairing — Rielly switching from left to right position. Babcock tried it for two periods and gave up. Muzzin's ice time isn't remotely what Dubas anticipated upon making the deal. Is this a deliberate act by the veteran coach to show who the boss really is once the puck has dropped? Or, does Babcock honestly believe Ron Hainsey and Nikita Zaitsev are superior to Muzzin? It offers the stout impression that Dubas and Babcock are not on the same page. Perhaps even the same book.
Still too small and passive up front; only average on the blue line (even with Rielly and Muzzin) and with not a shred of goaltending insurance if Frederik Andersen goes down, the Leafs will need to get on quite a roll through April, May and the first half of June. Nor is such a notion impossible. The team with the best timing — rather than the pre–season favorite — often ends up parading Lord Stanley's mug around the ice. If Andersen can elevate his playoff performance to regular–season standard, and if the Toronto nucleus (Tavares, Matthews, Rielly, Nylander, Mitch Marner, Kasperi Kapanen, Nazem Kadri) gets hot with the puck, the Leafs will be tough for any opponent to conquer. And, that's the formula Babcock sorely needs.
At some point, Dubas will get the itch to hire his own coach, which should be the prerogative of any GM. Given that Leafs' boss Brendan Shanahan brought Dubas to the organization (from Sault Ste. Marie of the Ontario Junior circuit) — and then personally chose him to replace the Hall–of–Famer, Lamoriello — indicates, rather clearly, with whom the power and influence currently resides on Bay St. This has rapidly become the GM's club and Dubas felt it either unnecessary, or too risky, to improve Babcock's chances at the trade deadline. That the Big 3 acquisitions (Mark Stone, Wayne Simmonds and Kevin Hayes) were all dealt by Eastern teams to Western rivals is likely not coincidental. Still, Vegas, Nashville and Winnipeg improved their rosters while the Leafs were idle. I contend that Dubas hasn't yet put in place a Cup winner.
But, nothing may help Babcock if Toronto is watching the final three rounds of the 2019 playoffs.
EMAIL: HOWARDLBERGER@GMAIL.COM