TORONTO (Mar. 13) — The Maple Leafs play Chicago tonight at Scotiabank Arena. An opportunity to bounce back against a former multi–champion after getting drubbed, on Monday, by the runaway–favorite as next champion. It won't be easy — with future Hall–of–Famers Jonathan Toews and Patrick Kane performing as they did when the Blackhawks won the Stanley Cup in 2010, 2013 and 2015 (Toews has 71 points, five off his career–best in 2010–11; Kane is second to Nikita Kucherov in National Hockey League scoring with 98 points, eight less than his career–high in 2015–16). But, the Leafs need to somehow wash away the foul taste of Monday's 6–2 rout by Tampa Bay here in town — a lop–sided score that actually flattered the home side.
That said, I wasn't particularly alarmed by the ease in which Tampa subdued the Maple Leafs. Earlier in the schedule (Dec. 13), Toronto held the puck for nearly an entire match at Amalie Arena and should have laid a trouncing on the Gulf–siders. Only a staggering, 48–stop performance by goalie Andrei Vasilveskiy allowed T–Bay to emerge with a 4–1 triumph. The Leafs again played well in Tampa on Jan. 17 and won the game, 4–2. Why they looked so dreadfully unprepared to meet the challenge of the NHL's best team on Monday night is a matter of conjecture (I, for one, do not subscribe to the "first–game–back–home–after–a–road–trip" scenario; it's a convenient, tired excuse and not at all reflective of a Stanley Cup contender). Perhaps no club would have beaten the Lightning two nights ago — do determined were the visitors to control the puck in all areas of the ice. So, rather than obsess over that particular match, I prefer to point out, again, how it dovetails with the enormity of the Toronto task once the Stanley Cup tournament begins in four weeks.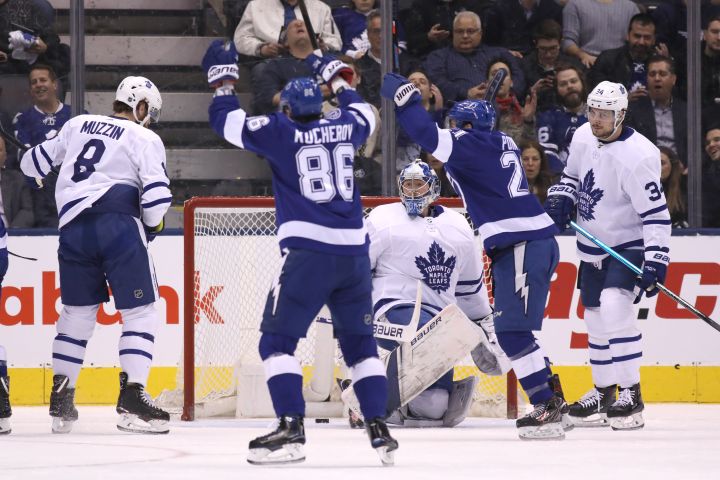 IT WAS UGLY A CAN BE FOR THE HOME SIDE MONDAY NIGHT A SCOTIABANK ARENA.
COLE BURSTON THE CANADIAN PRESS
As emphasized in this corner on several occasions — and though hardly a bulletin — the Maple Leafs will almost–certainly have to conquer the Bruins and Lightning just to reach the Stanley Cup semifinals. Then, win another couple of rounds to end their 52–year championship drought. Is it possible? Absolutely. People all over the world see their lottery numbers come up each week against infinitesimal odds. Others, sadly, get struck by lightning (pun fully intended). Which is, roughly, the chance that most observers will accord the Leafs in their quest to subjugate the Atlantic Division. You may ask: What more can the Leafs possibly do, after signing Mike Babcock as coach; drafting William Nylander, Mitch Marner and Auston Matthews in consecutive years; trading with Anaheim for Frederik Andersen and coercing John Tavares from Long Island last July? The question is valid. The answer likely is: Hope that Boston and Tampa Bay falter this spring and/or that both become less of a challenge in the next couple or three seasons.
Yes, the Maple Leafs have accomplished wondrously with their roster since the utter embarrassment of the 2014–15 season, when the club quit on interim coach Peter Horachek in the second half. The front office, led by Brendan Shanahan, has similarly re–conformed and is currently guided by a bright, young general manager, Klye Dubas. Still, all of the amendments will likely not suffice in overcoming the Division odds this spring. It is merely Toronto's poor fortune that Boston again lays in wake as an opening–round opponent — the Bruins having lost two in a row after romping to a 16–0–3 streak in their previous 19 matches. And that Tampa Bay (53–13–4 for 110 points) is probably the best NHL team since the Wayne Gretzky–led Edmonton Oilers of the late–1980's. Timing in professional sport is imperative. And, it doesn't appear to be on the Maple Leafs' side at the moment. No club faces a tougher playoff task next month than the Blue and White.
So, rather than stew over Monday night's embarrassment on Bay Street, I'd suggest that fans of the Leafs save energy for the Adams Division playoffs. Their team will need every ounce of encouragement.
EMAIL: HOWARDLBERGER@GMAIL.COM