TORONTO (Mar. 21) — Back on Jan. 28, I wrote a blog here (http://bit.ly/2WtCazl) suggesting Mike Babcock needs a first–round playoff victory to ensure a fifth season at the helm of the Maple Leafs. The notion was widely–ridiculed on social media. Since then, there have been comparable assessments in the mainstream Toronto media — the general consensus, right now, being that a lop–sided defeat against Boston could lead to Babcock's demise. There are, however, several ways to view the situation. If Babcock were jettisoned, the Leafs would remunerate him in the neighborhood of $25 million to no–longer coach the club. And, if general manager Kyle Dubas has eyes, say, for Joel Quenneville, Maple Leaf Sports and Entertainment would need to tender a contract at least equal to Babcock's $50–million arrangement of 2015. Though the Leafs are extraordinarily profitable, would there be an appetite to lay out $75 million for another coaching change? Of course, elevating Sheldon Keefe from the Marlies to the big club would be far–less costly than luring Quenneville (second, all–time, to Scotty Bowman in regular–season wins) out of involuntary retirement; the former Leafs defenseman was fired by Chicago on Nov. 6. And, Dubas would promote the man with whom he won the American Hockey League title last season (as he did, against the wishes of Babcock, the Calder Cup–winning goalie, Garret Sparks). Of course, it's all speculation right now. And, Babcock is a good hockey man. But, a playoff rout by Boston could lead to an interesting summer…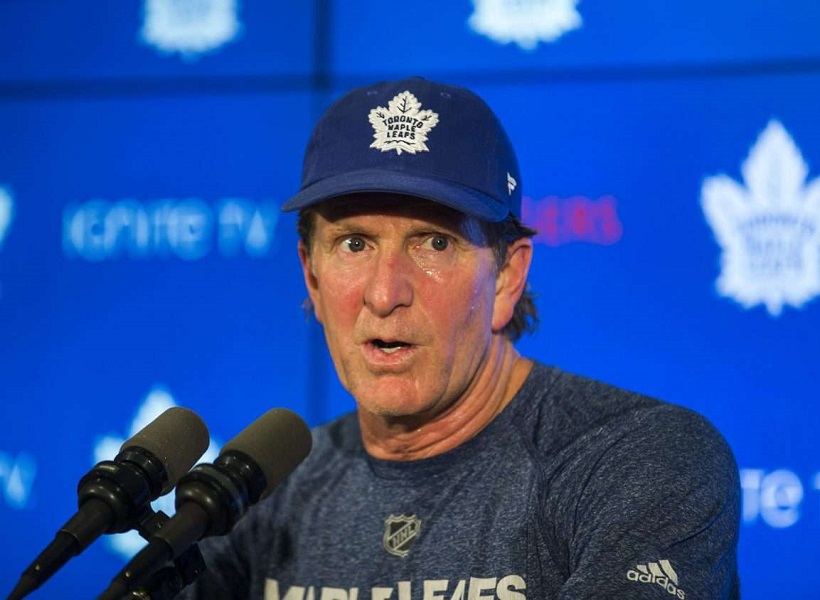 The blood–pressure of Leafs Nation took a dip on Wednesday night after a 4–2 victory in Buffalo. Having performed admirably on Tuesday in Nashville while losing 3–0 to a Stanley Cup contender, the Leafs toyed with the sorrowful Sabres and prevailed for only the second time in six games. It also marked rather a milestone. Though Buffalo is hardly the stiffest challenge in the National Hockey League, Toronto — for the first time ever — swept the Sabres in a regular–season. That's right… Buffalo had minimally tied a game against the Leafs in the previous 48 NHL years, dating to its inception in 1970–71. Though the Sabres did gain a point in an overtime loss at home (Dec. 4), the Leafs claimed eight points in four matches against their nearest geographic rival… Another Toronto milestone is very much in sight. The Leafs have four road games left — at Philadelphia (Mar. 27), Ottawa (Mar. 30), New York Islanders (Apr. 1) and Montreal (Apr. 6). One victory will tie the franchise mark of 23 on the road in one season, established by the Pat Quinn–led team of 2003–04. Two wins, of course, will establish a new record. Last season, while amassing 105 points (most in franchise history), the Leafs won 20 games away from home. On the flip side — and, as mentioned previously here — the Leafs have 14 regulation home losses this year. Should they incur one more in their remaining four Scotiabank Arena dates (vs. New York Rangers on Saturday; Florida on Monday; Carolina, Apr. 2 and Tampa Bay, Apr. 4), Toronto, by winning the Stanley Cup, would become the first NHL champion to lose 15 times on home ice in one season… As such, does it really matter which of the Leafs or Bruins secures home–ice "advantage" in the opening round of the playoffs? The Leafs (22–11–4) are a more–dominant road team than the Bruins (16–13–6). Boston (28–7–3) clearly performs better at home than Toronto (22–14–1). So, which trend will prevail in the Stanley Cup tournament? Given the Leafs were twice hammered at TD Garden this season (5–1 and 6–3) — and remembering how Toronto folded in Games 7 of the 2013 and 2018 playoff rounds at Boston — a potential deciding match at Scotiabank Arena would likely benefit the Blue and White. At least from an emotional perspective, beforehand. Otherwise, I don't consider it much of an issue. Of far–greater significance is the health of defensemen Jake Gardiner and Travis Dermott. If one or both do not return at full strength for the playoffs, the Leafs won't escape the opening round. Martin Marincin and Igor Ozhiganov are not full–timers… Perhaps the most remarkable stat of the Leafs season is that the club has yet to appear in a shootout after 74 games. Until last Saturday (Mar. 17), only Dallas had also avoided the penalty–shot competition. But, the Stars lost a shootout at home to Vancouver. Toronto hasn't yet gone a full regular schedule without incurring such a scenario since the game–deciding measure came into play for 2005–06. Last season, the Leafs had nine. The club had a franchise–high 13 in 2008–09 and 2013–14; a franchise–low seven (for a full, 82–game season) in 2007–08…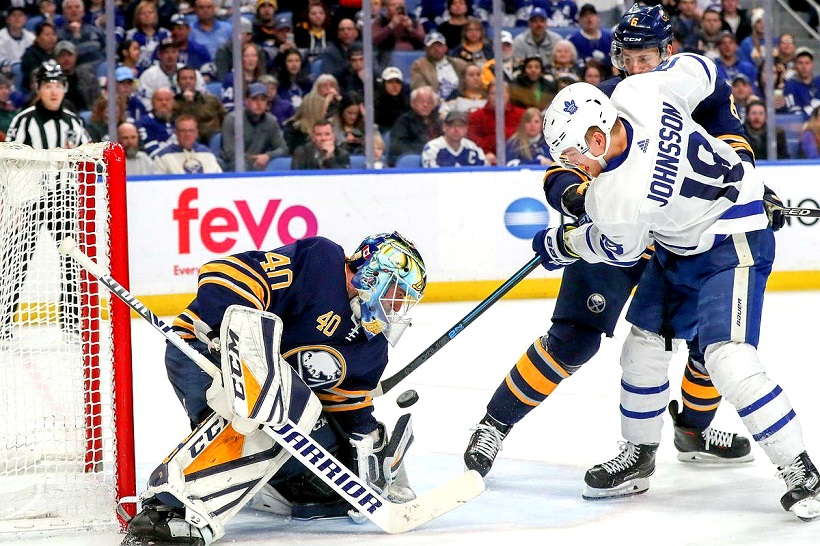 THOUGH CARTER HUTTON PERFORMED VERY WELL BETWEEN THE PIPES, STOPPING 42 SHOTS, THE BUFFALO SABRES LOST 4–2 AT HOME TO THE LEAFS WEDNESDAY NIGHT AND WERE THUS SWEPT BY TORONTO FOR THE FIRST TIME IN A REGULAR–SEASON SERIES. BUFFALO NEWS IMAGE
Bobby Orr turned 71 on Wednesday. On Facebook and Twitter, I again referred to him as "the greatest hockey player I've ever seen." Whenever I do so, it inevitably re–kindles the debate over whether Orr or Wayne Gretzky deserves the illustrious mantle. The issue is routinely governed by age. Anyone not old enough to remember Orr — but that saw Gretzky through his unparalleled career — cannot fathom a player comparable to No. 99. Those, like myself, that watched both men play the game are more–qualified to offer an opinion. And, Orr generally comes out on top. Interestingly, a third opinion arose on Facebook; my friend (and author) Gare Joyce believes Mario Lemieux is the best NHL'er of all time. Only Gretzky, with totals of 215, 212, 208 and 205, has more points in one season than Lemieux's 199 in 1988–89. And, no player has ever accomplished anything as spectacular as Lemieux late in the 1992–93 schedule. On Jan. 12 of that season, the Pittsburgh Penguins announced that Lemieux had non–Hodgkin's Lymphoma and would immediately undergo radiation therapy. He returned on Mar. 2 at Philadelphia only hours after his final treatment. At the time, he trailed Pat LaFontaine of Buffalo by 12 points for the NHL scoring lead. Astonishingly, after such an ordeal, Lemieux amassed 30 goals and 56 points in his final 20 games (a 229–point pace over a full season) and won the Art Ross Trophy by 12. No one will ever adequately explain how Lemieux shook the effects of cancer — and a chronically–sore back — to record such a feat. Orr, Gretzky, Lemieux and the late Gordie Howe are widely considered the four greatest position–players in NHL history.
The order, as mentioned, is usually determined by the age of the observer.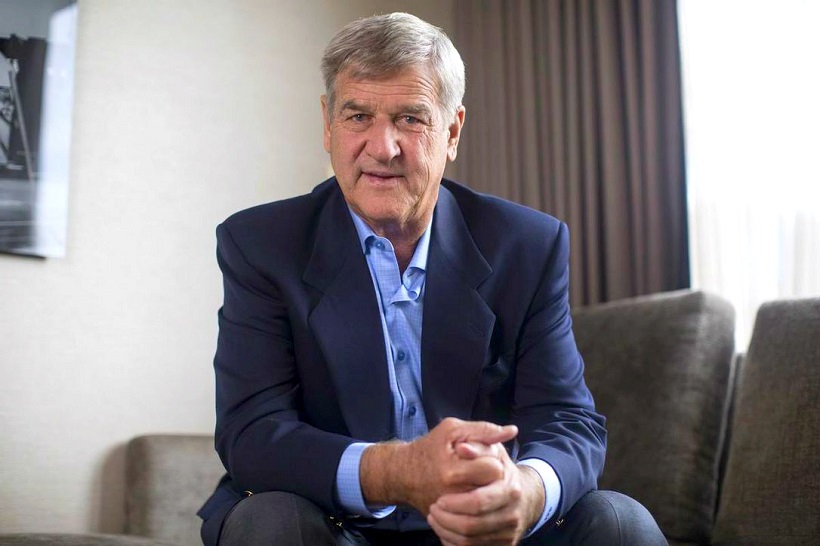 BOBBY ORR — AGING SO GRACEFULLY IN HIS EARLY–70's.  
Maple Leafs at Penguins
Pittsburgh Civic Arena
Sunday, Dec. 26, 1976.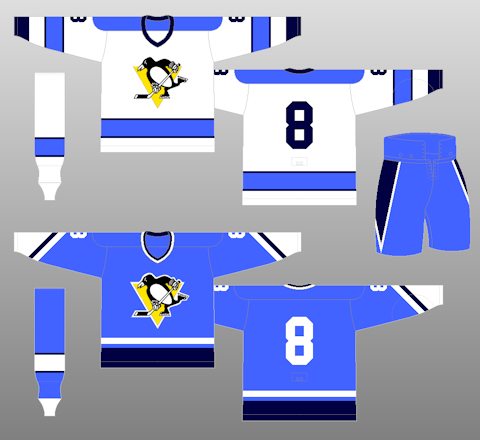 As the Maple Leafs close in on a franchise–record for road victories in one season, I remember the first time I saw the club play live away from home. It was during the Christmas Break in 1976 and I visited my cousin, Stephen Tobe, in Pittsburgh. As per the images from nhluniforms.com (above), the Leafs wore their blue road jerseys; the Penguins, their home–whites with the light–blue striping. Pittsburgh won the game, 4–2, and I was later privileged to cover hundreds of Leaf road matches as a reporter (from 1988 to 2011) at The FAN–590, Canada's first all sports radio station (below).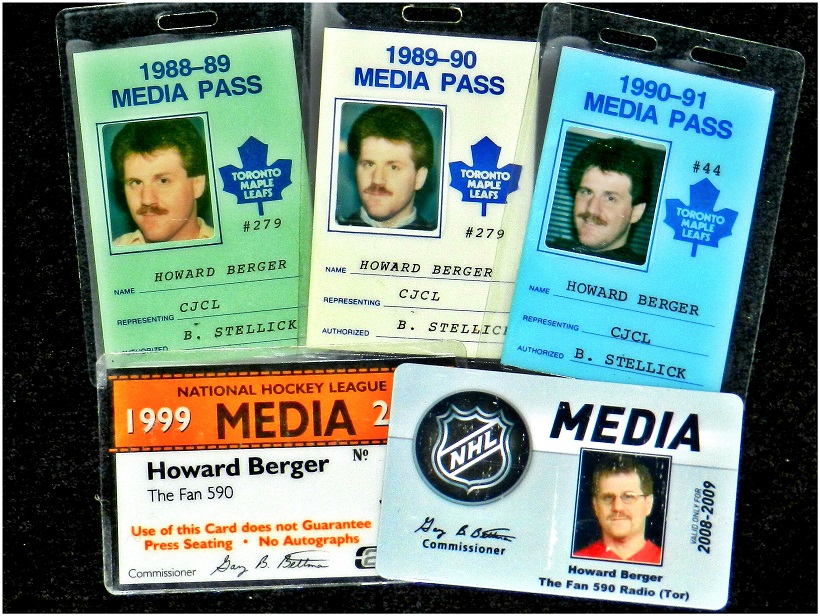 As part of my collection, I still have the program from that Leafs–Penguins game at Civic Arena more than 42 years ago. Here is the cover (with Darryl Sittler) and some of the contents: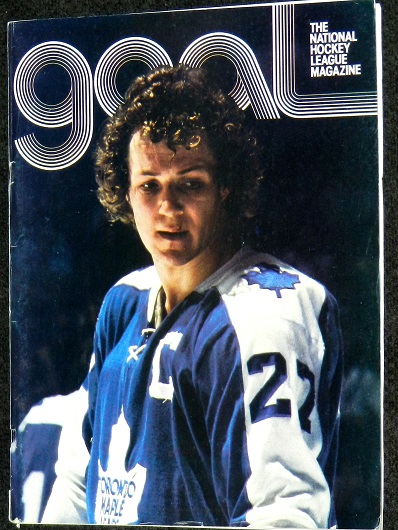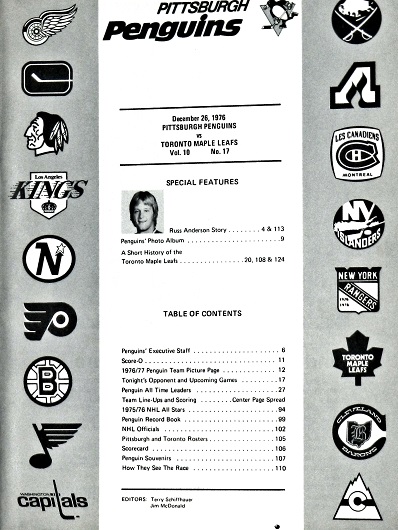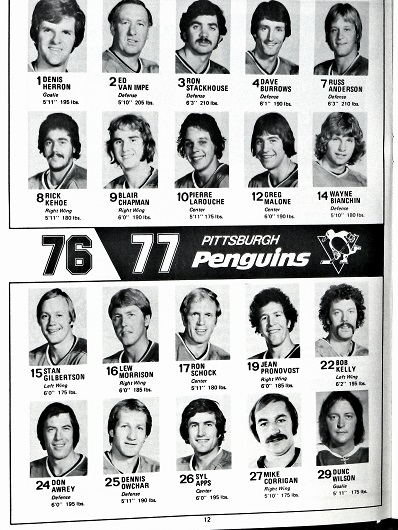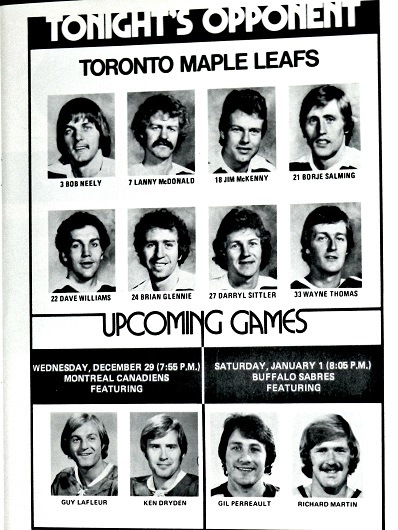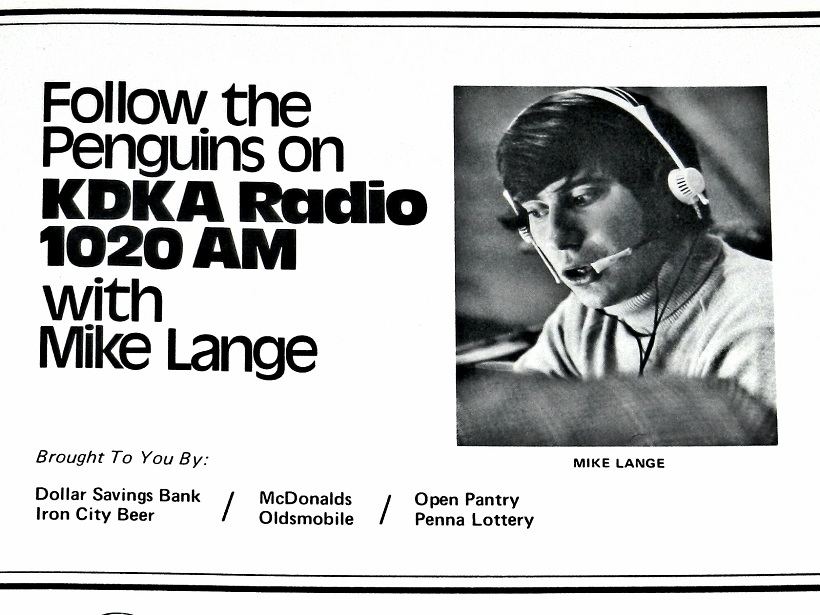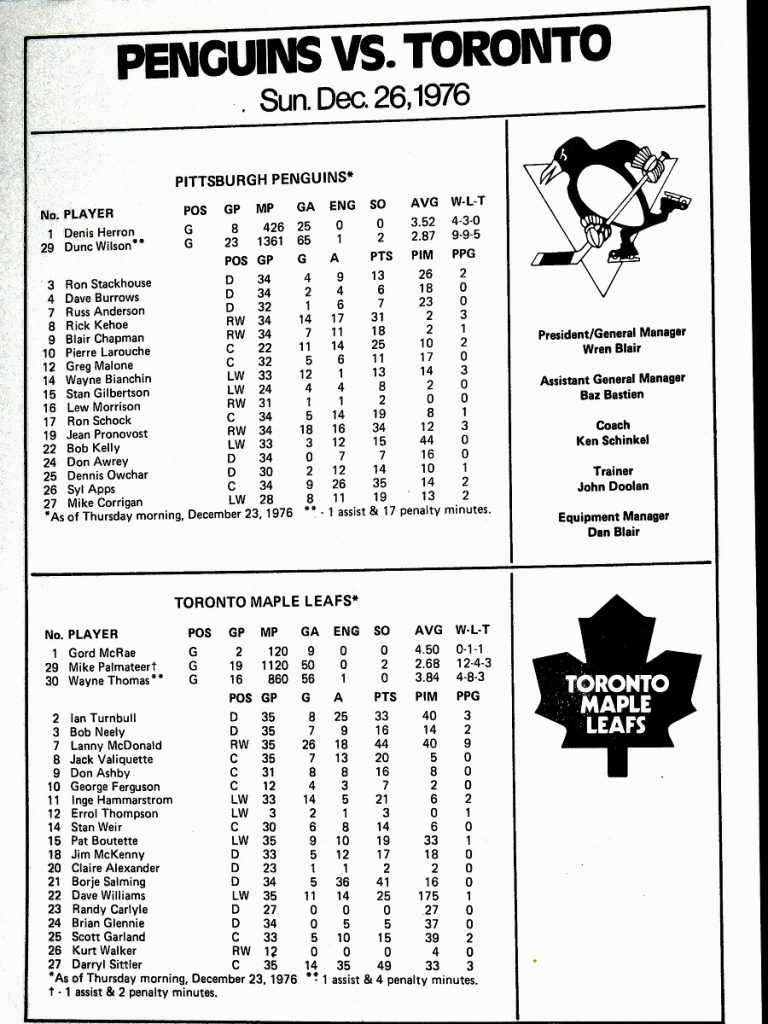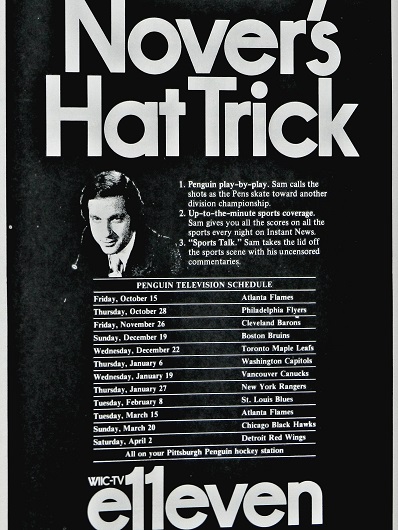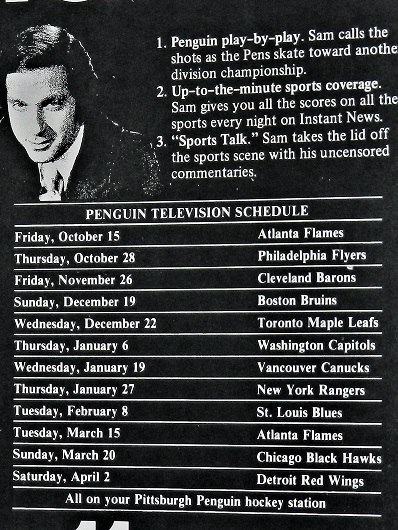 EMAIL: HOWARDLBERGER@GMAIL.COM