TORONTO (Mar. 9) — Okay… back on the key–pad after getting flattened for nearly a week by what felt like an old–time Bobby Baun hip–check. Or, in my case, the flu — thankfully, a strain more manageable than the H1N1 pandemic of 100 years ago (the so–called Spanish Influenza) that killed off nearly one–fifth of the world's population. From a hockey perspective, the flu outbreak prompted a no–decision to the 1919 Stanley Cup final between the Montreal Canadiens and Seattle Metropolitans. Four games in the best–of–five series (all played at the old Seattle Ice Arena) had been completed — each team winning twice. But, officials were forced to cancel the deciding match when nearly the entire Montreal club became ill. Four days later (Apr. 5), the H1N1 scourge claimed the life of Canadiens defenseman Joe Hall. It remained — until the lockout–cancelled season of 2004–05 — the only time the Stanley Cup had not been awarded.
Now, fast–forwarding an entire century, some thoughts on the Toronto Maple Leafs…
ONE OBJECTIVE REMAINS: True, home–ice advantage in the first–round playoff series with Boston would likely benefit the Maple Leafs, particularly with respect to avoiding a Game 7 scenario at the TD Garden. Not that the Leafs are incapable of winning in Boston, but the entire detachment of Toronto hockey zealots would wake up convulsing in the middle of the night given the past–two–such occasions — the blown, 4–1 lead in the third period (and overtime loss) of 2013 and the incapacity of a spent Frederik Andersen to stop pucks in the 7–4 blow–out last Apr. 25 on Causeway St. Best, if achievable, to reserve a decisive clash for Bay St. here in town… and see where the chips fall. This will not happen easily. After 67 games, the Bruins are four points up on third–place Toronto in the Atlantic Division with no head–to–head matches remaining. While playing without star forward David Pastrnak, Boston has remarkably gone undefeated in regulation time since Jan. 19 — a 15–0–3 run. Which betters the longest–such streak in Toronto franchise history: 14–0–2 under Pat Quinn from Nov. 22 to Dec. 26, 2003. The Bruins will look to extend their romp when they host Ottawa tonight (7 p.m. EST). The Leafs finish a three–game western–Canada trip in Edmonton, also at 7.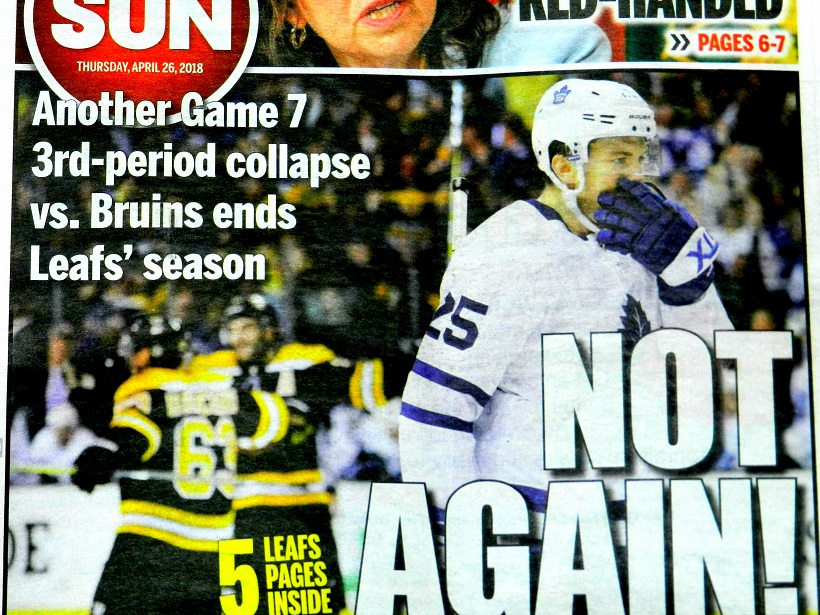 That said, finishing ahead of Boston is not the most–crucial priority for the Blue and White. Avoiding another significant injury — particularly among defensemen — is far–more important. And, of course, barely controllable. In the absence of ailing blue–liners Jake Gardiner and Travis Dermott, the Leafs have laudably remained within striking distance of the Bruins (91–87 points) — a 7–3–2 record in 12 games since Feb. 12 reflecting brightly upon Mike Babcock and his coaching staff. With only four weeks left in the regular season, however, an untimely affliction that involves (in descending order) Andersen, Morgan Rielly, Mitch Marner or Auston Matthews could easily de–rail any hope of a first–round playoff triumph. For reasons that are obvious, the Leafs need to be at full strength when facing off against the Bruins in the second week of April.
RECORD WATCH: Ian Turnbull's franchise mark of 79 points in one season among defensemen has endured for nearly 42 years — since the 1976–77 National Hockey League season. It was in the process of being threatened by Bryan McCabe midway through the 2005–06 schedule, but a slight groin–tear in the second week of January slowed McCabe's production (he finished with 68 points, more than any Leaf other than Salming or Turnbull). Rielly began the current season on track to endanger Bobby Orr's league mark of 139 points for defensemen, established in 1970–71. Not surprisingly, he tailed off, yet is still reasonably within striking distance of Turnbull's team standard. Rielly (17–47–64) needs 15 points in the Leafs' remaining 15 games to equal Turnbull; 16 points to become the new franchise season–leader. Barring injury, he will surely surpass McCabe's 2005–06 total (68) to stand third, all time, among Toronto defensemen in one year. Does Captain Morgan have enough steam to click off a point–per–game the rest of the way? We shall see.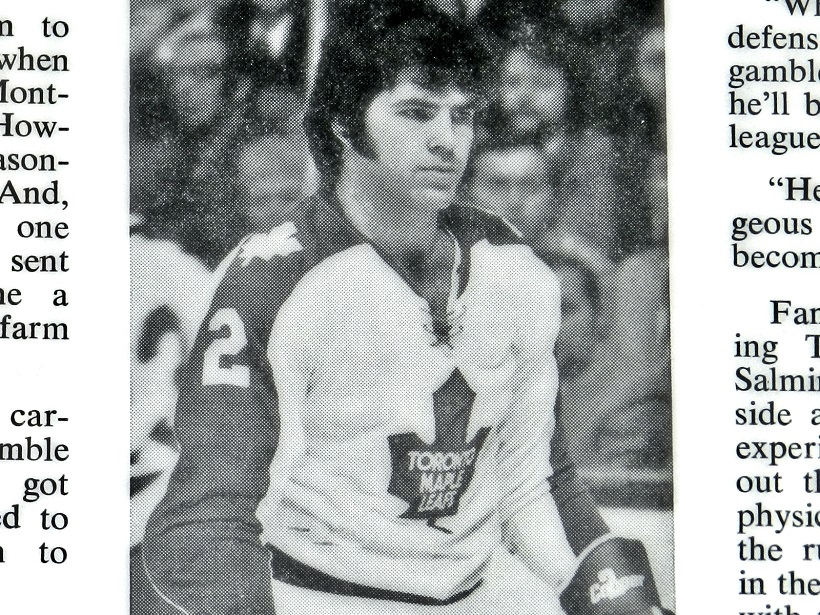 IAN TURNBULL WAS SOMETHING OF A HEART–THROB AMONG FEMALE LEAF FANS WHEN HE ESTABLISHED THE FRANCHISE SEASON–POINTS RECORD FOR DEFENSEMEN (79) IN 1976–77.
MITCH… OR AUSTON? A couple of things came to mind recently as I observed Marner's dazzling march toward becoming only the third Maple Leafs player (with Darryl Sittler and Doug Gilmour) to amass 100 points in a season: a) the blog I wrote here (http://bit.ly/2aomQ1J) on July 25, 2016 — one month after the Leafs selected Matthews first overall in the NHL draft — wondering whether Matthews or Marner (chosen fourth the previous year) would be the club's most productive forward. Veteran NHL scout Mark Seidel believed Matthews would be the better "200–foot" performer (which is true), but did not convince me that Marner would lag behind in points. We had just watched Marner destroy every meaningful Junior record while leading the London Knights on a Memorial Cup rampage. And, b) my blog of Sep. 30, prior to the current season (http://bit.ly/2NOUEt8), that included the following predictions:
LEAFS WILL FINISH: 51–24–7 — 109 points. 2nd in Atlantic Division.
LEAFS LEADING SCORER: Mitch Marner — 29 Goals, 66 Assists, 95 Points.
2019 STANLEY CUP PREDICTION: Tampa Bay over San Jose.
As it turns out, I may have short–changed Marvelous Mitch.
After 67 games, he is indeed atop the club scoring race with 24 goals and 58 assists for 82 points. To match my pre–season forecast, he needs five goals and eight assists in the remaining matches; 18 points in 15 games to reach 100. I suspect only an injury can prevent Marner from attaining each total. The Leafs (41–21–5) need to go 10–3–2 the rest of the way to match my prediction for their season mark. Which is reasonably procurable. And, I still feel that San Jose can compete with all other Western Conference contenders to face off against Tampa Bay in the Stanley Cup final. What a personal trifecta this would be.
HORNBY FOR THE HALL: Now that the NHL Broadcasters Association has rightfully honored Maple Leafs voice Joe Bowen with the Foster Hewitt Memorial Award, and induction into the Hockey Hall of Fame, let's hope it doesn't require a decade before another dastardly Canadian is recognized for media accomplishment (yes, my American friends, that's a shot). Isn't it time that Lance Hornby of the Toronto Sun is handed the Elmer Ferguson Memorial Award — voted on by the Professional Hockey Writers Association "in recognition of distinguished members of the newspaper profession whose words have brought honor to journalism and to hockey"? How better to describe ol' Lanceroo, who has covered the Maple Leafs for the same periodical longer than any print reporter — or, since 1986? He and I shared a few laughs, particularly when discussing Flintstones trivia, during my 17 years covering the Leafs for The FAN–590. It's likely that only Bowen (calling games since 1982–83) has seen more Leaf games in a lifetime than Hornby, who has surpassed such hockey–writing legends as Red Burnett (Toronto Star), Frank Orr (Toronto Star), John Iaboni (Toronto Sun), Scott Morrison (Toronto Sun), Rex MacLeod (Globe and Mail, Toronto Star) and Jim Christie (Globe and Mail) among former Leafs–beat colleagues. Burnett, Orr, Morrison and MacLeod are in the Hall of Fame; Iaboni and Christie — a wonderful chap who died in January 2018 at 65 — should be. Hornby has been on the beat longer than any of them and continues to excel in a vastly–different media environment, governed by the Internet, Social Media and instant, 24–hour–a–day bulletins. Lance has long–since reserved his place in the Hockey Hall. By all rights, he shouldn't have to wait much longer.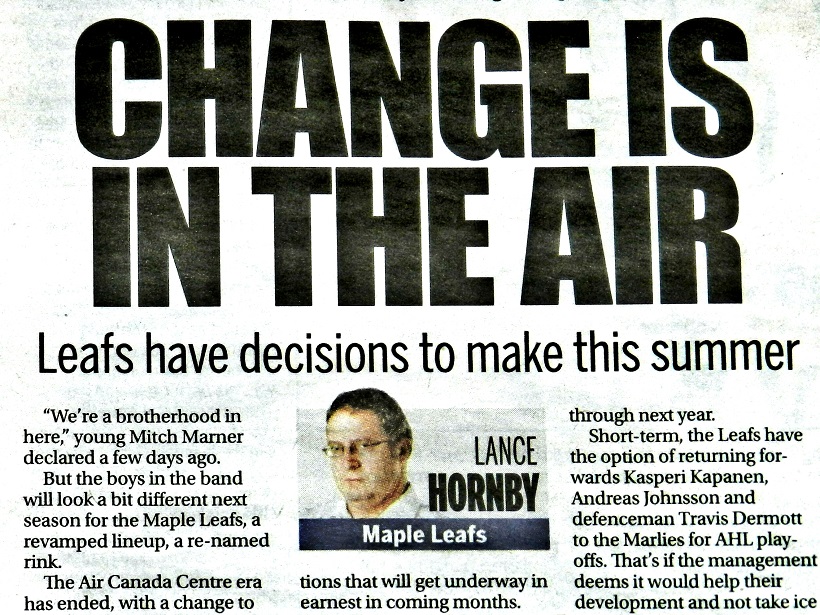 THE LANCEROO, WRITING AFTER TORONTO'S PLAYOFF ELIMINATION AT BOSTON LAST APRIL.
1968–69 EXPORT 'A'
MAPLE LEAF GARDENS CALENDAR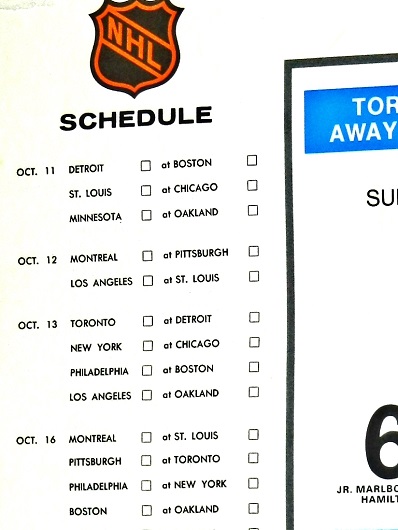 Among my most–coveted collectibles are eleven EXPORT Maple Leaf Gardens wall–calendars that date from 1955–56 to 1973–74. I remember gazing wistfully at these items when Mom or Dad took me for a buzz–cut in my youth; they hung in barber shops all across the city. Here are contents from the edition of 50 years ago: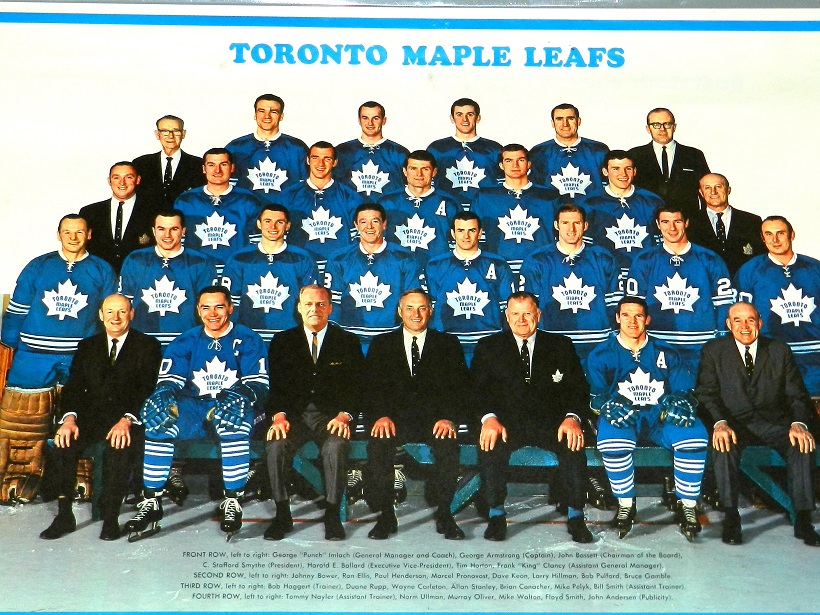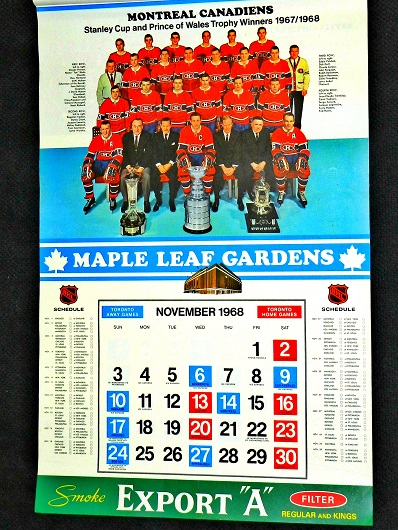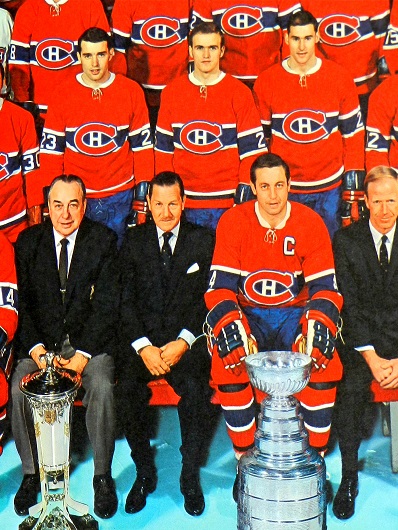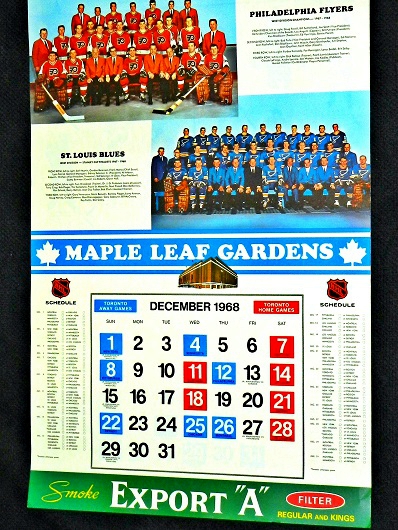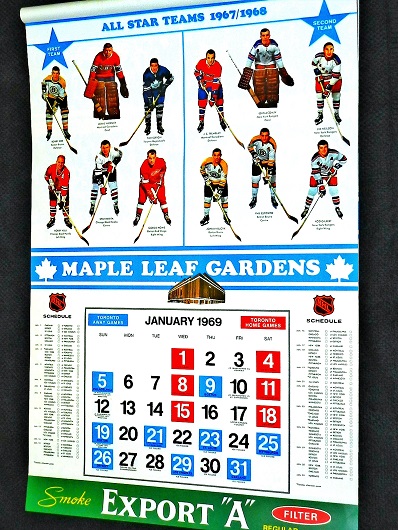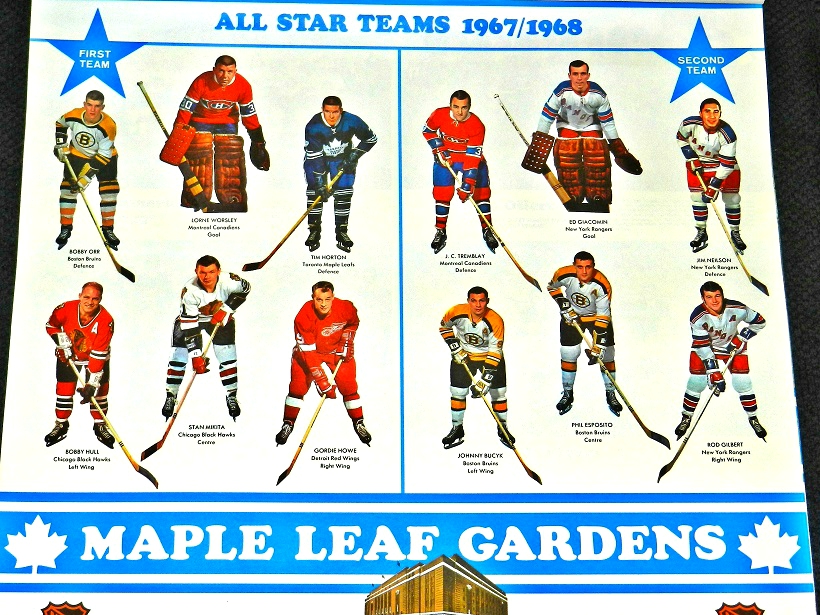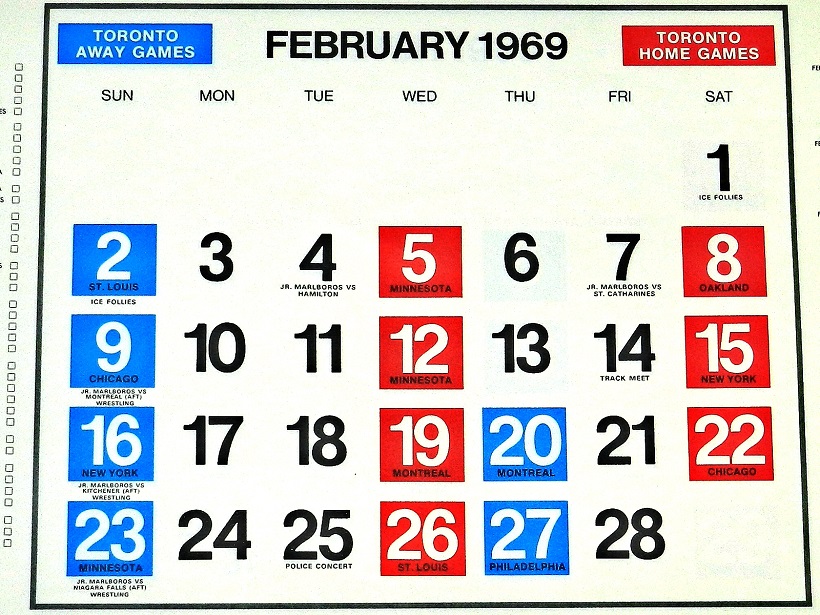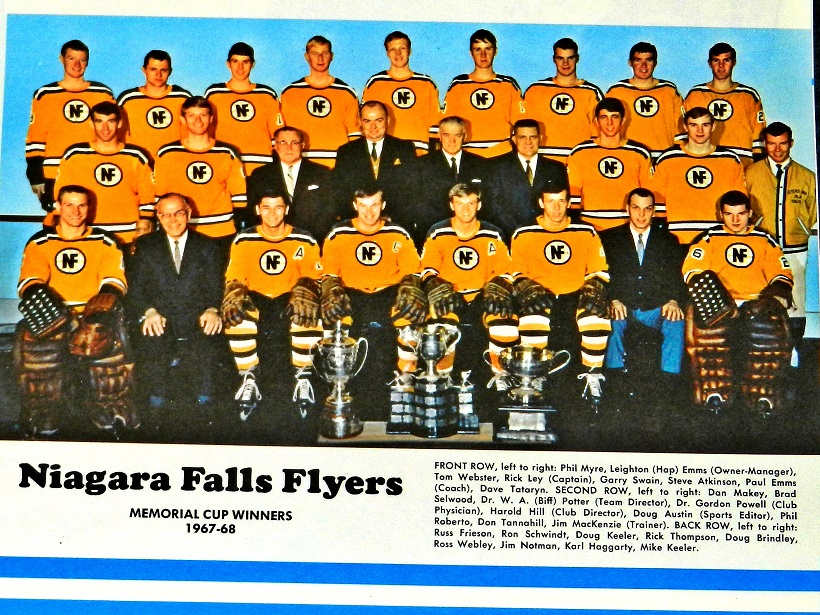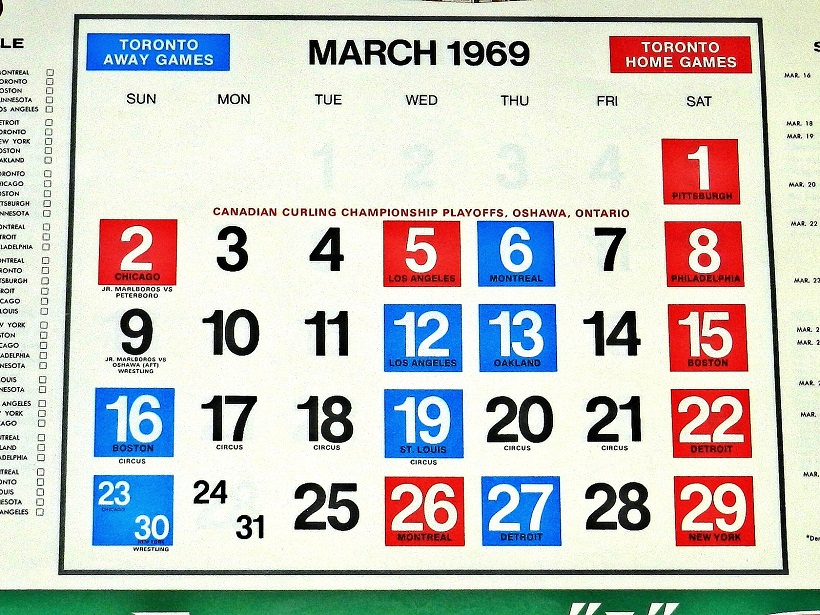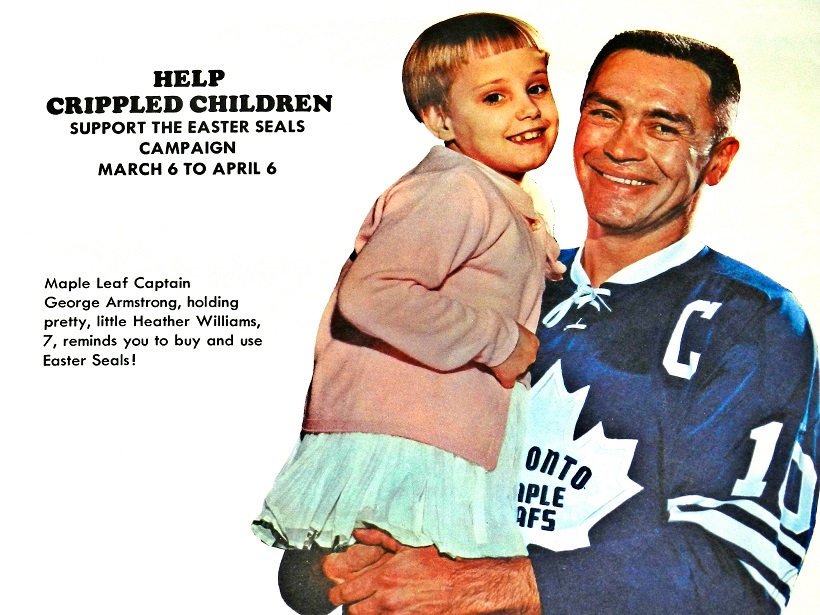 EMAIL: HOWARDLBERGER@GMAIL.COM